Feeling thrilled about a punter is a sign of sufficient dedication to football. Worrying about caring too much is for amateurs. The Buffalo Bills added an option who's out to make the possession switch exciting. Matt Araiza has a chance to be legendary if he'd like to know how special his new team is.
It's perfectly normal Bills Mafia behavior to feel jazzed about what's typically viewed as a mundane task. A single impressive football journey initiated by Araiza at OTAs should get us irrationally excited about the end of drives.
The precedent is in place for frenzy over giving the opposition a chance. Buffalo is the sort of town where one might still spot Brian Moorman jerseys. The present realtor and reigning best punter in franchise history should be on the Wall of Fame, which is the sort of thing a Bills fan would say to another without prompting a raised eyebrow. Respecting every player's performance is part of thorough fandom, especially precisely when the skill seems to be undervalued.
The importance of drafting through the end reflects a commitment to professionalism. Brandon Beane would never treat the third day like garbage time. Any amateur observers scoffing at accumulating sixth-round picks found themselves silenced by adding the sort of punter who has a highlight reel.
The Bills had about 27 choices in that round at one time. Possessing them in quantity allows for luxuries like not having to wait to see what free agents are available.
The job is easy to track. Those who are skilled at it have a definite impact. Observers might lose sight of a guard or defensive tackle in the swirl of violent chaos. Meanwhile, the punter is going to move the ball a measurable distance. A defender can blame someone else for a missed tackle. But only one dude touches the ball to his shoe.
Special teams aren't just for Ralph Wiggum. Adding someone who's just is to end your side's possession is the sort of seemingly pedestrian move that can pay off with field position victories. Compare a late-round linebacker who might not be active every game to a punter who definitely will. The figurative backup might only get on the field the same time as same punter and not figure into the play as prominently.
The new guy strives to be first-string, and not just because he's the only string. Bringing aboard a punter is an alternative to seeking depth at a position more renowned for tackling or getting tackled. Teams need a few specific players who are prominent for a few specific moments.
Last season's guy thinks the Bills could've used a late-round cornerback. Matt Haack got rewarded for reducing his pay with a chance to lose his job. It looks like we got ourselves a left-footed punting duel between the Matts, which might even be more thrilling than Johnny versus the Devil.
The Bills hopefully won't use Araiza much. Even a rookie surely understands keeping him sidelined is not a slight. Haack got a game off last year during which he was eligible to participate, which may or may not have counted as a personal day.
It's a bit too much of a risk to make whoever wins the job inactive even with a rather dynamic scoring group. Seeing if Isaiah McKenzie or Von Miller could handle punting in a pinch would be thrilling in its way, but it's still better to use an active roster space for the comfort of having access to a specific tradesman. As with the windshield replacement guy, Araiza aims to be there when he's needed. He's not paid per attempt, as the union would frown upon such a direct incentive. 
Things are not fun when a punter has to work. Like a firefighter, we hope he's paid to idle. The non-scoring kicker's appearance means the offense didn't reach a modest goal of a first down. But sending the possession far away is the best-case scenario for concluding an underwhelming series. Araiza is here making the foe start far away, in case anyone forgot why teams don't traditionally go for it.
Being made to wait to be drafted is good preparation for a job spent mostly idling until the offense stalls. Araiza had to be patient even by punting standards. As the third of his classification taken, he seems motivated to make Baltimore and Tampa Bay rue selecting lesser punters. The Ravens actually chose someone named Jordan Stout to perform the task for them with the fourth-rounder they got as part of the deal to move up for Kaiir Elam, so Buffalo's choice emerging as the draft's best would turn out to be a particularly amusing delight. We have a special teams unit to cheer against.
A punter with a grudge may strike the football even more vigorously, so coaches will do their best to remind him of who thought he was unworthy. Take out frustrations on a football. He can punish it with his foot like Don "The Dragon" Wilson.
Punters try to make what went wrong less agonizing. Teams prepare for when it happens even though they hope it never happens. Planning for the undesirable is part of adulting. Beane is as meticulous as Gus Fring minus the diabolical secret drug empire, to our knowledge. A punt is a chance to start over again after life didn't work out as planned. We naturally like throws better, but the chance for Araiza to contribute a nice booting alleviates walking in place.
Editor's babble: Indeed, the Bills fan base has had a love affair with punters since the days of Paul Maguire. We are grateful for Anthony Bialy's many contributions to our blog and sense of humor. You can find Anthony on Twitter @AnthonyBialy.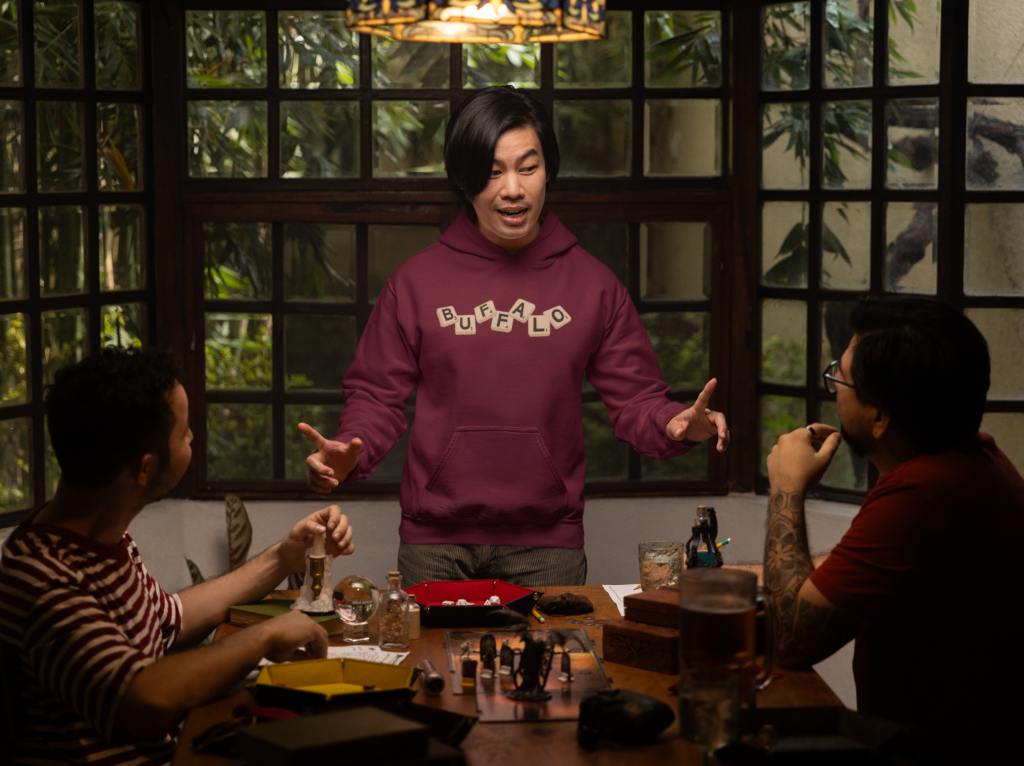 BuffaloFAMbase.com is sponsored by 26 Shirts
Every Monday, we launch a new two-week campaign of a limited edition t-shirt design. Every shirt purchase results in a donation to a local family in need. After the campaign ends, the shirt is retired. A new design is released, and a new family benefits from your fandom!