I don't feel like discussing sports or relishing anything else. I want more than anything for a football-free summer to be the worst notion with which we have to cope. The most heinous human possible who took 10 individuals from our community will rot as we focus on everyone supporting everyone else. We're Buffalo fans in every sense.
Our usual routines and concerns suddenly became distant memories. Counting the days until training camp has been paused. All aspects of our lives other than the massacre seem frivolous. You know the news is horrendous when you feel guilty for thinking about anything else. But what we adore is exactly what emphasizes fondness for life itself.
Times of unfathomable sadness lead to noticing little connections between humans that make aching for them even more acute. I watched a man interviewed during a local station's live coverage who had been at the store earlier and was discussing those he knew who were killed, and I kept noticing that he was wearing a Bills shirt. The most trivial part offered a big reminder. The official Buffalo outfit confirms how much common ground we all have.
We're always sitting alongside each other even if it's just figuratively. Fans congregate either in person at a stadium feeling excitement for the same event separately while together. Buffalonians cheer simultaneously in adjacent homes.
There's never been a time when the Bandits making the playoffs felt more fortunate. Their game the next day ended up being timed perfectly for distraught fans craving a distraction. We rooted with each other in between watching the news. I fretted about taking time away from thinking about those gone but ended up appreciating just why we aligned with teams in the first place. Opening the series with the first of two needed wins brought comfort to those pondering devastation.
An athletic contest may offer a brief respite from awfulness. The Sabres game on the night of the Flight 3407 crash unfolded like it was scripted. A loss wouldn't have mattered. But then a comeback for the ages gave fans just the exhilaration they needed in the face of catastrophe. While circumstances differ between an accident and atrocity, they share the identical sense of grieving for those no longer with us regardless of the cause.
Sports can feel artificial. We create competition for merriment. But enjoying performances of the most talented amongst us who possess the capacity to put tremendous physical skills into action brings thrills. Taking sides makes waiting to learn outcomes extra fun.
Cheering for our area's teams embodies what we gladly feature during free hours. Football becomes irrelevant during times of distress and also crucial. The things we choose to include become symbolic of how we find recreation beneficial. Bills fans finally get to treasure the benefits of long stretches teaching themselves to be optimistic.
Life becomes fulfilling when we remember to embrace activities that only seem ordinary. The mundane can be special with the right outlook and company. Even a necessary task can bring happiness. A casual errand like stopping at Tops means looking forward to dinner on a prototypically nice spring Saturday. The prospect of rolling out a grill or celebrating a birthday with a cake should've enhanced a lovely weekend.
But so many had that day and countless ones that should have followed ripped away. A villain who shows how evil knows no depths took everything from the victims. Friends and family will always be missing huge parts of their lives. And Western New York will always be deprived of their positive contributions.
The City of Good Neighbors is not just a cliché. Only this place could have these fans. The Mafia name that began as a lighthearted characterization of a committed group dynamic serves as a recognition of a fan base that treats each other like family. A fellow Bills fan is an automatic companion. Our mutual values merely begin with games.
We're left choosing how to react to the horrors inflicted by a fiend. Thankfully, the unspeakable assault prompted everyone else to respect existence and each other. The execrable dastard unified those he sought to divide.
Our citizens stand shoulder-to-shoulder naturally. There's no way to even track how many crises and challenges have resulted in outpourings of donations and support. Buffalo's instinct to assist those in need only seems automatic because of the caring decisions residents consistently make.
Offering support to those enduring unimaginable grief feels inadequate, but it's the best good people can do. We wish for nothing more than a return to how our minutes passed by last week. Acknowledging how special purportedly normal moments are is a simple but fundamental mentality that makes the everyday seem worthwhile.
Sports carry meaning precisely because they're how so many of us seek entertainment. The routine of games would feel especially welcome when our beloved base has sustained an open wound. Supporting each other only begins with cheering on those who became Buffalonians for work using their athletic abilities.
We can't undo an individual choosing the worst of humanity. Our only answer involves helping those hurting. You know people are devoted to aid when a food bank graciously declines to accept more monetary donations.
The worst sort of people judge others for the stupidest of reasons. Early Bills Mafia legend Jack Kemp spent a large portion of his post-Bills career promoting racial equality because he believed "I can't help but care about the rights of the people I used to shower with." A man who made Buffalo his home took the lesson from this game to treat others for who they are.
Buffalonians have gathered fall Sunday afternoon-style when sharing a goal really matters. Joining our group was a blessing all along. Unity is presently not simply a matter of hoping to beat the Titans. Bills fans are already accustomed to assembling. Sports served as good preparation. During terrible moments, the example provided by backing our town's teams illustrated how to back our town.
Editor's babble: A beautiful piece by Anthony. You can find Anthony on Twitter @AnthonyBialy.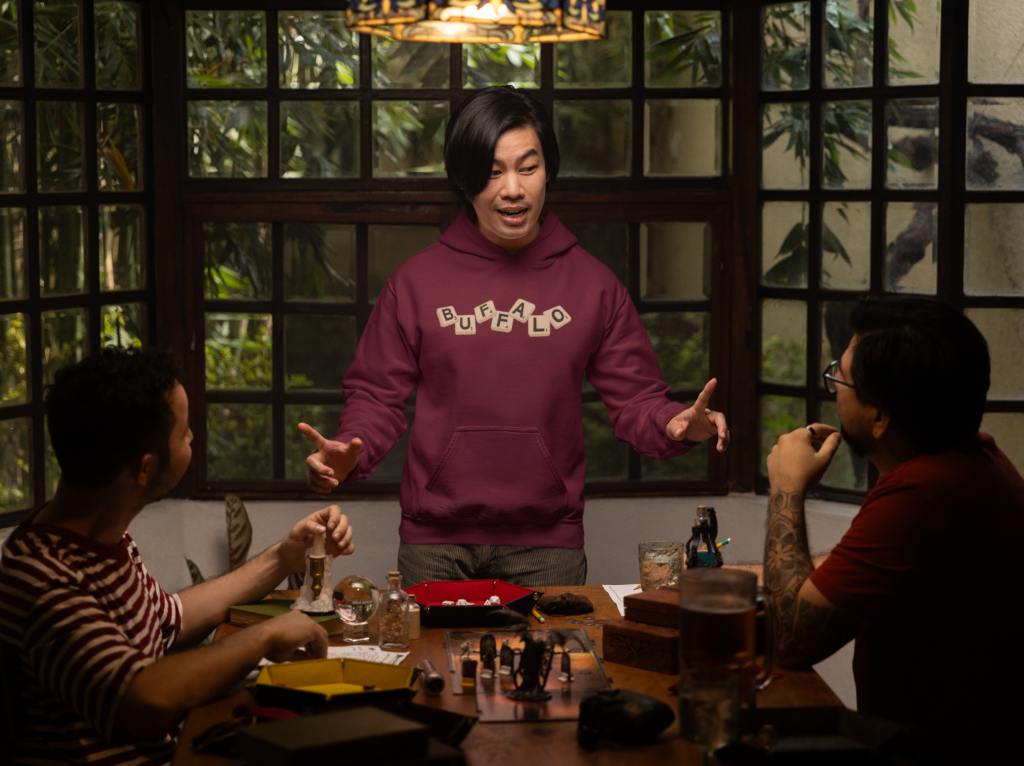 BuffaloFAMbase.com is sponsored by 26 Shirts
Every Monday, we launch a new two-week campaign of a limited edition t-shirt design. Every shirt purchase results in a donation to a local family in need. After the campaign ends, the shirt is retired. A new design is released, and a new family benefits from your fandom!