Learning just who must play where is almost as fun as games. At least, we're receptive to believing the player selection process is thrilling during barren spring months. Don't tell me about what plants are in bloom as the sports landscape is empty like Miami's stadium.
The draft is weird if you think about it. It's tough to think of industries other than professional sports where new hires don't get to negotiate joining with companies of their choosing in the cities they please. The Buffalo Bills can only hope the employees they add are pleased with where they'll be working. The club is the only side of the equation that really gets a choice, but they still strive to be accommodating.
There's nothing in the back. The draft is not like a supermarket trip, even these days when shelves may be a bit bare. Front offices patronize a store with the specific limited inventory that's there. If they don't bring home quite what you want, it's because they had to choose from whatever products were left.
The Bills know you told them to take a cornerback. And there's nothing they enjoy like pleasing their fans, which is why they try winning games. But they may decline your advice for reasons beyond wanting to hurt your feelings.
Wise counsel from helpful Mafia members is undoubtedly appreciated by the staff just like attendees helpfully tell players they should catch and block. An opinion isn't disrespected just because the person who hears it chooses a different one.
Making sure the figurative addition is worthy of the spot is a general manager's top job. Reaching for a needed defender would be especially concerning if the intention is to start the rookie from his first paid game. It wasn't EJ Manuel's fault he had to cope with the results of overreaching even if he still didn't quite play to the desired level.
The draft is already done, in theory. Also, teams with better records always win, so there's no reason to play most games. Still, maybe we should proceed just to make sure everything corresponds with the predetermined plan.
Most teams will profess to adhere to their ultimate ranking regardless of position. Presuming there are going to be seasons after this one is one of those visionary concepts that keeps top teams at the vanguard.
Living for the moment neglects ones that follow. Filling a starter role this year with a first-round pick who's a third-round value creates frustration all around. The poor player expected to compete above his grade naturally underperforms just like management. Reaching is futile in every sense.
But how far will they go to remain strict? Let's say there's a wide receiver who they place five spaces back while their top-graded remaining option is a quarterback. The Bills would ideally would trade the choice and not the player, as they can at least pretend they would have selected someone else. Good luck convincing everyone they'd totally set up a job battle with Josh Allen.
It'd be a little more challenging to trade a quarterback they added at a position where I think most might conclude they're set. The thought of dealing the pick auction-style without revealing how they'd use the asset creates anticipation like wondering who the city's favorite resident will pass to next.
The Bills don't need to draft a messiah. Worshipers of Allen have no desire believe in multiple deities. Buffalo is looking for more of an apostolic role. Someone who can polish an established faith could spread the joy of salvation. There's much less pressure to be saved than there was a decade ago when the Bills seemed hellbound.
It's not that the Bills would turn down a perennial All-Pro. But they wouldn't be adding their first. The franchise is finally in an era where they can enhance the roster instead of needing to transform it with players who are unproven by definition. These wouldn't be the first players they've added who can do the job.
This particular draft is yet another that offers excitement without dread. It sure is nice having a couple like these in a row. Suspense has replaced tension. Buffalo could ease in their top choice like they did with Gregory Rousseau instead of begging for a Bruce Smith-style performance right that moment. They don't even need a Chris Kelsay.
The Bills were the equivalent of a draft bust for far too long. Cringe while recalling so many seasons where trainees had ample chances to play immediately out of necessity. Requiring someone to contribute from the opener makes that very possibility more challenging. Failure and success each self-perpetuate.
Like deciding whether to buy a rocket car or solid gold house first, the Bills are enjoying having enough assets to move past needing to acquire necessities. Brandon Beane might even mean someone at a position where Buffalo already has a starter. After all, there will be chances to thrive after 2022. Thinking ahead is how they reached this impressive point. Past drafts make this one easier.
Editor's babble: The end of mock draft season is near. Will we wait until 11 p.m. ET only to find out Beane decided to move back in the draft? You never know with BBB. We are grateful for Anthony Bialy's many contributions to our blog. You can find Anthony on Twitter @AnthonyBialy.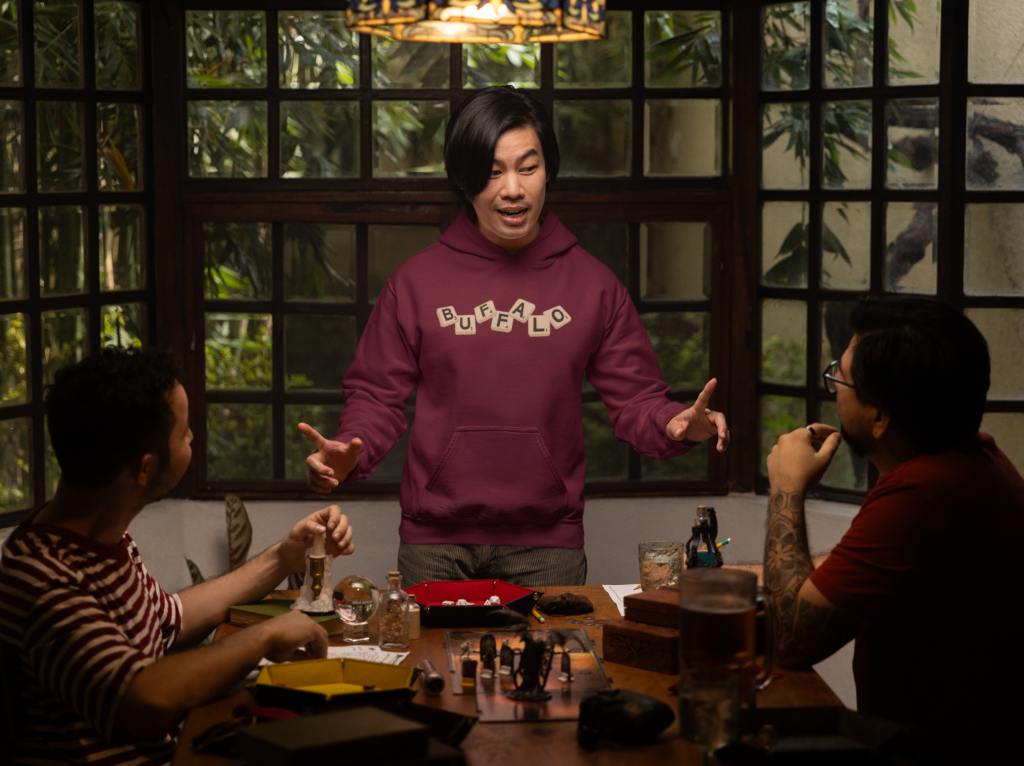 BuffaloFAMbase.com is sponsored by 26 Shirts
Every Monday, we launch a new two-week campaign of a limited edition t-shirt design. Every shirt purchase results in a donation to a local family in need. After the campaign ends, the shirt is retired. A new design is released, and a new family benefits from your fandom!