Tight ends blocked during the era when accessing a music collection required an AA battery stockpile and adeptness with a pen. Realizing players in the category are eligible to field passes has taken way too long. The Buffalo Bills are out to indulge in hip present fashions. If the offense seemed swell before, wait until they really make use of the realization.
Replacing wideouts with tight ends is a sign of the game times. The Bills could be looking for a bigger Cole Beasley even if he outplayed his physical dimensions. Switching from a slot receiver to a large catcher would reflect the era. We don't want to say goodbye but had to on account of the business's nature. It's already easy to forget John Brown.
The Bills added a parallel replacement. O.J. Howard showed how little he cared about credit by signing a few moments after all-universe Von Miller won the free agency attention derby. Now, let's hope he remains anonymous to defensive coordinators.
Remaining healthy would be Howard's first big contribution. Catching from Josh Allen should help anyone feel better. Brandon Beane astutely offered one-year deal to see how the new alternative fits. Howard comes to town with the proper spirit, which is a great sign during the annual endless wait for the season.
The newest Buffalo tight end will be joining relatively grizzled veteran Dawson Knox, who's trying to make up for missed points now after famously not fielding a touchdown pass in college. He's catching up with catches. Knox topped the century mark in pro receptions last year with an increased successful workload: 49 was double his 2020 total of 24, with the slight qualification of playing three more games.
The group is really playing big receiver, which is the new position name. It hasn't quite caught on yet. Regardless of my new suggested nomenclature, using the position as a super-sized version of the regular serving has being the standard. Modern members are more likely to group with receivers than offensive linemen. The traditional title comes from ostensibly lining up tight on the end. Ah! Those who man the job are not required to do so in case anyone puts limits on their lives.
Futuristic flying car offenses exploit how difficult it is to cover tight ends. If offensive coordinators are telegraphing intentions by putting out the maximum quantity of route-runners allowed by rule, they can use one or two who conceal themselves amongst the chaos around the line. The advantage can be used to distinguish them from traditional downfield threats.
There's nothing quite rewarding like sneaking out a tight end who pretends to get caught up in the chaos around the line of scrimmage. Like a pick and roll in basketball, the annoying seemingly invisible player who uses the rules to get in the way gets even more irksome as the forgotten man becomes remembered for a touchdown.
Proclaiming he's our lifetime favorite based on a handful of plays is a natural part of cheering. Still, occasional attempts at restraint may be prudent. Avoiding impulse buys with jerseys is always solid advice. One impressive outing where cornerbacks lose track of the choice might inspire you to buy a fancy shirt with a player's name and number. But then you end up spending the rest of his career feeling responsible for occasionally inevitable single-catch, seven-yard outings.
Tight ends go into each game knowing they're going to be lucky with a handful of chances. A small sample size is already an issue in a sport where 100 games constitutes a pretty decent career length. There are few enough targets that we could name each of them. If you need a life lesson from football to justify basing your life around watching a game, it's to remember how few chances there are. Seize them after the Sunday night game finishes.
If you think there aren't many passes averaged out over a year in general, wait until you realize how few are aimed at these particular players. Fans are often frustrated at tight ends who don't pull in a single attempt during any particular game. Unlike heading to an end zone corner, the notion doesn't fade. We kindly bring up drops for an entire season and maybe longer. Those harping on incompletions are not out to harm self-esteem. They just want to offer the gentle reminder that players better take advantage of opportunities.
Could the Bills add rookies to the adjacent rotation? Tight end could be a sneaky draft priority. Like shopping for rock band t-shirts when the only items available for dinner are celery and Italian dressing, most followers could certainly think of more pressing needs. But adding players at the position in question would be helpful beyond the sense we'd like unlimited All-Pros. There will be passes to spread around for the foreseeable future.
Every draft discussion is accompanied by the reminder that teams choose from who's available and not by preferred category. General managers universally claim they'll select the guy left they think is best. But the particular team in question acts as if it forgot running is an option. An offense that emphasizes receivers distracting from each other could use every route available.
We live in the era of superstar tight ends, which would surprise people from the past more than ubiquitous glowing pocket screens. Buffalo finally seems to be availing itself of the trend. Whether or not they're adding to the group, putting them to good use makes life easier for everyone.
Editors babble: When the best TE in franchise history (Ernie Warlick) played from 1962 to 1965, you know the franchise has rarely valued the TE position. I'm more excited than I probably should be that the Bills may finally have two-TE sets. Thanks, as always, going out to Anthony Bialy for his terrific contributions to our blog. You can find Anthony on Twitter @AnthonyBialy.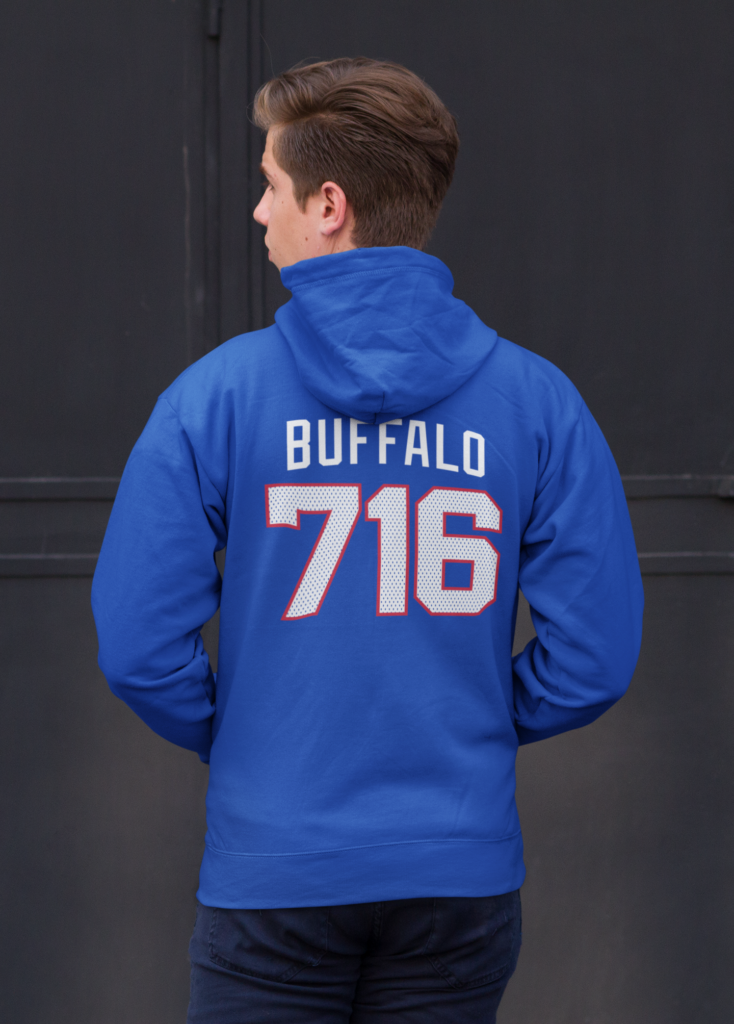 BuffaloFAMbase.com is sponsored by 26 Shirts
Every Monday, we launch a new two-week campaign of a limited edition t-shirt design. Every shirt purchase results in a donation to a local family in need. After the campaign ends, the shirt is retired. A new design is released, and a new family benefits from your fandom!