Time and space are malleable. You just need to find the right magician to warp reality. Brandon Beane makes money appear. Poor souls who have contained themselves to the mundane panicked as if Buffalo's chief wizard didn't have a spell to keep the best receiver and quarterback teammates indefinitely.
Stefon Diggs shouldn't be able to get that open yet still does, which is reminiscent of how there shouldn't be cash in the budget for an office party despite how Beane keeps conjuring Pizza Logs and kegs.
Keeping Josh Allen's BFF around is about more than an adorable friendship, although finding your neatest pal at work is a joy to treasure and inspire. The threat who frees up every other receiving teammate by drawing excessive attention connects with his quarterback on multiple welcome levels.
Diggs can sign a lease with Von Miller. They both know they'll be in town for awhile. The roommates can probably afford someone to rake and shovel.
In lieu of division titles, Dolphins fans enjoyed rumors that there was no way Diggs would stay in a rival's town just like thy enjoyed pretending their own favorite team was keeping pace. Those were a fun few days. Thinking his time in Buffalo would flash by like a Bob McAdoo-type comet was as foolish as defenses feeling he's covered.
Beane looks even more impressive by comparison to his predecessor. Doug Whaley is explaining why the deal that happened is impossible. His denial of reality offers a nice break from elaborating why he traded that much to select Sammy Watkins instead of Khalil Mack. The man who replaced him in multiple senses was making it happen as he announced while it wasn't going to happen.
It's not that the Bills couldn't afford Diggs: it's that Whaley would've never found a way to afford Diggs. Listening to the permanent former general manager's football takes is like enduring Rex Ryan without the obnoxiousness. John Madden was beloved because he turned to broadcasting after feeling burned out by a successful career working for a team, not because he was forced to resort to talking about it after nobody would hire him to perform actual football tasks.
Social media makes everyone an instant expert on everything. Take how many amateur NFL analysts just knew Diggs was gone by reading his inscrutable tweets featuring a handful of words that redefine brevity. Deciphering his posts like they're tea leaves left too much room for interpretation like a cornerback crazy enough to give him a cushion. Doubters can't accept that Diggs is our generation's Dylan, a cryptic poet who conveys truth even when his allusions obviously reflect personal observations we'll never fully access. And he can catch footballs!
We can always cherish a silly rumor that embodied idle speculation while counting the weeks to the draft, this one about uniting siblings. If Trevon wants to play with his brother, he should demand a trade to Buffalo. Such a family reunion would do more than eliminate the top draft need for his new team. If you think Beane couldn't pull it off, wait until you hear about him signing Allen and Diggs to lengthy deals so they can play alongside the club's new all-galaxy linebacker.
Beane may as well have personally started rumors about Diggs being simply unaffordable for a franchise brushing against its budget ceiling. There's as much evidence he did as there is that trading Buffalo's best threat was inevitable.
Saving money is great unless you plan to get rich by skipping lunch. You may as well be upset by how much of the household budget is devoted to groceries. Thinning your wallet is worth it if what you get turns out to be more valuable than keeping the cash. The ground Diggs gains far outweighs the cost for the service.
Trying to evade paying for what you get is a certain way to end up thoroughly poor. The Bills have accepted that huge payment slices are inevitable for the competitive. Fretting about space neglects that Diggs is precisely the sort of player who deserves a huge portion of it.
Treat his payment percentage like his yardage total. If there are going to be salary limits, you may as well spend to them. You don't even want change left on your gift card.
The deal still pays off. Diggs arrived in a trade continuing to work out perfectly. Short of fleecing Minnesota with a handful of broccoli for their Doritos, each side got the receiver of its respective dreams. As with compensating him with a fortune, you'll have to give up a bit to get a little more value back.
Players may not be happy with the conditions where they began. Diggs sure seems pleased with the place where he'll presumably finish his career.
Contentment feels uneasy. It's odd to enjoy sustained success. Get used to it. A receiver who's already in the discussion about the franchise's best ever at the position is merely the latest and most prominent example of talent the Bills acquire then retain. Buffalo is no longer a weigh station on the way to final destination. Diggs found his home.
Editor's babble: And thank goodness for the wizardry of cap management by Jim Overdorf and Co. We are grateful for Anthony's contributions to our blog. You can find Anthony on Twitter @AnthonyBialy.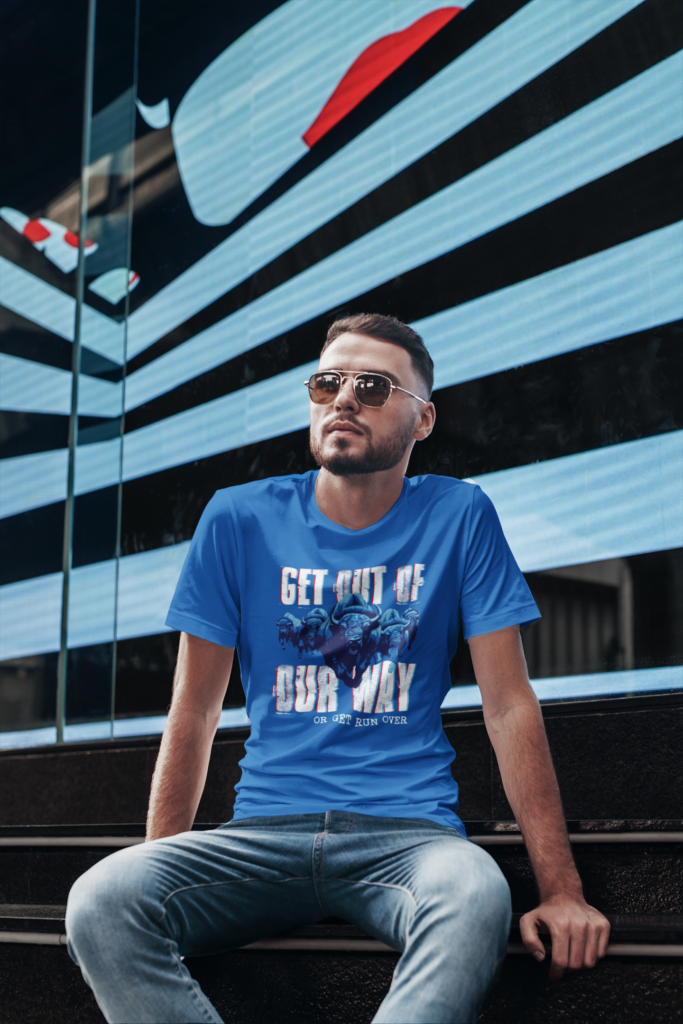 BuffaloFAMbase.com is sponsored by 26 Shirts
Every Monday, we launch a new two-week campaign of a limited edition t-shirt design. Every shirt purchase results in a donation to a local family in need. After the campaign ends, the shirt is retired. A new design is released, and a new family benefits from your fandom!