All of these players were scouted pretty heavily by the Bills. This will be my final Pick-Six –as far as you know!
ROUND 1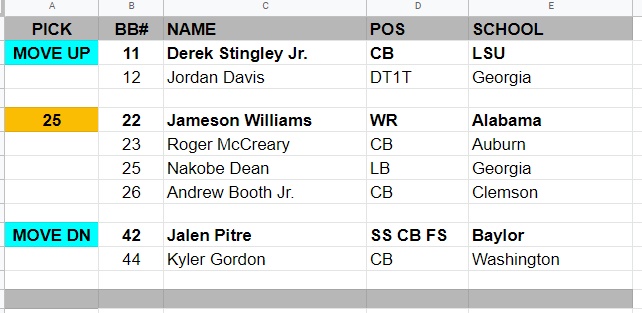 There are only two players for whom I could see moving up (you're not getting Sauce Gardner; if we do, I'll eat my Bills bucket hat). Both move-ups, Stingley and Davis, are game-changers, and represent the two polar-opposite defensive philosophies that McDermott and Leslie Frazier are wrestling with in the War Room. The first philosophy uses lockdown corners with improved press-man skillsets to provide more time for QB Pressures. Lack of movement on the CB front might suggest otherwise, but don't confuse inaction with Big Baller's chess-game aplomb. The other philosophy involves interior D-Line Pressures to get the QB on the run or on his back, reducing his accuracy. If I had to choose, I'd remind you that Leslie Frazier is a former defensive back, as is McDermott. Of course, trading down is a very attractive option to increase the Top-100 players you get, and a trade-down might signal a DB selection. I love Pitre for that target in a drop-down, while others like Daxton Hill (although I disliked his interviews). Jameson Williams could either be WR1 off the board or he could be WR5, depending on what flavor of WR your GM likes. If Williams is picked earlier, not to worry; a very good defensive player (or Chris Olave) falls to the Bills.
——————-
ROUND 2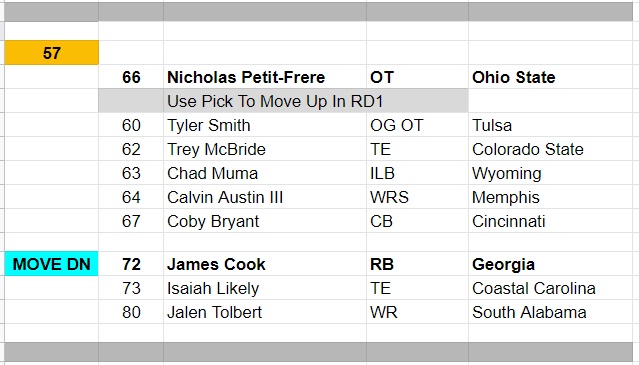 Beane went to two Buckeye games in 2021, and the Bills scouted Ohio State FIVE TIMES this season. You could argue it was to look at Olave, but that wouldn't entirely explain the Bills' 30-visit with Nicholas Petit-Frere. Another attractive option, besides using this pick and some 2023 collateral to move up for Stingley/Davis, would be taking an heir-apparent to Edmunds at ILB. Chad Muma would be the 2nd-most-popular Wyoming player on the Bills. Watch Muma's raw ability and take him in RD2 (don't trade away Tremaine just yet). Tyler Smith's OL coach at Tulsa should be familiar to you if you're an old fart like me: Jerry Ostroski, Guard with the Electric Company. Smith has OG OT versatility and a level of nasty that we've come to appreciate in Spencer Brown. Calvin Austin is the next Andy Isabella, for better or worse. Back-to-back cornerbacks in RD1 and RD2 makes too much sense.
——————-
ROUND 3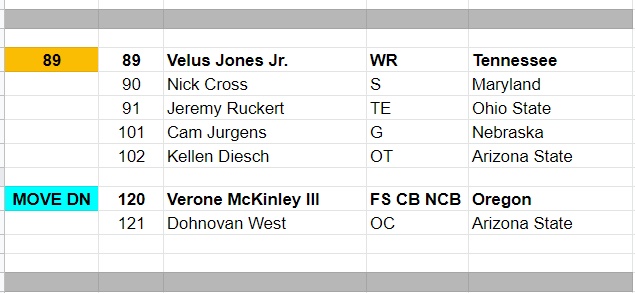 I'm not going to hide my deep affection for one of my "pet cats" in the draft: Velus Jones (say "VALE-iss"). Not only is he a top SEC receiver (6th in Recvg Yards in SEC), he's the draft's #2 punt returner. He looks like a young Donovan McNabb, and is just as athletic. He was a good player on a bad team. Nick Cross, one of the Bills' visits, is a nice heir to eventually replace half of the NFL's Top Safety Duo. At the NFL Combine, Cross ranked as the #1 safety in most every major area: his 4.34 forty-yard dash time was first among safeties, his 37-inch vertical ranked fourth, and his 10-foot-10 broad jump was third. Kellen Diesch, a wrestler who can play OG and OC, got 3 visits at Arizona State games. Likewise, the Bills have sniffed around Cam Jurgens as a versatile OG OC with the same level of nasty as Tyler Smith (perhaps more within the bounds of decency). You can move down a bit and still take a wrestler-OC-OG by selecting Dohnovan West, who has started every game (at left guard, right guard, and now center) through his last two seasons with the Sun Devils. If the Bills want to add a better playmaker / blocker to the TE room, Ruckert fills the bill; I haven't given up on Sweeney, though, and think it's his season to break out.
——————-
ROUND 4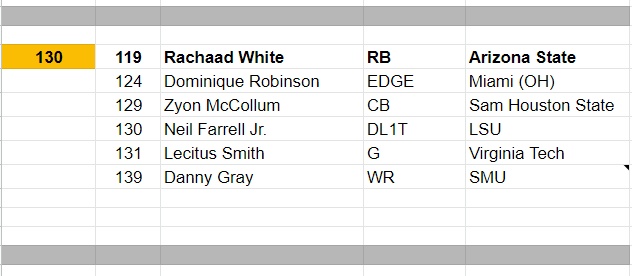 Speaking of Arizona State, the Bills are going to consider RB Rachaad White in RD4. He led the NCAA in rush YPA in 2020 with an obscene 10.0 YPC . His 5.8 YPC vs AP-ranked schools is top 2 among the RBs with a sub-4.4 forty (with Ty Chandler), and so is his yards per reception average (White, Chandler, Blackshear, Borghi), and Beane looked at all of them for his fast, receiver RB. White talks a blue streak, but I like what he says and who he credits. White tested as one of the best of all participants at the Combine by scoring a 9.8/10 on the RAS grading scale. The Bills are high on LG Lecitus Smith, too, having had Beane at one of 5 scouted games this year, plus a Combine visit. Neil Farrell Jr. is my choice at 1-tech if they don't go up for Jordan Davis. He's top 4 in Pressures Per Game. Farrell stepped up when Glen Logan was injured. Shane Coughlin notes that Farrell is "very ball-aware and sorts first level traffic with power and aggression".
——————-
ROUND 5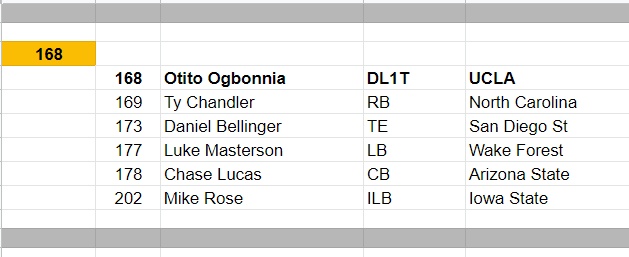 Otito Ogbonnia would be my other choice for your pocket-pressuring NT if you haven't grabbed one yet. One-techs cover two gaps, try and occupy 2 blockers to keep the LBs clean, collapse the pocket, control the line of scrimmage, and get the QB off his mark in a hurry, and really, should be on Bruce Feldman's Freaks Lists. Ogbonnia checks all those boxes. Otito squats 683, collapses the pocket, and regularly takes on double-teams. He's what we wanted in Lotulelei. If you somehow moved mountains to get the mountain-mover Jordan Davis in RD1, you can take Ty Chandler here. I like Chase Lucas as a depth piece at CB. He's very similar to the Pitt DBs the Bills have taken.
——————-
ROUND 6A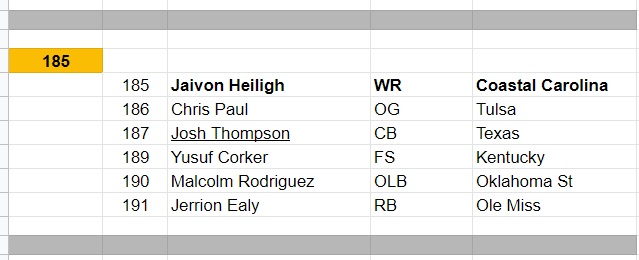 The connections in this round with the Bills are myriad. For the first year since I've done my scout-spying, the Bills watched 3 Coastal Carolina games and visited their Pro Day, and no WR exudes more Bills character than Jaivon Heiligh (say "highly"). A friend of Sal Capaccio's family, Jaivon gives you a late-round productive career (191-2825-14.8- 22 TD) with one of the draft class's highest yards-per-catch averages in 2021 (17.1 YPC). Heiligh had a productive 6-122 (20 ypc)-1 TD stat line in the first game scouted by the Bills and a 6-87 (14.5 ypc)-1 TD game in another. Chris Paul also had Jerry Ostrowski as his coach at Tulsa, and Josh Thompson had a couple visits, including one to his hometown. Yusuf Corker is a very dependable free safety. In his 43 career games, Corker recorded 241 total tackles (6.5 for loss), 14 passes defended, three interceptions, two sacks, and a forced fumble. He averaged 77 tackles a season and never finished lower than second on the team in tackles. High number of tackles seems to matter in the Bills DB selections.
——————-
ROUND 6B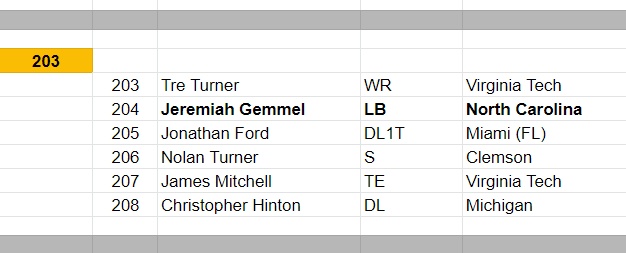 Bills scouts were at Virginia Tech games FIVE TIMES this year (one by Big Baller himself), so you might look at late-round playmakers who can complement our WR room. One of the tallest targets among the class's fast WRs, Tre Turner catches your eye when watching VaTech. He's a fighter at the catch point who can make difficult catches easy. Depending on who Beane chooses in the previous rounds, I've included wonderful choices at LB, 1-tech, SS, TE, and 3-tech.
——————-
ROUND 7

——————-
Since you have a plethora of Panthers from Pitt in your backfield, why not pick another? Mathis is an excellent pass defender and a heavy hitter despite his sub-6′ frame. His tackling style and catch-point skills are a steal here. And here. Watch Damarri's left arm. He's not as fast as you like in man, but he's savvy and quick in zone. I like Jashaun Corbin as a late-round complement to our running back stable. Corbin was 4th in Yards After Contact per Rush with 6.83 YPC/AC, and is excellent catching the ball out of the backfield. Corbin has two of the longest runs in the ACC …in this century. If the Bills want a versatile interior defender on the line, my recommendation is D.J. Davidson of oft-mentioned Arizona State. Davidson is top 5 in Pressures Per Game among the IDLs. He showed that pressure with 6 tackles in the first scouted game, then 1 tackle and 2 assists in the second one. Bills attended Davidson's Pro Day. The Bills also might select Jack Jones here as a backfield bookend if they decide to go CB early –and I think they will.
UDFA
Godlevske and Blackshear are my two best guesses.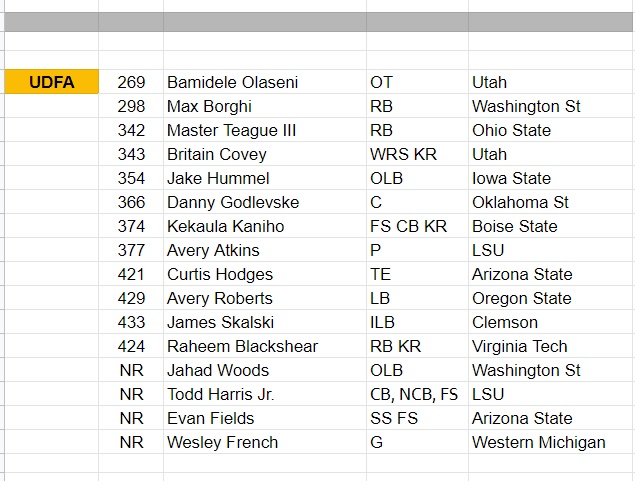 Editor's babble: The wizard is at it again! There aren't enough thanks we can give Dean Kindig for all his contributions to our blog. You can find Dean on Twitter @TCBILLS_Astro.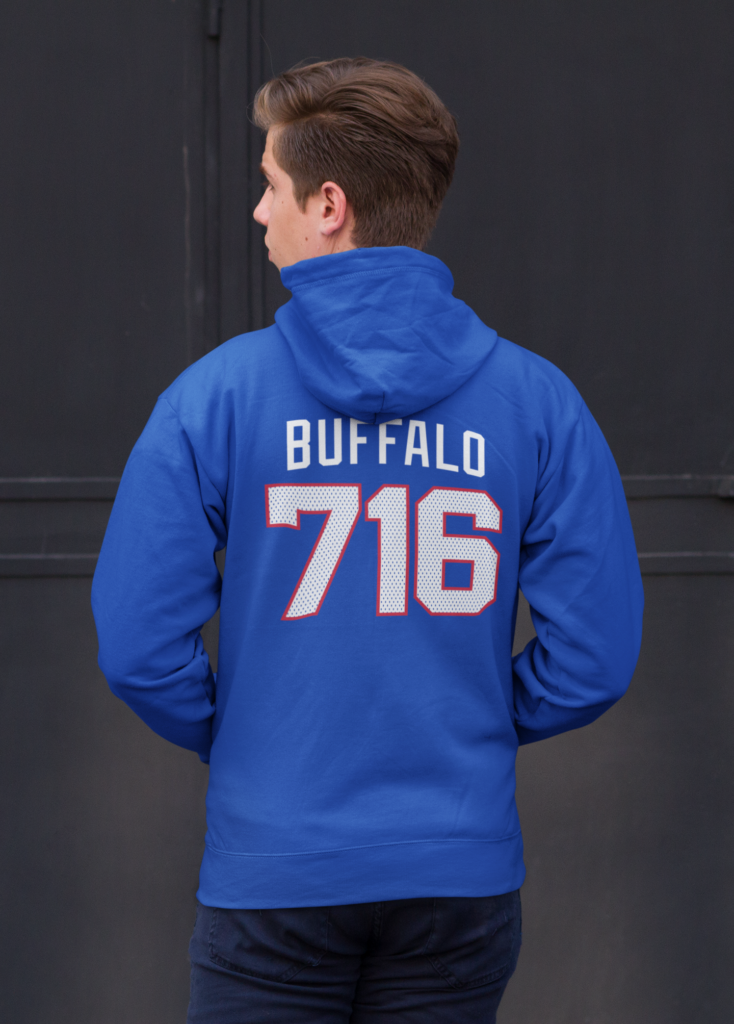 BuffaloFAMbase.com is sponsored by 26 Shirts
Every Monday, we launch a new two-week campaign of a limited edition t-shirt design. Every shirt purchase results in a donation to a local family in need. After the campaign ends, the shirt is retired. A new design is released, and a new family benefits from your fandom!