This is the first of a series of articles assessing the Bills' prime positional needs prior to the draft.
Let's start with the CBs. Tre White is on schedule to return from his ACL injury, per Sean McDermott a week ago, who saw him every day attacking his rehab. Levi Wallace is a free agent this year, as is NCB Siran Neal. Pitt's Dane Jackson, the team's 2020 RD7 draft pick, fared well in his rookie debut for the Bills in 2020 filling in for Levi Wallace, notching 1 INT, 1 PBU, and the second-highest coverage grade on defense, per PFF. In 2021, Dane had 4 PBUs and allowed a passer rating of only 59.7 over 241 total snaps. Nick McCloud, signed by the Bills as an UDFA in 2021, had success in preseason (Pick-6 called back for holding vs the Lions, INT vs the Bears, handled Riley Ridley very well), but the Bills' DB numbers at the time were not in his favor, and he was claimed off waivers by the Bengals on Labor Day. Bengals waived him on November 4, 2021, he was reacquired by the Bills, and was called up from the Practice Squad against the Chiefs.
Looking ahead one year at our DB Free Agents, small but extremely agile cornerback Cam Lewis (age 26 RFA 5.10% of snaps, $867,500 APY ) and tackling machine Dane Jackson (age 27 ERFA, 45.50%, $855,000 APY) will likely get re-signed.
Three Bills DBs were just signed to reserve future contracts: CBs Tim Harris (6'1 205, played for the 49ers in 2020), CB Nick McCloud (6-0, 193, signed as an UDFA after the 2021 NFL Draft), and Safety Josh Thomas (5-11, 212, UDFA, nice agility at 57%ile –compare it to Tre White's 47%ile, Hyde's 81%ile, and Poyer's 74%ile).
There are no Safeties in this year's 20-player UFA class, but Brandon Beane will have to start preparing for life after Poyer (age 31 soon) and Hyde (age 31). Poyer is a free agent next year (91.30% of snaps, $9.7M APY), as is Jaquan Johnson (10.60%, $676,085 APY). Expect both to be re-signed; NFL Safeties age better through age 35 than other positions, although Poyer's sustained period of peak performance may be ending soon. Poyer's career-best in combined tackles was set in 2020 (124), and he tied his career-best in INTs this year (5), matching his first year with the Bills in 2017. Hyde's vector looks very similar, with his second-career-best combined tackles coming this year (74), matching his first year with the Bills in 2017. Same with INTs (5 in 2021 and 2017).
The Bills will be looking for a lengthy, speedy, agile, sure-tackling CB or two, for sure (possibly one coming from free agency). An athletic, agile Safety with Hyde-Poyer-like smarts and tackling chops isn't out of the question in any round.
Levi Wallace is the UFA with the most snaps (92.2%). Siran Neal (15.7%) is also UFA. Neither are irreplaceable, but neither will break the bank, either; Wallace's Current APY is $1.7M and Neal is $686K. The problem for Wallace is speed. His 4.63 forty time
9th %ile) is abysmal. Speed scores for most of the CBs are similarly bleak, Dane Jackson included. Expect speed to be a factor in the Bills' cornerback selection. My list of candidates in a moment.
Here's a look at the DBs the Bills have drafted since 2000. During that period, four were selected in RD1: Stephon Gilmore, Leodis McKelvin, Donte Whitner, and Nate Clements. Four were picked in RD2: Ronald Darby, Aaron Williams, Jairus Byrd, and Travares Tillman. Ashton Youboty and Coy Wire were picked in round three. Some of the RD4 defensive backs were very good (Reggie Corner and Terrence McGee). After that, meh. The best, Kevon Seymour (RD6, 2016), has played for four teams, including the Ravens this year.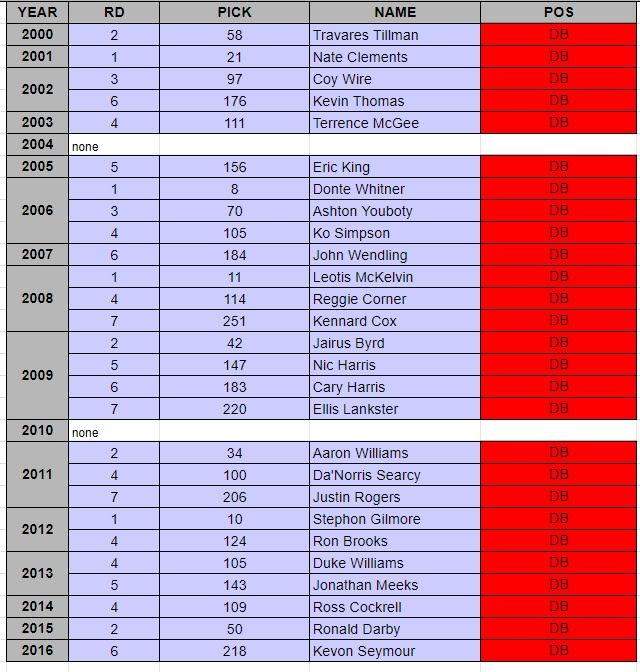 Since Brandon Beane's first draft in 2018, the ACC has been used for 3 DBs and the SEC and Big 10 for one each. The smaller schools were tapped in Beane's first draft for both Nickel backs (Siran=Jackson State, SWAC) and Taron (Weber State, Big Sky).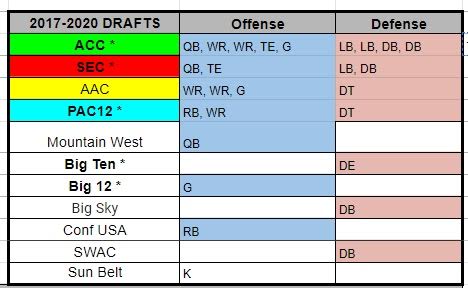 Zooming in for a closer look at Beane's preferences: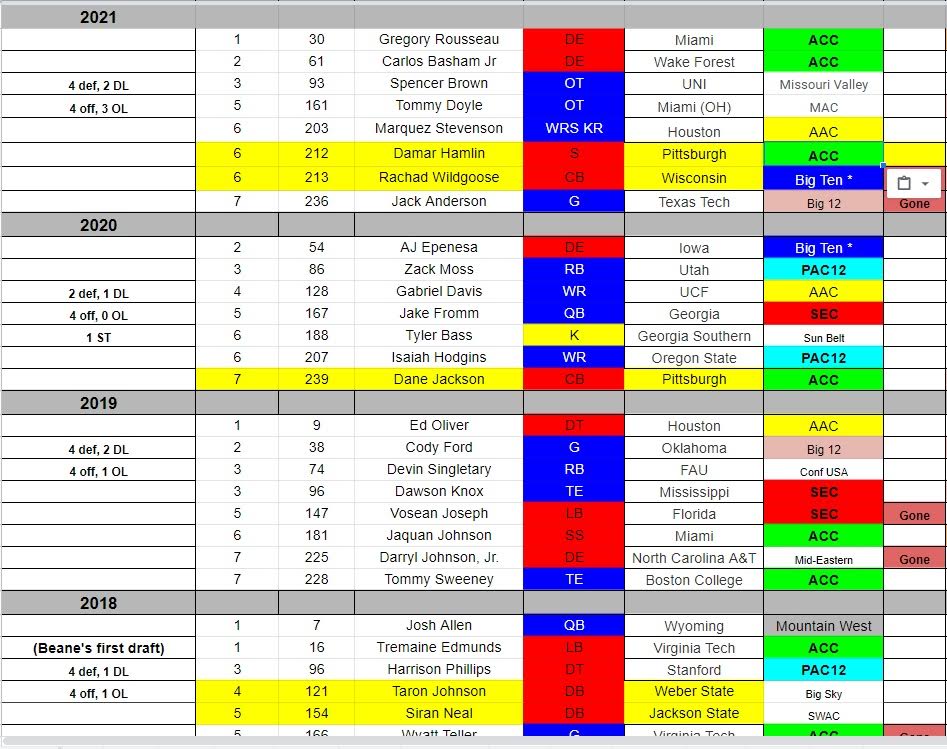 Since 2017, 35% of Beane's "draftees" have come from the ACC, and 49% of his "draftees" have come from the ACC, SEC, and AAC. Now, this season, scouts also scouted the Big 10 Let's show you a list of Bills-scouted CBs, listed by their spot on my BuffaloFAMBase Big Board: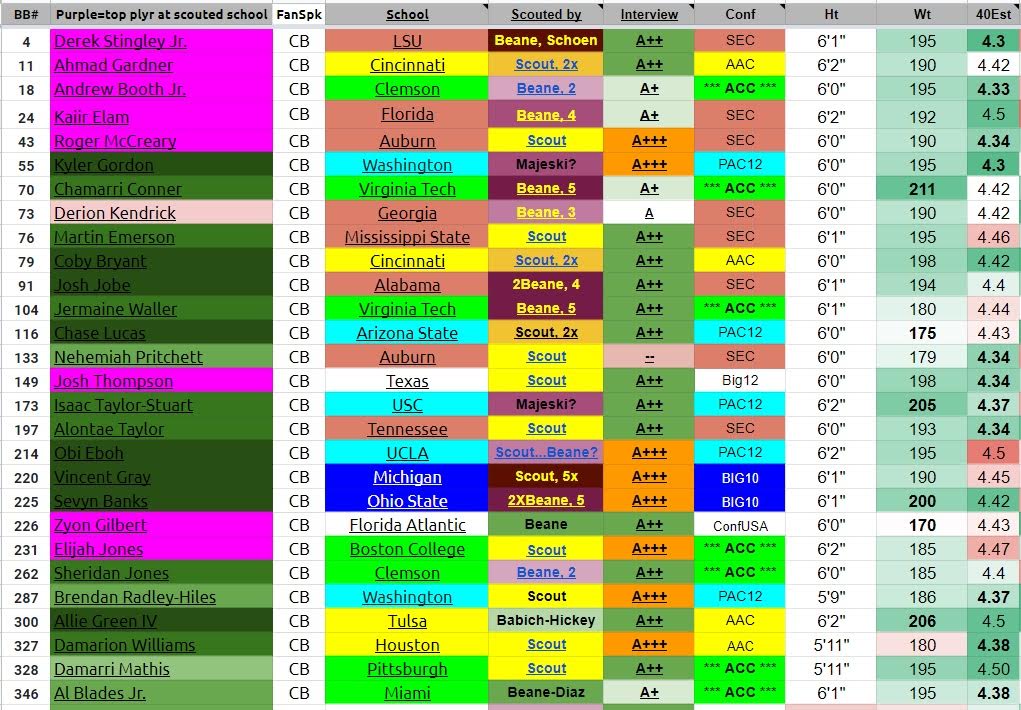 Of the 28 I think will end up with an NFL team, 7 are from the ACC (led by Andrew Booth and Chamarri Conner), 8 are from the SEC (Derek Stingley Jr, Kaiir Elam, and Roger McCreary leading the way), and 4 are from the AAC (Ahmad Gardner, Coby Bryant), and those have been Beane's three favorite conferences. The PAC12, often scouted by the Bills Coordinator of College Scouting Doug Majeski, adds 5 corners worth looking at (Kyler Gordon, Chase Lucas, Isaac Taylor-Stuart), and the Big 10 has two Day-3 CBs worth mentioning (Vincent Gray and Sevyn Banks).
The fuchsia-highlighted names are my top player at their scouted school, and 4 of them are likely to break 4.4 on their Combine forties (Stingley, Booth, McCreary, Josh Thompson). Besides McCreary, two other SEC schools have a sub-4.4 corner: Nehemiah Pritchett of Auburn (who play a 4-2-5 defense similar to the Bills) and Alontae Taylor of Tennessee (also a 4-2-5 defense). Majeski likely has seen 3 sub-4.4 PAC12 corners as well: Kyler Gordon, Isaac Taylor-Stuart, and tiny Brennan Radley-Hiles, but only Chase Lucas plays a similar defense to the Bills'.
Let's remove players who won't be there when we pick in RD1, those who won't come close to a 4.4, and all corners whose interviews weren't McBeane material. The Narrowed-Down CB List, arranged by Solo Tackles Per Game: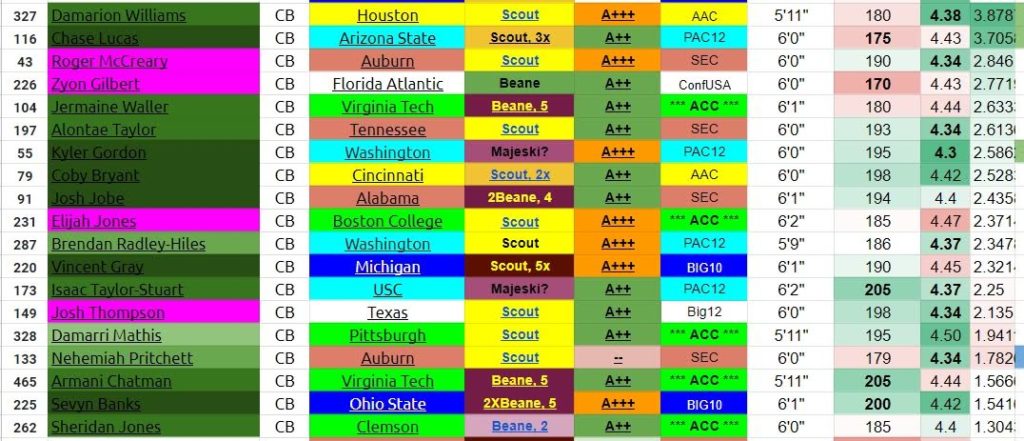 Beane's CB Short List –Taking Tackles, Interview, 40 Speed, Scheme they play in, Performance in Scouted Games, and Beane's Preferred Conferences:
89 Jermaine Waller Virginia Tech (Beane there, 5 scout visits) [listen and watch #2]
25 Kyler Gordon Washington (Majeski), team Special Teams MVP [listen and watch #1]
21 Roger McCreary Auburn (Scout, 1 game; Top PFF Grade) [listen and watch #14]
123 Chase Lucas Arizona St (3 scout visits) [listen and watch #24] – ST ace
166 Isaac Taylor-Stuart USC (Majeski) — biggest (6'2″ 200 4.37) [listen and watch #0]
155 Nehemiah Pritchett CB KR Auburn (Scout, 1 game) [listen and watch #14]
186 Damarion Williams Houston – 3.88 tkl/Gm leads all CBs [listen and watch #6]
Late-Day or UDFA CBs I like:
218 Sevyn Banks Ohio State 2 Beane visits to games [listen and watch #7]
PFA Armani Chatman Va Tech (Beane there, 5 scout visits) – ACC CBs leader in tackles
PFA Vincent Gray Michigan – NY kid, Good press /boundary, competitive, well-spoken, plays ST [listen and watch #4]
Editor's babble: What a way to kick off the offseason. This will be a good distraction from watching the rest of the playoffs. We can't thank Dean Kindig enough for his incredible contributions to our blog. You can find Dean on Twitter @TCBILLS_Astro.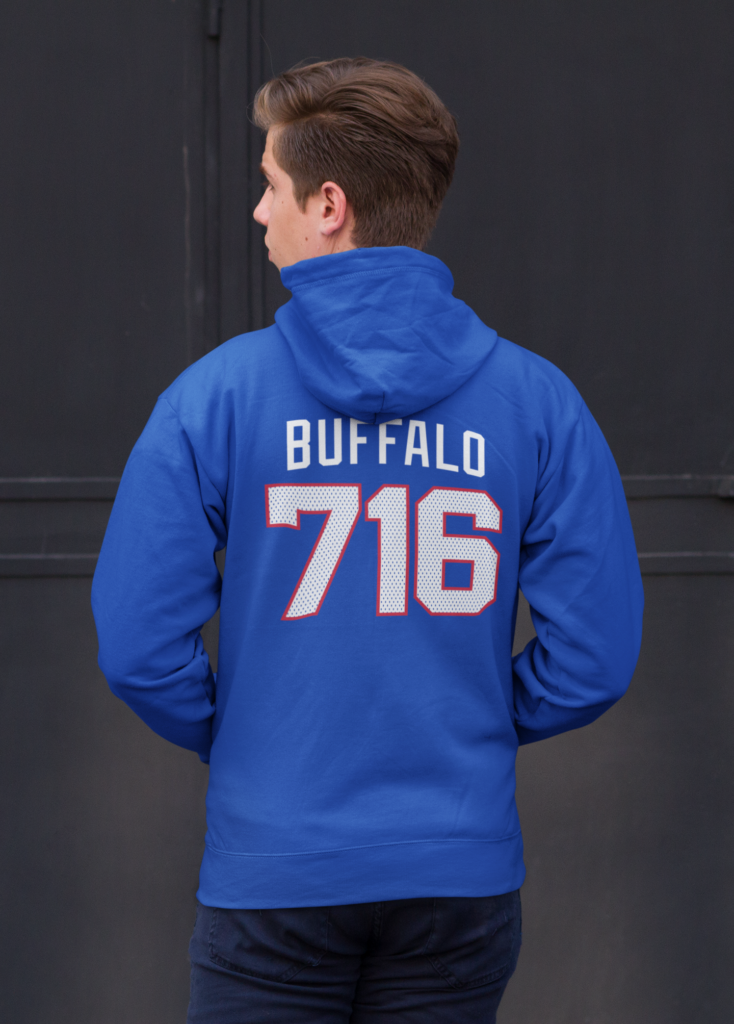 BuffaloFAMbase.com is sponsored by 26 Shirts
Every Monday, we launch a new two-week campaign of a limited edition t-shirt design. Every shirt purchase results in a donation to a local family in need. After the campaign ends, the shirt is retired. A new design is released, and a new family benefits from your fandom!