I've put each round's picks in the order I'd pick them.
RD1#32
Nicholas Petit-Frere OT Ohio State [Watch #78 pancake]. NFL-ready RS Junior (Watch LT #78 on another play).
Tre Turner WR Virginia Tech — 4 catches for 64 yards (16 YPC) & a game-sealing 12-yard run …another nice catch here. He's tied with Romeo Doubs of Nevada for tallest target among the fast WRs.
Trevor Penning OT Northern Iowa – Spencer Brown's bookend and LT successor at NIU. Penning has Brown's fluidity, athleticism, and mammoth size. His great motor and nasty demeanor rival's Spencer Brown's, and Sports Illustrated applauds his "impressive size and excellent athletic traits" along with his "impressive movement skills that allow him to navigate the box, pull to lead block, climb, get to space and perform hinge or reach blocks." I like Brown or Penning at LT. Make it a competition; they'll both love it.
Sean Rhyan LT UCLA – part of one of the most athletic lines in the nation. Watch #74's first step, his sustain, and his decent impression of a snowplow.
Jahan Dotson WR Penn State — Didn't flash early in one of the scouted games, but ended up catching 11 for 127 yards and a direct-snap TD. Here's his first catch with 3:00 remaining in the first half. He catches the ball while sliding, doing his best impression of Cole Beasley here…and here. Most of his catches were first downs.
Jordan Battle SS Alabama [Watch #9]. Read my Deep Dive.
Just Missed—Daxton Hill S Michigan – PBU, an INT and this sack. But…Next time, wrap him up. A ferocious blitzer, Hill did his best to keep the Badgers at bay.
Just Missed—Brandon Smith OLB Penn State –Fastest of the big linebackers in this draft, and that's Pegula's alma mater.
RD2#64
Reggie Roberson Jr. WRS KR SMU — [Watch #21] – "Robber Son", a favorite of mine for his Emmanuel Sanders-like speed and hands. Roberson caught 3 passes for 41 yards and this beauty for a TD. Stick around for two views. He's your kick returner when you tire of Marquez Stevenson next year. Other speedy options in RD2-RD3 would include Jameson Williams, Khalil Shakir, Wan'Dale Robinson, and Braylon Sanders. All should run sub-4.4's.
Thayer Munford OT OG Ohio State — Playing LG this year allowing Petit-Frere to stay outside. Watch #75. Lowest Pressure Rate allowed by a 2020 Power 5 OT.
Jamaree Salyer LT OG Georgia [Watch #69]. "Juh-MAR-ee" was RT in 2019, LT in 2020, and is LT this year. Handles the spin move well. You have to watch his feet to appreciate why he's so effective. He can move up if his run blocking gets lower, and if he sustains blocks longer. Another example here.
Trey McBride TE Colorado State – 13 catches for 116 yards (8.9 ypr) – If Beane gets his OL set in Free Agency, McBride makes a match with McBeane. Here is a sampler plate: [Catch #1, Gets Low] [Catch #2, To The Flat] [Inside TE-Shovel Toss you've seen run by Chiefs, 2 Views, and a similar play later in the game]. How's McBride's blocking? Excellent. He has moves, and moves the chains.
Zach Charbonnet RB UCLA 6'1″ 220 4.34. He logged 6 carries, 106 yds, 17.7 ypc, 3 TDs in the scouted game. Them's Heisman numbers, except the opponent was Hawaii. Two views of this TD run. Also caught a 14-yard pass, something he said he wanted to add to his skillset. Here's 3 missed tackles forced. I prefer Charbonnet to Spiller.
Jermaine Waller CB Virginia Tech–3 tkl, 4 asst, 1 INT in one game for Bills scouts, –3 tkl, 1 asst, 1 INT in another. Doing great without Titans RD1 Caleb Farley. Still tied for #1 in ACC in INTs with 4, and one of Waller's was a pick-6.
Just Missed—Zachary Carter EDGE Florida – Redshirt-senior defensive end Carter recorded 4 tackles, 3 tackles for loss, 3 sacks and a forced fumble in one game for which Carter was named SEC Co-Defensive Lineman of the Week. Bills scouts attended 3 additional Gator games this season. In another game, he had 1 tackle, 1 assist, 1 sack.
RD3#96
Phidarian Mathis DT1T DT3T Alabama – 9 tackles and a sack. It was Phil Mathis, not DJ Dale, that was double-teamed on the fake punt.
Zakoby McClain WLB Auburn #9. Had 13 tackles, 10 solo. The WILL linebacker in Auburn's multiple 4-3. Love his closing ability, his tackling ability. I noted last year, "works off blocks very well, speedy, effort player, awareness #9 here. Watch #9's feet."
Trey Dean III FS Florida – 11 tackles (5 solo) and a sack. Dean was a CB turned safety, with impressive size and length (6'3″ 199 4.42). He's started games at 3 different positions in the Florida secondary, and versatility goes a long way with the Bills. Watch #0, he sees where this play is going before the snap. Here, top of your screen covering the deep half, he comes downhill in a hurry. Here, on 3rd and 5, Dean plays the under receiver perfectly.
Damone Clark OLB ILB LSU – 8 tackles (3 solo), 1 sack. The ILB often leads FBS in tackles [track him here], averaging 11.3 per game….character guy. After backing up Devin White then Patrick Queen. Sub-4.5 speed will allow him to play outside or inside.
Mykael Wright CB KR Oregon–4 tkl, 6 assists, moved up [Watch]
Arnold Ebiketie LB Penn State — Gets home on third down here. Finished with 1 solo tackle and 2 assists. In his first game as a Nittany Lion in September, "AK" notched seven tackles, two for a loss, a blocked field goal, and a sack. His roomie? Jahan Dotson. Quick learner, very funny, extremely motivated to become his personal best.
Just Missed—Ventrell Miller ILB Florida – DNP in the scouted game, but as a senior, Miller might declare. He has excellent sideline-to-sideline speed and got to blitz on occasion. He might drop as a result of the injury and his not being an ideal fit for most NFL schemes (he's currently playing Mike in a 3-3-5), but he's perfect in the Bills' 4-2-5 as a replacement for AJ Klein (a 2023 Free Agent at age 32).
RD4#128
Lecitus Smith OG Virginia Tech – "Luh-SEE-tuss". He's huge, athletic, and nasty. I think Beane's in love. The Bills have been to 4 games and a practice. They may take him way earlier.
Smoke Monday S Auburn Smoke Monday… Good name for the first day of the school week in college back in 1969. But seriously. Smoke signals here to get his backfield into the right defense, and forces Mike Leach to take a T.O. with time running out. He's the leader of the Auburn defense, and sincerely wants to make his coach proud. "He's tough, he's smart, he works hard," Harsin said of Monday. His interview was the best of Auburn's interviews. 4 tackles, 2 solo.
Lewis Cine FS Georgia–3 tkl, 6 asst was impressive, then 4 tackles, 2 assists in another scouted game. This is the NCAA's best defense; I'd be shocked if MCD doesn't take one or several. His motivation's a good read.
Verone McKinley III FS Oregon–4 tkl, 2 asst, 1 INT. Was a revelation.
Sam LaPorta TE Iowa 4 for 45, 1 TD. Led Iowa in targets and catches in 2020. Watch #84 block here. In another game, 5 catches for 49 yds [Watch TE #84] [here's a nice screen for Dabes].
Jarrett Patterson OC OG Notre Dame–Watch #55 pancake his opponent on 2 successive plays. I think OC Dohnovan West of Arizona State is in the convo here, too.
Just Missed—Chris Rodriguez Jr. RB Kentucky –19 for 99 and a TD in the Bills-scouted game. He's 5'11", 225, with a 4.5 projected forty. If one of the Bills RBs is traded, this is a nice choice…just listen.
RD5#160
Ainias Smith WRS RBC PR Texas A&M 6 for 85 (14.2 YPC), 2 TD [Watch #0]. He's a 5'10" 190-lb Swiss Army knife, working as a WRS or change-of-pace, slightly-faster Matt Breida. Expect Smith to run low 4.3's at the Combine or Pro Day. He returns punts, too. Another first down. Stock up.
Josh Paschal EDGE Kentucky – 4 tackles, 2 assists, which led Kentucky in the scouted game. "He's the definition of toughness," one teammate said. "He doesn't do it for Josh Paschal. He does it for the ten other guys, he does it for the coaching staff, he does it for you guys. He does it for UK." Doesn't that sound like a Buffalo Bill? 2020 stats: 32 TACK, 6.5 TFL, 1 SACK, 1 INT. Nagy: "Alert, skilled, and deceptively quick technician is generally a step ahead of blockers."
Teradja Mitchell OLB ST Ohio State — First, he had 11 tackles (4 solo, 7 asst.) in the Oregon game with Beane there (his second Buckeye game) with another scout. Then, Mitchell was named Special Teams Player of the Game the week before he was visited a second time. In that game, he adds two tackles and 2 assists. Finally, he adds 3 tkl, 1 asst in the Akron game. Voted captain this year. 6'2″ 242 4.62 is nice inside, maybe outside (Milano was shorter, 4.58). It wouldn't surprise me if Mitchell was selected way earlier.
Leo Chenal ILB Wisconsin – The junior is second in sacks on a stingy Wisconsin 3-4 defense (#1 is sophomore Nick Herbig). Chenal and Sanborn combined for a staggering 25 tackles in the scouted game. A student of the game. Chenal is faster than Sanborn. 6'1″ 252 4.56
Merlin Robertson OLB Arizona State – #8 lines up off the RDE's right hip. Here, he's lined up in the middle in a cover-2, I'm guessing. Robertson has length and versatility. 6'2″ 250 4.63 is in the same vicinity as Mitchell.
Kyu Blu Kelly CB Stanford – Just what you'd expect from Stanford: a football-savvy student of the game. His 7 PBUs as of this writing leads the PAC-12, which is impressive, considering opponents avoided his side. Against USC in the scouted game, Kelly had 6 solo tackles and 1 assist. Bishop Gorman kid. Kelly is a nice Buffalo name. His Gorman coach talks about Kyu Blue (2 year old video).
Just Missed— Jack Sanborn ILB Wisconsin – Redshirt senior, #57 is stout at the POA. He led all Wisconsin defenders with 13 tackles (6 solo). Badger scheme allows LBs to roam free and make plays through gaps. Sound familiar? Tough, physical, smart, and 6'1″ 232 4.66. Off the field, he's pretty mild-mannered. Too mild-mannered?
RD6#178
Damarion Williams CB Houston 170 – 5-11, 180 tackling machine with expected 4.38 speed had 9 tackles in this game, 8 solo. Can return kicks if needed. Stock up.
Sean Mahone SS WVU — 4 tackles, 3 asst. That's 13 tkls 5 asst for Bills scouts!!
Mohamoud Diabate LB Florida – Diabate's 11 tackles (4 solo, 7 asst) led the Gators. He's been on fire the last 4 games with 36 tackles overall, playing gritty despite 3 losses in that span. A junior, Diabate has the length the Bills value (6'3″, 227). Stock up.
Keidron Smith CB Ole Miss — 6'2″, 200, 4.4 and 40 games played will go much higher, but nobody's talking about him. Watch This.
Tanner Mordecai QB SMU — 30 of 42 (71%), 427 yards, 3 TDs. Bills wouldn't be taking a QB early, but Day 3 is possible pending the disposition of Trubisky. Nice bootleg TD shows off Tanner's athleticism and deceptiveness. He's 71.1% on the season for 2320 yards and 29 TDs, tied with WKU's Bailey Zappe.
Nick Broeker OT Ole Miss — Watch Broeker (LT#64) take out 2 Liberty defenders on the first play of the game to spring his RB for a touchdown.
Just Missed — Andrew Stueber RT Michigan – #71 – Hair Kiper's 10th-best OT. Per PFF, Stueber graded out as the Wolverines' top offensive lineman before this season.
RD6#191
Tae Daley FS Virginia Tech – Ten tackles (9 solo) and a TFL. He's #17. Grad transfer from Vandy may be the team's best tackler if it isn't Chamarri Conner. Exudes work ethic and maturity. Coaches were immediately impressed by his desire to learn the whole defensive scheme, not just his own position. That will sit well with Leslie Frazier.
Jack Jones CB Arizona State – 4 tkl, 1 asst, and an INT, but his game-highlight toss to DeAndre Pierce for a pick-6 was pretty heads-up. Stock up.
Josh Ross ILB Michigan – 8 tackles, 7 of them solo, led the Wolverines. Again. He led all tacklers in the Bills' last scouted game too (11 with 6 solo) . He's obviously fully recovered from his injury.
Sam Okuayinonu DL Maryland – Nice outside pressure from a Wide-9, deployable as a DT3T-EDGE combo (and Mario Addison is expensive). Moved up.
Dawand Jones OT Ohio State–Jones had five knockdown blocks against the lowly Akron Zips, plus some slick combo blocking on touchdowns. Watch RT #79.
Emil Ekiyor Jr. OG Alabama–[RG #55] He wasn't much help on this CuedUp goal-to-go. Here, he shows alertness and nastiness. Plus, he helps Brian Robinson on his best run of the day.
Just Missed —Jaylon Thomas OT SMU — DNP due to injury, but he's 6'5″ 325, playing LT this year and the last 2 years, RT before that. Great interview. Remember the name on Day 3.
RD7#200
Eugene Asante OLB North Carolina – 5 tkl, 2 asst and a FF by #7 [watch this].
Jashaun Corbin RB FSU – 15 carries, 144 yds, TD on this play. Last I checked Corbin was 4th in Yards After Contact per Rush with 6.83 YPC/AC.
Chamarri Conner NCB Virginia Tech– Mentioned to me by VaTech's Associate AD, Pete Morris, and sure enough, that week he was ACC Defensive Back of the Week when VaTech beat then-#10 UNC. Conner had 8 tackles, 6 solo, and his INT in the fourth quarter sealed the win.
Amari Gainer DE OLB FSU – [Watch #33 ] – 2 tkl, 4 asst – I prefer Gainer as a rusher than coverage guy, but PFF had him rated 2nd in the scouted game (to Dotson).
Yusuf Corker FS ST Kentucky – 8 tackles, 3 of them solo. Nice late-round value to start on special teams.
Jeremiah Moon EDGE – 7 tackles (3 solo). [Watch #7 playing the OLB/BUCK position here; on the second play, he's following the QB. He looks a little like Jerry Hughes here — getting caught inside. He minds his gap here, though.
Just Missed—Danny Gray WR SMU — Led SMU in receptions and yards, 8 catches for 140 (17.5 ypr), 0 TDs. [Watch #5] [Watch #5 again] [Watch #5 again] . I remind you we have two SMU receivers now.
RD7#225
Brandon Robinson WR Florida Atlantic The 6'4″ 200 receiver had 4 catches for 60 yds (15.0 ypr), and a TD. Stock up.
Tyrell Ajian SS Kentucky – 8 tackles, 7 of them solo. That's a nice late-round fit for the Bills. Great interview.
DeAndre Pierce FS Arizona State – 4 tkl, 1 asst and a sack. Stock up, especially with his 27-yard touchdown on a lateral off Jack Jones' interception.
Cade Mays G Tennessee – On last year's draft radar, Mays is a transfer from Georgia, where he knew Jake Fromm. His brother, Cooper, is just starting out at Tennessee, and we would expect that if Cooper stays, Cade would. Of his 25 starts before this year, 18 had come at RG, three at RT, two at LG, and two at LT. He's logging lots of time at RT this year [Watch RT #68, first in run-blocking, and the next play in pass protect], and the guy he's handling most of the time is #6, Zachary Carter… most of the time. I think Mays vs Carter was one big reason Bills scouts returned.
Dare Rosenthal LT Kentucky – Impressive mirroring by the left tackle, #51. Stock up.
Jordan Williams DT3T Virginia Tech – The team's oldest DL position room needs Jordan Williams. Just listen. VaTech is this year's most-scouted team; I'd take at least three (along with Waller and Tre Turner). Only 6'4″ 310 5.05, Jordan plays NT for Va Tech in a 4-2-5 scheme like the Bills use, and he's fast and explosive. This pressure caused the INT.
Just Missed— Dorian Williams OLB Tulane – [Watch #2] 8 tkl. and an assist.
PREFERRED FREE AGENTS OR RD7A RD7B OPTIONS
Jerron Cage DT3T DT1T Ohio State — Cage takes Tyreke's forced fumble on a scoop and score. Who says big men can't run? Ohio State plays Cage in the NT position next to Haskell Garrett. At 305 lbs, Cage is just 1 or 2 piles of wings away from Lotulelei's trimmed-down weight of 310.
A.J. Finley FS Ole Miss – the 2 INTs were just frosting [#1] on the cake [#2] vs Malik Willis and Liberty. He led both defenses with 12 tackles, 5 of them solo. [Watch #21]. INT #2 foiled a touchdown and iced the game; listen to A.J.'s thoughts on it afterward.
Ty Chandler RB RB North Carolina – 23 touches, 243 yards, 4 TDs in his last game, only 14 for 42 against the Pitt defense. Most games played of any of these guys. He's 5'11" 205 4.32, and takes Michael Carter/Javonte Williams' spot.
Carlos Carriere WR Maryland – Here's all you have to know: a 6'5″ WR caught 4 passes against a good pass defense. Carlos Carriere led Maryland pass-catchers with 53 yards (13.2 YPR) and a touchdown. He offers a high target on the sidelines here, with good hands and sideline awareness.
Jeremiah Gemmel ILB North Carolina – Led UNC in tackles with 10 (8 solo), a sack, and an INT. Per the Senior Bowl's Jim Nagy, Gemmel is "violent, strong, & instinctive versus the run, and easily athletic enough to play on 3rd down. UNC staff loves his leadership." North Carolina is Beane's alma mater.
Mikel Jones OLB Syracuse – The junior had 8 tackles, including this one on 3rd down, to lead the Cuse –plus a sack. Not enough lateral speed to catch Willis here. The pre-snap movement is very Bills-ian.
Tayon Fleet-Davis RB Maryland – Last scouted game, TFD posted a career-high 123 rushing yds, one of them a 54-yard TD. This time, he notched 11 carries, 71 yards, (6.5 ypc). He sees holes, he goes downhill. One of the nineteen 219+ pound backs that the Bills have scouted. Fleet-Davis is one of few with 30 or more receptions.
Jaylon Jones SS Ole Miss – Jones also had an INT in the second scouted game vs Liberty's Malik Willis.
Velus Jones WR KR Tennessee – [Watch #1]. A 6'0″ 200 4.32 kick returner in the Isaiah McKenzie mold.
Chigoziem Okonkwo TE Maryland – Athletic and affable, "chig-a-zem" takes the pitch and turns upfield quickly, showing agility and maybe some position flex (TE, H-back, Y). I love Chig's YAC and effort here.
Jordan Stout P Penn State — Also scouted, Stout helped make PSU the #1 punt coverage unit, with only 1 punt returned (to the 11). But he's not just a Punter and Holder; he's also your backup kicker. He's 32 of 33 on extra points, 72.7% on 16 of 22 FGs. Stout tied a career-high with 3 field goals vs. Michigan, including kicks from 52, 42 and 31 yards. He ranks second in Penn State history with five field goals of more than 50 yards, trailing only Chris Bahr's six. [Interview]
Darrian Dalcourt C Alabama — Dalcourt's line was awarded Offensive Player of the Week. Allowed 1.5 sacks but had two knockdown blocks, 0 pressures and 0 QB hits. Run-blocking was sublime, letting Brian Robinson have a career day.
Dameon Pierce RB Florida – Nice jukes and great size. Has 43 games and over 2000 yards rushing and receiving over 4 years. Has 6.0 ypc average in 2021.
Jason Simmons Jr. FS Syracuse – Son of Carolina Panthers coach transferred from New Mexico largely because of the former Syracuse DBs newly drafted into the NFL. He had 4 tackles including this one. Listed as a sophomore, but 3rd year. Devon Clarke (Syr) and Skyler Thomas (Liberty) were also scouted safeties worth a look.
Jaelyn Duncan OT Maryland – [Watch LT #71] Good footwork. He held his own against Aidan Hutchinson, and here he is against Ojabo.
Emory Jones QB Florida – 21 of 27 for 209 yards in the air, plus 15 carries for 144 yds rushing. Here's a nice example of a touch pass. And here is a nice example of leading a receiver to the sideline. His legs are as much a weapon as his arm. Stock up. Despite Gator fans' urgings to play the freshman, Mullen admires his mental toughness: "His character, his work ethic, his demeanor is unbelievable."
Editor's babble: A great early Christmas gift wrapped up for you by our draft guru Dean Kindig. We are so grateful for his many contributions to our blog. You can find Dean on Twitter @TCBILLS_Astro. Happy Holidays!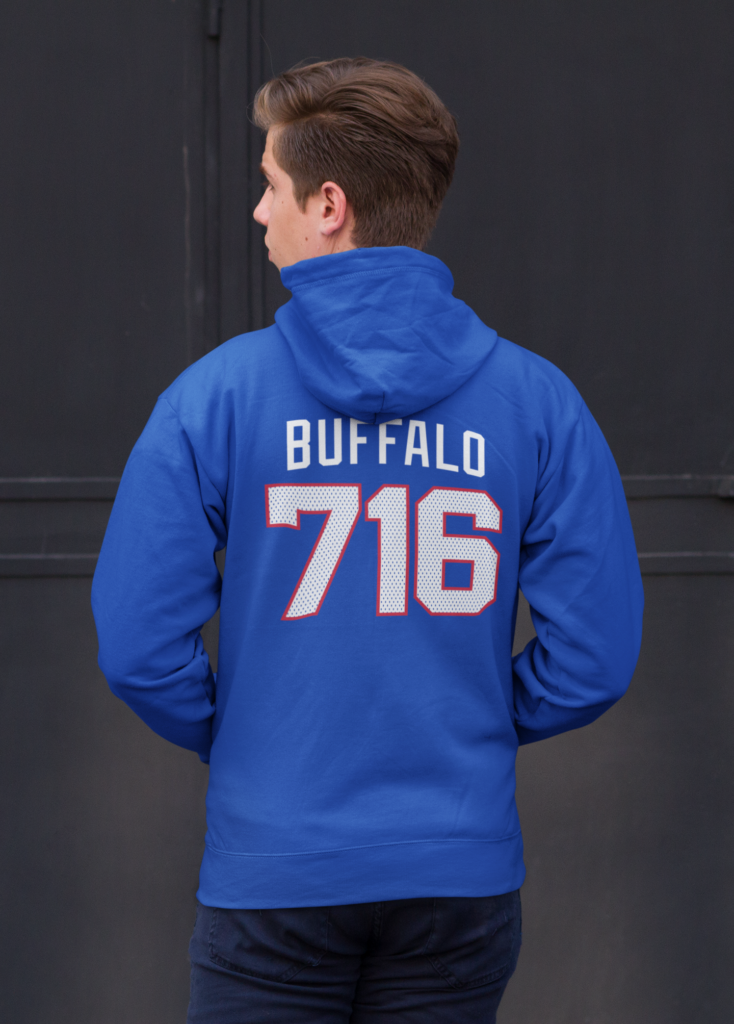 BuffaloFAMbase.com is sponsored by 26 Shirts
Every Monday, we launch a new two-week campaign of a limited edition t-shirt design. Every shirt purchase results in a donation to a local family in need. After the campaign ends, the shirt is retired. A new design is released, and a new family benefits from your fandom!