[Dean] – Well, we've applied our Interview Science to three players here: Miami WR Charleston Rambo, Oklahoma State DE Trace Ford, and Miami QB D'Eriq King. We watched one interview of each player separately to see if we came up with the same interview grades as I've done in my Deep Dives. Here's the interview we both watched of Charleston Rambo, Trace Ford, and D'Eriq King. I will tell you I gave one of these three players a A+++ rating (the top rating meaning I'll do a Deep Dive on him shortly), one a A++ rating (likely still on McBeane's list and merits watching), and one a A+ rating (not likely in McBeane's Top 256). OF the three players, who did you have getting top honors?
[Robyn] – My top interview was Trace Ford. He engaged the interviewer with solid eye contact and appeared interested in making certain he answered the interviewer's questions. Did not speak strictly in cliches as some players tend to do. Discussed his experience with COVID openly, and how it took time to get his strength back.
[Dean] – Some things I really liked about Trace Ford. at :26 he says "I've learned to like film and watch it". He was all smiles at 1:31 when talking about his Mom, who's in the medical field. When asked how many in his family got COVID, his eyes went up, accessing the visual field in his brain. He ran through the symptoms he had without nervousness, and joked about his Mom telling him to wash his hands every 30 minutes. There were some things I didn't like, though. He asked for three questions to be repeated, at :54, 2:53, and 5:39. While it was a video interview on Zoom, and the connection might have been bad, I'd have to check out his auditory processing.
[Robyn] – Good point about auditory processing. We may have differed in how we viewed his asking for questions to be repeated. I felt Trace Ford was asking for clarity to ensure he was answering the question asked, but it definitely could be an auditory processing issue.
Readers may wonder why is this critical to differentiate. As previously noted by Dean in his articles, people process cognitive information in different ways; auditory, visual or kinesthetic ("hands on"). Individuals usually have a preferred way to process data. This is important to identify in order to provide the player with information that is easiest for them to access and process in their brain.
For example, if a visually dominant person is given information through auditory channels (calling out a play in the huddle), then that person is likely to transfer the data to their visual center for processing… so in other words so their brain can SEE the play. The delay in processing time may be a critical element to identify in player performance.
[Dean] – Sentence length has a lot to do with auditory processing, as well. Even the reporter's second attempt at asking the question here is long and convoluted. Trace might have to go to teams whose playcalls in the huddle are more truncated.
[Robyn] – Makes sense. It seems like many interviewers tend to ramble on with their questions to the point where the actual question gets lost in all the verbiage. So with any interview, perhaps we should also pay attention to the interviewer and whether or not their questions are asked in a clear and concise way?
[Dean] – You bet. This is the original question that Trace was asked, although I can name some Buffalo media who are just as guilty! Sentence complexity is typically measured by either number of syllables or number of multi-syllable words. This one's off the charts! Who did you have as your A++ interviewee?
[Robyn] – D'Eriq King. This was a fun, laid back interview. I gave the interview an A++ rating. The interviewer was lobbing a lot of 'soft balls' his way with questions about Texas BBQ and King's interest in bowling. King's eye contact was good, used his hands as he responded to questions standing up. The interview was done in a public setting (lots of background noise) so I'm not sure how that might impact the quality of the interview.
[Dean] – I gave King extra credit for the background noise; that shows good concurrent processing if you can concentrate amidst the hubbub! I noticed the good eye contact, too, and his genuine, fun-to-be-with personality. I especially liked three things about this interview: First, he talked about his team rather than himself, and when tossed that softball about his track and basketball days, he didn't brag; he stayed humble. Second, when asked what he was working on, he said, "I think you can do better at everything" but then enumerated four specific things he's focusing on. Third, he says at 2:19 that "me and [inaudible] are the most competitive people on the team". I want a competitor as my quarterback. I can't knock him for choosing Aaron Rodgers, Russell Wilson, and Kyler Murray as his idols, although a JA mention would've helped.
[Robyn] – Ha… JA, our very own unicorn. I also keyed in on King mentioning specific skills he was working on. D'Eriq also showed the thing you most want to see out of a QB… leadership. When asked about what he did during the off season, he mentioned getting his roommate and others involved in bowling, a healthy way to spend their free time. This guy seems ready to do whatever is necessary to win at whatever he's doing.
[Dean] – Players need pockets of passion away from football, and bowling 4x a week while he was attacking his rehab sounds healthy. D'Eriq had to be prodded to tell what his high score was (219). Must've been his pre-game nap ritual. Anyway, I mentioned eye movement and what it tells us about a player. He frequently turns his eyes to the left (accessing the visual hemisphere) when asked questions. You want your QB to be extremely visual, and he is. You also want your QB to be articulate, and you get that from his interview. I gave D'Eriq King a A+++, so I'll do a Deep Dive on him pretty soon. Tell me what you thought of Charleston Rambo –is that your favorite town and movie?
[Robyn] – Nah, more the Buffalo, Wyoming type, where they still celebrate Longmire Days :) I struggled a bit with some of Charleston Rambo's interview. His posture was distracting as it seemed he was almost leaning over as he was responding. His responses were hard to understand at times because he seemed to wander instead of answering questions directly. There were also quite a few cliches thrown in (Uh, "I've just got to get bigger, faster, stronger") in response to questions about his specific goals. There was a lot of focus on himself in his responses more so than on overall team success. I rated his interview an A+.
[Dean] – You and I agree here on the letter grade. There were some big takeaways about the kind of team that will take Rambo, too. Rambo's an intrapersonal learner, reflective, where relationship is extremely important. Rambo's going to do best after he fits into a close-knit band of guys. At 0:58, he talks about "I can fit in". At 3:20, Rambo says, "We're just learning from each other right now, bonding". At 5:18, he says, "I'm a better person than I was [in 2019]…just putting on tape and getting better with the guys." Finally, at 5:48, Rambo talks about getting to know the guys in the first few practices at his new school, then settles into the "mindset" and "routine", which he finds very comforting. But intrapersonal learners need time up front to become comfortable in their group, and real learning can't take place until –or unless– that happens.
[Robyn] – You raise such great points here. Rambo definitely presents as an intrapersonal learner. This would seem especially relevant in light of the fact most players have little choice over what team will draft them. This is where locker room culture becomes very important. Players like Rambo who need to feel comfortable before they can open up to others need a locker room conducive for rookies who may be uncomfortable in new situations. That may seem obvious, but it doesn't exist in every locker room in the NFL. Just ask anyone who shared a locker room with Jay Cutler.
It would certainly seem NFL teams might benefit from the expertise of people like you. It may behoove teams to start asking for an assessment of learning style and to screen for any cognitive conditions that may impede the ability to process the type of information necessary to understand and translate a playbook into practice. Sometimes just figuring a work-around or accommodation for a player who may process information in a unique manner can make all the difference in how they perform at the NFL level.
[Dean] – I've enjoyed putting two pairs of eyes on three players. A player might fall in the draft precipitously if the soft signs point to his being less likely to succeed in a given system –or a particular coach's position room. We all had Marvin Wilson going on Day Two. He signed with the Browns as an undrafted free agent. Well, attitude determines altitude. Personality goes a long way in determining how players will fare in practice, during Bye Week, and in the heat of a playoff run.
[Robyn] – This was a fun exercise, one I would like to continue. We are blessed when you share your expertise with us. Although we differed somewhat in our grades for these players, it's to be expected because we likely vary how we value specific traits. It might be fun sometime to identify specific traits we want to look for and see if we vary in how we see them (or not) in the same interview.
Thanks for joining us!
Editor's babble: You can find Dean on Twitter @TCBILLS_Astro. I'm also on Twitter @RobynMundyWYO. Go Bills!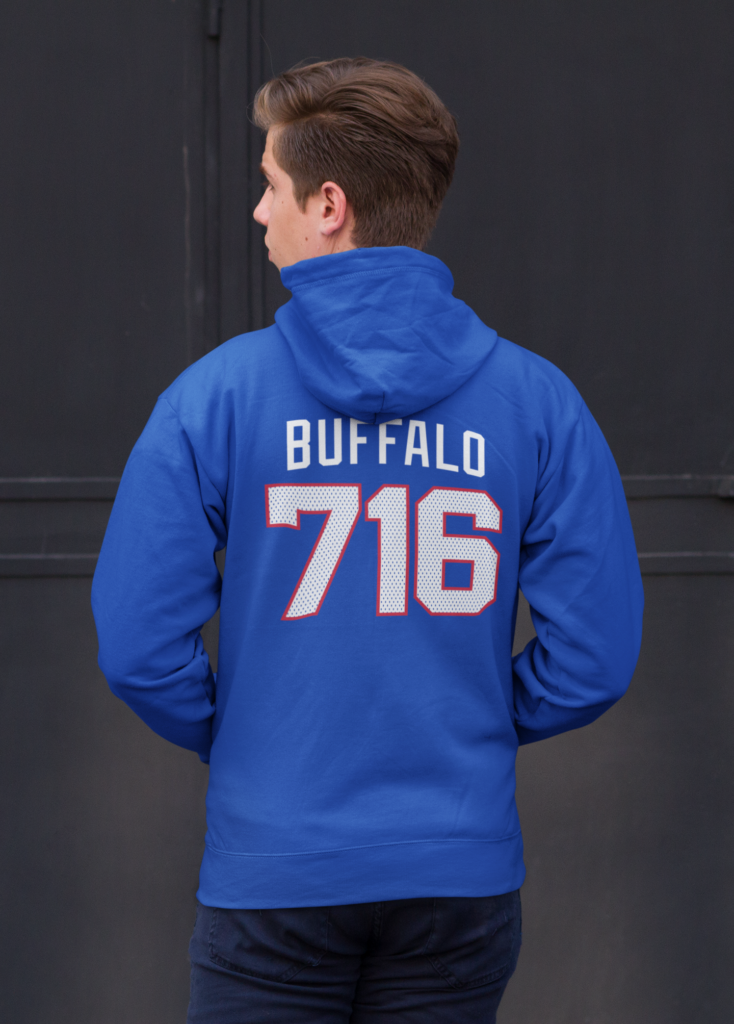 BuffaloFAMbase.com is sponsored by 26 Shirts
Every Monday, we launch a new two-week campaign of a limited edition t-shirt design. Every shirt purchase results in a donation to a local family in need. After the campaign ends, the shirt is retired. A new design is released, and a new family benefits from your fandom!