Every potential draft prospect sees dozens of interviews. What do NFL war rooms look for in an interview?
I can tell you what I look for. In my 44 years as a learning specialist, I've had the opportunity to give psychoeducational tests to hundreds of students to determine their learning style, and from 1986 to 2015, I did admissions interviews with hundreds of students and their parents. Here's what I looked for when doing my "Dean's Deep Dives" series, and what qualities deserved those A+++ ratings, part of a full analysis in predicting players who fit "the process" (Greg Rousseau [interview], Boogie Basham [interview], and Harrison Phillips [interview] are recent examples).
Let's term it "Interview Science".
Alertness -A sign on my wall says, "Wherever You Are, Be There". It isn't just yogis and gurus that talk about being "fully present" in one's life. Watch for indicators that you're getting the full "presence" of that player during an interview. This was notable in several top players, like CB Sevyn Banks (watch) and EDGE Tyreke Smith. Despite being interviewed here by a ~10–year-old here, TE Jake Ferguson is fully present. It seems there's no other place he'd rather be in this moment. Despite the noise and the hubbub in this post-game interview, WR Garrett Wilson is focused and on target, just like he is in games. Wherever You Are, Be There.
Eye movement immediately after question. This is fascinating, based on neuropsychology. If a player looks to his right immediately after being asked a question, he's accessing his left hemisphere, the seat of language (remember LEFT-LANGUAGE-LOGIC-LINEAR). Aidan Hutchinson does it here repeatedly. If a player looks to his left immediately after being asked a question (Breece Hall here) , he's accessing his right hemisphere, the seat of visual processing. If a player looks down, like SS Jordan Battle here, or SS Jaquan Brisker here, or Ventrell Miller here, he's trying to "hear his answer" with his strong auditory channel. If a player looks up, like OG RT Darian Kinnard here and Mycah Pittman here, he's trying to "see the answer" with his strong visual channel. Various positions might require more of a certain channel (auditory, visual, motor, oral, kinesthetic) to flourish in a particular position coach or coordinator's system. Players might consistently do a combination of eye movements (such as up and right with DT3T Perrion Winfrey here), suggesting sophisticated processing that crosses both left and right hemispheres –always a good thing.
Body language – The head-down posture, the curl at the corner of the mouth. Rubbing the nose. The rapid blinking. Do any of these suggest WR Jahan Dotson is coming from a position of anger, or is it resolve as he talks about Penn State's season? I'd prefer resolve; I'm not Darth Vader. During the answer, does the player put "body English" into his answer like Washington CB Trent McDuffie, indicating a kinesthetic learning style? These are the "do and learn" types who profit quickly from reps. Watch player body language right after they've spoken, too. Did they act like they actually believed in their answer? Body language can also give clues about hearing or auditory processing. I love Andrew Booth Jr.'s play, but I'd wonder what's going on auditorily here. I'm put off by a player who would start out his media availability like this. Walk the talk, Mycah Pittman.
Overall Affect – A generally-flat affect, like WR Chris Olave's here, or like Kyle Hamilton here, might not be what you want for team bonding like the Bills war room covets. McBeane might like WR Reggie Roberson Jr. or LB Henry To'oTo'o instead. I could see RB Keontay Ingram in Kelly Skipper's RB room. I think OT Evan Neal is a special human being, and will win over teammates, coaches, and maybe most importantly, GMs. OT Zion Johnson's glowing endorsement of his Boston College teammate DE Marcus Valdez would score big points in my book –for both players.
Eye contact – Speaking of Marcus Valdez, his poise and eye contact during his interview this week is the dictionary definition. That kind of eye contact gets you noticed –or elected!
Grit. It's my favorite personality gem that you mine for in a player's backstory. How was the player's demeanor at a press conference following a loss? Does he deflect responsibility? While I like this player (click the link to see who), I prefer those players that look for details on how they can become better. The "Blame Game" has no place in The Process. I remember listening to Trevor Lawrence after Clemson's loss to LSU, and how his demeanor impressed me. It doesn't have to be a game loss, though. Here, Auburn LB Owen Pappoe speaks about a coaching change, saying, "Change is always going to happen in life, it's just the way that you respond to it." Amen. (Was that Big Baller Beane writing something down after Pappoe spoke?) At age 14, EDGE George Karlaftis lost his Dad to a heart attack; he speaks about it here in this 2016 story. What a phoenix you have to be, and grit you have to have, to rise from that kind of adversity.
Sequential processing / Auditory Memory – Several players had difficulty remembering a two-part question, forgetting what the second part was while trying to answer part one. These players will learn more efficiently because they can remember more than one element in one learning session. Watch how poised WR John Metchie is in answering a 2-part question here.
Concurrent (simultaneous) processing – You've heard the saying "walk and chew gum", and you've likely been challenged to rub your belly while patting your head. That cognitive ability to do more than one task at once is called simultaneous (or concurrent) processing. Problem with assessing this during interviews is that they're basically doing one thing, a pretty linear question-answer thing. On the playing field, however, rapid processing of simultaneous routes by one's opponent might be a whole new ballgame.
Thoughtful players take time to compose their answer. Watch CB Sevyn Banks as he pauses to think before he responds to this question. This isn't a player who will shoot from the hip, carry out Tweetstorms (ahem), or act first, think second. While he has some things to work on if he continues video blogging, Brandon Smith, OLB at Penn State, fills notebooks with observations and questions. He's always thinking, and it helped him thrive in 2020 as "next man up" because of Parsons' 2020 opt-out.
Passion. Despite his stammer and inserting "you know" as a compensatory technique, Safety Jordan Battle's passion for the game just pours out of him. Listen to a minute, and I guarantee you'll be ready to play this Sunday! Cincinnati CB Ahmad Gardner exudes that passion…Feel it? Battle's one of my 2 pet cats at Strong Safety along with Brisker, and McBeane will feel it, too.
Has absorbed the expectations and the standards put forth by the coaches. Listen to the many examples LB Christian Harris of Alabama utters. If I'm looking at a young ILB who will carry forth the ethos of my team, both on and off the field, this is what it'll sound like.
Conviction of Beliefs – Listen to RB Kyren Williams talk about how his Catholic faith made Notre Dame the right home for him. You know he'll "walk the talk" and impress teams with a high percentage of players on the Fellowship of Christian Athletes. The Bills' own Isaiah Hodgins is a member of the FCA, for example.
Selflessness, "team first" attitude – I was so impressed by Michigan EDGE Aidan Hutchinson's answer to this question. Sure, Hutch was double-teamed (and held often) in the game in question, but he's the consummate team player. He knew it would free up Kwity Paye. There's a reason McDermott often taps the word "Humble" as a quality he looks for. You hear it in WR Ty Fryfogle's interview after having been named B1G Receiver of the Year in December 2020. OT Nicholas Petit-Frere is my idea of a team-first offensive lineman; he gets it, and knows his role will be "the guy who's been there before" this year at The Ohio State.
Restlessness could go either way. While I'm not saying he has the markers of ADHD, CB Derion Kendrick's excess motor movement will need to be carefully vetted, as maybe you don't want the accompanying inattention or distractibility than sometimes can accompany it. Film rooms and position rooms are examples of where attention plays a major role in success. If his water bottle and his hat get this much attention during TE Charlie Kolar's press conference, what might distract him in those rooms besides the task at hand?
Do you have another quality to look for? I'm always interested in listening to more "Interview Science" ingredients that war rooms add to the stew of info on a draftable player. Hit me up on Twitter @TCBILLS_Astro !
Editor's babble: Couldn't love this more if I tried. We are so blessed to have Dean Kindig share his expertise. Looking forward to more "Deep Dives"!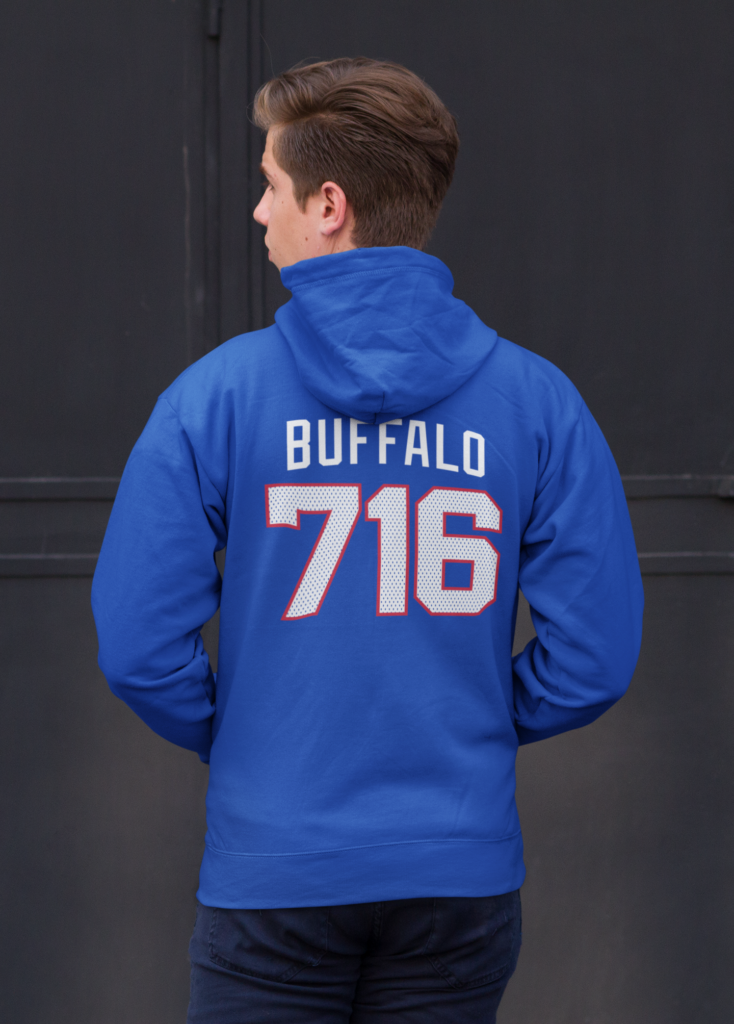 BuffaloFAMbase.com is sponsored by 26 Shirts
Every Monday, we launch a new two-week campaign of a limited edition t-shirt design. Every shirt purchase results in a donation to a local family in need. After the campaign ends, the shirt is retired. A new design is released, and a new family benefits from your fandom!