These are the best interviews I've listened to in my Top 50 players for the 2022 NFL Draft. Interviews mean a lot to teams like the Bills. In the words of the almighty Belichick, "Talent sets the floor, character sets the ceiling." All of these players will be drafted earlier than you think because of the discernable character that shines through their words. I've arranged them in their order on my Big Board as of June 2021.
Sevyn Banks CB Ohio State Big 10 6'1″ 200 4.42
LISTEN
Banks missed the majority of the Buckeyes' spring camp with an undisclosed injury, but this will be a big year for him. He currently has the 10th-best odds to be selected No. 1 overall in the draft at 25/1, according to BetOnline.ag. Of those ten players, Banks is the only one on this list. FIT FOR BILLS: A+
Aidan Hutchinson DE Michigan BIG10 6'5″ 269 4.64
LISTEN
Aidan is THE team player: unselfish and sacrificing. He's played defensive end, tight end, and long snapper. Injury interrupted his 2020 season after he'd notched nine tackles and a pass defensed over two games, but he attacked his rehab, bent on returning because he's …the team player. He'll be back on the Wolverines this year because he's …the team player. He wants to reset the culture at Michigan. I wouldn't put it past him. FIT FOR BILLS: A
Ty Fryfogle WR Indiana BIG10 6'2″ 214 4.44
LISTEN
"Ty Fry" (my moniker) was really cooking in his 3 games against Michigan, at Michigan State, and at Ohio State: 560 receiving yards (1st in NCAA), 6 TDs (t-2nd), and 17 catches of 15+ yards (1st). I'd watch those 3 games if you have time. I love his sideline awareness. I also love the moves he can make despite his size. Ty Fry is the first Hoosier to post multiple 200-yd receiving games in the same season…He's returned to school for one more year due to "unfinished business". I was fooled by this stop-start in a hitch route. His toughness and mentality shine through all of his film, but here's an example. FIT FOR BILLS: A+
Breece Hall RB Iowa State Big 12 6'1″ 210 4.38
LISTEN
Hall is a turf monster, a juker, a nifty red zone receiver and savvy seam detector who just might be there when we draft at #32. He is quiet, smart, humble and reflective, which you hear in the interview. While I doubt the Bills will need a first-round RB in 2022, I anticipate a big year for Hall. FIT FOR BILLS: A–
John Metchie III WR Alabama SEC 6'0″ 195 4.38
LISTEN
Born in Ghana, Metchie moved to Brampton, Ontario, north of Mississauga. He was patient waiting his turn behind DeVonte and Jaylen, and in his interview, he talks about how that was a blessing that helped him learn. When Waddle went down with injury in 2020, Metchie was the one who stepped up big time (55-916-6), good enough for 4th in the SEC. You'll love Metchie's very good speed and tough, punishing, physical play (watch his FF after opponent's INT). FIT FOR BILLS: A+
Jahan Dotson WRS PR Penn State BIG10 5'11" 180 4.35
LISTEN
The fastest player of my top interviews, Dotson hails from Terry Pegula's alma mater, a college Bills scouts visited three times this year. He has played in 30 career games, making 26 starts and averaging 16.8 YPC from scrimmage. The John-Brown-sized waterbug has 26 career receptions of 20 or more yards, and has posted 5 career touchdown catches of 60 or more yards (75 vs. Illinois, 2020; 70 vs. Illinois, 2020; 68 vs. Iowa, 2020; 60 at Indiana, 2020; 72 vs. Purdue, 2019). He had the most 1st down catches by Big Ten WRs. Dotson can excel at special teams, too. His kick-return and one-hander highlight-reel plays will put your eyelids on stilts. Dotson often attracted the attention of two defenders, allowing his sidekick, Washington, a free ticket to ride. It doesn't show up on his stat sheet, but it's what team players do. He speaks of staying in the present moment in his interview, urging his teammates to eliminate distractions. Wow. Here's some eye candy: Dotson against Sevyn Banks for the touchdown.
FIT FOR BILLS: A+
Tyreke Smith DE Ohio State BIG10 6'4″ 267 4.57
LISTEN
Injuries (groin, hand) then COVID before the Natty have taken their best shot at Smith, but I admire that he seems resilient, and still has grit. Tyreke had just victimized Clemson throughout the Sugar Bowl (two tackles, one sack, a pass breakup and a forced fumble), but then had to watch the championship from his apartment. Watch him this season as he gets off the ball with explosion. Smith and Zach Harrison will be a dangerous duo. IF healthy, Smith will be compared to Chase Young. Here's what Young says: "He's gotten more locked in on the real-small details," Young said (you hear about this in the interview). "I always tell him that if he does that and gets real locked in, he can definitely be a force to be reckoned with. I feel like he already is. Tyreke's going to be a real great football player." Smith played in seven games for the Buckeyes in 2020, recording eight tackles and a sack with three quarterback hits, winning 24% of pass-rush battles when in there, per PFF. FIT FOR BILLS: A–
Keaontay Ingram RB USC PAC12 6'0″ 222 4.38
LISTEN
A transfer from Texas, Ingram needed a change of scenery. He'd been best known for his fumble on the 1-yard line against TCU last season, but that lazy association that Keontay was known for in Austin will change this year. You'll see the size-speed-quickness combination that now will be lethal in the Trojans' backfield. It won't be a question of talent for Ingram. I'm assuring you that it won't be for lack of character. That oozes through in the interview. It has always been about putting it together. This is one of the best bounce-it-outs you'll see. FIT FOR BILLS: A+
Jordan Battle SS Alabama SEC 6'1″ 206 4.42
LISTEN
A South Florida guy who I doubt has ever seen snow, Battle is a consummate Bills Safety: a communicator and wrap-up tackler, experienced and quick diagnostician in the 4-2-5 that the Bills frequently use. He ably covers TEs and Slots without surrendering runs. His interview, despite the stammer and word-finding difficulties in his delivery, exudes passion, past coaching, and character. "Battle" is a perfect name. I've talked before about the fact that the Bills need a Tight End Killer to dominate in the AFC East. Battle should be on your radar screen. FIT FOR BILLS: A+
Jake Ferguson TE Wisconsin BIG10 6'5″ 246 4.67
LISTEN
Jake has a brother Joe (Packers tryout in 2018) who the young interviewer is asking about in the interview. No; it isn't the former Bills QB, but Jake's DNA is equal to one of my high school heroes. Jake's the grandson of Wisconsin AD Barry Alvarez. Athletic and affable, Ferguson was a two-way player in HS who also lettered in basketball. Joe began as a good "hands" WR first, then learned TE, and then a pro-style offense. Jake was a decent HS punter as well. Ultra-competitive is baked into that DNA, as is the connection with Mertz, his quarterback. A drop in conditioning (light beer and pizza to gain weight to 255 will do that) caused his numbers to drop, so Ferguson dedicated himself to better nutrition and conditioning habits, and with his quickness baked in, the result was palpable on the field, mainly in blocking. His fave player was Gronk. I'd take that. FIT FOR BILLS: A
NEW ADDS in my Top 100 (Updated 6/18/21)
Mycah Pittman WR Oregon PAC12 5'11" 198 4.36
LISTEN
Mycah adds Mighty to the Ducks' offense, both in sheer speed and in focus. Here, he's catching the ball an inch from the turf. His interview exudes confidence and a fun-loving disposition –a friend who won't let you down, but owns up if he does. The Bills may already have a presumptive heir to Cole Beasley's throne in Brandon Powell or Marquez Stevenson, but if Mycah was there at the bottom of RD3, I like Pittman better.
Zion Tupuola-Fetui DE Washington PAC12 6'2″ 280 4.73
LISTEN
"ZTF" seemed nearly unstoppable in 2020, recording 7 TFL, 7 sacks, and 3 forced fumbles in only 4 games. While he's not tall and he's not fast, he's strong and non-stop. You'll need to double-team him. That'll be impossible because he plays opposite Ulofoshio –who may be drafted before him. Zion gets effort sacks galore. "Us against the world" mentality.
Terrel Bernard OLB Baylor Big12 6'1″ 222 4.58
LISTEN
The Big 12's leading tackle had shoulder injury in Nov, knocking him out of 2020…oh, and the year before he had to switch from WILL to MIKE because of injury to the team's MLB. But he stepped up. He logged 55 tackles, 6.5 TFLs, 3.5 sacks and this safety (watch #2). Bernard is the only player to finish in the top five in tackles that will return to Baylor, so a lot is riding on his shoulders. Again. I wouldn't bet against him. I love Terrel.
Obinna Eze OT TCU Big 12 6'7″ 315 5.02
LISTEN
Say "oh-BEANE-ah EZZ-ay". A native of Nigeria, Eze originally came to the United States to play basketball, and his parents still live in Nigeria. Obinna saw action in 2018 after redshirting in 2017, and then in 2019 switched sides to left tackle, #77 there. That gave him 20 games on the offensive line before this season. He shows pop, urgency, and strength and an ability to pull here. I like his long arms keeping the DE at bay here, and his play to the whistle here. He's smart, too; he's made the American Athletic Conference All-Academic Team twice.
Editor's babble: This article just "put my eyelids on stilts" :) Many thanks, as always for Dean Kindig's superb contributions to our blog. You can find Dean on Twitter (and should) @TCBILLS_Astro.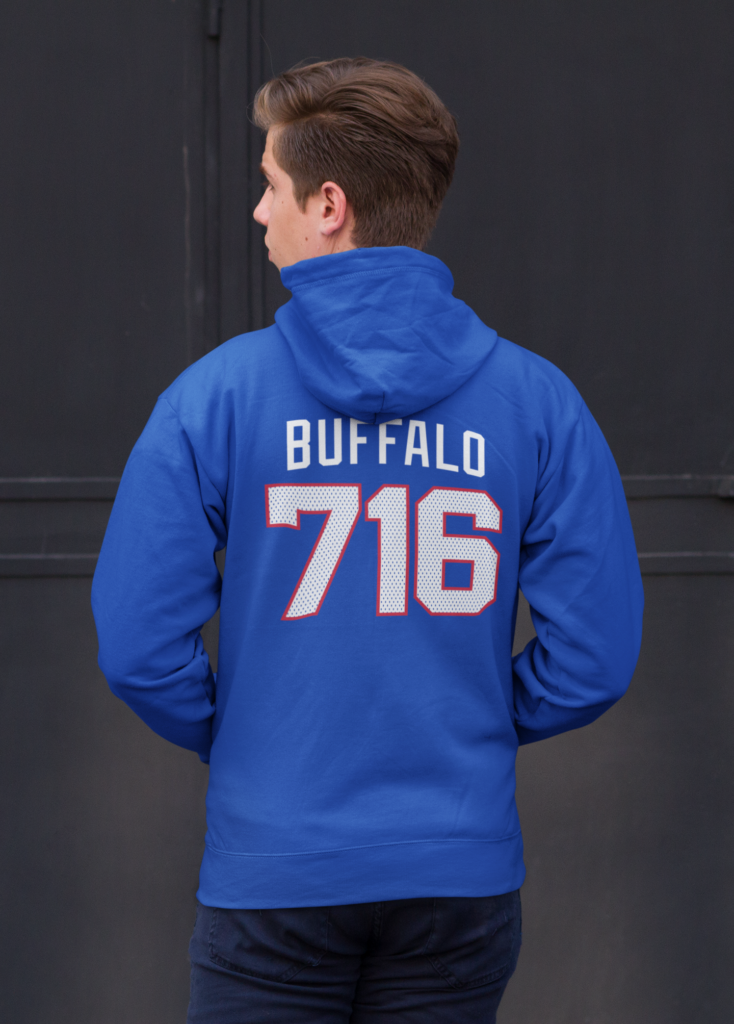 BuffaloFAMbase.com is sponsored by 26 Shirts
Every Monday, we launch a new two-week campaign of a limited edition t-shirt design. Every shirt purchase results in a donation to a local family in need. After the campaign ends, the shirt is retired. A new design is released, and a new family benefits from your fandom!