Here's every draftable RB in my top 300. If you don't see your pet cat here, please drop me a line in the Comments section or hit me up on Twitter. I'll update this article.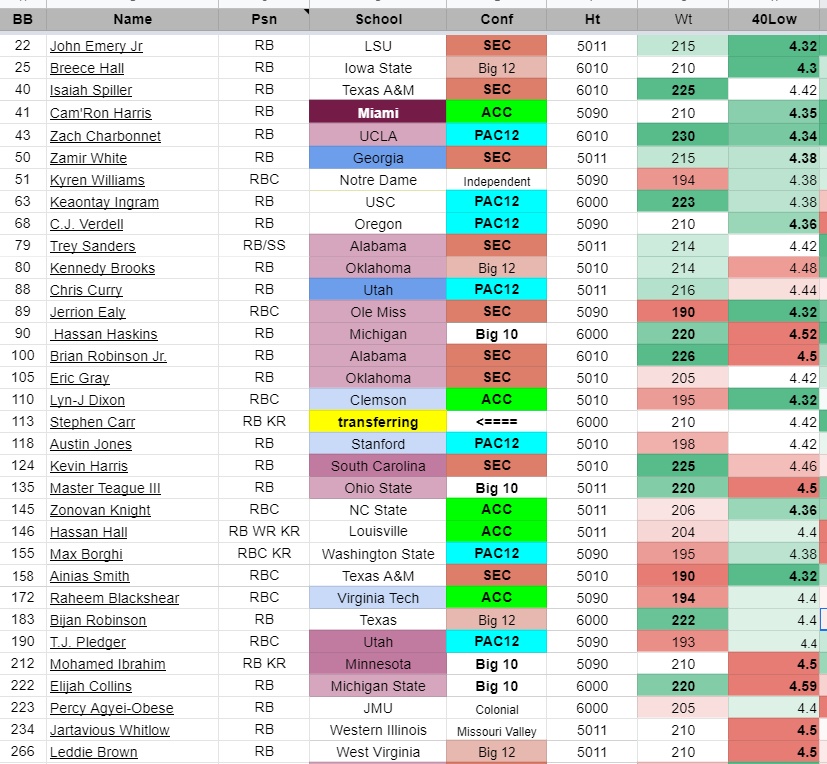 There were so many good interviews this year. Here's who's left if I just count the best ones, those marked A++. That says goodbye to several RBs who should go early, including Trey Sanders, John Emery Jr, Isaiah Spiller, and Kevin Harris: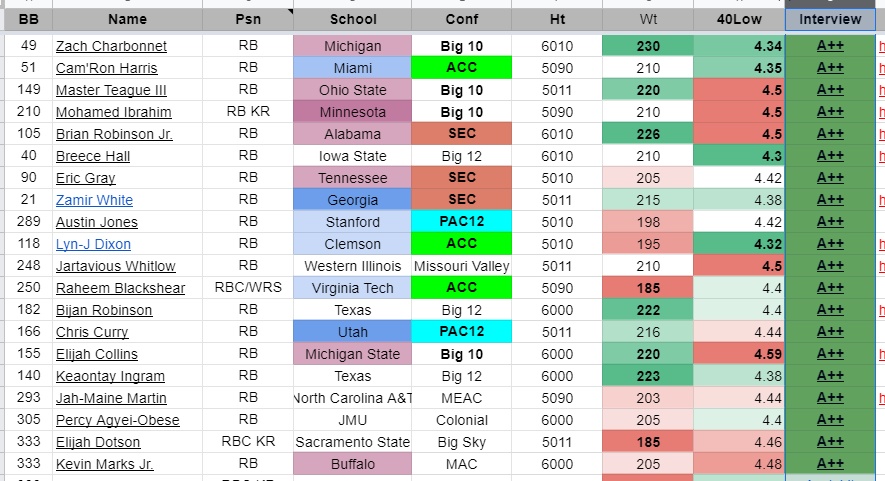 Next, we'll divide the draft class into those who are faster than Devin Singletary and Zack Moss, and those that aren't. You already shnow which half we need to eliminate:

Now, Beane has drafted playmakers from only 5 conferences: ACC, SEC, AAC, PAC12, and in Singletary's case, Conferece USA. Let's look there:

This gives a workable list to start with. I've arranged them in order of likelihood that the Bills would take that player. I've foolishly left their rank on my current Big Board for your later name-calling and my personal bemusement.
32 Cam'Ron Harris RB Miami
ACC
5090 210 4.35
6 YPC vs AP-ranked teams in most-recent season
A++
[Highlights]
[Stats]
The Bills had a Zoom visit with Javian Hawkins and a GM Visit to Travis Etienne this year. Both had four 15+ yard runs in 2020 (tied for 2nd-most in power five). There is no reason to keep Cam'Ron Harris –who was first on that list with six 15+ yard runs– off the short list. He'll be one of the fastest as well, hitting 22.0 MPH in only 6.5 seconds on this 75-yard TD, or 23 MPH per Manny Diaz's GPS (and remember, Manny Diaz is in McDermott's inner circle, as uncovered by Erik Turner). Beane mentioned YAC yards, and Harris is known for that, too. Harris runs angry, and you can pick that out on his highlight films. Miami is the alma mater of QB Ass't Coach Ken Dorsey, Northeast Area Scout Pete Harris and Area Scout A.J. Highsmith. The ACC is Beane's favorite conference. Fit For Bills: A++
118 Lyn-J Dixon RB Clemson
ACC
5010 195 4.32
4.6 YPC vs AP-ranked teams in most-recent season
A++ Interview (CuedUp)
[Highlights]
[Stats]
Dixon was Travis Etienne's teammate, so Dixon's production dipped last season. Dixon averaged 4.5 yards per carry, below his career average of 6.6 yards. I think you'll see Dixon approach 6.0 this season, but he won't have ETN to buoy him up if he doesn't. This ACC player needs to bring it this season. He's already earned high praise from Swinney and offensive coordinator Tony Elliott, who previously coached the running backs. Dixon has speed to burn, and is the exact size-speed match of Matt Breida (5-9, 195, 4.32), who turns 27 right after our Super Bowl win.
Fit For Bills: A+
158 Ainias Smith RBC WR KR PR Texas A&M
SEC
5010 190 4.32
5.2 YPC vs AP-ranked teams in most-recent season
A++ Interview (Cued Up)
[Highlights]
[Stats]
What if Beane looks at the other slightly-FASTER Breida to provide competition and an heir-apparent for that change-of-pace back for the Bills? He'd likely do that early Day 3, and I'd like to think that Ainias Smith would be there. Smith checks the versatility box, as he could return kicks or punts, be effective as a receiver, and provide anklebreakers like these.
Fit For Bills: A++
21 Zamir White RB Georgia
SEC
5011 215 4.38
4.9 YPC vs AP-ranked teams in most-recent season
A++ Interview (Cued Up)
[Highlights]
[Stats]
Matt Breida (5-9, 195, 4.32) is going to find his way onto the 53 one way or another with his game-breaking speed. He wasn't used much in Miami (59 carries for 254 yards (4.3 YPC) over 12 contests, while also securing nine of 10 targets for 96 yards), but he was a threat in San Francisco. You'd like to get that same speed, jukes, and humble-yet-hungry persona.

With a nickname of "Zeus", you wouldn't expect Zamir White to be such a soft-spoken, humble person. White is so easy to root for. Listen to the Interview above. He has a slight stammer, also a cleft lip left over from birth trauma. White prided himself playing on the Bulldogs' punt return team. Speed plus size plus backstory are all compelling, and he's likely the SEC's best RB, Beane's second-favorite conference to the ACC.
Fit For Bills: A+
140 Raheem Blackshear RBC Virginia Tech
ACC
5090 185 4.4
4.1 YPC vs AP-ranked teams in most-recent season
A++ Interview (Cued Up)
[Highlights]
[Stats]
Blackshear transferred in from Rutgers, so he's now in Beane's fave conf, the ACC. He got work with receivers in the slot plus took on a third-down running back role, doing anything to help his team win. I'm smitten by Blackshear's traits. Excellent focus on the catch. Draw and a couple Thurman-Thomas-like stiff-arms on this draw play. Here he lined up in the slot and breaks the poor safety's ankles, setting him up almost 10 yards in advance. He'd be a slightly-slower Breida, and that's the minus on his score.
Fit For Bills: A
90 Eric Gray RB Tennessee
SEC
5010 205 4.42
5 YPC vs AP-ranked teams in most-recent season
A++ Interview (Cued Up)
[Highlights]
[Stats]
Also impressive in the SEC, Eric Gray is smart and versatile, but he's probably a third-down back in NFL, a DeMarco Murray in many ways. The motivation is there; he wants to be great. Gray is a details-focused dude, and his dad was a football coach. Gray does what's necessary. Watch this example and this example for proof. Don't use Gray's stats as a yardstick; he was frequently used on dumpoff/safety valve plays. A lot.
Fit For Bills: A-
222 Austin Jones RB Stanford
PAC12
5010 198 4.42
4.7 YPC vs AP-ranked teams in most-recent season
A++ Interview (Cued Up)
[Highlights]
[Stats]
If the three-headed monster of Singletary-Moss-Breida at RB rears its head this year (especially due to consistent OL play), I wouldn't expect a RB drafted until very late in 2022. Austin Jones would be as good a guess as any. I like his patience, planning, vision, and execution. Watch his eyes on this one.
Fit For Bills: A-
Editor's babble: Looks like a nice list for 2022 RBs. Thanks, as always, to Dean Kindig for his contributions to our blog. You can find Dean on Twitter @TCBILLS_Astro.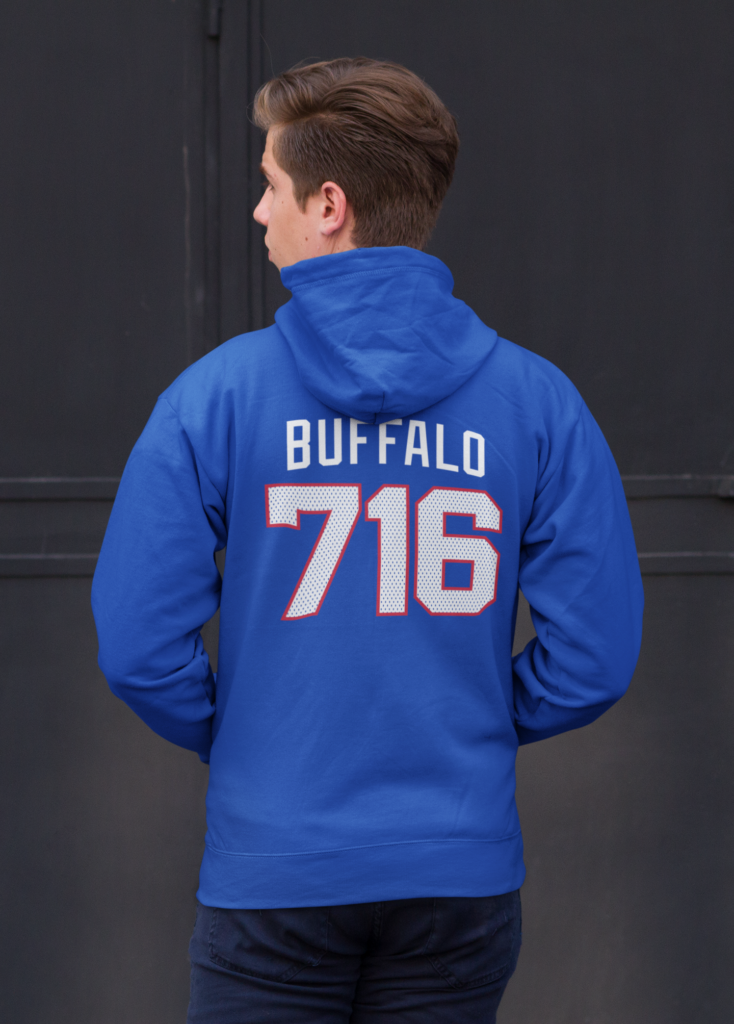 BuffaloFAMbase.com is sponsored by 26 Shirts
Every Monday, we launch a new two-week campaign of a limited edition t-shirt design. Every shirt purchase results in a donation to a local family in need. After the campaign ends, the shirt is retired. A new design is released, and a new family benefits from your fandom!