Find a sleeper that the Bills could ostensibly draft late in the 2021 NFL Draft, or even bring in as a preferred free agent that might actually compete for a roster spot or practice squad spot in 2021?
Challenge accepted.
I've cued up the part of the interview that convinced me that these selections were championship-caliber, and found some highlights that show how his traits match the Bills' needs.
DEFENSE:
Benjamin St-Juste, CB, Minnesota [Interview] [Watch This]
6'3″ 200 4.4
The Bills scouted the Minnesota-Michigan game, and there was lots to look at, particularly WR Rashod Bateman for the Gophers and EDGE Kwity Paye / LB Cam McGrone for the Wolverines. I was also impressed with the play of St. Juste. The more I researched, the more I liked him. St. Juste had to learn a new playbook in 3 weeks for the 2019 season, and he excelled, putting up 10 PBU which was #3 in the Big Ten. Smart is what smart does, and this Academic All Big Ten, grad transfer humbly talks about it here. After earning his bachelor's, Benjamin went from cold Michigan to even colder Minnesota, where he earned his Master's in sports management. I've heard Darrelle Revis skills in a Richard Sherman body. Minnesota asks St-Juste to play a blend of off coverage and press-man. RD4-5A.
James Wiggins, FS/KR, Cincinnati [Interview] [Watch This]
6'0″ 202 4.48
Has had a virtual visit with the Bills. PF: "missed the 2019 season with a torn ACL. Explosive and athletic safety who is best between the numbers. Breaks down well, effectively uses his hands to protect himself, and quickly makes his way upfield defending the run. Effective facing the action in coverage, tracks the pass in the air, and nicely times pass defenses. Shows good hands for the interception. Does a good job reading as well as diagnosing, and generally, plays instinctive football. Explodes through gaps defending the run and aggressively lays his shoulders into defenders….Negatives: injuries the past two years. Lacks great top-end play speed. Does not possess great range at safety." Bills defense would mitigate his weaknesses. Love his click and close. RD5B pick.
Garret Wallow, S-OLB, TCU [Interview] [Watch This]
6'2" 212 4.74
3rd among draftable LBs in TKL/G, Wallow is a good bet for the Bills because he plays a Milano-type role. Coach Gary Patterson. "He's one of those guys that could be your son. How hard he plays, what kind of person he is off the field. Someone that plays like he does, studies like he does, how he holds himself in public, and how he deals with people." Very small senior class, and Wallow took up the mantle of being the leader. A 6'2 230 converted safety. Dude is a spark plug, an athletic, wrap-up tackler. High-motor guy. I think he's more of a S at the NFL level, although he was one of the most prolific LBs in college football this season. His 77 solo tackles was good for first in the Big 12 and third in the nation. By his junior year, he had established himself as TCU's next great LB, leading the Big 12 with 125 tackles and becoming an All-Conference level player. As a senior? He became The Captain, with a capital T — the face of the Horned Frogs. RD6 pick.
K.J. Britt OLB ILB Auburn [Interview] [Watch This]
6'0″ 236 4.5
I think Britt falls to RD5-6 due to an injured hand and resulting surgery. He was out indefinitely at one point. I don't think we'd find a better run defender in that Day 3 group (PFF grade of 91.1 and 31 solo run stops). Britt was Auburn's senior leader and an All-SEC linebacker, and once was #3 on "Herr Hair" Kiper's Linebacker board. He racked up 68 tackles, including 10 for loss last year. While other players opted out immediately to focus on the Senior Bowl and NFL Draft, K.J. Britt stuck around because he's that McBeane team player type. RD5B-6 pick.
Jack Heflin, DT3T-ED, Iowa [Interview] [Watch This]
6'4" 310 4.97
That's A.J. Epenesa's school, but A.J. didn't know him, as Heflin was at NIU, then a graduate transfer to Iowa for his final year. Heflin's 2019 run-defense grade (91.6) was No. 3 nationally among interior defensive linemen. Has some speed with a sub-5.00 forty. He's a strong, interior presence at a position Bills are strong at, but the front office loves them some IDL who can slide out to EDGE. RD7-PFA pick.
Romeo McKnight EDGE Charlotte [No Interview] [Watch This]
6'5″ 260 4.74
McKnight is a top pass rusher in the FCS. What Sean will like is that he is a three-time Illinois HS wrestling champ, which you see on tape: Watch This. Signed with Iowa in '16, got hurt. Transferred to FCS Illinois State, played 2 yrs as a hand-in-the-dirt DE, sometimes sliding over to DL3T. McKnight then played stand-up DE for Charlotte in '20. Really good hand usage. Quick read/react skills, and good strength. Last I checked, Romeo was training with Cam Sample, Shaka Toney (also on our short list), and Darius Stills… An All-Missouri Valley Football Conference First-Team selection, Romeo ranked fourth in the league with 12 sacks, and had 64 tackles, 6.5 tackles for loss, and two forced fumbles this season. PFA pick.
OFFENSE:
Zach Smith QB Tulsa [Interview] [Watch This]
6'3″ 228
A transfer from Baylor (he was behind senior starter Seth Russell and Jarrett Stidham), Zach Smith finally got his chance to play at Tulsa. Smith was 2nd to Burrow in passer rating on deep attempts in 2019. He has your ideal body type, an NFL-caliber but not quite Josh Allen rocket arm, and the requisite toughness. Smith got multiple starts as a true freshman at Baylor. In fact, in his 2nd start, Smith completed 30 of 46 passes for 377 yards and 3 TDs vs Pat Mahomes of Texas Tech. In his fourth start, he connected on 28 of 39 passes for 375 yards and 3 TDs vs Boise State. He was named the starter for Game 4 of his true sophomore year at Baylor in 2018, then started every game for Tulsa in 2019 (when he had his first Bills visit). He had a huge game at ECU in season finale– 5 TD passes in a 49-24 win that closed out a 4-8 season. Bills visited Tulsa often (but they have homes there). Zach Smith talks about teammate Zaven Collins here. You get the flavor of both players. RD7-PFA pick.
Nick Eubanks, TE, Michigan [Interview] [Watch This]
6'4″ 256 4.57
Eubanks began his career as a Wolverine with Michigan in 2016. He had to bide his time, redshirting his initial season and playing sparingly in 2017. He got more playing time in 2018, and became Michigan's first-string TE in 2019, starting 10 of 13 games, contributing 25 receptions for 243 yards and four touchdowns. He explodes off the line, has great hands and catch radius, and shows smoothness and athleticism after the catch. He's big enough to block and does it willingly. Eubanks accounted for 90% of Michigan's career receptions from tight ends in 2020. Woof. RD5B-6 pick.
Racey McMath, WR/KR, LSU [Old Interview] [Watch This]
6'3″ 224 4.35
McMath will fall a bit because he missed several games with a hamstring injury. He's really raw, but has what you can't teach –size and speed. He'll need coaching, as he lacks explosion off the line on most of his routes, but he's faster than Jefferson and Chase were, IMHO. Due to the glut of LSU receivers ahead of him, he lacks the exposure and film for scouts (only 18 games played is second-lowest). He's my "Diamond in the Rough", like OT Trey Adams was last year. A career 33 receptions for 522 yards and four touchdowns. He helped out on special teams, including kick return. He'd be a tall slot. RD7-PFA pick.
Antonio Nunn, WRS/KR, Buffalo [Interview] [Watch This]
5'11" 200 4.4
If the Bills want to bring in a field-stretcher, then speedster redshirt senior Antonio Nunn might be a late-round equivalent of Anthony Schwartz. Nunn made 113 catches for the Bulls for 1718 yards, but the most important numbers were the 5 catches, 137 yds he put up with Brandon Beane watching in his game against Miami of Ohio. RD7-PFA pick.
Shane Simpson, RB, Virginia [Interview] [Watch This]
5'11" 195 4.4
Met w Bills at the Gridiron Showcase back in January. In 2019, Simpson totaled 337 all-purpose yards (162 rushing, 62 receiving, 109 kick return, 4 punt return) as one of the most versatile players this year. In 2020, Shane posted a 54-278 (5.1 ypc) stat line on the ground, 13-133 (10.2) through the air, and an electric 6-189 (31.5) on kick return. RD7-PFA pick.
Cole Schneider, IOL, UCF [Interview] [Watch RG#55]
6'4" 312 5.25
Schneider's the former teammate of Gabriel Davis. Cole's paved the way for Adrian Killins, the UCF running back who's now a likely Eagles kick returner. In 2019, UCF had 3 First-Team All-AAC O-Linemen, and they have speed as an offense. Cole is a fun and interesting character, known for his various hair colors and belly flops. You wouldn't expect his interview to be focused and articulate, but it was. RD7-PFA pick.
Steven Jones RT RG Oregon [Interview] [Watch LT #74]
6'6″ 349
A bookending behemoth opposite Sewell at Right Tackle, Jones is a gentle giant, smart, and affable. You won't find him in the Ducks' OL videos from 2019; two full years elapsed between Steven Jones' first and second career starts. He played 107 snaps over five games 2018, all at LT, and another 63 at RG and LT over 4 games while redshirting last season. Going up against future RD1 EDGE Kayvon Thibodeaux daily in practice is probably better. grading out as the top offensive lineman in the Pac-12 (83.9) by Pro Football Focus the week before in a win over UCLA. RD7-PFA pick.
Editor's babble: Who wouldn't want a guy named Racey McMath? Thanks to our Draft Dean… Dean Kindig for his many contributions to our blog. You can find Dean on Twitter @TCBILLS_Astro.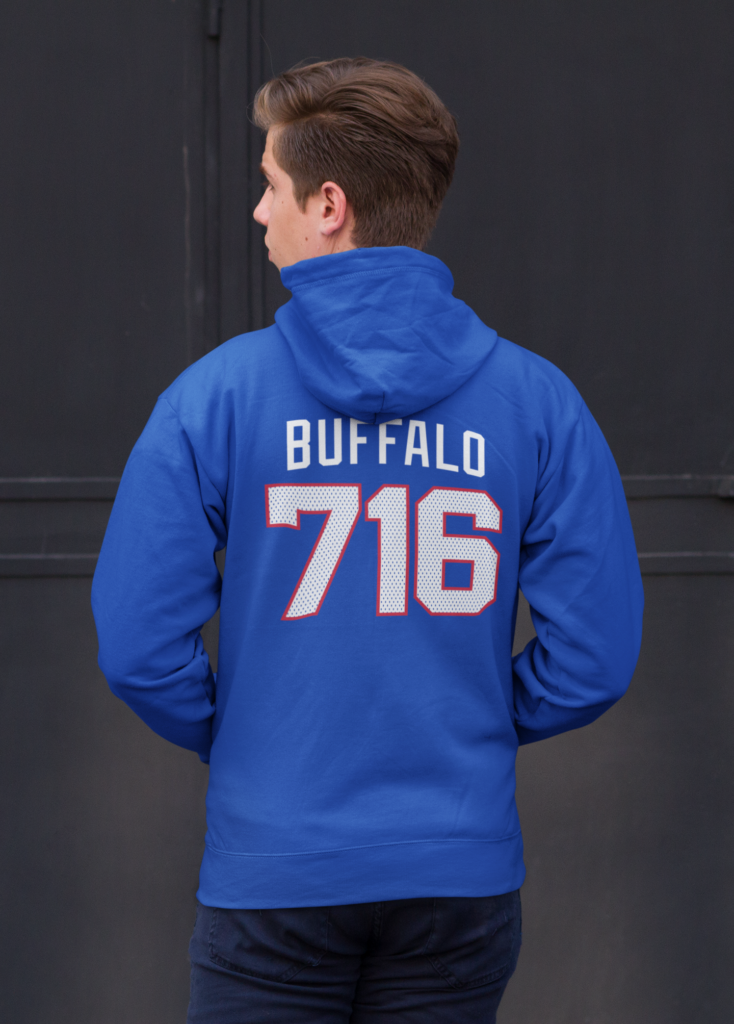 BuffaloFAMbase.com is sponsored by 26 Shirts
Every Monday, we launch a new two-week campaign of a limited edition t-shirt design. Every shirt purchase results in a donation to a local family in need. After the campaign ends, the shirt is retired. A new design is released, and a new family benefits from your fandom!