An average of 19.8 Offensive Tackles have been drafted over the last 3 years. Bet the Over this year; I see it's very much in demand by the DraftTek Team Analysts. They say fifteen of the 32 NFL teams want a OT as early as Round 3. While some OT needs will be addressed by Free Agency and each team's other positional priorities, the reverse is also true; the Bills might be needing to shop for the next Daryl Williams, who hits Free Agency himself.
The FA Tackle market has 32-year-old Trent Williams of the Niners, due upwards of $20M. It's the third time he's led all 79 offensive tackles in PFF grade (91.9). Carolina Panther, Taylor Moton (age 26) will command at least a $16.5M, 5-year deal, and his teammate, 33-year-old Russell Okung, might deliver 3 more years of above-average service for $16M. Alejandro Villanueva of the Steelers is 32+, and will garner $15M for 3 years. Those are all the OTs that PFF ranks above Daryl Williams, who'll look for 3 yrs/$10.5M if Beane doesn't re-sign him. Remember, franchise tags are able be pursued Feb 23-March 9th. Free Agency doesn't start until March 17th.

Our OT crop is as follows:
Bates=========6′ 04″, 302
Dawkins=======6′ 05″, 320
Williams, Daryl==6′ 06″, 330 — Free Agent
Trey Adams===6′ 08″, 327
AVG————–6'5″ 316
Let's begin by showing OTs with scouts at games in last 3 years. This removes some popular names, like early RD1s Penei Sewell, Rashawn Slater, Samuel Cosmi, Dillon Radunz, and Liam Eichenberg. I'm leaving Spencer Brown of UNI on there for now. It's that 500-lb bench press that made me do it.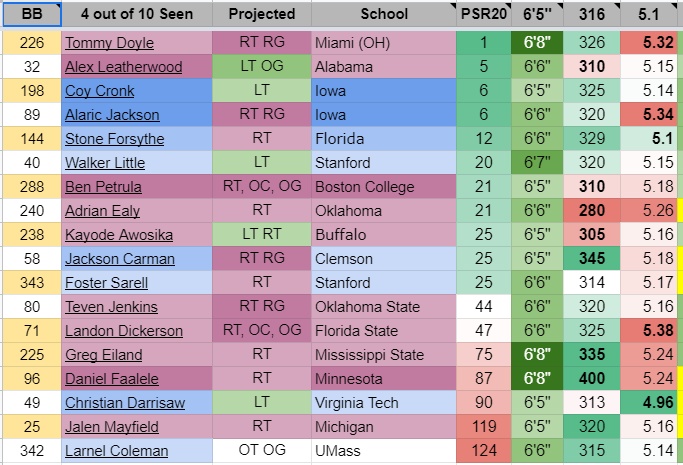 We still have plenty of purple-highlighted players –guys whose team was scouted in 2020. I'm taken by how many of the recently-scouted OTs play RT and/or can slide inside. That's continuing the Bills' love of versatility on the OL. Except for Jalen Mayfield (who's very mobile) or Alex Leatherwood, those often-mentioned RD1 LTs haven't been paid a visit by scouts. Left Tackles are expensive, and the Bills are close to the cap.
We have enough players to consider without including teams that weren't scouted since 2018 and 2019. For example, the Bills didn't return to Iowa after drafting his daily practice foe, A.J. Epenesa, so Alaric Jackson's gone. Jackson has questions about technique and anchor, lower-body strength and flexibility (and whether he's really a Guard), so he's a RD5A guy for somebody, but likely not for the Bills. Adrian Ealy of Oklahoma just doesn't have the body type, and Jackson Carman may be a surprise cut at Tackle. While he's off the ball in a flash, paradoxically he isn't mobile enough for what the Bills like to do. Greg Eiland is an actual island (second in size in the draft to Faalele), but too slow for Tackle. We can talk later about taking Eiland as a promising phone-booth Guard. Ben Petrula is a 4-position player, but do the Bills really need another late-round or UDFA project on OL? They have a better ball of clay in Trey Adams. It pains my heart to drop Kayode Awosika, but again, body type is the reason. I like everything else –his heart, his team spirit, and his Buffalo Bulls alma mater. If he's there after the draft, I give him a call as a Priority Free Agent. Faalele, Tommy Doyle (despite the fact it's Bobby Johnson's college), and Landon Dickerson aren't laterally fast enough to be Bills RTs. Finally, and –I'll take the heat for this– Alex Leatherwood doesn't have the ceiling I'd want in a RD1 OT –even though Brian Daboll worked with him for a year at 'Bama. Please contact me on Twitter to chat about this, not at my home. We just don't have the parking.
Here's my final list of the Bills' target OTs, sorted by draft position as I see it:

That's more workable. You have two guys scouted this year, Jalen Mayfield and Teven Jenkins, highlighted in purple. Coy Cronk will likely be a Day-3 pick; his last 2 seasons have ended with injuries. He didn't know A.J. Epenesa, as he spent the first four years of his career at Indiana. Scouts visited Christian Darrisaw, Walker Little, and Stone Forsythe's schools last year and the year before, and they're in the discussion here.
Let's look at them one at a time. The numbers in front of their names are DraftTek's February ranking. I've also included their rank on my own big board. Forty times are my estimate for their Pro Day.
18 (#29 my board) Christian Darrisaw LT Virginia Tech
6'5″ 313 4.96
Beane isn't shy about drafting ACC players. He's drafted seven in the last 3 years, with only the PAC-12 (3) and SEC (3) even close, and he's tapped those 3 conferences more than all other conferences combined. Well, Darrisaw is this year's highest-graded draftable ACC offensive tackle, and he may not last until #30 (I'm seeing 10th through 24th). He allowed zero QB pressures in his 6 games this season, and it seems that reducing pressures is key –as Mahomes found out. If he's there at #30, you knock over your grandma to get the pick in. Darrisaw has excellent physical tools coming out of the gate. Mel Kiper says, "He's a road grader in the running game who just mauls edge defenders. He has a mean streak and finishes plays." Bobby Johnson can work with his technique that's still a tad raw. The only real concern for the Bills would be his taking plays off on occasion. That can't happen when you're still paying for grandma's hospital bills incurred when you pushed her. When you see that #77 plays like this and this, though, you get excited. Watch this double block cued up. Just watch out for Granny on your way to the podium.
Fit For Bills: A
44 (#25 my board) Jalen Mayfield RT Michigan
6'5″ 320 5.16
The youngest of the OTs, but also the least experienced, Mayfield has a considerable ceiling. Even though he's started only 15 college games at RT and 2 at LT, he began the year as Mel Kiper's #3 OT after Sewell and Cosmi, He's faced some of football's best, including Chase Young, Yetur Gross-Matos, and a guy named AJ Epenesa. DraftTek thinks he'll go to a wide-zone and/or pin-and-pull scheme. Beane says, "Hello, there!" Mayfield, #73, possesses the athleticism to keep up with speed rushers and the movement skills to block on the move, so necessary on the pin-and-pull.. Mayfield's lack of experience may drop him right into Beane's lap at #30. The upside and physical talent is there for Bobby Johnson to develop, including explosion, deep initial kick, nothing wasted on his vertical drop, and his quick foot positioning in pass protection. He'll need the most work with hand placement, as he's sometimes grabby and often too wide. His lateral movement is excellent, and he's able to keep up with speed rushers on the edge. Trent Williams-sized, but slightly under-done. I'd feel best about taking Mayfield if Daryl Williams were re-signed or at least franchised.
Fit For Bills: A+
87 (#40 my board) Walker Little LT Stanford
6'7″ 320 5.15
Last May, Walker Little was DraftTek's RD1#10 to the Chargers. He could still end up there, Walker Little could go 1-2 rounds later. Or not. Team medicals will determine that. Little missed practically all of 2019 due to injury, then had an extremely-short 2020 before declaring for the draft. The knee injury will take medical vetting (not my specialty; I'm a professional hypochondriac), but Little's basic strength and conditioning will also need a close look. In 2018, Little started every game at LT en route to being named First-Team All-PAC-12. If a team is trying to improve in their Rush-Block Win Rate, where the Bills ranked 29th this year, Little is a superb match. His specialty is his run blocking. He employed impressive strength in drive blocking, plays with the mean streak, and finishes his man. When it comes to pass protection, Little shows great mirroring (watch #72 at LT) and uses his long arms effectively. His strength shows up in pass pro, too. If the Bills keep Daryl Williams, you'd want his physical archetype that the team could groom for a year.
Fit For Bills: A+ if medicals check out; otherwise RD3.
150 (#78 my board) Spencer K. Brown LT Northern Iowa — DRAFTED
6'9″ 321 4.84
The top FCS Tackle is Spencer K. Brown, and the K stands for Knockdowns. He loves pancakes. His tremendous arm strength (500 lbs Bench Press) is helpful in re-arranging the defensive line in front of you while getting to the second level. I'm putting him at RT. He hasn't been scouted as far as I know. Brown has the ballerina feet (a converted tight end, like former Bills OT Jason Peters), excellent mobility and great speed (4.84 forty is possible) to get to the perimeter on pulls and screens. His anchor is great which, when paired with his arm strength, makes you an immovable object, even when confronted with an irresistible force. He has the same name as the UAB RB, so remember the K when you turn the name in. Just remember: Knockdowns.
Fit For Bills: A+
96 (#80 on my board) Teven Jenkins RT RG Oklahoma State
6'6″ 320 5.16
RT#73
As of this writing, the Bills' most-recent trip was to Oklahoma State, and discussions about OSU players were likely on their to-do list. They are (in my draft order): CB Rodarius Williams, WR Tylan Wallace, RB Chuba Hubbard, OT Teven Jenkins, and LB Amen Ogbongbemiga. Teven Jenkins, an All-Big 12 selection, has the McBeane Versatility box checked, as he made starts at RT, LT, and RG for the Cowboys. This year was cut short by a lower back injury in the Bedlam game on Nov. 21, whereupon he opted to declare for the draft. Watch RT (#73) for his movement skills and seek-and-destroy missions to open lanes for Chuba. Here, he lets the defender into his body too much due to (fixable) hand/arm placement. He shows he can place his arms better in this rep, but he didn't sustain his block and his man makes the tackle. Here, Teven executes a well-coordinated double block which we saw often at both tackle positions.
Fit For Bills: A
320 (#144 on my board) Stone Forsythe RT Florida
6'6″ 329 5.1
Forsythe has been a tackle for the Gators since 2017, and while he's the Left Tackle here (#72), a role at Right Tackle to start his career is more likely, with a swing tackle role in his future. Stone's boulder size can help with push in the run game, and he has long arms to help in the passing game (Florida ranked #1 the nation in passing yards per game at 378.6). With his 5.1 speed, Forsythe moves very well for his size and can get quickly to the second level to block. He's well-coached, too. Look at Forsythe make the subtle inward move to set himself up for success here Florida is #12 in Power Success Rate, per Football Outsiders, and the Bills will be looking at each team's power metrics. In pass pro, the Gators' offensive line allowed a sack on passing downs only 2.1% of the time, ranking them No.11 in the nation. Stone's father Ray Forsythe played in the NFL for the Cincinnati Bengals, and still grades his games (he's a tough grader). Dude has a mean streak, and his name is Stone. Fit For Bills: B+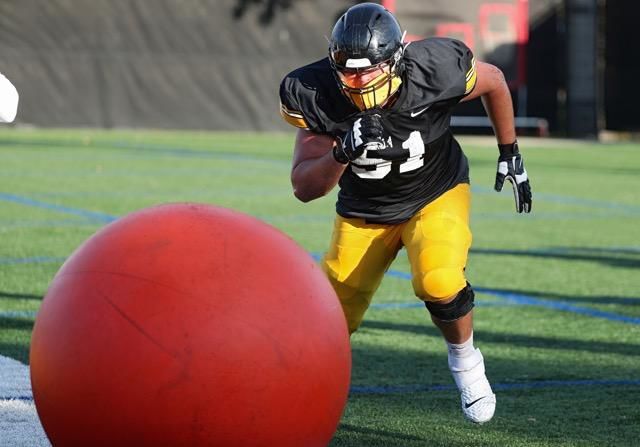 333 (#198 my board) Coy Cronk LT Iowa
6'5″ 325 5.14

While his jersey says Iowa, Cronk is a transfer from Indiana, then Illinois, so he didn't know Epenesa –the Bills' only Big Ten player drafted by Beane. Cronk's a 40-game Big Ten player who spent four years as a Hoosier, then as a grad transfer, headed to Iowa for one more year. Because he'd played only four games as a senior due to injury, Cronk was able to use a redshirt season under the new NCAA rule and become a graduate transfer still within the Big Ten. At Iowa he's #51, the bookend for LT Alaric Jackson. You see sophisticated hand-fighting to gain leverage. He was the LT #54 at Indiana, and you see his awareness on this play, keeping his head on a swivel and looking beyond his own block. I like that Cronk looks for work when his gap isn't immediately attacked. He's mobile enough to execute tandem blocks with the TE, or out in space. He's had to endure the last two seasons ending with injuries, so medicals will be in his NFL future.
Fit For Bills: B+
Addendum: I just discovered something very interesting by sorting the OTs by a new measure: Power Success Rate in 2020, as determined by Football Outsiders. It puts our OL Coach Bobby Johnson's alma mater at #1. Johnson also coached Miami OH's OL for a decade. Tommy Doyle is not on anybody's radar yet, but mark it down: Tommy will be a Buffalo Bill.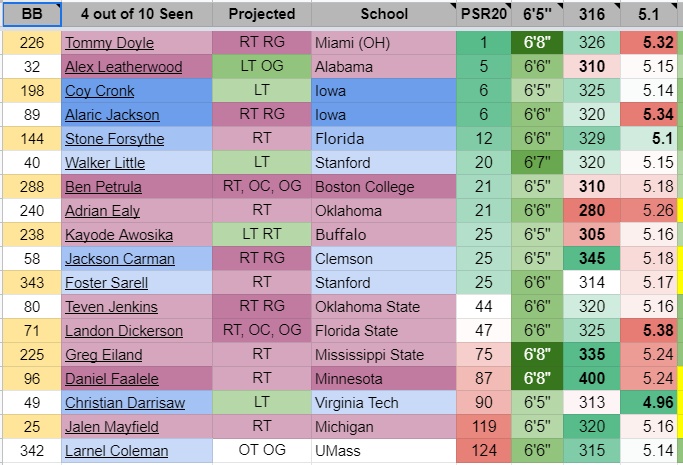 Editor's babble: Lots of great fat guys to eyeball here. Thanks, as always, to our draft guru Dean Kindig for all his tremendous contributions to our blog. You can find Dean on Twitter @TCBILLS_Astro.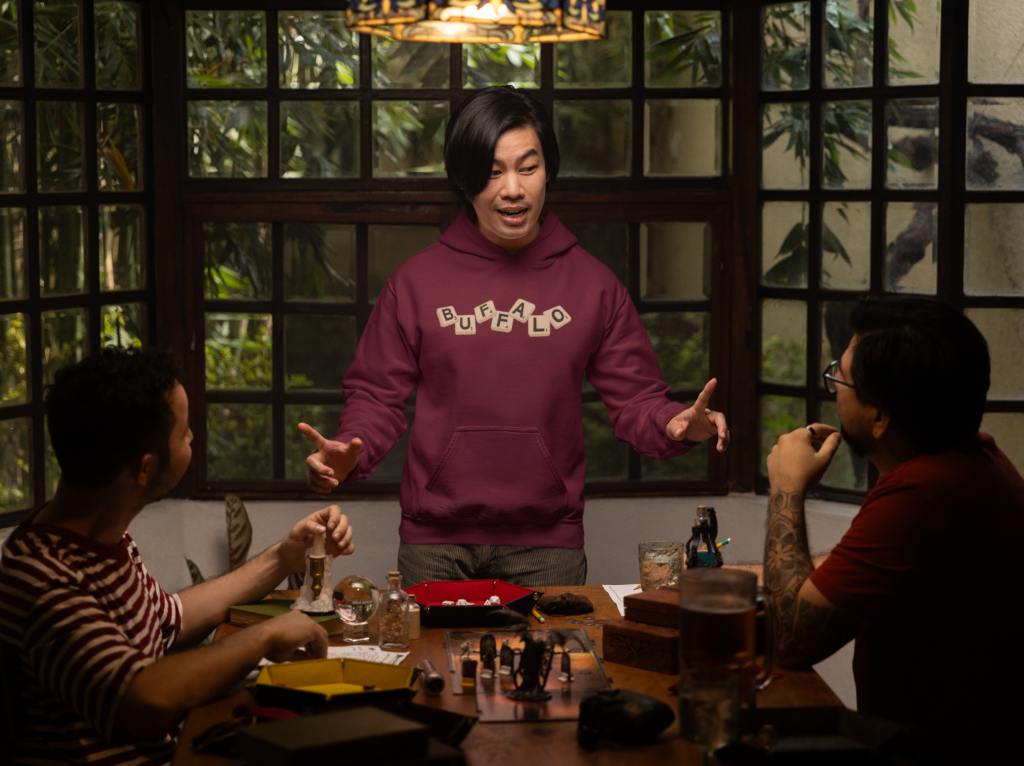 BuffaloFAMbase.com is sponsored by 26 Shirts
Every Monday, we launch a new two-week campaign of a limited edition t-shirt design. Every shirt purchase results in a donation to a local family in need. After the campaign ends, the shirt is retired. A new design is released, and a new family benefits from your fandom!