I'm going to write both narratives here; you only have to read one of them tomorrow morning.
Why The Bills Won On Offense:
The Bills were capable of outscoring and outsmarting the Chiefs, just like the Raiders had done. The Bills don't have just one WR who can beat defenses; they have 5 or 6. Diggs, the NFL leader in Complete Air Yds with 420; Brown, with the Bills' highest Catch Rate at 93.3%; Beasley, with the Bills' highest YAC yards and Highest QB Rating When Targeted; Davis, with the Bills' highest YAC Per Reception; and Isaiah McKenzie, the Bills' leader in 1st-down %. Pick your poison, but you can't cover them all, and the Chiefs couldn't.
With all the Chiefs' OL injuries and opt-outs, protecting Mahomes became too difficult for the Chiefs. Duvernay-Tardif and Lucas Niang had opted out, LG Osemele tore tendons in both of his knees last week, and their RG, Schwartz, had a nagging back injury and couldn't go full-out. Buffalo's passing attack, which was NFL's second-most potent entering the game (308 ypg), didn't disappoint.
Allen had 1,589 yards, 14 TD, 3 INT, and a 113.0 QBR entering the game, and kept it going in front of the home crowd of …nobody. At least the ski areas will be open when the Bills win the Super Bowl. The running attack was a part of Daboll's plan.
The Chiefs' defense entered the game allowing an obscene 157.6 yards per game (4th-worst in the NFL). The spread scheme and the Bills' Guards actually created a wider pocket and opened lanes, and Singletary broke some runs like it was last year.
Zack Moss returned, plus the dropoff to Yeldon wasn't precipitous. Josh was able to outgun the Super Bowl MVP with situational awareness, eye manipulation, game management, Daboll's custom game plan, and sheer athleticism. I wrote about the favorable matchup of Allen vs Mahomes here.
Why The Bills Won On Defense:
The Bills had only allowed 40 points twice in two years, and they didn't intend to let Patrick Mahomes do it a third time. They disguised pressure. It's what the Bills do so well. They camouflaged when and where the pressure would come from better than any team Mahomes has faced to date. To paraphrase Sam Darnold, Mahomes "saw ghosts".
The Bills ranked second in the NFL with 84 blitzes entering the game, and the gelling DL didn't disappoint this week for a change. The oft-criticized iDL took max advantage of the Chiefs' substitute Guards. EdO's knee injury wasn't getting in the way.
After zero pressures against the Raiders and Titans, Oliver erupted, showing why Beane took him with his #9 pick in 2019. The defense knew what they would see in Patrick Mahomes because the D has Josh Allen to cover in practice. That actually prepared them for a similarly-styled QB who extends plays with running skills and athleticism.
The Bills grounded the Chiefs' air attack. Tre White was back, providing necessary technique to counter Hardman and Tyreek Hill's speed. Tre White is so lockdown a CB that they removed one side of the field. Moreover, Norman and Wallace didn't suck.
Why The Bills Lost:
Milano didn't play, and Kelce did.
The Bills were once again the victim of pre-snap penalties. It's been a bugaboo, having come into the game with 11 penalties for an 8th-most 326 yards. Eleven Centers and Guards have >2 penalties in the NFL, and Mitch Morse has 3. Four Tackles have >3 penalties, and Daryl Williams has 4. The Bills are tied at third-worst for the highest number of false starts (8). Again, the Bills couldn't shake the demon of turnovers.
The Chiefs ranked no. 4 in the league with a +5, and were tied with the Titans with the second-least giveaways. Conversely, the Bills were tied for the 6th-most number of turnovers, have the 3rd-most fumbles, are one of 6 teams with 2 or fewer INTs, and Allen threw 2 picks like last week.
Speed kills, and it showed this week. The Chiefs had offensive-unit speed that just couldn't be matched by the Bills' defensive-unit speed, and they have to upgrade in this area. Mecole Hardman, Tyreek Hill, and Tight End Travis Kelce made it a rough night for our D.
The Bills' pass defense was giving up 263 ypg, and tonight was no different. Good thing Beane has three 1-year contracts to make it right. This week, the Bills' defense entered MNF ranked 24th against the pass, facing Mahomes and his #4-ranked passing offense. EdO's knee injury has taken its toll for the third week.
Oliver's not a bust, but his knee injury cancels out his best weapon: explosiveness off the snap. His lack of girth was a factor too. He's had zero pressures against the Raiders, Titans, and now the Chiefs.
The Chiefs were able to force Josh's hand, and prevent him from going through his "answers". He needed longer progressions to fire his missiles downfield. We assume Daboll had a "three-steps-and-fire" game plan, but QB, WR, and RB couldn't connect with it.
Blitzes don't work against Mahomes, as he demonstrated against the Ravens and Texans. The Bills are one of the most-frequently-blitzing teams, and it backfired this week. The Bills have sucked on third down, allowing opponents to convert 50.88 % of their third downs this season, which ranks 30th in the NFL.
You can always be Nostradamus if you predict more than one outcome.
Editor's babble: So what's it going to be, Buffalo? Win or lose, we'll be here to support one another. Many thanks as always to Dean Kindig. You can find Dean on Twitter @TCBILLS_Astro.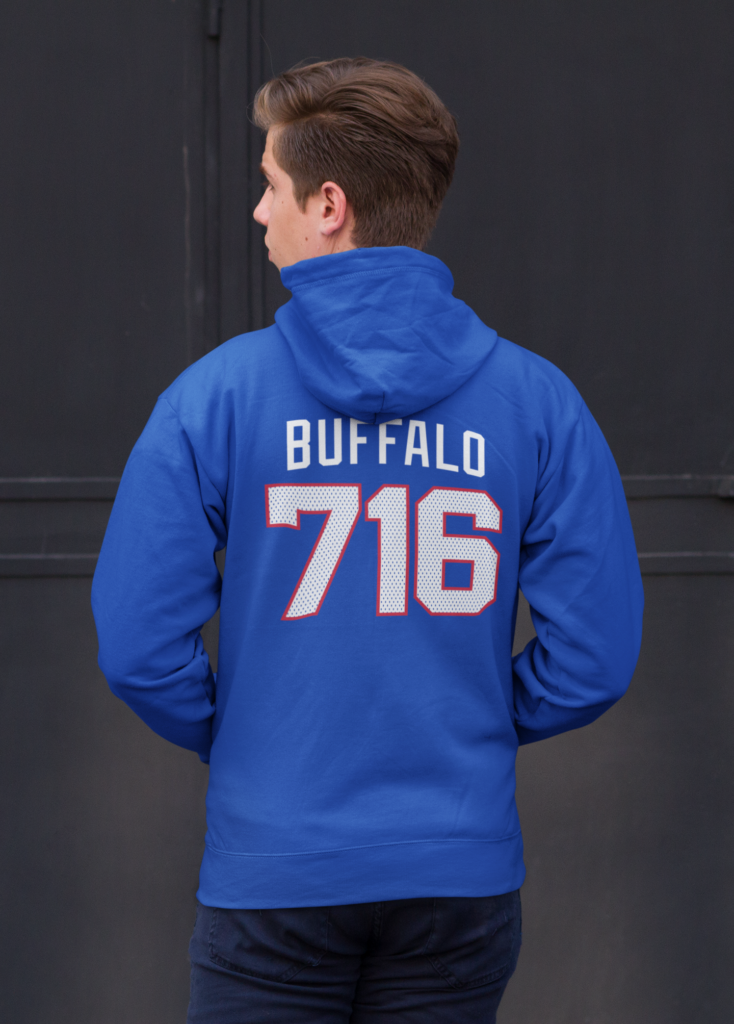 BuffaloFAMbase.com is sponsored by 26 Shirts
Every Monday, we launch a new two-week campaign of a limited edition t-shirt design. Every shirt purchase results in a donation to a local family in need. After the campaign ends, the shirt is retired. A new design is released, and a new family benefits from your fandom!