I have an idea.
I want to sell 26 t-shirts.
No, not one t-shirt to 26 individual customers. 26 unique designs over the course of a year.
Why?
As this whole #BillsMafia thing has really hit its stride, I'm hearing from people with needs on a near-weekly basis.
Needs for help with things like…
A daughter who's barely a year old and fighting leukemia.
Another daughter who has had an eye removed because of a rare pediatric cancer.
A family whose son was hit by a car, and now they have to commute between Buffalo (where they live/work) and Pittsburgh (where he's being treated).
A foundation that struggles to serve and help people afflicted by an ultimately lethal, yet relatively unknown condition.
Ok, back to the question. Why 26 shirts?
If you look at my dresser drawers, you'll see they are overflowing… OVERFLOWING with different Buffalo Bills or (Bills-inspired) t-shirts. And I want more. I'll never have enough.
I know I'm not the only person like this.
So here's my idea.
My plan is to sell a different "Buffalo Football" type shirt design every two weeks, and then never sell it again. (Kind of like how Woot used to do with their shirts daily.) The idea is that because the shirt will be rare, people will have a stronger interest in spending their hard-earned dollars on it.
By "Buffalo Football," I mean we would obviously not be able to use any Buffalo Bills or NFL-related marks. Designs would not have to be directly related to "Mafia" but can be anything that you think a WNY football fan would view as a "must have."
At the end of the two weeks, all profits from the shirts that are sold are given to a specific family or foundation with a need.
Here's the catch. I'm just one person, and while I have done some graphic work in the past, I'm NOT a graphic artist. I want to work with a group of artists who are willing to donate a design (or two, or three) to Buffalo FAMbase, Inc. But not to us, but to the people with the needs I outlined above — and many others like them.
Artists can suggest the need, or just allow us to choose from the deep pool that we're aware of.
What does the artist get from it? Exposure. With over 20,600 followers on Twitter and 4,300 on Facebook, we have a pretty significant audience. The design WILL get seen. The artist will also get full credit for the design. But most importantly, the biggest "get" is the warm fuzzy feeling of knowing that that the time spent in Adobe Illustrator (or whatever method) was used to help out someone(s) less fortunate!
If you are interested in participating and have a design (or designs) that you would like to submit, please let me know ASAP as I want to launch the first design on November 11th. If you're an artist but have no ideas, hit me up anyway as I have concepts you can probably work with.
Del Reid (@mrdeadlier)
mrdeadlier@billsmafia.com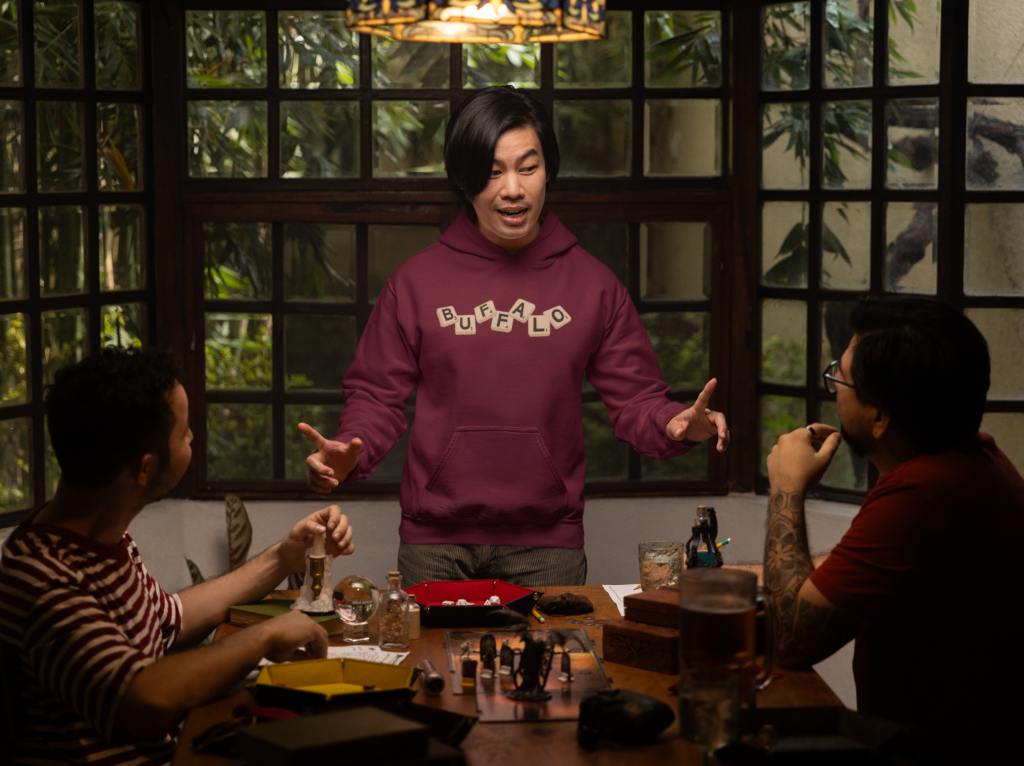 BuffaloFAMbase.com is sponsored by 26 Shirts
Every Monday, we launch a new two-week campaign of a limited edition t-shirt design. Every shirt purchase results in a donation to a local family in need. After the campaign ends, the shirt is retired. A new design is released, and a new family benefits from your fandom!