Buffalo hosted the New York Jets in their first game of the 'Joe Brady Era', who would be replacing former offensive coordinator Ken Dorsey and taking over the responsibility of play-calling. Although a debut against an elite defense was most likely going to be difficult, Allen and the offense had one of their best performances of the season.

Starting off With a BANG

The Jets received the opening kickoff, with Xavier Gipson (the hero from the Week 1 MNF opener between these teams) set to return the kick. He ran into a charging Reggie Gilliam, losing the football on the hit. Quintin Morris recovered the fumble, giving Buffalo an early turnover and establishing a tone for the rest of the game.

Three 3s Let Jets Hang Around

Buffalo couldn't do much with their gifted possession, with a 12 yard sack from Quinnen Williams forcing the Bills to settle for a 48 yard field goal from Tyler Bass to open the scoring.

The Jets gained a first down via penalty, but only went backwards from there. A sack by Shaq Lawson resulted in a 10 yard loss and a punt on the ensuing play.

The Bills got James Cook and Dalton Kincaid involved early and often. Allen found the rookie tight end for gains of 9, 5, and 13 on the second drive, while Cook ran for 18 yards on four carries. Facing 4th and 8, Bass nailed his second field goal of the game, this time from 30 yards out.

Once again, the Jets gained just one first down – a 14 yard pass to Breece Hall – before punting due to a sack (credited to Terrel Bernard and Leonard Floyd).

Buffalo took a two possession lead with their third field goal of the half. Allen completed passes to Kincaid for 16, Ty Johnson for 15, Cook for 9, and Khalil Shakir over the middle for 27 yards. The offense stalled inside the 30 yard line, but an 11 yard catch and run by Morris set up a manageable 4th and 2. Head Coach Sean McDermott opted to take the two possession lead off the foot of Bass from 33 yards out.

A quick three-and-out from the Jets gave Buffalo another chance to score, thanks to Leonard Floyd's second sack of the game. However, back to back incomplete passes brought up 4th down, and Buffalo opted to punt rather than try a 55 yard field goal.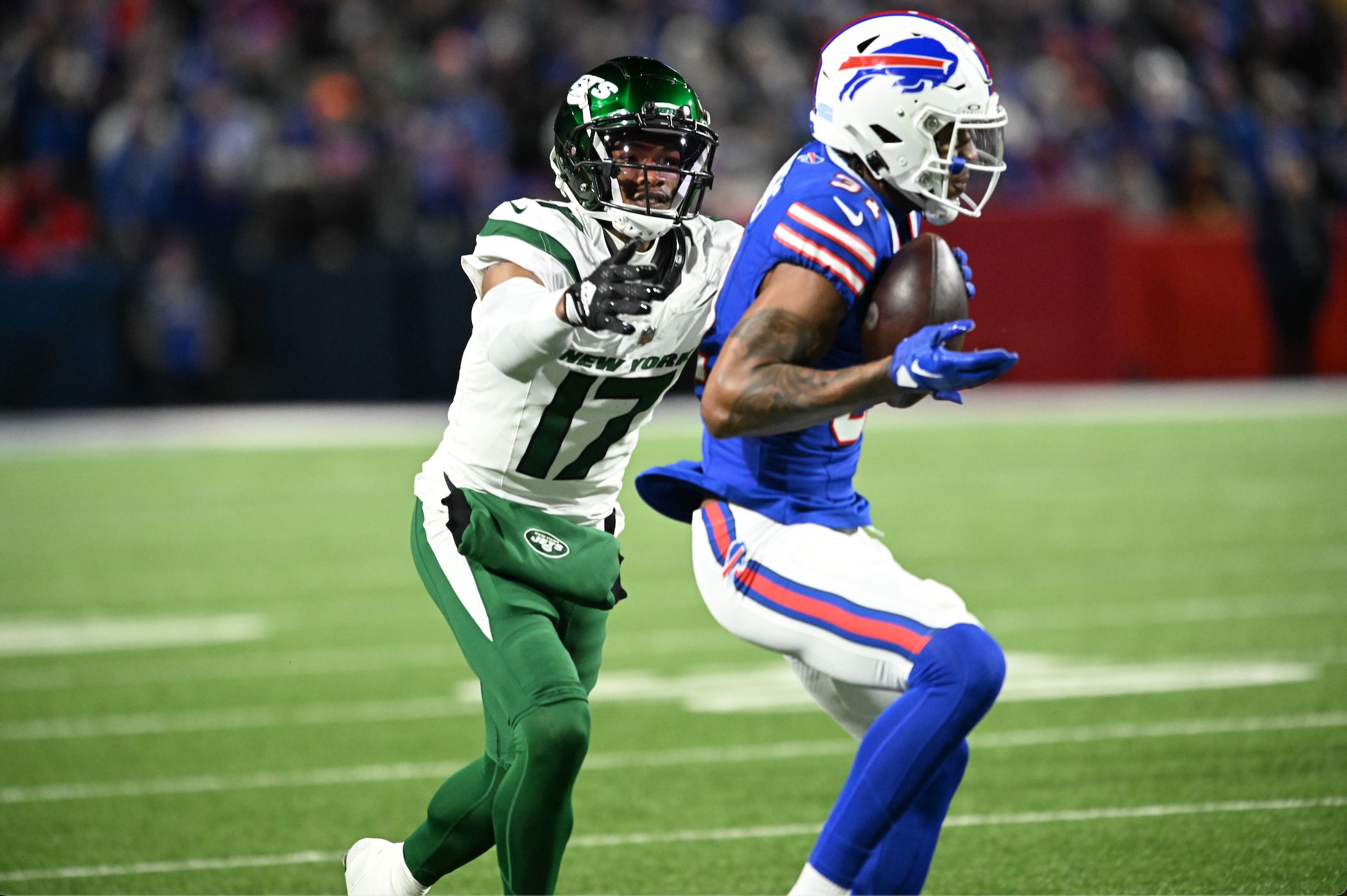 Rasul Douglas – Ball Hawk (Part 1)

Douglas registered his first interception as a Bill, jumping a curl route while covering Garrett Wilson. The former Green Bay Packer displayed tremendous instinct and agility to jump the timing route, and gave Buffalo great field position for their ensuing drive.

CREATIVITY

Buffalo capitalized on the Douglas INT, scoring one of their more creative touchdowns in recent memory (but to be fair, the bar was pretty low). Cook lined up in the backfield to Allen's left, and after the snap, ran to his right in between the RG and RT. The result was Cook being left alone in the flat on the right side, where Allen found him for a walk-in touchdown. The Jets were playing man coverage, and whoever was in charge of covering the RB lost him in the commotion in the middle of the field.

Although a simple wrinkle, and not something obnoxiously crazy like a double pass or flea flicker, this creativity was something Buffalo's offense was desperately lacking in recent weeks. One of the main criticisms about Ken Dorsey's offense was the inability to scheme players open. Joe Brady showed early on that he was capable of doing just that.

New York's Best "Offensive" Play

It appeared as if the Jets were going to face another three-and-out, after Zach Wilson was stopped two yards short of a first down on 3rd and 9. However, Robert Saleh elected to fake the ensuing punt, leaving gunner Brandin Echols open along the sideline for a big gain. Luckily, the trick play was mitigated to 18 yards, as Echols stepped out of bounds on his way downfield for what could've been a much bigger gain.

On 4th and 2 just four plays later, Wilson found Hall underneath for a catch and run of 15. A roughing the passer penalty on Ed Oliver moved the Jets into the redzone. On 2nd and Goal from the 9, a slip screen to Hall got the running back into the endzone for a touchdown. Wilson was pressured heavily on New York's two-point conversion attempt, with Oliver and Greg Rousseau taking down the QB to prevent the Jets from making it a one score game.

End-of-half antics by Buffalo proved unfruitful, with a hail mary pass being intercepted by New York to close out the second quarter. The Bills held a 16-6 lead, and wouldn't look back.

Hello Ty Johnson

Allen, who has historically struggled against the Jets, scored on their elite defense on back-to-back drives to start the second half.

A 10 yard completion to Diggs was nearly intercepted, or broken up at the very least, but Allen put enough zip on the throw to get it to his receiver, who turned upfield for a 10 yard gain. Sauce Gardner flipped Diggs upside down well after the receiver's forward progress was stopped, leading to a 15 yard penalty. Two plays later, Allen found Cook out of the backfield for a catch and run of 15 yards. Diggs made several defenders miss on 3rd and 12, diving for an 11 yard gain to set up 4th and short. Buffalo opted to go for it this time, with Allen's play action sending Ty Johnson to the flat for an easy completion. The former Jet sprinted down the sideline, staying in bounds, for a 28 yard yard score.
The Big Play!

Buffalo's defense once again stopped the Jets, getting to Zach Wilson multiple times to force a punt. After a five yard run by Cook, Buffalo faced 2nd and 5 from their own 19 yard line. Allen fired a missile seam-beater pass to Khalil Shakir, with the ball just getting by the outstretched hands of Gardner. Caught around his own 45 yard line, Shakir turned upfield to extend the play, with multiple Jets in pursuit. As the green and white jerseys closed in on him, he suddenly cut to the middle of the field, causing the defenders to trip over each other. Shakir ran into the endzone for an 81 yard score, the longest play of the season across the entire NFL.

New York's touchdown in the first half would be their lone points of the contest, getting shut out in the second half by the Bills. Following the big Shakir touchdown, Oliver sacked Wilson (again) to force a punt. It was Buffalo's turn to go three-and-out, but Zach Wilson didn't come back onto the field for the next drive.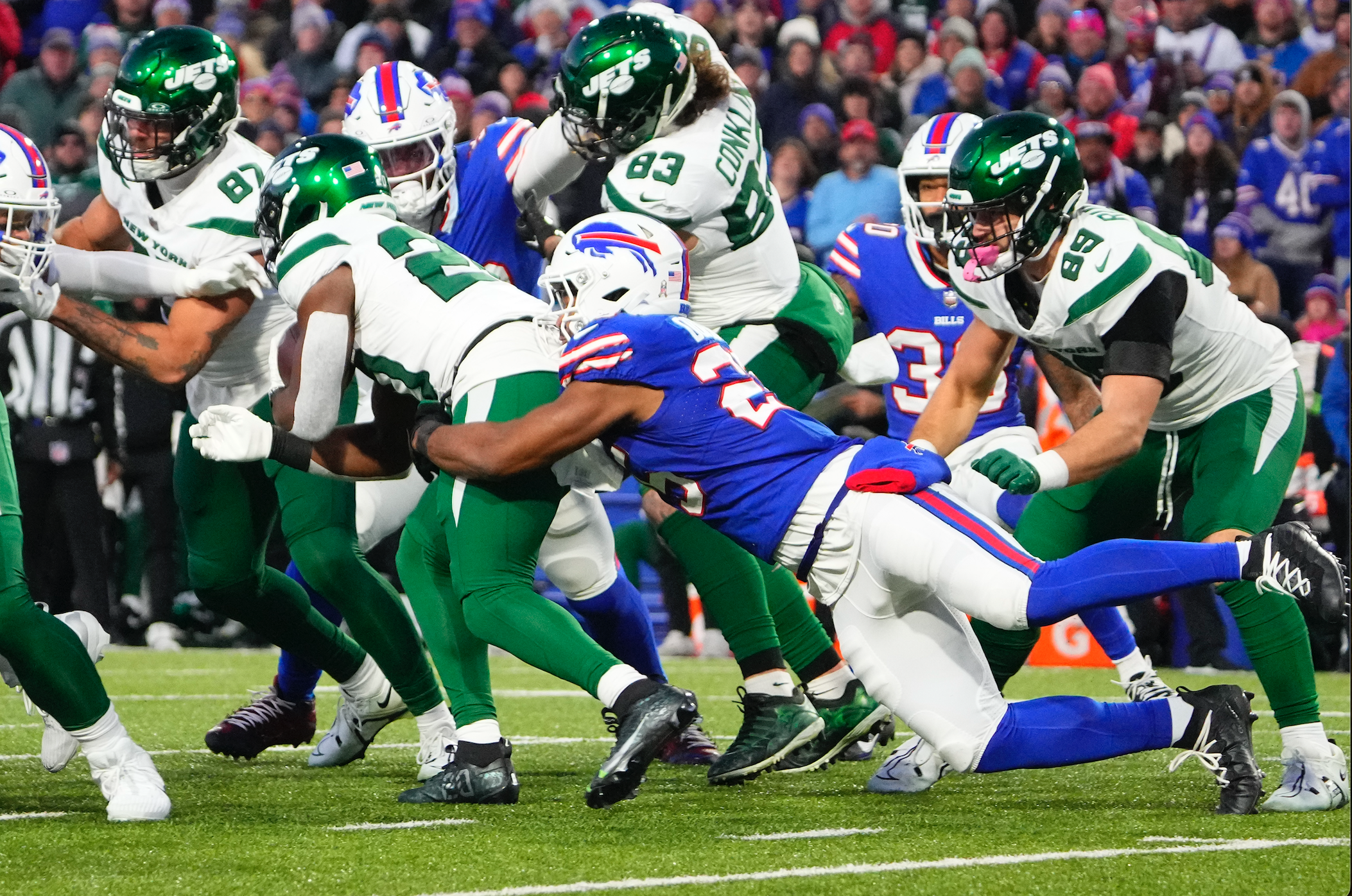 Rasul Douglas – Ball Hawk (Part 2)

Wilson was finally benched after a stretch of terrible play. Tim Boyle, a career backup, wasn't any more successful. He completed passes of 5 yards and 4 yards before Garrett Wilson fumbled his second catch of the game. Tyrel Dodson punched the ball free, and Douglas recovered the fumble, nearly completing an amazing pitch to Micah Hyde for what would've been a touchdown if the whistles weren't blown. In the end, it was the correct call, with Douglas barely being down by contact at the spot of his recovery.

A 15 yard unnecessary roughness penalty moved Buffalo back to their own territory, with a punt three plays later giving Tim Boyle the ball back. Leonard Floyd registered another sack to force a three-and-out.

Thirty-bomb

A 15 yard punt return from Deonte Harty set up Buffalo around midfield. Latavius Murray accumulated 15 yards after three consecutive carries, but was stuffed on 3rd and 2. Bass drilled his fourth field goal of the game, this one from 50 yards out, to get Buffalo to 32 points.

Rasul Douglas – Ball Hawk (Part 3)

With under five minutes to play, the Jets were looking for any signs that Boyle would be the better option than Wilson down the stretch. Unfortunately, this wasn't the case, as the backup QB threw an interception to Douglas to seal the game. The corner jumped a curl route for his second INT and third turnover of the game. Buffalo would win 32–6.

Afterthoughts

To be honest, I wasn't expecting much heading into this game. Not only were the Jets a constant catalyst for bad QB play, they seemed to always have Josh Allen's number. Furthermore, Joe Brady would be calling his first game, given under a week to prepare for maybe the best defense in football. As a result, I didn't think much would change from an offensive standpoint, at least in this game. I'm glad I was so wrong.

Brady showed a vested interest in getting everyone involved in the offense. While they didn't always get the ball, Shakir, Harty, and Quintin Morris saw a lot more playing time (official snap counts won't be released until after this article is written).

But it wasn't just personnel that changed for Buffalo. Allen was very effective throwing over the middle, an element of the passing attack lacking under Dorsey. Pre-snap motion was seemingly another point of emphasis for Brady's offense. Under Dorsey, the Bills rarely used motion, and when they did, it was "for the sake of using motion" as Dan Orlovsky put it. On Sunday, motion was actually forcing the defense to react, opening up running and passing lanes, and overall leading to more success offensively.

The main story of the offense has to be Ty Johnson. Brady clearly saw something in the former sixth round pick from 2019. After starting the season on the practice squad, he was elevated to the 53 man roster due to Damien Harris getting injured. Johnson got a carry last week after Cook was benched, but he had six touches against the Jets (his former team) that he made the most of. The RB finished with 3 carries for 11 yards and 3 receptions for 47 yards and a score.

Cook was also heavily involved in the offense, rushing 17 times for 73 yards and catching 3 passes for 29 yards. Shakir led the team with 115 yards (most of those coming on one play), while Kincaid saw a team-high 6 catches. Although Diggs was targeted numerous times, several drops led to him catching just 4 passes for 27 yards, and Gabriel Davis was never targeted by Allen.

The defense had another stellar game, but the injuries just won't stop piling up. Dane Jackson left the game early with a concussion, then Taron Johnson and Taylor Rapp were both injured on the same play. The ambulance needed to come onto the field for Rapp, who suffered a serious looking neck injury. Johnson was ruled out quickly with a concussion. Jackson and Johnson may both miss a week, but the bye should ensure that it isn't any more than that. Meanwhile, the long term status of Rapp is up in the air, but Damar Hamlin could see some action in the upcoming weeks.

The defensive line dominated against an offensive line comprised mostly of backups. The Bills tallied 6 sacks on the day, including 2.5 from Floyd to improve on his stellar season. Tyrel Dodson looked solid against the run, and his forced fumble was a big play in the game.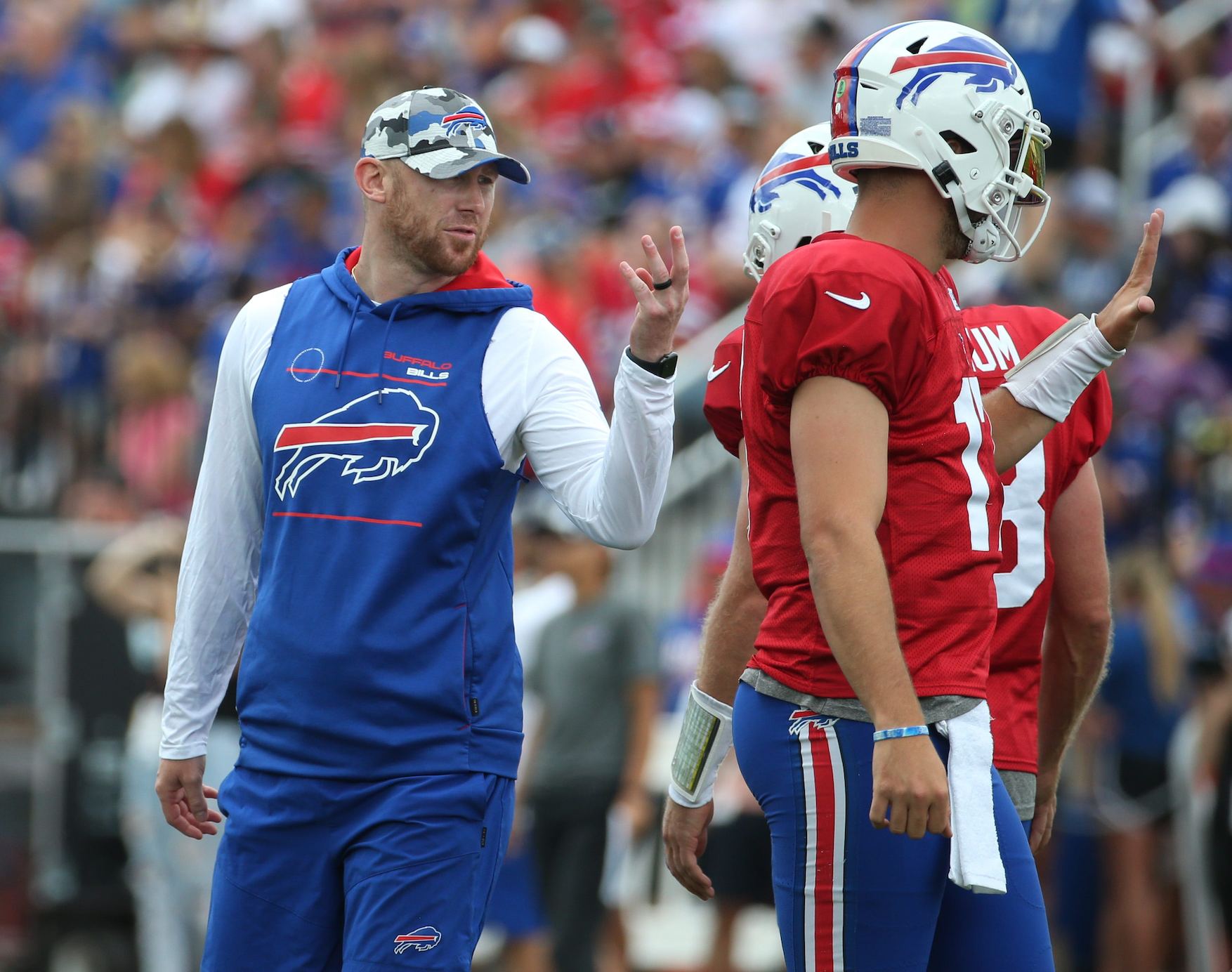 Photo of OC Joe Brady by © Shawn Dowd / USA TODAY NETWORK via Imagn.com, LLC.
Game Awards
Offensive Player of the Game: Josh Allen

Allen threw for 275 yards and 3 TDs, while adding 5 carries for 15 yards on the ground. His interception was a hail mary to end the half, so nothing to be concerned about there. He looked calm and composed in the pocket, and didn't force any throws downfield unnecessarily. The QB looked closer to his usual self, commenting in the post-game interview that there was emphasis this week to have fun. Well, blowing out a division rival is the best way to ensure you have fun.

Defensive Player of the Game: Rasul Douglas

What a pickup Douglas has been already! Against the Jets, the corner recorded four tackles, three passes defended, two interceptions, and a fumble recovery. He is very likely your AFC Defensive Player of the Week, and has seemed to solidify himself as the team's CB1 moving forward.

MVP: Joe Brady

For all the reasons I listed above, both about the overall offense and Allen's performance, Brady deserves a lot of praise. Not only did he fundamentally shift this offense in a better direction, but he did it against arguably the best defense in the league. He has single-handedly given much of Bills Mafia hope that the playoffs are still within reach.

What's Next: Bills @ Eagles 11/26

Buffalo looks to build on their success as they travel to Philadelphia to face the Eagles. One of the most well rounded teams in the NFL, the Eagles will surely give Buffalo a tough test on both sides of the ball.
Editor's babble: I could hear a big sigh of relief coming from Highmark Stadium all the way to Wyoming. We are grateful for Colin Richey's contributions to our blog. You can also find Colin on Xwitter @whatthef00tball.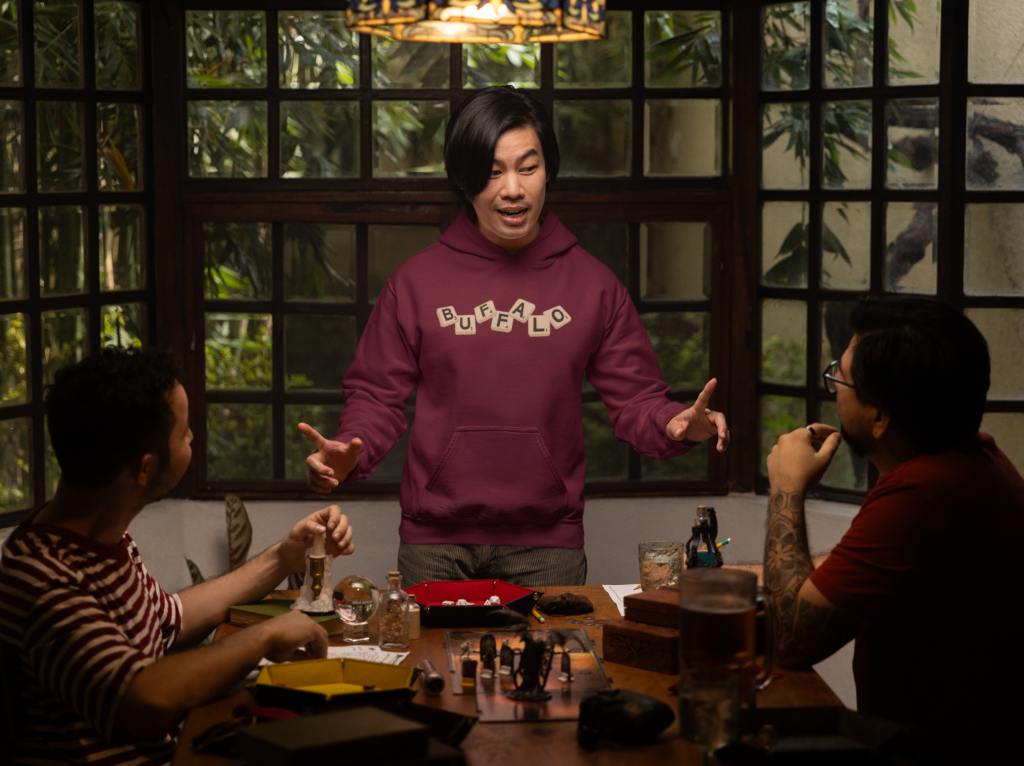 BuffaloFAMbase.com is sponsored by 26 Shirts
Every Monday, we launch a new two-week campaign of a limited edition t-shirt design. Every shirt purchase results in a donation to a local family in need. After the campaign ends, the shirt is retired. A new design is released, and a new family benefits from your fandom!