Buffalo traveled to Cincinnati to take on the Bengals on Sunday Night Football. A rematch of the divisional playoff game from last year, the Bills were once again outmatched by the Bengals.

Signs of a Shootout

The first three drives of the game resulted in touchdowns, showing early indications that this game could turn into a shootout. The Bengals elected to receive the opening kickoff and set the tone for the game, which they accomplished. Joe Burrow led a nine play, 76 yard touchdown drive to open the scoring. He completed two passes to running back Joe Mixon for 23 yards, while finding Tee Higgins for 18 and Irv Smith Jr. for 11 to set up 1st and Goal. Burrow threw a back corner floater to the tight end Smith, who beat Jordan Poyer in one-on-one man coverage.

Buffalo responded with a score of their own, with Josh Allen leading a seven play, 85 yard drive to match Cincinnati's touchdown. He completed a nine yard pass over the middle to Diggs on 3rd and 5 to keep the drive alive early. The next play, a bubble screen to Diggs, saw the All-Pro receiver break several tackle attempts and run for a gain of 34 yards. Allen rolled right and found Khalil Shakir to move into the redzone on a catch for 22 yards. A 13 yard completion to Dalton Kincaid set up 1st and Goal. The Bills called a play-action play, designed to have Allen roll right. Gabriel Davis was covered in the back of the endzone, so Allen did what he does best – improvise. A pump fake sent safety Nick Scott jumping in the air, leaving a wide open path for Allen to walk into the endzone (with a taunting penalty for pointing at Scott on his way in).

It was Cincinnati's turn to score, this time on an 11 play, 54 yard drive. The Bengals started at their 46 yard line because of the penalty on Allen. Burrow found 'Bills Legend' Tyler Boyd for 15 yards on 3rd and 10, while completions to Tanner Hudson and Higgins also moved the chains. Buffalo's goal line defense held up for the first two plays inside the 5, holding Ja'Marr Chase to no gain and forcing an incomplete pass. However, on 3rd and Goal, Mixon dashed into the endzone on a two yard run to take the lead.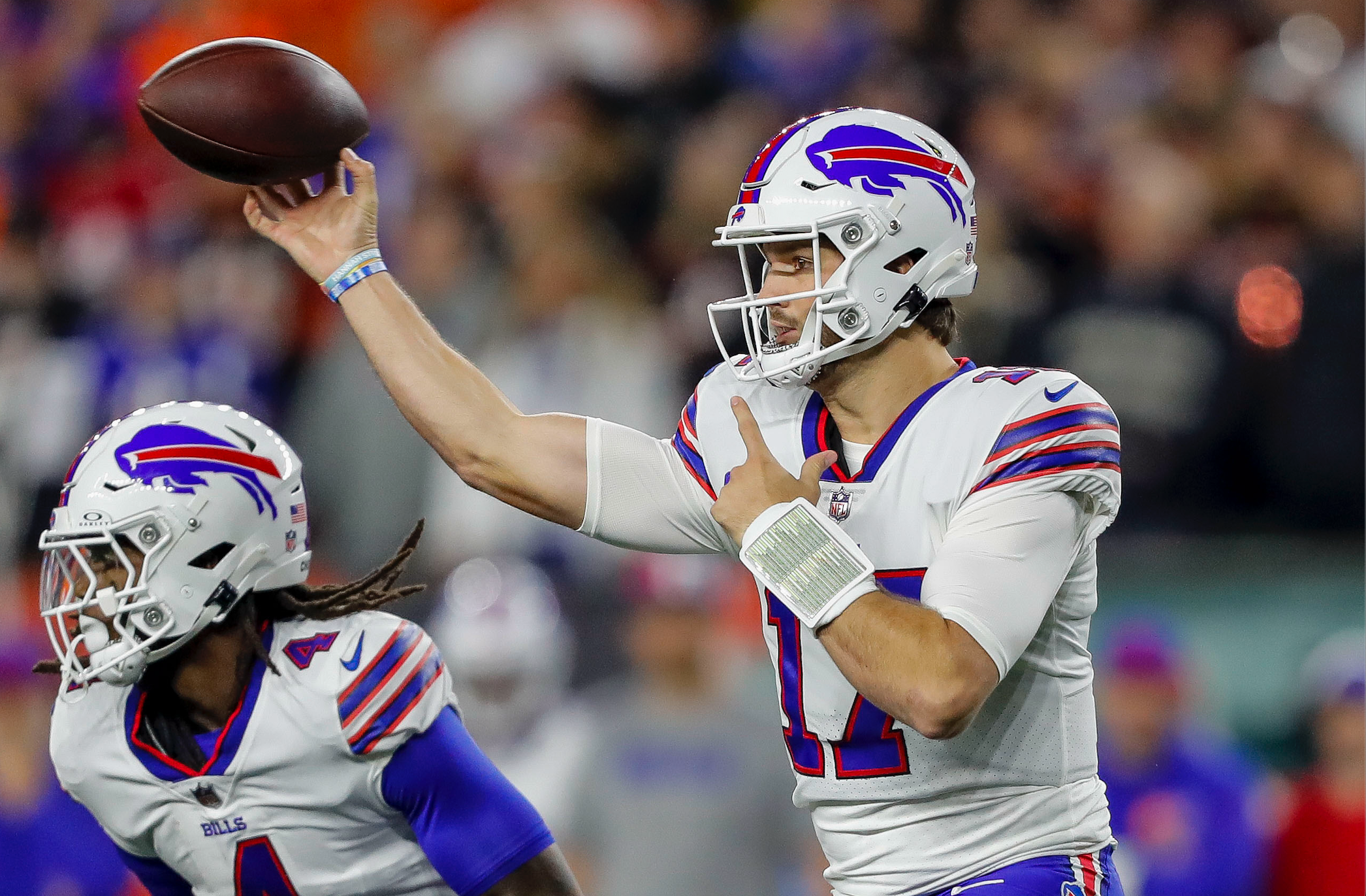 Where'd the Offense Go?

Buffalo didn't score any points in the second quarter, despite having four possessions. Allen threw his ninth interception of the season, as Cam Taylor-Britt baited the QB to throw a pass down the sideline intended for Gabriel Davis. Three flags and a sack from Leonard Floyd miraculously kept Cincy off the scoreboard. Buffalo went three-and-out and punted right back to the Bengals.

It looked like the defense would get another stop, but Burrow found Chase for a gain of 11 yards on 4th and 1 to keep the drive alive. Three plays later, tight end Drew Sample leaked away from pass protection, fooling Buffalo's coverage unit, and running 22 yards after the catch for another Bengals touchdown.

Down by 14, Buffalo still had a chance to 'double-dip' and score before and after halftime. Allen found Shakir over the middle for 23 yards to move to midfield. Kinciad moved the chains with a 10 yard catch, then was slide tackled (with no flag for tripping) after just four yards on his next catch. A questionable intentional grounding penalty moved Buffalo out of field goal range to end the half. There was miscommunication between Allen and Davis, with Davis running his option route differently than Allen expected. Still, the flag moved the field goal attempt from 55 to 65 yards, and the Bills opted to run out the clock instead of punt.

Defensive Stalemate

Neither team's offense found much success in the third quarter, with just three total points being scored. Tyler Bass drilled a 34 yard attempt to close the lead on Cincy 21–10. On the drive, Allen continuously found Diggs and Kincaid to move downfield. The two pass catchers combined for 46 yards on five catches for the drive. After the field goal, a 21 yard completion to Higgins moved the Bengals to midfield, but two incompletions and a tackle for loss on Mixon forced a punt.

The Bills responded with a three-and-out, giving the ball right back to the Bengals. A tackle for loss by Poyer stalled Cincy's next drive, and Burrow's pass on third down fell incomplete. Facing 4th and 5, the Bengals opted to go for it from Buffalo's 37 yard line. A checkdown to Sample gained just two yards, giving the Bills the ball and another chance to cut into the lead.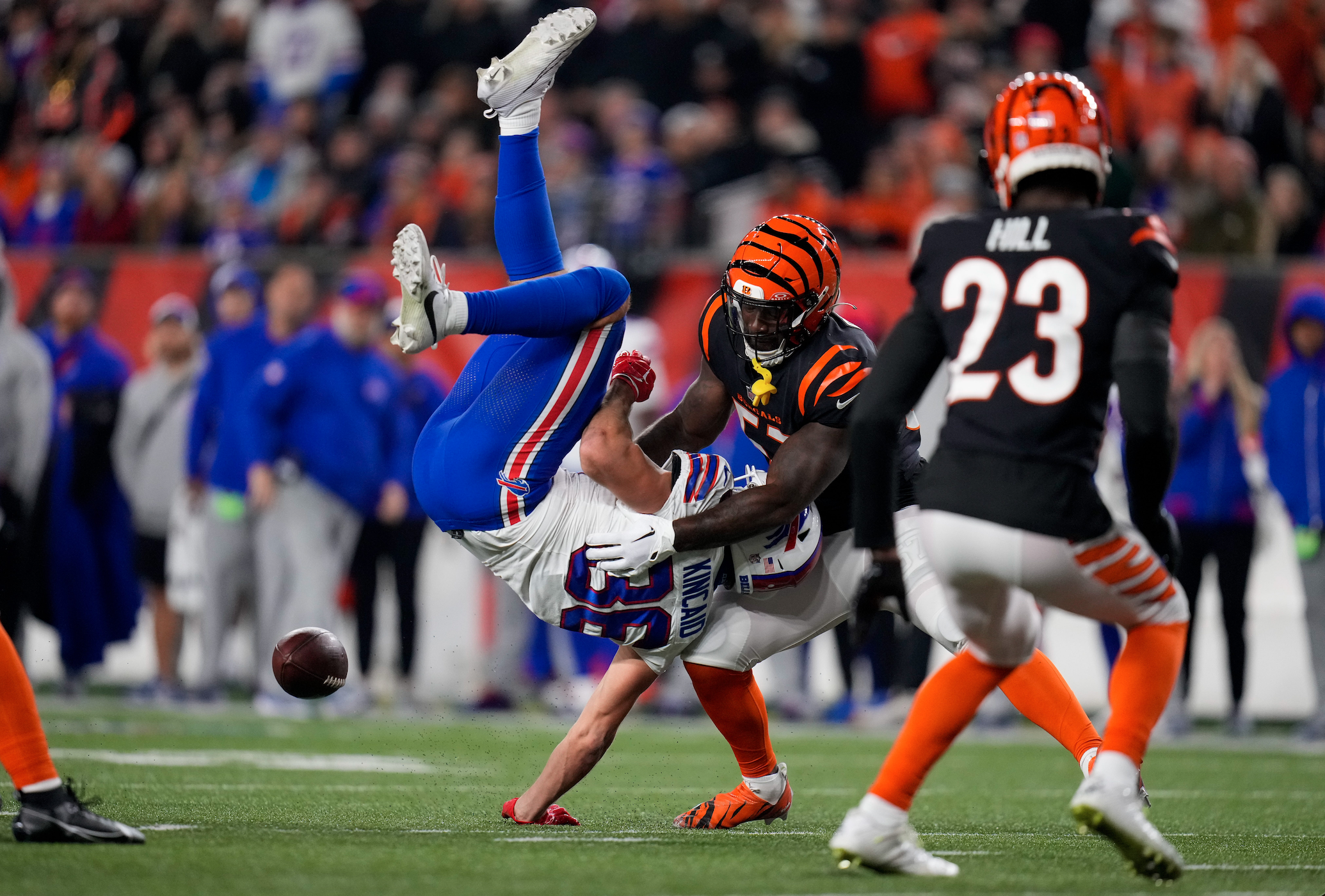 The third quarter ended with the Bills starting to find a rhythm. Allen ran for 10, hit Kincaid for 11 and James Cook for six, then ran for another three to move the chains. A nine yard rush from Allen moved Buffalo just outside the redzone. Kincaid was on the receiving end of another target from Allen, catching the ball in stride and turning up field for a first down. As he was running, a tackle attempt by Scott flipped Kincaid upside down, and the ball was punched out of his hand by linebacker Germaine Pratt. Scott recovered the fumble, and a promising drive came to an end off of a fluke turnover.

Cincy Scores Again

The Bengals were able to extend their lead with a field goal, chewing five minutes off the clock in the process. Cincy moved the chains on two different third down attempts, with Burrow finding Hudson for 17 and Higgins for 18 to keep the drive alive. A 32 yard completion to Chase moved them into field goal range. Evan McPherson's 20 yard field goal attempt was good, and the score was now 24–10.
Buffalo Finds Offensive Success Too Late

Finally, the Bills scored a touchdown since their opening drive. The Bills meticulously drove down the field, showing little concern for the clock while down two possessions. Completions to Kincaid and Shakir moved them to midfield, and an 11 yard run from Allen moved them into scoring territory. The utilization of Allen's legs is something the Bills haven't seen much of this year, but it helped keep the scoring drive alive. On 3rd and 1 from the 17 yardline, Allen threw a dart to the endzone, hitting Diggs in stride for the score. Allen's two point conversion pass was completed to Diggs, accompanied by a nice toe-drag to secure the catch.

The Bengals came out firing, with Burrow finding Boyd for a 32 yard gain on 1st down. After two Mixon runs gained just six yards, the Bills faced 3rd and 4 for the game. Von Miller was unable to seal the edge, and Mixon ran for the first down to ice the game. The Bills would lose 24–18.

Afterthoughts

Another week, another M.I.A. offense until the fourth quarter. The Bills refuse to utilize up-tempo or no-huddle consistently, despite it being their most efficient form of offense. Khalil Shakir shined in 11 personnel once again, catching all four of his targets for 57 yards. The run game was virtually nonexistent, with Cook and Latavius Murray combining for 24 yards on 8 carries. Allen was the leading rusher for either team, gaining 44 yards (and a touchdown) on eight rushes. Gabriel Davis was held without a catch, while Deonte Harty only took three offensive snaps.

Once again, Buffalo's offense was lost and inconsistent. This is five straight games of underperforming offense, stemming back to the London loss to the Jaguars. In that span, the Bills have averaged just 20.2 points per game, and were lucky to escape with two wins against bad Giants and Buccaneers teams. Against better offenses, like Jacksonville and Cincinnati (and whatever offense somehow showed up for New England), this is the result to expect as long as the offense underperforms.

Additionally, as depressing as it is to hear, every week without a change in performance means it's less likely that there will be a change in performance. How many games need to look like this before something changes? How many losses, to conference opponents no less, need to be endured before something drastically changes. Whether that's a change in playcalling, personnel, or both remains to be seen, but don't expect the Bills to make the playoffs with this caliber offense.

The defense outperformed expectations heading into the game, let alone once starters began getting injured left and right. Obviously, the big three were out (Tre'Davious White, Matt Milano, DaQuan Jones), but Terrel Bernard, Dane Jackson, Christian Benford, and Micah Hyde all missed time in the second half due to various injuries. With Tyrel Dodson, Dorian Williams, Josh Norman, and newly acquired Rasul Douglas on the field, the Bengals were held to just three points in the second half, and 24 overall – a huge success for the depleted defense.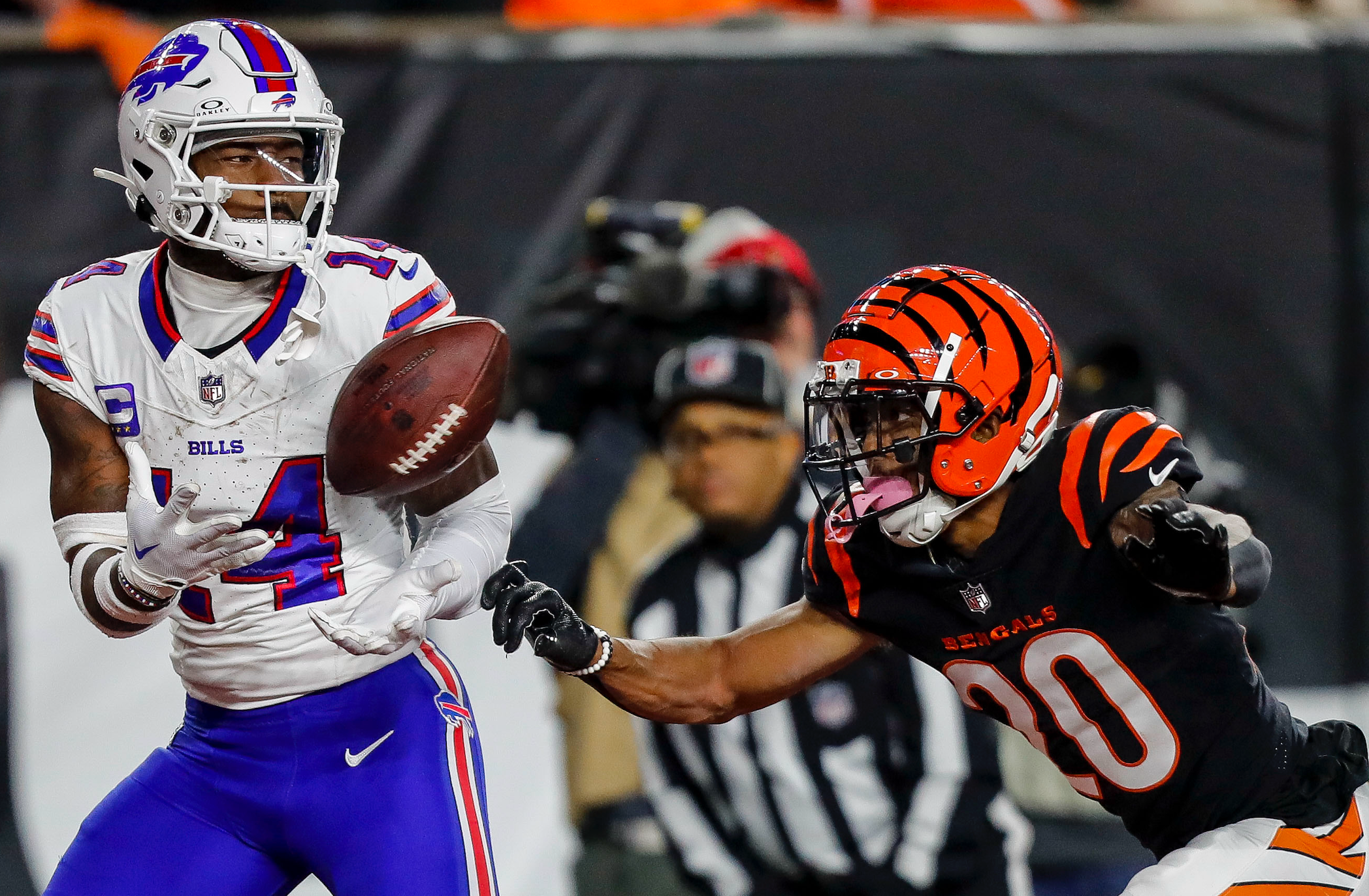 Game Awards

Offensive Player of the Game: Stefon Diggs

Diggs put together another strong performance, accumulating 86 yards and a touchdown on six receptions. His two point conversion catch was a beautiful play that kept Buffalo's hopes of victory alive a little longer. Look for his All-Pro pace to continue even with the offensive deficiencies.

Defensive Player of the Game: Dane Jackson

Jackson made several nice plays that will secure him more playing time even after trading for Rasul Douglas. The corner finished with three tackles and three passes defended to save several touchdowns or deep shots from Burrow.

MVP: Dalton Kincaid

Yes, he fumbled in the redzone. But the rookie tight end compiled another strong performance, his third in a row. On Sunday night, he set a new career-high in targets (11), receptions (10), and receiving yards (86). By far the most targeted player by Allen, he led the team in catches and trailed Diggs by five yards. Dalton Kincaid has arrived.

What's Next: Bills vs Broncos 11/13 MNF

Buffalo is back on prime time, at home against the Denver Broncos. After starting the year 1–5, Russell Wilson has led Denver to back-to-back wins, including a victory over the Kansas City Chiefs. The Broncos will be coming off of their bye week, so rest and preparation advantages will favor Denver.
Editor's babble: We are thankful for Colin Richey's contributions to our blog. You can also find Colin on Xwitter @whatthef00ball.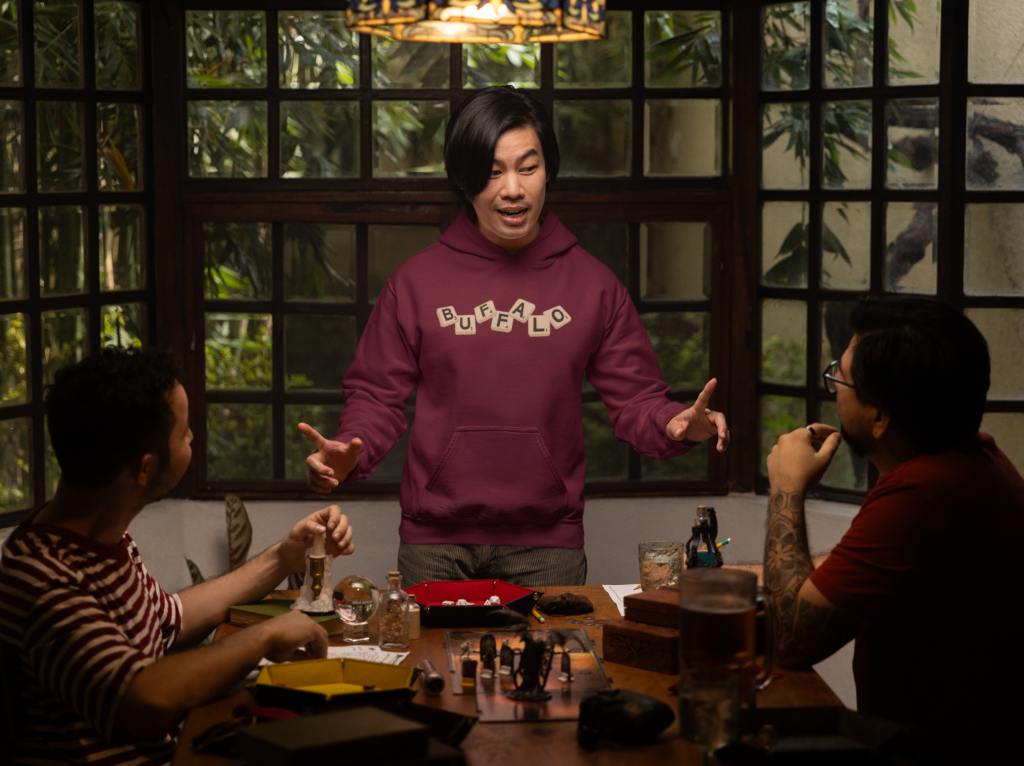 BuffaloFAMbase.com is sponsored by 26 Shirts
Every Monday, we launch a new two-week campaign of a limited edition t-shirt design. Every shirt purchase results in a donation to a local family in need. After the campaign ends, the shirt is retired. A new design is released, and a new family benefits from your fandom!