Baker Mayfield and the Tampa Bay Buccaneers traveled to Buffalo to take on the recently struggling Buffalo Bills on Thursday Night. Although Buffalo's offense looked promising at times, a disappointing second half kept the game unnecessarily close.

Quiet First Quarter

Neither team found the endzone in the opening quarter, with just three total points scored in the first 15 minutes of play. Tampa Bay started with the ball, but Mayfield completed just one pass for positive yardage, a 15 yard gain to 6th round rookie Trey Palmer.

Starting from their own four yard line, Buffalo's offense was rolling early. Completions of 13 and 21 yards from Josh Allen to Khalil Shakir moved them to midfield, then completions of 16 and 9 to Gabriel Davis extended the drive. Facing 3rd and 6, Allen threw a pass to Stefon Diggs at the line of scrimmage, who was tackled immediately by a Tampa defender. Needing six yards, they gained zero, and were forced to kick a 37 yard field goal with Tyler Bass.

The Buccaneers were granted a 21 yard pass interference penalty to keep their next drive alive, giving them the ball at Buffalo's 40 yard line. After a completion to Mike Evans gained just seven yards on 3rd and 9, it was Tampa's turn to settle for a field goal. However, kicker Chase McLaughlin had his attempt blocked by Shaq Lawson, and the score remained 3–0.

The Bills, with a short field to work with, wasted little time driving down the field. Allen connected with Diggs over the middle for 17 yards, and found Shakir deep down the field for a 30 yard completion. A shovel pass to Kincaid almost allowed him to score his first career touchdown, but he was tackled just short of the goal line. The quarter ended after a Latavius Murray run was stuffed at the goal line on 3rd down. On 4th and 1, Ken Dorsey called a 'bubble screen' designed for Kincaid, who ran all the way across the formation. The Buccaneers did a tremendous job of passing off their man coverage assignments, allowing Jamel Dean to jump the route, and nearly come away with a pick-6. Instead, the pass fell incomplete, and Buffalo was unable to score.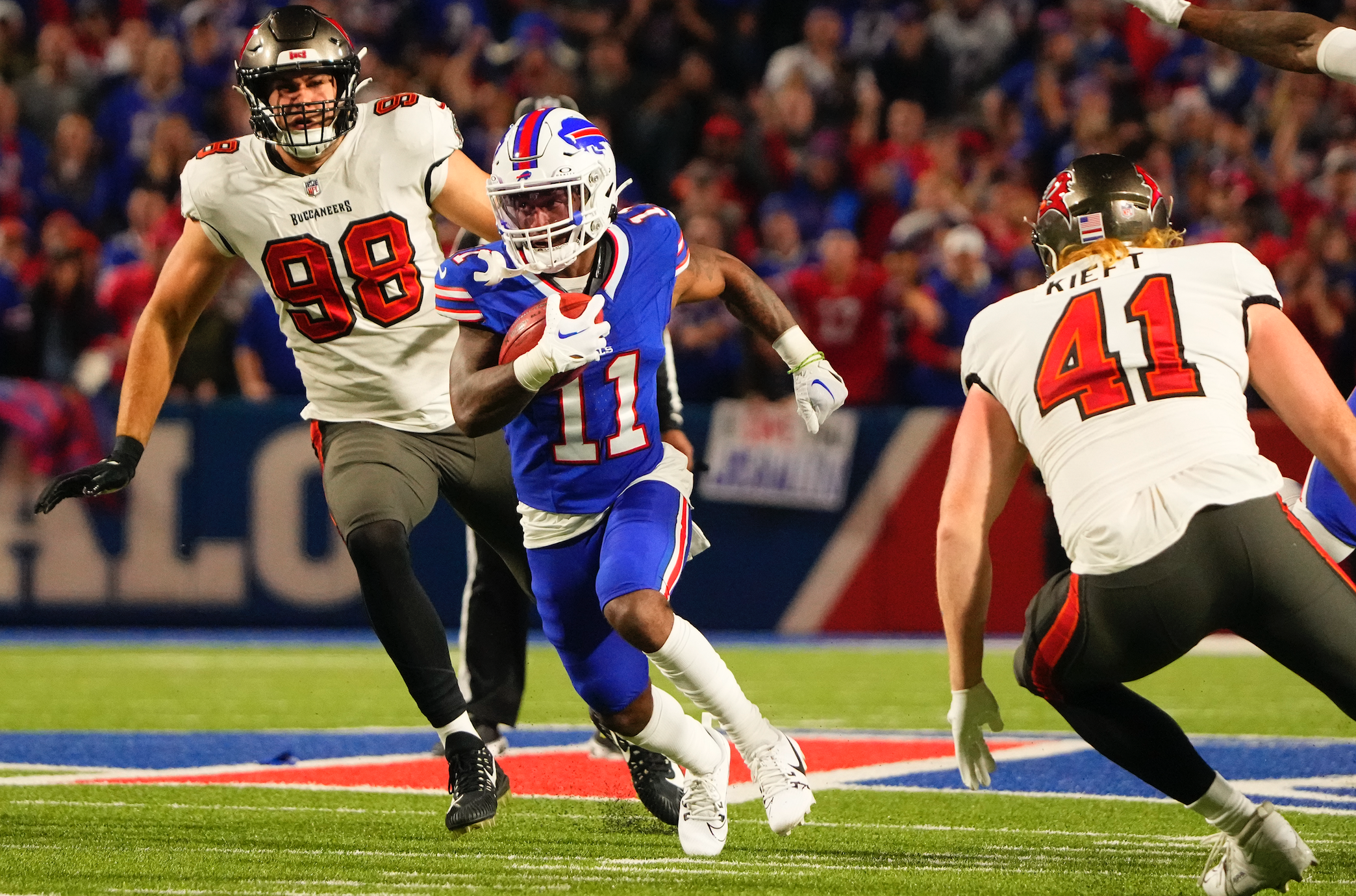 Both Offenses Wake Up

Buffalo's defense was able to hold Tampa to a quick three-and-out, and Deonte Harty returned the punt 24 yards to set up the Bills just outside the redzone. Two runs from James Cook and a run by Allen moved the chains. On 2nd and 12, following a two yard sack for Tampa Bay, Allen took the snap and immediately noticed that the middle of the field was vacated. He sprinted forward, took a good angle against several defenders near the goal line, and ran into the endzone untouched for the score.

Tampa Bay responded with a field goal, thanks to a 31 yard completion to Chris Godwin. Back to back flags stalled the drive, and McLaughlin's attempt from 57 was successful.

A scary sight was Josh Allen entering the blue medical tent following his touchdown run. It was speculated that on the play before the score (the sack for a loss of 2 yards), Allen had landed on his shoulder wrong. Bills fans at home were in a panic as angles of Kyle Allen warming up on the sideline were the last thing shown on the broadcast before going to commercial. Thankfully, by the time the offense headed back onto the field, Josh Allen was out of the tent and ready to continue playing. Unfortunately, Allen's first play was an interception. A designed play-action rollout immediately after a visit to the medial tent is a questionable play call, and Allen's pass was tipped by blitzing safety Antoine Winfield Jr. The ball landed in the hands of a Tampa defensive lineman to complete the turnover.

Just two plays later, the Bucs found the endzone. A running back screen to Rachaad White gained 20 yards, then Mayfield found Godwin over the middle for the three yard score. Godwin was working one-on-one with slot corner Taron Johnson, and was able to create enough separation to secure the catch for the score. Suddenly, it was a 10–10 ballgame.

Buffalo responded with a much needed touchdown to retake the lead. An 18 yard run by Cook followed by a 14 yard completion to Davis set the tone for the drive early. A 12 yard pass to Diggs set up Buffalo in the redzone. Facing 3rd and 12, Allen rolled right and fired back across the middle, hitting Kincaid in stride for a 22 yard touchdown.

Following some questionable clock management decisions by both Todd Bowles and Sean McDermott, neither team scored again in the half, or even attempted a field goal.

Buffalo received the second half kickoff and wasted no time continuing to get Kincaid involved in the passing attack. The first play for the offense was an 18 yard completion to the rookie tight end. Allen connected with Davis for gains of 11 and 14 to move into scoring range. On 2nd and Goal, Allen found Davis in the back of the endzone all alone for the QB's third total touchdown of the night.
Defense Bails Out Offense

Buffalo's offense to this point looked great. Everyone was getting involved, the team was finding the endzone, and Allen looked dialed in. However, the touchdown to Davis at the 10:46 mark in the third quarter would be the last time Buffalo added to the scoreboard, despite having four more possessions to work with.

A 15 yard pass to Kincaid on 3rd down kept the first of those four drives alive, but back to back incomplete passes forced Buffalo to punt on 4th and 5 from their own 49 yard line. To end the third quarter, the Bills believed they had gotten Tampa to jump offside with a hard-count, but the play resulted in a 10 yard sack and there was no flag thrown for the early start. 2nd and 2 turned into 3rd and 12, and Allen's next completion to Diggs fell five yards short of a first down. Buffalo opted to punt on 4th and 4 from Tampa Bay's 42 yard line. Allen found Kincaid for seven on 3rd and 9 of the next drive, and Buffalo once again opted to punt on 4th and 2 from Tampa's 44 yard line. A 15 yard completion to Diggs kept Buffalo's final possession alive, but the Bills were unable to move the chains again, and Buffalo decided to punt on 4th and 1 from Tampa's 48 yard line. According to @OptaSTATS, no NFL team in the last 30 years has gotten within a yard (or past) midfield on each of their last four drives within a game and punted on all four.

Meanwhile, Buffalo's defense was holding up their end of the bargain, constantly getting in the face of Baker Mayfield and forcing punts to protect the 14 point lead. The Bucs earned just one first down in the third quarter, and went three-and-out on their first possession of the fourth quarter. A 20 yard pass to White was their longest play of the half to that point, but a holding penalty on the next play moved them back 10 yards. Back-to-back sacks from the Bills (courtesy of AJ Epenesa and Taron Johnson) stalled the drive after Mayfield finally began finding a rhythm. However, multiple flags on Buffalo on 4th down kept the Buccaneers alive. The 17 play drive culminated in a 24 yard touchdown pass to Mike Evans on 4th and 10, who had created just enough separation against Christian Benford to secure the catch in the endzone. Their 2-point conversion attempt was successful, after Mayfield's pass was batted in the air by a defender but still caught by tight end Cade Otton.

Suddenly, it was a six point ball game, and Tampa had the ball. Mayfield generated 20 yards with three quick completions, setting up for his 'Hail Mary' attempt to end the game. The ball landed in the endzone dangerously close to Godwin, but the pass fell incomplete, preserving the victory for the Bills.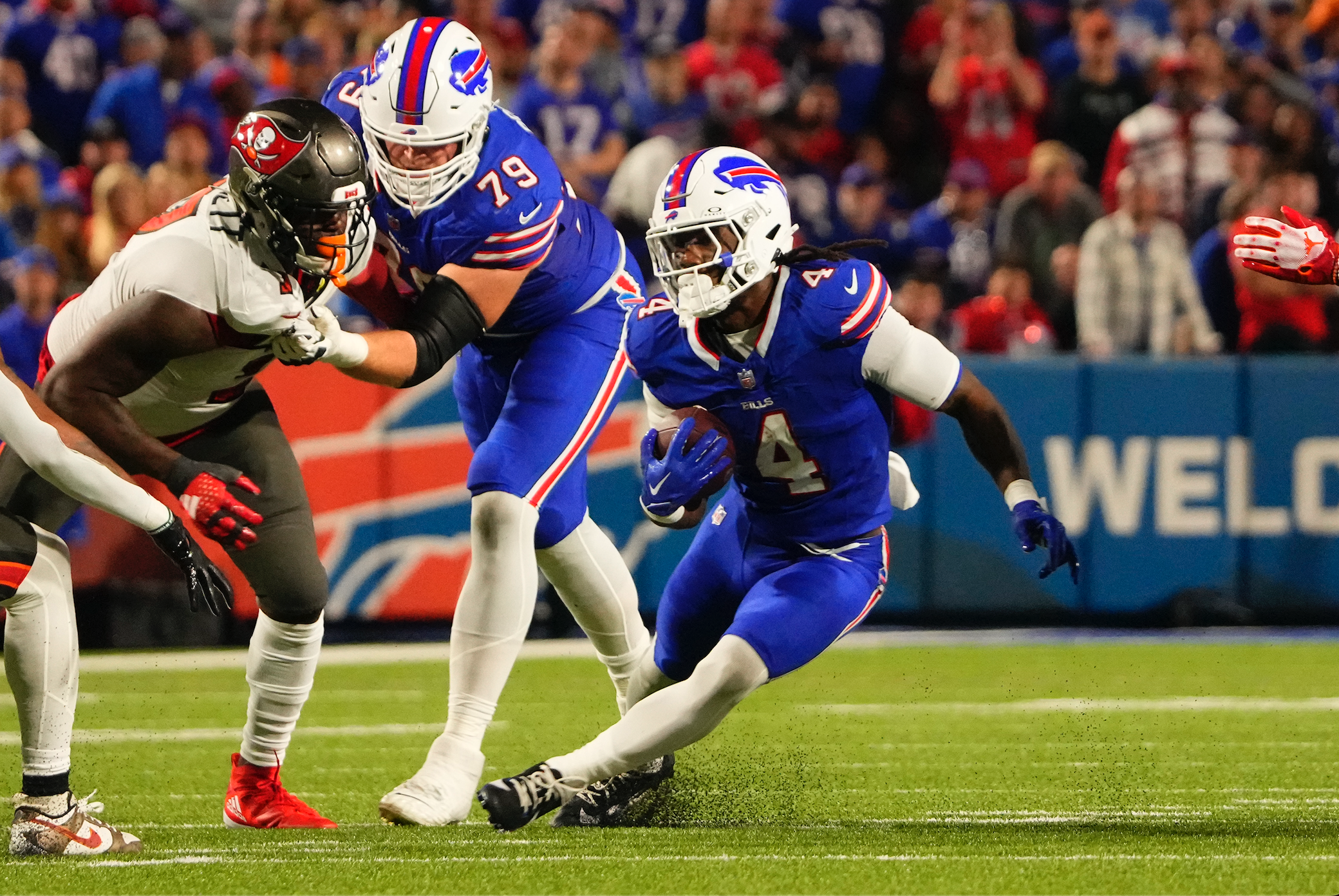 Afterthoughts

Buffalo's offense looked completely dominant for two and a half quarters, but failed to close out the Bucs in the second half of the game. Allen was getting everyone involved in the passing game, with four players registering five or more receptions and 65 yards or more (Shakir, Davis, Diggs, Kincaid). Cook was efficient on the ground, averaging 4.8 yards per carry, but it was the return of Josh Allen as a runner that was the most surprising (in a good way). His 7 carries for 41 yards (5.9 yards per carry) came in critical situations, including 3rd downs and touchdown scoring plays. Despite the offensive success, Coach McDermott's decision to punt the ball on all four of those 4th downs still doesn't sit right with me. Granted, the offense needs to set themselves up to not face that many fourth downs, especially when trying to seal the game, but some offensive aggression in the second half could've prevented the game from coming down to the last play.

Although Allen emerged as a runner in this game, Buffalo still refused to give him the ball on the goal line, instead lining up in shotgun to foreshadow a Murray run up the middle. Both times they tried it, Murray was stuffed. I don't know what more Deonte Harty needs to do to earn playing time and targets, but he had a great night in the return game, displaying his shiftiness and big play ability. It's hard to complain about him not being involved when everyone else was, but it is still something I will continue to bang the drum on until it happens.

The defense held strong for the majority of the game, allowing just one long drive for Tampa that resulted in a score. That drive was plagued with 4th down penalties to keep the Bucs alive, while the other scoring drive was directly off of a Josh Allen interception and a very short field to work with. The defense held Evans and Godwin to under 100 yards combined, although they did give up a touchdown to each of them.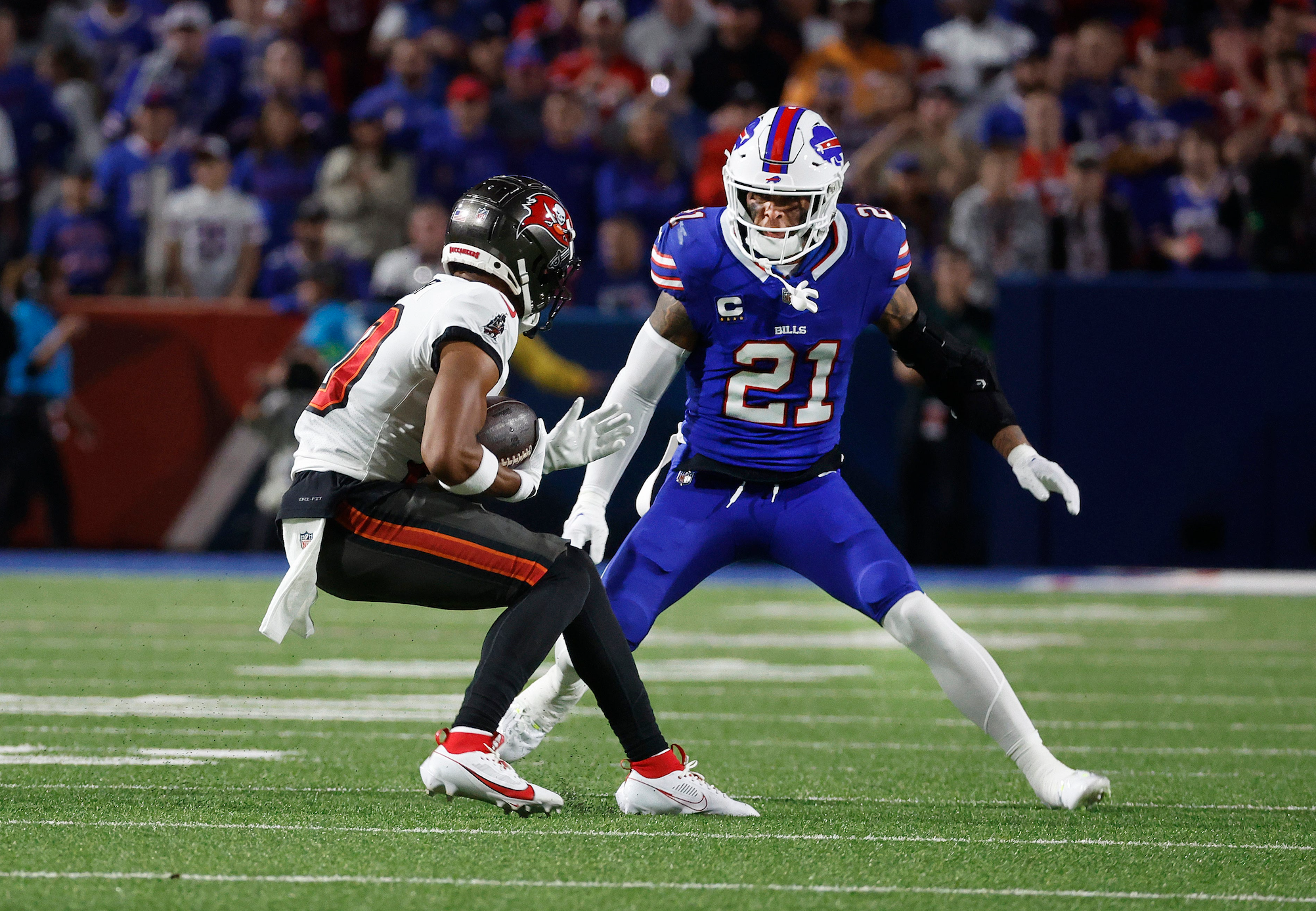 Game Awards

Offensive Player of the Game: Non-Diggs Receivers

Diggs had a modest night given his usual output, 9 catches for just 70 yards. Not to discredit him, but Allen was spreading the wealth to his arsenal of weapons. Davis had his best game of the season on Thursday night, registering a season-high 12 targets and 9 catches. He finished the night with 87 yards and a touchdown. Shakir was a significant presence in the slot and down the field, racking up a team-high 92 yards on 6 catches. Kincaid had another great performance, catching 5 passes for 65 yards and his first career touchdown.

Defensive Player of the Game: Jordan Poyer

Poyer had another excellent game, collecting eight total tackles and two passes defended. On obvious passing downs, primarily 3rd and long, Poyer would move into a linebacker role, taking Tyrel Dodson off of the field. Taylor Rapp would then substitute in at safety. The dime package with 6 DBs on the field (Benford, Taron, Dane, Hyde, Poyer, Rapp) is something I was hoping we'd see more of this year, and Buffalo began utilizing it regularly on Thursday night.

MVP: Josh Allen

Allen finished 31 of 40 for 324 yards and 2 TDs, along with 7 rushes for 41 yards and a TD on the ground. He did throw one interception that deflected at the line of scrimmage into the hands of a Tampa Bay defensive lineman. Other than the unlucky tip, Allen had a great primetime performance that probably could've been even more inflated had Buffalo opted to be more aggressive on 4th down. Still, a three touchdown game is nothing to complain about, especially after securing a win.

What's Next: Bills @ Bengals 11/5 SNF

Buffalo travels to Cincinnati for a rematch of the divisional round game that eliminated the Bills from the playoffs last year, and a rematch of the game that didn't count due to the Damar Hamlin incident during last year's regular season. After starting the season 1–3, the Bengals have won two in a row, but first have a tough matchup against the San Francisco 49ers on Sunday.
Editor's babble: We are grateful for Colin Richey's contributions to our blog. You can also find Colin on Xwitter @whatthef00tball.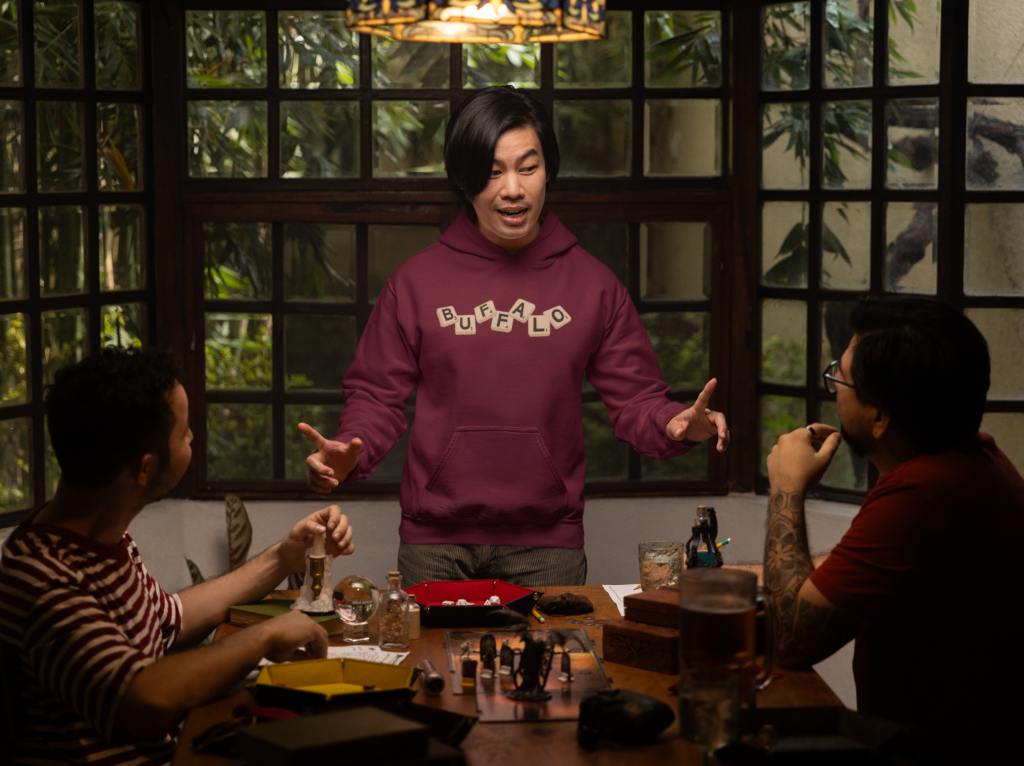 BuffaloFAMbase.com is sponsored by 26 Shirts
Every Monday, we launch a new two-week campaign of a limited edition t-shirt design. Every shirt purchase results in a donation to a local family in need. After the campaign ends, the shirt is retired. A new design is released, and a new family benefits from your fandom!