Buffalo traveled to New England to face the 1-5 Patriots, after barely escaping with a win on Sunday Night Football against the New York Giants. Unfortunately, things only got worse for the Bills, losing 29-25 to their AFC East rival.

Another Slow First Half

After being shut-out for the first three quarters against the Giants, the Bills were unable to break that trend against the Patriots, scoring just three points in the first half.

Josh Allen's first pass of the game was intercepted, a great play by safety Jabrill Peppers. Allen was staring down Dawson Knox the entire time, allowing the versatile safety to read the QB's eyes and jump the corner route.

The Bills had to settle for three points on their next drive, a 36 yard field goal from Tyler Bass on 4th and 17. Facing 3rd and 5 from their own 30, Allen connected with James Cook on the scramble-drill for a 28 yard gain to move them over midfield. A five yard illegal contact penalty on New England extended the drive, when Buffalo otherwise gained just one yard on 3rd and 7. The drive stalled when Latavius Murray was called for offensive pass interference after colliding with a defender while running his route.

A quick three-and-out followed for Buffalo's offense, after Cook lost five yards on 2nd down and Allen threw an incomplete pass on 3rd and 7.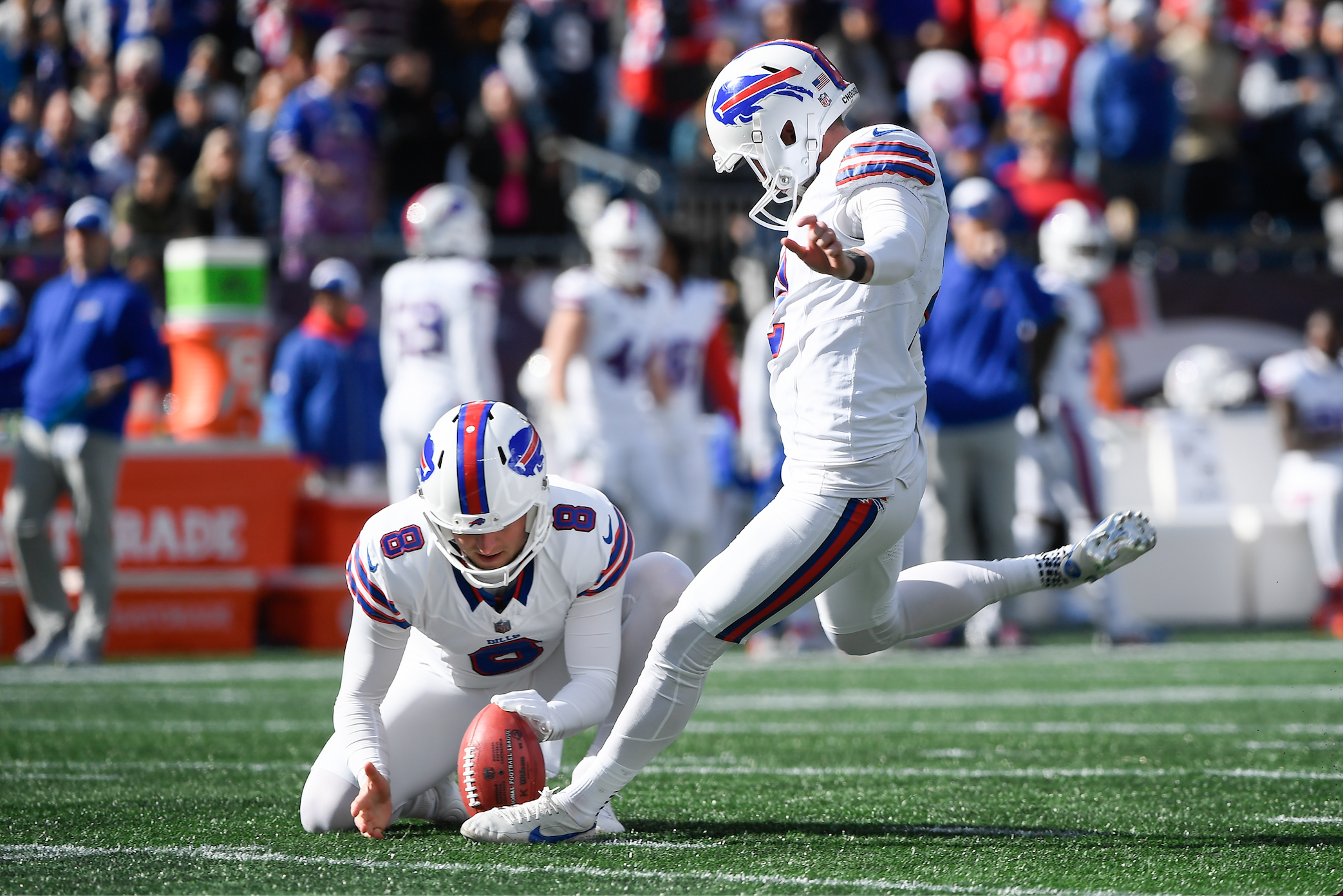 Recent Struggles From Tyler Bass

He missed two kicks against the Giants on Sunday night. In Foxborough he missed another kick, this one from 42 yards out. After a perfect start to the season, Tyler Bass has been no exception to the team's struggles. Allen was sacked for a seven yard loss, pushing the ball back from the 17 yard line to the 24 yard line, and an incomplete pass on 3rd down kept it at a field goal attempt of over 40 yards.

No Aggression Before Halftime

Sean McDermott opted for the conservative approach going into halftime, despite Buffalo having all three timeouts at their disposal. Sure, the ball was on our own three yard line, but we've seen this offense manufacture big plays when necessary. Instead of trying to get an extra three points before halftime, Latavius Murray ran up the middle for two yards and the clock ran down to zeroes.

Patriots Hold Two-Possession Lead at Halftime

New England kicked a field goal on their opening drive. After quickly getting into Buffalo territory, Mac Jones connected with third-string tight end Pharaoh Brown for 25 yards. Three straight runs to Rhamondre Stevenson gained just eight yards, and the Patriots opted to take their points despite facing just 4th and 2 from the 12 yard line.

After the turnover from Allen, Jones and company would start at Buffalo's 45 yard line. Two completions to rookie Demario Douglas for a total of 26 yards moved them to the 10 yard line. Ezekiel Elliott ran up the middle for a two yard touchdown to extend the lead.

The Bills defense was able to force two punts in the second quarter, but gave up a field goal to allow a two possession lead for New England. Granted, Mac Jones had a short field to work with, after a punt from Sam Martin was returned 25 yards by Douglas to Buffalo's 46 yard line.

Buffalo Wakes Up

The second half was a different story for the Bills and their offense. Allen led an 11 play, 81 yard drive to find the end zone, capped off with a Cook eight yard touchdown catch. The biggest plays of the drive were a 17 yard completion to Stefon Diggs and a 20 yard run by Cook. A 15 yard roughing the passer penalty (that probably wasn't a penalty) also helped move the ball downfield.

Although Buffalo was unable to score on their next drive, they moved the ball downfield. Facing 3rd and 15, Allen was able to evade pressure and check it down to Latavius Murray, who made a fantastic play after the catch to gain 17 and move the chains. A QB sneak helped keep the drive alive on 4th and 1, but three plays gaining eight yards set up another 4th and short. On the play, most of Buffalo's receivers ran 10+ yards downfield, a questionable play design when only needing two yards. Allen stood in the pocket, and found an open Knox over the middle, but a hit from a Patriot's safety knocked the ball out of the tight end's hands to force the incompletion. It's a catch Knox needs to make, even with the contact making it a difficult catch. Instead, Buffalo turned it over on downs.

The Patriots capitalized with a touchdown to regain a two-possession lead. Jones connected with Brown for another big gain, this time 26 yards on a contested catch against Terrel Bernard. An illegal contact penalty on Taron Johnson kept the drive alive, and a 10 yard run from Elliott moved the Pats into the red zone. Douglas came down with another big catch, this time gaining 19 yards to set up 1st and Goal from the four yard line. Jones found Kendrick Bourne on the sideline on a pick-play for the score. A minor victory for the defense came on a failed two-point conversion attempt to keep the deficit at 12 points.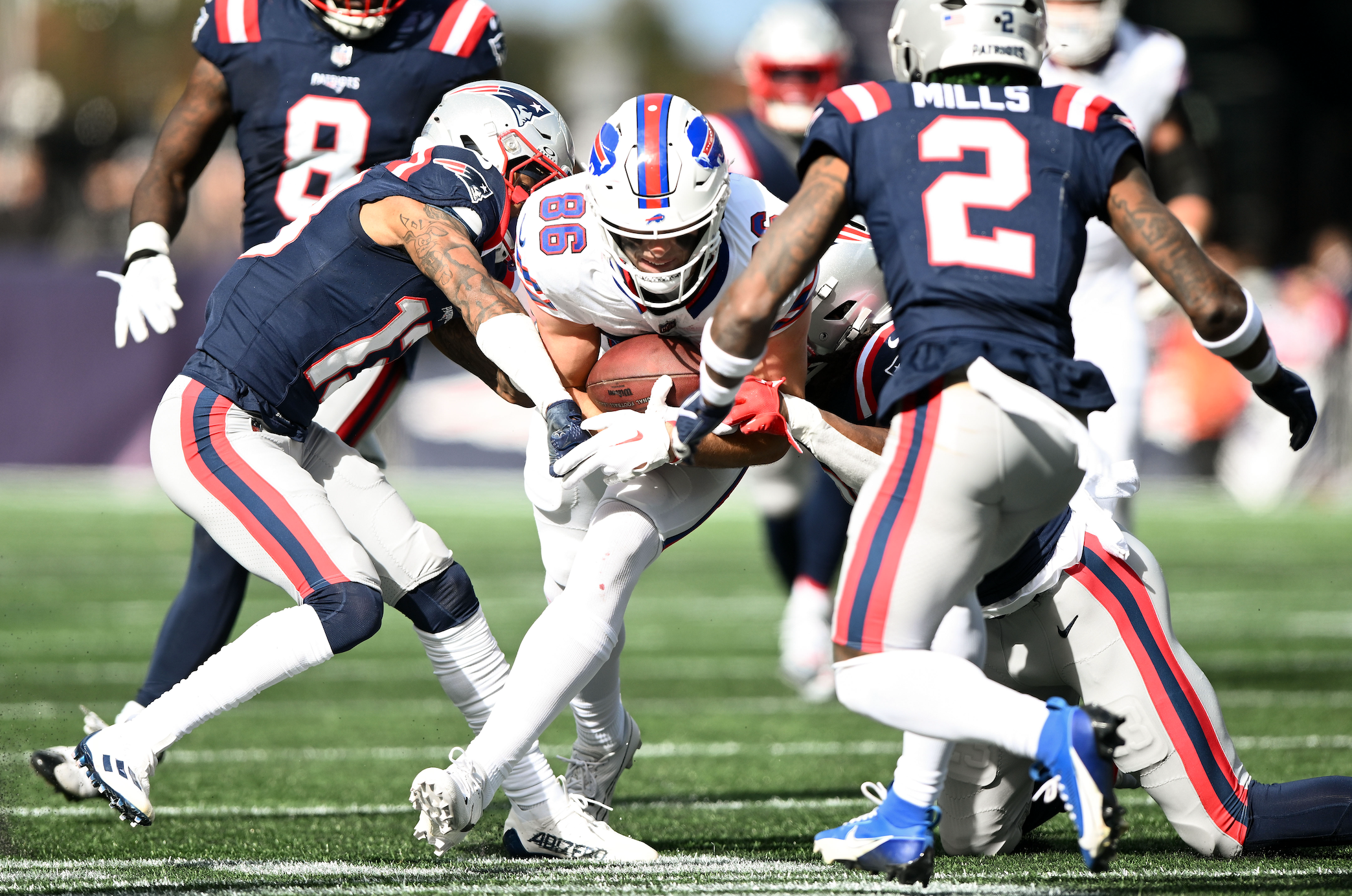 The Comeback

The Bills wasted no time getting back on the scoreboard, marching 75 yards downfield in just 1:48. Allen found four different receivers to set up the score: Dalton Kincaid for 12, Diggs for 7, Trent Sherfield for 5, and Khalil Shakir for 11, to get into scoring range. A 15 yard roughing the passer penalty didn't hurt either. Allen zipped a pass into Diggs at the five yard line, who went down to his knees to make the catch. He wasn't touched by a defender, so he burst up to his feet, broke a tackle attempt, and ran into the end zone.

Facing 2nd and 15, Jones threw a check down to Bourne, who was stripped of the football by Jordan Poyer. Bernard recovered the fumble at the 29 yard line, giving Buffalo new life.

It wasn't quick, but Buffalo found the end zone again. An eight play drive to gain 29 yards took almost three minutes off the clock, including the stoppage at two minutes. After failing on a QB sneak from the one yard line prior to the two-minute warning, Buffalo (wisely) went right back to it, and Allen found the end zone to take the lead. Knox caught the two-point conversion attempt to make it a three point game.

Jones, Tight Ends Lead GW Drive

Setting the tone on New England's final drive, Stevenson took a check down 34 yards downfield. A play that saw two broken tackles, and defenders who couldn't get off of blocks, it was the momentum-shifting play the Patriots needed. Jones connected with Hunter Henry for 14 yards on 3rd and 8 to keep the drive alive, with completions of eight and ten to move inside the ten yard line.

Jones found Mike Gesicki over the middle for the go-ahead score with 12 seconds left. The extra point made it a 29-25 ball game, which would be the final score. The 6'6" tight end was being guarded 1v1 against 5'11" Taron Johnson, leaving Gesicki with a clear height advantage.

There was a chance for Buffalo to pull off a miracle, but Diggs couldn't hold onto a bomb from Allen that he was able to get two gloves on at the 30 yard line.

Afterthoughts

What has happened to this Bills team? After dropping 48 on Miami, Buffalo's offense has no semblance of rhythm or up-tempo, trying to establish the run and throw the ball short. There are no designed runs for Allen, and the QB even looks skittish to scramble upfield to extend plays. Gabriel Davis, your WR2, simply cannot get open. He's great for one or two deep shots a game, but he can't create enough separation (1 catch for 6 yards) to earn the amount of playing time he does.

You know who can create separation? Deonte Harty! Why is he not getting more involved in the offense? Brandon Beane signed him to a two year deal last offseason, clearly thinking Harty's speed could add an element to the offense that Isaiah McKenzie couldn't do consistently enough. He made a great play along the sideline to turn a gain of 3 or 4 into a gain of 10 and a first down, but that was his lone target on the day.

Dalton Kincaid and Khalil Shakir finally got more involved in the offense, but it came at the expense of Diggs, who finished with his lowest yardage output of the season. Cook and Murray both made explosive plays in the passing game, combining for 66 receiving yards on five catches.

The offensive line had arguably their worst game of the season, and definitely their worst performance since Week 1. And this came without Matthew Judon or Josh Uche coming off the edge for the Patriots.

Defensively, I understand that the D gave up 29 points to a bad offense. I understand Mac Jones isn't a franchise QB and shouldn't be leading game-winning drives. However, how can you criticize a unit missing arguably their three best players this year (Ed Oliver, DaQuan Jones, Matt Milano) AND their best cornerback (Tre'Davious White)?

Furthermore, rookie Dorian Williams was benched for Tyrel Dodson midway through the game. When asked about this decision, Coach McDermott said the reason was "we were giving up a few plays at the position and wanted to calm it down a bit". These 'struggles' should be expected from Williams, and he should be given a longer leash to learn and grow as an NFL player and Day 2 draft pick. The gap in talent between him and Dodson is small enough to justify keeping the rookie in the game, in order to establish a more long term solution at linebacker, especially with Milano out for (probably) the season. Instead, Dodson got the reps in the second half, and New England still scored two touchdowns and won the game.

This is a new low for the Buffalo Bills. It hasn't seemed like much of a doubt that the team would own the AFC East over the past three seasons, but this year is in serious jeopardy. Forget winning the division, how about making the playoffs?? The team is 4-3 with two division losses and still has games against the Bengals, Eagles, Chiefs, Cowboys, and Chargers, as well as each of their AFC East counterparts. While Buffalo can "control their own destiny" by beating division rivals and conference contenders, the team that has shown up the past three weeks is not winning many of these games, if any.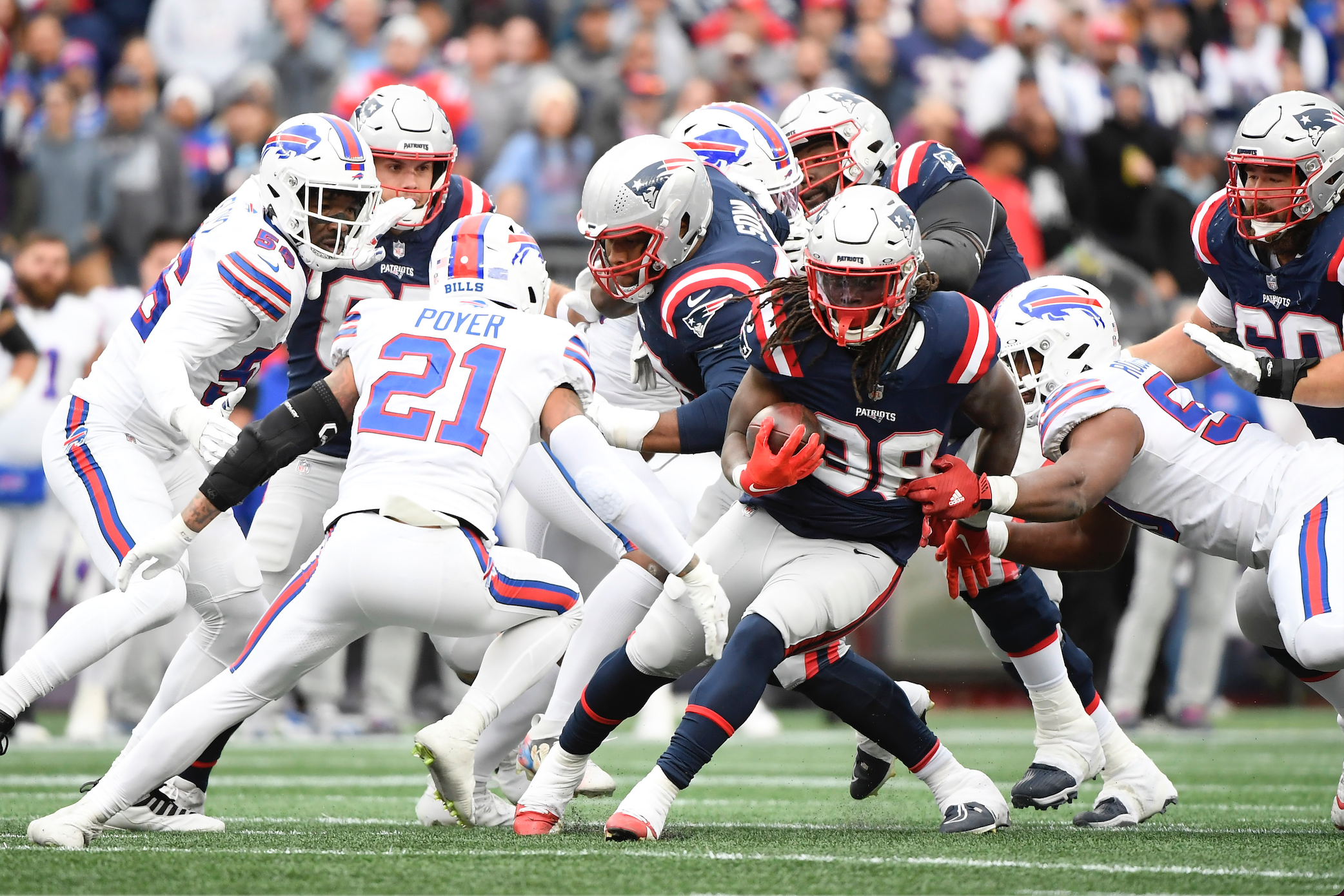 Game Awards

Offensive Player of the Game: Dalton Kincaid

The rookie tight end finally had his breakout game, on National Tight End Day no less. He finished with a team-high (and career-high) eight catches for 75 yards. He was a great option over the middle for Allen, and hopefully their chemistry can continue to develop as the season continues.

Defensive Player of the Game: Jordan Poyer

The All-Pro safety finished with nine total tackles, a sack, and a forced fumble. He was the only defender to record a sack or turnover.

MVP: No One

After watching that performance, it should be no surprise that I deemed no one the MVP. It was a disappointing performance for both the offense and the defense, and special teams for that matter!

What's Next: Buccaneers @ Bills 10/26 TNF

Baker Mayfield and the Bucs travel to Orchard Park to take on the Bills on Thursday Night Football. A showdown between Allen and Baker Mayfield, two former 1st round picks in 2018, Buffalo needs to bounce back in a big way in what is probably their easiest remaining game on the schedule.
Editor's babble: We are grateful for Colin Richey's contributions to our blog. You can also find Colin on Xwitter @whatthef00tball.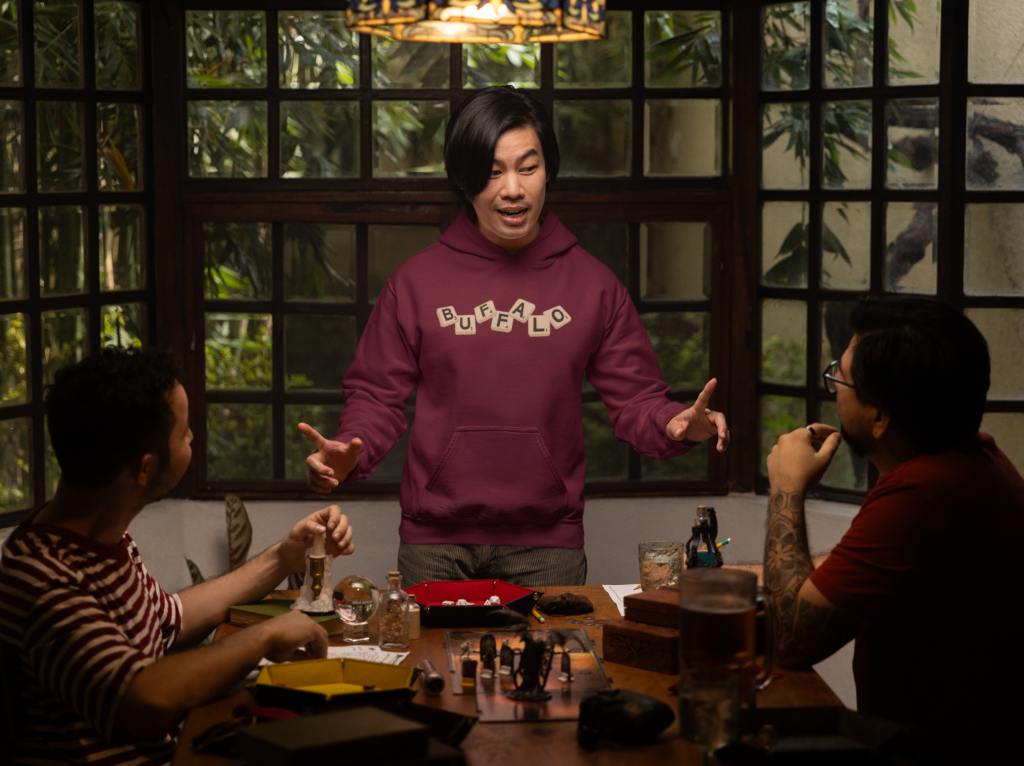 BuffaloFAMbase.com is sponsored by 26 Shirts
Every Monday, we launch a new two-week campaign of a limited edition t-shirt design. Every shirt purchase results in a donation to a local family in need. After the campaign ends, the shirt is retired. A new design is released, and a new family benefits from your fandom!