Brian Daboll and Tyrod Taylor came back to Buffalo looking for a revenge upset on Sunday Night Football. Although the Bills squeaked by with a win, the Giants made it much closer than anticipated in a game filled with offensive struggles for both teams.

Where is Buffalo's Offense?

The Bills had a zero on the scoreboard through three quarters of the game, against a bad Giants defense. New York had surrendered an average of 26.6 points per game through the first three quarters, yet Josh Allen and company couldn't get any sense of rhythm going.

Buffalo received the opening kickoff, but gained just three total yards on a completion to Stefon Diggs. A three-and-out for the Giants gave Buffalo another opportunity to score first, but Gabriel Davis fumbled at midfield and the Giants turned it into a field goal.

Facing 3rd and 7 after the fumble recovery, Taylor threw a perfect pass down the sideline to Darius Slayton, who had gotten past Kaiir Elam on the play. A sack from Leonard Floyd stalled New York's drive, leaving them to settle for three points.

It looked like the Bills had finally found a rhythm on offense, as Allen connected with Diggs for 28 yards over the middle, and Latavius Murray ran for a 10 yard gain. However, Buffalo would punt three plays later, despite being in range for Tyler Bass. Opting for Sam Martin over a 54 yard field goal attempt from Bass was questionable, although later on Bass would show that he was struggling versus long distance kicks.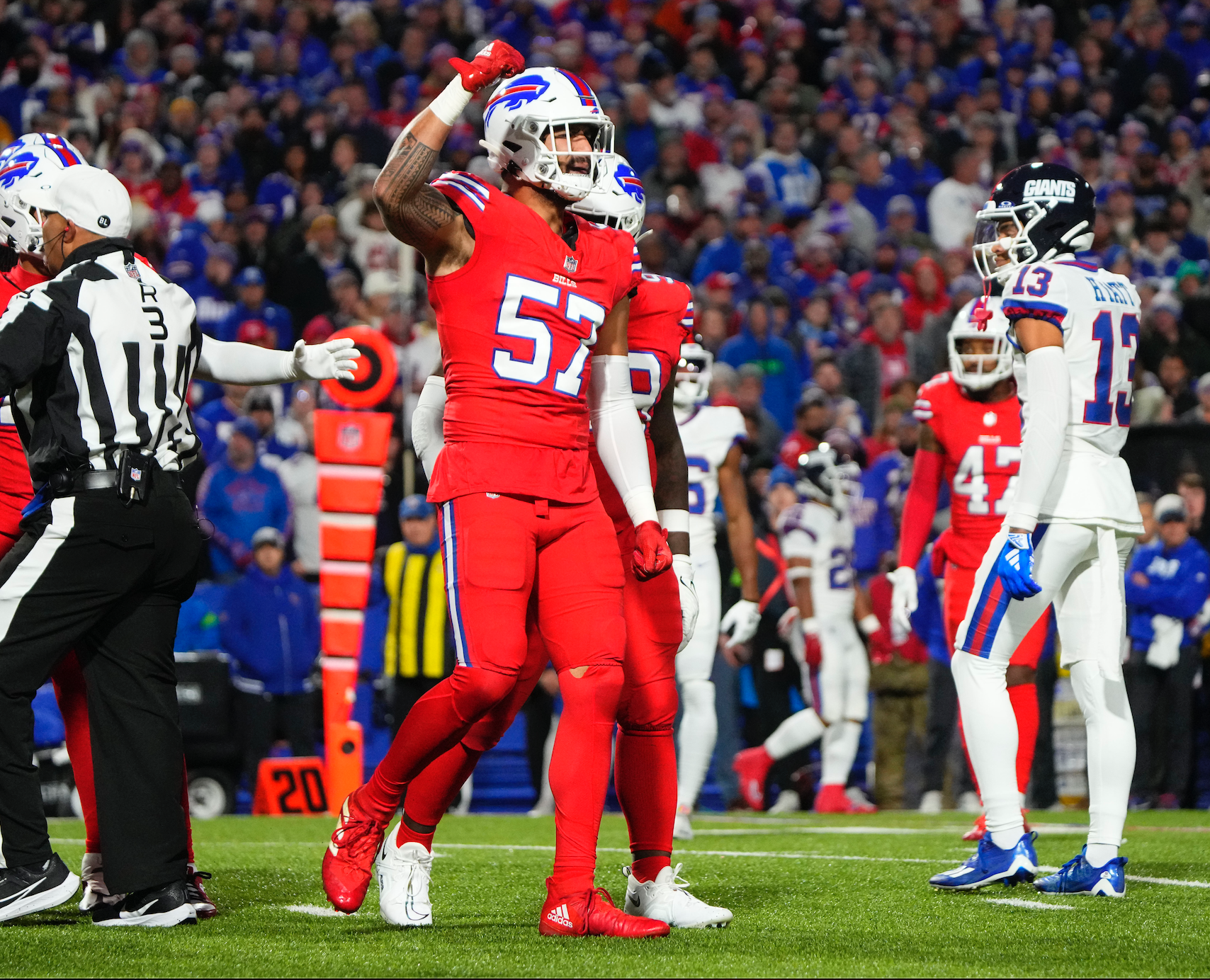 AJ Epenesa came up big with a sack on 3rd down. He flew off the edge and beat Justin Pugh (who was in at left tackle "off the couch"), giving Buffalo another chance to find their identity and take the lead.

A first down pass to Diggs gained just one yard. Two incomplete passes and a false start forced Buffalo to punt. The Giants matched this, running for nine yards before a false start hindered the drive and punted back to the Bills.

James Cook finally emerged, gaining 14 yards on back to back runs to put the offense in scoring range. However, Bass missed a 52 yard field goal attempt after two incomplete passes from Allen, giving the Giants the ball around midfield.

Taylor methodically drove down the field, completing four passes for 40 yards to set up a 43 yard field goal, extending New York's lead to 6-0.

A get-right drive was needed for Buffalo. Instead, back-to-back penalties generated 1st and 25, but a questionable roughing the passer call worked in favor of the Bills, resetting the downs. A 19 yard completion to Diggs got Buffalo to midfield, but Allen's next pass over the middle was tipped and intercepted by the Giants.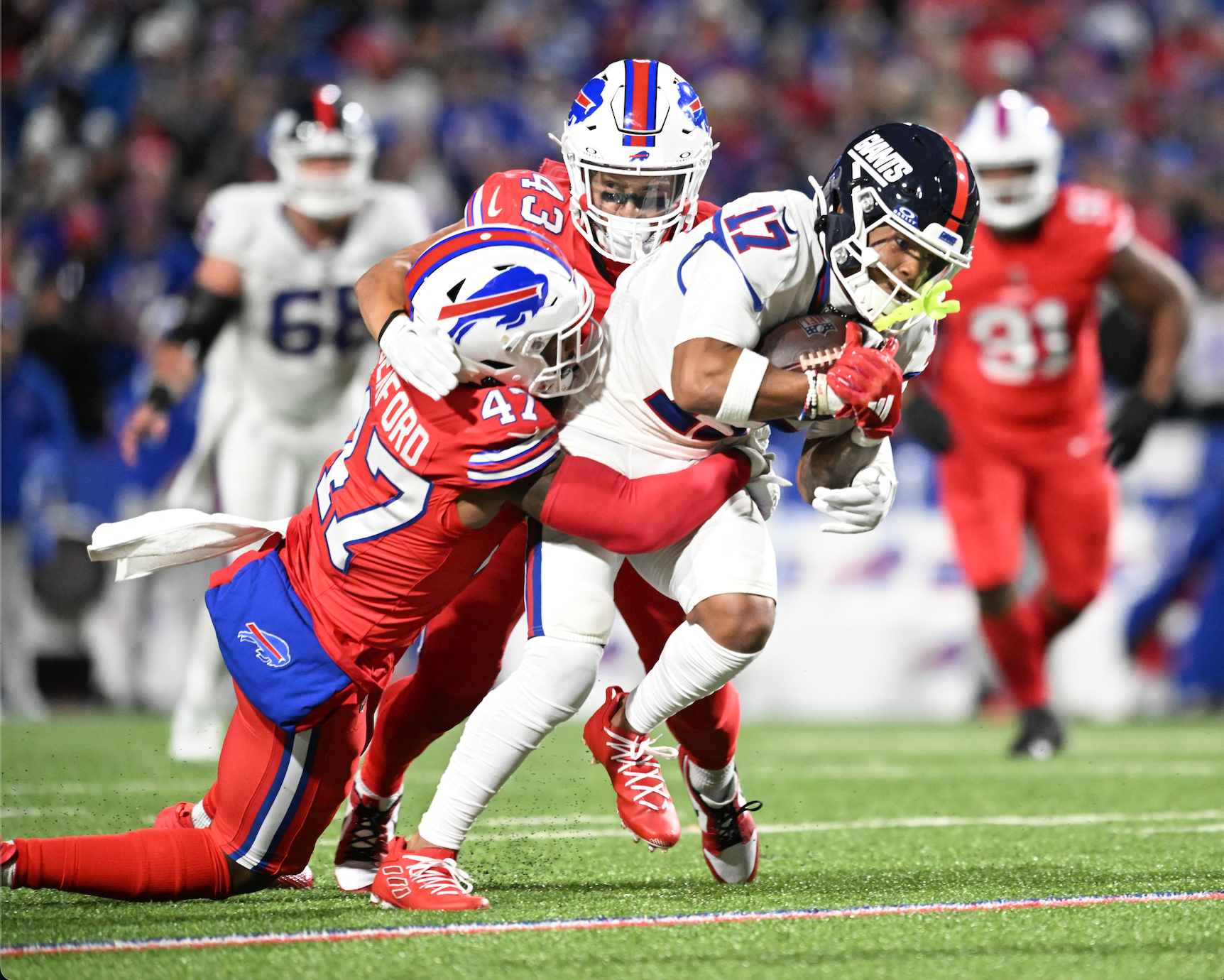 Defense Saves the Bills

The Giants could've had more points going into halftime if it weren't for the elite play of Buffalo's defense. The Giants marched down the field, but were eating up valuable time. A 31 yard completion to Slayton, this time guarded by Christian Benford, set up the Giants in the red zone. Facing 1st and Goal from the one yard line, the Giants had 14 seconds and no timeouts to work with. A mistake from the veteran, Taylor audibled to a run, which was stuffed by Terrel Bernard. With the clock ticking away, the Giants were unable to get set in time to run another play, and the Bills survived the potential two-possession deficit heading into halftime.

Allen's first half statline was 8/18, with one interception. Six of those completions, and 12 of those attempts, were targeting Diggs. There seemed to be no effort to get other receivers involved, as no player other than Diggs finished the game with more than three catches.

A Quick Third Quarter

Both teams had just one possession in the third quarter, and neither team scored. The Giants ran 10 plays, but gained just 39 yards, and punted on 4th and 11. A dropped snap from Taylor turned 2nd and 8 into 3rd and 14, and a three yard run on 3rd down gave Buffalo hope.

The Bills matched the Giants with a long drive of their own, going 88 yards in 16 plays. The Bills were 3/3 on 3rd down, as Allen found Khalil Shakir for 13 and Diggs for seven, while Murray ran for 3 yards to continuously extend the drive. The quarter ended with Buffalo facing 3rd and Goal from New York's one yard line – a prime opportunity to score.

POINTS…FINALLY!

Buffalo broke the shutout on the first play of the 4th quarter, with Allen finding Deonte Harty wide open in the flat, thanks to deceptive pre-snap motion from the speedy receiver. The extra point from Bass gave Buffalo the lead with one quarter of football left to play.

The Giants responded with a field goal, thanks to the successful run game led by Saquon Barkley. The explosive running back totaled 65 yards on the drive, setting up the 29 yard kick from Graham Gano.

Trailing 9-7, the Bills needed to answer with another score, and Allen delivered. A holding penalty and 14 yard completion to Diggs moved the ball to midfield, and consistent runs and short completions kept the ball moving downfield. From New York's 15 yard line, Allen evaded pressure and rolled to his right, throwing a dangerous pass into the end zone. He ended up threading the needle into the hands of Quintin Morris for the score, retaking the lead with just under four minutes left in the game.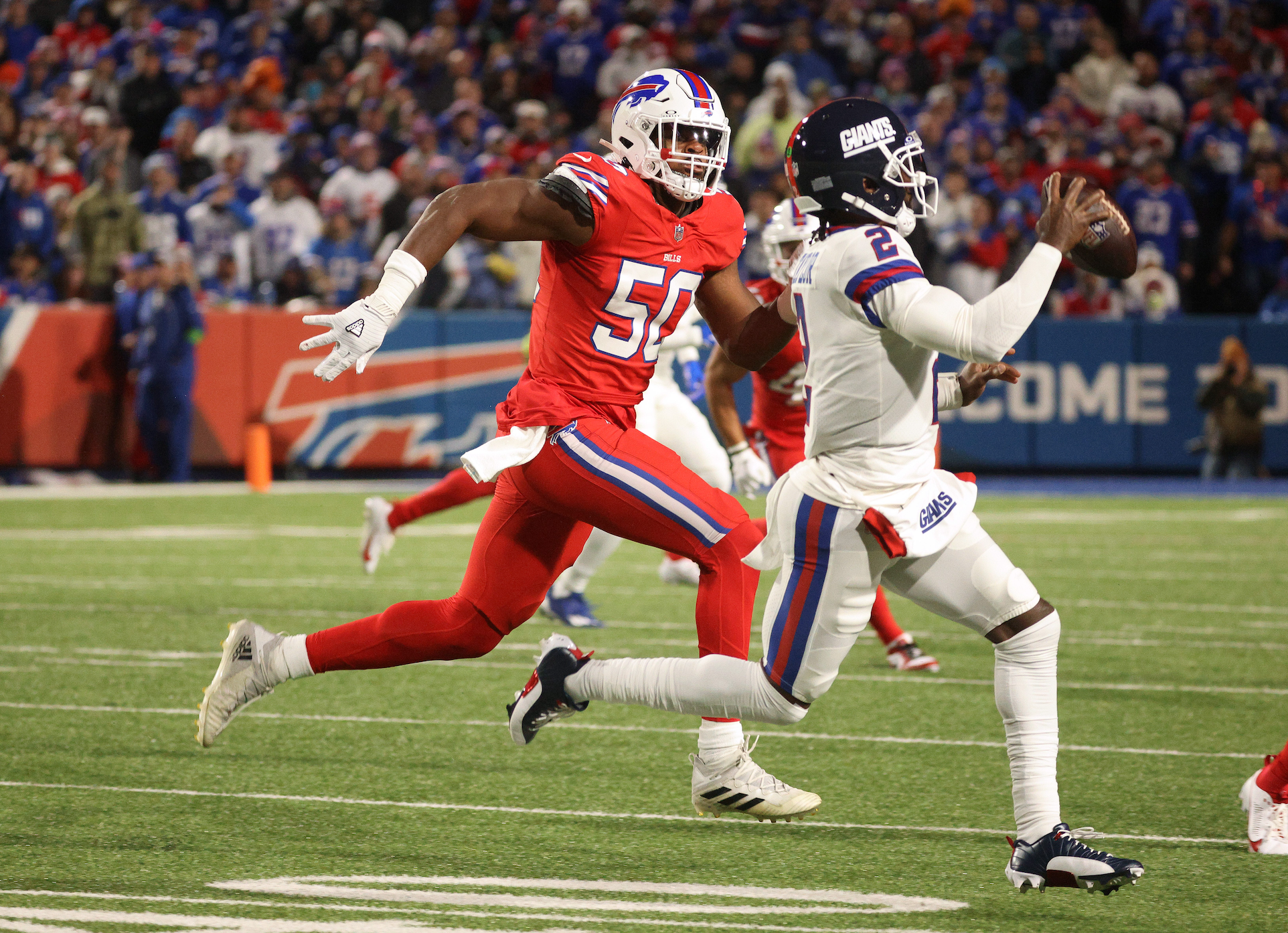 Giants Have a Chance

Buffalo was able to force a turnover on downs, picking up 37 yards before Taylor threw an incomplete pass on 4th down.

The Bills had a chance to ice the game, but a third down play-action pass to Dawson Knox fell incomplete, stopping the clock and giving the Giants an ounce of hope. Allen could've put more on the throw, but Knox had two hands on the football and should've come down with the catch. A 53 yard field goal from Bass would've given Buffalo an eight point lead, but he missed his second kick of the evening.

Defense Doesn't Break

The Giants, suddenly in decent position to score, would start at their own 43 with 1:25 remaining, and one timeout left. Taylor was efficient in the quick passing game, starting the drive 6/6 for 25 yards, but the Giants called their final timeout with 45 seconds remaining. Taylor found the rookie Jalin Hyatt for 12 yards on 4th and 5, moving the Giants into the red zone. An eight yard pass interference penalty on Terrel Bernard gave New York one untimed down from the one yard line.

Needing one yard for the win, with no time left, the last play would determine the game. The Giants opted to pass, with Taylor looking for tight end Darren Waller over the middle. Despite some contact and grabbing from both Waller and Taron Johnson in coverage, the pass fell incomplete with no flags on the field. Buffalo had won. Buffalo had survived.

Afterthoughts

Sean McDermott's defense had another stellar game, holding the Giants to just 9 points. While it was expected for the defense to get the most out of a banged up offensive line and backup QB, it's still impressive to prevent a team from finding the end zone for 60 minutes. Leonard Floyd and AJ Epenesa continued their great seasons, each recording a sack. Rookie linebacker Dorian Williams got the start, and looked solid, finishing with 10 total tackles. He's no Matt Milano – no one is – but this was a strong performance for the Tulane product to build off of for the future. Meanwhile, the absence of DaQuan Jones was apparent against the run, and left his partner Ed Oliver completely off the box score.

I don't need to tell you that this was a frustrating performance for the offense. There's three possibilities for the problem with the passing game:

1. Ken Dorsey doesn't know how to incorporate the skillsets of Davis, Harty, and Knox to find an offensive rhythm.
2. Josh Allen doesn't trust any receiver other than Diggs.
3. Buffalo doesn't have enough talent in the receiver room to line up opposite Diggs.

Granted, Buffalo was missing Dalton Kincaid, who was in concussion protocol, but I don't think #3 is as big of a problem as #1 or #2. Every week I watch the Chiefs, 49ers, Lions and Dolphins draw up creative and unique plays with pre-snap motion, dynamic routes, and open receivers. KC and Detroit only have one elite weapon each, Miami has a lackluster offensive line, while San Francisco has Mr. Irrelevant leading them to big wins.
Each team has its deficiencies, but the offensive schemes are able to overcome them. Why can't this be the case for Buffalo? Fans want to trade for Jerry Jeudy or Hunter Renfrow, but can they feel confident that Dorsey and Allen will get them more involved than the production that anyone other than Diggs is currently seeing? In my opinion, Buffalo has the pieces they need, it comes down to schemes/play-calling from Dorsey, and decision making from Allen.

On a more serious note, running back Damien Harris left the game via ambulance after a scary neck injury. The broadcast showed him give a thumbs up from his stretcher, and McDermott confirmed after the game that he has movement in his arms and legs.

Allen received X-rays after the game looking at his shoulder, but said in his post-game interview that everything looks "normal so far". It will certainly be a situation to monitor, although Allen played the entire second half after appearing to suffer the shoulder injury.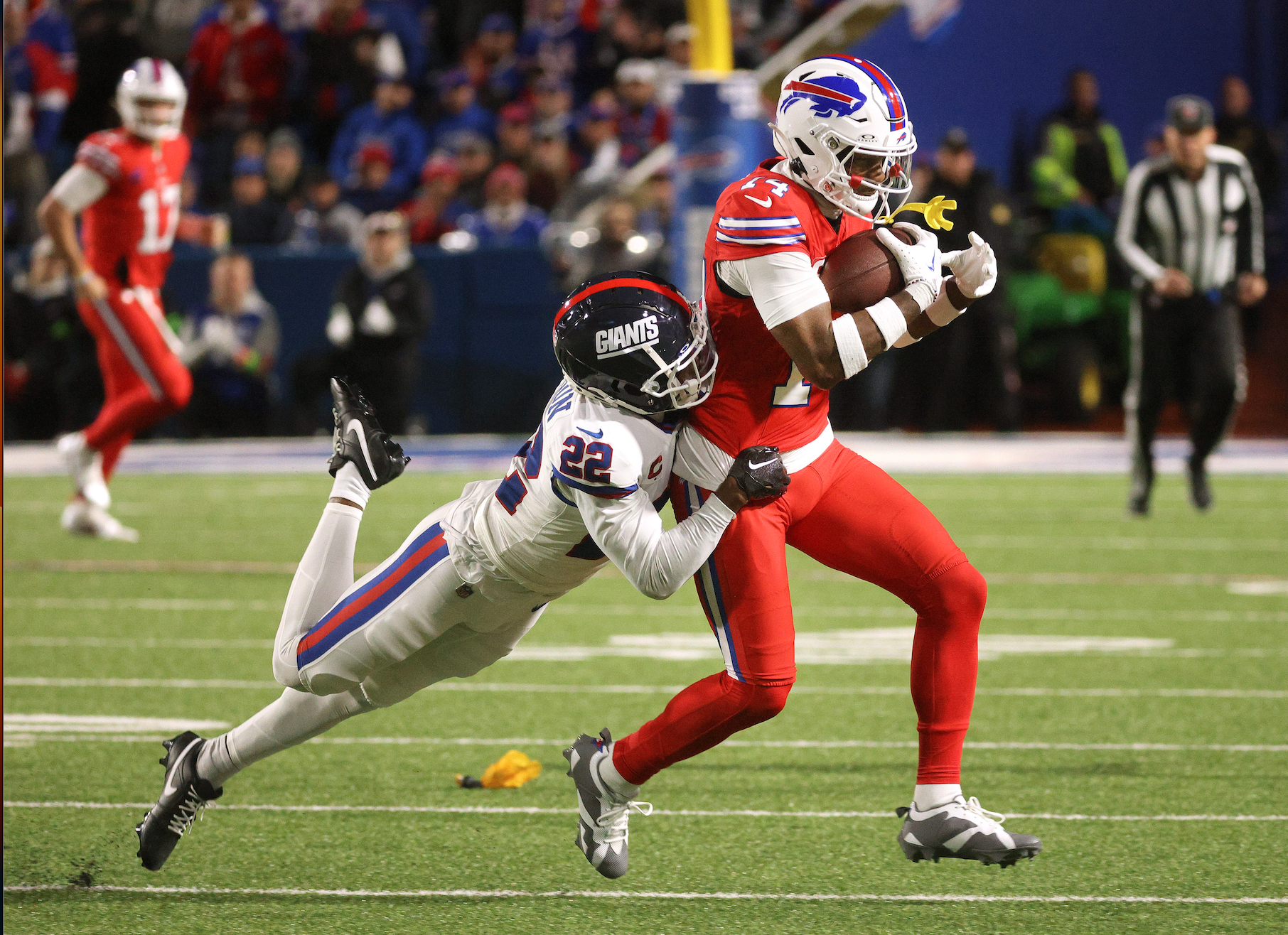 Game Awards

Offensive Player of the Game: Stefon Diggs

Diggs was targeted early and often, catching 10 of his 16 targets for 100 yards. This is his 5th (of 6) game this season with 100 yards, making him just the fifth player in the Super Bowl era with 100+ receiving yards in 5 of his team's first 6 games (according to Buffalo Bills PR).

Defensive Player of the Game: Terrel Bernard

Without Matt Milano, this Buffalo defense needs to lean on Bernard to make plays against the run and pass in the middle of the field. He did just that on Sunday night, finishing with 12 total tackles, including three for a loss. His biggest play was tackling Barkley on the one yard line, causing the Giants to come away with no points on their drive right before halftime.

MVP: Taron Johnson

Should he have been flagged for holding? Probably. Was he flagged for holding? No. Johnson finishes with a box score of 15 total tackles (a team-high), and a pass break up to win the game. His versatility to cover from the slot but also hold his own against the run is a big part of what makes this defense as great as it is. He's come up big in moments before (pick-6s against the Steelers and Ravens come to mind), and he closed out Sunday Night's game to seal the win for Buffalo.

What's Next: Bills @ Patriots 10/22

Mac Jones has thrown 5 touchdowns to 6 interceptions this year, and Bill Belichick's defense and special teams units haven't looked the same. Allen and Diggs are normally at the top of their games against the AFC East rival, as the offense looks to bounce back from a second straight concerning performance.
Editor's babble: We are grateful for Colin Richey's contributions to our blog. You can also find Colin on Xwitter @whatthef00tball.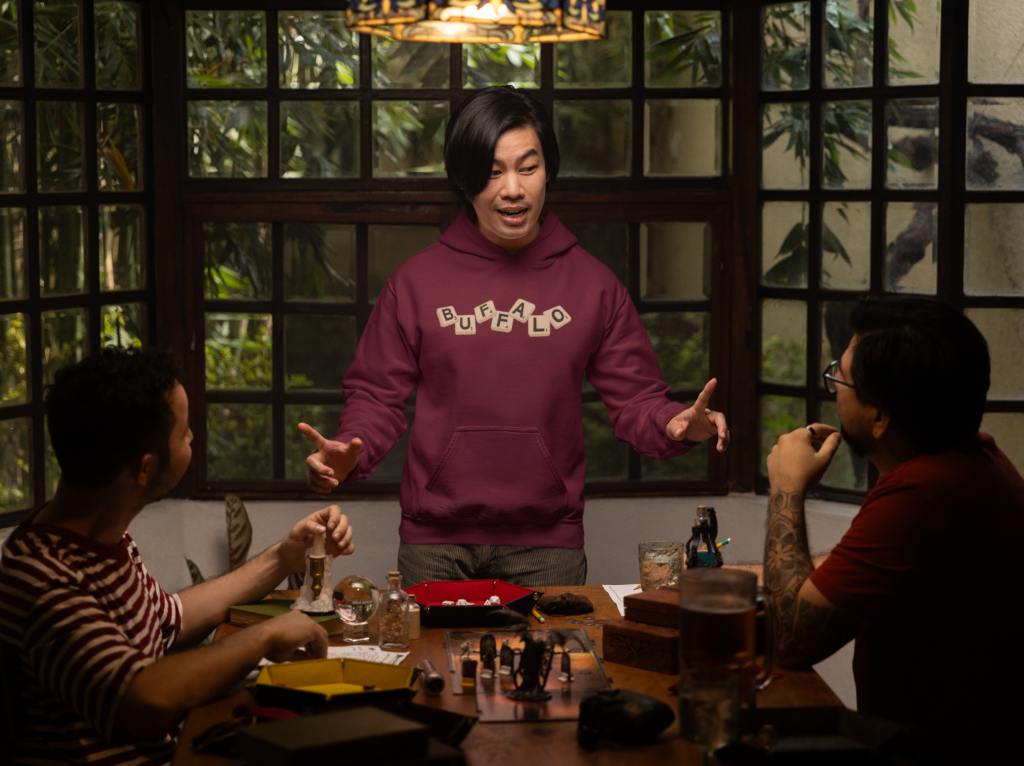 BuffaloFAMbase.com is sponsored by 26 Shirts
Every Monday, we launch a new two-week campaign of a limited edition t-shirt design. Every shirt purchase results in a donation to a local family in need. After the campaign ends, the shirt is retired. A new design is released, and a new family benefits from your fandom!