After dropping 70 points on the Denver Broncos, Tua Tagovailoa and the Miami Dolphins visited Buffalo for a clash between division rivals. Despite the various narratives about Mike McDaniel leading the "best offense in the NFL", it would be Buffalo smiling when the clock hit zero.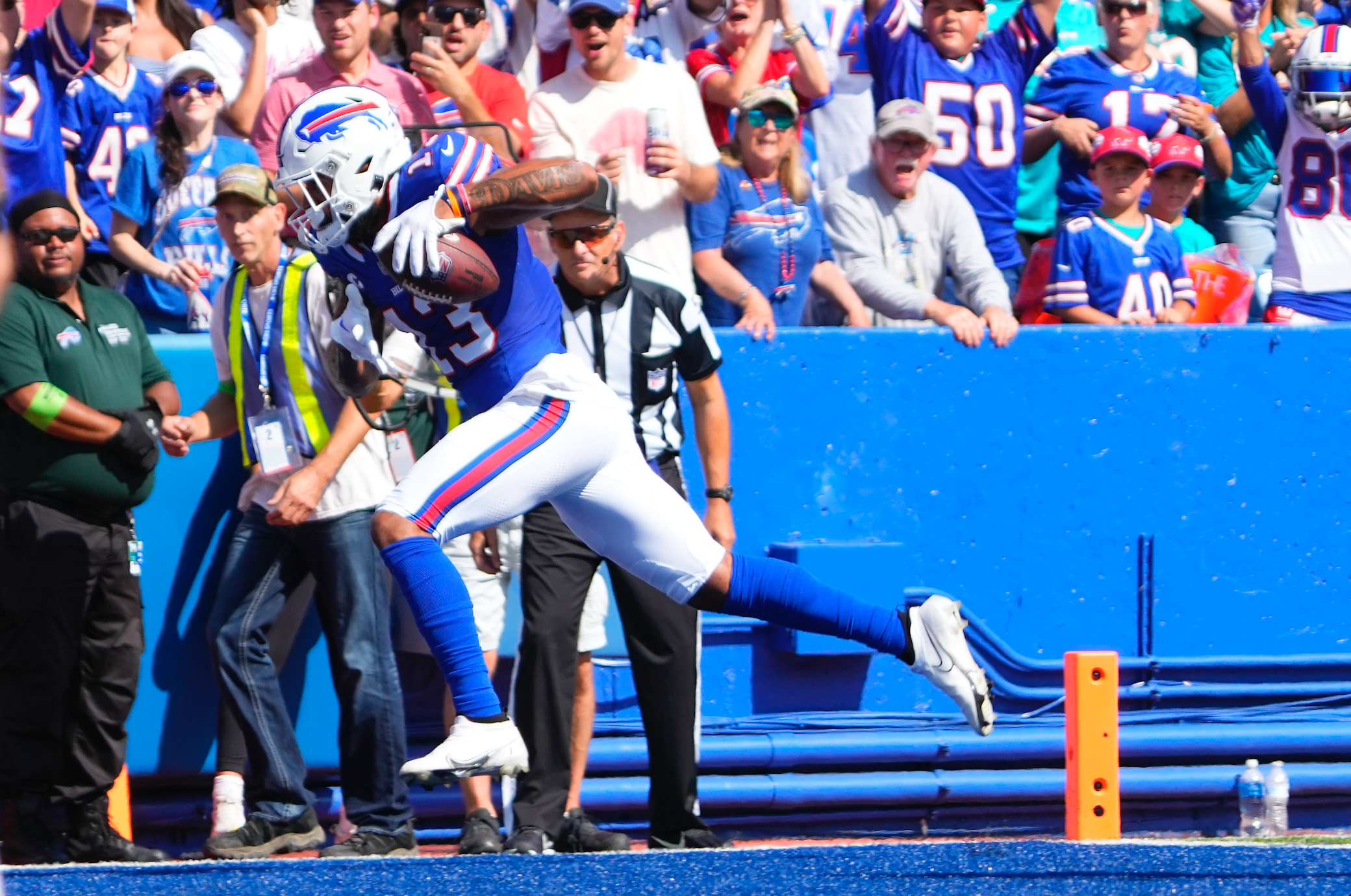 Shootout to Start

Buffalo and Miami took turns scoring touchdowns, with the first five drives of the game resulting in touchdowns. The Bills slowly moved down the field, gaining chunk yardage after Josh Allen hit Stefon Diggs for a gain of 17 yards on a comeback route. A late hit gave Buffalo an extra 15 yards, which Buffalo capitalized on with their very next play. A pump fake from Allen freed up Gabriel Davis as he was running to the end zone, and the pass was dropped right in the bucket for the opening score.

Miami wasted no time in responding, with Tagovailoa throwing for gains of 22, 11, and 19 to get the Fins into the red zone. On 1st and Goal from the 3 yard line, rookie De'Von Achane ran up the middle for the tying score.

Once again, the Bills slowly worked their way down the field with short plays, before Latavius Murray burst through a running lane to pick up 29 yards and set up the offense inside the 15. James Cook, finally getting some work in the red zone, powered his way in for a one yard touchdown run.

Tagovailoa hit Tyreek Hill for a gain of 20, and found the speedy veteran Raheem Mostert for a nice play down the sideline to gain 22 yards. A 15 yard completion to Braxton Berrios on 3rd down set up 1st and Goal, and Achane scored his second touchdown of the game on a run play filled with pre-snap motion and misdirection.

Diggs made his presence known on the next drive, starting off with a 16 yard catch, then drawing a 43 yard pass interference penalty. Four plays later, Allen evaded pressure and found Diggs over the middle for an 11 yard touchdown.

Neither offense showed any sign of slowing down…until Buffalo's defense settled in.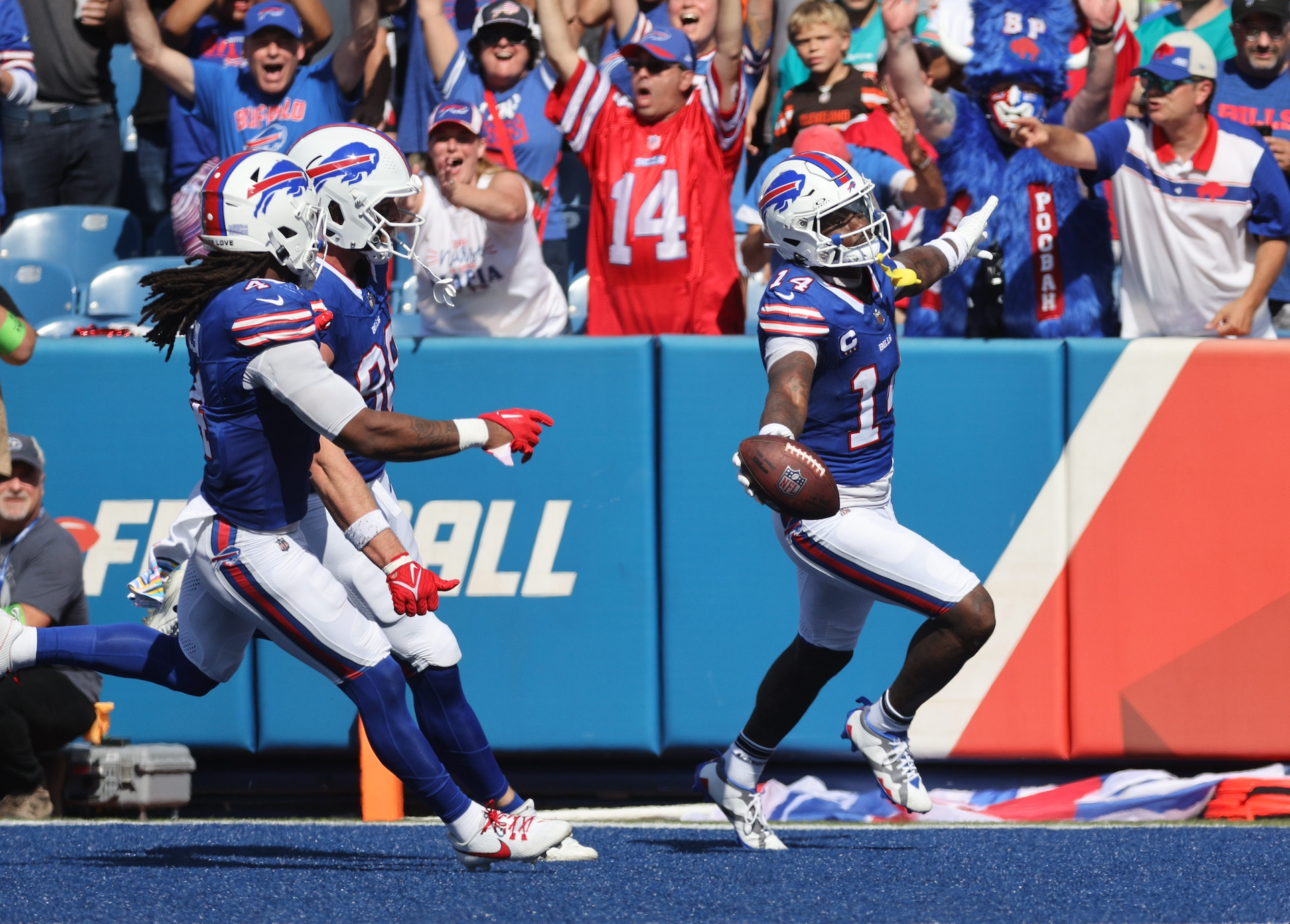 Dolphins Disappear

After initially allowing 14 points on Miami's first two drives, Buffalo would surrender just six more points (one touchdown) for the remaining 43 minutes of play. It started with back to back three-and-outs for the Fins in the second quarter, which Buffalo used to extend their lead.

From his own 45 yard line, Allen found Diggs near the sideline for what was initially a 15 yard gain. Diggs showed off his athleticism and strength, breaking two Miami tackle attempts and turning a big play into an even bigger one, taking the catch 55 yards for a touchdown.

Already down two possessions, things wouldn't get any better for the Dolphins. On 3rd and 1, a pitch to Mostert would get blown up by Matt Milano and Terrel Bernard, as both shot through the same gap to make a combined tackle. While Bernard went low, Milano went high and knocked the ball loose. Bernard, who seems to have a nose for the football, came down with the recovery.

The Bills settled for a 53 yard field goal from Bass after a sack stalled the drive. Another three-and-out for Miami would leave things at 31-14 heading into halftime.

It looked like Miami was going to keep the game interesting, scoring a touchdown on their opening possession of the second half. The drive took nearly six and a half minutes off the clock, and ended with Tagovailoa finding Berrios in the back corner of the end zone for six. Down by 11, Miami opted to go for two, but Dane Jackson made a phenomenal play to knock the ball out of the hands of Hill.

The Bills settled for three points again, with Bass drilling a 33 yard field goal. To get into field goal range, Allen showed off his improviser skills, directing Cook to run down the sideline as he rolled out of the pocket. The pass was perfectly placed to hit the running back in stride, who turned the play into a 48 yard gain before being tracked down.

Tagovailoa threw his third interception of the season when he overthrew his target, with the ball landing directly into the hands of Micah Hyde. Hyde returned the pick 23 yards to give the offense great field position to start their drive. A great effort from Deonte Harty on third down helped move the chains, and Allen found Diggs on the next play for his third touchdown of the game. Initially cutting inside just to pull back outside, Diggs was wide open on the play, beating the second year corner Kader Kohou on the route for a 13 yard score.

Suddenly down by 21 points, Miami needed to answer offensively. However, on 4th and 1 around midfield, Ed Oliver worked his way around the offensive line and was able to bring down Tagovailoa for a sack. On the very next play, Allen hit Davis downfield off of play action for a 34 yard gain. This ended the third quarter, and the first play of the fourth quarter was a read-option that Allen kept for himself, as he practically walked in for an 11 yard touchdown run.
Fourth Down Fails

Trailing by 28 in the 4th quarter, the Dolphins were looking to steal back any momentum they could. Achane exploded through Buffalo's defense for a 55 yard run, a promising start for the Fins. However, 1st and Goal quickly became 4th and Goal, and a perfectly timed blitz from Milano left Greg Rousseau unblocked as he charged the QB and sacked Tagovailoa.

After chewing two minutes of clock, Buffalo punted back to Miami, who's drive stalled thanks to a DaQuan Jones sack. The Dolphins gained 16 yards on 4th and 18 for another failed fourth down attempt. Kyle Allen replaced Josh Allen for the remaining five and a half minutes, running out the clock until it read nothing but zeroes. In a resounding win, the Bills had squished the fish 48-20.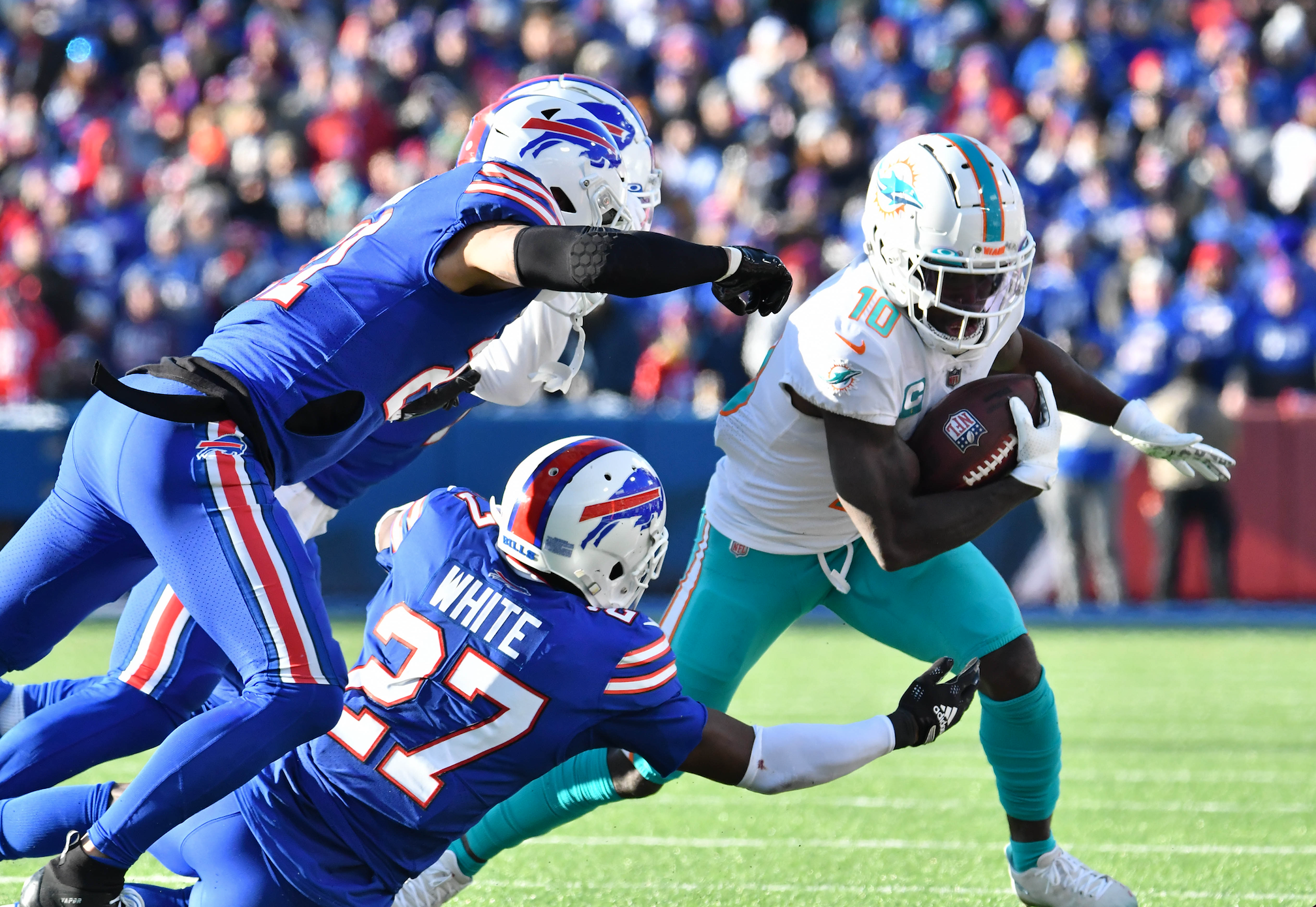 Afterthoughts

What a game for the Bills. From start to finish, Buffalo played a complete game on both sides of the ball, never letting up on offense, and making splash plays on defense. Of course, the thing on most fans' minds is the Tre'Davious White injury, as it appears his 2023 season is done. After spending over a year recovering from a torn ACL in 2021, White finally appeared to be getting back to his All-Pro self. Unfortunately, the feared achilles injury for Buffalo's best corner will most likely leave him sidelined until at least next year, if undergoing another return to football is what White even wants to pursue at this point in his career.

On a more positive note, Damar Hamlin was active for the first time since his cardiac arrest against the Bengals last year. While he didn't show up on the stat sheet, the fact that he's completed his return to football closes one of the greatest stories in all of sports.

Buffalo's offensive line continues to be a strength for the team, after being a clear weakness for most of Josh Allen's career. The additions on the interior of Connor McGovern and rookie O'Cyrus Torrence have allowed the Bills to be much more effective at running the ball. Their trio of running backs all saw plenty of action, with Cook, Murray, and Damien Harris combining for 22 carries, 90 yards and a touchdown. On the exterior of the O-line, Dion Dawkins seems to be playing the best football of his career, while Spencer Brown has shown tremendous improvement from last season, and even from Week 1 of this season, with three straight strong performances.

Sean McDermott's defense was flying all over the field on Sunday, generating four sacks and two turnovers. Ed Oliver is making his contract extension look like a bargain, while DaQuan Jones continues to be the most underrated defender on the team. The linebacker duo of Matt Milano and Terrel Bernard is always fun to watch, with the two combining for 15 total tackles, a forced fumble, and a fumble recovery.

Another underrated player for the Bills? Tyler Bass, who's been perfect so far this year, nailing all 16 extra points and all nine field goal attempts, including three from 50+ this year.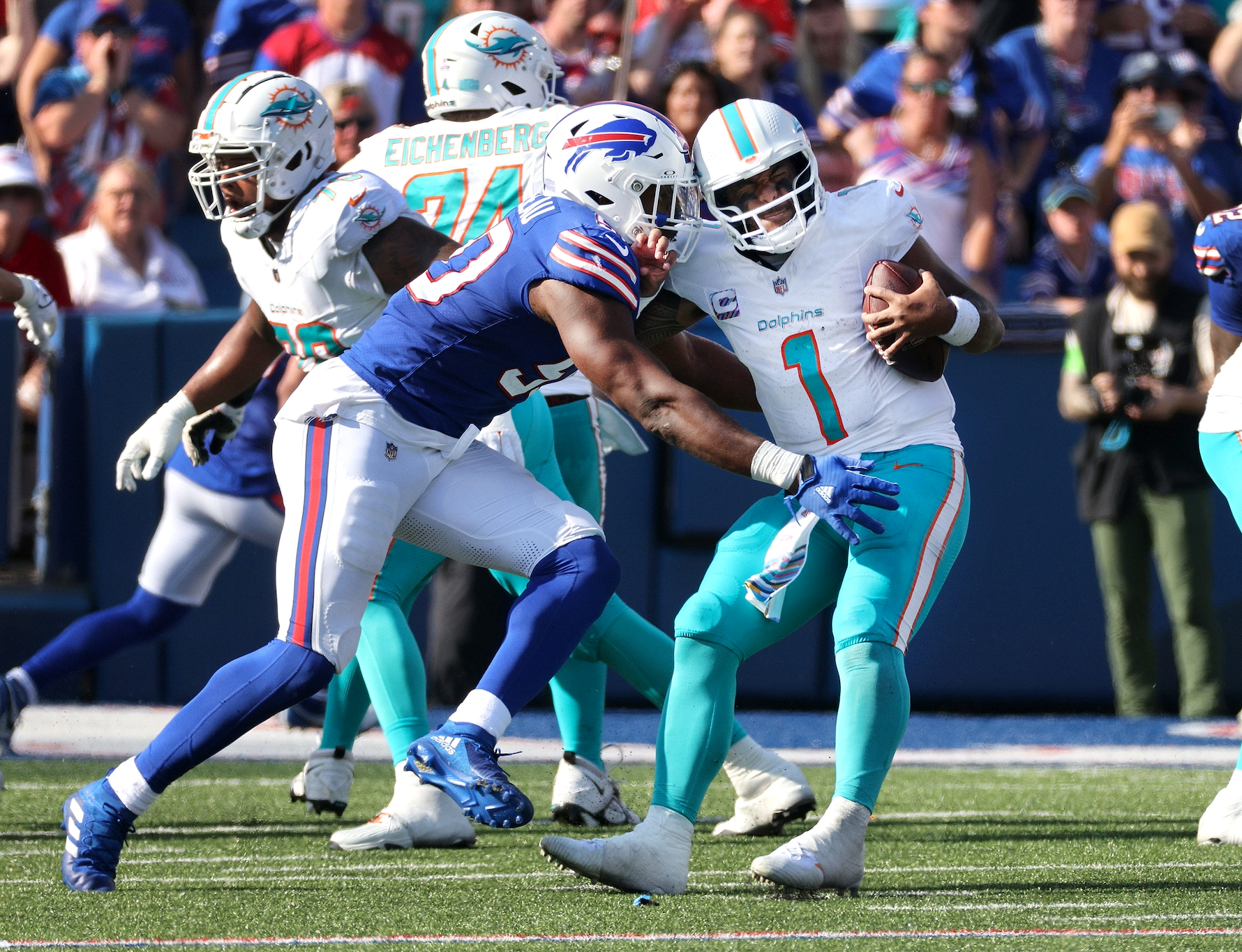 Game Awards

Offensive Player of the Game: Stefon Diggs

Diggs got the best of Miami's secondary many times on Sunday, finishing the day with 120 yards and three touchdowns on just six receptions. His chemistry with Allen is palpable, and any talks of him wanting out of Buffalo have been firmly put to rest.

Defensive Player of the Game: Greg Rousseau

GROOT! Rousseau finished with two sacks and a pass defended, as he continues to have a strong year. He and Leonard Floyd have provided a steady pass rush on the edge for Buffalo, but just imagine what this defensive line will look like once Von Miller returns!

MVP: Josh Allen

Allen should prepare to take home his second AFC Offensive Player of the Week award on the season, finishing the game with more total touchdowns than incompletions. His official stat line was 21-25, 320 yards and four touchdowns, with an extra 17 yards and a score on the ground. It is safe to say that his Week One performance was an outlier, not the new normal, as he has now built a solid foundation for his 2023 MVP campaign with three straight elite outings.

What's Next: Jaguars @ Bills 10/8

The Jaguars, coming off a win overseas against the Falcons, will look to get over .500 in this Week 5 matchup. Although there won't be a Toy Story Broadcast for this game, Buffalo cannot afford to play around, as Josh Allen (the other Josh Allen) led Jacksonville's defense to an impressive upset the last time these two teams clashed.
Editor's babble: What a game! BillsMafia will be walking on air throughout the week as they fly into London for the Jags game. We are grateful for Colin Richey's contributions to our blog. You can also find Colin on Xwitter @whatthef00tball.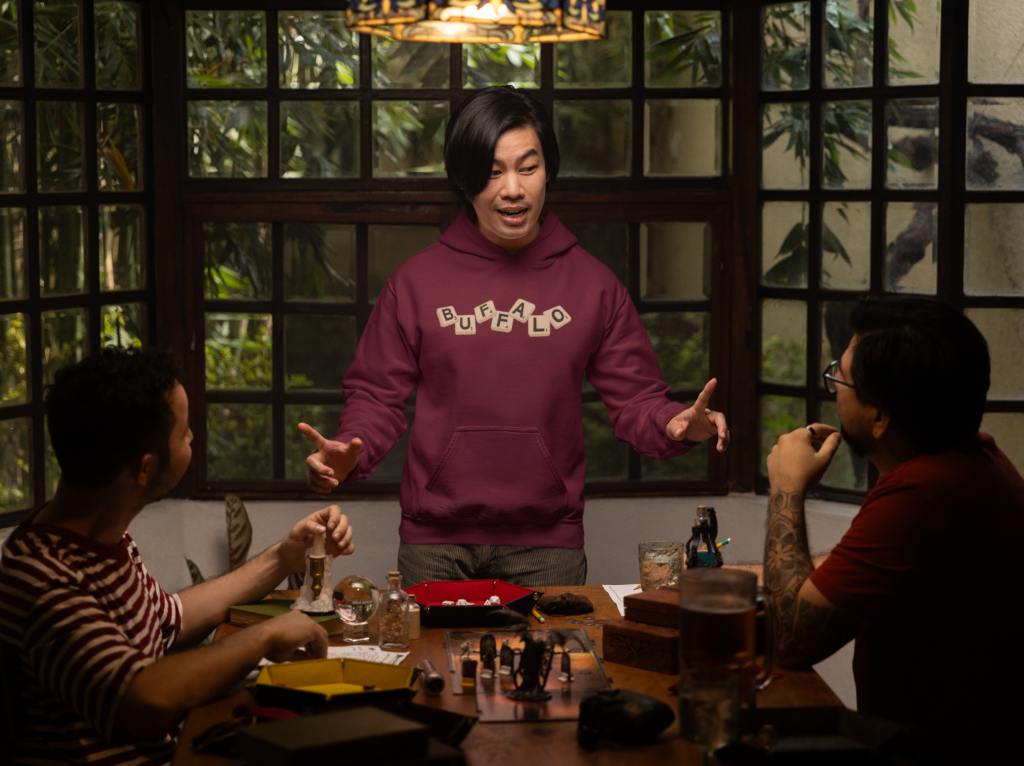 BuffaloFAMbase.com is sponsored by 26 Shirts
Every Monday, we launch a new two-week campaign of a limited edition t-shirt design. Every shirt purchase results in a donation to a local family in need. After the campaign ends, the shirt is retired. A new design is released, and a new family benefits from your fandom!