Buffalo's game at the Commanders looked and sounded more like a home game on Sunday afternoon, as the 1-1 Bills faced off against the 2-0 Commanders with plenty members of Bills Mafia in attendance. While the offense had their share of struggles, the defense feasted on a weak offensive line and inexperienced QB, leading to an overwhelming Bills victory.

The Ken Dorsey Problem

Last week I claimed Buffalo's offensive performance against the Raiders was one of the best games of Ken Dorsey's young play-calling career. Sunday's contest against the Commanders was not a great follow up to that claim. Too many times the Bills ran the ball on 2nd and long, setting up 3rd and long nearly every time. We even saw this back in Week 1 against the Jets, running on 2nd and 15 in overtime.

On Buffalo's opening possession, James Cook ran for one yard on 2nd and 11, and one yard on 2nd and 10. The drive ended with a Tyler Bass 36 yard field goal, and had some nice plays including Allen running for 13 on 3rd and long and hitting Stefon Diggs for 30 yards, also on 3rd and long.

The next drive continued the pattern, with Cook running for eight yards on 2nd and 10, and two yards on 2nd and 10. An incomplete pass on 3rd down meant Buffalo would need to punt. Four second and long run plays in two drives is unacceptable play calling from Dorsey.

Allen made sure it didn't get to 2nd down on their next drive, connecting with Gabriel Davis for a 35 yard touchdown on the first play. A laser of a throw by Allen, and a good route by Davis, it would wind up being Davis's lone catch of the day (despite four targets). He still finished second on the team in receiving yards, but the WR2 needs to do a better job of being a consistent role player for the entire 60 minutes to keep the offense in rhythm.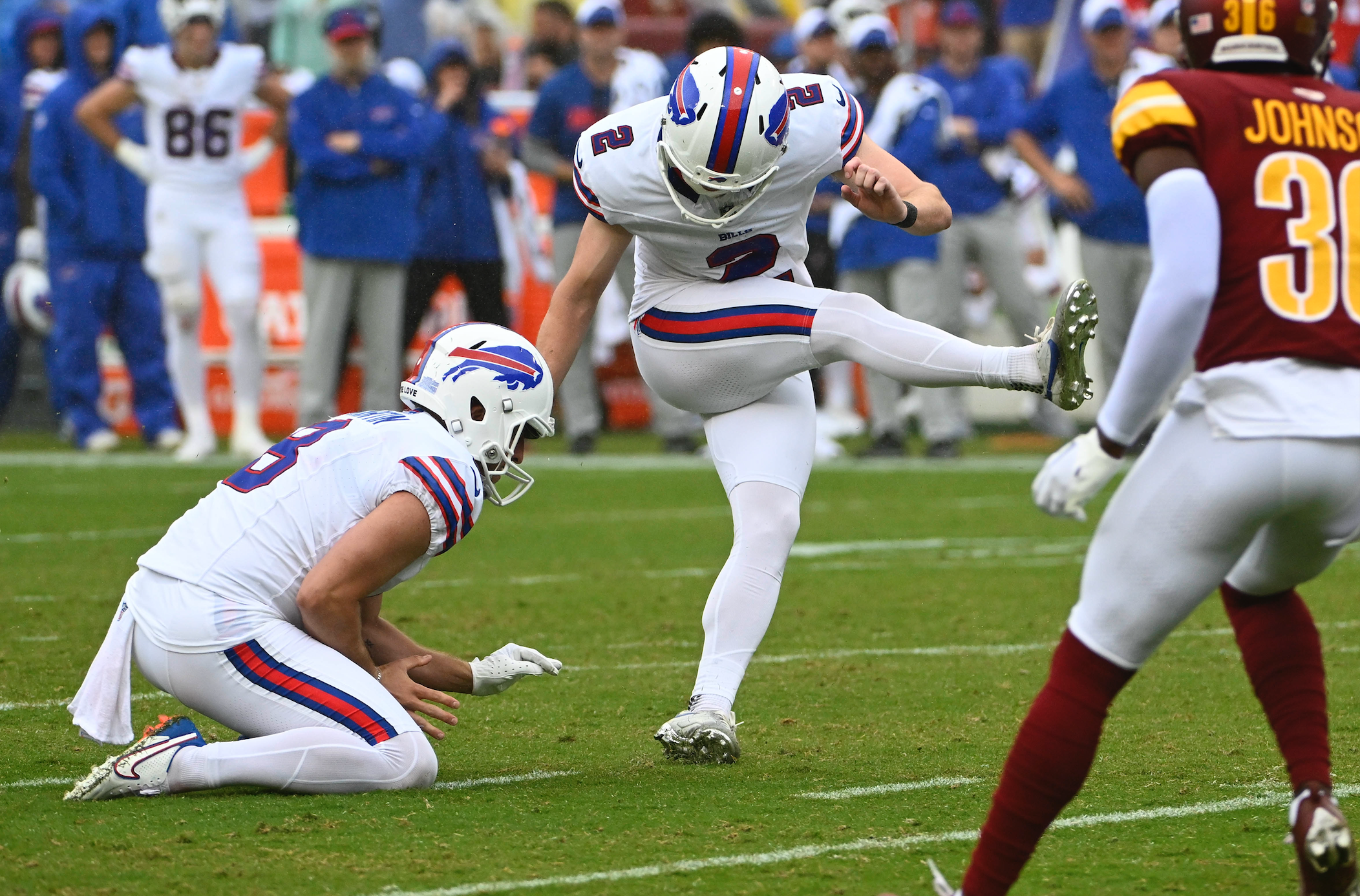 More Field Goals

Buffalo struggled to find the end zone after the Davis touchdown, settling for field goals on their next two drives. The Bills started with a long field at their own two yard line, but two runs from Damien Harris and a Khalil Shakir catch for five yards moved the chains. Allen ran for 23 yards after he escaped the pressure up the middle, with plenty of green grass in front of him to pick up a first down. Facing 3rd and 8, Allen connected with Diggs for 19 to keep the drive alive, but a tripping penalty and false start stalled the offense, leading to a 54 yard field goal from Bass.

Cook picked up a first down run on their next drive, which already started deep in Washington territory. However, the offense came up short once again, settling for a 32 yard Bass field goal on 4th and 2. It was only a two possession game at halftime, 16-0, despite the feeling that Buffalo had been dominating the first 30 minutes.

The Terrel Bernard Game

Terrel Bernard was all over the field on Sunday, making splash play after splash play. On Washington's opening drive, the second year linebacker picked up a sack and an interception in back to back plays. To create the turnover, Bernard made an impressive leap into the air, securing both hands underneath the football to make the catch. But he wasn't done there. On Washington's next drive, Bernard got home with his second sack of the game on 3rd down to force a three-and-out.

Buffalo's defense gave up some chunk yardage plays on the Commanders' third drive, getting them into the red zone. Sam Howell hit Curtis Samuel down the sideline for 37 yards, who was matched up 1v1 with Christian Benford. An 18 yard run from the QB set up their offense inside the 10 yard line, but Sean McDermott's "bend don't break" defense kept the Commanders out of the end zone, with Greg Rousseau pressuring Howell into an incomplete pass on 4th and Goal.

Howell threw his second interception of the game with under two minutes left in the first half, trying to hit a receiver in the flat. Micah Hyde sprinted from his deep safety position to cover that zone on the play, and jumped the pass to generate his first interception since 2021.

Dull Third Quarter

Trailing 16-0, the Commanders came out in the second half looking for their first points of the game, but Tre'Davious White had other ideas. Washington's run game finally gained some traction, with Brian Robinson rushing for 23 yards and Antonio Gibson adding a 13 yard run to get them into the red zone. However, pressure from Shaq Lawson forced a bad ball by Howell, which was jumped in the end zone by White. An acrobatic play by #27, who's shown many flashes of his former All-Pro self already this season.

Allen joined the turnover club, trying to hit Davis down the sideline on 3rd and 20. Despite Kendall Fuller coming away with the football, you'd rather see Allen give his receiver a chance to make a play on 3rd and very long then check it down for little yardage and punt on the next play. Remember, punts are still turnovers. This was not a case of 'sugar high Josh', and was an interception that Bills fans should be able to live with.

Sacks from Leonard Floyd on back to back plays stalling Washington's next drive, forcing a punt after just one first down. With the third quarter over, the score remained the same as when it had started.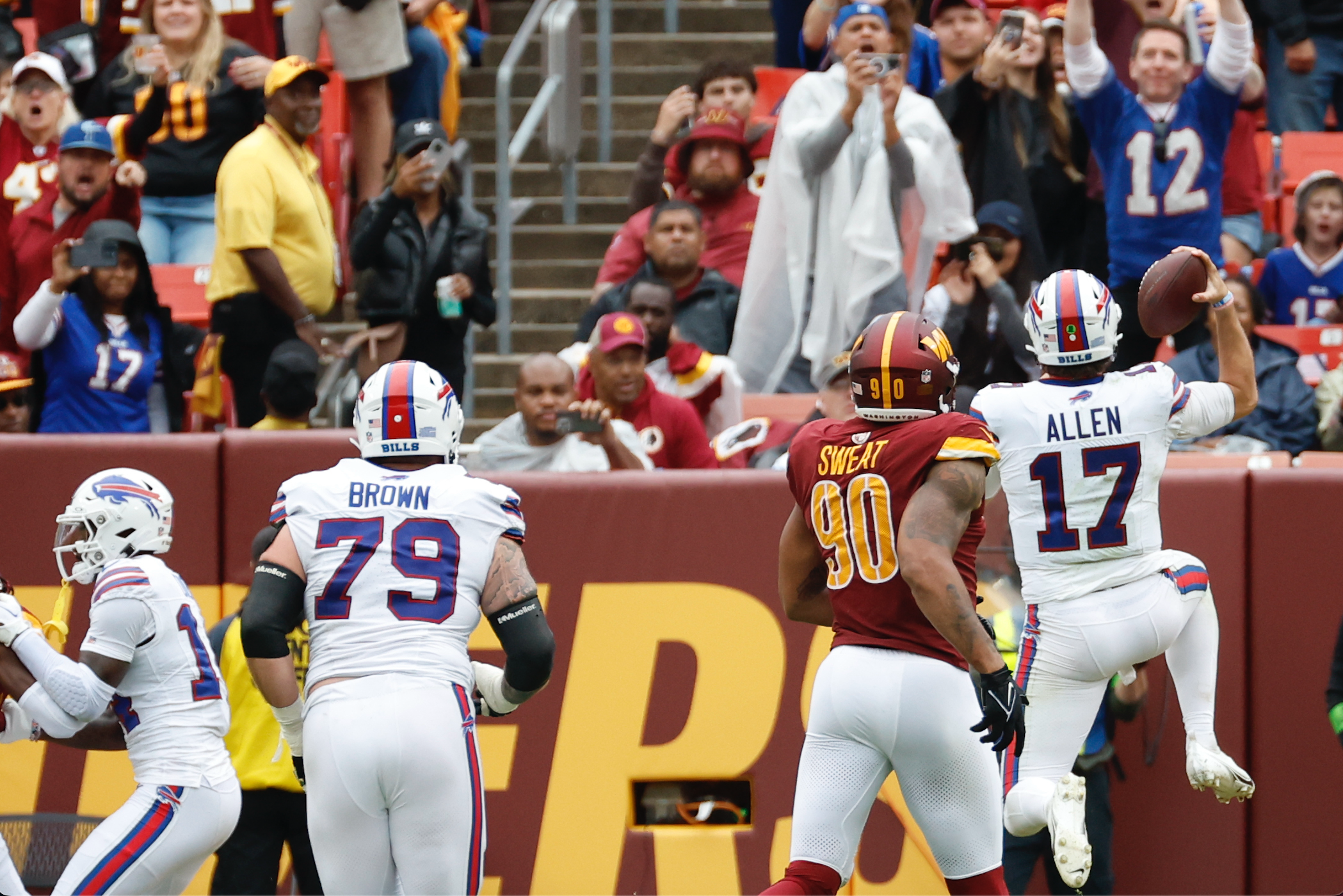 A Trio of Touchdowns

The Bills failed a 4th down attempt, needing just one yard to move the chains. Allen had Diggs open on a slant over the middle of the field, but the pass was batted down at the line of scrimmage. A fine play design and throw, Jonathan Allen of the Commanders just made a great play.

However, it wouldn't be long before the offense came back out onto the field. Washington's first play after the turnover on downs was a fumble forced by Taron Johnson, and recovered by Bernard. Gibson was trying to make something out of nothing, evading several Bills defenders while trying to fight his way forward for extra yardage, but coughed up the ball instead.

Five plays later, and the Bills were at the 10 yard line. Allen broke the sack attempt of a blitzing defensive back, and with no defenders nearby, took off for a 10 yard rushing score. As he leapt into the end zone, any chance of a Commanders' comeback seemed to vanish, with the Bills up by three scores with just 10 minutes to play.

The icing on the cake for an amazing defensive performance was a defensive touchdown, and that was delivered by AJ Epenesa. Facing 3rd and 5, Howell rolled to his left and tried to extend the play, but threw a pass right into the extended hands of Epenesa, who made sure to secure the catch before sprinting downfield to follow his blockers, and run into the endzone for the 32 yard touchdown.

Rousseau and Ed Oliver both recorded sacks on the next drive, forcing another Washington three-and-out. Buffalo chewed six of the remaining eight minutes off the clock with a long drive, as Cook, Harris, and Latavius Murray took turns running the football. Cook broke free for 34 yards to set up 1st and Goal inside the five, and it was Murray who punched it in from two yards out to extend the lead.

Pity Points

With backups in for Buffalo's defense, Howell was able to get the Commanders into field goal range with under a minute left, and Joey Slye nailed a 51 yard attempt to cut the score to 37-3, which would be the final at FedEx Field.

Afterthoughts

The offense certainly stalled at times, and several times only came away with 3 points when they could've or should've came away with 7, but they found the endzone enough to keep the game out of hand for Washington. Outside of Diggs, there was no threat in the receiving game. No one other than #14 finished with more than 2 catches, despite some seeing three or more targets. The Bills continued to utilize all three RBs, as Cook finished with 17 touches and 112 total yards, while Harris and Murray each saw 5 carries and Murray found the endzone.

The offensive line impressed against a highly touted front-four for Washington, not allowing a single sack against the lineup of four former first round picks. O'Cyrus Torrence has looked like a steal of a draft pick, and Spencer Brown seems to have improved dramatically since his tough Week 1 outing.

Buffalo's defense was nothing short of stellar, generating 9 sacks and 5 turnovers, including a pick-6. It was encouraging to see the veterans Hyde and White make the athletic plays they did, a sign that their career clocks haven't impacted their on-field production yet.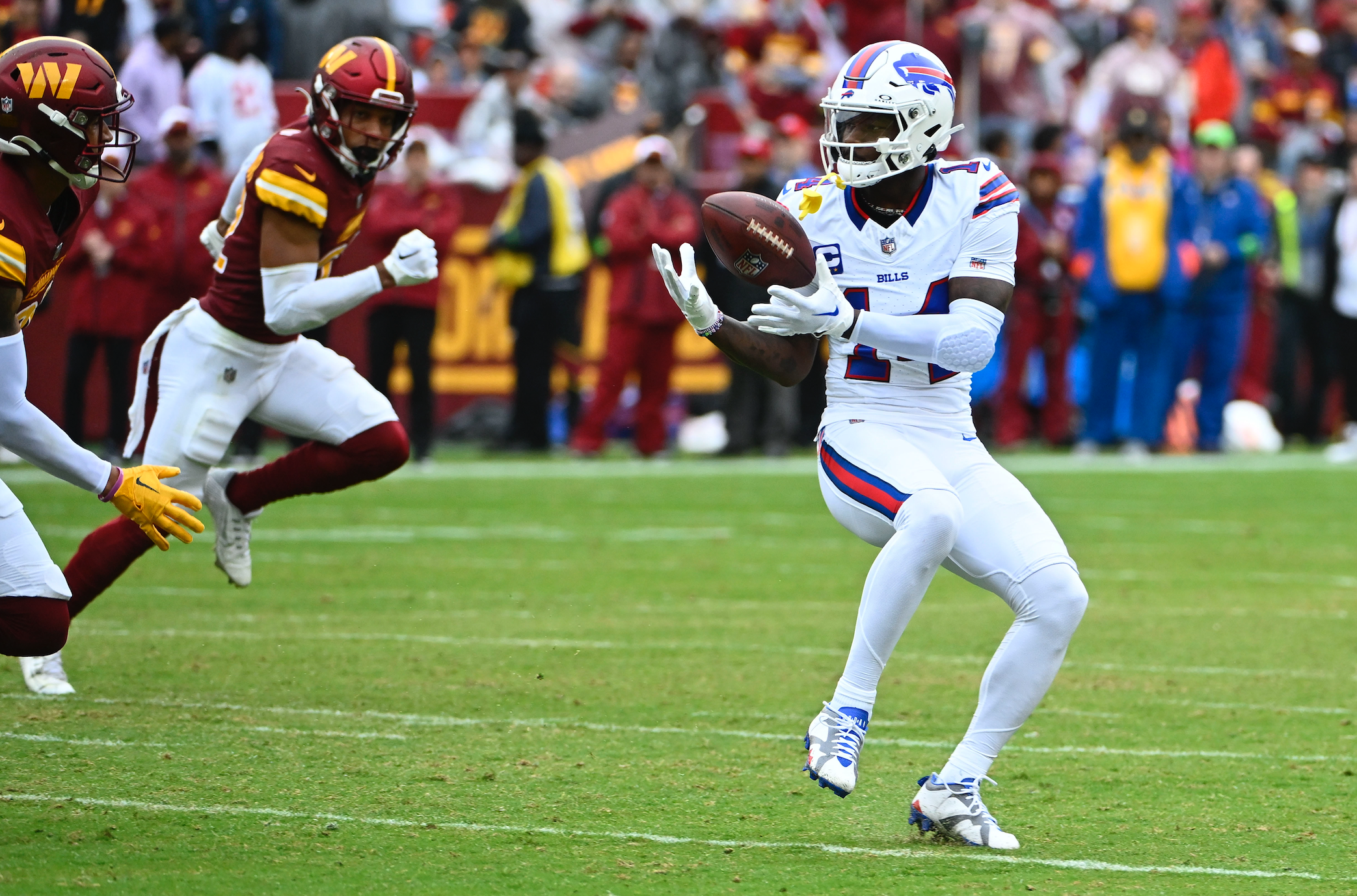 Game Awards

Offensive Player of the Game: Stefon Diggs

Diggs finished with 8 catches for 111 yards, and made several key plays on 3rd down to keep drives alive. He's continued to be Allen's go-to weapon, and is still a top 5 wide receiver in the NFL.

Defensive Player of the Game: Buffalo's Defensive Line

It's hard to single out one player, since the unit as a whole dominated the game. Sam Howell was under constant duress from Buffalo's front four, regardless of who had subbed in or out of the game. According to NextGenStats, Howell was pressured on 69.2% of his dropbacks, and Ed Oliver led the way with 7 pressures and 1.5 sacks. DaQuan Jones also finished with 1.5 sacks, while Floyd registered 2, and Rousseau and Epenesa each had 1 (and don't forget Epenesa's pick-6!). While they don't show up on the stat sheet, Rousseau and Lawson each had pressures on critical plays for Washington, one resulting in a turnover on downs, and the other resulting in an interception. This unit of Floyd, Rousseau, Oliver, Jones, Epenesa, and Lawson has started off hot, and just wait until All-Pro Von Miller enters the mix!

MVP: Terrel Bernard

Bernard should be the betting favorite to win AFC Defensive Player of the Week. He finished with 2 sacks, and interception, a fumble recovery, and 7 total tackles. According to Buffalo Bills PR, Bernard is the first NFL player since Hall of Famer Brian Urlacher in 2007 to accomplish this all in the same game. It seems as if all concerns about the middle linebacker position have been quieted (for good reason), as this defense has continued to play like one of the best in the NFL.

What's Next: Bills vs Dolphins 10/1

This could be an early favorite for game of the year, as the 3-0 Dolphins travel to Orchard Park next Sunday. Miami has been nothing short of phenomenal, dropping 70 (SEVENTY!!) points on the Denver Broncos in Week 3. An offense coming off a spectacular game against a defense coming off a spectacular game, it'll be a clash of two division rivals and major AFC contenders that will have significant division and conference standings implications.
Editor's babble: Terrel Bernard is a beast in a small package. Many thanks going out to Colin Richey for his contributions to our blog. You can also find Colin on Xwitter @whatthef00tball.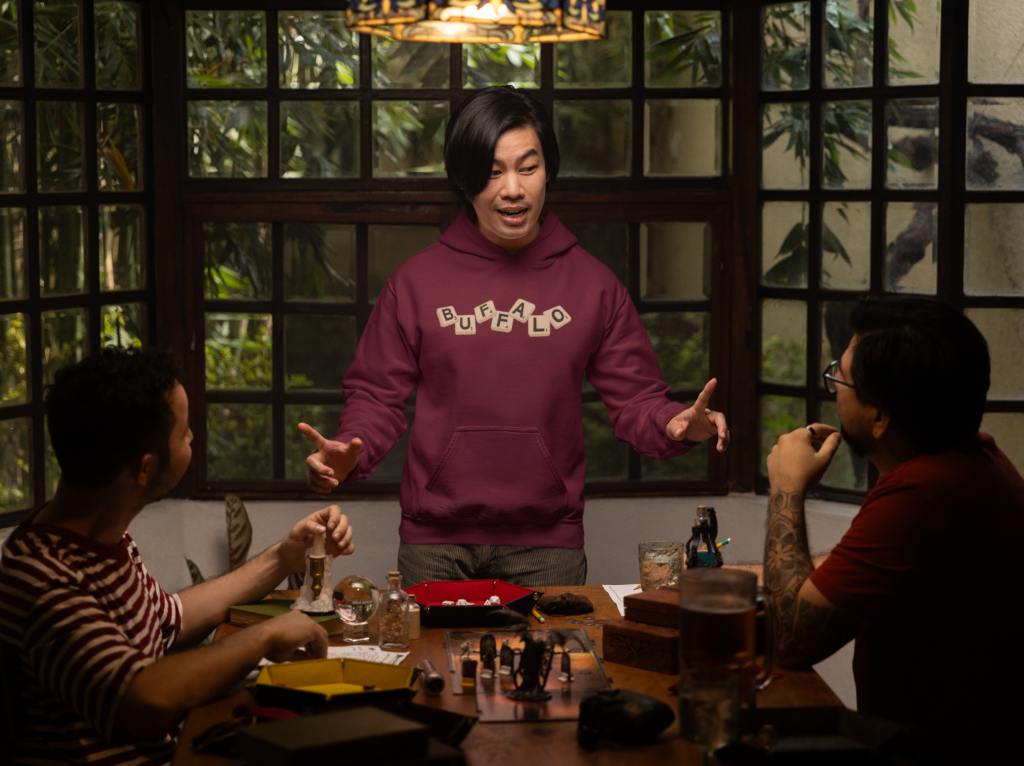 BuffaloFAMbase.com is sponsored by 26 Shirts
Every Monday, we launch a new two-week campaign of a limited edition t-shirt design. Every shirt purchase results in a donation to a local family in need. After the campaign ends, the shirt is retired. A new design is released, and a new family benefits from your fandom!