Buffalo's 2023 home opener against the Las Vegas Raiders went as well as Bills fans could've asked for. After a one touchdown, four turnover performance in Week 1, Josh Allen had the bounce back week most of Bills Mafia were expecting, and everyone was hoping for.

Slow Start for Buffalo

The Raiders received the opening kickoff and proceeded to march 75 yards down the field for what looked like an easy opening-drive touchdown. Jimmy Garoppolo completed passes to Josh Jacobs for 12 yards and Davante Adams for 17 yards, then rookie Tre Tucker took a jet sweep 34 yards deep into Buffalo territory. A WR screen to Adams helped the All Pro receiver find the end zone for a 16 yard touchdown.

Buffalo's offense didn't make things look any better for the home team, posting a quick three-and-out on their first series of the game.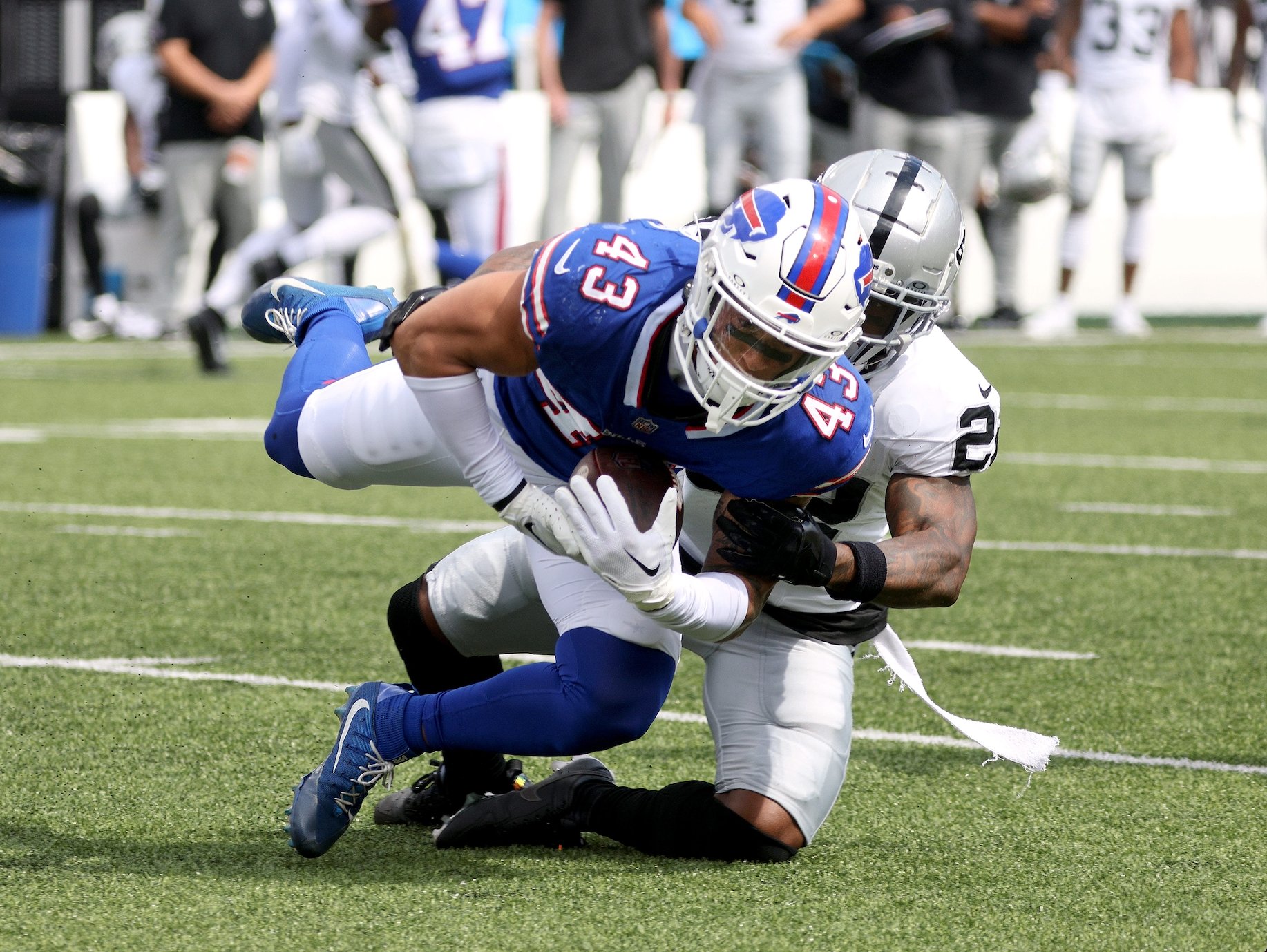 Buffalo's Offense Wakes Up

An interception from linebacker Terrel Bernard gave Buffalo's offense new life. Garoppolo tried to throw a screen pass, but was immediately pressured by DaQuan Jones. The pass was tipped by Greg Rousseau, and the second year linebacker was able to scoop it out of the air at the Vegas 26 yard line.

Seven plays later, and the Bills found the end zone. Allen connected with Stefon Diggs three times for 18 total yards, and converted a crucial 4th and 1 with a QB sneak. Latavius Murray punched the ball into the end zone, following blocks from Dion Dawkins and Dalton Kincaid for a four yard run.

A three-and-out for Vegas gave the ball right back to Allen. The QB completed short passes to Dawson Knox, Reggie Gilliam, and Gabriel Davis, then got a free play thanks to a defender jumping offside. Allen rifled a pass to Davis for a gain of 19, putting the Bills in Raider territory. Diggs drew a 25 yard pass interference penalty to set up first and goal, where Allen found a wide open Knox off a play action pass.

Raiders FG = Final Points for LV

The Raiders strung together a nice batch of plays to get into field goal range for Daniel Carlson. Garoppolo connected with Adams for 18 yards on 3rd and 11, then for 21 to Adams two plays later. A tackle for loss by DaQuan Jones stalled the drive for Vegas, who settled for a 59 yard field goal to make it 14-10. That field goal would be the last time the Raiders put points on the board (with 6:53 remaining in the second quarter).

Buffalo Executes the 'Double Dip'

The Bills drove right back down the field thanks to a 41 yard kick return by Damien Harris and a 26 yard catch and run by James Cook. Three straight run plays set up 4th and Goal from the one yard line, but Allen was unable to connect with Knox in a tight window.

The Raiders, from their own two yard line, went three-and-out again and punted. Ed Oliver put pressure on Garoppolo standing in his own end zone on 3rd and 3 to force an incomplete pass.

Facing 3rd and 8 from their own 45, Allen found Diggs open for a 17 yard gain to extend the drive. A nine yard run from Cook and 15 yard completion to Davis put the Bills at the 11 yard line, looking to score 7, not 3, before the half. Allen, under pressure, stayed in the pocket and delivered a strike off his back foot to Khalil Shakir over the middle, who fought through contact to cross the goal line. Buffalo had a comfortable 21-10 lead heading into halftime.

Second Half Shutout

Not counting yards gained through penalties, the Raiders offensive output for the second half was just 80 yards, which included just three first downs (two of which came in garbage time, with many starters for Buffalo out of the game at that point). Again, 80 yards for the ENTIRE SECOND HALF of the game!

Buffalo's defense forced two turnovers, each an impressive play to get the ball back to the offense. On the Raiders' first drive of the 3rd quarter, Garoppolo tried to throw a check down to Jacobs in the flat, but the running back was mossed by Matt Milano for his second interception in as many games.

When Vegas finally found a hint of offensive success late in the 4th quarter, it was quickly taken away. A run by backup RB Zamir White was stuffed at the line of scrimmage, and Dane Jackson lowered his shoulder on the hit, forcing a fumble that was recovered by safety Taylor Rapp. It was the icing on the cake for a tremendous defensive effort by the Bills.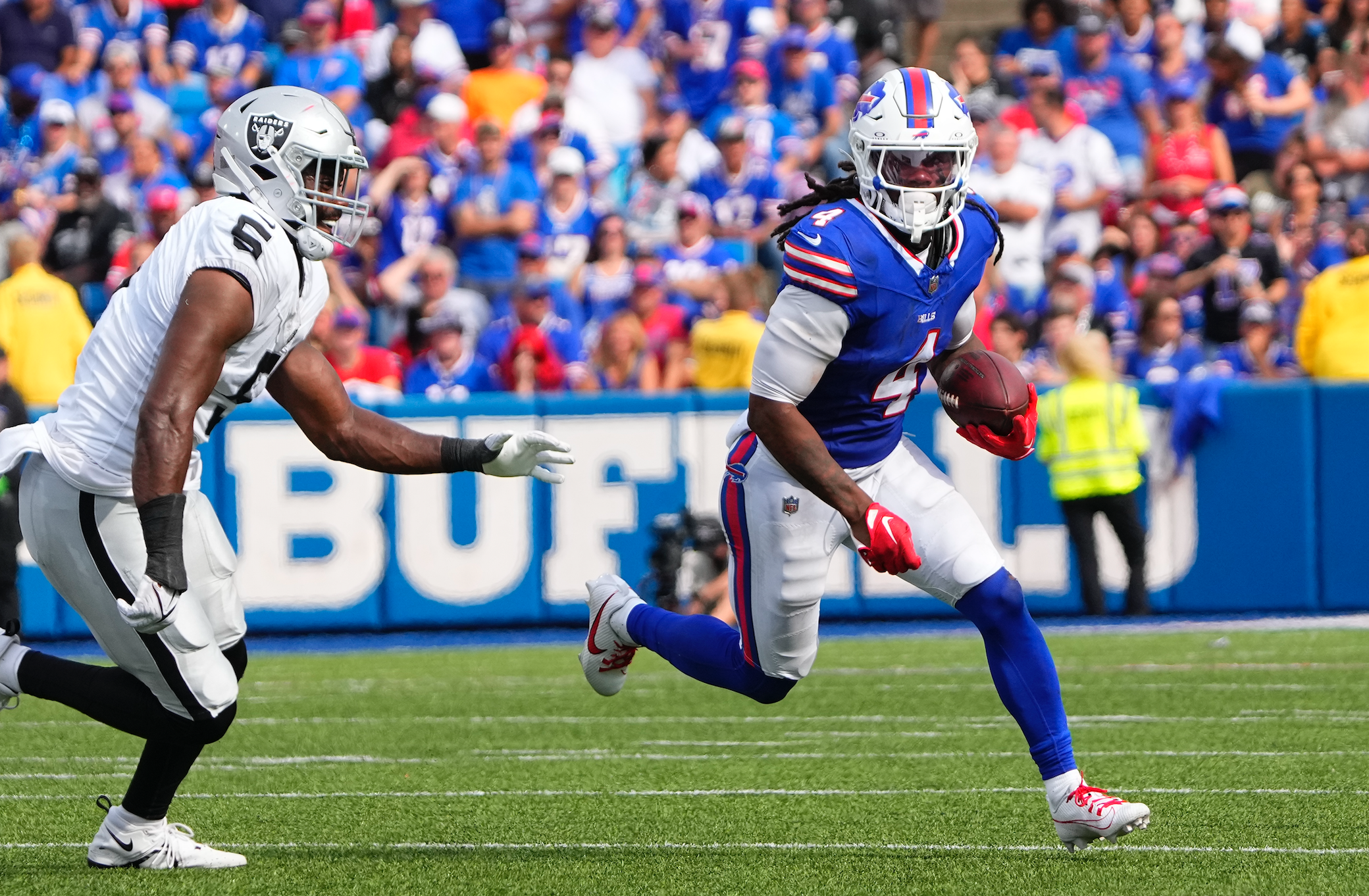 "Chew Clock" Activated

The Raiders had just three possessions in the second half, and that was thanks in large part to Buffalo's offense. Success in the run game and short passing game allowed the Bills to "chew the clock".

The Bills opened the third quarter with a 15 play, 75 yard drive, that took nearly nine minutes off the clock. The biggest play was a 16 yard run by Cook, as Allen completed short passes to Deonte Harty, Kincaid, Cook, Diggs, and Murray on the drive. A sensational two yard touchdown throw to Davis capped off the drive. Facing 4th and Goal from the 2, Sean McDermott initially sent the field goal unit out, but changed his mind and called a timeout. Allen rolled right and threw it back across to the middle of the field and somehow found Davis among a sea of players.

The Bills kicked a 29 yard field goal on their next drive, which was stalled due to a seven yard sack by the Raiders on 2nd and 10. Already up 31-10, the Bills wouldn't end the scoring there.

Buffalo chewed nearly eight minutes off the clock in the 4th quarter on their last 'real' offensive drive of the game. After several nice runs by Harris and a 16 yard completion to Diggs, Allen rolled right and connected with Davis down the sideline for a gain of 40 yards. Three plays later, Harris punched the ball into the end zone on a one yard run to take a commanding 38-10 lead.

James Cook would seal the win with a 36 yard run to set up victory formation for the offense.

Afterthoughts

What a performance from the Bills! The offense bounced back, and the defense was stifling. Buffalo dominated the boxscore in basically every category:

*Stat: Buffalo-Vegas*

First Downs: 29-13
Total Yards: 450-240
Time of Possession: 40:04-19:56
Turnovers Forced: 3-0

Ken Dorsey called perhaps the best game of his career as Buffalo's offensive coordinator, getting everyone involved on offense. James Cook recorded his first 100 yard rushing game of his career, finishing with 17 carries for 123 yards (7.2 yards per carry), while also adding 4 catches for 36 yards through the air. Murray and Harris were also a part of the rushing attack, combining for 55 rushing yards and 2 touchdowns. Diggs was still heavily involved, finishing with the most receptions for the team with 7, resulting in 66 yards. Shakir had just one reception, but found the end zone. The tight end duo of Knox and Kincaid combined for 8 receptions, 53 yards, and a TD. It was a very balanced offensive attack, led by two players who we'll get to in the 'award' section soon.

Shoutout to Spencer Brown, who lined up 1-on-1 against Maxx Crosby (a top 5 pass rusher in the NFL) for the majority of the game. Although the RT has had more than his fair share of struggles in his career, he was a big part of Buffalo's dominant offense on Sunday.

Defensively, things looked a bit shaky on the opening drive, but the team really settled in after that. Josh Jacobs, 2022's rushing leader, was held to -2 yards on 9 carries. You read that right, NEGATIVE TWO yards! Adams being limited to six receptions is honestly a win for the Bills, especially when WR2 Jakobi Meyers was out for the game. Although Buffalo didn't sack the QB, they enforced constant pressure on Garoppolo, as Jones helped cause the Bernard interception, Epenesa had a batted pass at the line of scrimmage, and Oliver nearly sacked Jimmy G in the end zone.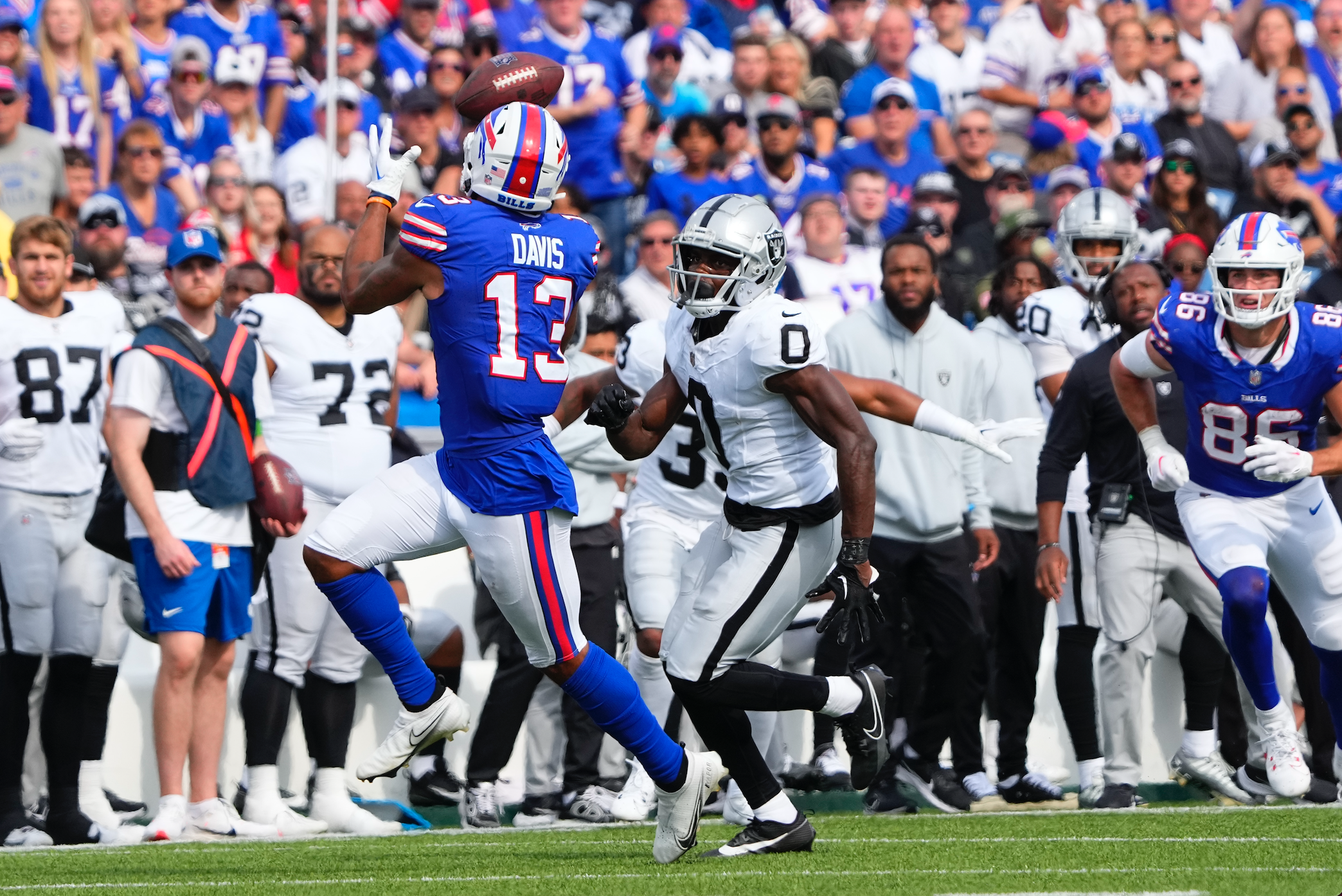 Game Awards

Offensive Player of the Game: Gabriel Davis

I debated giving this to Cook, but Davis had many chunk yardage plays that kept drives going when it seemed like the offense was beginning to lose some juice. He finished the day with 6 catches for 92 yards and an amazing TD grab. His 40 yard catch and run was the longest play of the game for either team.

Defensive Player of the Game: Terrel Bernard

No defensive player dominated the box score this week, but Bernard finished with a team-high 3 solo tackles and 3 tackle assists, in addition to his interception. The turnover gave Buffalo new momentum, after initially giving up 7 on defense then going 3-and-out offensively. The second year linebacker probably had the most impactful defensive play of the game, so he gets the nod this week.

MVP: Josh Allen

It's nice to have Allen's name here after a pitiful Week 1 performance. He did a great job protecting the football today, committing no turnovers while completing 83.8% of his passes. He finished 31/37 for 274 yards and 3 TDs, with 3 carries for 7 yards on the ground. Allen simply took what the defense gave him, with his longest pass attempt being just 25 yards down field on the rollout pass to Davis to extend the play. It was a relief to see Allen restrain himself on Sunday, and take the easy completions to move the chains. Hopefully he can build off of this performance next week against a Washington defense that gave up over 300 passing yards and three passing touchdowns to Russell Wilson in Week 2.

What's Next: Bills @ Commanders 9/24

The 2-0 Washington Commanders host Buffalo in Week 3. Sam Howell is looking to improve on his 299 yard 2 TD game against Denver, but a shaky defense for the Commanders could mean more offensive success for Josh Allen and company next week.
Editor's babble: Now this the way to bounce back! Many thanks to Colin Richey for his great game recaps. You can also find Colin on Xwitter @whatthef00tball.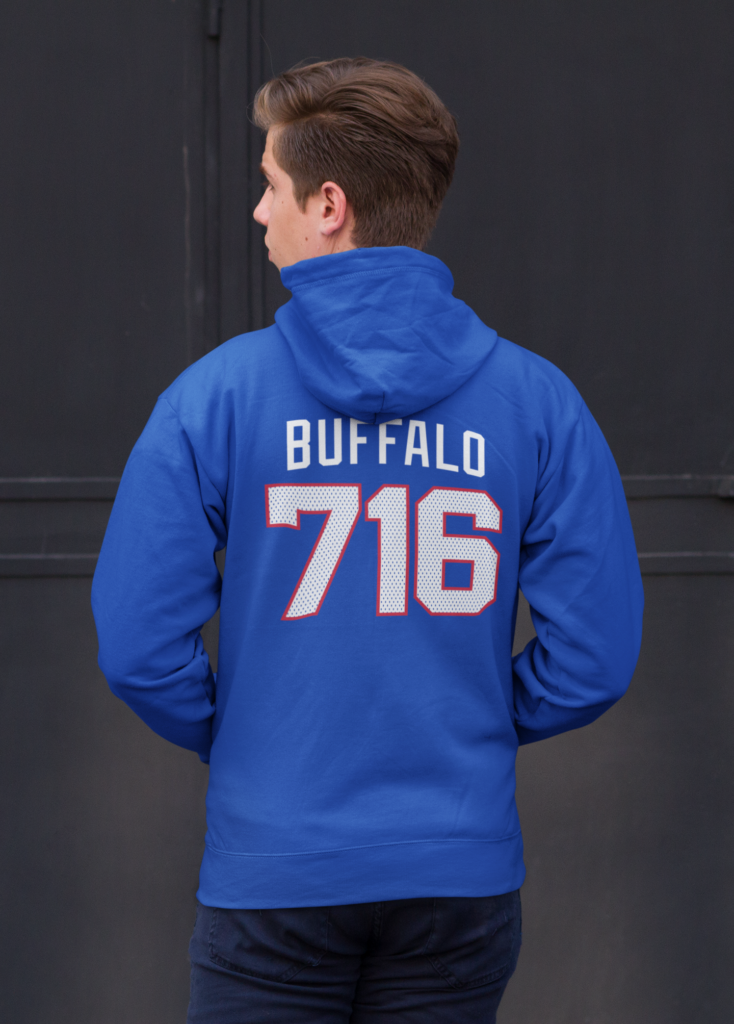 BuffaloFAMbase.com is sponsored by 26 Shirts
Every Monday, we launch a new two-week campaign of a limited edition t-shirt design. Every shirt purchase results in a donation to a local family in need. After the campaign ends, the shirt is retired. A new design is released, and a new family benefits from your fandom!