The Buffalo Bills opened up their 2023 NFL season visiting the New York Jets on Monday Night Football. All eyes were on Aaron Rodgers, as his arrival in the Meadowlands left many anticipating great things for the Jets. However, disaster struck for Rodgers just four plays in, and it would be Zach Wilson playing 'hero' that would create the headlines for Tuesday morning.

Bills Offensive Struggles

Buffalo started with the ball to open the game, and their first play was a nice seven yard slant from Josh Allen to Stefon Diggs. I like the idea of getting Diggs involved early and often, and it set up a manageable second down. After resetting the downs thanks to Deonte Harty, the Bills ran twice with James Cook for a total of five yards, followed by an incomplete pass attempt to Diggs. Just like that, Buffalo's first drive was over.

The Bills got farther down the field on their second drive, as Allen connected with Knox for gains of six and four, Diggs for a gain of 15, and Damien Harris for 13 on 3rd and 15. However, instead of going for it on 4th and 2 at the 22 yard line, Sean McDermott elected to settle for three and let Tyler Bass drill a 40 yard field goal. While I understand the idea of 'taking your points', I would've preferred seeing McDermott opt to go for it, especially considering it was clear Zach Wilson was going to be the signal caller for the rest of the night.

After Buffalo's defense made another stop (we'll get to them in a little bit), Allen gifted the football right back to the Jets. Facing 3rd and 8, Allen rolled left and decided to launch an inaccurate pass downfield into double coverage that was intended for Harty. The pass was picked off by safety Jordan Whitehead. What's even more frustrating is it looked like Allen would've been able to run for the first down, instead of forcing the ball downfield for a turnover.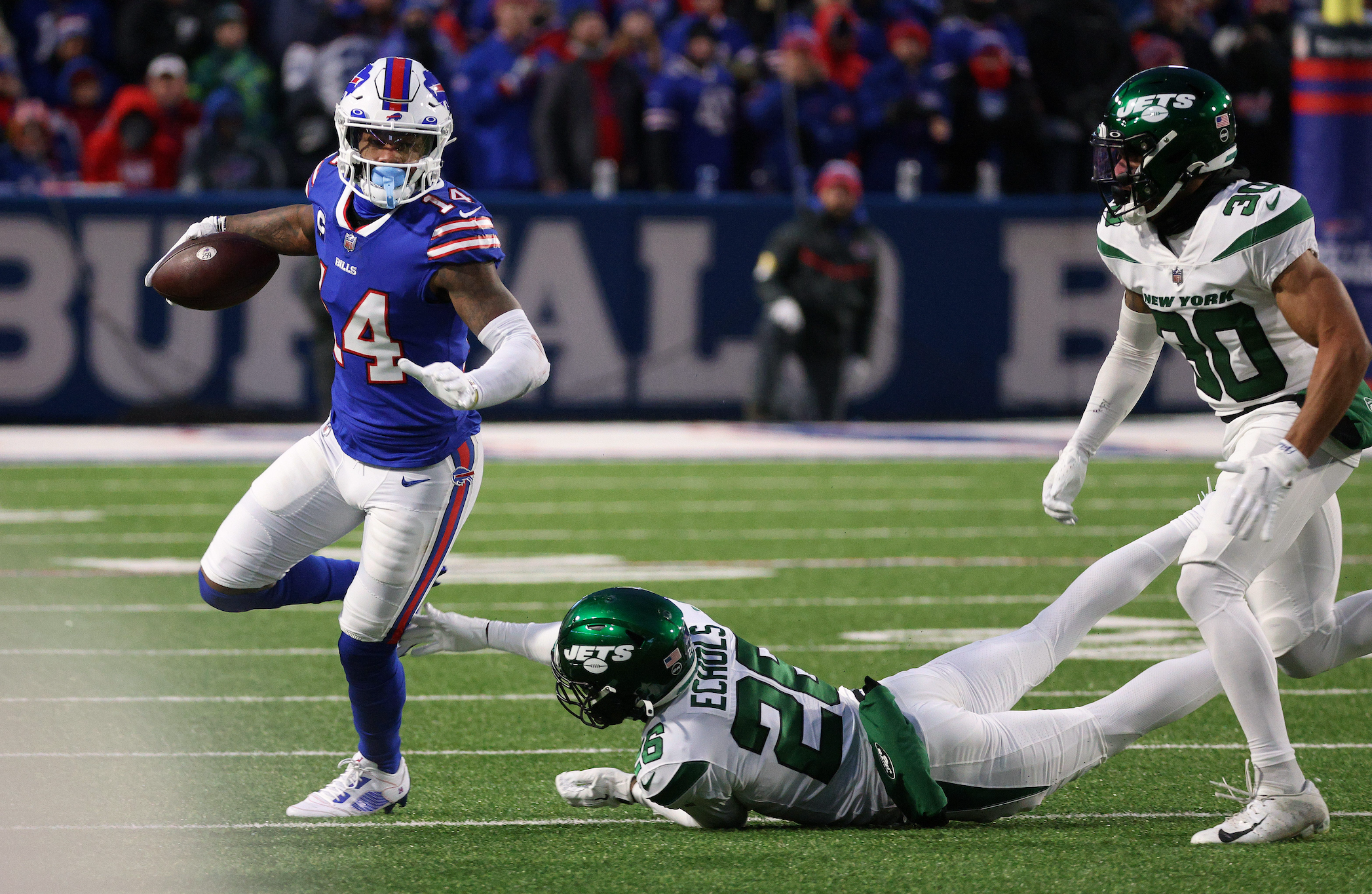 Finally Finding the Endzone

Allen eventually led a touchdown drive, gaining 75 yards on an 11 play drive. He connected with Diggs on a five yard pass, which the All-Pro receiver turned into a gain of 18 by breaking the tackle attempt of Ahmad 'Sauce' Gardner. A 12 yard run from Cook put the Bills into Jets territory. Allen found Gabriel Davis over the middle for a nice gain of 26 yards, which may have been his best throw of the night. Finally, on 3rd and four from the five yard line, Allen rolled out to his right and lofted a pass to Diggs in the back corner of the end zone, just before his back foot crossed the line of scrimmage.

Dominating Defense

Buffalo's defense kept the Bills in the game for as long as possible on Monday night. While there were some concerning plays trying to defend the run, the Bills were excellent against the pass, putting pressure on the QB (whether it was Rodgers or Wilson) and defending the Jets receivers down field.

New York's first drive obviously ended in disastrous fashion, but the pass rush duo of Leonard Floyd and Greg Rousseau was wreaking havoc on the offensive tackles for the Jets from the first snap. Floyd registered a sack on the first drive, and Jordan Phillips got to Wilson to help derail their second drive. Even after Breece Hall ripped off an 83 yard run (with an incredible chase down from Christian Benford), the defense held strong and forced the Jets to settle for a field goal.

Matt Milano looked to build on his All-Pro performance last season, making an amazing tackle for loss on Dalvin Cook, then reading Wilson's eyes on the ensuing drive and forcing a turnover. Milano was able to run back the interception to the 35 yard line, but a taunting penalty after the play pushed Buffalo's offense back 15 yards. It was the lone blemish in the LB's stellar performance.

A 34 yard field goal from Tyler Bass ended the first half, with Buffalo in front 13-3. All signs were pointing to a Bills victory (an ugly one at that), but a 10 point lead on the Zach Wilson led Jets seemed promising.

Jets Hang Around

Wilson started the second half strong, connecting with Garrett Wilson over the middle for a 12 yard gain on 3rd and 10. A screen pass to Hall put the Jets in Buffalo territory with the explosive RB's 20 yard run after catch. After Buffalo shut down several rushing attempts by Hall and Cook (including a forced fumble by Rousseau that bounced out of bounds), New York elected to take a 43 yard Greg Zuerlein field goal to cut the lead to seven.

Starting from his own 25, Allen began putting together a solid drive, dinking and dunking on the Jets defense, collecting gains of 15 to Knox, 9 to Kincaid, 3 to Cook, and 8 to Diggs. He did a great job of simply taking what the defense was giving him, until he forced a ball downfield into double coverage intended for Diggs. Once again, it was Whitehead who intercepted the pass, and seemingly gave the Jets new life.

A nice tackle for loss from Tre'Davious White stalled New York's next drive, and they punted after just one first down. However, Buffalo gave it right back, going three and out after James Cook failed to get a first down on a checkdown pass from Allen. It appeared as if neither offense wanted the ball, since it was the Jets turn to go three and out thanks to a sack by Floyd and Ed Oliver (with Milano also popping Wilson at the last second).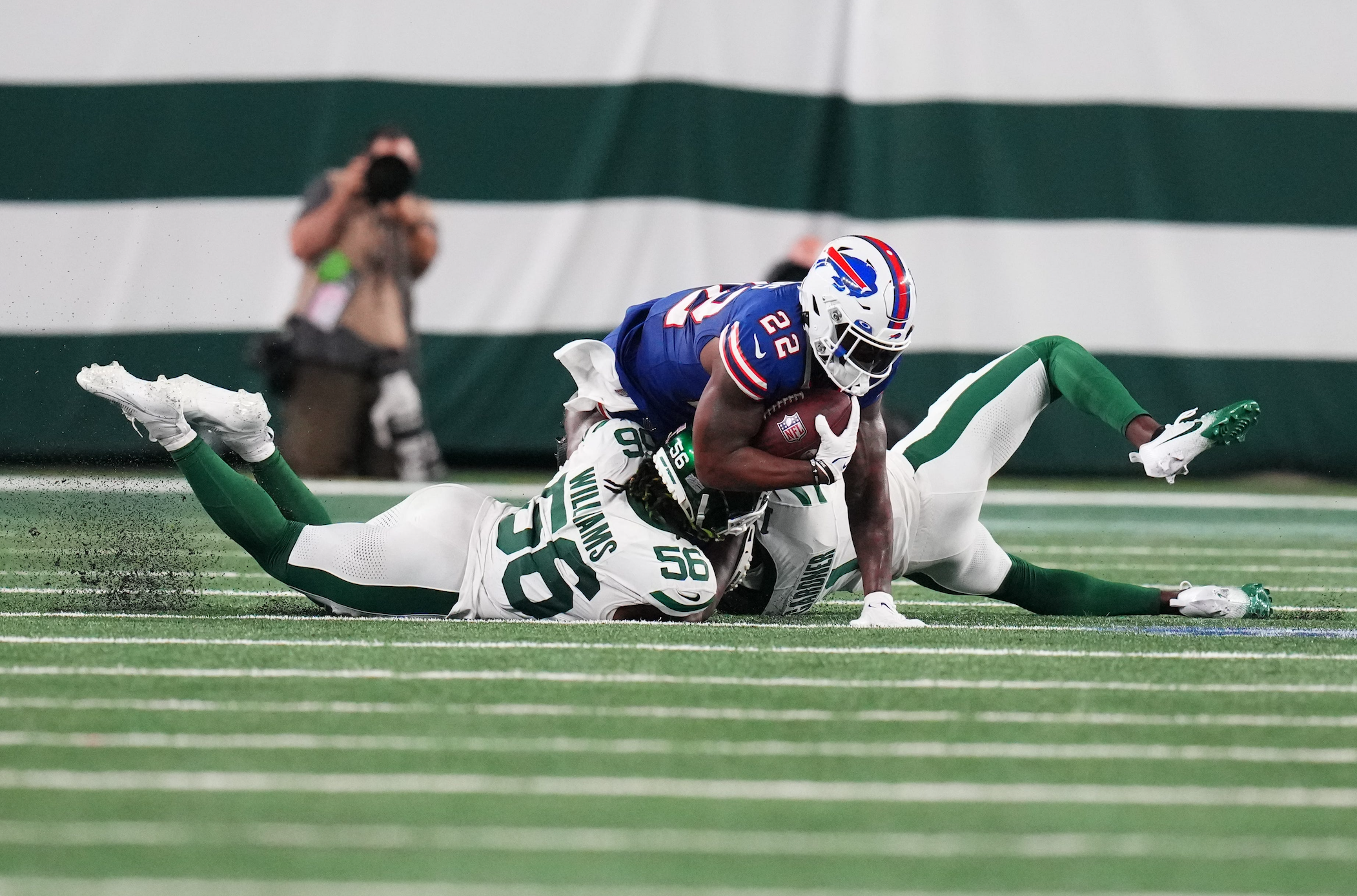 Buffalo Loses the Lead

Thanks to two costly turnovers from Allen, the Jets suddenly had the lead. First, and stop me if you've heard this before, #17 was slowly moving down the field, completing passes to Cook, Damien Harris, and Latavius Murray (a nice flick by Allen as he was about to get sacked) to get them to midfield. Then, on third and two, with check downs to Diggs, Murray, and Kincaid seemingly all open, Allen forced a pass to the double-covered Gabriel Davis. Once again, Whitehead was there for the interception, collecting a $250,000 bonus in the process of getting his third interception. It wasn't a great route by Davis, who seemed to round off his cut towards the sideline, but Allen had no business throwing it in the first place.

Wilson found Allen Lazard for a gain of 24 on third down, then Garrett Wilson for a gain of 14 to set up first and goal. Wilson (Zach) threw a fade to Wilson (Garrett), who made an incredible effort to tip the pass up to himself and come down with the catch. It was great coverage by Tre White on the play, and there was really nothing more you could ask from the former All-Pro, who overall looked much better than he did in his late return at the end of last season.

Now, with the game tied, Buffalo needed to respond. Instead, Allen fumbled the snap on first down, picked it up and tried to run forward, only to have the ball punched out and recovered by the Jets. Buffalo's defense held New York to a field goal, but the Bills were suddenly behind.

Allen was (finally) able to keep his composure, leading the Bills on a 43 yard game-tying drive. After running for a gain of seven, he hit Davis for six and Diggs for 15. With only 29 seconds left, the Bills used their final timeout, only at the Jets 42 yard line. Allen connected with Diggs for 10 to get in Bass's range. After several incomplete passes, out trotted Tyler Bass. From 50 yards, Bass drilled the football with plenty of power – the problem was the accuracy. The ball dipped left at the last second, banging off the goal post, but luckily falling through the uprights on its descent. The Bills and Jets were headed to overtime.

Buffalo won the coin toss, but couldn't make anything out of it. A false start and incomplete pass set up second and 15, where offensive coordinator Ken Dorsey called an extremely questionable run up the middle for Cook that resulted in just three yards. A timing route didn't connect between Allen and Diggs, and just like that, the Jets were getting the ball.

Undrafted free agent Xavier Gipson worked all offseason to earn a spot on the Jets 53 man roster, and made the most of his first opportunity touching the ball. The receiver out of Stephen F. Austin State University juked out several Bills tacklers, tiptoed down the sideline, dodged punter Sam Martin, and danced into the endzone for a walk off punt return touchdown. The Zach Wilson-led Jets 1-0, the Josh Allen led Bills 0-1, a true stunner for both teams.
Afterthoughts

Since Josh Allen emerged as an MVP candidate in 2020, this is the first loss that can honestly be called his fault, and his fault alone. That doesn't mean others didn't make mistakes. Spencer Brown cannot continue to start at RT for this team. McDermott's decision to kick a field goal instead of going for it comes to mind. Ken Dorsey's run on second and 15 in overtime is inexcusable. But Allen had not one, not two, but FOUR costly turnovers, and it kept New York in the game until the very end. It's only Week 1, a week that saw Patrick Mahomes, Joe Burrow, and Justin Herbert lose, while Lamar Jackson and Jalen Hurts struggled against inferior teams, but Buffalo needs to clean up their act. Thankfully, it appears as if the Jets won't be a threat in the long run with Rodgers confirmed to be out for the season, and the home opener against the Raiders is a great way to bounce back.

Game Awards

Offensive Player of the Game: Stefon Diggs

Diggs started the season hot, despite his QB's struggles, posting a statline of 10 catches for 102 yards and 1 touchdown. He was consistently getting the best of New York's corners, and came up in clutch moments to earn chunk yardage and move the chains. His continued success will be crucial to Buffalo's offense this season.

Defensive Player of the Game: Leonard Floyd

What a debut for Floyd! After signing with Buffalo in the post-draft wave of free agency, there were high expectations for the former Ram coming off of seasons with 9.0, 9.5, and 10.5 sacks. He impressed in Week One, recording 1.5 sacks and posted a pass rush win rate of 40%, the highest in the NFL for Week One. Floyd seems to be just what the Bills were looking for to help fill the void with Von Miller still on the PUP list, and the trio of Floyd, Miller, and Rousseau will be fun to watch when all 3 can be on the field.

MVP: Matt Milano

Eight tackles, a tackle for loss, a QB hit, and an interception for "All-Pro Milano" on Monday Night, energizing the defense with countless plays. He nearly sacked Wilson on several occasions as well, and did a great job of locking down the middle of the field in coverage (plays that don't show up in the boxscore). With the inexperienced Terrel Bernard now the starter at MLB, Milano's continued dominance in the second level of Buffalo's defense will be a major contribution.

What's Next: Bills vs Raiders 9/17

Buffalo's home opener in Orchard Park will have them facing the 1-0 Raiders coming off a win in Denver. Jimmy Garoppolo has a nice arsenal of weapons at his disposal, including Josh Jacobs, Davante Adams, and Jakobi Meyers, while Maxx Crosby anchors the defense as one of the best pass rushers in the NFL. But, a weaker secondary could mean a great bounce back week for Allen and company.
Editor's babble: Well, that was certainly a stinker by Josh. Let's hope he pulls it together vs. Raiders. We are grateful Colin Richey is back for another year writing for our blog. You can also find Colin on Twitter @whatthef00tball.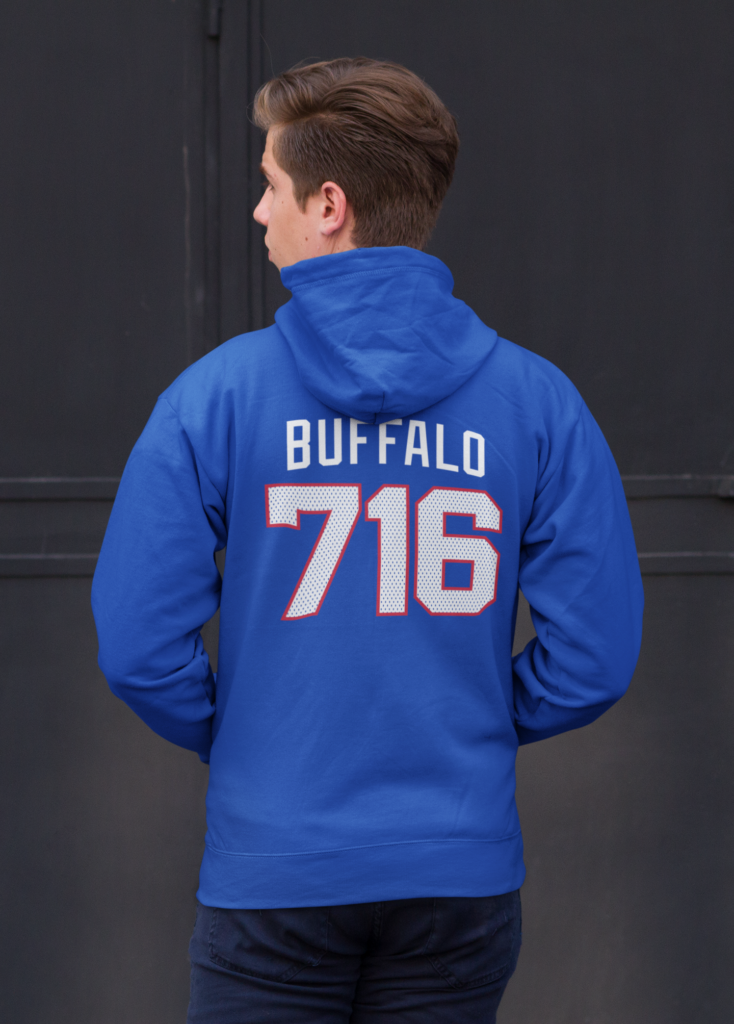 BuffaloFAMbase.com is sponsored by 26 Shirts
Every Monday, we launch a new two-week campaign of a limited edition t-shirt design. Every shirt purchase results in a donation to a local family in need. After the campaign ends, the shirt is retired. A new design is released, and a new family benefits from your fandom!