As we draw closer to the 2023-24 NFL season, many Buffalo Bills will have the chance to climb the franchise's all-time leaderboard in various statistics. I took a look at which players have the chance to make the biggest or most notable jumps, including several who can cement their legacies as some of the greatest Bills of all time.

*All stats courtesy of profootballreference.com, and any reference to 'all time records' is referring to Buffalo Bills franchise records, not NFL records.*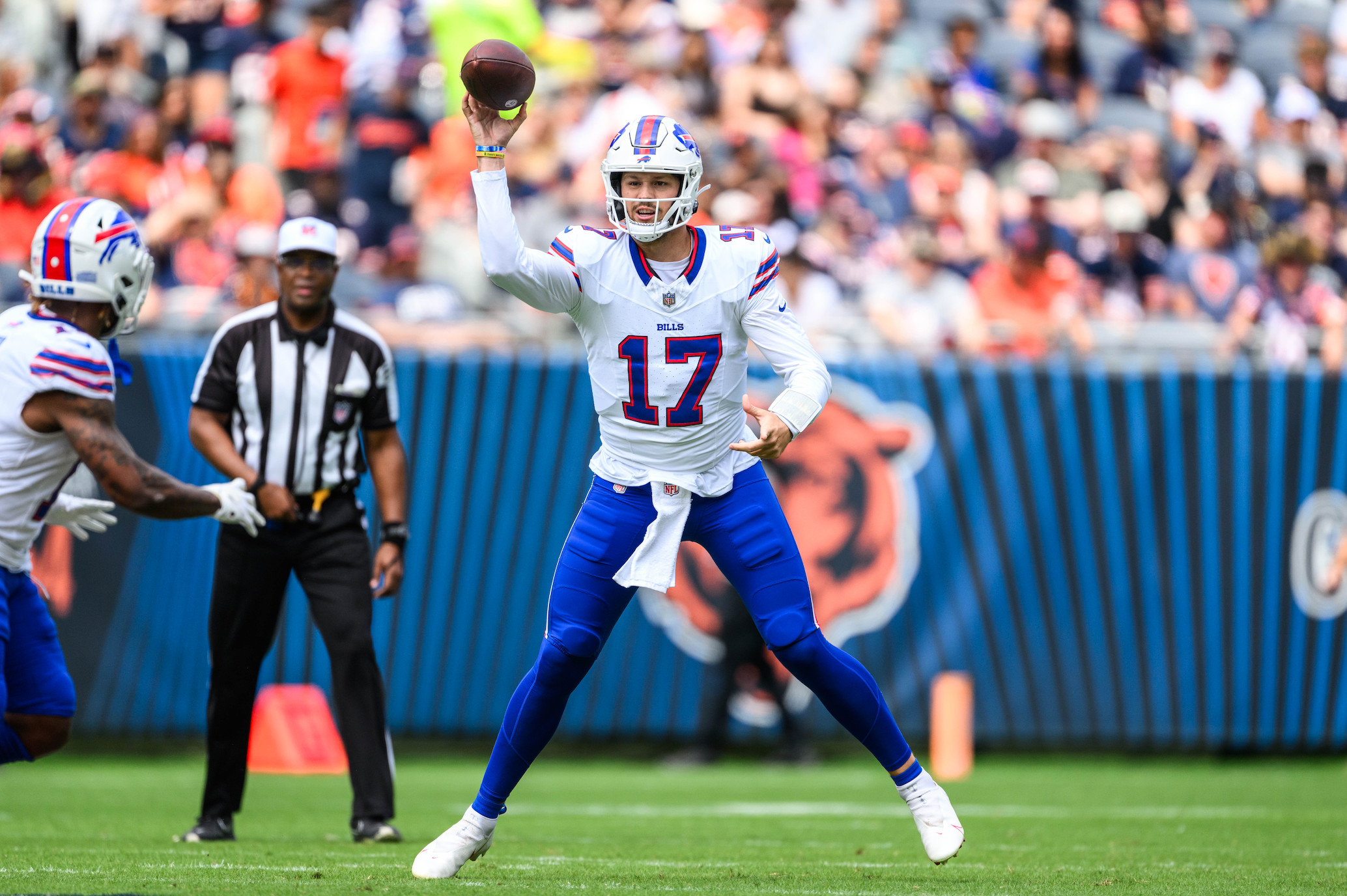 Josh Allen – QB
18,397 passing yards, 138 passing touchdowns, 52 wins, 3,087 rushing yards, 38 rushing TDs.
It should be no surprise that we start with the face of the franchise, Josh Allen. He's currently third in franchise history for passing yards, passing touchdowns, and QB wins (even though I share the belief with @BruceExclusive that wins aren't a QB stat). It will likely take Allen two seasons to dethrone Joe Ferguson in each of these categories, as he needs 9,193 yards, 43 TDs, and 25 wins to reach Ferguson, who has the advantage of spending 12 years with the team.
Jim Kelly leads the franchise in all three categories, and it will be several years before we even begin talking about Allen overtaking him. While some may argue that Allen is the greatest Bills QB of all time because he possesses more raw talent, and holds notable single-season records, he is still a ways away from holding the franchise records for QBs.

Surprisingly, Allen is already 11th all time in rushing yards, and he could very easily reach the top 5 by the end of this season. He needs just 65 yards to pass Devin Singletary and move into the top 10. He finished last season with 762 rushing yards, which is exactly how many yards he trails fifth place Travis Henry by. On the way to the top five, he'd pass Singletary, CJ Spiller, Willis McGahee, Wray Carlton, and LeSean McCoy. It would take a couple years, but eventually I'd predict Allen to pass Fred Jackson and move into the #3 spot, although I don't think he'll reach over 10,000 yards and catch up to Hall of Famers OJ Simpson or Thurman Thomas.

Speaking of those Hall of Fame backs, those are the only two players with more rushing touchdowns in franchise history than Allen, who sits comfortably at third on the all-time leaderboard with 38. Simpson's 57 and Thomas's 65 seem out of reach, but it wouldn't be a stretch to predict that he sits atop the list by the time his career comes to an end.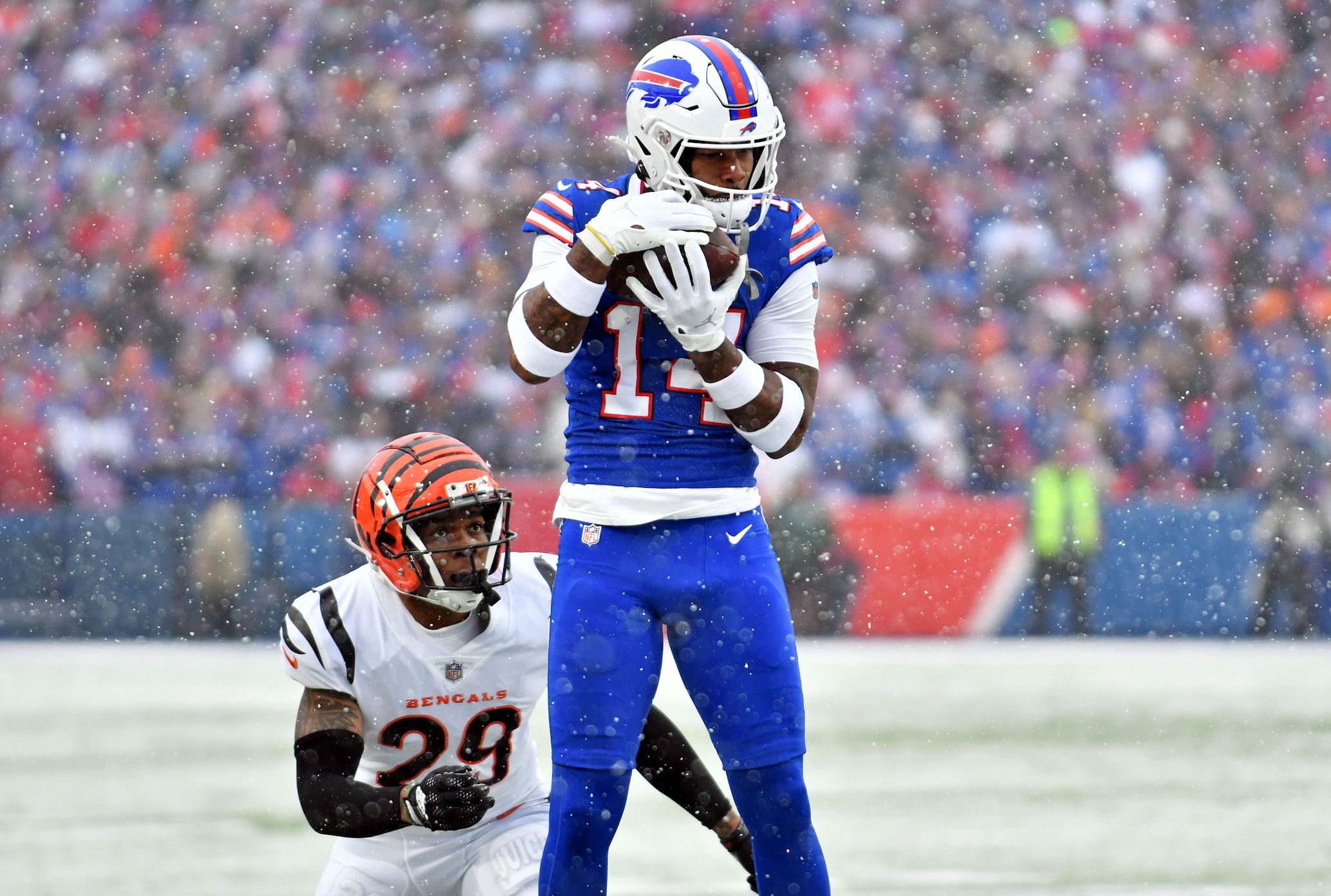 Stefon Diggs – WR
338 receptions, 4,189 receiving yards, 29 TDs.
We move from Allen onto his favorite weapon, Stefon Diggs. In just three seasons, Diggs has already become one of the best receivers in Bills history, sitting at eigth all time in receiving yards, fifth all time in receptions, and sixth all time in receiving touchdowns. He can easily move into fourth in all of these categories, needing 1,105 yards 39 receptions and 6 TDs to tie those in fourth for each respective category. If Diggs has a career year in receiving yards (which is never out of the question when Josh Allen is your QB), he could move into the top three this season, but would need 1,745 yards in order to reach Lee Evans. In the meantime, he can pass Jerry Butler, Thurman Thomas, Frank Lewis, and Elbert Dubenion with just over 1,100 yards this year.

40 receptions would allow him to leapfrog Evans and move into fourth. Reaching third isn't out of the question, needing 118 to reach Thomas. Seven touchdowns would see Diggs pass Bob Chandler and Dubenion, but he'd need 14 to reach Evans in third. Andre Reed and Eric Moulds are #1 and #2 in each category, and it will take several more elite seasons for Diggs to come close to moving any higher than #3 in these major WR categories.

Fun fact:
Diggs is already the franchise leader in receptions per game with 6.9 (Cole Beasley is in 2nd with 4.9) and receiving yards per game with 85.5 (while Sammy Watkins is in 2nd with 66.5).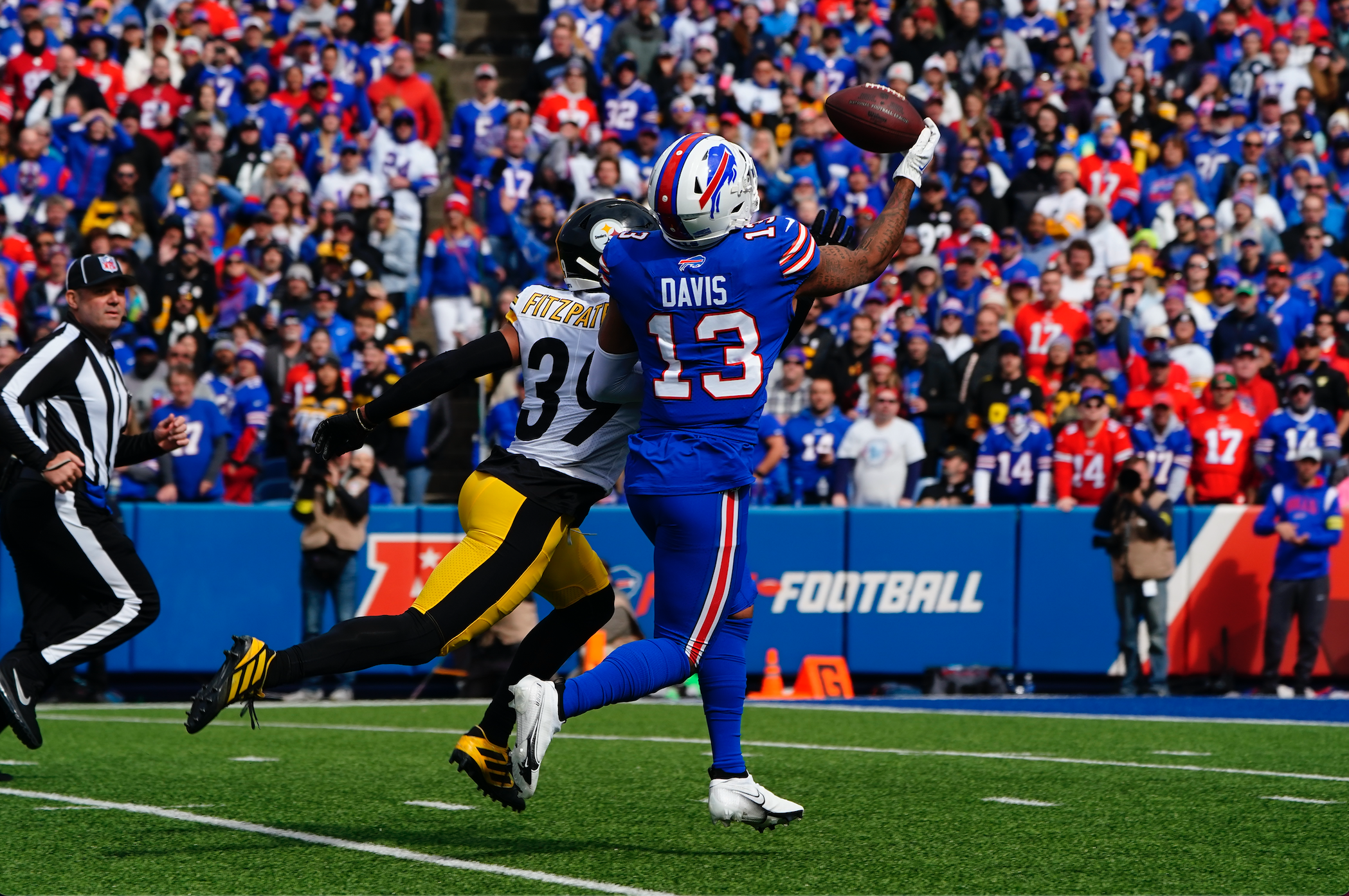 Gabriel Davis – WR
118 receptions, 1,984 yards, 20 TDs.
What may come as a surprise is that Gabriel Davis is not that far away from the top 10 in Bills receiving yards and receiving touchdowns all time. Known for his deep-threat ability, he trails significantly in receptions, currently sitting at 45th all time. 50 receptions this year (which would be a career high) would move him into 24th. Currently, he is 27th all time in yards, but a 1,000 yard season isn't out of the question if he's able to stay healthy, and it would boost him to 13th on the all time leaderboard. Whether or not he jumps any further is up to Brandon Beane since Davis's contract expires after this season.

Touchdowns are really where Davis can cement his legacy. He's already tied for 14th all time with JD Hill and Dawson Knox (who we'll get to in a minute). Six touchdowns, which he's reached every season of his career, would move him into 9th, although if Knox scores more than six that would bump him down to 10th. If Davis was extended for even just one more season, the top six is well within reach, currently trailing 5th place Bob Chandler by 14 touchdowns, but assuming Diggs would also surpass Chandler.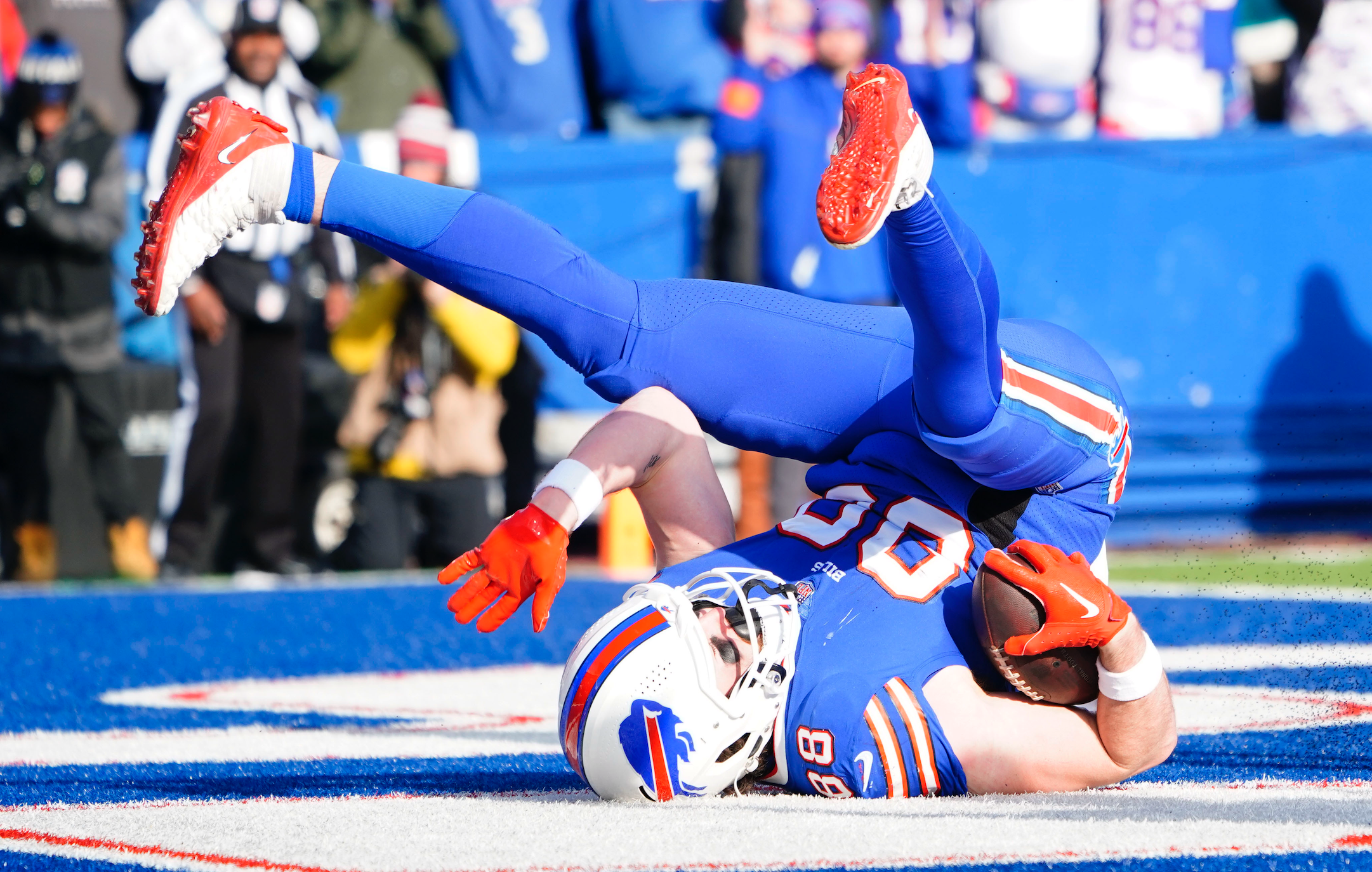 Dawson Knox – TE
149 receptions, 1,780 receiving yards, 20 TDs.
There's an argument to be made that Dawson Knox is currently the greatest tight end in Buffalo Bills history. He trails Scott Chandler, Jay Riemersma and Pete Metzelaars in TE receptions, Riemersma and Metzelaars in TE receiving yards, and just Metzelaars in TE receiving touchdowns. Given the fact that Knox has played only four seasons with the Bills, compared to six for Riemersma and 10 for Metzelaars, Knox is on pace to shatter Buffalo's TE records.

Knox has finished just shy of 50 receptions each of the last two seasons. He needs 34 to jump Chandler and 56 to jump Riemersma, but would still trail Metzelaars by almost 100. He needs 525 yards this year to pass Riemersma, and 1,142 yards to dethrone Metzelaars. Not to mention, Knox still has a full four year contract extension he has the ability to play out, making it more than reasonable to assume he will hold all of these records eventually. Knox needs six TDs, something he's accomplished each of the last two seasons, in order to surpass Metzelaars and have the most touchdowns by a TE in franchise history. From there, see Gabriel Davis's touchdown excerpt to see how high Knox can climb the overall franchise receiving TD leaderboard.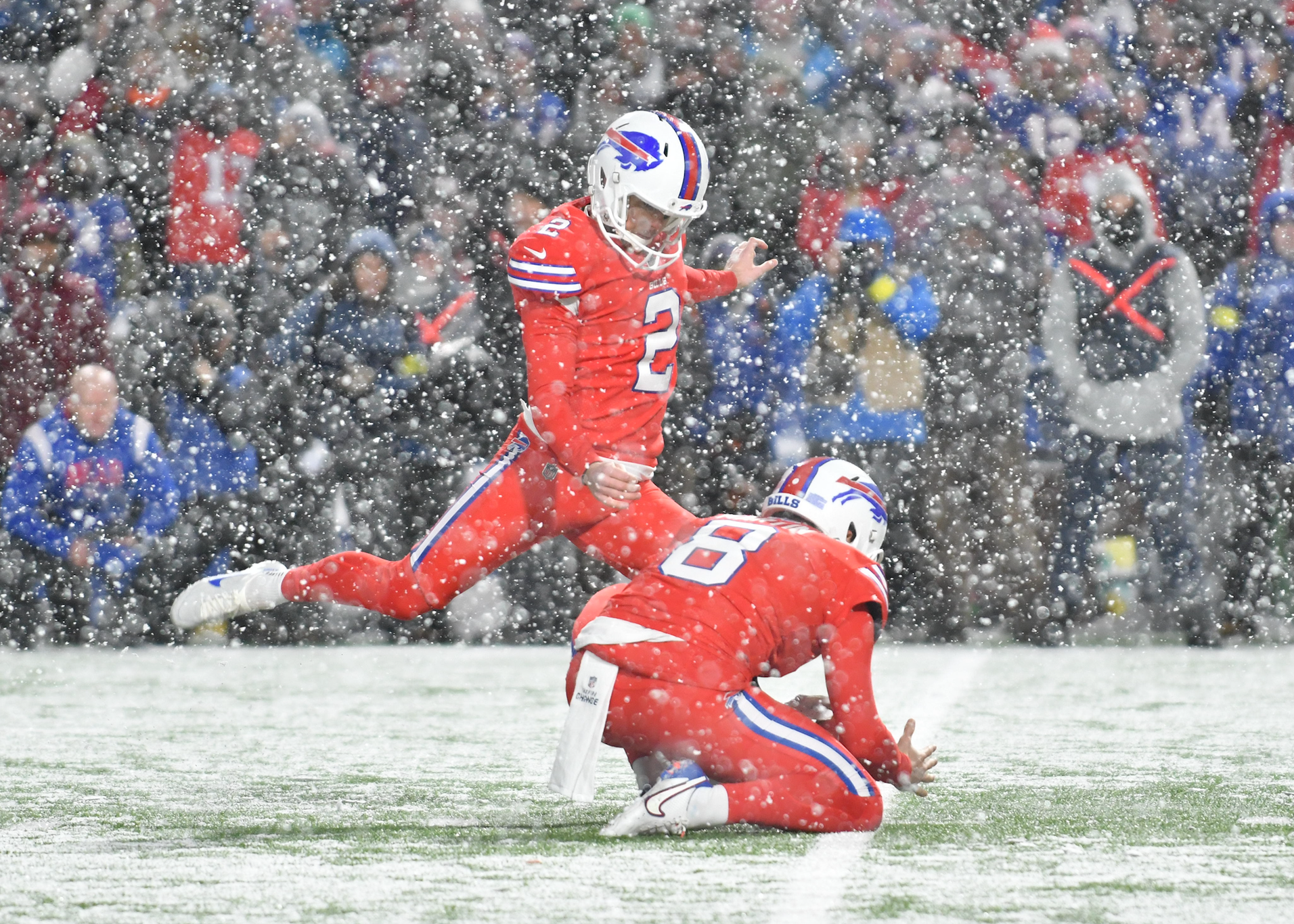 Tyler Bass – K
83 FGs made, 156 XPS made.
Bass is another player who could very easily be the greatest Bill of all time at his position. He still has one year left on his rookie deal, then a four year extension kicks in. He already ranks fifth all time in FGs made and fourth all time in XPs made (no doubt a product of playing at the same time as Josh Allen). 26 FGs, a mark Bass has hit every year of his career, would move him into fourth all time, passing Dan Carpenter. He currently trails Scott Norwood by 50, so he should reach the top 3 by the end of next season. He'll need to stay a Bill for another contract extension if he wants to reach Rian Lindell (#2) and Steve Christie (#1).

Norwood, Lindell, and Christie are the only three kickers with more extra points made, but Bass averages 52 per season and trails third place Norwood by 115. Again, that will have to wait at least until the end of next season. However, with the "Josh Allen Effect" (playing with a high scoring offense), he should be able to reach #1 before his current contract expires.

Fun facts:
Bass is currently second all time in FG% with 85.6%, trailing only Carpenter's 86.5%.

Bass is currently third all time in XP% of players (with 100+ attempts) with a 97.5%, trailing only Christie's 98.7% and Lindell's 99.7%

Bass is technically second all time in total points per game with 8.3, but is trailing only running back Antonio Williams, who appeared in just one game for the Bills in January 2021 and scored two touchdowns, for a per-game average of 12. Put any game minimum on the stat, and Bass is your leader.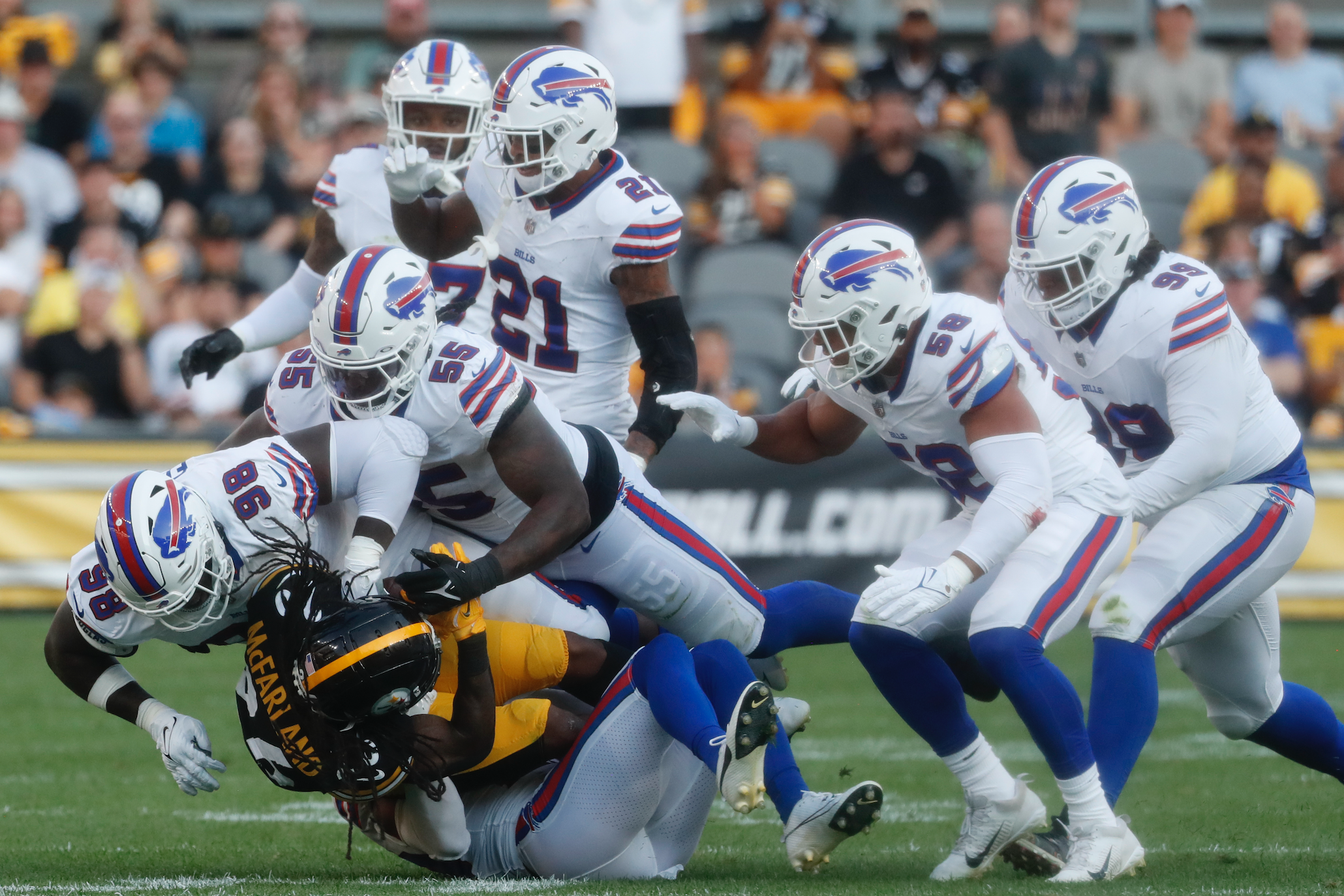 Defense
While Buffalo's offense hasn't always struck fear into opponents, the franchise has a storied history of defensive studs from decade to decade. Not to mention, with each season the NFL starts, we move more into an era that benefits offenses and skill positions, while putting defensive players at clear disadvantages. As a result, the leaderboard races for sacks and interceptions aren't nearly as enticing.

Currently the active leader in sacks for the Bills is Shaq Lawson, who's accumulated 20 over the 5 years he's played in Buffalo. This puts him 27th on the all time sack list. If he were to reach five sacks this year, he'd move to 20th all time, passing Lorenzo Alexander.

No other defensive lineman on the team has over 15 sacks in a Buffalo uniform, keeping all other active players out of the top 35. However, Ed Oliver (14.5), Greg Rousseau (12), Jordan Phillips (11), Matt Milano (10.5), Jordan Poyer (10), AJ Epenesa (9), and Von Miller (8) are all in the top 60, with some looking to take big jumps within the next couple years. It's not a stretch to predict that both Rousseau and Miller reach double-digit sacks this year, and can each jump up about 30 spots on the franchise leaderboard.

Only three players on the team have double-digit interceptions as a Bill. Micah Hyde's 14 are tied for 21st all time, while Tre'Davious White's 17 are tied for 17th all time. Poyer has 22 interceptions, which puts him 10th all time in franchise history. He can very easily finish near the top of the leaderboard in franchise history, needing just nine more interceptions to move into the top 3.

If you made it this far into the article, I hope you enjoyed this deep dive into the franchise history books of the Buffalo Bills. As we look forward to the 2023 season with high expectations, take a second to remember that we are currently watching some of the greatest Bills players of all time.
Editor's babble: Great stuff here by Colin Richey. You can also find Colin on Xwitter @whatthef00tball.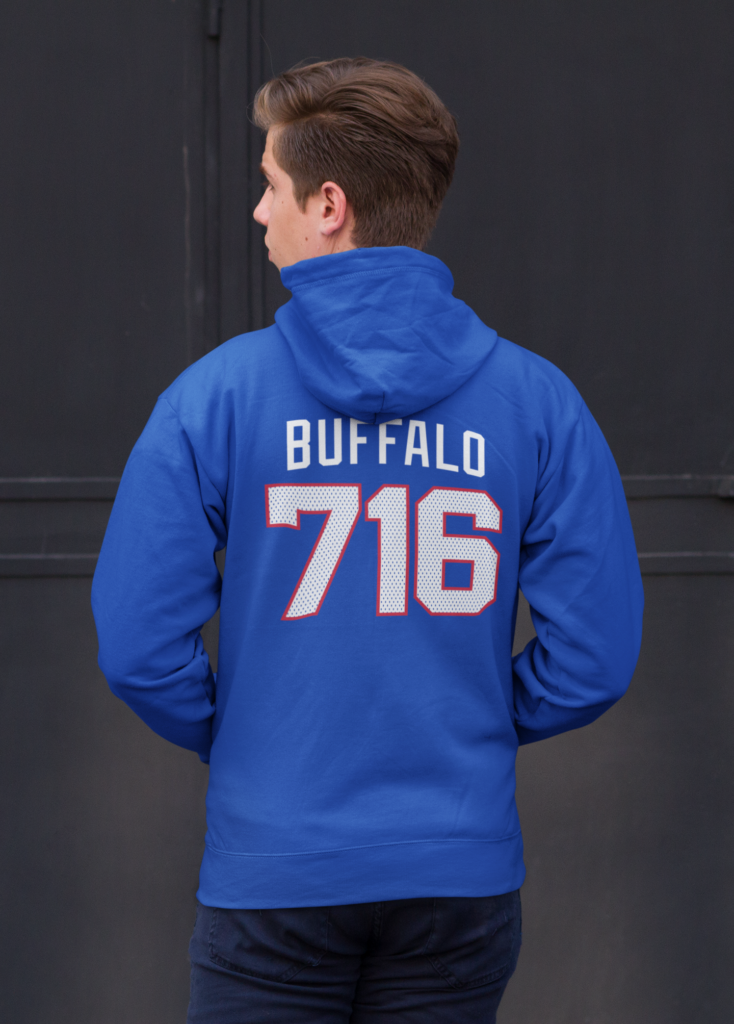 BuffaloFAMbase.com is sponsored by 26 Shirts
Every Monday, we launch a new two-week campaign of a limited edition t-shirt design. Every shirt purchase results in a donation to a local family in need. After the campaign ends, the shirt is retired. A new design is released, and a new family benefits from your fandom!