As I See It
My first feeling about watching the 2023-24 Bills take the field was excitement about a handful of things.
Seeing the huge Kids Day crowd of over 70,000 with close up shots of future Bills fans drinking in the atmosphere, often interacting with their families. Heart warming, with views of the big hole across the street where the New Highmark Stadium is starting to take shape.
It's all about what's ahead, but also about what's behind. More on that in a second, but a shoutout here to sponsor BluTusk Tech in Orchard Park. Need a new computer for school? An old one refurbished? BluTusk Tech specializes in Mac products but can handle anything with fair prices and outstanding service. They turned my old MacBook into a top performer without gouging me. Great people there.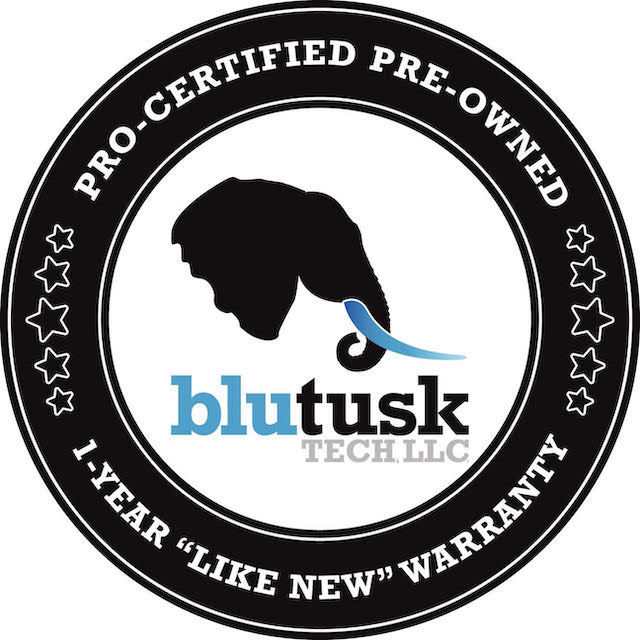 As for what's ahead, the next emotion I had was seeing #3 running onto the field.  Damar Hamlin admitted later he was flooded with different feelings about his return after his brush with death, saying his faith overcame his fear.
Hamlin showed no hesitation whatsoever in limited playing time, coming up to support the run from his free safety spot with a couple solid hits. Questions about whether or not he'll make the final 53 man roster on a talented and deep team can wait a couple weeks at least.
So what was good, and what was bad, and what was just OK in the Bills practice win that saw Josh Allen, Stefon Diggs and several other starters on the sidelines?
Starting with the obvious, the Bills backup QB situation just changed, at least in perception as to which of Allen's safety valves is really #2?
Going into the game, Kyle Allen was the #1 backup on the depth chart, with the more experienced Matt Barkley #3. Discounting the fact Allen, who played the entire first half and part of the 2nd, faced a few Colts starters but mostly backups, was greatly outplayed by Barkley against backups and 3rd stringers.
The numbers don't tell the entire story, as Allen seemed nervous about his protection and indecisive most the time. He was 8-15 for 122 yards with no touchdowns and one interception that turned into a Pick Six. It was a poor throw, but a tipped ball went right to a Colts DB and it was clear sailing.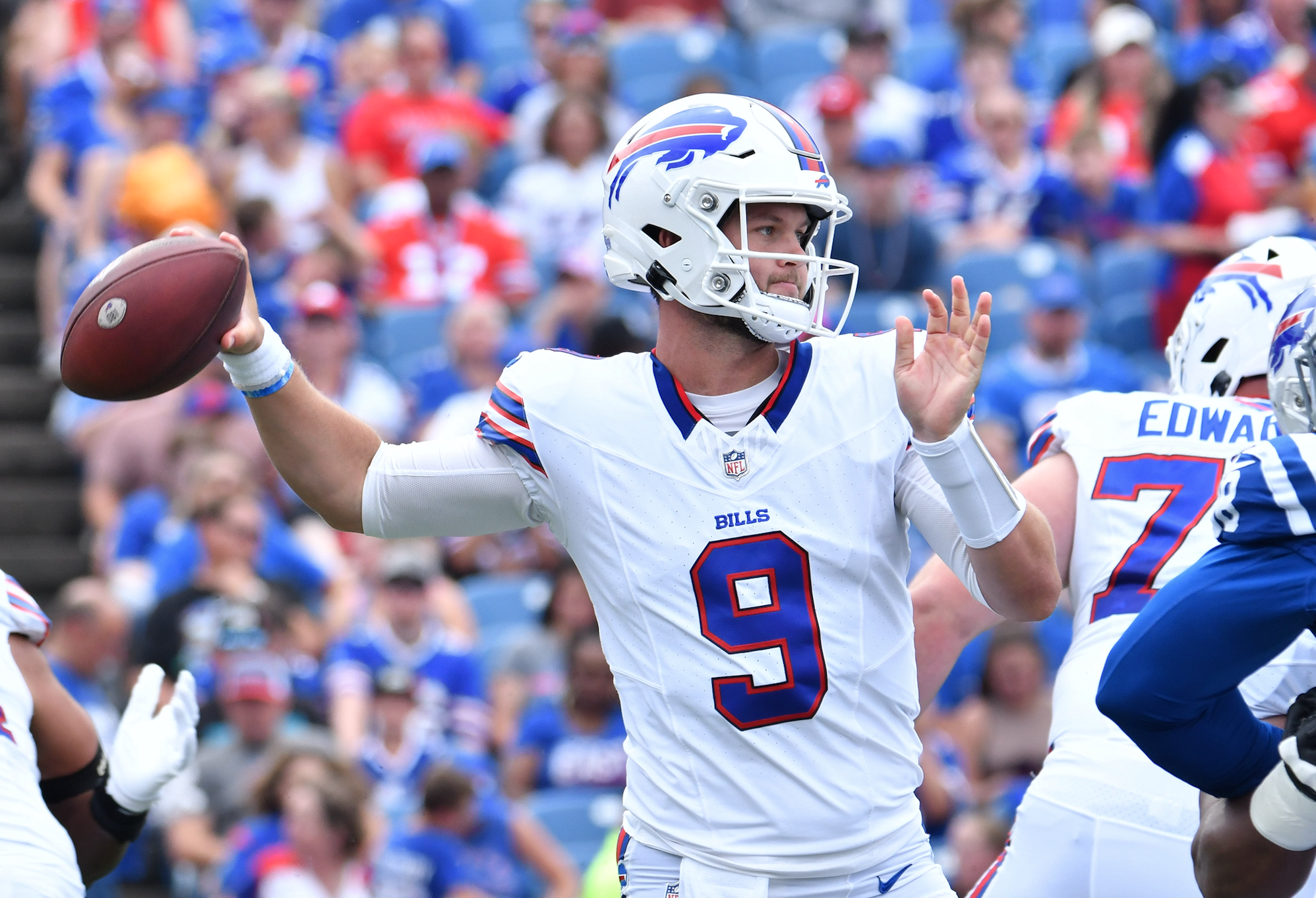 However, let's not start calling Allen (yeh, you know which one) a bust just yet. He's got some size at 6-3, 210, and in my opinion has a much stronger arm than Barkley. Although undrafted, Allen, who recently turned 27, has NFL experience. He started 12 games at Carolina in 2019 and threw 17 TD passes, but also had 16 INT's.  He also has decent mobility and has four rushing touchdowns in a career at Carolina, Washington and Houston before Bills GM Brandon Beane – I know, another Panther connection – brought him to Buffalo.
Here's how I view this: with the money now going to Josh Allen, not to mention other signings, the Bills simply had to cut costs somewhere. Sure it's risky, but all bets are probably off anyway if JA misses a significant part of the season. Beane and McDermott KNOW Kyle Allen well, and are comfortable knowing what they have.
On the other hand, Barkley has much more experience in the Bills offensive system, and it shows. The change was dramatic. Barkley was much more poised and decisive, and had eye-popping stats. He was 14-15 for 172 yards with 2 TD's and NO int's.
That works.
Another heart pumping moment, was seeing Tre White, Jordan Poyer and Micah Hyde together again in the Bills defensive backfield for the first time in over a year. Just a small part of one game, but they haven't missed a beat.
Speaking of Bills DB's, no doubt Bills fans including myself are curious as to why Dane Jackson appears to be ahead of former first round pick Kaiir Elam? Elam was listed as the starter at RCB, but Jackson started this game, and immediately, on the Colts first series, picked off Colts big-armed rookie Anthony Richardson with a heads up play. Clearly Sean McDermott isn't 100 percent sold on Elam, despite Elam's obvious speed and talent. I'm still expecting Elam to win the job, and if so it's comforting to have Jackson back there if need be.
Who's gonna take over for MLB Tremaine Edmunds, now a Bear? Tyrell Dodson was the starter. This isn't comforting. Dodson wasn't drafted and is smallish for a MLB at 6' 238 pounds, although he does have 4.6 40 speed. His backup for now is Terrell Bernard, who sat out against the Colts with a hamstring injury.
What's interesting is to see if rookie 3rd round pick Dorian Williams will contend for that job, even though the Bills have the former Tulane star as a weakside LB behind Leonard Floyd (didn't play vs Colts) right now. Williams is 6-1, 228 pounds, but is even faster than Edmunds with a 4.49 40 clocking.
It was a short sample size, but Williams plays fast and is a hitter. He made a great play to stuff a run for no gain at the Colts goal line.  He led the Bills with seven tackles and was all over the field. Will he become a contender at MLB?  The Bills can't be happy with their situation now on D despite being loaded everywhere else. Baylon Spector, a 7th round pick from Clemson is in the mix, and is a tremendous special teams player with good speed.
How about some Bills rookies? Other than 3rd round pick Dorian Williams, a bit of a surprise as 2nd round pick O'Cyrus Torrence started at right guard ahead of veteran Ryan Bates, and graded well. Torrence is HUGE and physical. Just like we like 'em!
First round pick, TE Dalton Kincaid played but had no targets in a brief outing that did see the Bills put him out wide a couple times, and with TE Dawson Knox in a 12 personnel grouping. No question we'll be seeing a lot more of that.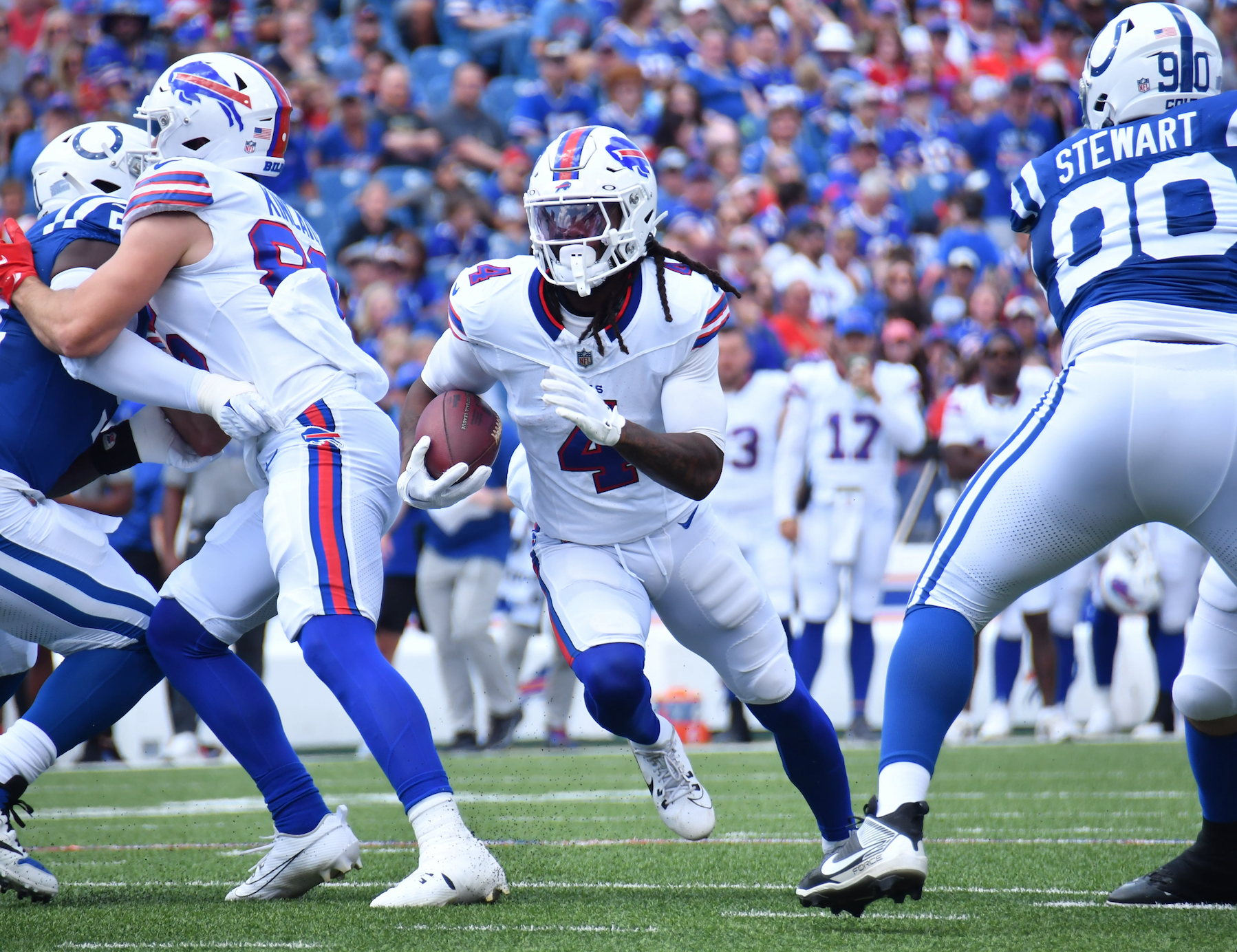 It was good to see James Cook look good in a brief stint that included a nice eight yard TD run.  He looks really fast, and so does Latavius Murray, currently on the third team. Backup RB Damien Harris was held out with a sore knee. Undrafted rookie Jordan Mims isn't even on the depth chart, but he looked good with seven carries for 23 yards, and he also caught a short pass and turned it into a 25 yard gain.  He won't make this roster but he may get a shot somewhere.
By far the most interesting aspect of this game, was at the wide receiver position.
Diggs and Gabe Davis didn't play, which is no surprise. Rookie Justin Shorter, a 6-4 Florida star taken in the 5th round, didn't appear on the stat sheet and barely played. He may have a tough time now after some strong performances by others. Trent Sherfield, a training camp standout, also had no targets.
On the plus side though, Keesean Johnson and Andy Isabella both had three catches for 42 yards, with Isabella showing his outstanding speed on a 30 yard catch and run. Not a big guy, but he can motor and return kicks and punts. Marcell Ateman had two catches for 41 yards and Tyrell Shavers two grabs for 38 yards and a TD, and former Colt Dez Patmon had three catches for 35 yards and a TD.  Maybe this is why Shorter was invisible?
Although 2nd year receiver Khalil Shakir made a couple dazzling catches – and right now he's listed as a starter in the slot – he also had a bad drop on a third down that stopped a scoring drive.
Overall the D looked good, and especially the DL depth.  After a slow start the backups dominated the Colts backups until late in the game.  Greg Rousseau had a good pressure to force the early Colts INT.  Boogie Basham had a sack and was active.
He's the longest of longshots to make the final roster, but UB product Ja'Marcus Ingram – a cornerback – made a great solo tackle to stop a 4th and 1 Colts run. Hopefully somebody will notice.
It's tough to judge how McDermott could be judged in his first game as DC/HC, but he was aggressive early with some blitz packages despite it being a preseason game. Ditto for OC Ken Dorsey. Obviously they'll stay pretty basic until that Monday Night opener at the Jets.
Preseason games don't matter. Winning and losing means nothing.
Don't agree. Winning ALWAYS matters.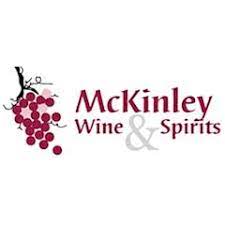 Final shoutout to McKinley Wine and Spirits in Hamburg across from McKinley Mall. Great selection with excellent prices.
And also thanks to GlobalVendingGroup of Buffalo, with it's worldwide book vending machines helping kids everywhere to improve their literacy.

See ya soon.
Editor's babble: We are grateful for Ed Kilgore's contributions to our blog. You can also find Ed on Twitter @Kilgore2Ed.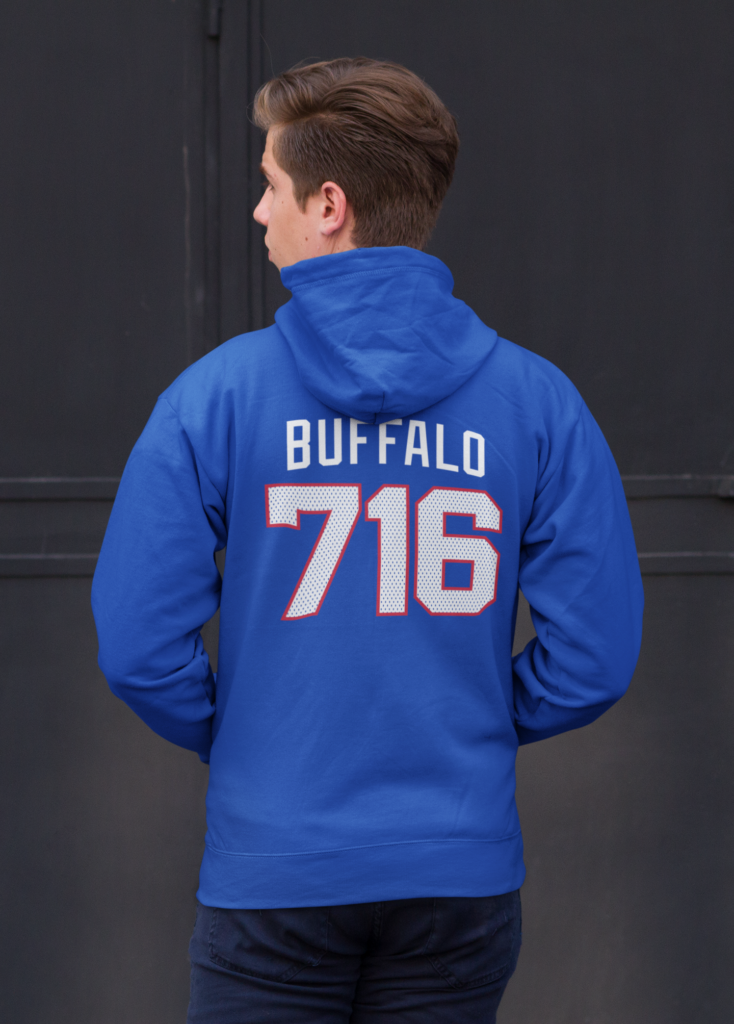 BuffaloFAMbase.com is sponsored by 26 Shirts
Every Monday, we launch a new two-week campaign of a limited edition t-shirt design. Every shirt purchase results in a donation to a local family in need. After the campaign ends, the shirt is retired. A new design is released, and a new family benefits from your fandom!