The annual love-in at Highmark Stadium has come and gone. Josh's annual helmet tease featured a blue version, which actually looks sharp with the red jersey, but wouldn't fly with the blue jersey. The lower bowl was pretty darn full…35,000 plus for what turned into another low key practice. Pretty sure that didn't matter to most, seems a good time was had by all. It was a beautiful night; partly cloudy with a nice breeze in the upper 70s.
There has been less kicking on display at Fisher this year, but no one got more time on the field than Tyler Bass and Sam Martin, who provided the opening act from 5-5:30,and also appeared later in drills, with Bass also punctuating the session. In two words: Championship Caliber. And explaining what Reid Ferguson does for a living and how long he's done it to a casual fan is always fun.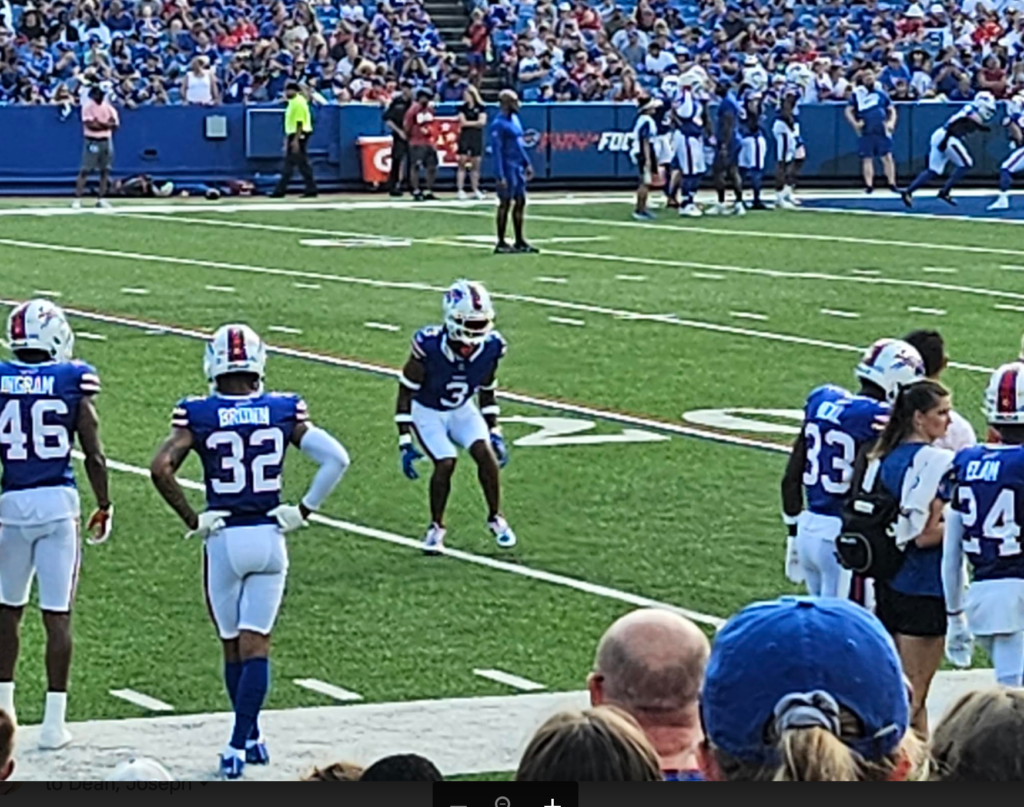 Both at Fisher and the Blue and Red, the entrances from the tunnel are a huge deal. Obviously Josh and Stefon drew the loadest roars, until dramatically at the tail end Damar trotted on our home turf for the first time since January. Unofficially, it looked like Taron Johnson and Matt Milano (much to the disappointment of my wife and daughter) had the night off, nor did we spot Von Miller. Spencer Brown was a full participant after yesterday's scare. Fred Jackson was in the house, as was the football team from Terry Pegula's high school Alma Mater, Scranton Prep.
All the 11 v 11s ran through all three units equally, which really minimizes the workload and risk. No need to worry about entertainment value anymore…is this a franchise with any marketing needs at the moment? If you are looking for clues in position battles from last night, don't. Torrence and Bates, Jackson and Elam, Dodson, Bernard and Spector, all rotated. All three competitions, and several more further down the roster, appear close calls right now.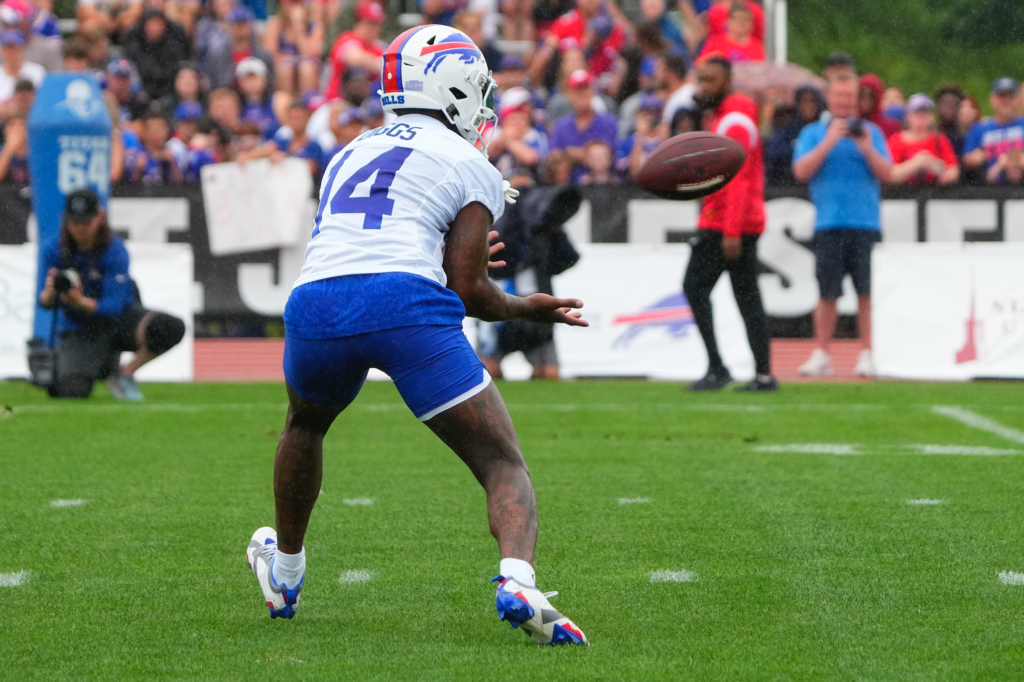 The first series by the ones had Josh spreading the ball around to Davis, Diggs, and Shakir, with Gabe catching the TD. Shakir was back in the Punt Return mix and had the only muffed attempt staring into the sinking sun, but looked fine on his ensuing reps. A quick kickoff drill had Andy Isabella as the KR, which I hope has become the Bills plan. He adds a lot of value as insurance for Harty. As the broke into position groups, we were treated to the DBs in front of us on the visitor's sideline. It's a joy to watch Damar Hamlin back honing his craft.
More 11 v 11 with a nice run by Harris, and a beautiful shoestring catch by Gabe Davis, who has backed up the confidence management has in him in a big way so far during Training Camp. And even while we wait on Von and Jordan Phillips, the talent we run out with the Twos on defense isn't fair. The best offensive play of the night came on a first down scenario at our own three. James Cook broke it outside left and nearly took it to the house, with Micah Hyde angling him out near midfield. With the possible exception of Christian Wade, it's the most dynamic run I've seen from a Bill since LeSean McCoy. A couple of low percentage downfield incompletions to Kincaid and Knox were about it on a quiet night for both. Quintin Morris was the only TE who did much Friday night. Darryton Evans had a nice run and catch from Barkley. Both he and Jordan Mims have shined so far, which helps explain the economic plight of the NFL running back. A couple more shout outs to AJ Epenesa and Latavius Murray who catch the eye every practice.
I know it's only the first preseason game, but boy am I ready for any full speed football against any other team. And the season's first Fedora Forecast!
Editor's babble: We are also looking forward to your first Fedora Forecast of the regular season and grateful for all your contributions to our blog. You can also find Joe on Twitter @joer869.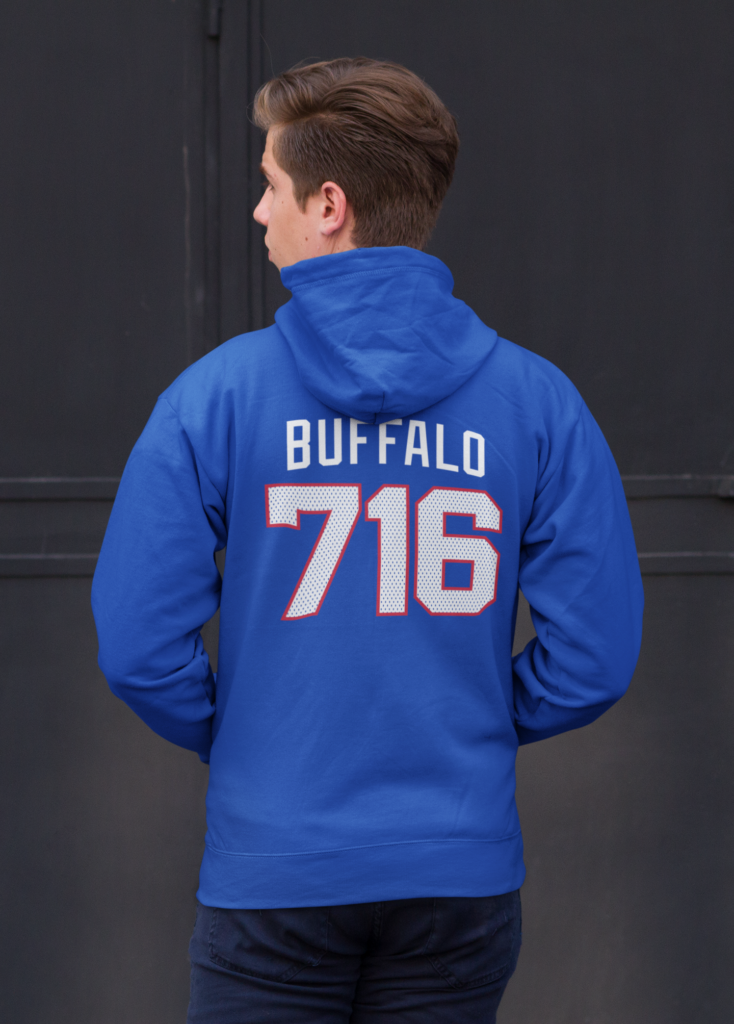 BuffaloFAMbase.com is sponsored by 26 Shirts
Every Monday, we launch a new two-week campaign of a limited edition t-shirt design. Every shirt purchase results in a donation to a local family in need. After the campaign ends, the shirt is retired. A new design is released, and a new family benefits from your fandom!