Here is the first of my monthly "Pick Six" exercises for the 2024 NFL Draft. I pick six players the Bills should consider, ranking them in my order of preference –basically, their fit for the Bills' scheme and Bills' roster in particular, but also considering what Bills' contracts are expiring, and age of players at each position. Beane's love of the ACC, SEC, and, now, the Big10 are emphasized in my picks. Hit me up on Twitter if you disagree –or if you have a compliment (everyone can use one). "The Twit" shows you a play on Twitter that gives video insight on that player. Don't get hung up on player rank or round just yet; lots will change by April.
ROUND 1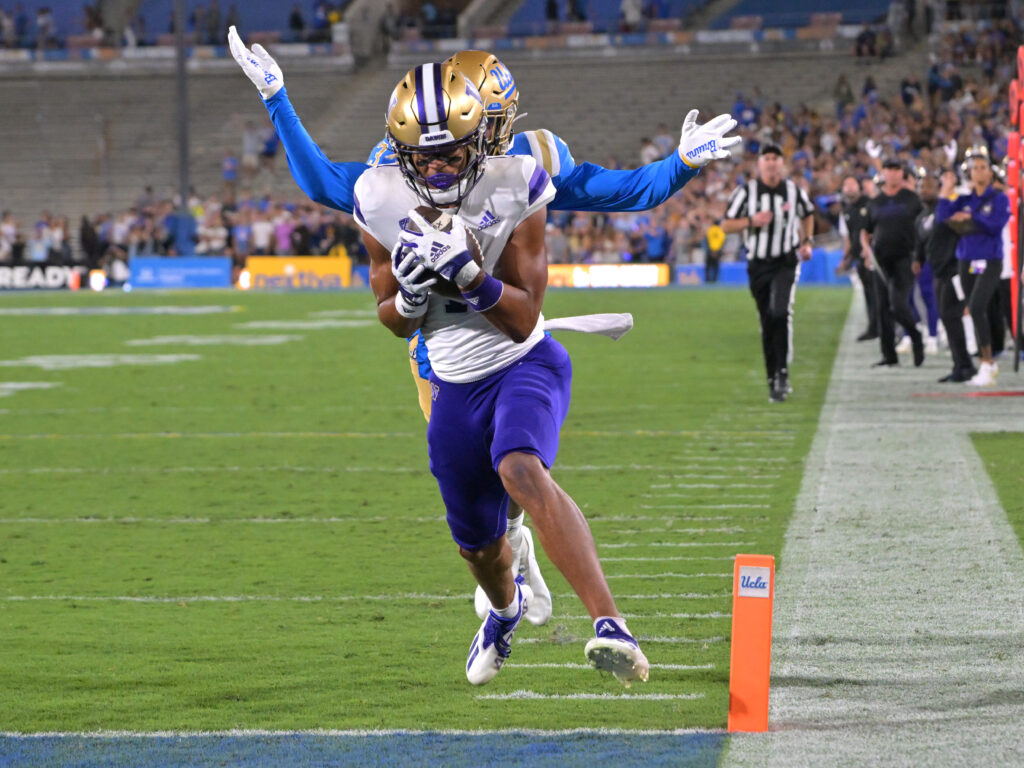 24 Rome Odunze WR 'X' Washington
6-3 215 4.52
The Twit
The Stats
The Bills continue their search for a bona fide WR2 that teams need to account for. That player may already be on the team, but we're not taking any chances. "Oh-DUNES-ay" has a Stefon-like filthy anklebreaker move that will look familiar. He's in sole possession of the most receiving yards among all Power-5 pass-catchers. His current measurables are on par with Julio Jones' 2011 NFLCombine metrics, and he has Michael Penix Jr. throwing to him… Luke Easterling says he has all the traits to be a superstar. Odunze can add wrinkles the Bills don't currently have. For example, a middle screen would be nice in our offense. His 12.5 YPC against AP-ranked teams is 20th of 84 draft-eligible receivers, but his 65% catch rate looks better than Gabe Davis's coin-flip stats with Buffalo (54%).
31 Kamren Kinchens FS CB Miami
5-10 202 4.5
The Twit
The Stats
Former S Jaquan Johnson (now with the Raiders) played with the Hurricanes, and played in Sean's buddy Manny Diaz's defense. Diaz moved on to Penn State in Dec 2021 (worth an argument for CB Kalen King here in RD1 should he drop), but the Bills are still very interested in Hurricanes: Nine could be drafted in April. Kinchens was a 2022 All-ACC First Team and All-America, and plays a Bills-y defensive style, a 4-2-5. At Miami, Kamren has lined up in the box, in the slot, and as the deep safety. Watch a few 2022 games, but don't skip over Georgia Tech and Clemson. Against the Engineers, Kinchens posted a program-record-tying three interceptions, including one for a 99-yard touchdown, and led the team with eight tackles, including four solo, and a half-tackle for loss, in the win, adding one pass breakup. He was named ACC Defensive Player of the Week for his performance. Versus Clemson, Kinchens led the team with 13 tackles, including 9 solo, and one for a loss, adding two pass breakups and one forced fumble. The Bills need to prep for Hyde and Poyer, and a ballhawk who is this versatile and has the ability to play all over the field will help when that day comes. Consider also James Williams, the 6'4″ SS at Miami, as you watch Kinchens, and consider back-to-back safeties in RD 1 and 2.
20 Cooper DeJean SS FS CB KR Iowa
6-1 209 4.49
The Twit
The Stats
The other safety that the Bills will be interested would likely go earlier than the Bills' pick at #32 (wink, wink). DeJean is among the top ten 2024 defensive prospects according to CBS Sports' Chris Trapasso, who gushes that Cooper "rarely missed a tackle, housed 3 of his 5 interceptions, and had 8 other pass breakups. At 6-foot-1 and over 200 pounds, DeJean has NFL outside cornerback size. While maybe not a super-explosive athlete, he's plenty agile enough to mirror decently well, and his football intelligence allows him to recognize when the ideal time is to pounce underneath a route. Clearly he was blessed with plus ball skills." While there is a plethora of Day 2 safeties in this DB-rich 2024 draft, I could totally see Beane trading up for a big, versatile, quick safety to lead things off in April.
32 Leonard Taylor DT3T EDGE Miami
6-3 305 4.83
The Twit
The Stats
Let's count the number of IDL who are under contract for 2024, shall we? Ed Oliver. That's it. That's the number. A Miami product who played under Manny Diaz, Leonard Taylor is one of the two IDLs in this draft who logged over 1 sack or TFL in every career game (You heard it here first; the Bills will draft one of the top 5 in this metric. That's one of Taylor, Jermayne Lole, Tyler Davis, Braden Fiske, or Maason Smith). Of those five, Taylor and Smith would tie in a foot race. They are also the ideal size, speed, and conference. I'm impressed with Taylor's level of disruption: 24 pressures in 18 games with a relatively-low snap count (only played 370 snaps in 2022). Watch the VA game –six tackles with 1.5 sacks and 4.0 tackles for loss in Miami's OT win. Reading too deep into the tea leaves, Taylor's Miami Hurricanes were the Bills' first scout visit this season.
29 Graham Barton OT Duke LT
6-5 311 5.26
The Twit
The Stats
Dion Dawkins turns age 30 on 4/26, a day before the 2024 NFL Draft in Kansas City. I adore Dion, but Beane hasn't brought in a worthy successor yet. Consider the depth chart, and imagine one of these guys facing every opponent's best pass rusher: Broeker, Gouraige, VanDemark, Anderson, Bates, Doyle [Shudder]. Graham Barton was named to the ACC First Team in 2022; that always attracts Beane. Per Max Chadwick: Barton was the "only Power Five tackle who posted 85-plus grades as both a pass and run blocker last season. His 17 big-time blocks (PFF's highest-graded blocks) were five more than any other tackle in the country" (italics mine). Pro Football Network adds that Barton is , "a mauler in the run game, and he can increase his NFL stock by allowing fewer quarterback pressures than he did a season ago." We'll watch for that; currently, Barton's at the bottom of the first round for me. Sky's the limit, though.
26 Jack Sawyer OLB EDGE 4-2-5 Ohio State
6-4 267 4.58
The Twit
The Stats
Would the Bills be looking for yet another linebacker who is a hybrid between OLB and EDGE? I dunno, I'm truly hoping we have our LB starters set in stone by the end of training camp and before Preseason Game 1. But what about Defensive End? Miller, Floyd, and Ray are getting up there in age. Lawson just turned 30. Others –Basham and Epenesa– are those students you hated in 6th grade who never turned in their homework yet the teacher gives them one more chance after another. Sawyer's intriguing because I believe he was miscast as a JACK linebacker, not EDGE. After flashing at times as a freshman, Sawyer spent the 2022 season learning a brand-new position that really never fit him in the first place: JACK. Sawyer played only 329 snaps as a result — third among Buckeye defensive ends — en route to 24 tackles, 6.5 tackles for loss, and a team-high 4.5 sacks. . ..he sat down with the coaching staff after the season and discussed getting back to traditional defensive end, which you'll see this year. Having to split time learning two things often means never quite getting the hang of either.
ROUND 2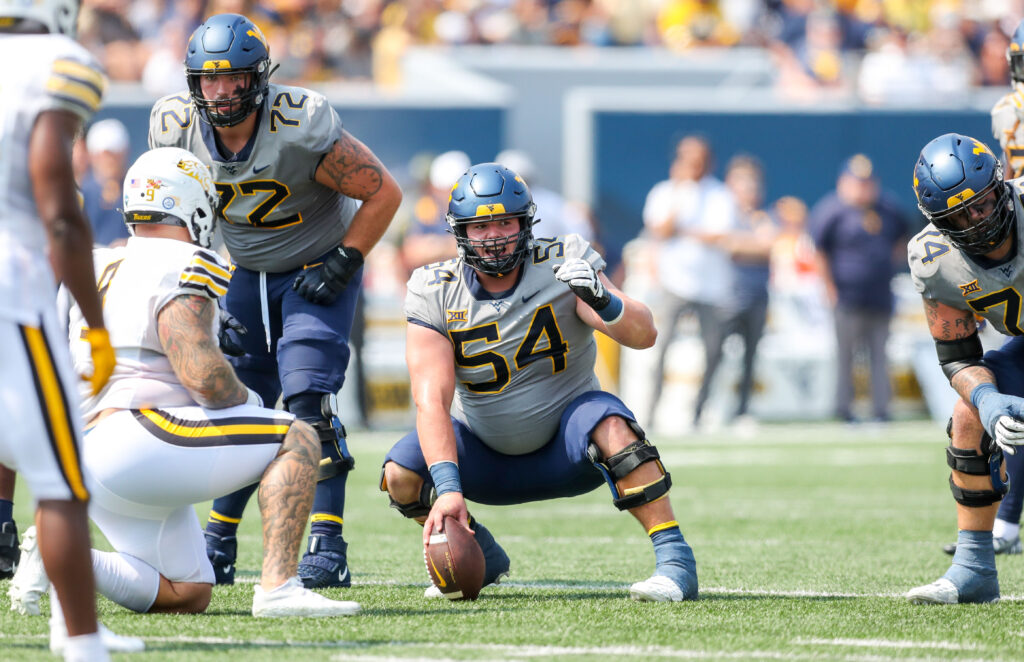 57 Zach Frazier OC OG West Virginia
6-2 306 5.24
The Twit
The Stats
Zach Frasier, one of my pet cats, is a 4-time high school wrestling champion (Sean McDermott's listening), and it shows with his tape. PFF's 2nd-highest-graded returning Center constantly wins with leverage in pads and hands, but is country-strong to generate push in the ground game. Says Bob Hertzel: "If Zach Frazier were a plant, he'd be a cactus, prickly and tough. If he were a horse, he'd be a Clydesdale….He is strong and quick, smart and tough, competitive, and a leader." Frazier also becomes a problem for the opposing defensive line, as they often have to double-team him. A weight room warrior, Frasier has played in all 35 games for the Mountaineer football team over the last three seasons, starting the last 34 of those. He led the team in 2022 with 51 knockdown blocks, permitting one sack in a possible 882 total snaps. Frazier's not the only wrestling champ on this Pick Six (foreshadowing).
58 Nazir Stackhouse NT Georgia
6-3 320 5.16
The Twit
The Stats
One-tech will be an eventual weakness. DaQuan Jones turns 32 on 12/27 and Jordan Phillips turns 31 on 9/21. Poona and Ankou are lighter than Beane would prefer, and while they anchor well, neither are true one-gap nose guards. Keep in mind that the Bills' defensive line, per Spotrac, is the Bills' second-most costly positional group at 19% of the total cap — that's the 10th-highest in the league. Nazir Stackhouse is big and athletic. He started 15 games for UGA last year. Georgia went 15-0. Coincidence? I think not. He posted a career-best five tackles in win over Florida…also five stops in win at Kentucky. You might have remembered the weird play where in the SEC Championship win over LSU, Stackhouse blocked a first-quarter field goal that was returned 96 yards by C. Smith for the game's first score. If a 320-pound man-mountain can possibly be nimble and quick, it's Stackhouse. Nazir's versatile, too, because of his athleticism. He can slide over to 3-tech or out to EDGE, he can game you, and he can stuff you. DaQuan.
68 Trey Benson RB KR Florida State
6-0 221 4.38
The Twit
The Stats
Very good running backs will fall to the second and third round as the position devalues itself. It's easier to keep drafting quality RBs than it is to sign more-expensive free agents. The Bills' big backs, 26-year-old Damien Harris (thigh, hamstring, head, 5'11", 213 lbs), and 6'3″, 230-lb Latavius Murray. who will turn 34 during the playoffs, are not the long-term answers. It's a great position to keep filling the well from a fresh spring. Enter Trey Benson. Benson's the fastest heavy guy in the 2024 draft. Productive? He's had a career 6.1 YPC against AP-ranked opponents, with a superb 11.08 yards per reception. He also contributed on special teams as a kick returner, with five kickoff returns for 192 yards and a touchdown. He received ACC Running Back of the Week four times, and was ranked first in the ACC in yards per carry.
64 Blake Fisher RT->LT Notre Dame
6-6 327 5.32
The Twit
The Stats
I would think Beane would love to draft an OT that has upside as swing tackle (RT->LT) or guard. Alec Anderson may be that guy, but Beane's going to keep trying to find that rough-cut diamond he can polish into a LT. Blake Fisher has the size, the strength, and the footwork to play LT, but Joe Alt is Notre Dame's guy there. Notre Dame offensive line coach Harry Hiestand has announced his retirement after 40 years of college coaching, so Alt and Fisher may drop a tad , but the talent is there for a RD2 steal.
64 Amarius Mims RT Georgia
6-6 330 5.32
The Twit
The Stats
The highest-rated recruit in Georgia's 2021 signing class was Amarius Mims. Mims might drop to us for 3 reasons: lack of starts (had to wait turn behind Broderick Jones and Warren McClendon), lack of speed (tied for the 6th-slowest OT), and lack of versatility (probably a RT-only prospect). However, if the Bills are tired of the "Brown Shell Game", Mims is likely going to climb into the front half of Day 2 if his 2022 stats hold up: 234 Pass-Block Snaps, Zero Sacks Allowed, Zero Hits.
59 Quinyon Mitchell CB FS Toledo
6-0 200 4.45
The Twit
The Stats
Quinyon Mitchell is the highest-graded Group of Five cornerback in the nation this season, per Pro Football Focus. While I can't go that far, I see ball skills, speed, athleticism, and instincts of a ballhawk. He's built solid enough to be a problem against rushers, and possesses skills in pass defense that netted him 22 PBU's (combined interceptions and forced incompletions), trailing only Devon Witherspoon (Seahawks 2023 #5). Mitchell's 91.9 PFF coverage grade also leads all FBS cornerbacks. Mitchell had 4 INTs in one game, 2 of them Pick-6s.
61 Brandon Dorlus DT3T EDGE Oregon
6-2 284 4.88
The Twit
The Stats
Dorlus is one of the new breed of defensive linemen. With one of the eight fastest 40 in a pretty-good IDL class, Dorlus has the size, mass, and elite length to line up at 3-tech, but he's also athletic and explosive enough to function as a stand-up EDGE or swerve across the line on stunts. Oregon plays him at DE on the NT's side. His personality is spiced with Haitian roots, winning personality, and no lack of confidence. Dorlus gets it done despite size inequities. Excellent swim move. Says Pro Football Network: "At 6'3″, 285 pounds, Dorlus like a battering ram…sheer versatility and disruptive profile wherever he lines up, he has some Travon-Walker-Lite appeal. With five sacks and 16.5 TFLs over the past two seasons, he's trending up."
ROUND 3A and 3B —PICK 2: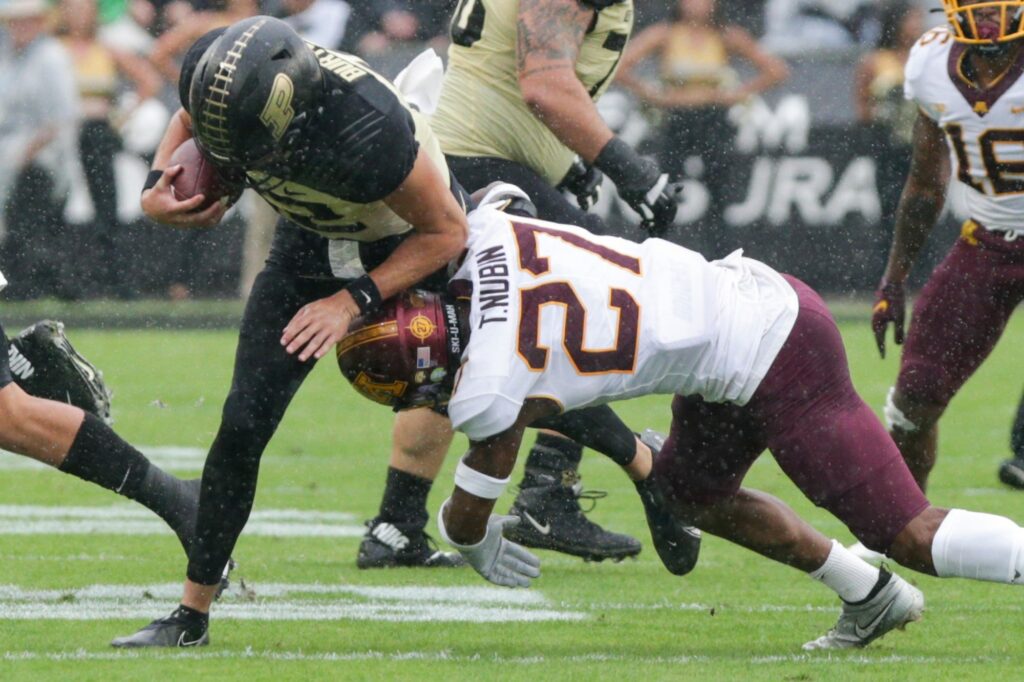 91 Tyler Nubin SS FS Minnesota
6-2 210 4.52
The Twit
The Stats
Nubin is RD3 for me, but there's a lot to like –his size/speed combo, for one thing– and he puts it to good use: Nubin has the lowest completion rate allowed among Safeties last season (35%). Dane Brugler, the top draft analyst for The Athletic, has Tyler among the players going in the first round of his way-too-early 2024 mock draft. Again, I can't go that far. Safety is arguably the most- crowded position group, and good safeties like Nubin might fall. It's entirely possible Beane doubles up at safety with Poyer, Hyde, and Marlowe on the east side of 30.
110 Beau Brade SS Maryland
6-0 200 4.43
The Twit
The Stats
If you're looking for a hard-hitting safety who can cover like a blanket, it's Beau Brade. Phil Steele dubbed Beau Brade the second-best draft-eligible SS heading into the season. Beau's 85.2 coverage rating is by far the best on the team. He led the Terps with 85 tackles (55 solo), much of it due to range, speed, instinct, and film work. Brade's top-2 forty time among safeties would seem to justify a higher grade, for sure, and he's the first Terp with 15 tackles, an interception, and a forced fumble in one game since at least 1998. But…despite being known for his big hitting, Brade's tackling is actually middle of the pack, and there are 20 draftable safeties taller, 36 safeties heavier, and 30 with higher solos-per-game average. He's on my radar, though: be sure to watch Brade in Duke's Mayo Bowl win over #23 NC State (12/30) and his eight tackles (six solo) and a two-yard tackle for loss vs. #2 Ohio State (11/19). His career game vs. SMU (9/17), where he logged 15 tackles (seven solo), the most by a Terp since 2020, to go with first career interception, a forced fumble and two pass breakups, is also worth a watch.
92 Reuben Fatheree II RT RG Texas A&M
6-7 325 5.19
The Twit (actually, a CuedUp YouTube video)
The Stats
Fatheree is the gentle giant who flips a 'dog' switch when he's on the field. He never takes plays off. To have somebody so athletic that he was Offensive Player of the Year in high school in basketball, so willing to work hard and accept coaching in order to get better, and so effortless when he pulls (watch RT #76). Loves fishing. Call him by his nickname "Deuce".
93 Jordan Morgan LT Arizona
6-6 312 5.27
The Twit
The Stats
Morgan enjoyed a stellar '22 campaign before suffering a season-ending knee injury at UCLA on Nov. 12, 2022. He still helped before then, providing time for QB Jayden de Laura to pass for 400-plus yards in two games; 401 yards at Cal (9/24); and 400 yards at Washington (10/15). The Wildcats had a sixth-ranked passing offense and a 21st-ranked total offense, averaging 30.8 points per game. Pro Football Focus identified Morgan as their third-best tackle in college football, tabbing Morgan a likely first-round pick before he got injured. He transferred to Arizona to be closer to home, calling himself a "homebody" (this is my only reseervation about his fit). What does fit is Morgan's humanitarian spirit: he received the Community Service Award for most community service hours of all male athletes at the University of Arizona. The future looks bright; he's on Athlon's and AP's Preseason All-Pac-12 Team.
105 Cedric Gray ILB North Carolina
6-2 230 4.74
The Twit
The Stats
Since you obtained an extra RD3 as a comp pick for Tremaine, you could look for a linebacker in the third round. I'm dearly hoping it won't be necessary with Dorian Williams being taken last year, but consider this: Gray was one of the most-impactful players in the ACC in 2022, leading the conference in tackles and earning a First Team All-ACC selection. He ranked second in the country in both total tackles (137) and solo tackles (7.6), averaging 10.5 per game. Pro Football Network calls Cedric "an absolute tackling machine, Cedric Gray racked up an impressive 100 tackles a season ago. But that was only half of his impact on the game. Gray was sound in coverage with three pass breakups and two interceptions. He recorded 2.5 sacks and multiple QB pressures. And he finished the season on a tear with double-digit tackles in five of their last eight contests." You'll want to watch Gray's 16 tackles, 10 solo, 2 TFLs and sack in the scouted VA game —watch #33 seal a win here. Cedric drops into zones when nothing is underneath, gets depth, disrupts passes, makes INTs. He can elevate his game and his draft position by getting off blocks better. SIS has Gray as the top Returning FBS Linebacker by Total Points.
98 Adisa Isaac EDGE SS 4-2-5 4-3 Penn State
6-4 244 4.62
The Twit
The Stats
A lot of eyes are going to be focused on the Nittany Lions' RDE Chop Robinson. Adisa Isaac plays LDE opposite Chop, and is taller and faster. In fact, Adisa has the draft's 6th-fastest forty among the 64 EDGEs I'm tracking. He missed his 2021 RS Soph season due to injury. Shaka Toney thinks he'll be a RD1 pick, but he has a long row to hoe, and doubling his 4-sack season in 2022 would be a great start. Adisa is explosive, bendy, fluid, has lightning in his first step, and his burst to finish is equally impressive.
ROUND 4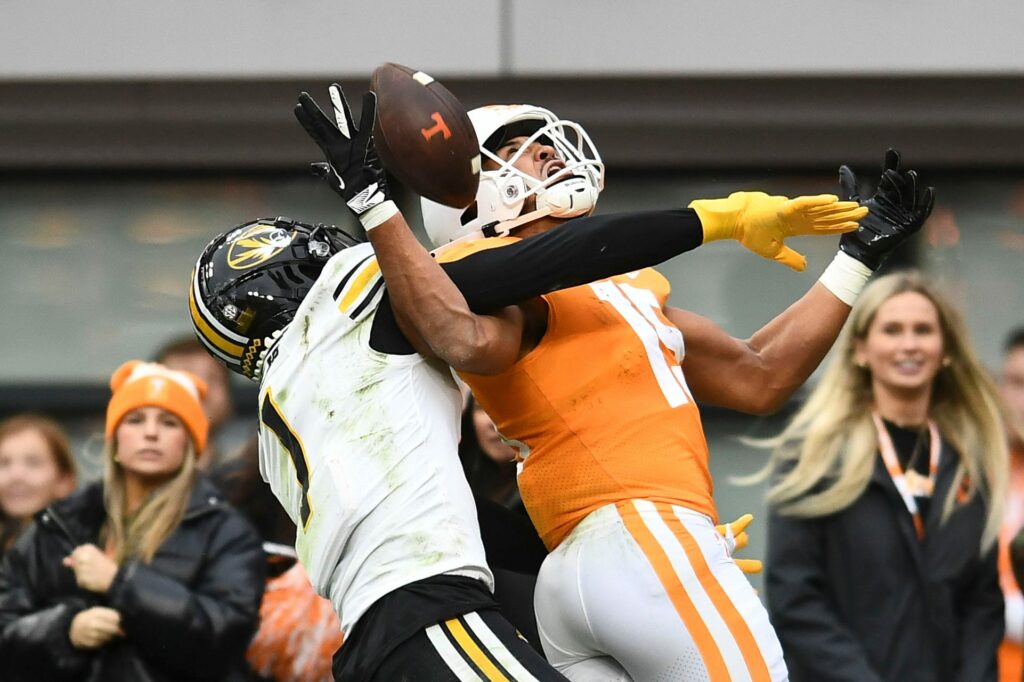 128 Jaylon Carlies SS FS WR Missouri
6-2 219 4.52
The Twit
The Stats
Jaylon "CAR-lyes" was a three-star recruit in the 2020 signing class as a WR, but he was switched to Safety when he signed. While Carlies has the frame and speed to play both safety posiitons on the Bills, I'd see him playing the SS (Poyer-Hamlin-Marlowe) role as two of them are over 30. In 2021, Carlies was elevated to a full-time starter and shined in his full-time role. Starting 25 of his last 26 games, Carlies put up a careeer 121 solo tackles, 7 INTs, and a forced fumble. He's ideal for the Bills' system as he's an explosive, click 'n' close guy. The picture above shows perfect pass defending against Bru MCCoy.
129 Jalen Catalon SS FS Texas
5-10 200 4.49
The Twit
The Stats
I've been watching Jalen Catalon since 2019, his freshman year, where he became the first SEC freshman since Eric Berry (Tennessee, 2007) to post at least 86 tackles with three picks, and wound up on the AP's All-SEC First Team. . He's transferred from Arkansas to Texas, and I'm very confident we'll see Catalon regain his 2020-21 form. During his career with the Razorbacks from 2019-22, he amassed 159 tackles, 81 solo stops, 3.5 tackles for loss, five interceptions, 14 passes defended, and three forced fumbles. Catalon led his team in solo tackles, and is 4th among the 75 safeties I'm watching with 3.86 solos per game, beating all of the current Bills' safeties' college numbers (Dean Marlowe's 3.80 is the leader in the clubhouse) . Heavy hitter.
131 Mar'Keise "Bucky" Irving RB KR Oregon
5-11 190 4.42
The Twit
The Stats
5 #0 72 PAC12 5.4 vs AP, 9.5 YPR, 317 KR, Mar'Keise "Bucky" Irving led the Ducks' ground game last fall, tallying 1,058 rushing yards at 6.8 yards per clip while turning over 21% of his carries into a gain of 10+ yards. He also added 299 receiving yards and three TDs. Speed. Lateral agility. Foot quickness. Contact balance. Body control. Receiving ability. Possibly the best in the PAC12. He's a transfer from Big 10 school Minnesota, and quickly showcased his talents in 13 games in 2022, rushing for 1,058 yards and 5 touchdowns, averaging 6.8 yards per carry. Irving's yard-per-carry total puts him sixth in the country when you only include thousand-yard rushers. Most yards via RPOs actually drops him, but Broken Tackles (PAC-12's #2 behind last year's pet cat Charbonnet, Seahawks' #52 pick) elevates him.
132 Duce Chestnut CB LSU
5-11 200 4.52
The Twit
The Stats
11 #20 2.5 SEC xfer Syracuse, Duce appeared in every regular-season game for the Orange, but was injured after the season. He's now officially cleared for participation. Real name is Darian Chestnut. The runner-up for ACC Defensive Rookie of the Year in 2021 played more than 1,400 snaps with Syracuse, and his 75.6 coverage grade in 2022 was top 10 in Beane's favorite ACC. Tre White is gonna love this LSU Tiger. We'll find out how he does real early — Set a reminder for 7:30 EST September 3 when Florida State (WRs Johnny Wilson and Keon Coleman) comes to Baton Rouge. I'll eat my Bills bucket hat if Beane and his minions are not at that game.
135 Beaux Limmer OC RG Arkansas
6-5 302 5.17
The Twit
The Stats
0 1 #55 Limmer, a junior from Tyler, Texas, can put up 600 pounds on the bench and possibly 700 pounds on the squat. He and Jonathan Marshall are the strongest players on the Razorbacks. The strength coaches have to cut Limmer off from maxing out on his lifts sometimes. "They're really high, and the thing is, the crazy part is that we don't really know how high, because usually they're like, 'All right Beaux, you've gone high enough, like, we don't need you to go anymore," Latham said of Limmer's personal bests. "I've never seen Beaux fail on a weight. So, like, you name it, he could probably throw it up there." Jones and Latham suggested. Limmer replaces Ricky Stromberg (Commanders, Pick #97) at Center after a nice year at RG. PFF Preseason All-SEC Team.
137 Dwight McGlothern CB FS Arkansas
6-2 182 4.5
The Twit
The Stats
Dwight McGlothern is a steady performer in an Arkansas secondary that badly needed one. The LSU transfer had 52 tackles and led the team with four interceptions last year. Thirst for learning comes through in the Interview. Dwight made the SEC Pre-Season All-SEC 1st Team. SIS Football noted that McGlothern led the SEC in their Coverage Total Points metric, and for that reason, he's part of their All-SEC Defense.

ROUND 5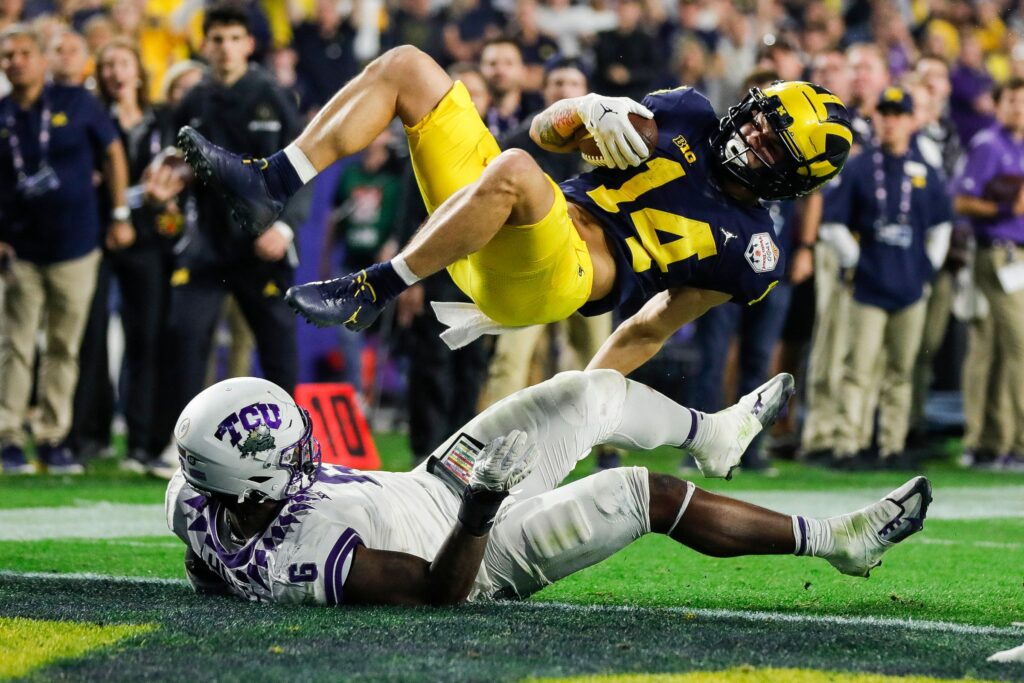 159 Roman Wilson WR 'Z' Michigan
6-0 185 4.29
The Twit
The Stats
My WR Pet Cat. Roman Wilson was born in 2001 in Kihei, Hawaii, where his daily school commute required a plane to St. Louis High School in Honolulu, Oahu (same school as Marcus Mariota and Tua Tagovailoa). Hence Roman's nickname "The Flyin' Hawaiian". He flies on the field, too: Wilson was a track star in high school, winning the state championship in the 100 meters. Fun Story: Wilson trained with the father of his HS track rival. If Wilson harnesses his speed with more anklebreakers, he'll zoom up the charts this season. He's choosing the right role models, though: "I really like watching Stefon Diggs, Mike Evans –people who are very sudden with their releases. I feel like that's something I can add to my game. Knowing how fast I am, trying to improve like my suddenness and my routes." With severely-underdrafted Ronnie Bell (Niners, Pick #253) out the door, Wilson has the maize carpet this year. The Flyin' Hawaiian will be flyin' up big boards before long.
176 Cornelius Johnson WR 'X' Michigan
6-2 208 4.49
The Twit
The Stats
In the same WR room as Roman Wilson is this year's Nico Collins. Harbaugh gushes, "It's a big catch range that Cornelius has….I think that's a big complement in our passing game. Also, he's a tough competitor. He's really developed his release at the line of scrimmage, gaining separation. Just the motor movements of playing receiver, his hands, catching the football, all those things a receiver has they can improve. You see continuous steady progress there." Corneliuis gives the Wolverines the consistency they need, and his focus is decoming really dialed in. Watch the Ohio State vs Michigan game for evidence, this 75-yarder and the even-more-impressive 69 yarder. Cornelius has the second-longest play from scrimmage in the Jim Harbaugh era, a 87 yarder. "I would just say he's preparing harder," said cornerback Vincent Gray. "His focus has increased. I feel like walking into that role has been a big time receiver for us who we need to make plays on a consistent basis. I would say he's locking in a lot more mentally." Johnson ranks #3 in the 84-WR class for YPC vs AP-ranked teams.
165 LaDarius Henderson LG -> LT Michigan
6-4 310 5.1
The Twit
The Stats
The 6-5, 310-pounder committed to Michigan Dec. 6 after entering the transfer portal one day earlier (don't tell me these aren't worked out in advance). Henderson started 29 career games and played 1,802 career offensive snaps (1,225 at guard, 574 at tackle) in three seasons with the Sun Devils, and has a final year of eligibility remaining. Henderson is this year's recipient of the Looft Family Football Scholarship. He's going to attract Beane, who scouted ASU heavily when Henderson was there. He's a captain, an ideal teammate, physical, and possesses a strong mental game. If Christian and "mauler type" can be embodied in the same persona, it's LaDarius.
166 Jestin Jacobs ILB Oregon
6-1 229 4.5
The Twit
The Stats
My Notes: LEO backer in 2022, now MLB in 2023, high ceiling, very impressive ability in coverage in Iowa's 4-2-5, now putting all of his focus into learning Dan Lanning's defense at Oregon, lots of different looks, good vs TEs, physical (6-4) and imposing at the LOS especially for 240 lbs, very athletic and good technique, good quickness and play recognition. ..replaces Noah Sewell…Jake: "I still have Iowa LB Jestin Jacobs in my rankings despite the Week 2 injury that cost the junior the rest of the season (he's now 100% for 2023). He had season-ending arm surgery" in October 2022, and is back at 100% in Spring Practice. Jacobs tallied 63 total tackles, 3 pass deflections, 1 forced fumble & an interception in 3 seasons with Iowa. I love his tools, character, and work ethic. I heard buzz about Jacobs trading a NIL deal for 150 draft clots, and, while I don't buy it, he does leave Seth Wallace, the best LB coach in the country. I still think he has a shot at the Butkus Award, despite his transfer.
167 Jermayne Lole DT3T EDGE Louisville
6-1 305 5.08
The Twit
The Stats
My Notes: Jermayne Lole was a three-year starter for the Sun Devils (scouted several times there), before that injury…agile and technically sound… Lole sat out 2022, after sustaining a torn triceps injury in late August, eventually required surgery. He participated in some spring drills on a limited basis, did not partake in any contact activity. Lole ("law-LAY") recorded 123 tackles, 20 of which were for loss, and 11 sacks in his three years at ASU. He was ranked as Pro Football Focus' 24th-best player in college football heading into 2021. Can play EDGE or DT3T. Moves to Louisville's great D: Louisville defense is #1 in the country in sacks per game (4.13), #2 in interceptions (14), #3 in red zone defense (64.5), so he'll have a chance to amplify his effectiveness.
168 Eyabi Okie EDGE OLB 4-2-5 Michigan
6-4 270 4.63
The Twit
The Stats
My Notes: "yobby OAK-ee", fast, quick, athletic…5 star recruit, #3 in the 2018 class coming out of high school, formerly known as Eyabi Anoma. athletic traits to be one of the best edge rushers in this draft class. 7th-fastest forty, had career stops at Alabama, Houston, and UT-Martin, and now Michigan, transferring just 2 ½ weeks before the season opener against Colorado State –which might give some teams pause.

ROUND 6A, 6B, and 6C: PICK THREE: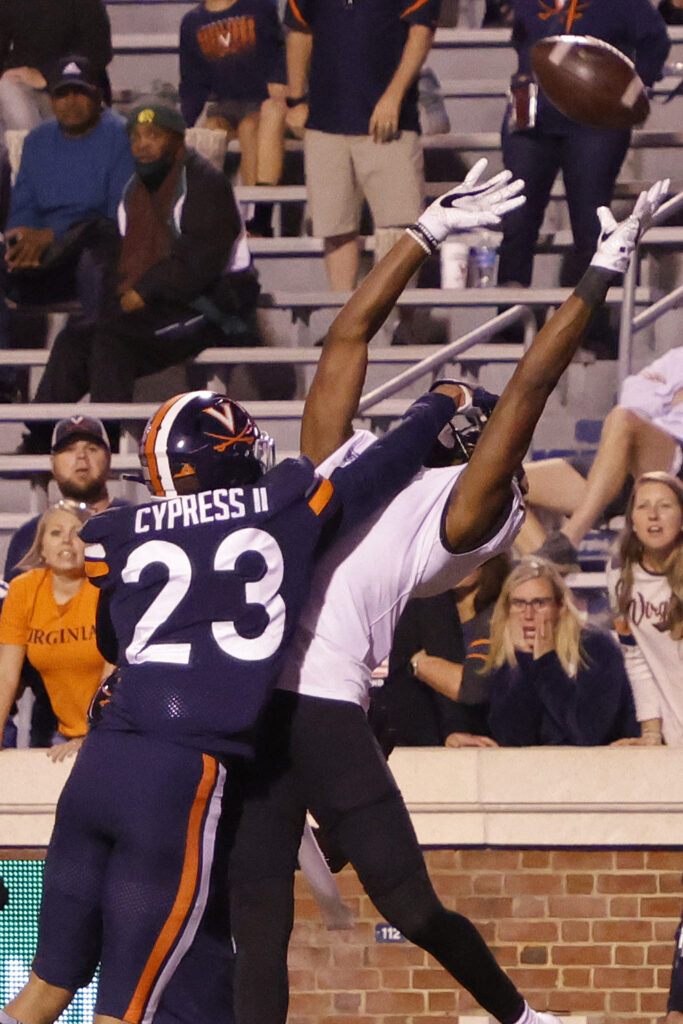 187 Fentrell Cypress II CB Florida State
5-11 182 4.55
The Twit
The Stats
My Notes: *** ACC *** 2022 – Second Team All-ACC … Pro Football Focus First Team All-ACC … Phil Steele Third Team All-ACC … Associated Press Second Team All-ACC…2022 – 7th in the country with 1.4 passes defended per game … T-2 in the ACC and T-18th in the nation in total passes defended (14) … T-4th in the ACC and T-16th in the nation in pass breakups. 2021 – Appeared and started in six of UVA's games …awareness and fast play recognition.
181 Clark Barrington OC <-> LG Baylor
6-5 305 5.17
The Twit
The Stats
My Notes: In 2021 as a junior Barrington saw action in 13 games and totaled 876 snaps. He gave up 10 QB hurries, no QB hits, and one sack… excellent pass blocker. On team with Top 20 Pass-Blocking OL in 2021 per FO. He was the LG for his 3rd year, now moves to Center for final year. Equally adept at both Center and Left Guard at the next level. Fun Guy (Listen to his Mic'd Up) His brother, RG Campbell Barrington, is a sophomore showing up on some big boards. Not mine.
188 Jason Simmons Jr. FS Syracuse
5-11 193 4.52
No Twit
The Stats
My Notes: *** ACC *** "I'm trying to win a Thorpe"…Career Overview: Transferred to Syracuse from New Mexico in the spring of 2021 … Has appeared in 34 games with 13 starts and has recorded 141 tackles, 7.5 tackles for loss, forced two fumbles, recovered a fumble, two interceptions and broken up 10 passes in his career between the two schools….. Junior Year (2022): Appeared in 12 games with five starts at safety, missing only the season opener as he recovered from an injury in training camp … Had a single-season career best seven pass breakups on the season, which led the team … Key piece of a defensive unit that finished in the season 14th nationally in passing defense (184.8) and 21st in total defense (328.6) … Made 38 tackles, 1.5 tackles for loss and had an interception this season … Was targeted 39 times in coverage on the season, allowing a reception on only 64 percent of attempts…team-high 9 tackles, including 1.5 TFL in loss to FSU… Father is Las Vegas Raiders defensive backs coach and defensive pass game coordinator Jason Simmons, a 1998 RD5 pick by the Pittsburgh Steelers.
186 Jager Burton OC RG Kentucky
6-3 307 5.04
No Twit
The Stats
My Notes: SEC is Beane's 2nd-favorite conference, RSSoph, First Wildcat offensive linemen to earn Freshman All-SEC honors since Logan Stenberg in 2016 (2020, RD4#121). Has the potential to start Day 1 for an NFL team. Vogel has him as one of the best Guards; he can also play Center. Tossup for Wildcats at LG is Burton or Kenneth Horsey.
193 Isaiah Adams LG -> LT Illinois
6-4 315 5.19
No Twit
The Stats
My Notes: BIG10 2022 ALL-BIG TEN FOOTBALL HONORABLE MENTION (COACHES)…led the Illini in knockdowns with 120.5 and had double-digit knockdowns in six of 12 games. Was a starter and captain in all 13 games last season – 12 at left guard and one at left tackle – No GP in 2021, Community College in 2020. Nice developmental prospect with tons of ceiling. In expect him to climb, possibly as high as Day 2. Big buddy of Julian Pearl who plays next to him, and should've been on this list too.
194 Devin Leary QB NC State
6-1 212 4.76
The Twit
The Stats
My Notes: *** ACC *** Only 59.6% completions rate vs AP… On3: ""Leary is poised to take over Mark Stoops' offense with Will Levis now in the NFL. Don't forget, Leary threw for 3,433 yards, 35 touchdowns and five interceptions in 2021.""….suffered a pectoral injury a few weeks back and is also out for the year…. More TDs than prev NC State record holder Philip Rivers. Averages 230.9 passing yards per game for his career. In Wolfpack history, only Philip Rivers (275.2) and Ryan Finley (269.4) boast a better mark. Finley was drafted by the Bengals in RD4 in 2019. "
195 Jacoby Windmon EDGE OLB ILB Michigan State
6-1 250 4.72
The Twit
The Stats
My Notes: 3.11 solos per game… xfer UNLV, Amazing ghost move duck-under in CuedUp. Remind you of anybody? Fumbles Forced: 2022 6 (#1) NCAA. Leads the Big Ten in TFLS (10.5) and is tied for second in sacks (5.5). Expect a vault up the board possibly to Day 2.
196 Troy Fautanu LG Washington
6-4 312 5.25
The Twit
The Stats
My Notes: PAC12 2022: Started at left tackle in the first three games of the year, and then moved to his future NFL spot — left guard vs. Stanford … returned to LT at UCLA and at Arizona State … named Pac-12 Offensive Lineman of the Week following the win over Michigan State, when UW compiled 503 yards of total offense and allowed only one tackle for loss (for just one yard).Front squat 500lb rep. All-Pac-12 Third Team. emotional leadership og the Huskies.
197 Jason Henderson ILB Old Dominion
6-1 225 4.73
No Twit
The Stats
My Notes: Led the country with 186 tackles on the year, 39 more than the No. 2 tackler in the country … Nearly broke Luke Kuechly's record for tackles in a single season last year…Also led the country with 15.5 tackles per game … 2022: Second-team All-America (FWAA, USA Today, Fox Sports, USA Today), third-team All-American by the Associated Press … First-team All-Sun Belt … Touchdown Club of Richmond Linebacker of the Year … Finished seven tackles shy of the FBS record for tackles in a season (Lawrence Flugence, Texas Tech, 2002) … Broke the ODU and Sun Belt Conference single-season records for tackles … Registered 11 double-digit tackle games … The only player in FBS to have multiple 20+ tackle games … Led ODU with 10 tackles for loss … Added three pass breakups, a sack and blocked a kick.
198 Christian Haynes OC RG Connecticut
6-3 305 5.22
The Twit
The Stats
My Notes: Independent All-American is likely the Center this year and at the next level…has played the most consistent role in the Huskies' success…"Christian is an NFL guard and an NFL center," UConn Head Coach Jim Mora said. "He is a really outstanding player. When you see him snap the ball and the quickness off the ball, it is really impressive." SIS Preseason All-Independent Offense. He'll be a climber.
200 Patrick Paul LT Houston
6-7 310 5.26
The Twit
The Stats
My Notes: First Team All-AAC, switched from defensive tackle to offensive tackle as HS senior, just manhandling his oppinents in games (Tyree Wilson here), brother plays for Tulsa, hard work, high upside developmental prospect. nasty streak and increasingly polished blocking skills. tasked in practice with blocking former teammates RD1 Payton Turner and RD2 Logan Hall. Another climber.
199 Brett Johnson EDGE DT3T 3-4 California
6-4 295 5.08
No Twit
The Stats
My Notes: PAC12 Has returned to the field for spring practices, missed a second straight season after going down with a lower-body injury (after missing a season due to hip injury in scooter accident.) Had played in 17 games with 13 starts since arriving at Cal as a true freshman in 2019 and posted career totals of 46 tackles, 6.0 tackles for loss (-26 yards), 3.0 sacks (-19 yards), one pass breakup, one pass defended and one fumble recovery. Played NT his freshman season, then moved to DT. Best mustache. A Frosh All American back in 2019, he has missed the last two seasons due to injury. He is an explosive player with very good size, length and power (watch him bodyslam the RB in the Twit). If he's healthy he could have a huge year. Best hair.

ROUND 7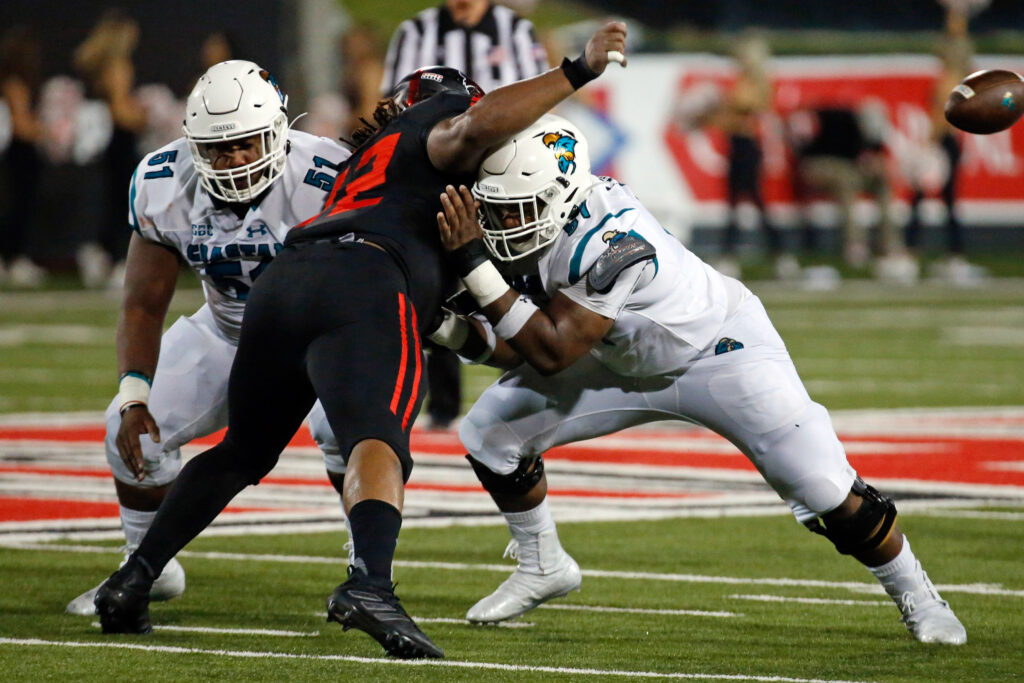 237 Willie Lampkin OC OG North Carolina
6-1 285 5.24
No Twit
The Stats
My Notes: 2 #57 *** ACC *** xfer CCU, Wrestler, won the 2020 FHSAA Class 2A state championship at 285 points with a perfect 47-0 record his senior year, hip flexibility is elite, wins the leverage battle, low man every time (see picture above), emotion & tenacity. I'd be tempted to take Lampkin earlier, perhaps with one of the three RD6's. On team with Top 20 Pass-Blocking OL in 2021 per FO. Pet Cat. Lampkin started 38 games at CCU then transferred.
234 Amari Gainer EDGE ILB OLB North Carolina
6-3 237 4.59
The Twit
The Stats
My Notes: *** ACC *** heavy hitter at elite size and decent speed, five-year veteran on defense at Florida St., but Gainer left his 'dream school' where he was a legacy, with one year of eligibility remaining, to be an EDGE at UNC…• Appeared in 46 games, starting 18, over his 5 seasons as a Seminole • Posted 210 tackles, six sacks, 19 TFL, five forced fumbles and two PBU • figures to fit at the edge-rushing spot in #UNC's defensive scheme; listed as the backup JACK OLB so far….Rushing the passer as a DE might have been his natural talent all along, instead of forcing him to strictly become an LB. Either way, he's a versatile chess piece for a McDermott defense.
239 Roger Rosengarten T-G-C Washington
6-5 303 5.14
The Twit
The Stats
My Notes: PAC12 #8 among PFF's 2022 returning OTackles, This guy just gets it. Be sure to catch the interview about once you commit to something. Rosengarten has been incredibly consistent for the Huskies last season. Rosengarten is a standout run blocker, as he does a great job of sealing off defenders. Was Penix Blindside as a Freshman giving up zero sacks. Upside is tremendous for him if he improves that pass-blocking toolkit. Freshman all American honors last year.
235 Audric Estime RB Notre Dame
6-0 227 4.5
The Twit
The Stats
My Notes: Independent 6.0 vs AP, 6.1 YPR, "EST-ih-may", Led the Irish with 920 rushing yards and 11 rushing touchdowns during the season. Ran 156 times, averaging 5.9 yards per carry. Caught nine passes for 135 yards and a score during the campaign. Played in all 13 games, making two starts. 11 rushing touchdowns ranks 10th-most all time in a single season. Tied for 2nd-heaviest RB (Rocket Sanders). His Positive% of 53.8% on his rushing attempts was good for Top-10 in the FBS last season. I don't see him as particularly athletic, but size helps sometimes –especially to close out games. SIS Preseason All-Independent Running Back.
236 Cameron Rising QB Utah
6-1 218 4.64
The Twit
The Stats
My Notes: 1 1,277 PAC12 61.5% vsAP…1-02-23 Knee INJ/Transfer from Texas, First-Team All- Pac-12 quarterback in 2021, Rising returns with some weapons — Kuithe and wide receiver Devaughn Vele, who help make up one of the Pac-12's most exciting passing offenses. has 5,572 career passing yards with 46 touchdown passes. In 2022, had 3,034 yards passing and 26 touchdowns and was MVP in the PAC12 Championship. However, he suffered a lower-body injury vs Penn State in the Rose Bowl. makes the Utes a legit contender in the #Pac12. In his career he's thrown for 5,572 yards 46 Touchdowns and rushed for 953 yards 12 TDs.
238 Barryn Sorrell EDGE OLB 4-2-5 Texas A+++
6-4 258 4.77
The Twit
The Stats
My Notes: Big12 PFN: "Fresh off a 5.5-sack, nine-TFL outing in 2022, Sorrell wants more in 2023… He's 6'3″ at most, and likely a bit shorter. But at that size, he's an incredibly twitched-up and compact rusher at 256 pounds. His sheer density makes him difficult to halt at contact, and his natural leverage makes it hard for tackles to match him in the leverage game. Past that point, he also has the ankle flexion to splice his way into the pocket." You notice relentless effort in the Twit. Strong vs the run, better than you'd think vs the pass.
240 Power Echols SLB North Carolina
5-11 225 4.64
The Twit
The Stats
My Notes: *** ACC *** fiery leader of UNC defense. Listen to the CuedUp…Honorable Mention All-ACC (2022)…2022 – Sophomore Season –started all 14 games at linebacker • Posted 103 tackles, including 70 solo stops (5 solos/gm), two sacks, five TFL, an INT, two PBU and a forced fumble • His 70 solo tackles ranked fifth in the Power 5 • Top 3 ACC LB in Solos/GP • Recorded double-digit tackles in four games • Recorded a game-high 10 tackles against FAMU. Nice read here. Incredible focus on this INT.
241 Chris Tyree RB KR Notre Dame
5-10 197 4.42
The Twit
The Stats
My Notes: 4.2 YPC vs AP, 8.23 Yards Per Reception, 1,059 KR yards, Dangerous with the ball out of the backfield or as a passing target, was fourth on the team with 827 all-purpose yards as a sophomore in 2021…Scored three touchdowns, one on special teams and two through the air…"Posted 1,017 all-purpose yards as a freshman 2020 while leading the *** ACC *** in kickoff return yard average (20.7) and rushing for 6.8 yards per carry." – Notre Dame Football.
Editor's babble: Great reference for getting prepped to watch college football. We can't thank Dean enough for sharing his wisdom on our blog. You can also find Dean on Xwitter @TCBILLS_Astro.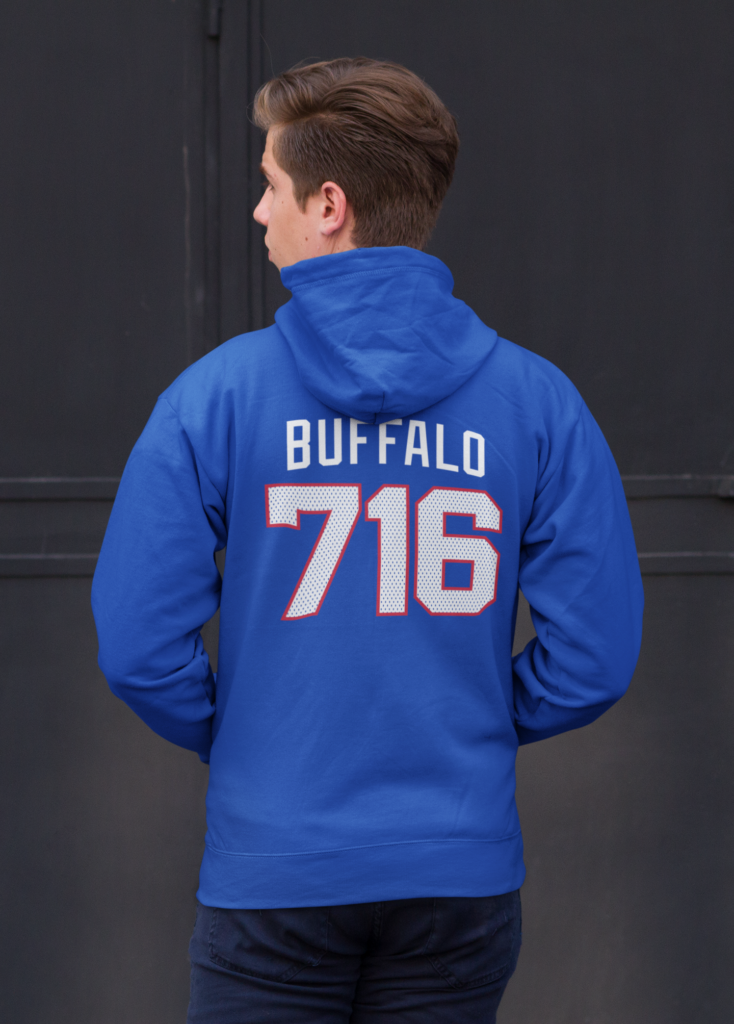 BuffaloFAMbase.com is sponsored by 26 Shirts
Every Monday, we launch a new two-week campaign of a limited edition t-shirt design. Every shirt purchase results in a donation to a local family in need. After the campaign ends, the shirt is retired. A new design is released, and a new family benefits from your fandom!