I opened up my 2022 Bills War Chart in search of clues that might help inform us for the 2023 NFL Draft. Some takeaways:
Several Bills added to the team on defense hailed from a 3-3-5 scheme, not the Bills' current 4-2-5. With Tremaine Edmunds gone, and Leslie Frasier's sabbatical, it's an optimal time to look at adding a third linebacker. Terrel Bernard, Kingsley Jonathan, Kaiir Elam, and Tulsa CB Travon Fuller all hailed from the 3-3-5 defensive scheme, which can give you flexibility to defend against both the pass and the run, especially when more and more offenses are running more multiple wide receiver sets. This year (best guesses in this article are in bold), that's my #108 draft prospect Garrett Williams CB Syracuse, #73 Keeanu Benton DT3T DT1T Wisconsin, #70 Gervon Dexter DT3T DT5T EDGE Florida ("jer-VONN", already in for a 30-visit), #54 Julius Brents CB FS Kansas State, #48 Felix Anudike-Uzomah EDGE Kansas State, #46 Siaki Ika DL1T Baylor, #39 Will McDonald IV EDGE OLB Iowa State, #36 Emmanuel Forbes CB KR Mississippi State, and #8 Tyree Wilson EDGE DL3T Texas Tech.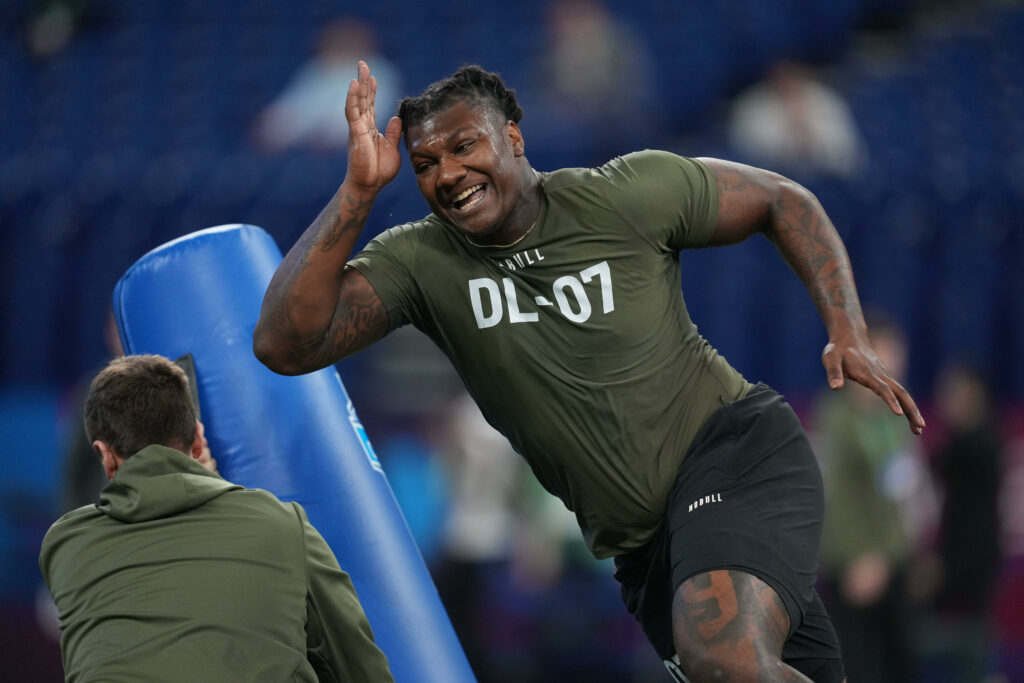 All offensive players selected by the Bills came from variations of the Pro Style, Pro Spread, or Multiple offenses, which allow players to transition to the NFL more quickly. Offensive players were typically not from the West Coast Offense. Only Khalil Shakir played in one, and it's not a stretch for West-Coast WRs to transition. Same deal with the Spread Option; only OL Alec Anderson hailed from a spread team –but more on UCLA later.
The Bills scouts had paid ample attention to the draftees before the 2022 Draft. Kaiir Elam had scouts at four games, and Bills interviewed him at the Combine. They went to his Pro Day and had him on a 30-visit. Khalil Shakir had Majeski at a Boise State game, and Bills had him in their sights at the Senior Bowl and Combine, where they saw his 4.43 in the forty. Then at his Pro Day, Shakir's explosion factor –a 38.5-inch vertical jump and a 10-foot, 4-inch broad jump– surely impressed. Even UDFA TE Jalen Wydermyer had scouts at two games, talked to the Bills at his Pro Day, and had a Private Workout with him. Alas, Prince Emili, DT3T from Penn, had no scouts credentialed at his games –more on him later. The Baylor connection between Dave Aranda and Sean McDermott likely brought Terrel Bernard here, despite the lack of credentialed scouts at Baylor in 2022. Dave Aranda is now the Penn State DC, so the Nittany Lions may be in play, inlcuding #15 CB/FS Joey Porter Jr. (if he starts to fall in RD1), and much more likely, the FS SS ST ace #88 Ji'Ayir Brown. He was PSU's starting Free Safety who intercepted Taulia Tagavailoa of Maryland to seal the deal in 2021; that's when he blipped on my radar. PSU's red-zone defense has been stellar, and Bills want to be stellar in that area. I saw a lot of Micah Hyde and Jordan Poyer in Brown. He's able to play the deep zone, and has the recognition to come up and step in front of the WR to intercept, or to finish the ballcarrier.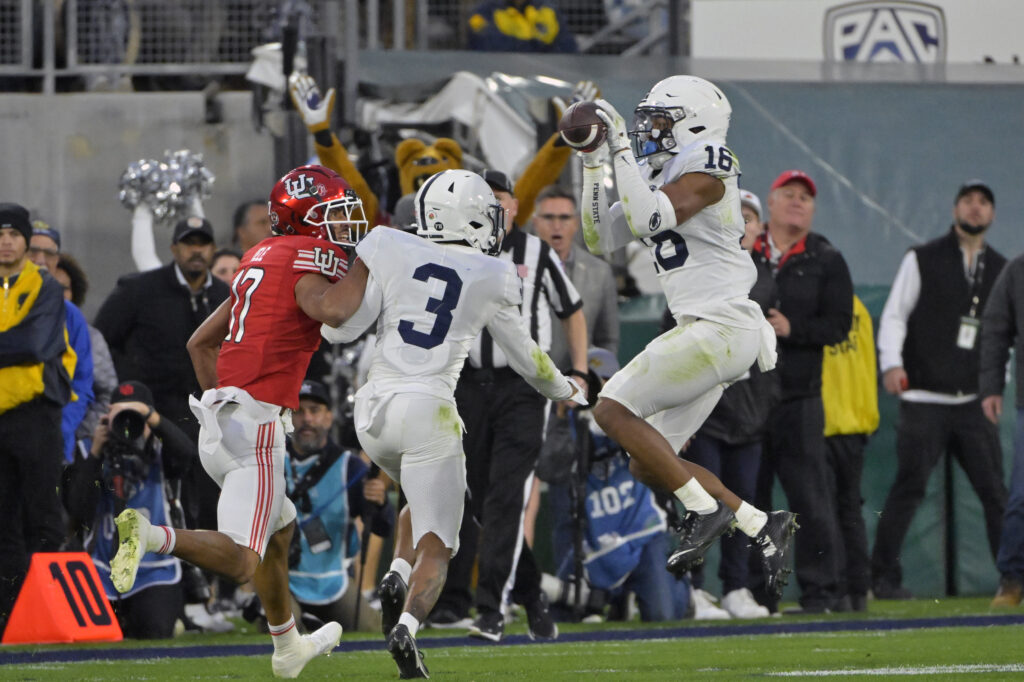 A majority of Bills selections got my highest and second-highest interview score. Khalil Shakir, Terrel Bernard, Baylon Spector, Kingsley Jonathan, Prince Emili, and Keith Corbin all got my A+++ rating. Close behind were James Cook, Luke Tenuta, and Alec Anderson with my A++ rating. In fact, my lowest-ranked interview was that of Kaiir Elam, and I still maintain he wasn't their draft target at CB. In my current Pick Six article, I'll feature those RD1 prospects with A+++ interviews, like #22 Bijan Robinson RB Texas, #29 Jalin Hyatt WR Tennessee, #27 Dalton Kincaid TE Utah, and #34 Trenton Simpson LB Clemson.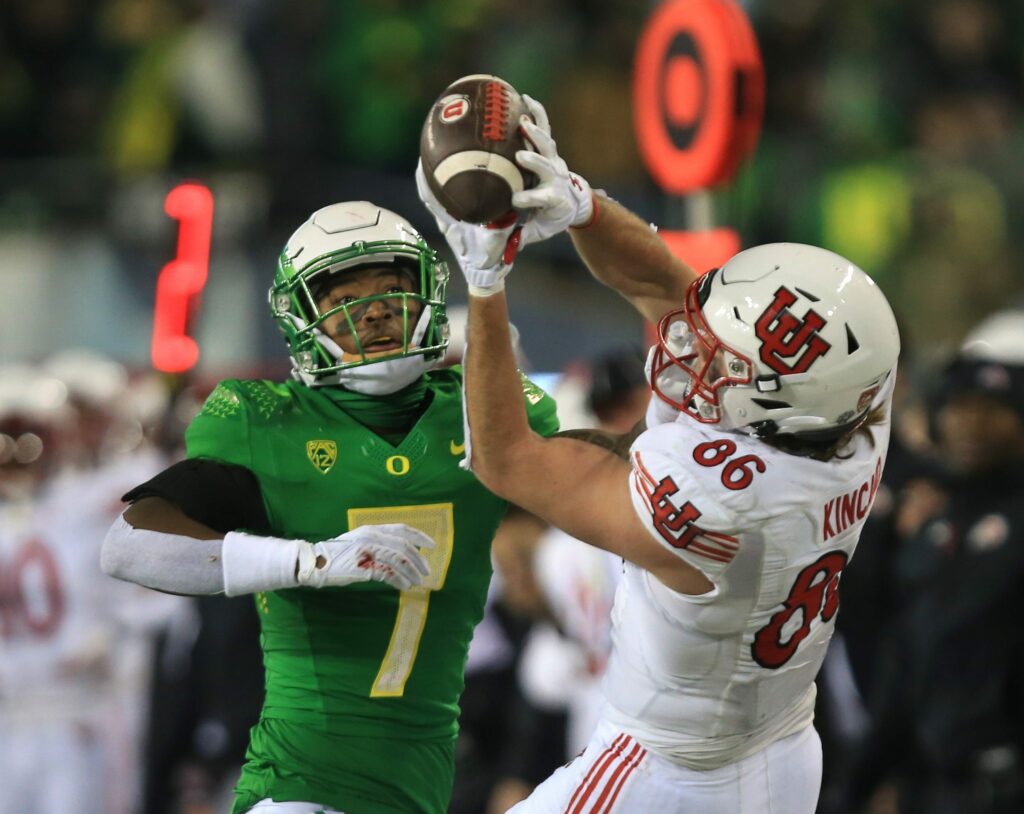 Traits matching is always fun. Take Kaiir Elam's size and length (6-2, 192, 4.39), combined with an aggressive play style and versatility to play either zone or man. The 7 CBs that I think fit that description are #6 Christian Gonzalez, #49 Julius Brents, #46 Tyrique Stevenson, #113 Mekhi Garner, #219 Keidron Smith, #24 Deonte Banks, and #34 Kelee Ringo.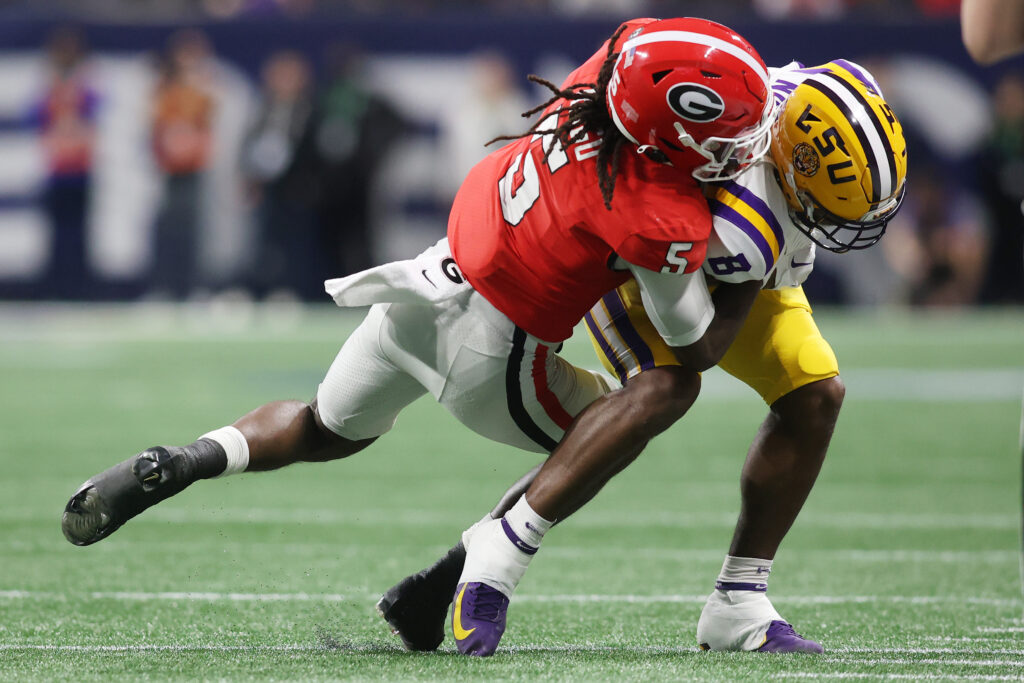 Here's another traits match: Khalil Shakir, last year's drafted WR-WRS, was Top Ten in YAC yards and had a reliable catch rate (71%). Shakir's forty time was 4.43. Matching those three qualities with the current class –YAC, catch rate >71%, and 4.43 forty– you have these WRs: #30 Jalin Hyatt, #45 Josh Downs, #129 Michael Wilson, #162 Charlie Jones, and you'd go for UDFA #397 Taye Barber. I'd add three more if you're willing to draft slower WRs with good catch rates: #27 Jordan Addison, #122 Jayden Reed, and #93 Xavier Hutchinson.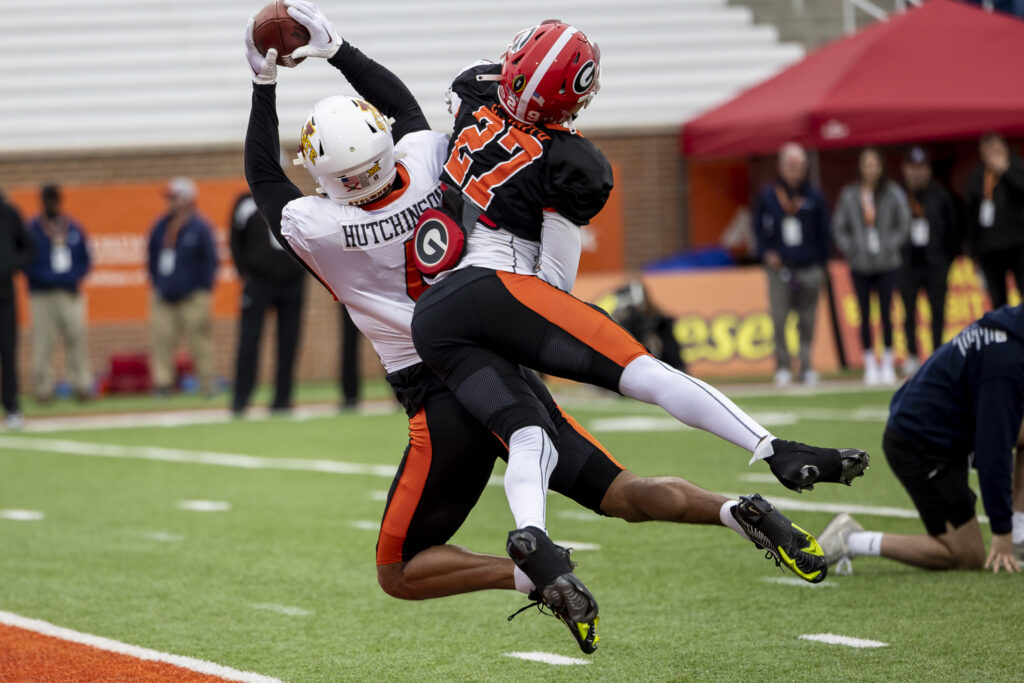 The Bills are not trying to find a match for James Cook, but rather a complement. They'd like Singletary's Missed Tackles Forced, and would want fewer fumbles. Cook is a nice receiver and ran for 6.4 yards per carry against AP-ranked teams. Draftables measuring up to those demands –high missed tackles, low fumbles, receiving chops, and 5+ YPC against AP teams– include #92 Roschon Johnson, #180 Mohamed Ibrahim ("EYE-bra-ham"), #103 Tank Bigsby, #99 Tyjae Spears, and #58 Zach Charbonnet. I like Bijan Robinson's missed tackles forced, too, but he misses on the fumbles criterion. I'd jump for joy if the Bills drafted Roschon Johnson, shown here on kick-return coverage!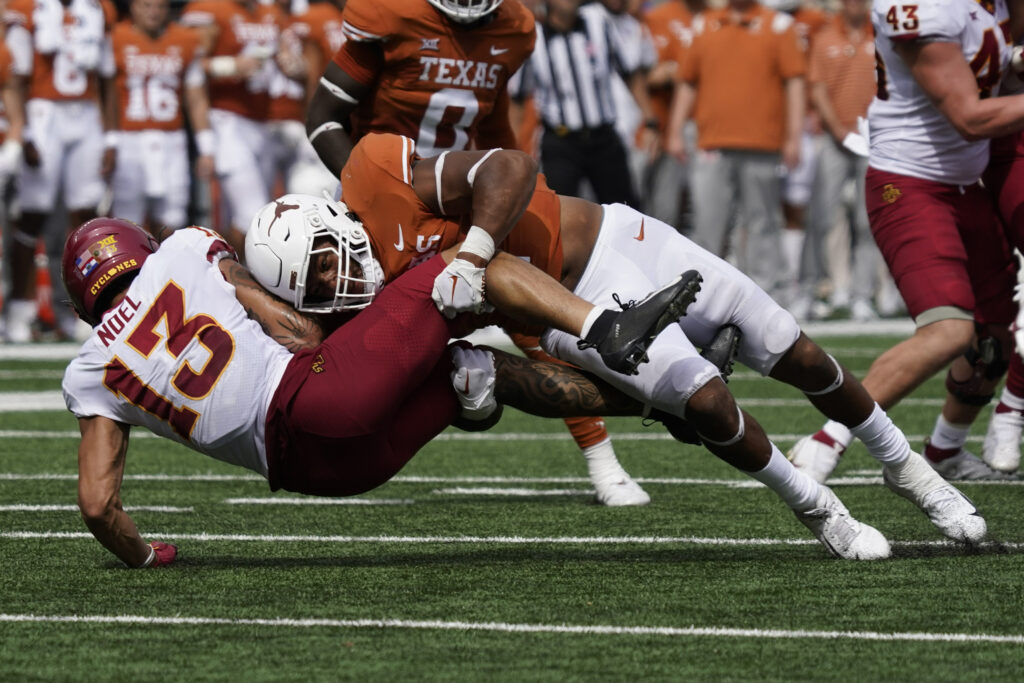 Terrel Bernard was the Big 12's leading tackler. Which conference-leading tacklers will McBeane be ogling? Who are the highest-ranking tacklers in the draft from the Power Five? In the SEC it's #137 FS DeMarcco Hellams. Beane's favorite conference, the ACC, has tackle machine #400 Ayinde "Ace" Eley, with #78 FS PR Jammie Robinson, and #306 Drake Thomas all in the top ten tacklers. In the AAC, look at #136 Dorian Williams, because the Bills currently have a #129 and #137 pick. The Big10 has #58 Jack Campbell #1 tackles leader currently being sniped by Joe Schoen one pick before the Bills in some mocks. That's gratitude for ya. Finally, the Big 12's leader in solo tackles in the draft is #171 Jason Taylor II, and his 44″ vert turned heads at the Combine.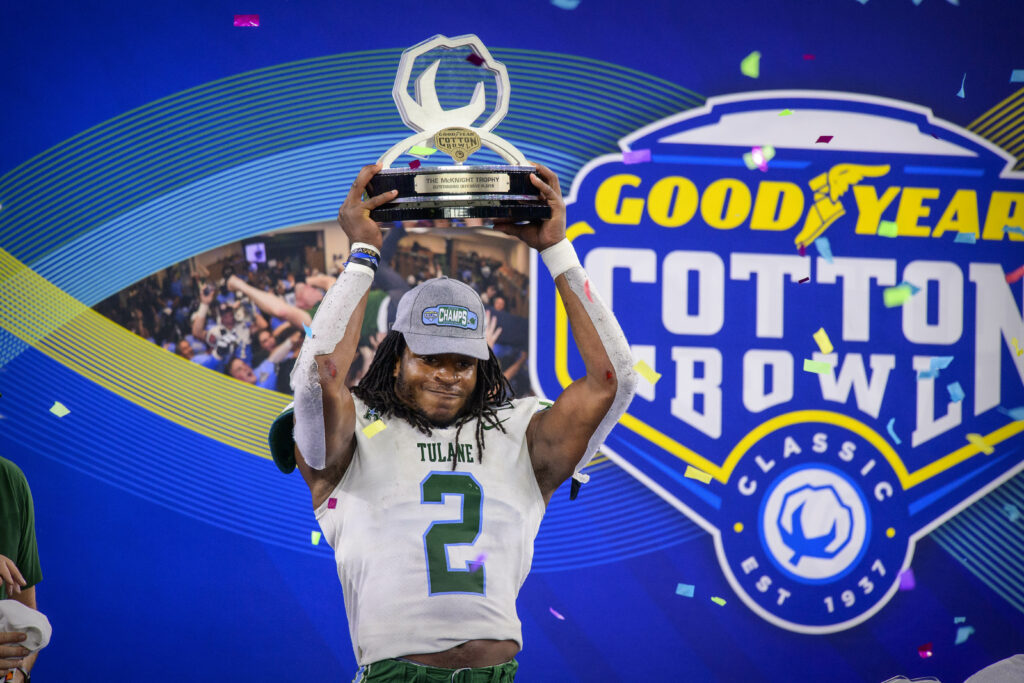 Swing For a Swing Tackle? Luke Tenuta, a too-tall (6'8″ 314 5.28) OT from the ACC, had five visits from the Bills scouts in 2022. He'd swung from RT to LT, and had All-ACC Honorable Mention honors. He's now on the bubble with the Packers, and I'd take him back if he's released. Would #91 Blake Freeland (6-8 312 4.96) from BYU, or behemoth #36 Dawand Jones (6-8 375 5.53) see eye-to-eye with Tenuta? A nice RT include #129 Wanya Morris OT Oklahoma, whose stock dropped him a grade due to a hamstring at the Combine. He'll be ready for private workouts with teams in April. #59 Matthew Bergeron OT Syracuse and as-yet-unscouted #40 Cody Mauch OT North Dakota St can, in my opinion, play anywhere.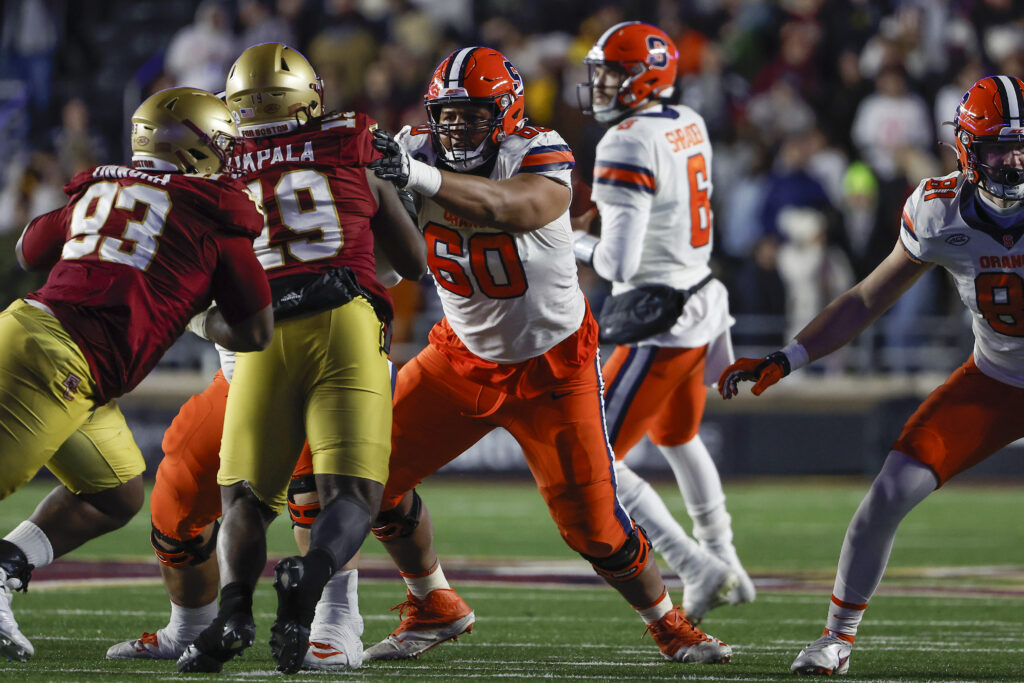 There are lots of ACC players on the Bills, even coming in from Preferred Free Agency. The player highest on the Bills' board at #27 from Clemson is #34 Trenton Simpson LB Clemson. Other ACC schools' BPAs that could most likely hear their name called are #41 Josh Downs WR North Carolina, #42 Zay Flowers WR Boston College, #47 Calijah Kancey DL Pittsburgh, #59 Tyrique Stevenson CB Miami, #67 Matthew Bergeron OT Syracuse, #78 Jammie Robinson S Florida State, #128 Kei'Trel Clark CB Louisville, and #237 Chamarri Conner S Virginia Tech.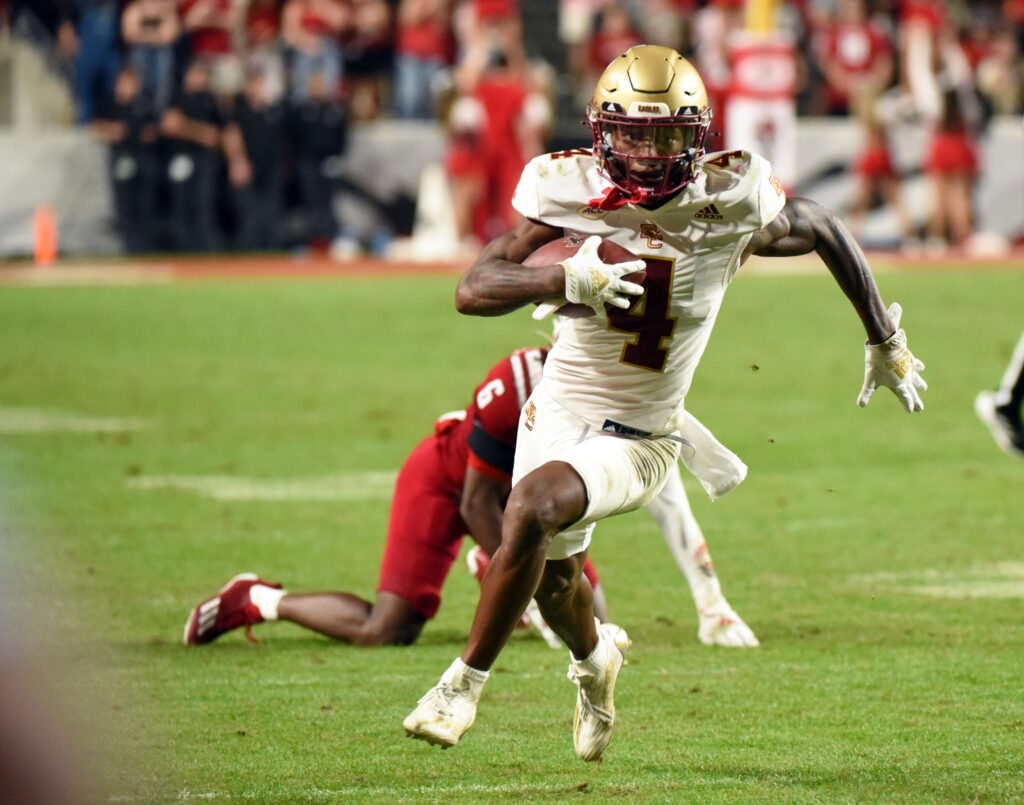 Small School, Big Diamonds? The Bills nabbed Christian Benford, CB out of FCS school Villanova. The Bills had seen him at the Hula Bowl, likely noticing that he was the FCS Leader in Passes Broken Up. Beane needed a gem in the final picks, and he thinks Benford has "it". Who is likely to have "it" from the FCS this year? Well, #317 Tim DeMorat QB Fordham, from the Patriot League, is my guess at signal-caller. He led the NCAA FCS in passing yards, passing yards/game (414.6), and total offense (411.6 yards/game), and is second in passing touchdowns (56) and passing efficiency (180.7). At WR, #163 Andrei Iosivas ("YO-shiv-oss") WR Princeton has my vote. He has the size-speed mismatch working. My comp is Christian Watson. Iosivas posted a 39″ inch vert and is a national track star. He had 66 catches for 943 yards this year. The best small-school lineman not named Cody Mauch might be #177 McClendon Curtis G Chattanooga. On the other side of the ball, it's either #197 Isaiah Land EDGE FAMU or #232 Aubrey Miller Jr. LB Jackson State, one of only three FCS teams to hold opponents under 16 points per game. Miller is his conference's Defensive Player of the Year. Isaiah Land is a Buffalo,NY native, and was the 2021 FCS sack leader and winner of the 2021 Buck Buchanan Award, honoring the nation's top defensive player in FCS football. Both Land and Miller appeared in the Senior Bowl on the same team.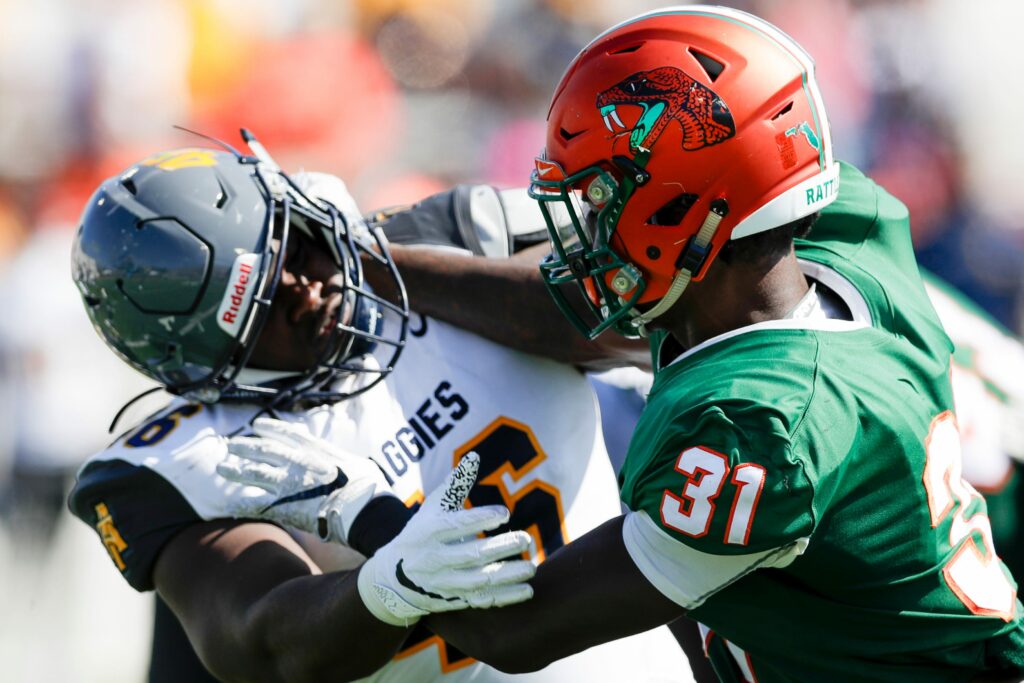 Measurables Matter when you're trying to grab a spot on the Bills' OL or DL. Three-tech DT Prince Emili was signed as an undrafted free agent after posting some very impressive numbers (5.07 Forty , 1.56 Split, 4.50 Shuttle, 36.5" Vertical, 28 Bench Reps of 225). He was waived by the Bills on October 4, 2022 and signed to the New Orleans Saints' practice squad. I compared Emili's strong numbers with Combine results in each event to see if there were any comparables. Prince was on the short side at 6-1, 304.
Forty: Only five D-Linemen beat Prince's time, and two have already been in for a formal visit: #76 Gervon Dexter DT3T DT5T EDGE Florida (6-5 303) and #129 Jalen Redmond DT3T DT5T EDGE Oklahoma (6-2 291). The other three are RD1 #25 Bryan Bresee DT3T EDGE Clemson (6-5 305), #138 Zacch Pickens DT3T EDGE South Carolina (6-3 305), and #206 Dante Stills DT3T EDGE West Virginia (6-2 280). Not even equally-short Calijah Kancey's 1.64 beat Prince Emili's 10 yard split of 1.56. Flipping to the offense, five OL did beat Emili's 5.07 forty: #224 Earl Bostick Jr. LT RT TE Kansas (6-6 311) at 5.05, #124 Braeden Daniels RG LG RT LT Utah (6-4 297) at 4.99 (his interview was the position's best), #38 Blake Freeland LT BYU (6-8 312) at 4.98, and #159 Jordan McFadden OG OT Clemson (6-2 303) at 4.99, and #14 Broderick Jones OT Georgia (6-5 311) at 4.97.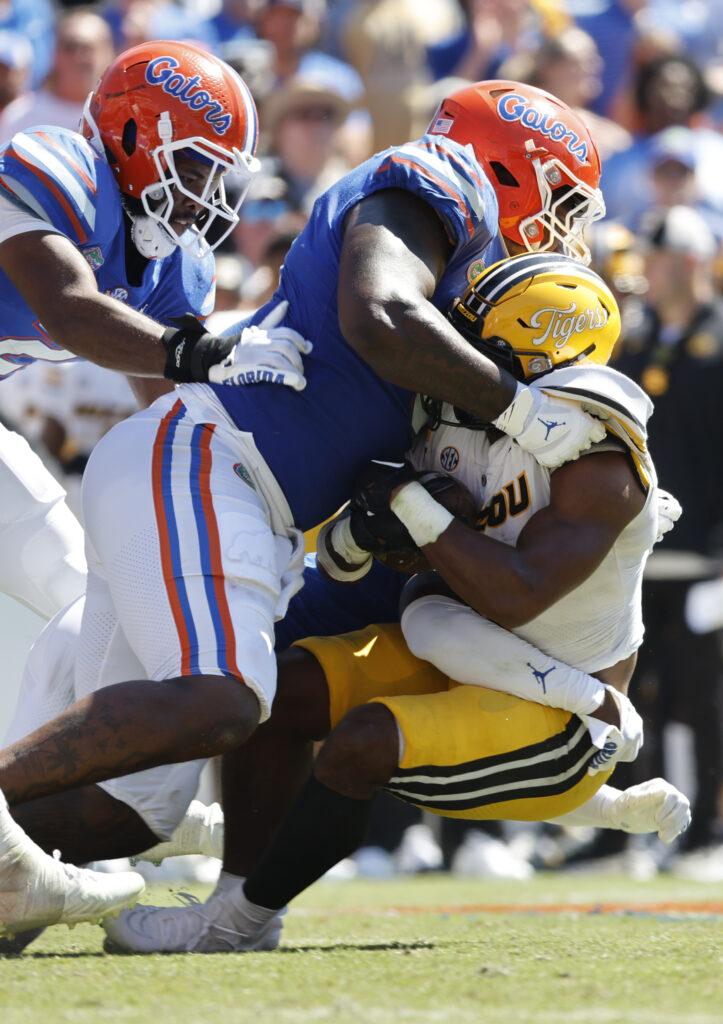 Vert: Only #129 Jalen Redmond DL Oklahoma came close to Emili's 36.5″ with a respectable 34.5″. Redmond's 1st among DTs in pressures per game, and tied for fastest, too, although he's a lightweight at 6-2 291. However, Redmond absolutely broke the Combine with a 7.30 3-cone (best), 4.51 short shuttle (best), and 9'8″ broad (best). Of all the offensive linemen to post a vertical in the Combine, only #38 Blake Freeland OT OC BYU beat Prince, jumping 37″. He's 6-7, 302. His explosion factor was impressive. He took snaps at Center this year, and his upside is LT.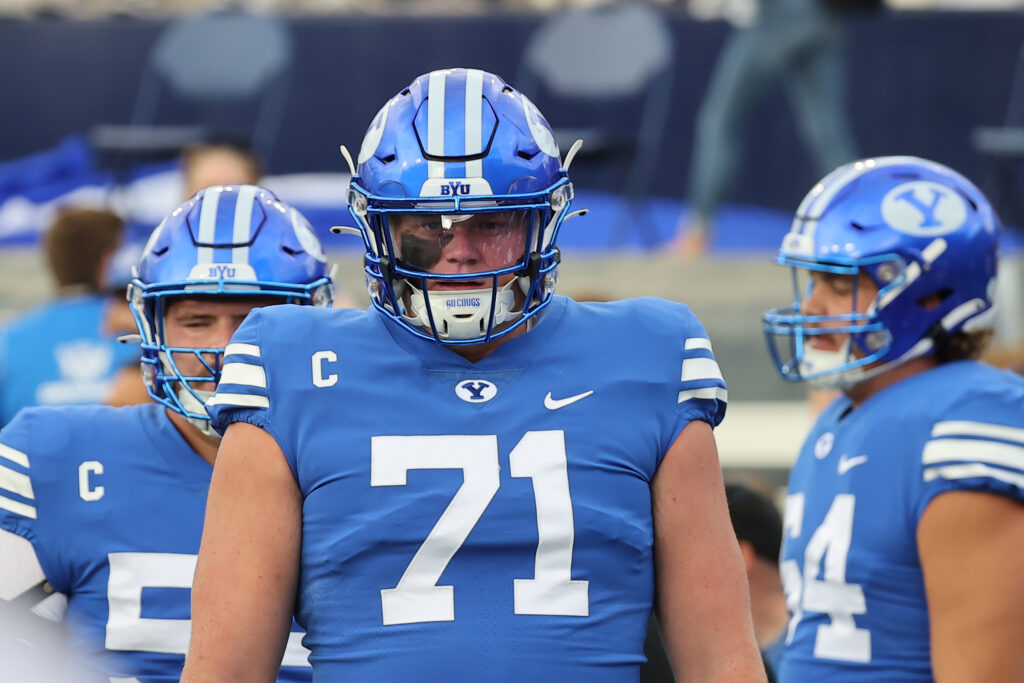 Bench: On the defensive side of the ball, only #129 DT3T DT5T EDGE Jaquelin Roy (6-3 305) –who's already been in for a formal 30-visit– benched more reps than Prince. Five offensive linemen did: #212 Anthony Bradford G LSU (6-4 332) did 34, #299 Jovaughn Gwyn C South Carolina (6-1 297, short arms) did 34 , #39 Cody Mauch OT North Dakota St (6-5 305) did 29, #104 Olusegun Oluwatimi C Michigan (6-3 309) did 29, and #68 Steve Avila C TCU (6-4 332) tied Prince with 28.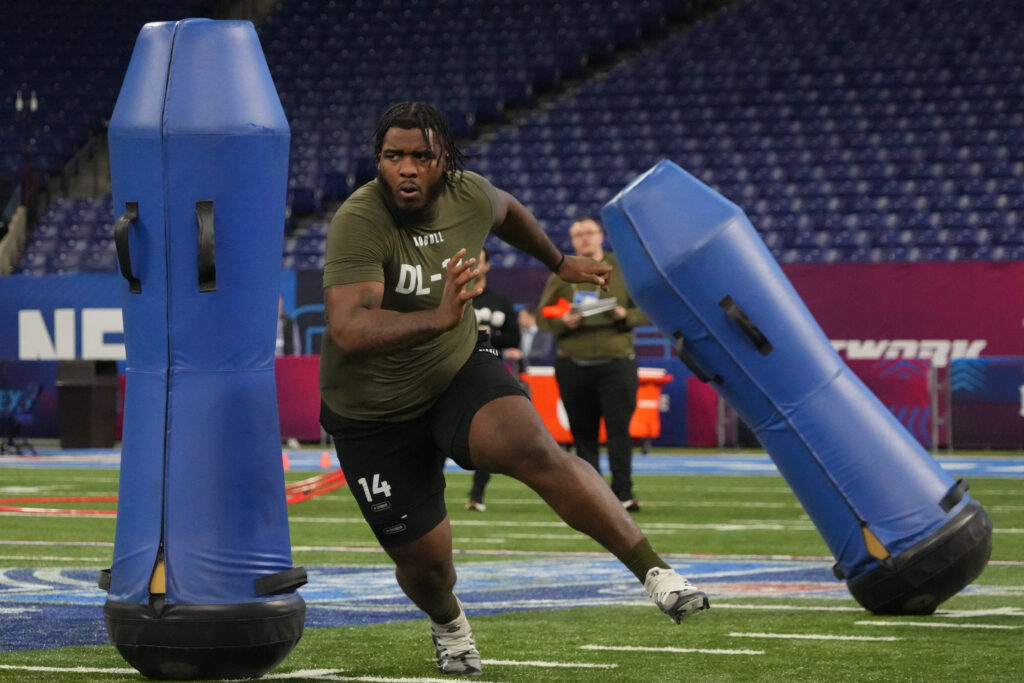 OT, Meet RB: Bills PFA Alec Anderson (6-5, 305) was the starting RT at UCLA. He helped pave the way for UCLA to lead the PAC-12 in scoring (36.5 ypg) and average over 200 yards per game on the ground for two straight seasons, its first time doing so since 1985 through 1987. The running back? Future Bills complement to James Cook, #59 Zach Charbonnet, who chalked up 1,137 yards on the ground. Charbonnet owns the #5 Tacklebreaker score and is #5 in Touches Per Fumble. He had 44 runs of 10-plus yards in 2022 –3 more than Bijan Robinson.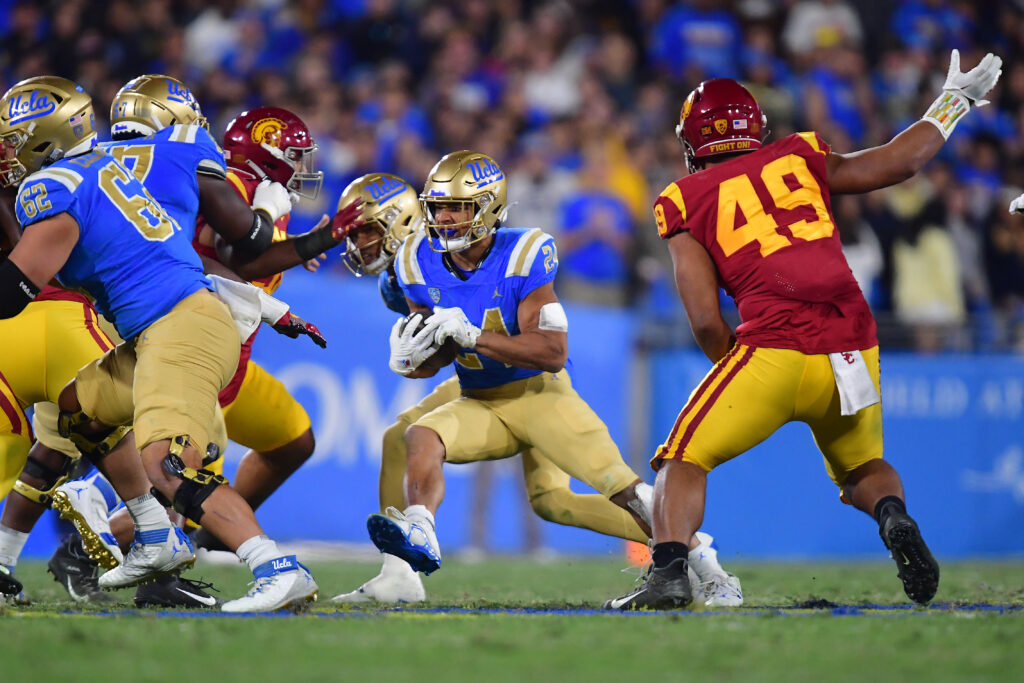 Editor's babble: Dean Kindig's insight to the NFL Draft is amazing. We are so grateful for his many contributions to our blog. You can also find Dean on Twitter @TCBILLS_Astro.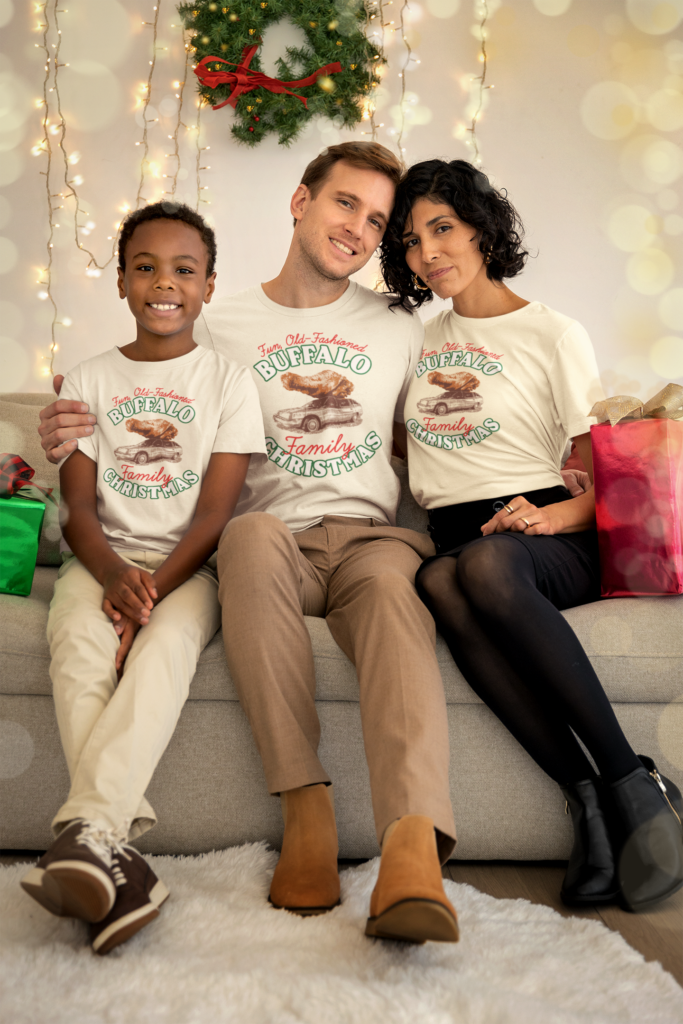 BuffaloFAMbase.com is sponsored by 26 Shirts
Every Monday, we launch a new two-week campaign of a limited edition t-shirt design. Every shirt purchase results in a donation to a local family in need. After the campaign ends, the shirt is retired. A new design is released, and a new family benefits from your fandom!