That's an expensive back end you have there!
The back end of the Bills' defense –11 corners, nickels, and safeties– currently occupies $47,691,510, roughly a fifth of the Bills' cap dollars, making it the NFL's 4th-most-expensive room. And that doesn't include free agent Jordan Poyer, whose market value will exceed $11M. The Bills DB outlay is second only to the Bills' D-Line in proprtion, and both position groups might look a whole lot different in 2023. The best way to address the expense is to bring in young talent.
What do the Bills look for in their cornerbacks?
Kaiir Elam=6-2, 192, 4.39
Dane Jackson= 6-0, 187, 4.57
Tre White=5-11, 192, 4.47
Taron Johnson 5-11, 192, 4.50
Christian Benford 6-0, 208, 4.53
At minimum, you're looking at a CB and a FS drafted by the Bills, and maybe a hybrid, fast, big, athletic, NCB with Kelce-killer acumen. An average of 49 DBs (including CB, FS, SS, and combo-plate specials) are drafted each year. Bet the over this year.
Let's start with a list of all DBs who have been seen in at least one game by Bills scouts this year, eliminating those who'd be RD 7 or UDFA anyway, and any CB slower than Dane Jackson (Mekhi Garner, Anthony Johnson, Erick Hallett, and D.J. Turner):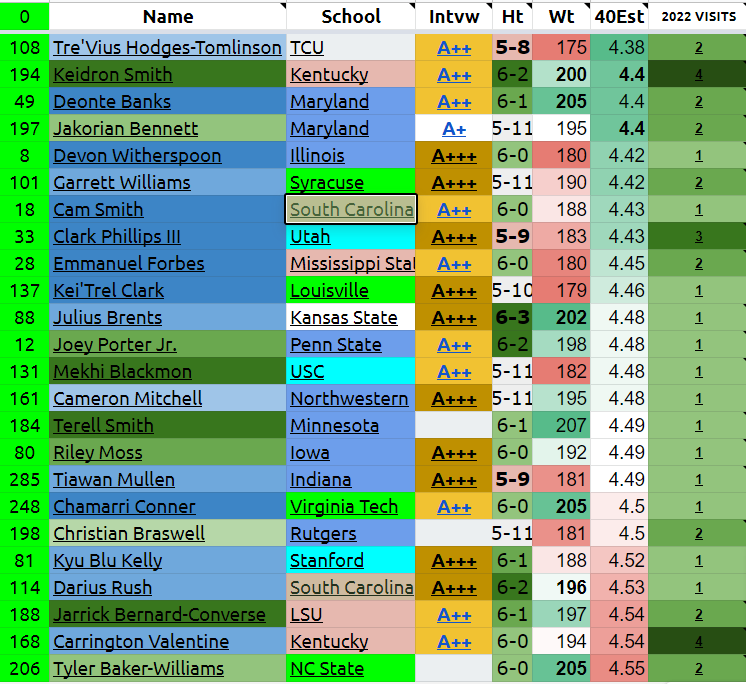 These 24 candidates mostly hail from Brandon Beane's favorite conferences, which changed a bit from previous years. In the past, Big Baller preferred his conferences in ACC-SEC-AAC order. This year, his scouts have been more active in the SEC and BIG10, and about the same in the ACC. Very few AAC and Big12 schools received credentialed scout visits. That shows up in the chart above, but it was true across the positional groups.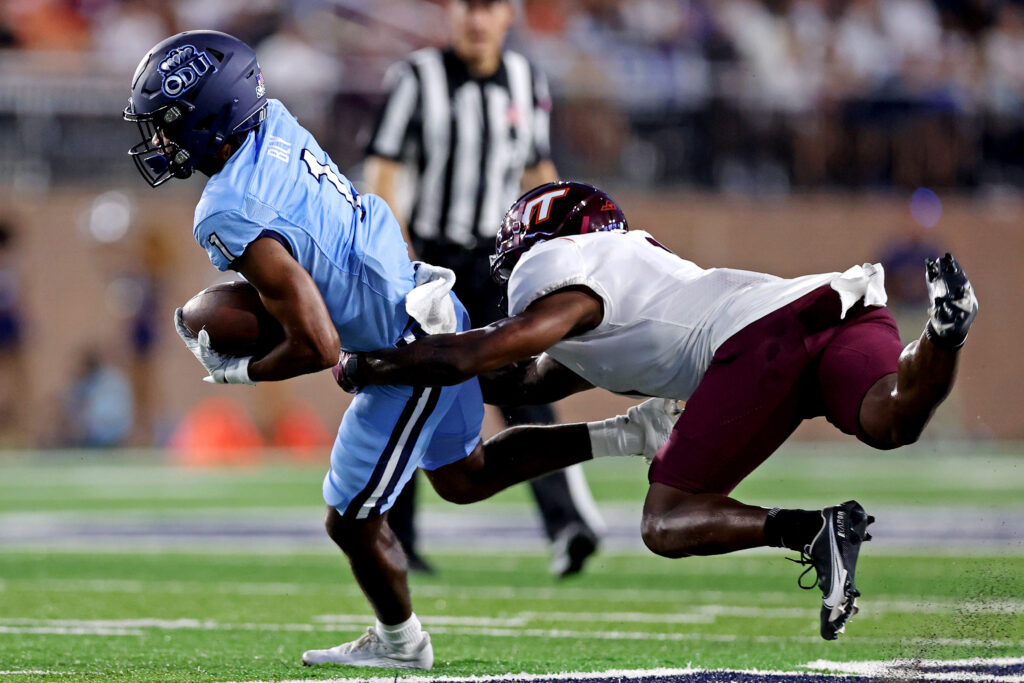 Now, I don't believe the Darius Rush forty time, since he was the "fastest CB clocked at Sr.Bowl per Dane Brugler", so I'm keeping him, but will remove several slower CBs: Christian Braswell, Kyu Blu Kelly, Carrington Valentine, Jarrick Bernard-Converse, Tyler Baker-Williams, I'm keeping Chamarri Conner. For 3 years, Chamarri has been near the top, or leading the CB Class, in Solo Tackles. Every corner on the Bills' roster has hailed from the top half of the spreadsheet when it comes to wrap-up tackling. I'll sort the above list by Tackling Ability (their score on NFLDraftBuzz.com for that player):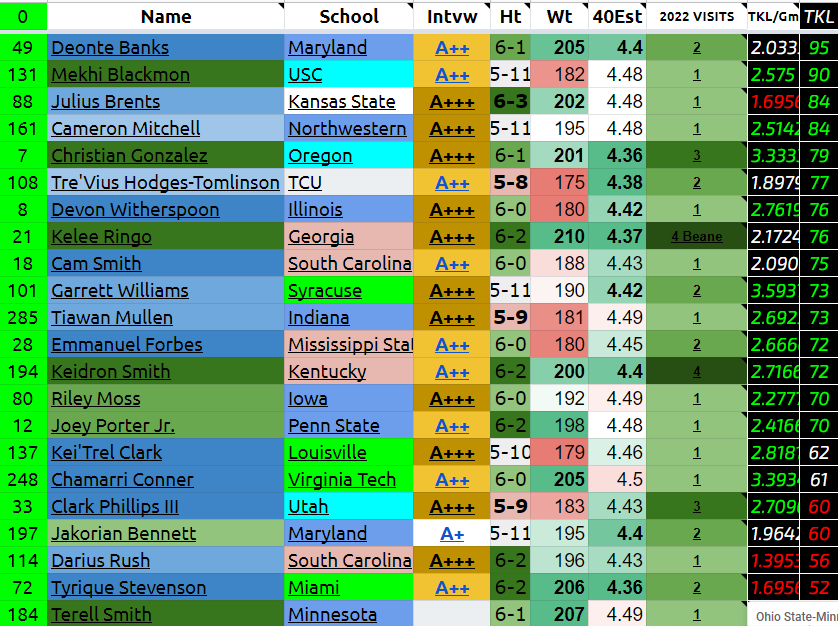 Apparently, NFLDraftBuzz makes a distinction between knowing how to make a good, wrap-up tackle (the TKL column) and actually doing it solo in the games over their career (the TKL/Gm column). The best example is Julius Brents. His 3rd-highest TKL score might show up in practice, but his 2nd-lowest tackles per game over his career worries me that I won't see it on Sundays. Tyrique Stevenson and Darius Rush will impress with their speed at the Combine, but may not stick their face in the fan to make a tackle. Jakorian Bennett's form on tackles needs work, but so does his interview, in my opinion the class's least-impressive. We've narrowed the list down to the following CBs, sorted by solo tackles per game in their career: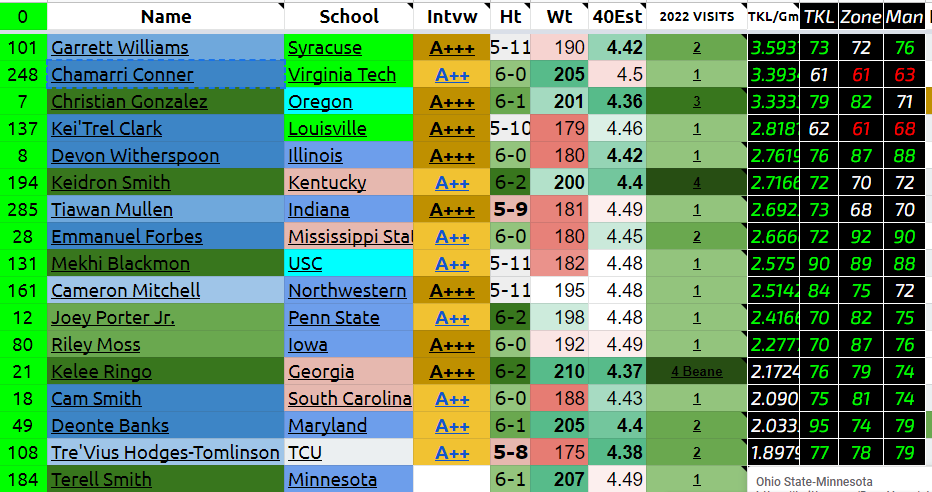 I'm smiling, because I know Brandon Beane likes ACC players. Nobody on that list made more solo tackles than Garrett Williams from the Carrier Dome down the road at Syracuse. Chamarri Conner's Virginia Tech was scouted 5 times last year, and he's made the second most solos per game. While he's on the slight side, Kei'Trel Clark is fourth, also from ACC school Louisville, and we're not going up to 7 to take Oregon's Christian Gonzalez, the guy in 3rd place (although he's played a 4-2-5 like the Bills).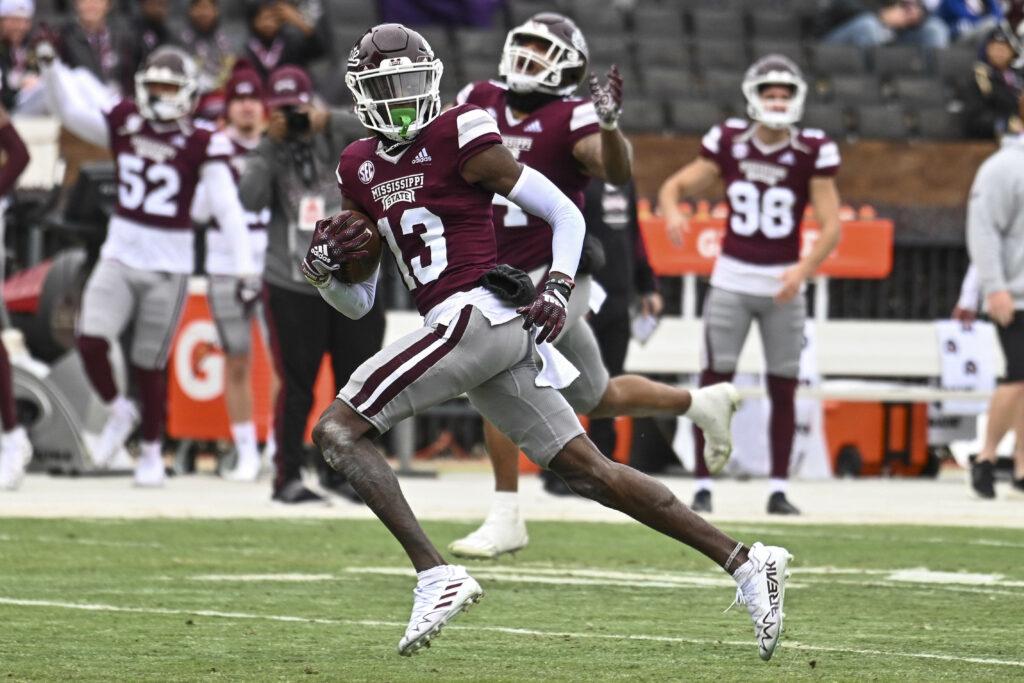 Devon Witherspoon, #5 on the list, will hear his name in the first 10 picks as well. Witherspoon is scheme-agnostic, meaning his future club can play man or zone, and it won't matter. Emmanuel Forbes has higher scores in Zone and Man than Gonzalez or Witherspoon, and he's my Best-Bet CB for the Bills in RD1, should they fix the O-Line problems in free agency. Forbes intercepted six passes this season to bring his career total in three seasons to 14. Of those interceptions, six have been returned for a touchdown − and that's an FBS record. His 174 interception return yards in 2022 also leads the FBS. MissState plays a 3-3-5, same as Kaiir Elam did.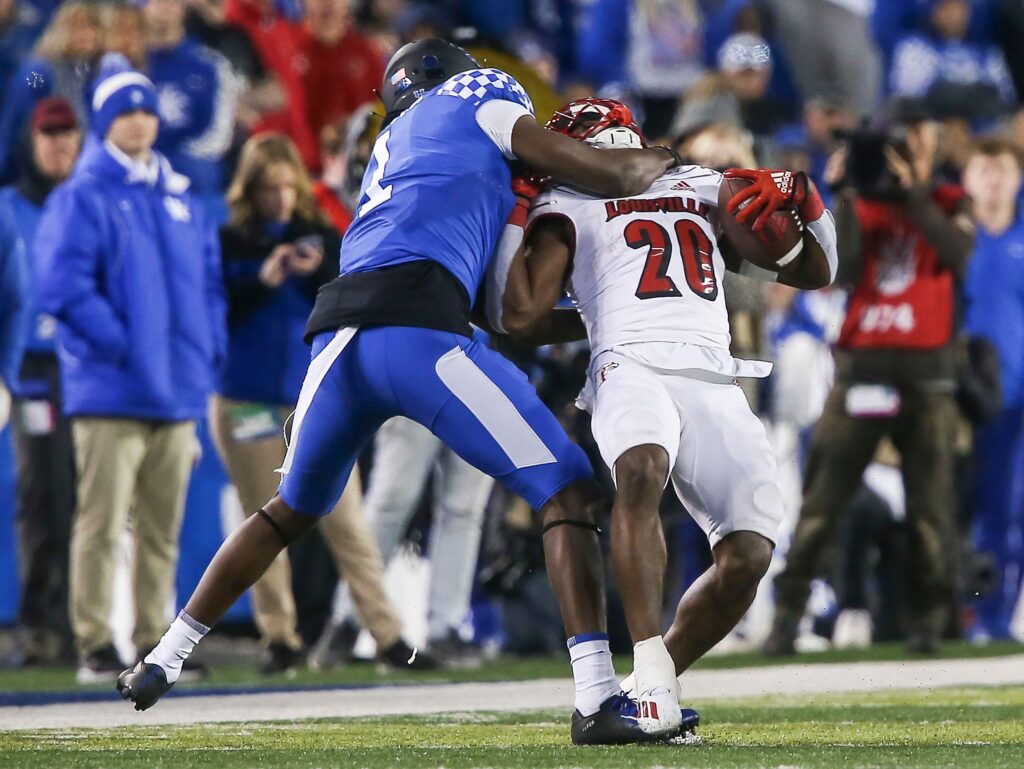 Mr. Beane will also like the size-speed package of RD5-6 Keidron Smith (6-2, 200, 4.4) and RD1 Kelee Ringo (6-2, 210, 4.37), especially after selecting Kaiir Elam (6-2, 192, 4.39), who's very similar in stature to both.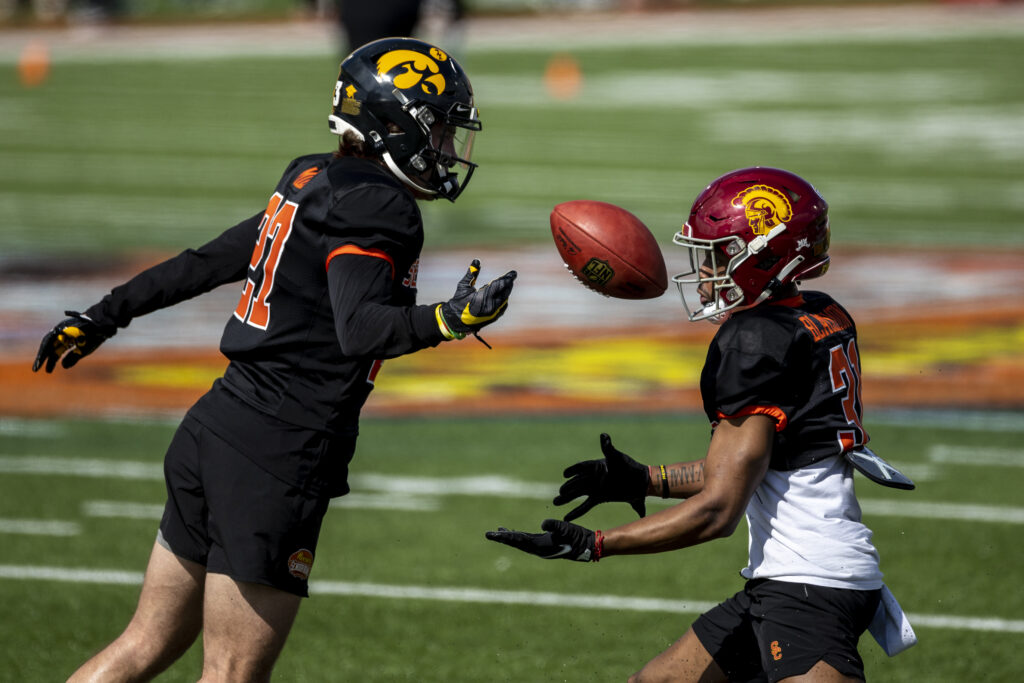 See Below, the CBs sorted by Zone Coverage, and notice who merited 2, 3, and 4 scouted games and which Georgia peach Brandon Beane went to. Riley Moss of Iowa, who also played in the 4-2-5, is going to an NFL team who plays lots of zone. Fun player. He locks it down in coverage, and is tackling machine #4 on the list. He can be either a CB or FS at the next level, as could Deonte Banks of Maryland. Nobody had a higher DraftBuzz Tackling score than Banks.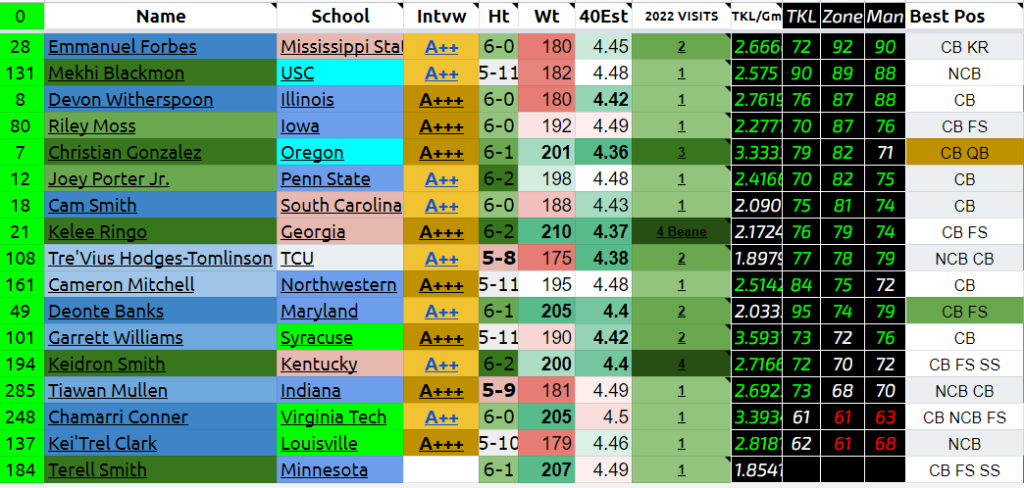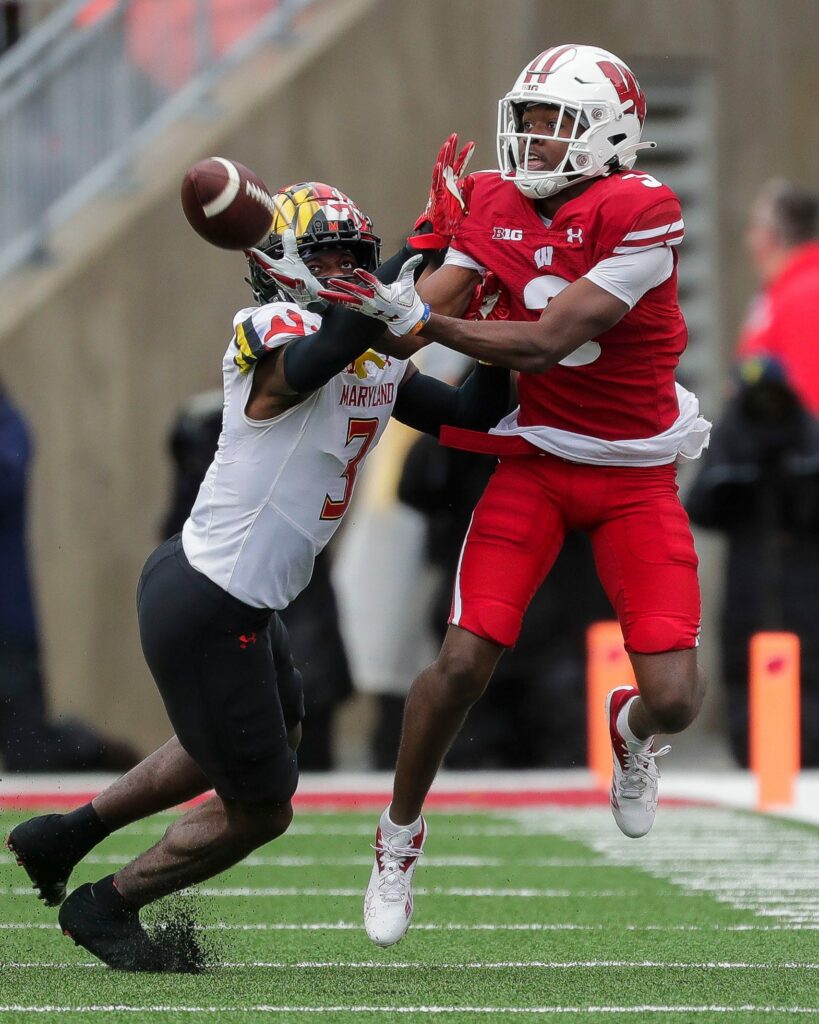 Editor's babble: No one does this kind of work like Dean. What a great guide to follow the NFL Combine! You can also follow Dean's other great draft coverage on Twitter @TCBILLS_Astro.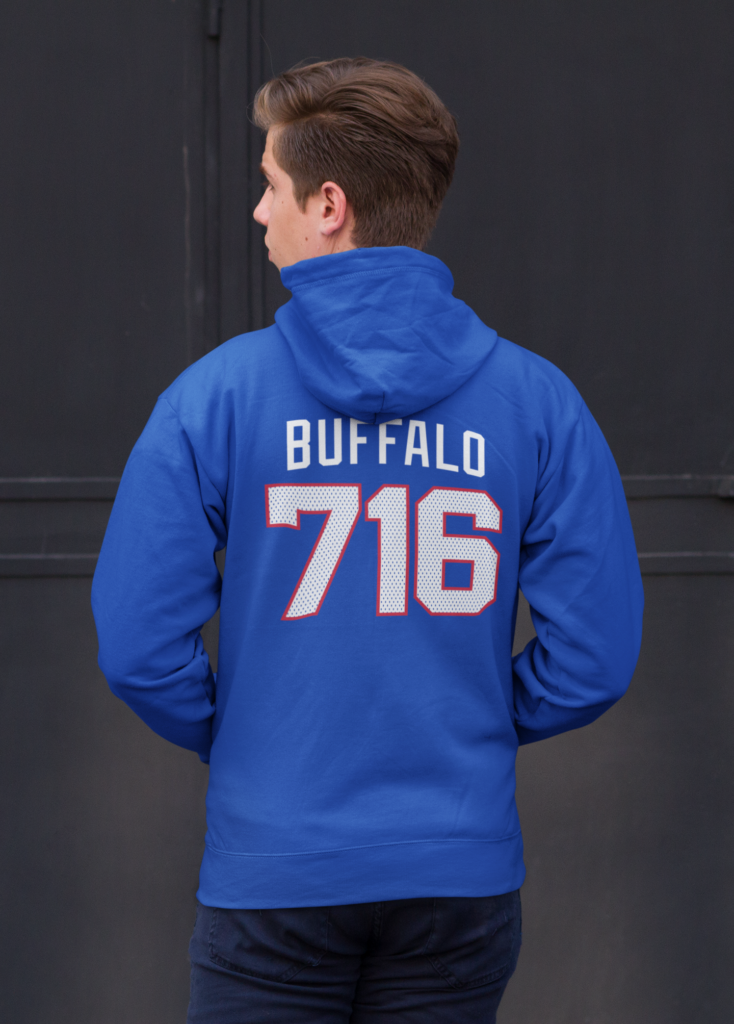 BuffaloFAMbase.com is sponsored by 26 Shirts
Every Monday, we launch a new two-week campaign of a limited edition t-shirt design. Every shirt purchase results in a donation to a local family in need. After the campaign ends, the shirt is retired. A new design is released, and a new family benefits from your fandom!