I thought it would be educational to be a fly on the wall during Brandon Beane's routine mock drafts with his War Room so we can better understand the strategy and choices he'll have to make beginning April 27 in Kansas City, Missouri. So I posed as a computer repairman, trotted into Process Central at One Bills Drive, and installed an InVisoBeane 3000 (TM) , a cutting-edge HD camera that's invisible to the naked eye. (See picture; you can't see it, right?)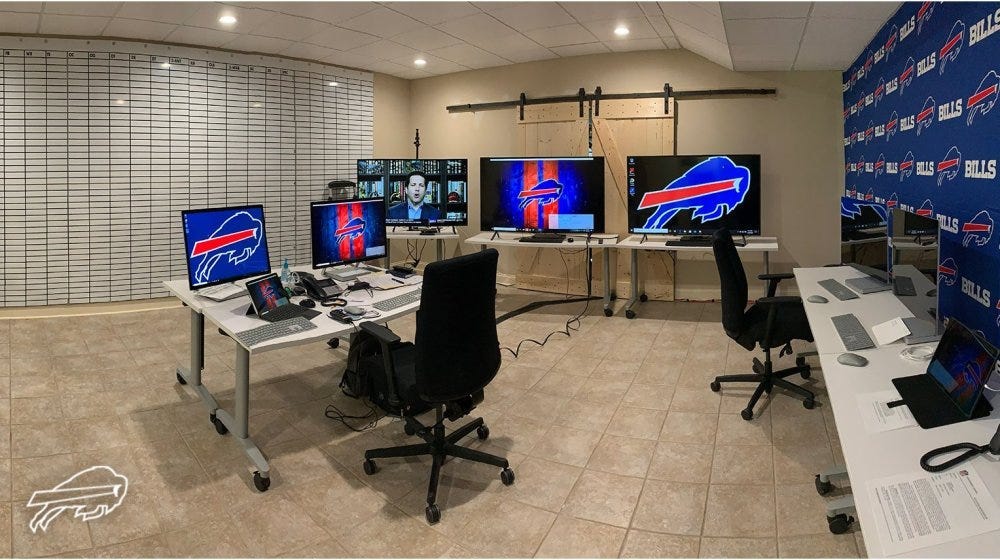 Big Baller annually takes his crew through tons of mock drafts, as he describes here, first setting what BBB calls the "Automatics", a list of 15-20 guys who will likely be drafted before the Bills' pick at #27. While Beane uses a consensus of dozens of mocks to gauge where he thinks various players will be drafted, I'm confident he routinely uses our BuffaloFAMBase Big Board to ascertain each player's draft spot. That's the board he was using for this InVisoBeane video and audio capture.
The room is full of the regulars:
Brandon Beane, GM
Brian Gaine, Assistant General Manager
Terrance Gray, Assistant Director of Player Personnel
Jim Overdorf, Senior Advisor to the GM
Matt Bazirgan, Senior Personnel Executive
Lake Dawson, Assistant Director of College Scouting
Doug Majeski, Coord. of College Scouting, West Area Scout
Dennis Hickey, Senior National Scout
Sean McDermott, Head Coach
Ken Dorsey, Offensive Coordinator
Leslie Frazier, Defensice Coordinator
Malik Boyd, Director of Pro Personnel, and Kevin Meganck, Vice President of Football Administration, couldn't attend because they're on the horn with Drew Rosenhaus –something about the Poyer contract. Terry Pegula asked to be excused because he's in Bradenton, FL with Kim. God Bless them.
Let's listen in.
BEANE: All right, we'll do a full mock today using the FanSpeak Simulator with Astro's BuffaloFAMBase Big Board. Run it , Lake.
LAKE DAWSON: Wup, trade proposal off the bat… Colts offer RD2#35, and RD3#79, for our #27.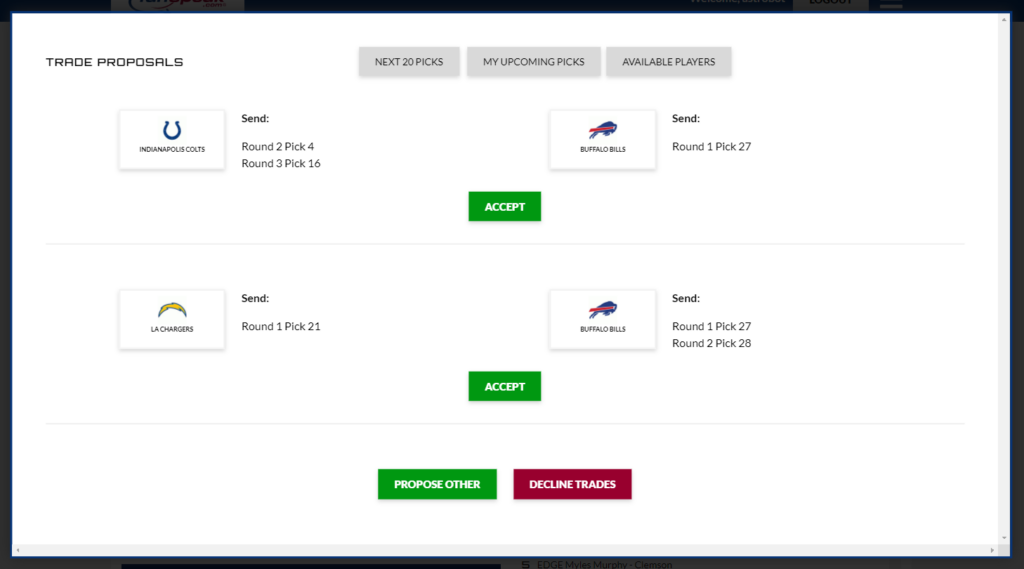 BEANE: By the DraftTek Trade Chart, they're offering 745 (point value) for our 680.
LAKE DAWSON: You said consider any offer within 8 picks and over 600 points advantage, and this is right on the edge. We drop 8 picks.
BEANE: Well, Indy saw the QBs come off the board early. Their needs are WR, OT, and Safety. We're likely aiming at the same targets. Let's not trade.
LAKE DAWSON: Oooh, good call, Big Baller. Here's the RD1 options: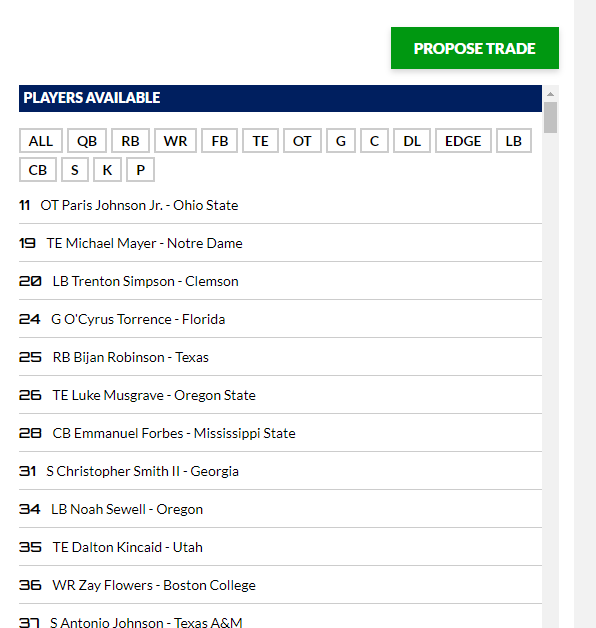 BRIAN GAINE (Assistant General Manager): This is where we would have had to consider Trenton Simpson to take Middle Linebacker if we'd listened to some of those fans on Twitter.
[EVERYBODY LAUGHS]
BEANE: Bijan would be nice, too, but I like the midround thunder backs better for complementing James Cook. We need to give Josh more time for his progressions first and foremost. I love Paris in the Springtime. Do it.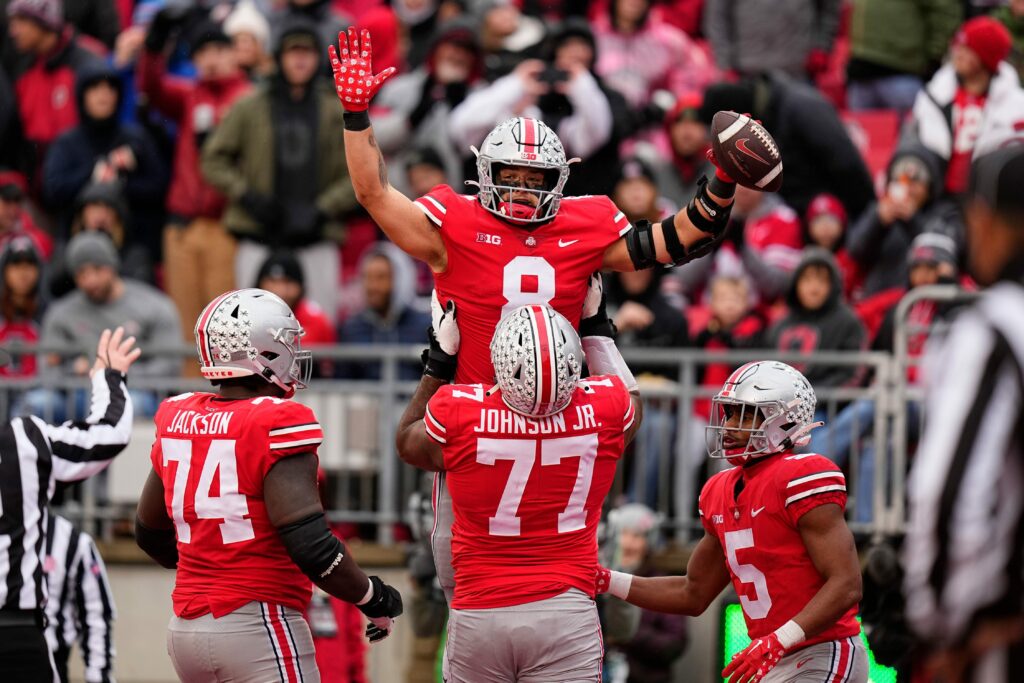 LAKE DAWSON: Paris Johnson at #27 it is… [makes the pick) …Okay, now Cardinals are offering two RD3 picks, their #3 and #33, for our RD2#28.
BEANE: They're offering pick #66 and #96, 376 points. Our pick #59 is worth 310. We'd drop 7 picks. Cardinals were looking OG, EDGE, CB. They're going after O'Cyrus Torrence, most likely. He's too big and slow for us… Let's pull the trigger on this trade. Jack and Luke should make it to us at Pick 3.
LAKE DAWSON: [SING-SONG VOICE] I think you're gonna be pleased, BB! [IMAGE projected on the big screen]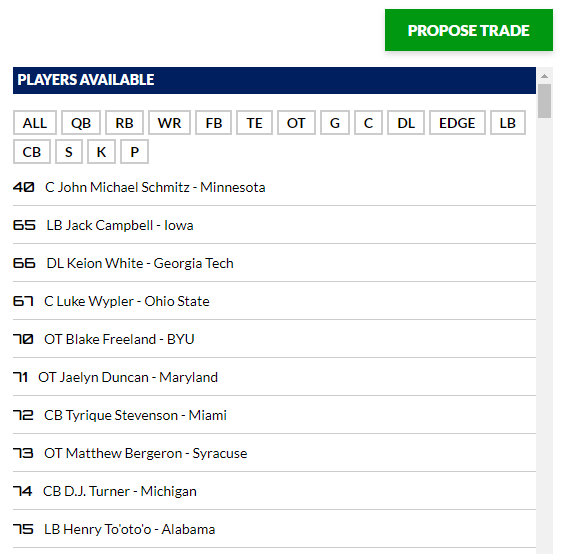 BEANE: Couldn't have planned it better. The top two Centers on our board are there for the taking. Schmitz is the best run-blocker and 6th-best pass blocker, but Luke Wypler's the best pass blocker and is still the 3rd-best run blocker. Stays leveraged, quick, elite hands, second-level pull –Kromer's gonna be so ecstatic he'll start throwing picnic tables. [LAUGHTER] Take Wypler .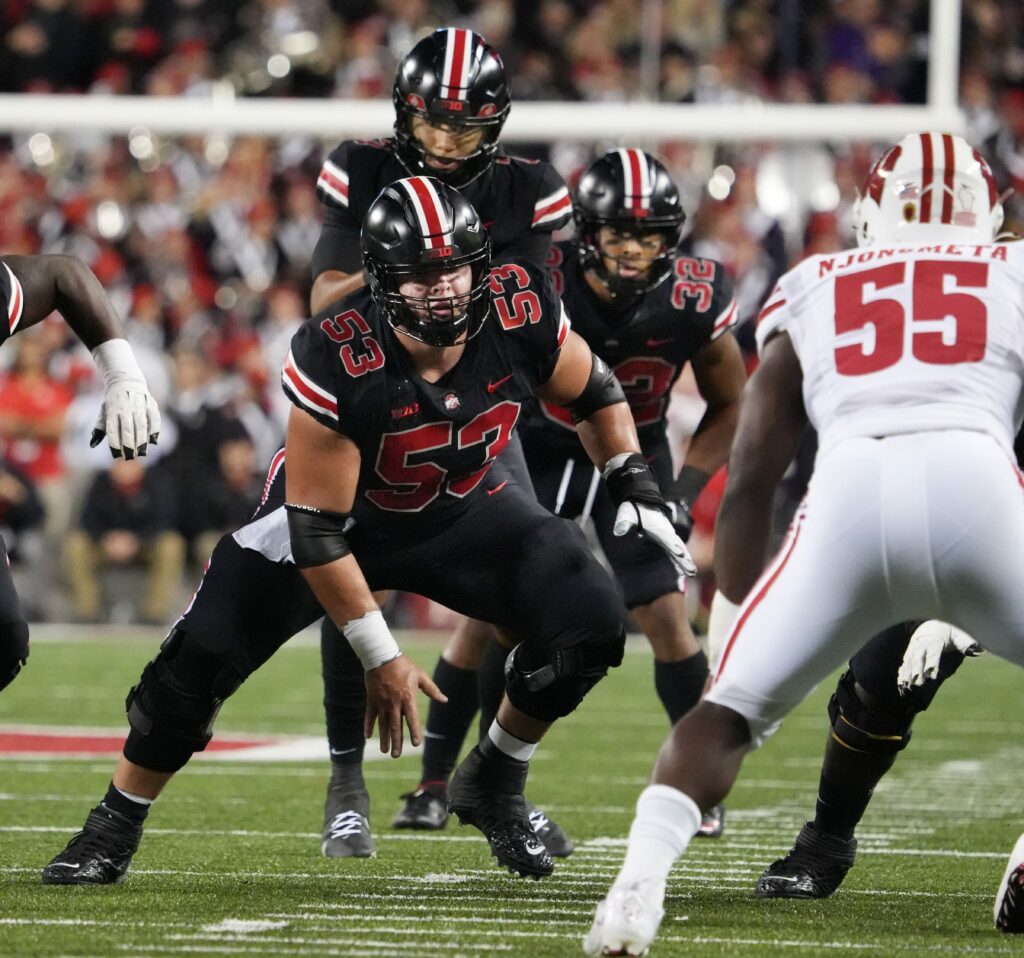 LAKE DAWSON: Done. Onto our two other RD3 picks, #28 and #33!!!
BEANE: With our –what does Kindig call them, hogmollies?– hogmollies locked in to protect Josh, we had better get Dorsey some horseys. That's what sells the jerseys. We should be able to get two of them, a complement to James and a quick mover who can catch the gosh-darn ball. [LOOKS AT THE PLAYERS AVAILABLE]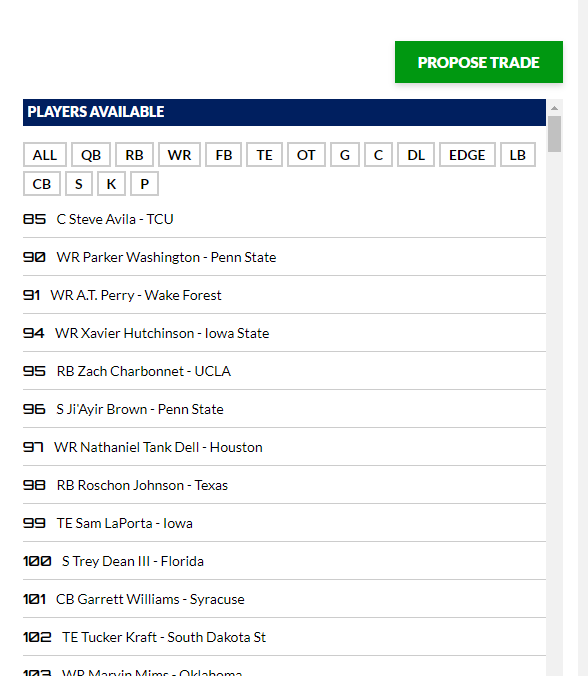 DENNIS HICKEY: You want to see the WRs sorted by catch rate?
BEANE: Yeah, just those five guys.

DENNIS HICKEY: So for catch rate, it's Hutchinson, Washington, Mims, and Tank Dell; they all catch two-thirds of their passes. Now, A.T. Perry's a coin flip when it comes to catching the ball. Love his size, still want my D.K. Metcalf sometime but he's out of this race…He and Xavier Hutchinson are the best blockers downfield. For deep threat, it's Hutchinson again. Against AP-ranked teams, any of the top three have proven themselves. Hutch's number is a little lower, but that 12.5 ypc is on 28 catches, the biggest sample size of all of them. Hutchinson's the fastest, which puts defenses in a bind deciding whether to put their CB#3 on Hutch or Davis. Plus Otto on Twitter says he's pretty good. Says he can play multiple positions and can be physical; If we are going 3-wide, we can't have two that can't block.
BEANE: Isn't he @abandonthepunt? Yeah, better downfield blocking equals better Yards After Catch. Sign me up.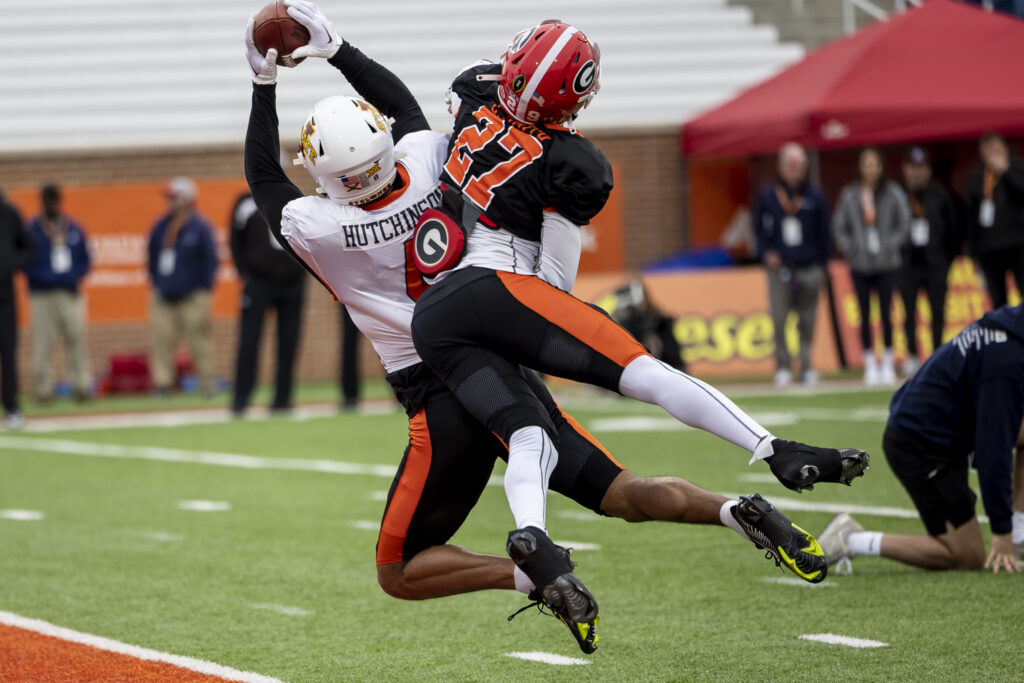 LAKE DAWSON: Done. I adore his calf definition. Well, on to #33. Wait!!! Cleveland has a trade for us. They offer a RD5 to leapfrog the Washington Commanders.
BEANE: Aha! We know the Commanders are hot on Steve Avila and Tank Dell. Neither team is taking a running back here. Do that trade. [LAKE DAWSON PUNCHES "Accept"]
LAKE DAWSON: Right again, Big Baller! They took Dell, then Mims went! Good thing we took WR first, huh?
BEANE: Now to complement Cook, we want a big back who breaks tackles, can pass protect, and doesn't fumble. Show us the graphic from our last meeting. Just please take the #1 Tacklebreaker Bijan off at the top. It's too painful. [LAUGHTER]

[PEALS OF LAUGHTER; MAJESKI NEARLY CHOKES ON HIS BEEF ON WECK]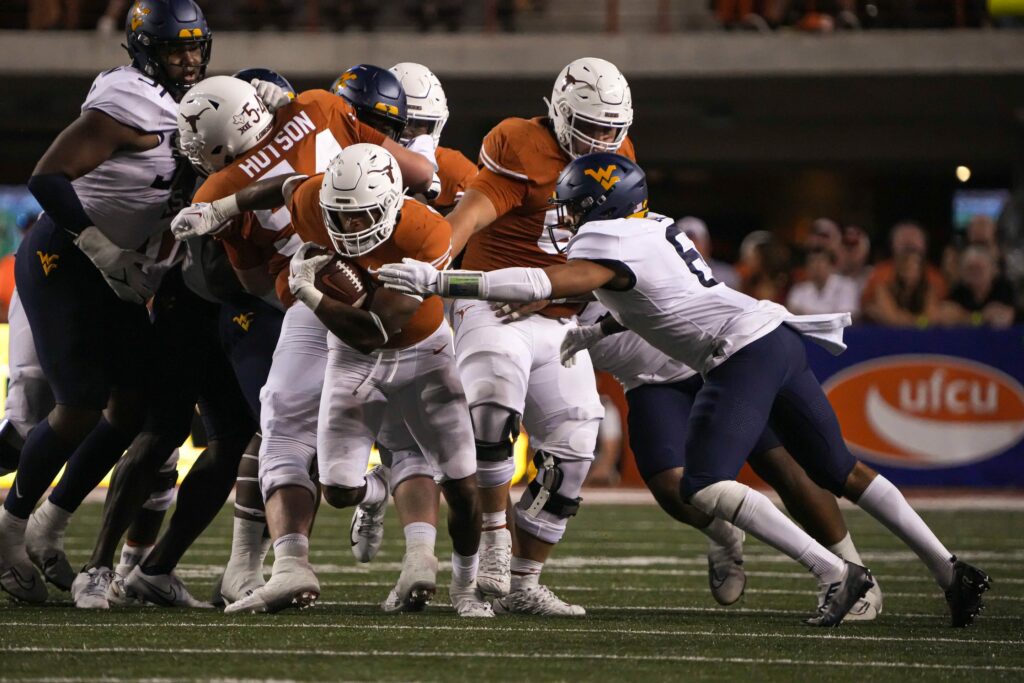 BEANE: Let's move on with no trades until our RD4#129 pick. We still need at least on a pressuring DL, a reliable TE, and a chameleon FS familiar with our system. I want a special teams ace LB or a zone CB who can tackle along in there, too.
LAKE DAWSON: Your wish is my command, BBB!! [PRODUCES AVAILABLE PLAYERS]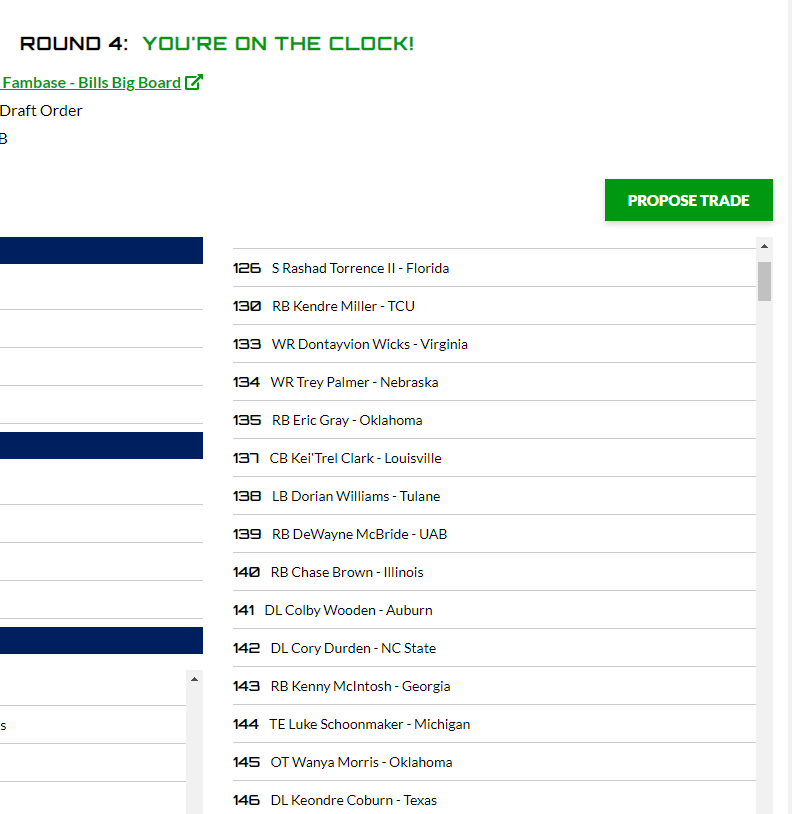 BEANE: Okay, I see some of what I looked for. Rashad Torrence is one of the 8 Zone Safeties on my list, with the Eagles just taking Ji'Ayir Brown and the Niners taking Trey Dean, CB Garrett Williams, and C Olusegun Oluwatimi with their cluster of RD4s. [MAKES A GRRRR SOUND] Make a note that some DBs we want start to come off the board in that #94 to #99 range. That is, if we don't go CB in RD1 (winks). [GROUP IS DISTRACTED BY THE WINGS THAT HAVE JUST ARRIVED FROM @BarBillTavern]
DENNIS HICKEY: You said you liked the linebacker Dorian Williams in this group. You know, from my alma mater Tulane? [LAUGHTER]
BEANE: I love me some Dorian, Dennis. His wingspan is that of a condor, like 6 3/4 feet wingtip to wingtip. Lake, show us all remaining LBs if their Tackles Per Game is higher than 3… Is Owen Pappoe on there?
LAKE DAWSON: Nope. Gone at #117 to the Patriots. [BEANE THROWS A WING AGAINST THE FAR WALL]
BEANE: Make a note of that…Sort them by solo tackles per game over their career…No, by 40 time.
LAKE DAWSON: Here you go.

BEANE: Too bad our buddy Schoen took Nick Herbig two picks ago at #128; he'd be in the running… Make a note of that… I like Shaka Heyward, Greenhagen, and Charlie Thomas late, but they're slower…Too bad Dee Winters' T-Rex arms can't be stretched. Can the trainers buy a rack…?
DENNIS HICKEY: Winters can't cover the run as well, and that's our vulnerability up the middle. Dorian Williams is that 'tweener OLB-SS size you liked in Milano, and Dorian's a tad faster. He's second in the AAC in tackles for loss with 14.5, and you like that blitzing ability. Williams has led Tulane in solo tackles in 2020 and 2022. He had 3 tackles, 4 assists in the scouted game. Did I mention it's my alma mater? [LAUGHTER]
BEANE: I'm hearing you say it's your alma mater, Dennis. [ROLLS EYES DRAMATICALLY] Okay, Lake, pull the lever. Hope he can play special teams like he can tackle. [LAKE SELECTS DORIAN WILLIAMS]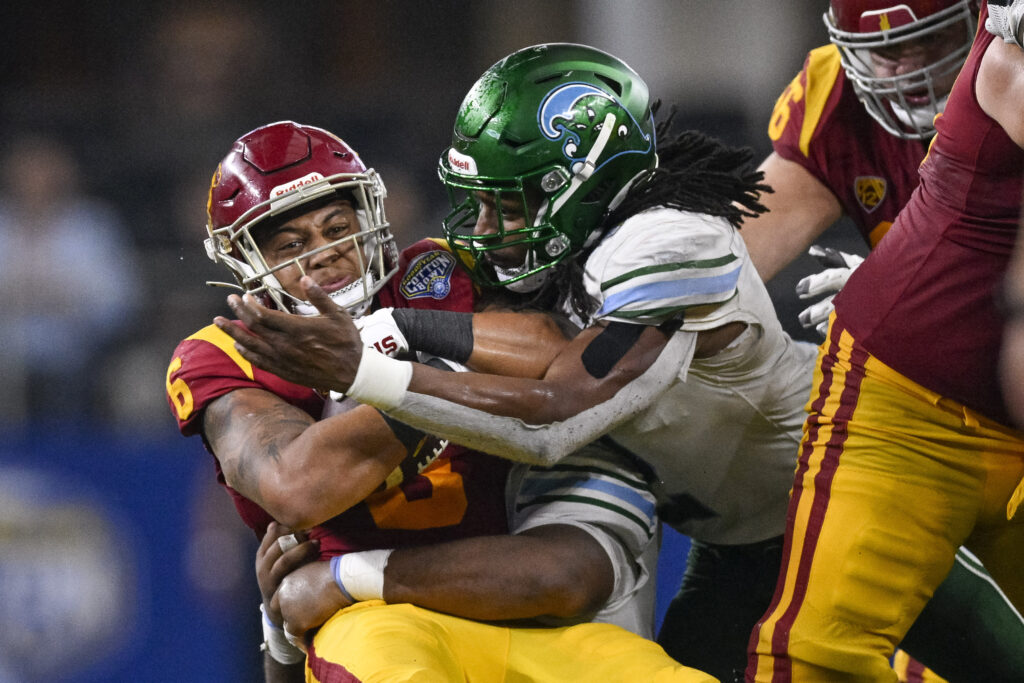 LAKE DAWSON: Our picks in RD5 are #3, #6, and #28. We're on the clock. Wanna see the available players?
BEANE: Not necessary. Show me the available Tight Ends 6'4″ or over by catch rate.

BEANE: Now show me Interior Defensive Line sorted by success against the run.

BEANE: Our decision is made up for us. We take the TE first, then the D-Lineman. Okay, NOW show us the available players. [LAKE DAWSON PROJECTS THE IMAGE ON SCREEN]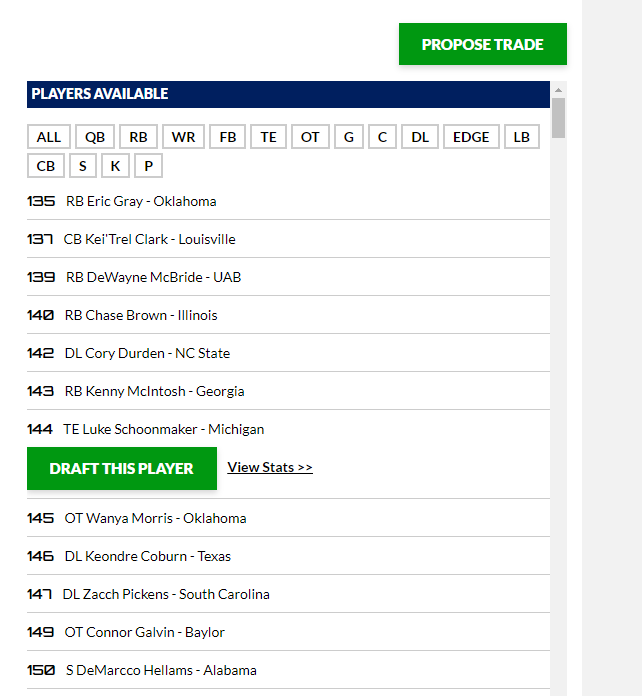 LAKE DAWSON: As you wish. [TAKES SCHOONMAKER]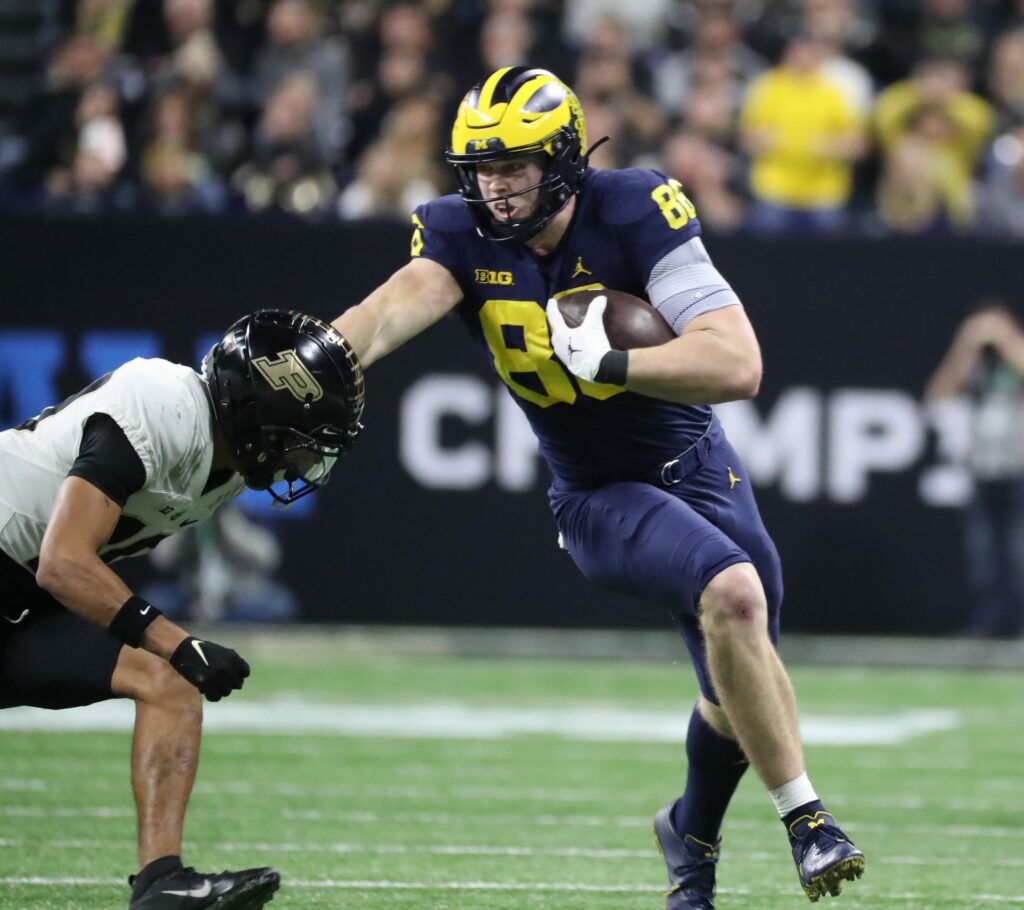 LAKE DAWSON: Do you want to see the interior DL screen again?
BEANE: No, I think we're going to be able to take one of the three D-Linemen we want with our last pick. Let's think "Safety First". I went to the Ohio State vs Maryland game, and I saw my next Safety. Lake, show us the remaining Zone Safeties. The top guy there, Ronnie Hickman, is also the most versatile, having played FS, CB, and Nickel with the Buckeyes. Plus he has kick return experience. Take Ronnie here; I bet we'll see allof my D-Line guys for our last pick.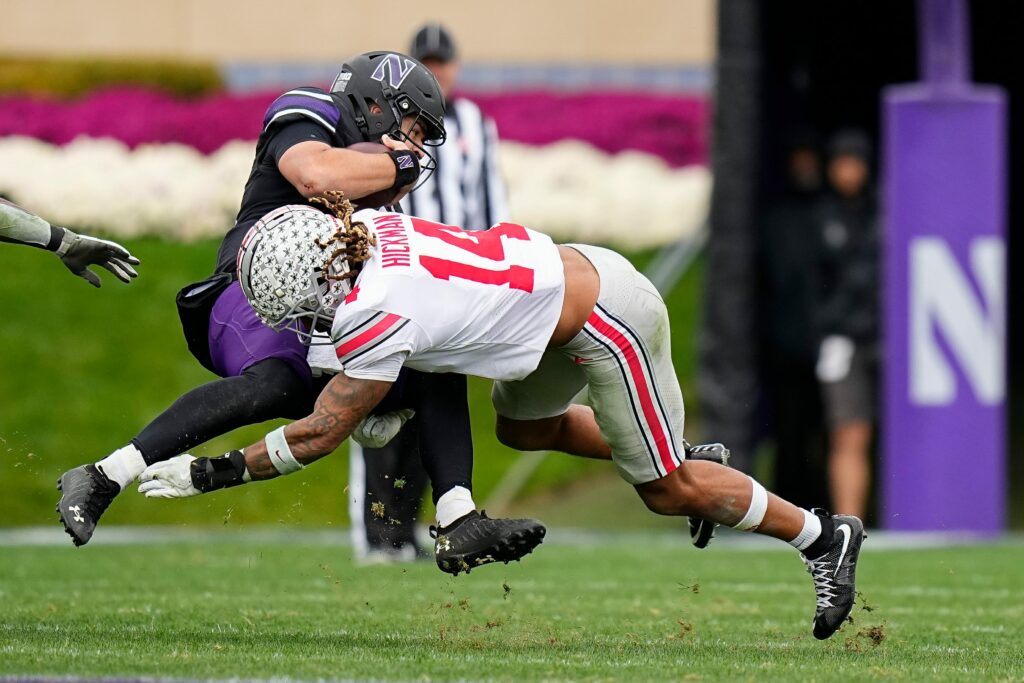 LAKE DAWSON: Ronnie Hickman it is. …Here's our last pick.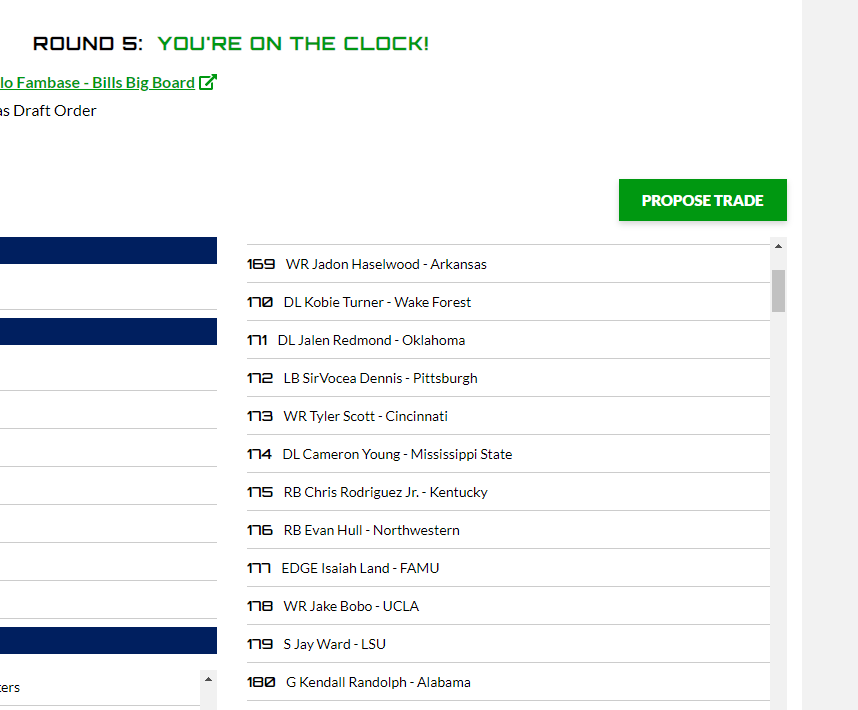 BEANE: Good. My guys Jalen Redmond, Zacch Pickens, and Kobie Turner are all there! Tough choice. Our newest scout, Alonzo Dotson, was a Sooners DL, and that 's Jalen Redmond. But Kobie Turner from Wake Forest is the top remaining run-defending IDL, he's second to Pickens in the pass-rush department, and he can do the 3-tech-EDGE stunts we do without a hitch. Plus, Turner's from my favorite conference, the ACC. Book him.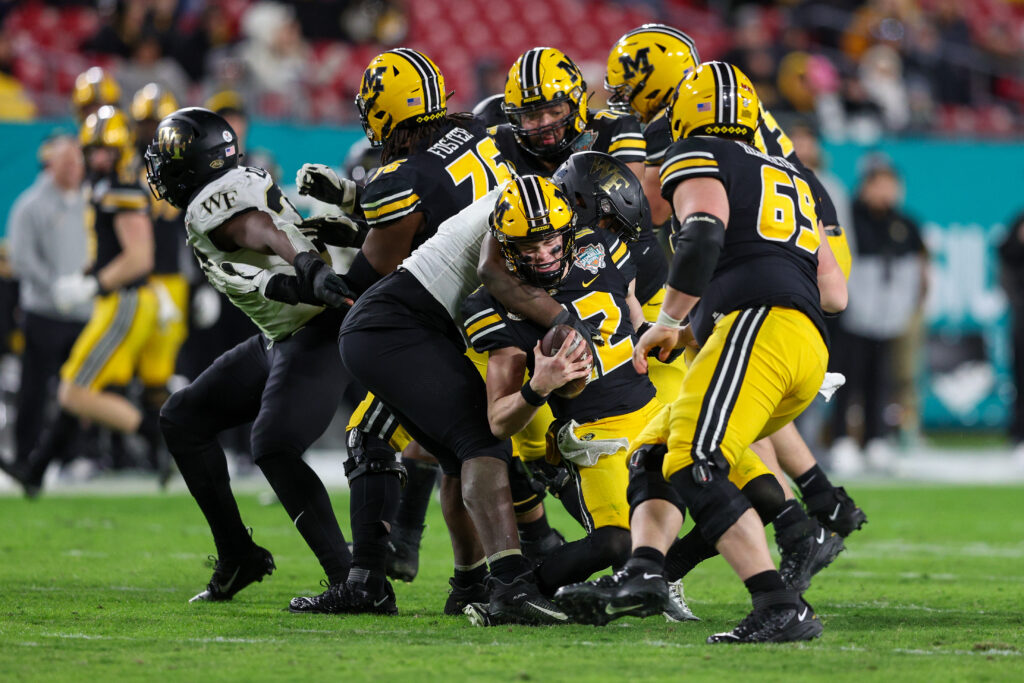 LAKE DAWSON: [DOING A POOR PORKY PIG IMPRESSION] Uh-buh-dee Uh-buh-dee Uh-buh-dee That's all, folks! Here's your 2023 Bills Draft Class!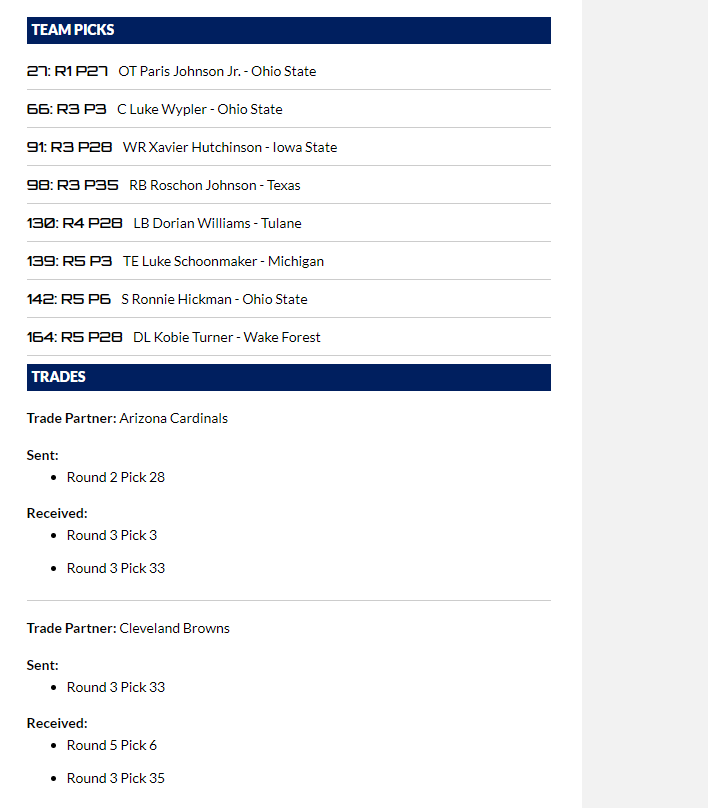 If you would like to see more 2023 NFL Draft spreadsheets, give Dean Kindig a follow on Twitter and retweet his work!
Editor's babble: We are so blessed by all of Dean Kindig's contributions to our blog. You can also find Dean on Twitter @TCBILLS_Astro.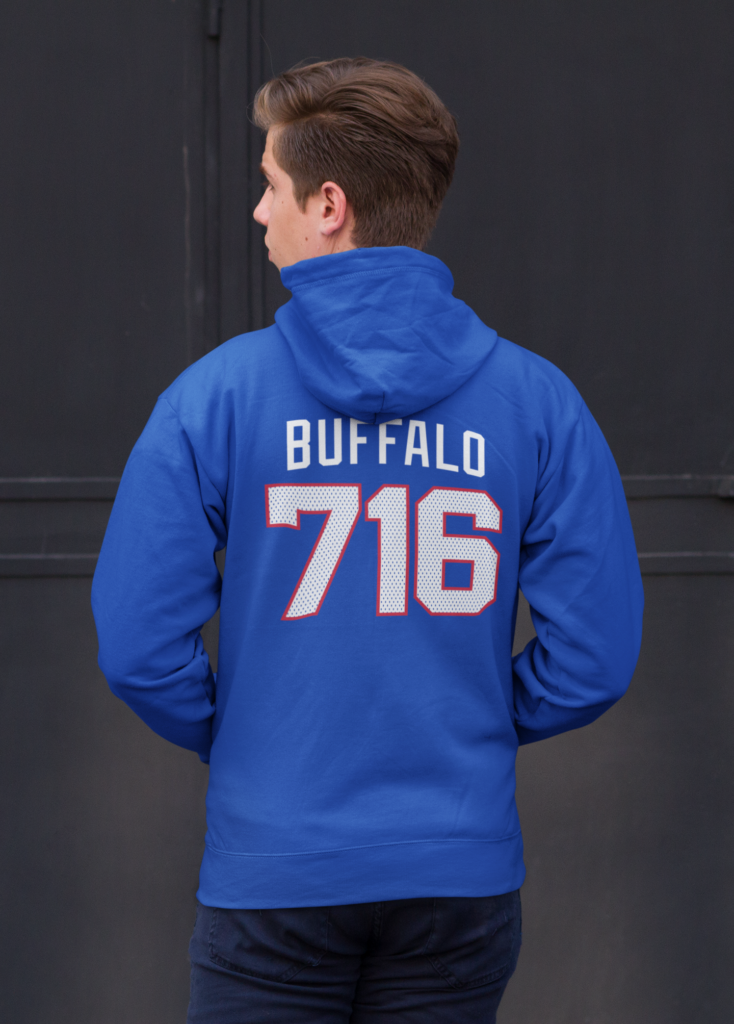 BuffaloFAMbase.com is sponsored by 26 Shirts
Every Monday, we launch a new two-week campaign of a limited edition t-shirt design. Every shirt purchase results in a donation to a local family in need. After the campaign ends, the shirt is retired. A new design is released, and a new family benefits from your fandom!