Are the Bills readying to take a Tight End in this draft?
Tommy Sweeney (1 catch in 2022) is the only current free-agency decision, and he's at the bottom of the ladder with an AAV of only $654K. Next year, Quinton Morris (8 catches on 11 targets) will be an exclusive-rights free agent. That's it until 2027, when Dawson Knox, then age 30, will be seeing his next and likely final TE contract. He's been the team's de facto tight end this season in an offense that has rarely used 2-TE sets.
Maybe we don't need a TE.
Let's read the tea leaves.
Of the top 10 draftable Tight Ends with highest YPC against AP-ranked teams, the Bills scouted all of them.
Of the draftable TEs in the SEC, Big Ten, and Big12, the Bills scouted all of them. They also scouted the 3 fastest TEs in the ACC.
Of the TEs that NFLDraftBuzz ranked as the best blockers, the Bills scouted all who had catch rates of 68% or better (Dawson Knox's catch rate this year was 71.3%, up from 69.0% in 2021).
Here's the crop of scouted TEs, sorted by number of visits this year. I'm adding 4 TEs who weren't visited by credentialed scouts, but could be in for 30-visits, Josh Whyle of Cincinnati, draft's fastest Luke Musgrave of Oregon State, Tucker Kraft of South Dakota State, and tall, speedy Zack Kuntz of Old Dominion.
Those players highlighted in darker blue were the highest-ranking player at that scouted school, so it's safe to assume the scouts were there to see them, and the same is true of the TEs in the two lighter shades of blue, the 2nd-highest and 3rd-highest ranked players at that school. Luke Schoonmaker, at the top of the list, is not the fastest, but he's one of the more complete tight ends in the business. I'll remove the other slow TEs (Brayden Willis, Jared Rus), though, along with those we could likely sign in UDFA (versatile giraffe E.J. Jenkins, stone hands Jahleel Billingsley) and those who are liabilities in blocking (Davis Allen, Payne Durham, and Will Mallory). Here's what's left, sorted by blocking skill, per NFLDraftBuzz.com: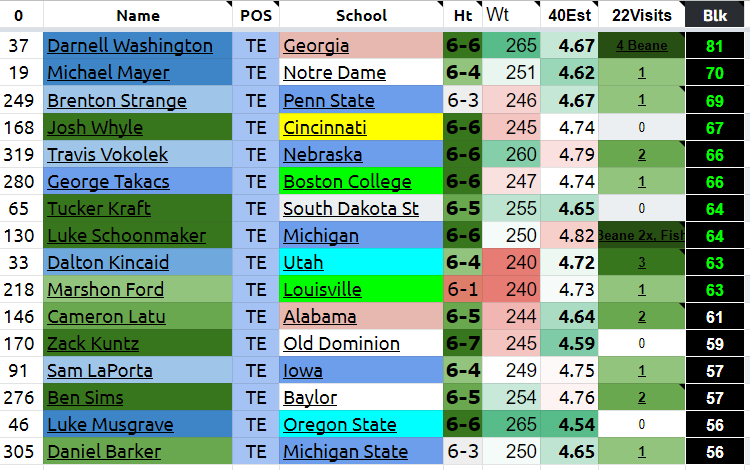 Let's pop the bottom four off due to blocking. I'll keep Zack Kuntz on there for his freaky height and speed combination. Side Note: I wonder if Luke Musgrave could be coached up on his blocking.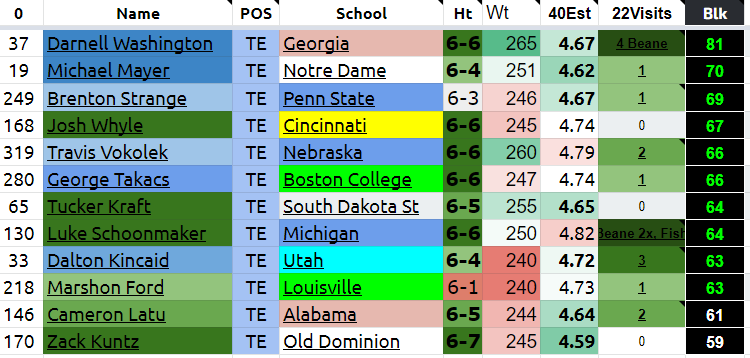 I'm taking the above list and sort it by % of Targets Caught, Career, per www.footballdb.com data on each player. A criticism of the Bills has been the reliability of their pass-catchers, and it's justifiable; While Knox's catch rate went up this year, Gabe Davis's % caught has fallen from 56% to 55% to 51% over the last 3 years. That's approaching coin-flip. South Dakota State doesn't keep targets caught, so I'll leave Tucker Kraft on my list, but remove the bottom three, Zack Kuntz. George Takacs, and Cameron Latu. Now it's getting manageable. Let's sort them by height:

I'll remove the bottom two, as they are vertically impaired. Beane's favorite conference, which has been the ACC in every Bills draft up to now, is shifting toward the SEC and Big10, and we're seeing it again here. Now I'll sort the results by their rank on our BuffaloFAMBase Big Board, which you can use to simulate mock drafts right here on FanSpeak.

Let me say a word about the finalists, and a fun fact about each.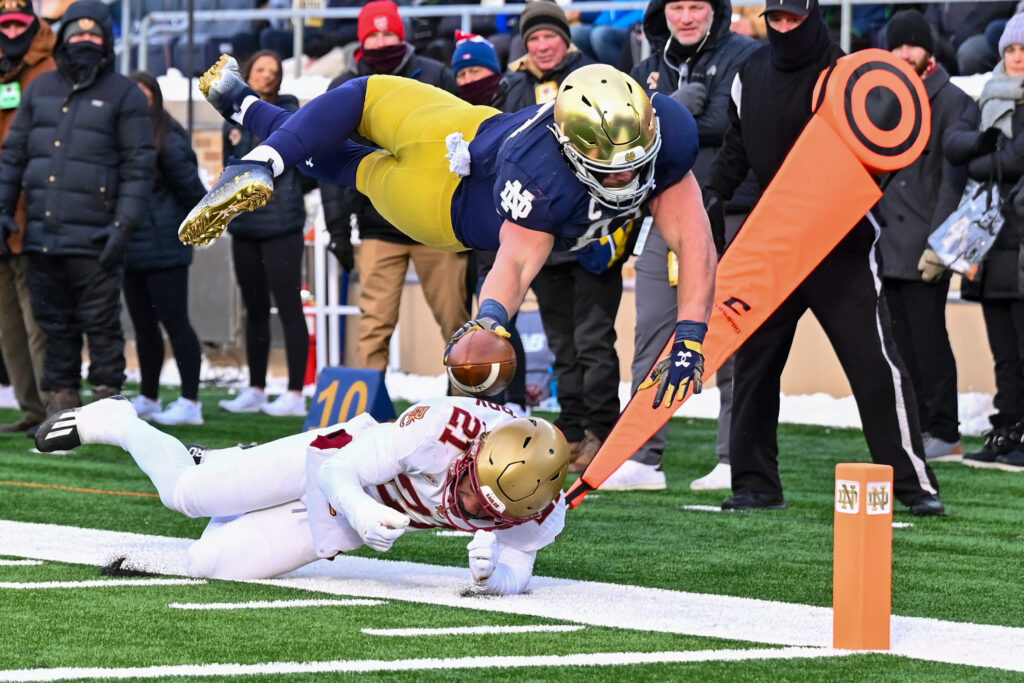 Michael Mayer is the #1 TE, no argument here. Last year, he led the team with 71 receptions, and put up 67 more in 2022 with a middle-of-the-road quarterback. He's 1″ shorter than OJ Howard, my comp, who was drafted #19 in 2017 by the Bucs and played briefly for the Bills. I don't think we see him at pick #27, because he's just that good. He's #11-12 on the FanSpeak big boards. Fun fact: Mayer's alma mater is Notre Dame, same as Lake Dawson, the Bills' Assistant Director of College Scouting.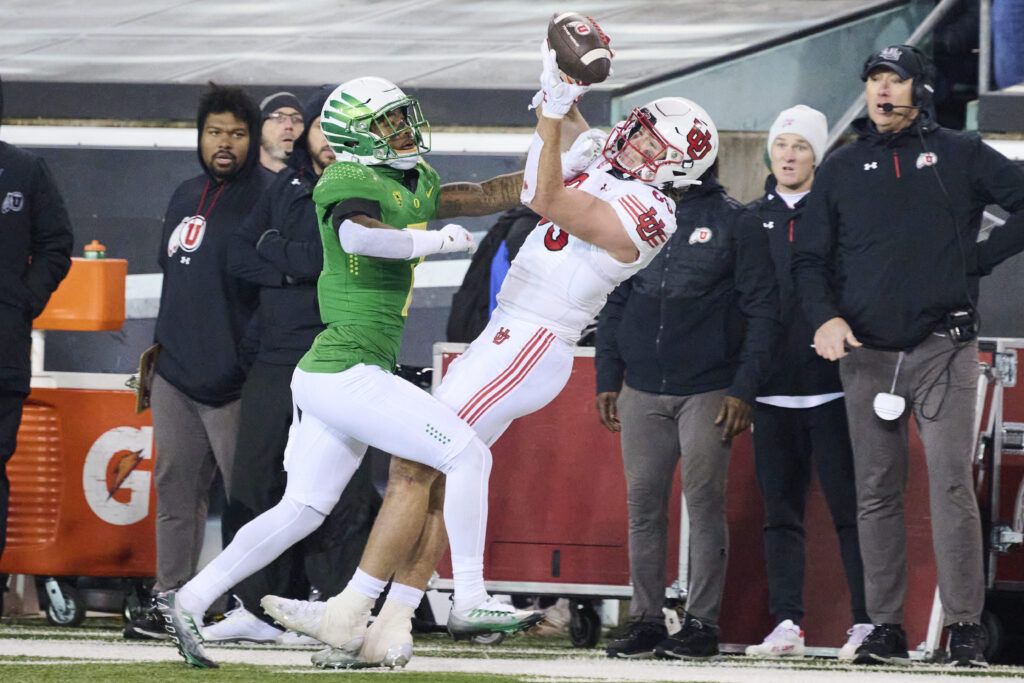 Dalton Kincaid – Are you ready for the Dalton and Dawson Show? Of the 63 TEs I listened to in interviews, Kincaid's the personality that struck me as the best fit for the Bills. His toolkit –acceleration, body control, fluid movement– is much like Dawson's, and his catch rate over his career was better than Mayer's. Fun Facts: Kincaid will be the first Utah TE to be drafted in 27 years (1996, Harold Lusk, RD7, Saints). He was recently identified as one of the most underrated prospects in the 2023 draft class by Pro Football Focus. When asked who in the world he'd want a one-hour phone call with, he said Phil Mikelson. That'll sit well with Josh. Kincaid's also a big movie buff, so yeah.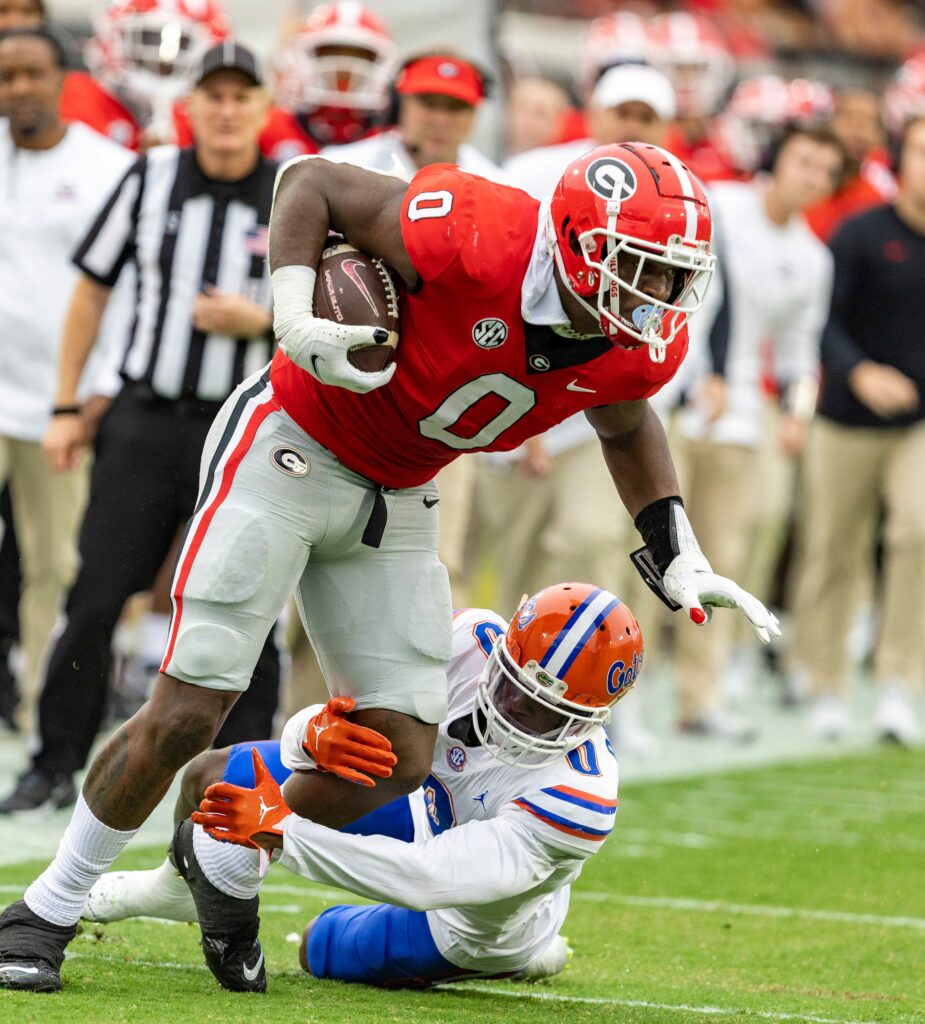 Darnell Washington – Washington has a different toolkit. He is a monster –2″ taller and 25 pounds heavier than Kincaid. He's an amazing blocker; he might have been a top-rated OT had he played on the line instead. If he were a little better at catching the ball, the TE choice would be a slam dunk, particularly in supporting the run game. Jake Rigdon, FanSpeak Jake, is even more vocal about Washington: "He's got stone hands. He'll only average around 15 receptions per year, but he'll start for 10-plus years for a two-TE team that uses him as a sixth offensive lineman, a la what Georgia does with him." Fun Fact: Washington grew up poor in a single-parent home, his father having deserted Darnell and his brother Ezekiel when they were 6 and 7. Darnell's brother taught him footwork and technique using YouTube.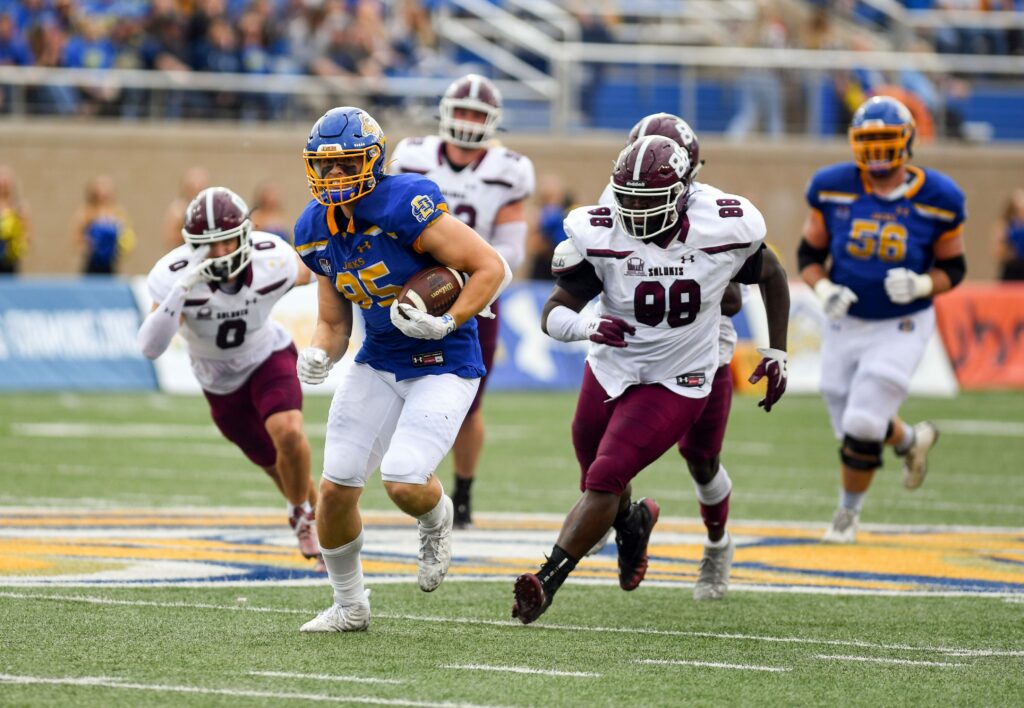 Tucker Kraft – Dallas Goedert vibes. His stats are meager: 23 games, 13 of them starting, 72 catches for 863 yds, only 13 receptions in 2022 due to injury. He's my hero in that he revealed FBS Boosters Used Huge NIL Deals To Entice Him To Transfer. Kraft doesn't have the FBS pedigree, or the publicity, or any credentialed visits by Bills scouts. But he's from a winning program, is a soft-handed, physical receiver, and has NFL speed (watch him finish right behind Mayer 1-2 at the Combine). He needs some work on his blocking, but I'm nitpicking. Fun Fact: Two quotes: "I believe that the most physical and tactical part of the game revolves around the trenches," and "I enjoy the monotony of the little things." He and Kincaid had the best interviews of the TE group.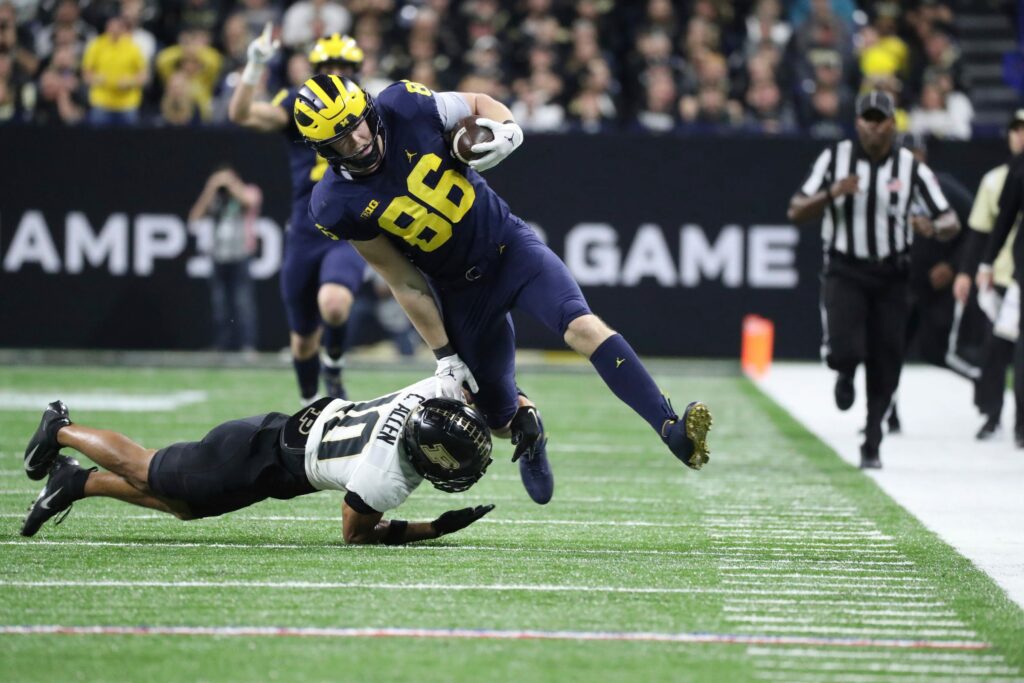 Luke Schoonmaker – The Bills will be taking a Michigan Wolverine; we don't know who. Brandon Beane went to Michigan twice, taking Midwest Area Scout Brian Fisher one of the times. Scouts went to 4 games. Maybe it's Schoonmaker. Talk about versatility. Schoonmaker mixes speed and power well. He's a dangerous receiver and a powerful blocker. He returned to school for 2022 and set career-highs in both receptions (35) and receiving yards (418). I wouldn't be surprised if he had the widest wingspan for TEs at the Combine. Fun Fact: In high school, Schoonmaker was on the baseball team, and on the football team, playing quarterback, tight end, wide receiver, and cornerback.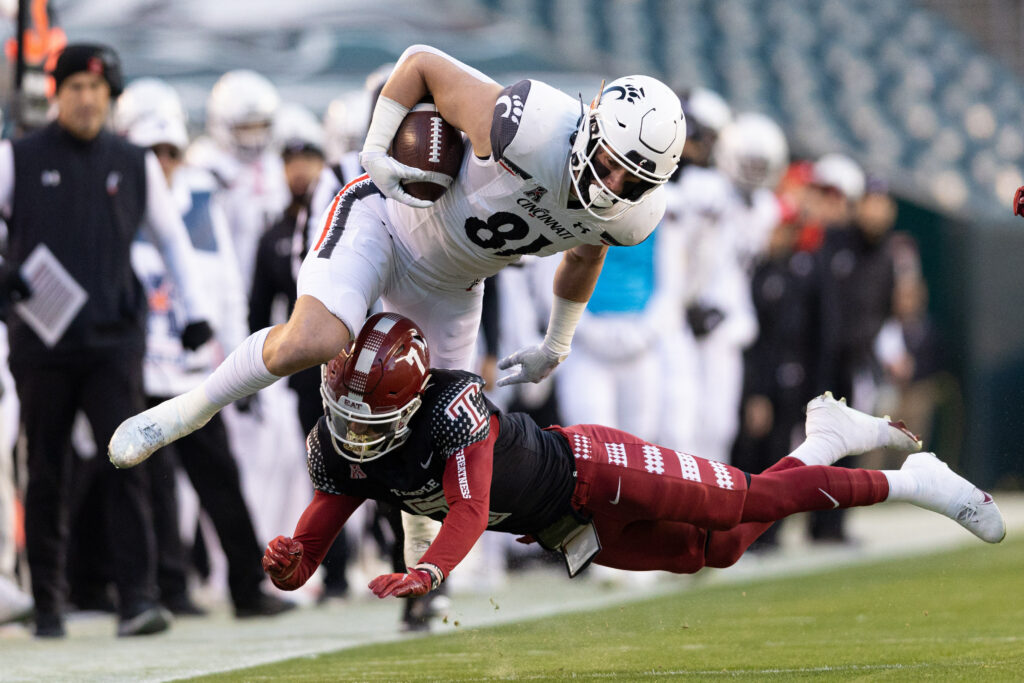 Josh Whyle – "WHY-lee" didn't get any credentialed scout visits, but did last year. He's a very good blocker and an ace special teams player. In one Bills-scouted game in 2021, he tipped a punt against UCF. Whyle only caught 1 pass for 2 yards in the first scouted game, but went off for 5 catches for 61 yards and a touchdown in the next scouted game. Fun Fact: Whyle was a national high-jump champion in high school, so watch for that at the Combine.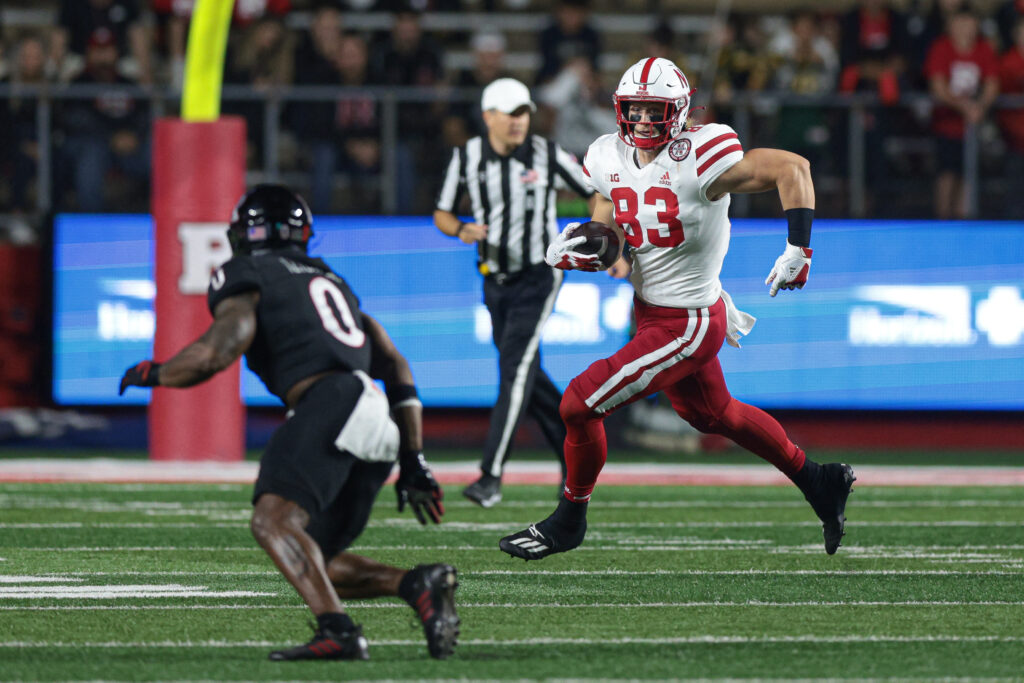 Travis Vokolek – Nebraska's team didn't do so well this year (4-8 Overall, 3-6 Conference), and Travis Vokolek's name won't be frequent conversation during the draft cycle, but credentialed scouts attended the Illinois and Michigan games this year. Nebraska's moment of glory in the Illinois game was Vokolek toasting safety Sidney Brown for this sweet 56-yard TD score. Travis has the highest Catch Rate over his career of all the TEs, with 88%. Fun Fact: Travis's dad D.J. Vokolek was a former assistant head coach for the Buffalo Bulls under head coach Lance Leipold in 2015. He previously worked on Terry Allen's staff as the associate head coach from 2006-14.
Editor's babble: These Elimination Games provide a great list to watch at the NFL Combine. We can't thank Dean Kindig enough for his incredible contributions to our blog. You can also find Dean on Twitter @TCBILLS_Astro.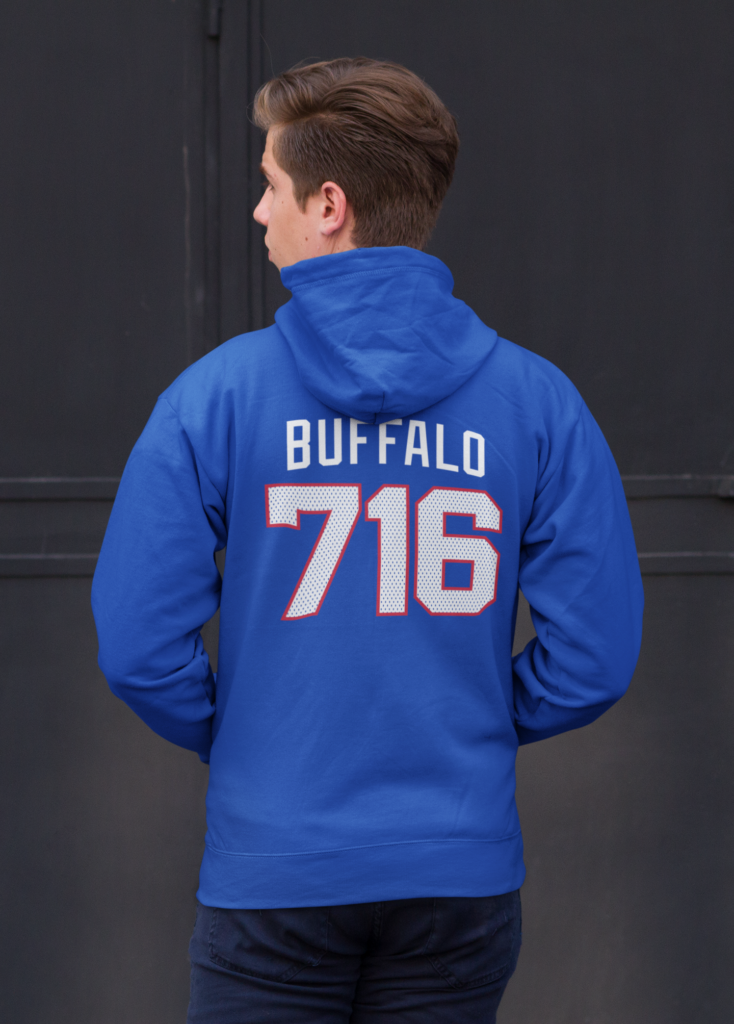 BuffaloFAMbase.com is sponsored by 26 Shirts
Every Monday, we launch a new two-week campaign of a limited edition t-shirt design. Every shirt purchase results in a donation to a local family in need. After the campaign ends, the shirt is retired. A new design is released, and a new family benefits from your fandom!