The Bills scouts visited the games of 56 draft-eligible running backs in 2022. It's also a buyer's market for running backs in free agency, with several previously-Bills-scouted prospects on that list, including Miles Sanders, Josh Jacobs, and Saquon Barkley. The franchise tag for running backs is projected to be $12.6M. The Transition tag is projected to be $10.2M.
Elimination #1: Two games scouted or more (plus possible 30-visits scouted 1x: Mohamed Ibrahim, Roschon Johnson, Chase Brown, Deuce Vaughn, and Bijan Robinson):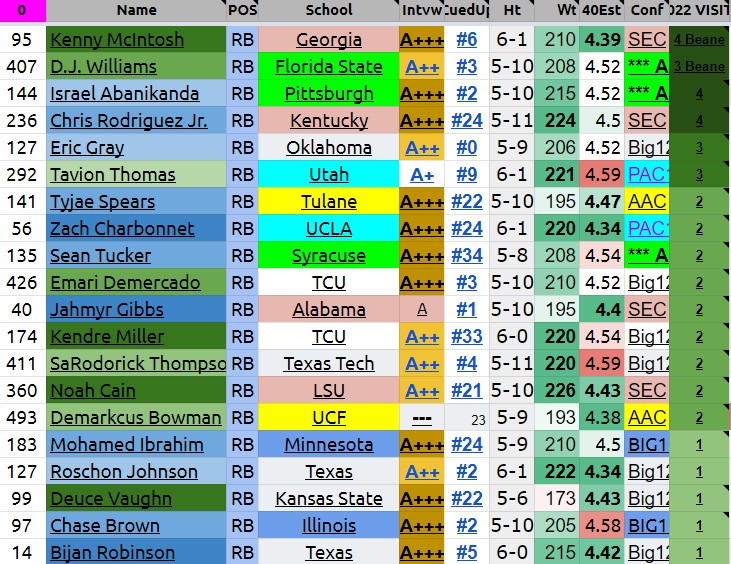 Elimination #2: Find "Missed Tackles Forced" RBs. Look at the "Break" column. These are percentile scores for broken tackles forced, taken from NFLDraftBuzz scouting reports. Missed Tackles Forced was the greatest single factor that brought Devin Singletary from Florida Atlantic to the Bills (he was second that year). We now have 10 running back targets.

Elimination #3: Find the Better Pass Blockers. These are percentile scores also taken from NFLDraftBuzz scouting reports. We're taking away the bottom 3 (Kendre Miller, Jahmyr Gibbs –who also had the worst interview, per moi), and Eric Gray).

Elimination #4: Find the Complementary Back. To do this, we'll look at the DraftScout measures of the current and former Bills RBs to see what we're missing:
Zack Moss=5-9, 223, 4.65
Devin Singletary=5-8, 203, 4.66
James Cook=6-0, 204, 4.42
Nyheim Hines=5-8, 198, 4.38
Taiwan Jones=6-0, 194, 4.33
Just an hour before the trade deadline, the Bills traded Moss and a sixth-round pick to the Colts in exchange for running back Nyheim Hines. The Bills sacrificed bulk for speed. Moss will get more work in Indy. He's a solid downhill battering-ram running back with the ability to break tackles. The Bills also won; we'll never forget when Hines ran back 2 kickoffs for tuddys against the Patriots on Jan. 8, 2023. With Singletary a free agent, and James Cook the heaviest back in the room at 204 pounds, the Bills will look to fuse Moss's 200+ bulk with Hines' sub 4.4 speed.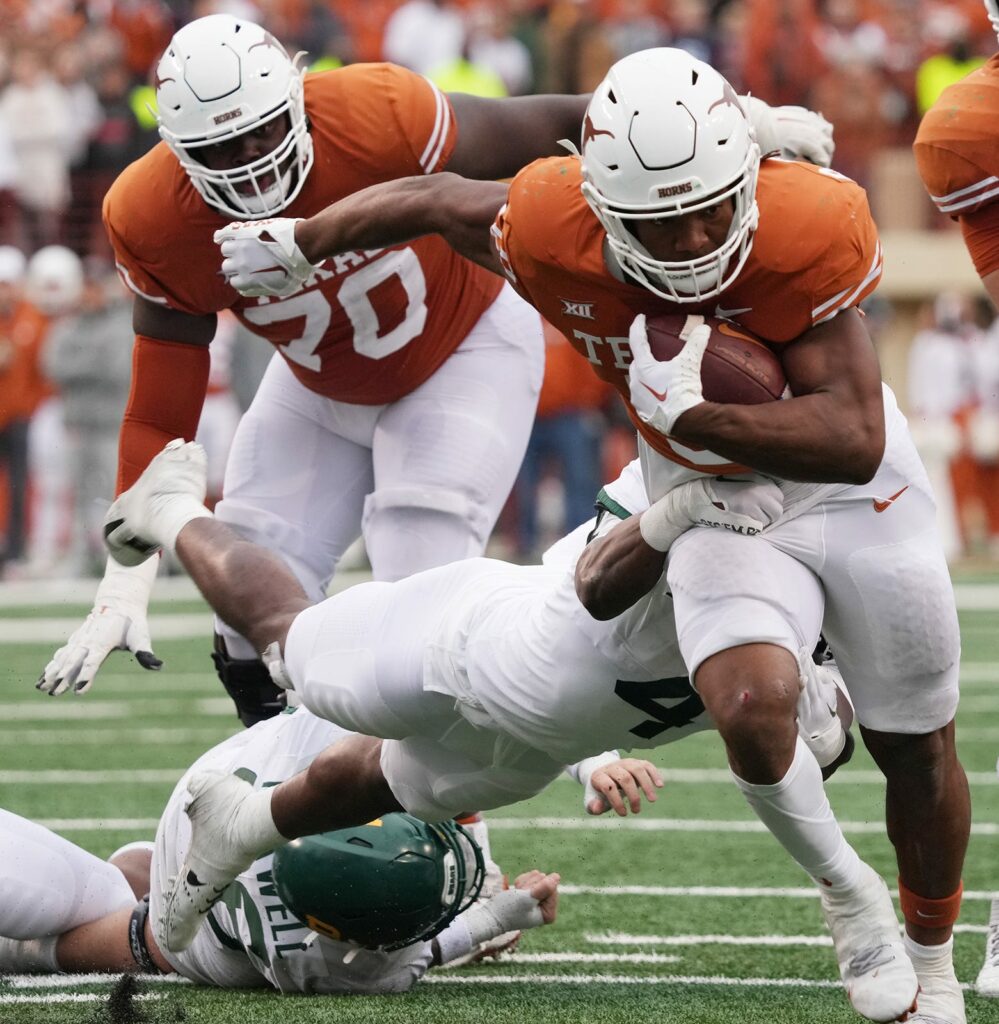 My Best Bets: Bijan Robinson RD1, Zach Charbonnet RD2-3, and Roschon Johnson RD 3-4.
I'd put Mohamed Ibrahim (RD5) as first alternate. Some difference-making RBs will be drafted later than usual with value into late RD4; it'll be a buyer's market. Bijan Robinson could fall to the Bills at #27 as a result of that free agent class filling team needs. If the Bills sought out Singletary by drafting Missed Tackles Forced, why not replace him with the draft's #1 Tacklebreaker? Per @Sam_Teets33, Bijan forced a missed tackle every 2.47 touches on offense (that's 112 missed tackles on 277 touches) in 2022. Chris Rodriguez Jr. (2.69), Tank Bigsby (3.03), Kendre Miller (3.04) Jahmyr Gibbs (3.42), and Blake Corum (3.44) were the runners-up.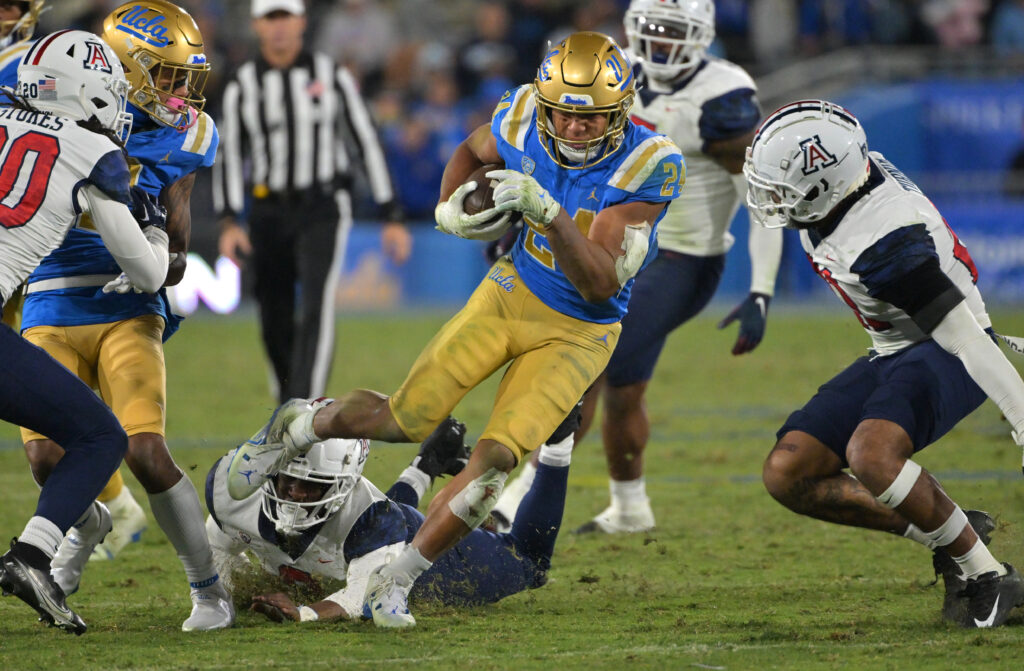 Editor's babble: More great stuff from Dean Kindig. We are grateful. You can also find Dean on Twitter @TCBILLS_Astro.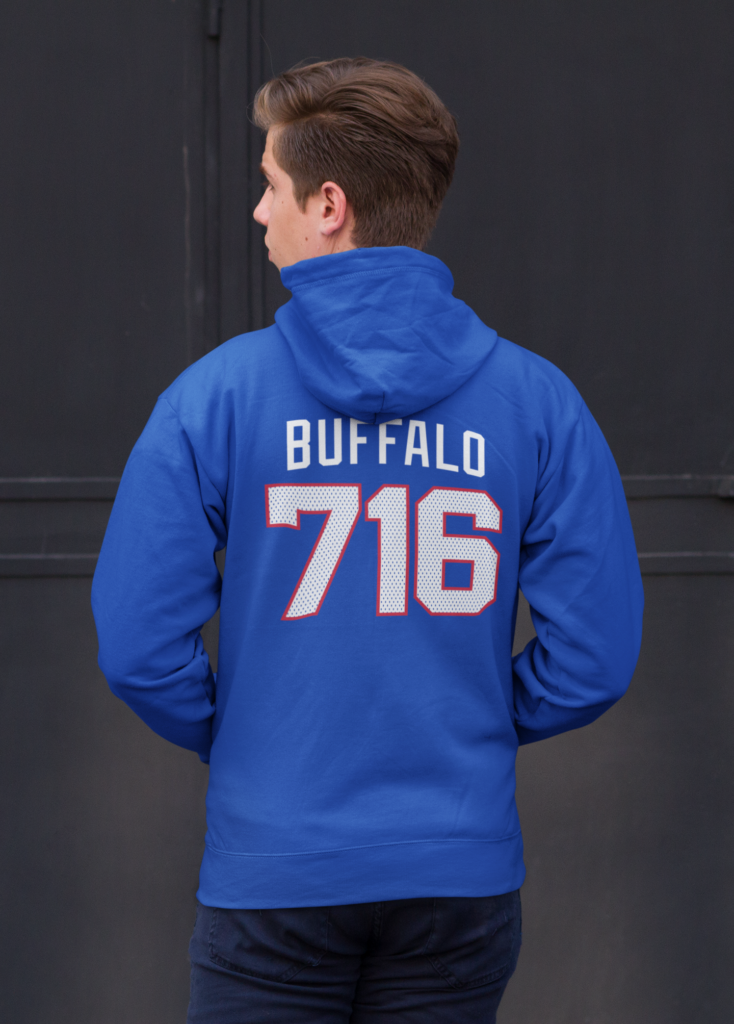 BuffaloFAMbase.com is sponsored by 26 Shirts
Every Monday, we launch a new two-week campaign of a limited edition t-shirt design. Every shirt purchase results in a donation to a local family in need. After the campaign ends, the shirt is retired. A new design is released, and a new family benefits from your fandom!