The Cincinnati Bengals visited Buffalo to take on the Bills in the Divisional Round of the AFC playoffs. After their in-season matchup was canceled due to the Damar Hamlin incident, this would be the first full game between Josh Allen and Joe Burrow. With a trip to Kansas City (or a neutral site) on the line, Buffalo's biggest flaws were deeply exposed by a banged up Bengals team.

Bengals Take Early Double Digit Lead

The Bengals dominated the game from start to finish, jumping out to an early 14 point lead in the first quarter. Buffalo's defense seemed to come out flat, allowing Burrow and company to march down the field any way they wanted to. On the opening drive of the game, Burrow went 4/4 for 64 yards and a TD, with the score going to Ja'Marr Chase, who was wide open after miscommunication or broken coverage in the Bills secondary.

On third and four for Buffalo, Allen just missed Stefon Diggs for a deep connection, and the Bills punted after gaining just six yards. This time, Cincinnati leaned on their run game, with Joe Mixon registering carries of five and 16 yards, Samaje Perine running for four, and Chase running for three. Thanks to another busted coverage, Burrow found tight end Hayden Hurst in the corner of the end zone all alone, for his second touchdown of the game. At this point, Burrow was a perfect 9/9, for 105 yards and 2 touchdowns. The Bills dug themselves into a hole early, and they could never recover as a result. The Bills gained just five yards on their next drive, and punted again without gaining a first down.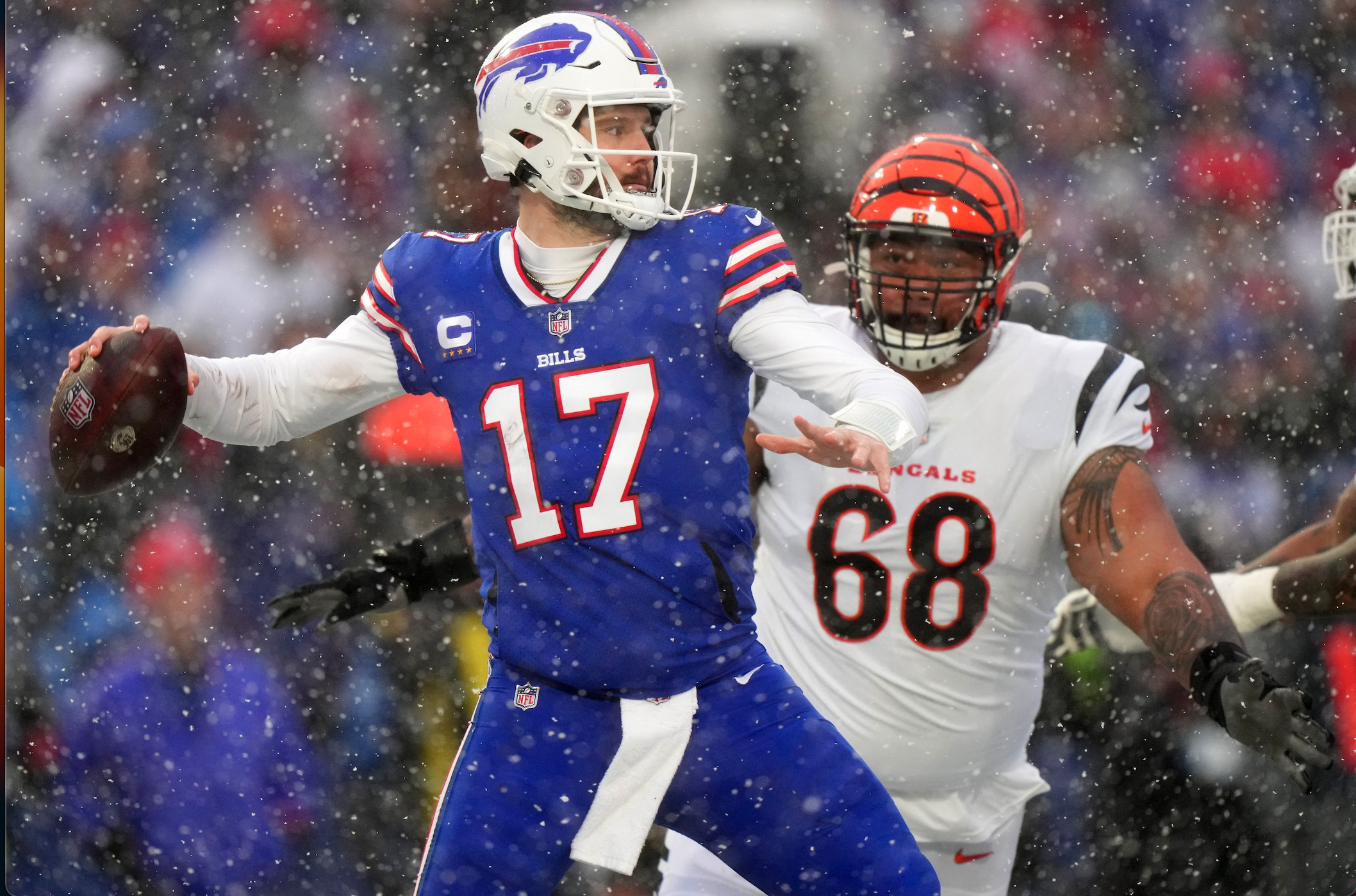 Buffalo's First (and Last) Touchdown

The Bills eventually found some momentum, forcing the Bengals to punt thanks to a timely sack from Matt Milano on third down. On the play, the Bills rushed just three, but had Milano as a QB spy for when Burrow attempted to escape the pocket. After being the backbone of this defense in 2022, Milano's sack was one of the few defensive highlights in the game for Buffalo.

Allen's third drive didn't start out well, getting sacked by safety Vonn Bell for a three yard loss. Cincinnati was constantly sending defensive backs as disguised blitzers that the offensive line never picked up. However, the Bills recovered, as Allen threw a 16 yard pass to Diggs to move the chains. After connecting with Gabriel Davis for nine, Diggs for seven, and Cole Beasley for 11, the Bills turned to the run game in what proved to be a well balanced drive. Rookie James Cook picked up nine total yards on back-to-back carries, and Allen bulldozed through the middle to pick up two on fourth and one. Although a 10 yard holding penalty could have stalled the drive, Allen found rookie Khalil Shakir down the sideline for a 23 yard gain to set up first and goal. Devin Singletary and Allen were stood up on first and second down, but Allen eventually powered in on third and goal to make it a 14-7 game.

There wasn't much action in the remaining 7:25 of the first half, although the Bengals were able to convert on a 28 yard field goal thanks to a goal line stand from the Bills. Once again, Burrow dissected Buffalo's defense all the way down the field, mixed in with runs from Mixon that the Bills could not contain. However, the defense hunkered down on the goal line, with Matt Milano breaking up a would-be touchdown to Chase on third and goal to force the field goal.

Despite Buffalo having a chance to "double-dip", by scoring points at the end of the first half and the beginning of the second half, they were unable to take advantage of the opportunity. The drive started out hot, with Allen finding Davis (who I will forever call "Playoff Gabe" in the postseason) along the sideline for an amazing 25 yard catch. With two Bengals defenders in the vicinity, Davis corralled the catch and kept both feet in bounds to move the ball into Cincinnati territory. However, the drive stalled with three straight incomplete passes from Allen, and the Bills opted to punt instead of attempting the 58 yard field goal from Tyler Bass.

Bengals Close Out Dominating Performance

Although points were hard to come by in the second half, with just 13 total being scored, the advantage went to Cincinnati, who's Mixon touchdown and McPherson field goal was too much for Buffalo to overcome. Allen was consistently running for his life, but was able to salvage enough of a drive to get the Bills in field goal range for a 25 yarder from Bass. The Bengals were content with running the ball for solid yardage, mixed in with short/intermediate passes from Burrow to his plethora of weapons. With just over a minute left in the game, Allen threw an interception to rookie Cam Taylor-Britt when trying to find Beasley 40+ yards downfield near the end zone.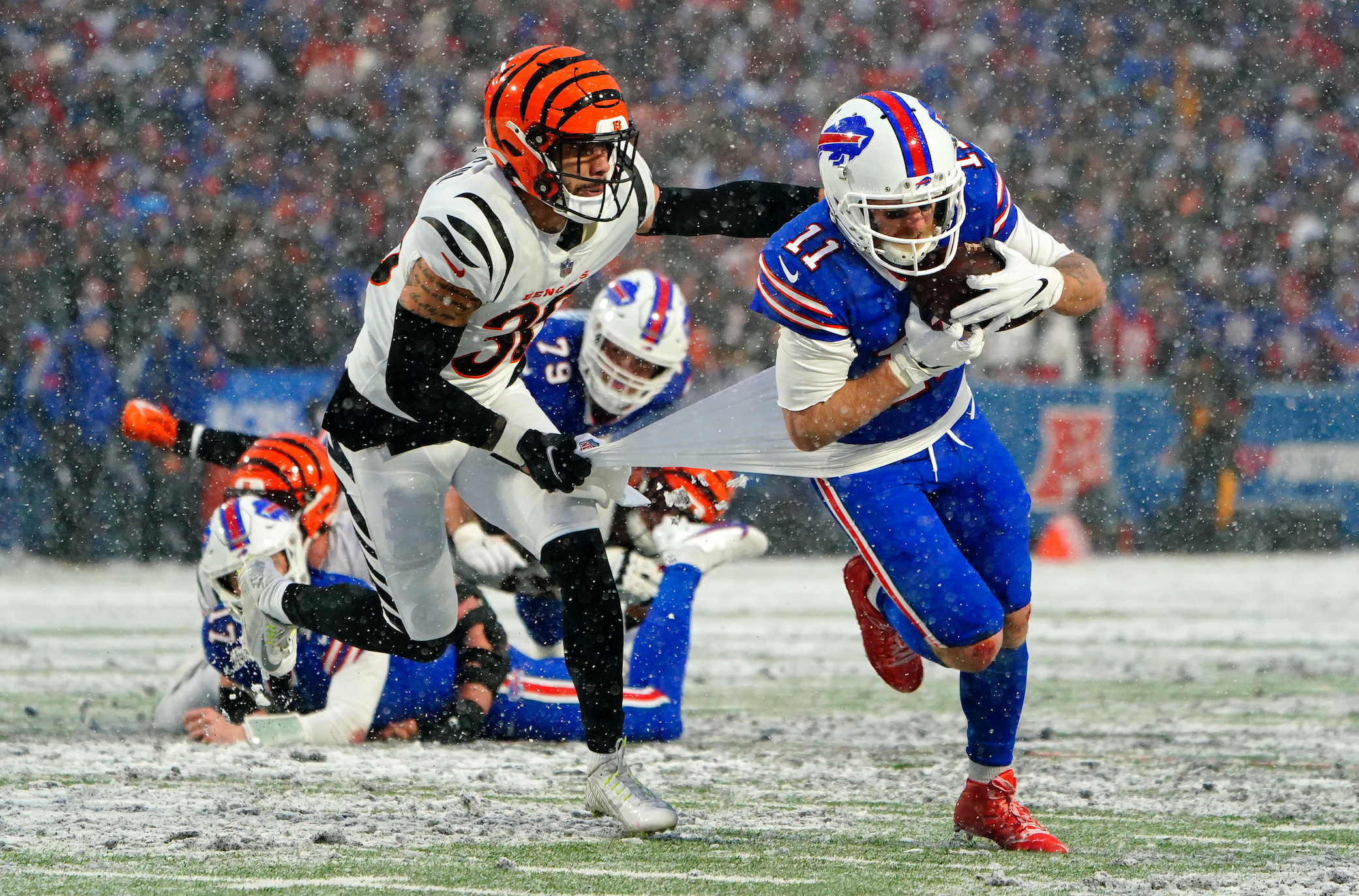 Afterthoughts

What a season the Bills had in 2022. After facing as much adversity as any team may ever face, Buffalo finished 13-3 in the regular season, and 1-1 in the playoffs. It wasn't always pretty, but hey, at least we put that "one score game" narrative to rest. In Allen's fifth season as a pro, he continued to show that he is one of the premiere QBs in the league, and anyone who doesn't have him in their top three is kidding themselves (it's Mahomes, Allen, and Burrow).

But at the end of all of that, came one of the most disappointing outings you could witness as a member of Bills Mafia. Falling short in the divisional round last year to the Chiefs, it felt like a necessity to at least reach the AFC Championship game. Instead, the Bills are eliminated in the same round for a second consecutive year, only this time, they absolutely deserved it. Cincinnati showed up as the better team, dominating both lines of scrimmage and having a better game plan than the Bills. Joe Burrow was being protected by three backup offensive linemen, but to the casual observer, it would've looked like that was the case for Allen instead. Josh was constantly under pressure, even though he was sacked just once. Meanwhile, the Bills needed to blitz extra players just to attempt to manufacture pressure in the face of Burrow, who by the way, is excellent against the blitz.
This game exposed what many Bills fans have been desperately trying to explain about this team – there needs to be more help around Allen. Outside of Stefon Diggs, who is a top five wide receiver in the NFL, Allen needs more formidable weapons around him. Even though he lived up to his nickname in the postseason, I'm sure all Bills fans would agree that Gabriel Davis greatly underperformed given the expectations for him coming into the year. I believe that Dawson Knox has the potential to be a top 10 tight end, but it's hard to graduate into that tier when you seem like an afterthought in the offensive game plan. The Bills had clearly made it their goal to bring in pass-catching running backs, signing JD McKissic last summer (before that ultimately fell through), signing Duke Johnson to keep on the practice squad, drafting James Cook in the second round, and trading for Nyheim Hines at the deadline. Cook and Hines combined for just 28 catches, which simply isn't acceptable when trying to implement that nuance to your passing attack. Clearly, there's some disconnect between Brandon Beane and Ken Dorsey, who hasn't been properly utilizing the pieces Beane has given him.

Look around at the AFC. Patrick Mahomes has arguably the greatest tight end of all time, along with a set of speedy receivers and a top five offensive line. Joe Burrow has the best wide receiver trio in the league, and Cincinnati revamped their offensive line this past offseason to help protect him. Trevor Lawrence and Doug Pederson seem to be a great match, and Calvin Ridley will soon be stepping into the fold to join an already talented receiving core. The Dolphins have given Tua Tagovailoa two #1 wide receivers, and signed two big name offensive linemen in free agency last summer. Justin Herbert has the best receiving back in the AFC, a pair of talented (though aging) wide receivers to throw to, plus a revamped offensive line thanks to high draft picks and big ticket free agent signings. Notice the trend? Every young franchise QB is at the forefront of their respective team's roster building strategy. Do the Chiefs, Jaguars, or Chargers have as good a defense as Buffalo? No. But two of those three teams made it as far as the Bills in the playoffs, if not farther. It's a new era in the NFL, where the top defenses are outmatched by the top offenses. Buffalo has had nine picks in the first or second round since 2018 (when they drafted Allen), and six have been dedicated to defense, with the other three being Allen, Cody Ford, and James Cook. It's time to get Josh Allen the help he needs. Build an offensive line that won't need Allen consistently bailing them out. Get Allen weapons on the outside and in the slot that can be consistently productive. And most importantly, draw up plays that don't force Allen to either throw a one yard check down or a 40 yard bomb with no in between.

It's also important to remember everything that this team endured this year. From losing Micah Hyde and Von Miller for the season, to a home game being moved to Detroit, to a teammate almost dying on the field (just to name a few), this Bills team showed great resilience. While I'm not trying to make excuses for Buffalo's flat performance against the Bengals, it's important to consider the possibility that all the gas had simply run out of the tank. This was a very emotional season, one that fans won't soon forget. It's impossible to imagine how the players processed all of this, and were still able to play football games through it all. It's hard to imagine that there will be another Bills team as emotionally spent as this one. Perhaps this will provide some hope going into next year, with a fully healed Josh Allen at the helm.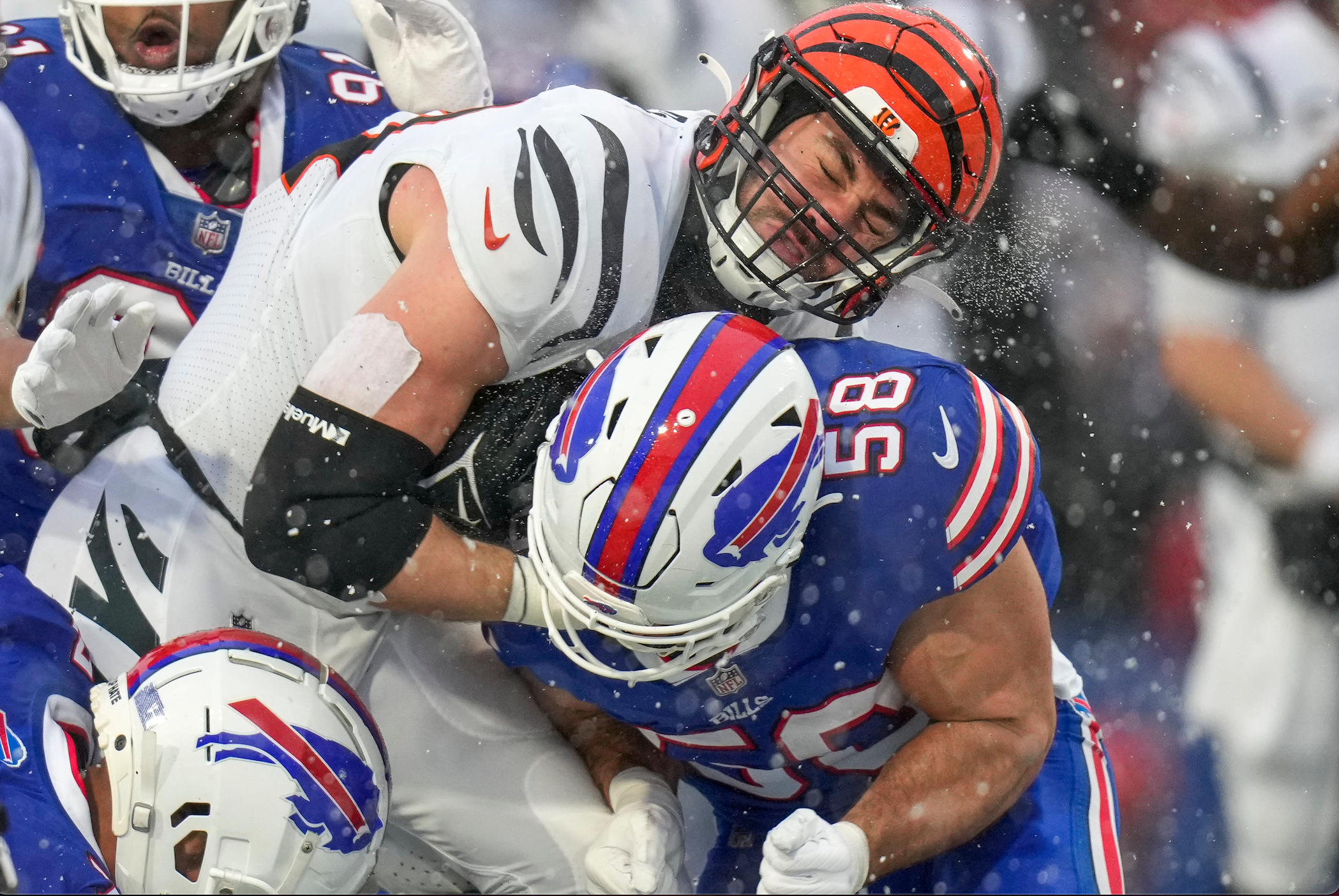 Game Awards

Offensive Player of the Game: Khalil Shakir

The rookie receiver only had two catches, but showed flashes of what his potential could be in this passing attack. Despite playing just 18 snaps, his two receptions went for 40 yards, which was second on the team behind Knox. In a game where there weren't many bright spots for the Bills, I'll choose to hope Shakir foreshadowed his future role with the team.

Defensive Player of the Game: Matt Milano

It's Milano without a doubt, as the entire defense was picked apart by Cincinnati drive after drive. Every 'splash play' was made by Milano, whether it be the team's lone sack, or a perfect pass breakup in the end zone. He recorded 10 total tackles, two for loss, along with the sack and pass break up. It was another amazing performance, capping off a well deserved First Team All-Pro season.

MVP: Josh Allen

Allen obviously didn't have his best game, but I challenge you to find a QB who would've salvaged Allen's stat line the way he did despite turnstiles along the offensive line every single play. He finished with 265 passing yards, 26 rushing yards, and one rushing touchdown. What's most impressive, he took just 1 sack, despite the constant pressure he faced from some very well-timed blitzes.

What's Next: Free Agency and the NFL Draft

There's a lot of work for the Bills to do this offseason, with question marks on offense, defense, and among the staff. The NFL 'Free Agency Frenzy' begins Wednesday, March 15.
Editor's babble: Colin Richey is off to a great start regarding his future career in sports journalism. We hope to have Colin contribute to our blog throughout the off season. You can also find Colin on Twitter @whatthef00tball.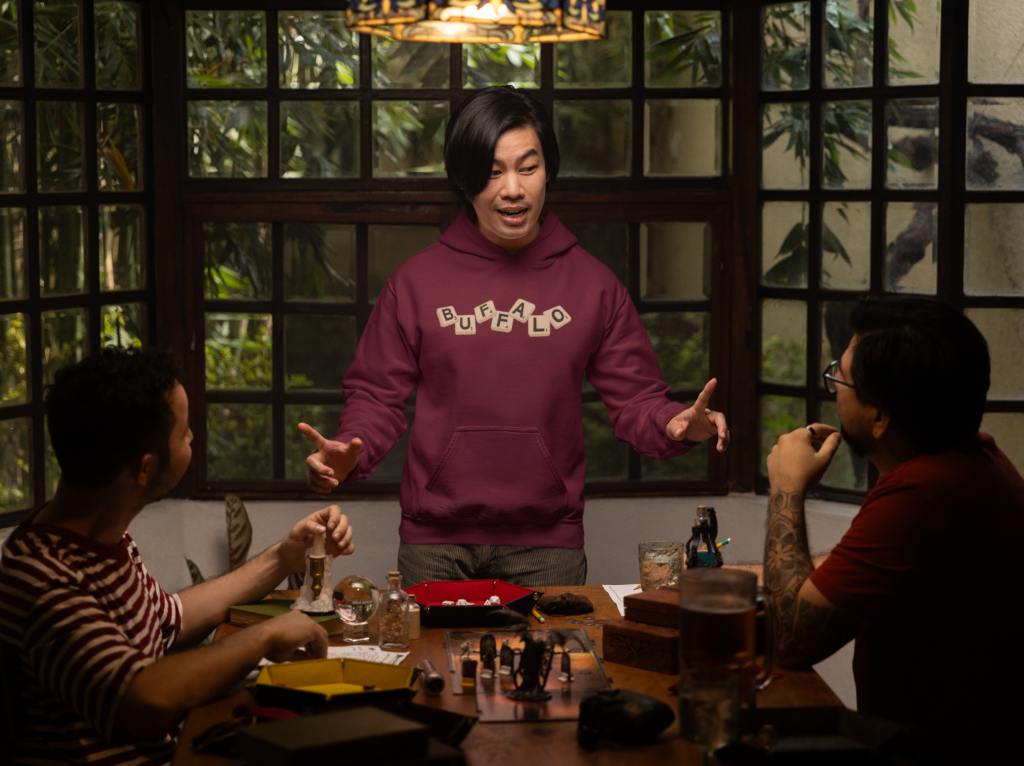 BuffaloFAMbase.com is sponsored by 26 Shirts
Every Monday, we launch a new two-week campaign of a limited edition t-shirt design. Every shirt purchase results in a donation to a local family in need. After the campaign ends, the shirt is retired. A new design is released, and a new family benefits from your fandom!