The Buffalo Bills took on the Chicago Bears in a Christmas Eve showdown. With a win, the Bills would clinch the AFC East for the third consecutive season. Buffalo would be without starting center Mitch Morse, while the Bears would be missing their top three wide receivers, both starting guards, and two of their top cornerbacks.

Trading Touchdowns

Chicago wasted no time, jumping to an early lead. Justin Fields connected with Byron Pringle for a 20 yard gain, and running back David Montgomery took the ensuing handoff for 28 yards to set up first and goal. Even with a 10 yard holding penalty, the Bears were able to find the end zone, thanks to a corner route that left Dante Pettis wide open for a six yard touchdown.

Nyheim Hines returned the kickoff out to the 29 yard line, giving Josh Allen and the Bills good field position to start. A 24 yard loft to Dawson Knox put the Bills in Chicago territory after just one play. Cole Beasley picked up nine on a catch (his lone reception of the day), and Allen ran for 10 to move the chains. Following a 10 yard holding penalty, rookie James Cook ran for 24 yards, and picked up blocks from Rodger Saffold, Ryan Bates, and Gabriel Davis along the way. After cycling through his progressions, Allen found Davis open in the back of the end zone for a 19 yard score. With wind so powerful that the goal posts were shaking, Tyler Bass missed the extra point, making it 7-6 in favor of the Bears.

Bills Trailing at the Half

Points were hard to come by after both teams scored touchdowns on their opening possessions. Chicago failed to convert on fourth and three from Buffalo's 33 yard line, with Ed Oliver tipping the pass at the line of scrimmage, which would have otherwise found an open Bears receiver beyond the line to gain. Buffalo began to piece together a strong drive, with Allen finding fullback Reggie Gilliam for 12, Singletary running for 15, and Allen hitting Davis for 15. However, a 10 yard holding penalty stalled the drive, and Allen threw an interception just two plays later. Trying to hit Isaiah McKenzie in the end zone, Allen's pass seemed to get away from him, as there was not much zip on the ball. Rookie cornerback Kyler Gordon was able to undercut the pass, and return the interception 36 yards.

The Bears didn't do much to capitalize on the turnover, punting after just one first down. Facing third and 12, Fields dropped the snap and was met in the backfield by Oliver and Greg Rousseau before he had time to salvage the play. The Bills failed to gain a first down and punted right back to Chicago, who answered with an eight play drive that ended in a 37 yard field goal from Cairo Santos. With just under a minute left, Buffalo tried to answer with a field goal, but Bass missed the 38 yarder to make it a one point game. A five yard sack from Oliver ended the first half, with Buffalo trailing 10-6.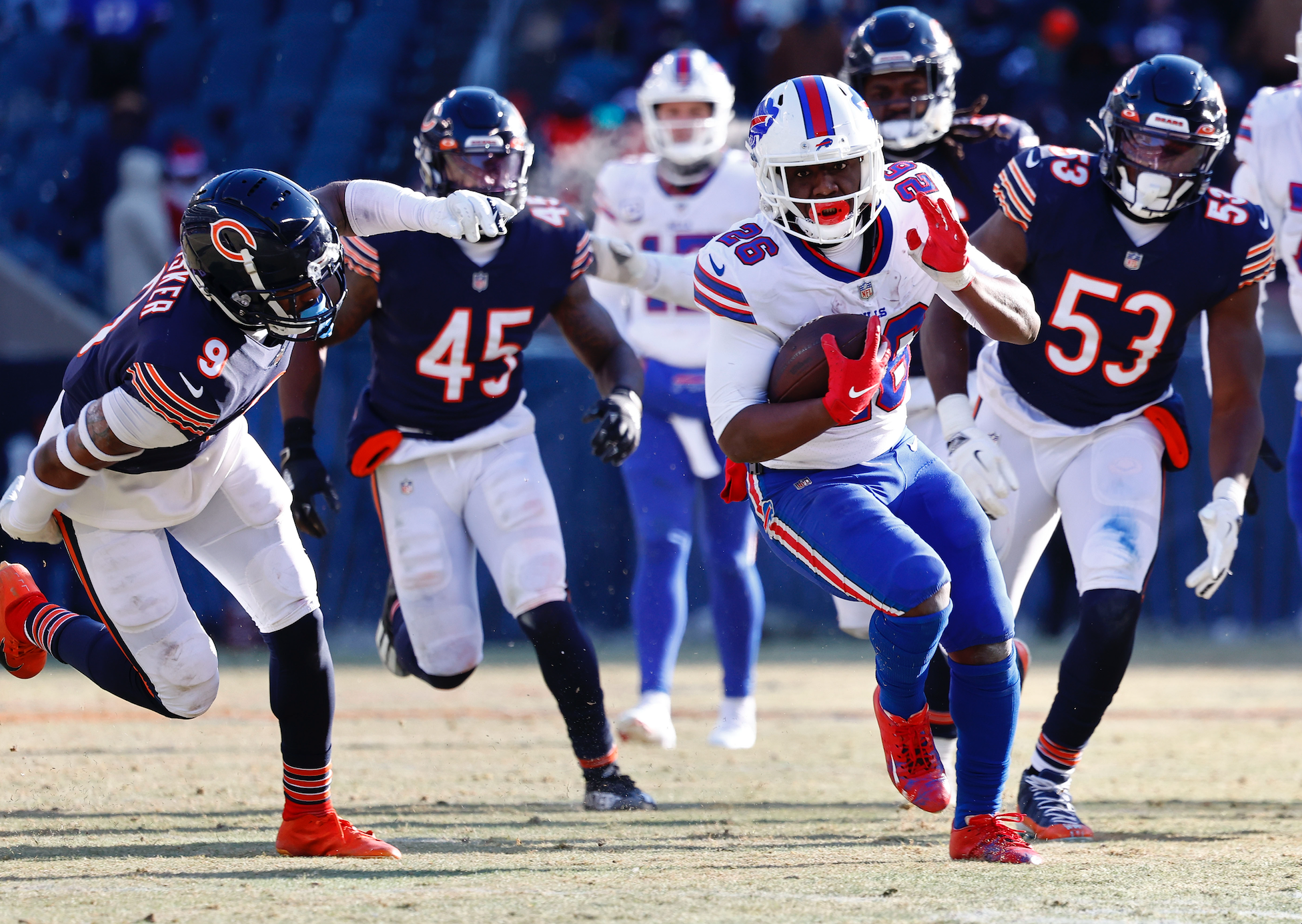 Buffalo Runs Away With the Win

After not recording a catch in the first half, Allen's first pass of the second half went to Stefon Diggs, who turned it into a 15 yard gain. From there, Devin Singletary took over. After catching two passes for a total of 19 yards, the running back burst free for a 33 yard score to give Buffalo the lead. Bates opened up a hole through the middle, and a pulling Spencer Brown took care of the linebacker standing in his way. Thanks to a two-point conversion catch from Khalil Shakir, the Bills extended their lead to 14-10.

On Chicago's ensuing drive, Dane Jackson knocked the ball out of David Montgomery's hand, and Tim Settle was able to recover the fumble. After an eight yard run from Cook, the rookie burst through a hole created by the offensive line, outrunning Chicago linebackers and safeties on his way to the end zone for a 27 yard touchdown.

After taking a 21-10 lead, neither team scored in the remaining eight minutes of the third quarter. The Bears went three-and-out twice, and a Gabriel Davis fumble ended Buffalo's drive. The Bears failed to capitalize on the turnover, failing to convert on fourth and three from Buffalo's 16 yard line. To set up the drive, Fields connected with rookie receiver Velus Jones for 44 yards, who brought in the pass in between Tre'Davious White and Kaiir Elam. On fourth down, tight end Ryan Griffin caught a pass near the line to gain, but White redeemed himself with a great wrap-up tackle, causing Griffin's knee to hit the ground before he extended for the first down.

Unfortunately, two plays later, Allen was intercepted for the second time, this time sailing a pass over the head of Cook directly to Bears linebacker Nichols Morrow. Thanks to Greg Rousseau's tackle-for-loss on running back Khalil Herbert, the Bears were facing third and 12, and ultimately settled for a 35 yard field goal, cutting the lead to 21-13.

Both teams exchanged punts, then Allen led the Bills on another scoring drive. Singletary caught a pass for eight, then ran for a 26 yard gain to get Buffalo deep in Chicago territory. Singletary ran three more times for eight yards, and Nyheim Hines caught a pass on third and eight that he turned into a nine yard gain. On third and three from Chicago's four yard line, Allen faked a handoff to Singletary and accelerated towards the right pylon. With Quintin Morris sealing the edge, no Bears defender could match the speed of #17, who went untouched into the end zone for Buffalo's fourth touchdown of the game.

AJ Epenesa sacked Fields for a 10 yard loss, stalling the drive for the Bears who turned it over on downs two plays later. After Cook was held to just seven yards on three carries, the Bills decided to go for it on fourth and three from Chicago's 13 yard line. Allen faked the handoff to Cook, and rolled to his right, where he lobbed a pass to Knox for a 13 yard touchdown.

At that point, down 35-13, and with Justin Fields visibly limping on the sideline, the Bears sent out the infamous Nathan Peterman to close out the game. Peterman did what he does best, throwing an interception on the last play of the game to Jaquan Johnson.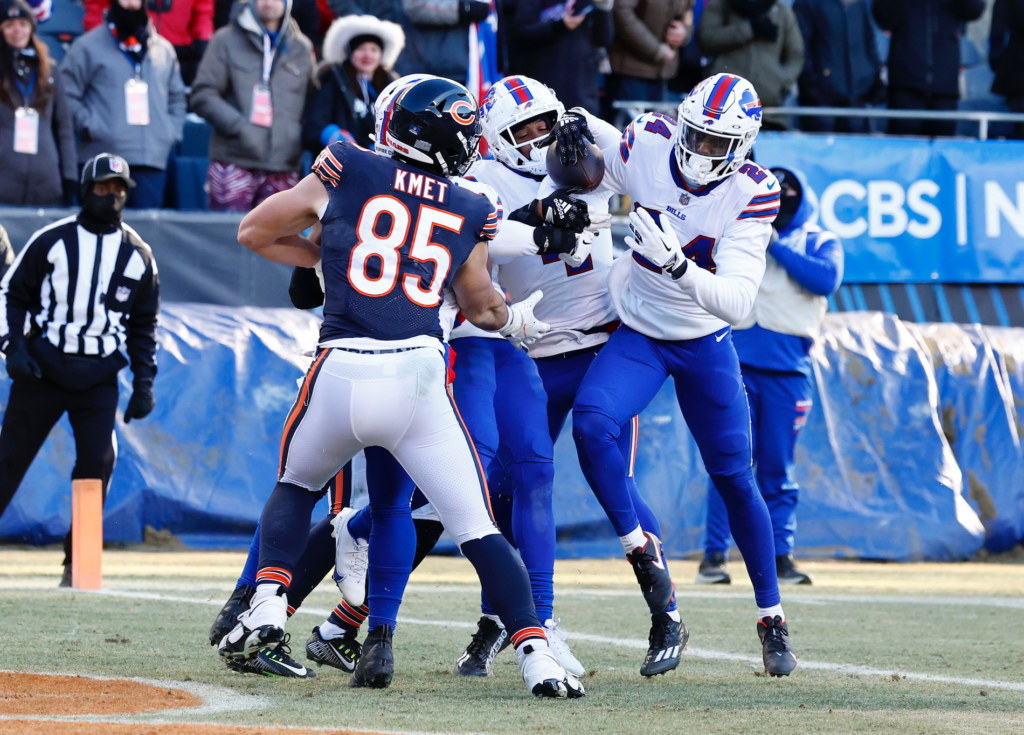 Afterthoughts

While the two interceptions weren't pretty, the Bills continued their win streak against a shaky Bears team. The one thing Chicago has done well this year is run the ball, especially with Justin Fields. The Bills held Fields to just 11 yards on seven carries, and Montgomery and Herbert combined for just 69 yards on 22 carries. It was encouraging to see Elam earn more snaps, who was on the field for nearly half of the defensive plays. Although Bass missed an extra point and a field goal attempt, which is uncharacteristic for him with the strong season he's put together, the severe weather conditions make it hard to believe that this should be a long time concern.

Offensively, it's unacceptable that it took until the third quarter for Stefon Diggs to register his first catch. There have to be ways to get a top 5 wide receiver in the NFL more involved earlier in the game. No Bills receiver had more than 45 yards, because of how dominant the ground game was for Buffalo. Between Allen, Singletary, and Cook, the trio combined for 29 carries, 246 yards and 3 touchdowns. Buffalo's offensive line dominated the line of scrimmage, granted it was against a weaker Bears defensive line. Similar to last season, it appears that Buffalo is finding their stride in the run game just in time for the playoffs.

Game Awards

Offensive Player of the Game: Josh Allen

Despite Allen's two turnovers, he still threw two touchdowns and ran for a third, giving him the record for most total touchdowns in a player's first five seasons. Sure it wasn't his best game, but there are many, many teams in the NFL who would love a three touchdown output from their QB to be a 'bad game'.

Defensive Player of the Game: Ed Oliver

While watching the game, it felt like Oliver was always right in the middle of any sacks or QB hits from the defensive line. He officially recorded four tackles, two of which were for a loss, one sack, and two passes defensed (including one on fourth down).

MVP: Devin Singletary + James Cook

I'm giving out Co-MVP awards to Buffalo's running back duo, who both had arguably their best games of the season. Singletary ran the ball just 12 times, but totaled 106 yards and one TD (plus an additional 19 on two catches). Cook showcased his explosive running, tallying 99 yards and one touchdown on just 11 carries (plus an additional nine yards on one catch). 205 yards on 23 carries is not a realistic goal for the future, but illustrates that the Bills can be efficient in the run game if needed.

What's Next: Bills @ Bengals 1/2

In a Monday night showdown, the Bills visit Joe Burrow and the Bengals, with the outcome playing a major role in who could end up with the #1 seed in the AFC.
Editor's babble: We are grateful for Colin Richey's terrific contributions to our blog. You can also find Colin on Twitter @whatthef00tball.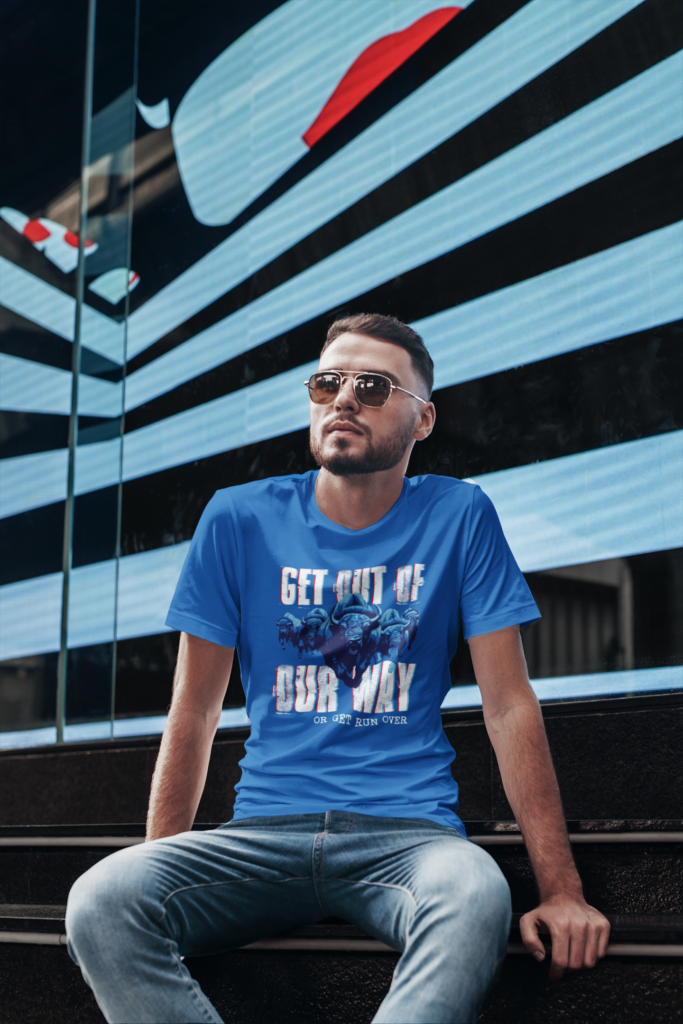 BuffaloFAMbase.com is sponsored by 26 Shirts
Every Monday, we launch a new two-week campaign of a limited edition t-shirt design. Every shirt purchase results in a donation to a local family in need. After the campaign ends, the shirt is retired. A new design is released, and a new family benefits from your fandom!