Watching football can be an anxiety-inducing event. There is an element to never knowing the ending and ultimately realizing tragedy or triumph is just around the corner that keeps the blood flowing and the heart racing. Fans never know how a game is going to end, especially once more meaningful football comes into play. Just looking at the slate of games last week, the majority of contests were determined by one-score. December football is here, and every team is fighting for their post-season life and trying to control their destiny for when mid-January hits. Even the teams that have had disappointing seasons and are eliminated from playoff contention have all the more reason to play their hearts out and spoil a more fortunate teams' position. Players and coaches alike are looking to either keep their job or find a new one the next year and a big December, even for a player or coach on a losing team, often means a nice contract come March. Teams genuinely don't have reasons to "give up" even when a situation looks bleak, and this embodies what football is all about.
I have a rule of thumb I constantly apply and remind myself when watching football. If it is a one-score game and there is at least two minutes on the clock and/or a losing team has all their timeouts left, it's simply not over. Fumbles happen, interceptions happen, defensive stops happen, and big plays are always lurking around the corner. With a league that has become catered towards helping offenses move down the field, it's easier to put up points more than ever in the NFL. A team that is dancing and smiling on the sideline before one commercial break is often facing a totally different set of circumstances the next. Good teams know how to remain concentrated and keep in mind they still have a chance to win or lose as long as there aren't double zeros on the clock. The Buffalo Bills have shown they know how to win these close one-score contests this season and last Saturday's game in Orchard Park against the Dolphins made this even more apparent.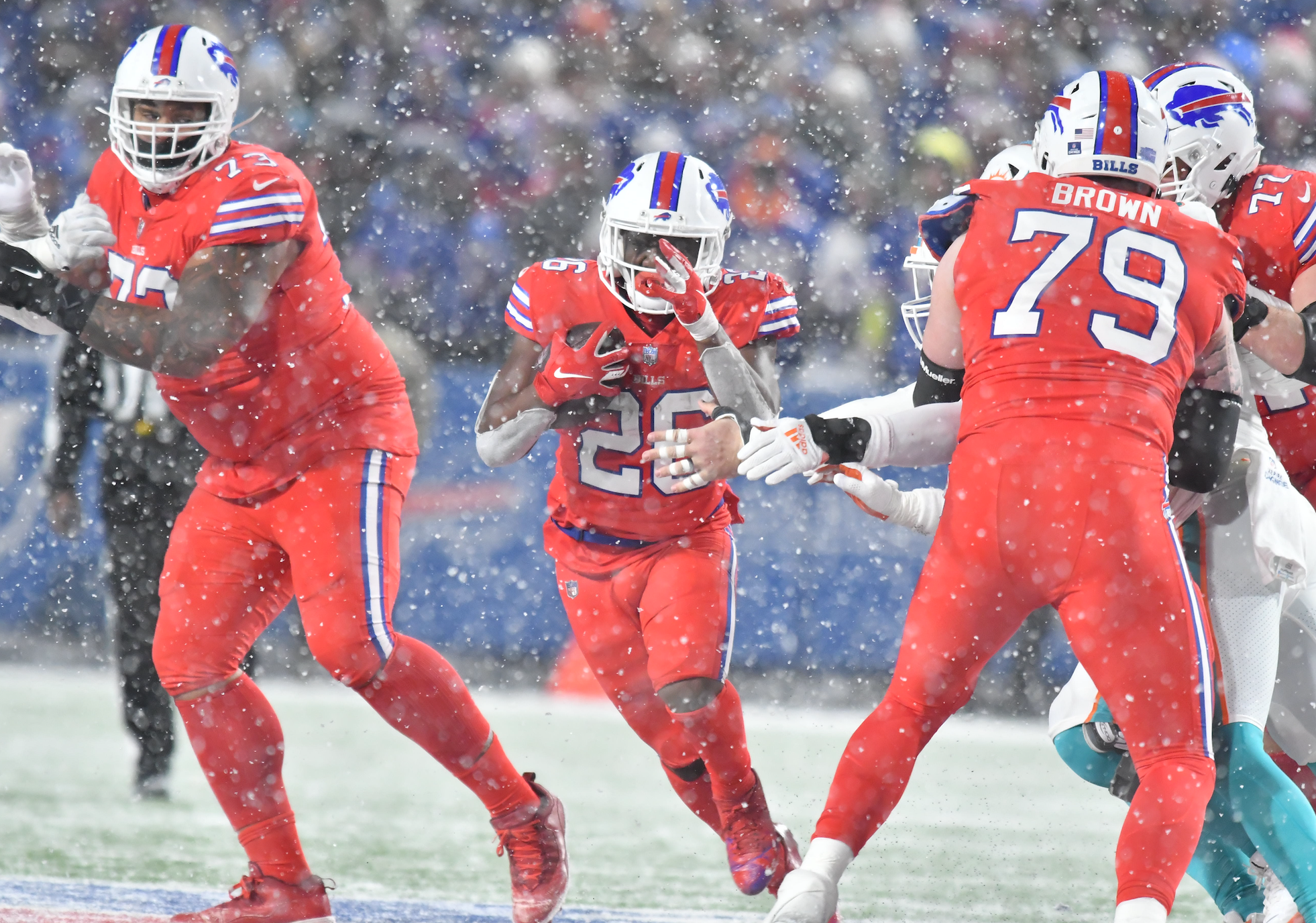 Today, I'll talk about the Bills victory over the Dolphins last Saturday – focalizing on the fourth quarter comeback by the Bills, and their upcoming Christmas Eve game against the Chicago Bears at Soldier Field, Saturday 1 p.m. ET.
A Dive into the 4th Quarter Comeback
Lest we forget the beginning of this wild game A LOT went down in the first three quarters of play. Fans pelted players, coaches, officials, sideline reporters, and even camera crews with snowballs. The snowballs were even thrown onto the field-of-play which caused the refs to stop the game momentarily and threaten the Bills with a 15-yard penalty anytime a fan threw a snowball on the field. Josh Allen went absolutely insane on the field, throwing for 217 yards, 16 completions, and three TD passes by halftime alone. TE Quintin Morris, RB Nyheim Hines, and RB James Cook all recorded their first receiving TDs as Buffalo Bills. Allen had another sideline TD throw that served as a buzzer-beater and came uncomfortably close to leaving points off the board before the end of the half. Even though the Bills played well offensively, the Dolphins went round-for-round with them and RB Raheem Mostert had 11 carries for 108 yards by halftime and embarrassed countless Bills defensive players.
The third quarter was completely dominated by the Dolphins. The Bills punted four straight times and the Dolphins ended up scoring 16 unanswered points early into the fourth quarter and putting up an eight point-lead. The Bills also had a mind-numbingly bad play by CB Cam Lewis as he hit Miami's punter and not only gave the Dolphins a first down, but also great field position with it. WRs Jaylen Waddle and Tyreek Hill put on a clinic, leaving our top corners in the dust and both of them scored a TD through the air in the third quarter. After CB Taron Johnson broke up a pass intended for Hill right at the start of the fourth quarter it felt like the Bills finally had some momentum going their way with good field position at the BUF 49, but Allen was strip sacked by Miami OLB Jaelan Phillips on first down which Miami recovered.
At this moment, I definitely felt a pit in my stomach with the realization that could be the play that allows Miami to go up by two-scores if they could capitalize on their turnover with a TD. Of course, both sides of the ball for the Bills had something else in mind.
As Miami drove down the field, T. Johnson made a massive stop on third and one, reading a screen intended for Miami TE Durham Smythe and tackling him for a two-yard loss. Johnson read the play from the jump, resisting running down field with Hill and Waddle who were serving as eye candy, keeping his eyes on Tua, and ran up to lay a big hit on Smythe to ensure he had no chance for forward progress to get the first down. Plays like this show how versatile all of the Bills DBs are and how they never shy away from contact. For a slot corner Johnson plays a lot like a hard-hitting safety or linebacker. The play ended up being monumental as it forced Miami to settle for a FG after a turnover, making their lead only by one-score (8 points) as opposed to two-scores.
More importantly, it gave Josh Allen a chance to tie the game up. On the ensuing drive, Josh Allen had a Thanos "Fine I'll do it myself" moment and lead the Bills down the field, right when it began to flurry and eventually snow heavily. After fumbling the ball on his first rush (which was luckily recovered by RT Spencer Brown), RB James Cook showed off his burst ability and got 16 yards for the Bills. Allen, of course, had to show the rookie up and sprinted up the middle of the O-line on a QB draw from shotgun and blew by both Miami LB Andrew Van Ginkel and DB Verone McKinley towards the sideline for a 44-yard gain to the Miami 13-yard line.
Considering the fact that Allen is 6'5" and listed at 237 pounds, and that he is technically "slower" than most defensive players outside of linemen, it really is impressive how often he runs right by players who are technically faster than him. Allen proves week in and out gametime speed is a reality and just because your 40-yard dash time is under 4.5 seconds, it doesn't always matter or translate because football is not a track meet. After Allen took a late hit and a brawl ensued, which even Coach McDermott tried to go into to break up, Allen threw a 5-yard TD pass to TE Dawson Knox who ran a great route against veteran CB Justin Bethel. Lastly, and more importantly, to tie up the game, Allen converted a 2-point conversion on a run where he went full Superman and dove over backup Center Greg Van Roten three yards away from the end zone and crossed the plain.
The try was originally ruled as no good and immediately went to commercial break without showing any replay, but I had a feeling Allen crossed the goal line and when everyone was fighting for the ball acting like it was a fumble, he stood in the end zone with his hands raised signaling he believed it to be good. Once again, Allen showed he is willing to do anything to get his team a victory and this is one of those plays that separates him from any other QB currently playing.
With nine minutes left in the game it was far from over, and the Bills defense needed to respond after having a tough night. After giving up two plays in a row for a combined 34 yards the Bills hunkered down and manifested a stop to get the offense the ball back. Bills DE Greg Rousseau got a solid tackle on Mostert for a 1-yard gain, CB Kaiir Elam read a screen to Hill and tackled him for a 3-yard loss, and a ball fell incomplete to Waddle which led to a punt from Miami that went all the way to the BUF 7-yard line which Hines nearly dropped trying to catch.
At this point, it couldn't be snowing any harder and Allen immediately threw a pass to Gabe Davis on first and 10, exemplifying how his arm strength has no issue contending with the Western, NY wind and snow. Allen and the Bills offense absolutely dominated this drive, converting three separate third down attempts. Davis made catches, Diggs made catches, McKenzie made catches and drew a massive PI call for a 21-yard gain which made me yell in excitement so loudly I probably startled everyone in my apartment building. RB Devin Singletary held his role as RB1 with pride capping off seven runs for 36 yards on the final drove alone. Singletary showed elite game-awareness as he refused to score a TD as the Dolphins were letting him go in and instead fell to the ground, allowing the Bills to run the clock out before Tyler Bass hit a game-winning 25-yard FG while the clock expired. This drive proved to be Allen's fourth game-winning drive of the season. The Bills have proven they know how to win close games and it always comes down to a team effort. Everyone has to step up and make plays, even if Allen is leading the pack, they've proven they got countless hungry dogs following suit.
Looking Forward
Playoffs/Injury Concerns
For the fourth season in a row, the Buffalo Bills are heading to the playoffs. Since Coach McDermott's arrival in 2017, the Bills have entered the post-season five out of the last six years. Prior to his arrival the Bills had not made the playoffs since the Music City Miracle where then Owner Ralph Wilson allegedly forced then Head Coach Wade Phillips to bench fan-favorite Doug Flutie in favor of Rob Johnson. McDermott has eased a lot of pain that Bills fans felt leading up to and during the drought era and I wanted to dedicate a paragraph to the work him and GM Brandon Beane have done since their arrival. Not only have they drafted, traded for, and signed incredible players, but they actually have taken the time to develop young players into stars, which so many organizations have zero patience for. Being a diehard Bills fan my Twitter feed (thanks algorithm) is full of Bills content and hot takes and I consistently see negative takes on the Bills and this organization by the fans. Obviously, everyone is entitled to their opinions, but I hope fans realize we are in the middle of a golden era and it's really not a joke when people call it the "Not For Long" league. Enjoy this moment while it lasts, whether we win or lose, the McDermott era has brought us incredible players and memorable games alike that are invaluable. I guarantee you a lot of Patriots fans would actually like to enjoy watching football again.
Unfortunately, the Bills have sustained another serious injury. Center Mitch Morse left the game after halftime with a concussion which is the sixth of his professional career. It's no coincidence the Bills offense stalling out in the third quarter came along with Morse leaving the game. I see a lot of position groups getting thrown into question regarding the Bills (WRs behind Diggs/DBs not named Jordan Poyer) but the unquestionable weakest position group is the back-up O-line. This is the case for the majority of teams, but whenever we have lost this year, the starting offensive line is not intact. Allen makes up for a lot of bad offensive line play, but Morse is invaluable. Not only did he make the Pro Bowl this year, but he helps call protections at the line and is the anchor of the offense everyone plays off of. After suffering a concussion in 2020, he took a couple of games off, and there was some concern he was contemplating retirement then. Morse has a family and head injuries are not something to mess around with when you want to be fully present for the future. There has been no timetable established for his return and I wouldn't be shocked if he sat out at least the rest of the regular season and/or didn't return for the playoffs. I can easily see the Bills going heavy on their o-line in next year's draft. Lastly, DE Boogie Basham did not practice yet this week so he will probably not play, and G Ike Boettger was activated from the PUP list, so there could be some movement/experimenting around the O-line this upcoming game.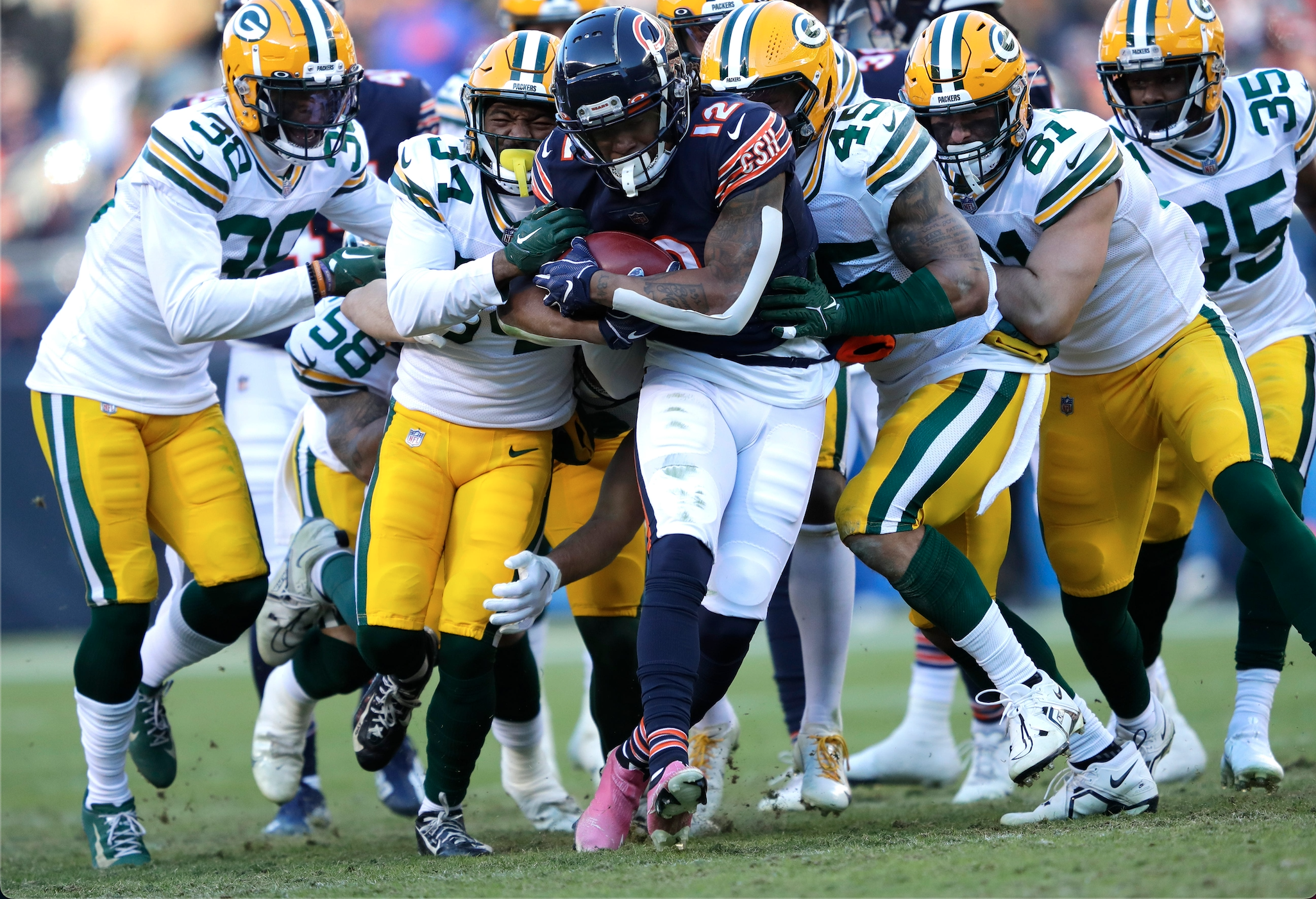 Matchup with Da Bears
It's a Christmas Eve affair in the Windy City Saturday afternoon and the Bills are facing another game with crazy winter weather. With a severe storm going across the Midwest over the holiday weekend it is expected to be frigid out with gusts potentially up to 40-50 MPH as well as snowfall and low temperatures. The Bills announced Wednesday that they plan to depart Thursday evening just in case the weather gets too bad to travel Friday. Regardless of the forecast, a cold and windy game is essentially guaranteed at this point, but luckily for the Bills that isn't anything they aren't used to playing in.
The Bears come into the matchup with a 3-11 record and haven't won a game since they blew out the Patriots in late-October. Although that makes the Bears sound inferior, they have been on a good run lately, with QB Justin Fields coming alive and earning himself a spot as one of the leagues young QBs with serious potential going forward. He already has 1,000 rushing yards on the season and has thrown for 2,048 yards, 15 TDs, and a 62% completion percentage. Most of their recent games have been close affairs and their defense just picked off fellow-MVP frontrunner Jalen Hurts twice last Sunday. The Bears are a team that puts an emphasis on running the ball and currently led the league in rushing yards with 2,616 yards and they average a league-high 5.4 yards a carry on 187 yards a game. There is a good chance RB Khalil Herbert will also be returning from IR who provides an extra burst for the Bears running game aside from Fields and RB David Montgomery. TE Cole Kmet also has had an impressive season, but the Bears are dire when it comes to their WRS, with nearly all of their top wideouts out with injury.
If the Bills defense can step up, not be bothered too much by the cold, and stop the run game, they should have zero issue putting the Bears away. I wouldn't be surprised to see the Bills play a patient game, much like they did against the Cleveland Browns, and allow their running game to take prominence. Obviously, you never know and maybe Josh Allen's gonna pass in the wind because why not?
Happy Holidays everyone! Thank you all so much for reading this week. It's truly been a bright spot of my year getting to talk about the Bills on a weekly basis! Stay safe in your travels and Go Bills!!!!
Editor's babble: One of this year's bright spots for us is having Joe Larkin contribute to our blog! You can also find Joe on Twitter @jooelarkin. Merry Christmas!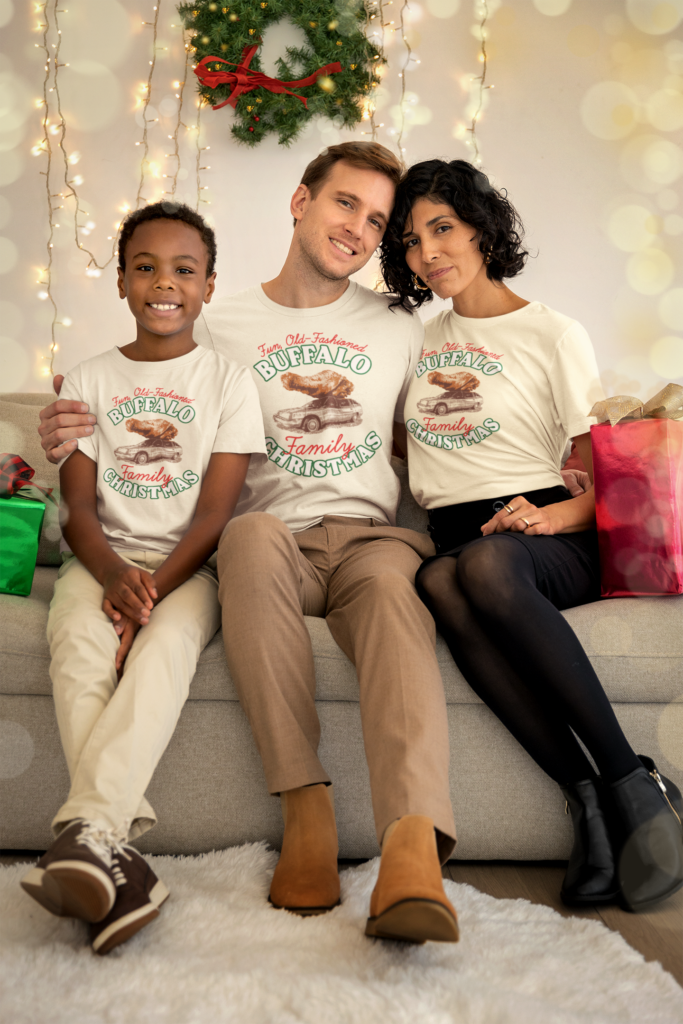 BuffaloFAMbase.com is sponsored by 26 Shirts
Every Monday, we launch a new two-week campaign of a limited edition t-shirt design. Every shirt purchase results in a donation to a local family in need. After the campaign ends, the shirt is retired. A new design is released, and a new family benefits from your fandom!