Forging a bond between humans, whether in your personal life or in the workplace, is always going to come with complications. Life pulls us all in different directions and it often feels like what you shared in the palm of your hands and put so much effort towards building together is suddenly gone forever. This applies tenfold in the NFL. Although, the Buffalo Bills newfound success has only been blossoming for the last four seasons, in the NFL that is equivalent to a lifetime.
Just looking towards next year, there is a real chance some faces that we have grown accustomed to seeing in the blue and red such as Jordan Poyer, Tremaine Edmunds, and Devin Singletary could be gone for good. It will never take away their legacies and time spent with the team, but it illuminates how quickly time and teams go by in the NFL. Luckily, the first notably successful Bills squad of the 21st century have one last stand together since they exploded onto the scene in 2019 and began punching their own ticket into the playoffs. With countless members returning to the squad throughout the season such as A.J. Klein, Jordan Phillips, Shaq Lawson, John Brown, and now Cole Beasley it really feels like we're getting the one last reunion concert we didn't expect. Frankly, the Bills themselves and us fans are lucky to see what we are witnessing right now – it usually doesn't work out like this. Everyone of these players is here for the same reason. To finish what they started. To end the Superbowl curse of the early 90's and bring the Lombardi home to the 716 for the first time in NFL history.
Today I'm going to talk about the Bills gritty win over the Jets, the return of Cole Beasley, and the upcoming Saturday Night Game against the Miami Dolphins at 8:15 p.m. ET in Orchard Park.
Defense Dominates against Mike White
After falling to the Jets in Week 9 of the regular season 17-20, the Bills came out last Sunday ready to show they weren't relinquishing their possession of the AFC East anytime soon, especially to a team that is getting hot for the first time in well over 10+ seasons. The only issue was heavy wind and rain that inundated 'The Ralph' that led to a slow start for both teams offensively. The Jets and Bills tallied 10 punts combined to start the game which lasted nearly till halftime and was the most consecutive punts in a game in six years. The game showcased two of the best defenses in the NFL battling it out in the elements and Buffalo proved to be on par with a top tier defense that absolutely stunned the Bills a month ago. The Jets were able to play the game they wanted to against the Bills by having Josh Allen off the field as much as possible. The Jets had a longer time of possession (34:25 to 25:35), more total plays (73 to 54), and more first downs (19 to 14) than the Bills. The key difference was the Bills ability to get pressure on Mike White and force two turnovers, which the Jets failed to do this meeting.  
One of the greatest contributors to the Bills defensive success last Sunday was once again LB Matt Milano who finished with nine total tackles, a TFL, two pass deflections, a fumble recovery, and a crushing QB hit that is without a doubt one of the most violent hits of the season.
On the play Tremaine Edmunds blitzed up the middle of the line and was taken down on a dive by Jets RB Michael Carter. Milano saw White was intending to go deep with the ball and found himself a now open lane to demolish Mike White who had to leave the game for a series after the hit. Milano led with his shoulder and did not put his weight down on White or initiate any contact with his head. It was a clean hit and shows the intelligent grit the Bills defense can match physical teams with.
White leaving the game set up a change of pace for the Jets and DE Greg Rousseau took full advantage.
On the play, Rousseau shed the block by RT Mike Remmers and closed in on backup QB Joe Flacco and forced a fumble which was recovered by DT DaQuan Jones who is quietly having a dominant season himself. Rousseau had a career day finishing with 2 sacks (one resulting in a forced fumble), a TFL, and a PD. Rousseau stepped up in the absence of Von Miller and will most likely be counted on going forward as the teams leading edge rusher. He already has seven sacks on the season even though he nearly missed a month of play with an ankle injury. The rest of the D-Line also made life uncomfortable throughout the game for White as DE Shaq Lawson, DE A.J. Epenesa, and DT Ed Oliver either got sacks on White or laid a big hit on him.
After the Jets gained some momentum in the latter half of the fourth quarter with a blocked punt by Jermaine Johnson leading to a safety and erasing the deficit to 11 points the Bills defense ensured the Jets weren't going to make a comeback. When the Jets had great field position after the safety and seemed to be inching towards the goal line and giving everyone in Western, NY a panic attack, S Damar Hamlin executed a perfect punch on a falling Michael Carter that resulted in a fumble which was recovered by Milano. With 45 seconds remaining, the Jets down by eight, and with a single timeout left, they ended up going four-and-out after the Bills defense forced two incompletions and two passes defensed consecutively. The Bills defense showed up in a big way last Sunday, and although it wasn't perfect, they held White and an ascending Jets offense to a mere 12 points and ended the game on their terms.
You get a hurdle, you get a hurdle, everyone gets a hurdle!
Although the Bills offense had a tough afternoon with a lot of punts and dropped balls throughout the afternoon, the playmaking ability of Josh Allen and TE Dawson Knox stood out firmly and helped them get touchdowns on the board. After punting three consecutive times to start out the game it was obvious the Bills needed some Allen magic to get the offense motivated. On third& 15 Allen scrambled left and dove a solid 3-4 yards over S Lamarcus Joyner to pick up a first down.
The Bills continued to stall out for two more drives, but with 3 minutes left before halftime the offense conducted a beautiful drive for a TD. On a fourth and one at midfield the Bills tried to get the Jets to jump offsides when Knox went under center. He fooled the Jets with the assumption he would sneak the ball and LB C.J. Mosley jumped over the pile and tackled Knox before it was snapped which gave them a first down. Followed by some runs by Allen and catches by WR Isaiah McKenzie, Allen found Knox who decided to give his own Josh Allen impression a spin.
Knox leaped over CB Sauce Gardner and dropped his legs into the back of S Jordan Whitehead as he reached the pile on and scored 6 points. As the video mentions above, Knox's 24-yard TD certainly seems primed for a WWE wrestling ring. After the Jets put up a TD after halftime, the Bills responded with a TD of their own, travelling 75 yards in six plays and LT Dion Dawkins obliterated a defender to make room for an Allen rushing TD. Add in Tyler Bass drilling two consecutive FGs of 38 and 49 yards in wet conditions and the Bills offense reminded the Jets they have some seriously gifted playmakers on their roster just waiting to be called on.
There has been a lot of concern, locally and nationally, about the state of the Bills offense and if it is overly Josh Allen centric, but I personally believe this offense has shown down the stretch they can win in more ways than one. The game plan was definitely a tad vanilla towards the end, but I imagine McDermott was trusting his defense to win them the game. It's impossible to run up the scoreboard every week and I think the media and fans alike need to recognize this is still a top offense in the NFL and it can explode at any moment.
Return of the Bease
After a messy offseason it was announced Tuesday morning former Bills WR and 2020 second-team All-Pro player Cole Beasley would be returning to the Bills and signing to their practice squad. Beasley proclaimed he retired after a short stint with the Tampa Bay Buccaneers earlier this season, but apparently called GM Brandon Beane after Thanksgiving asking if the Bills would be interested in a reunion. Although Beasley only signed to the practice squad it is expected he will be elevated to the gameday lineup this weekend.
I'll be the first to admit I was not a fan of anything Beasley did off the field leading up to his departure and some of the comments he made just a short month ago were unnecessarily disparaging towards the Bills, their staff, and were insensitive considering the growth of Anti-Semitism in the USA. In these polarizing times it's easy to get caught up in different opinions online and it's worthwhile to note we don't all have to agree with each other on everything and can still maintain respect for one another. It's obvious understanding, patience, education, and forgiveness is something we all need to work on as a society. Despite all the drama to us outsiders, his teammates are ecstatic to have him back and he expressed remorse in his Wednesday presser about how his time previously ended in Buffalo and how his actions online have creeped into his personal life to his own dismay.
Regardless of how you feel moving forward, Beasley played a massive role in this offense the prior three seasons and deserves a chance to get a ring along with all of the guys who have come back this season. Beasley helped propel Allen to the next stratosphere and after losing WRs Jake Kumerow and Jamison Crowder to injury Beasley can easily step into an offense he knows. The Bills went 2-for-13 on third downs against the Jets last week and third down conversions is where Beasley made his name as one of the best slots WRs in the league. All I know is the band is back together and it couldn't come at a better time!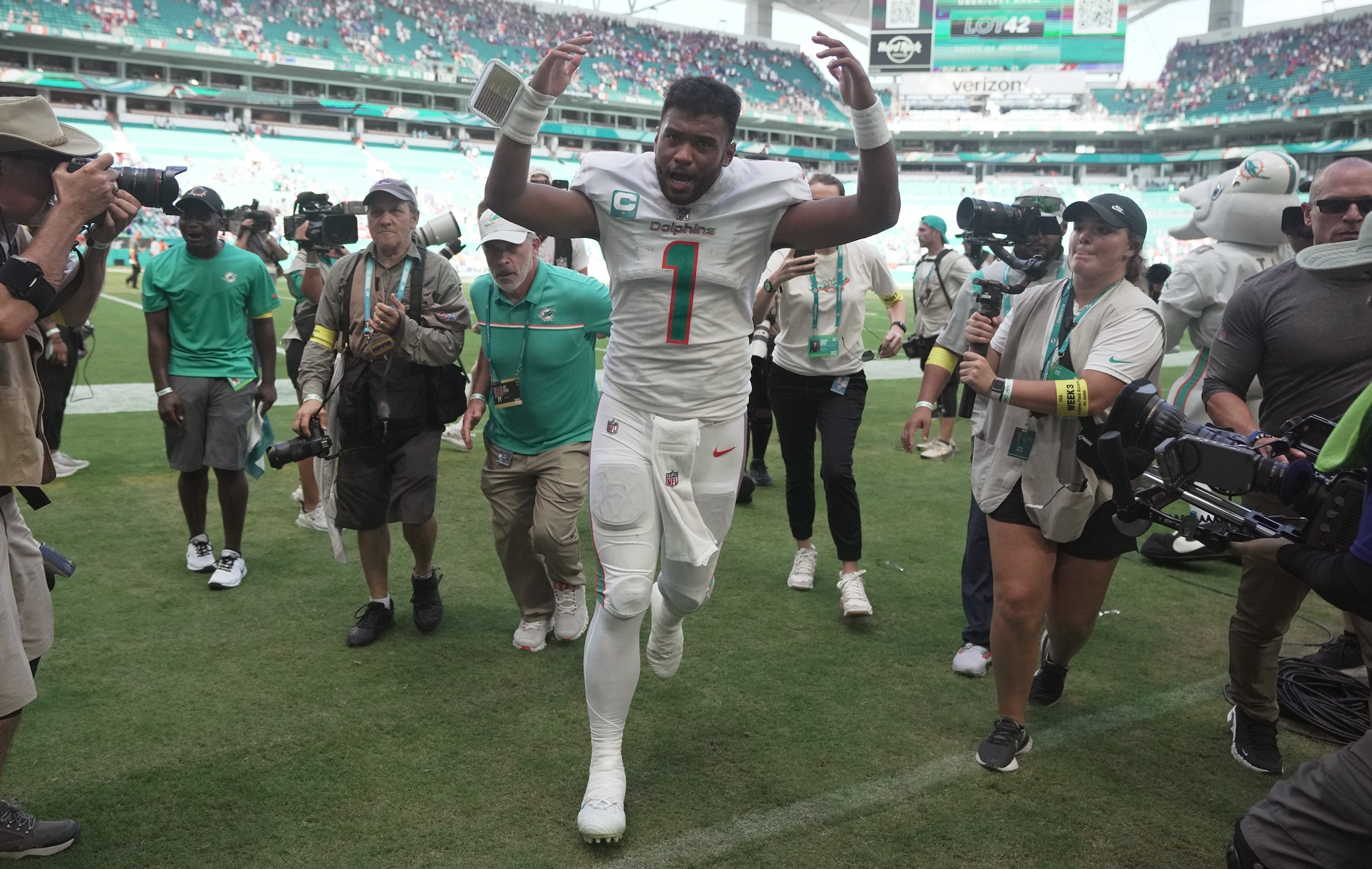 Matchup against the Dolphins
The Bills are yet again playing in a primetime game this Saturday evening in Orchard Park against the Miami Dolphins (8-5) who are currently second place in the AFCE. The Dolphins, who were previously on a five-game winning streak, are currently coming off back-to-back losses against the San Francisco 49ers and Los Angeles Chargers. Dolphins QB Tua Tagovailoa has come back to earth after getting hype as a potential MVP candidate. Against the 49ers he had three turnovers in the second half and against the Chargers he only completed 36% of his passes. There have been some questions about how the southbound Dolphins will respond to a wintry night in Orchard Park where temperatures will be below freezing and snow is expected. Tua, although in a small sample size, has not played well in low temperature games and the Dolphins used heaters last weekend in LA when the temperature was in the mid-50's.
Despite the weather disadvantage for the Dolphins, I wouldn't count them out and this is a squad that knows how to fight and respond. Despite playing far from their best game last weekend, they nearly recovered an onside kick at the end of the game only being down by six points. Tua is still in the middle of a breakout year, throwing for 3004 yards, 65.5% completion percentage, and 22 TDs to 5 INTS. Tyreek Hill and Jaylen Waddle are possibly the best WR duo in the league both having over 1,000 yards a piece and six touchdowns. Hill is averaging 112 yards a game and although he suffered an ankle injury last week he is still expected to play. With a Bills secondary that has struggled in recent weeks, this is an important matchup to keep an eye on and one you can expect Miami to try and exploit.
From watching the film of their last two games, I noticed both SF QB Brock Purdy and LA QB Justin Herbert made an emphasis on not overthinking and just getting the ball to their playmakers – fast. The Dolphins have a star-studded defensive line featuring Jaelan Phillips, Christian Wilkins, Melvin Ingram, and Bradley Chubb (among others) that love causing havoc. They got to Josh Allen physically and mentally last time and it's gonna be important for him to keep his composure in this game. If not, the Dolphins have a good chance of pulling another upset.
Lastly, the Bills have a couple of injuries to monitor. Jordan Phillips, Ryan Bates, and Matt Milano all did not practice starting out the week Wednesday. Milano didn't practice last week so I wouldn't be too concerned about that, but Bates is definitely a concern if he can't go. Not only is he one of the more versatile linemen on the roster, but our backups on the O-Line haven't looked great so far this year and if he's out Allen can expect to face constant pressure up the middle throughout the game. I'm not sure if G Ike Boettger will get activated from the PUP list and immediately start, but I imagine it is something this coaching staff is considering if Bates is out. If the Bills can pull off a win Saturday, it will automatically clinch a playoff berth for them. If they lose their chances of making it to the playoffs is still extensively high, but their chance of having the bye week will plummet significantly.
Saturday is going to be an epic game. I know Bills Mafia will be in the parking lots by the early afternoon getting rowdy regardless of the freezing temperatures. Expect a playoff like atmosphere for two teams who are trying to control their postseason destiny against a reputable familiar foe.
Editor's babble: I love these articles by Joe Larkin. We are grateful for his contributions to our blog. You can also find Joe on Twitter @jooelarkin.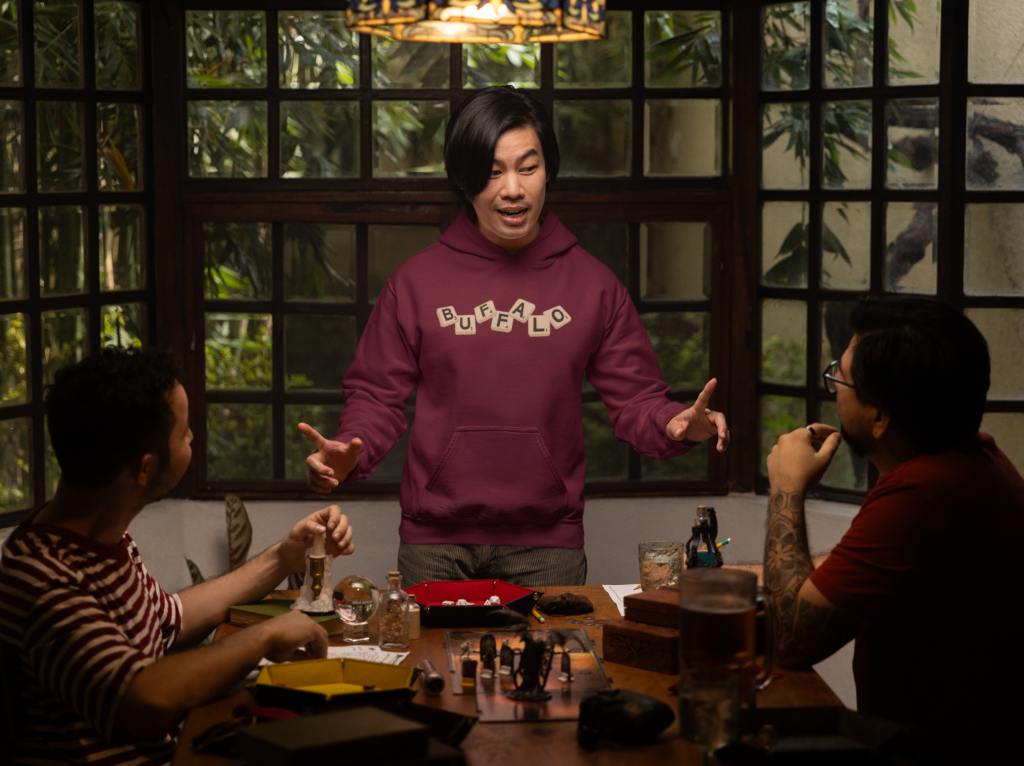 BuffaloFAMbase.com is sponsored by 26 Shirts
Every Monday, we launch a new two-week campaign of a limited edition t-shirt design. Every shirt purchase results in a donation to a local family in need. After the campaign ends, the shirt is retired. A new design is released, and a new family benefits from your fandom!