My hobby is scouting which games the Bills scouts attend each week. I'm only listing schools scouted more than once, with an asterisk by those Brandon Beane has attended. I haven't listed players who will be long gone by our #28-to-#31 pick.
I have listed each group below from most-probable to less-probable.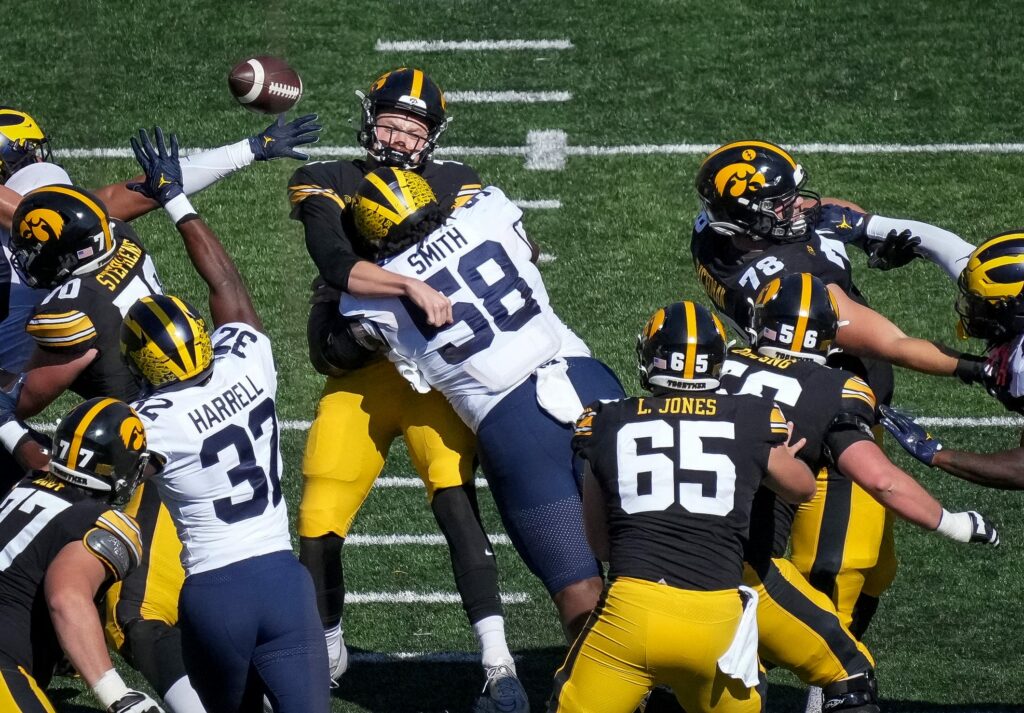 MOST LIKELY (2 games attended by Beane)
Michigan–Mazi Smith, DT1T DT3T * * — "Mozzie" is a freak. He benches 22 reps at 325 lbs. DaQuan Jones needs a breather.
Michigan–Olusegun Oluwatimi, C * * — Say "oh-loo-shah-GOON, oh-loo-wuh-TIM-me" ranked No. 1 in Beane's ACC in Tackles For Loss Allowed.
---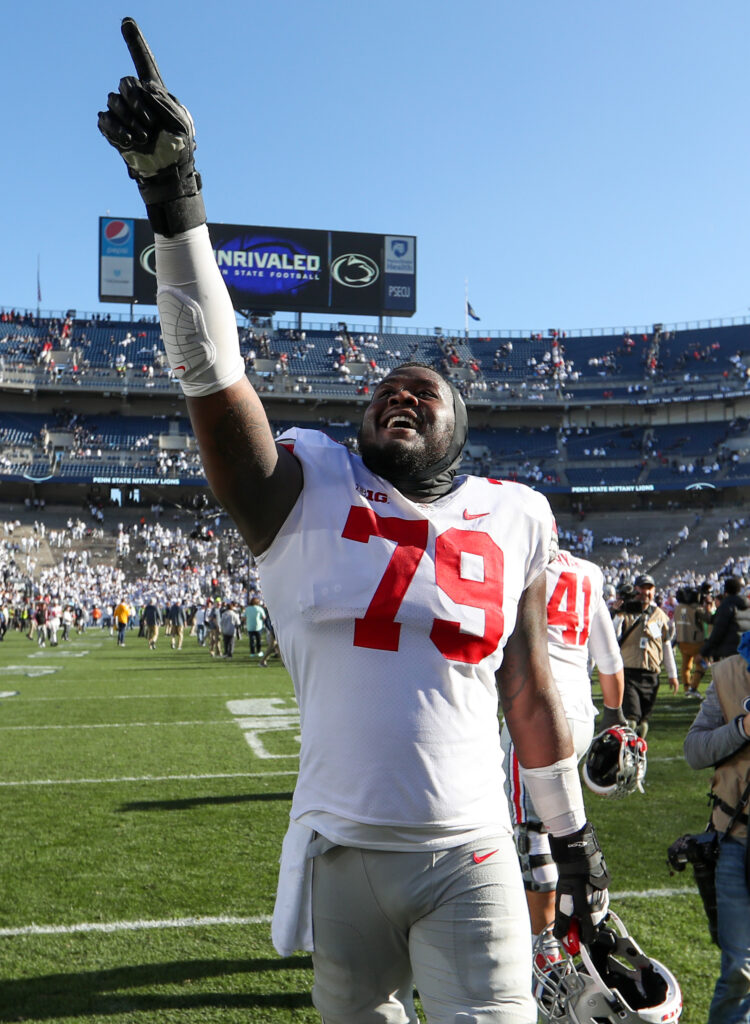 VERY VERY LIKELY (3 or more scouted games, once by Beane)
Ohio State–Dawand Jones, RT * or – You done with Spencer Brown? Very nice laterally. Here, his down-block springs Williams. If Beane trades up, he'd take super slot Jaxon Smith-Njigba, WR, who broke Lee Evans' 20-year-old B1G receiving yards record (1,545). One of the best blocking receivers.
Georgia–Nolan Smith, EDGE * – OUT for season, torn pec, so he will drop. How far?? He was #2 EDGE per PFF. Quick off the ball.
Tennessee–Jalin Hyatt, WR * – Incredibly fast, runs good routes, and is very polished. Rec Yds in 2022 (1267 so far) is #1in SEC.
Florida State–Jared Verse, EDGE * – Beane saw 2 of the top 8 EDGEs in pressures, Verse and Smith. Verse is more solidly built, had less help.
---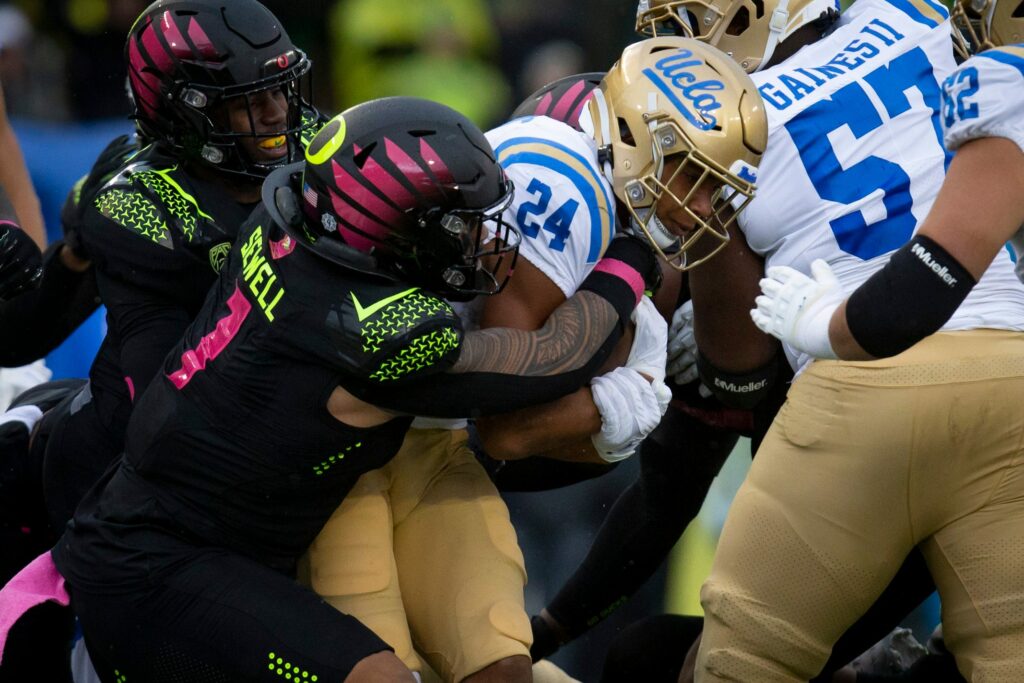 VERY LIKELY (3 or more scouted games, just not by Beane yet)
Clemson–Trenton Simpson, OLB SS EDGE -Comps to Isaiah Simmons, violent downhill, quick skilled blitzer, versatile (OLB, SS, and 5-tech).
Oregon–Noah Sewell, ILB OLB – More tackles per game than my #1, Will Anderson; his older brother, Penei, was selected with the No. 7 pick in 2021.
Maryland–Jaelyn Duncan, LT – Very nice footwork, 3x scouted by Bills by mid-November. Misdirection pull here, watch 3 plays here.
Oklahoma–Anton Harrison, LT – Pass 92% Run 80% per DraftBuzz. Anton wasn't getting help to accomplish his grades. He's not Cody Ford.
---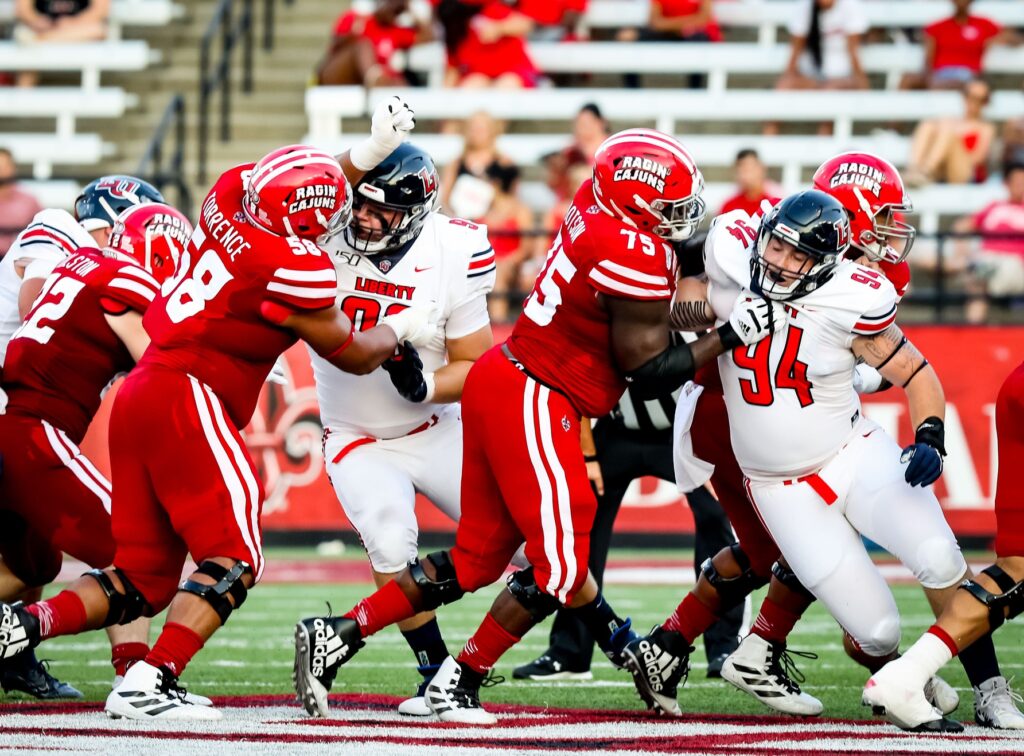 QUITE LIKELY (2 games scouted)
Florida–O'Cyrus Torrence, Swing Guard, xfer Louisiana, now on team with Top 20 Pass-Blocking. Nasty, unrelenting. quickest out of stance.
Alabama– Brian Branch, CB NCB FS – Branch plays the Star CB, and is listed as Safety on Ourlads. Time to move on from Jaquan.
Syracuse–Garrett Williams, CB – Aggressive ballhawk who sticks his nose in the fan. Played hurt here and there, but high tackles per game.
Mississippi State-Emmanuel Forbes, CB – INT machine, and he leads all active FBS players in pick sixes. Kick returner as well. SEC competition.
Baylor–Siaki Ika, DT1T – xfer LSU, a character, loves his culture, knows Aranda-McDermott system. But…and it's a big but…Slowest draftable IDL.
Utah–Clark Phillips III, CB NCB KR – Top 5 Tkl per Game, Top 1 in PAC12 in PBU. Flawless technique. Short, but he sure handled Drake London.
LSU–B.J. Ojulari, EDGE or Kayshon Boutte, WR – Ojulari has Top5 forty time, top 4 in production…OLB in 2020, DE in 2021 coming in on money downs. Boutte is top 4 in the WR class as a fearless pass catcher over the middle. His route-running can be described as Diggs-like.
SMU–Rashee Rice, WR – My buddy Jake calls him "a Courtland Sutton starter kit." Natural hands, tight breaks, wizard at the corners of the end zone.
Army–Andre Carter II, EDGE – It's a big no from me, dog. It'll take tape to dispel the RD1 raves.
Texas Tech–Tyree Wilson, EDGE (I predict he'll be gone when Bills pick) – Long, strong arms like Groot's, and a nonstop motor.
---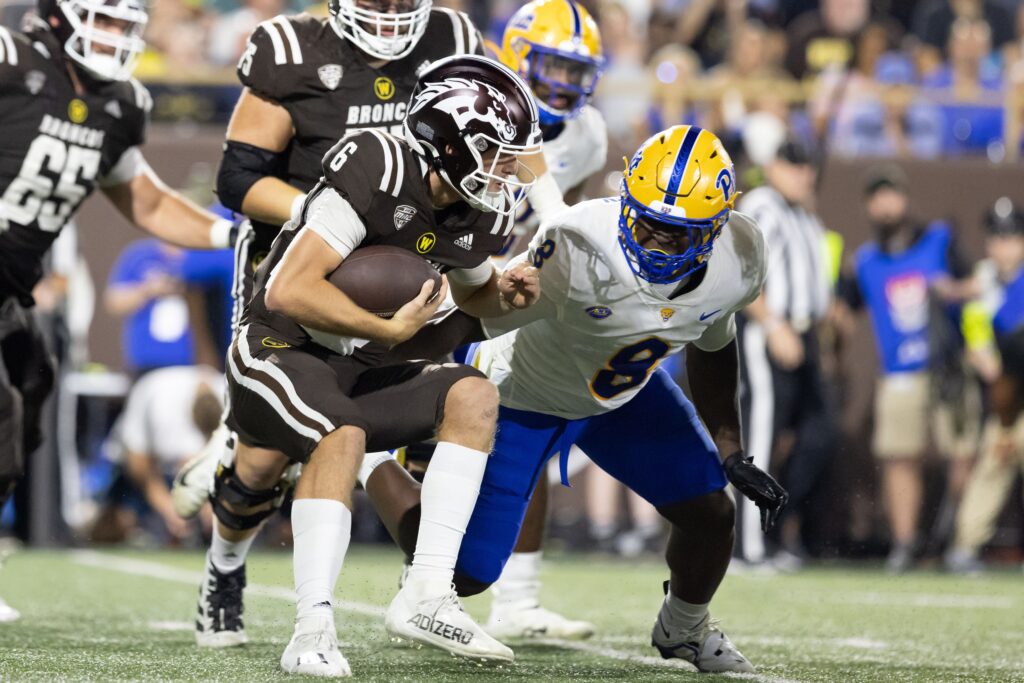 Prospect More Likely RD2
Pittsburgh-Calijah Kancey, DT3T – Top 5 in pressures per game, Can be an Ed Oliver in his disruption. First Team All-ACC. hands, leverage and power.
Miami–Tyrique Stevenson, CB – Fastest CB in the draft is my bet. He's the fastest draftable in the ACC at any position. Transfer from Georgia.
TCU–Tre'Vius Hodges-Tomlinson, CB – Tiny, but led the Big 12 in PBU due to quick recognition and timing. LaDanian Tomlinson's nephew.
---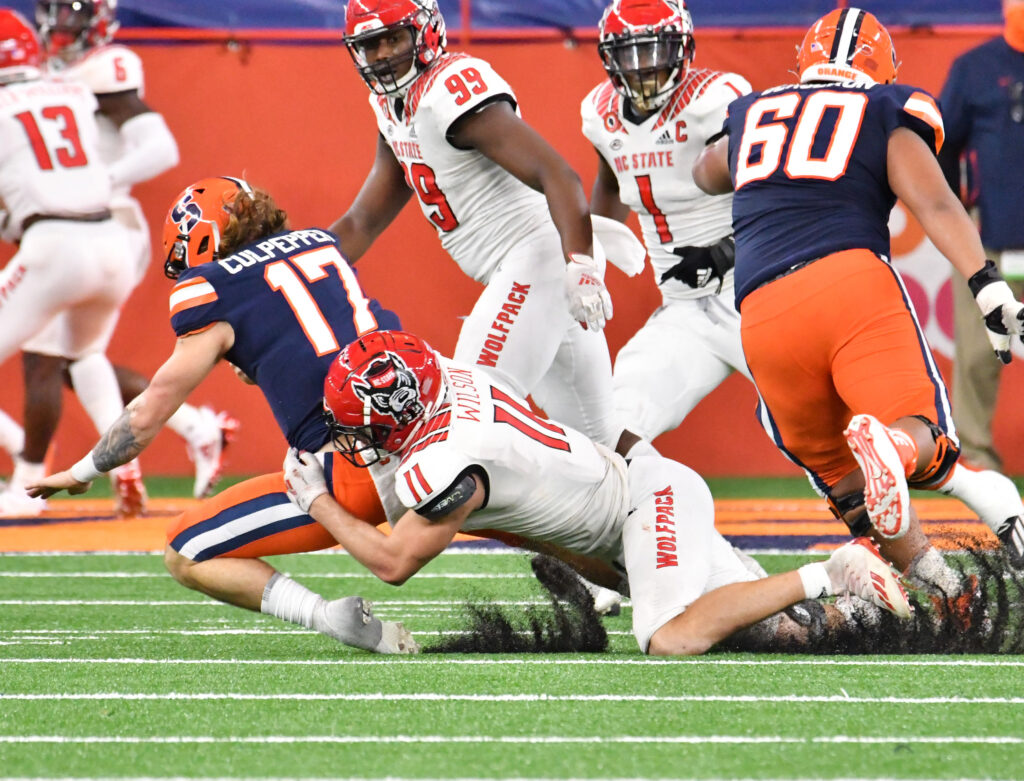 Prospect More Likely RD3 or Later
NC State–Payton Wilson OLB – the leading tackler in the ACC a year ago, but sometimes misses tackles, sometimes takes bad angles.
UCLA-Zach Charbonnet, RB KR – Pet cat for me. Fastest RB in draft, 6-1 220 4.34. Physical and violent runner. 6.8 ypc vs AP teams. Nice jukes here.
Oklahoma State–Braydon Johnson WRS KR ST – So far this year: 18.8 ypr against AP teams. He's speedy (6-0 205 4.38). Ideal slot and KR.
Nebraska–Ochaun Mathis EDGE – Quick and Bendy, Bats down pass here, Slow-plays to seal edge then quick closes on RB. Long arms, power.
Rutgers–Avery Young, FS CB KR – Has played in every game in his career, all 56 of them. Should mention Adam Korsak, Punter, too: his net average is above the NCAA record.
Editor's babble: This is a great primer for watching college football. We can't thank Dean Kindig enough for his many in-depth contributions to our blog. You can also find Dean on Twitter @TCBILLS_Astro.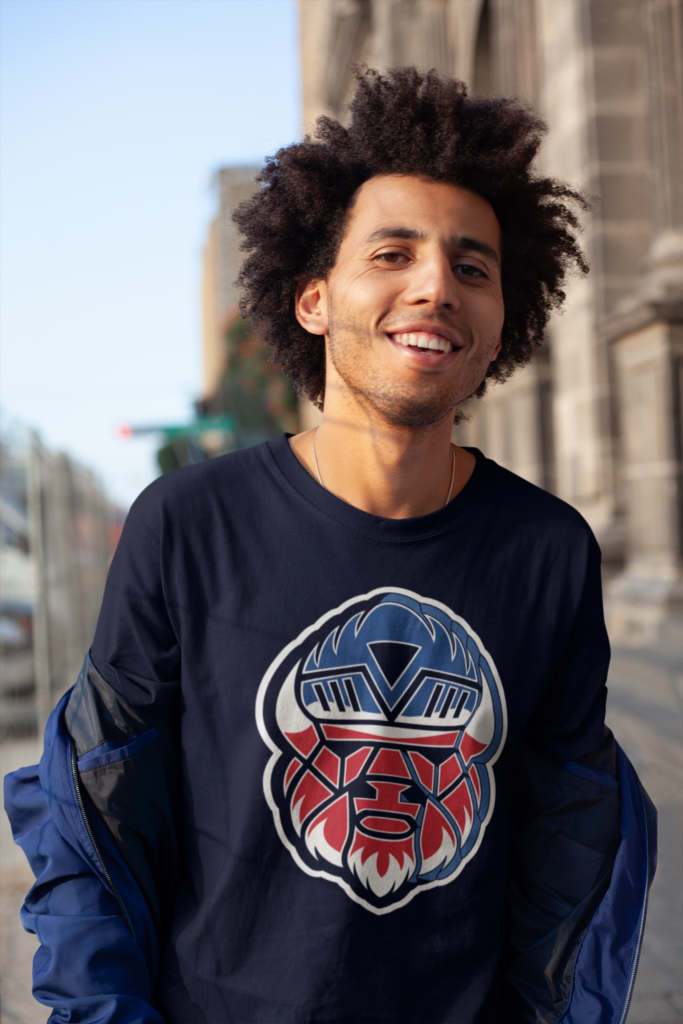 BuffaloFAMbase.com is sponsored by 26 Shirts
Every Monday, we launch a new two-week campaign of a limited edition t-shirt design. Every shirt purchase results in a donation to a local family in need. After the campaign ends, the shirt is retired. A new design is released, and a new family benefits from your fandom!