After playing a game at Ford Field in Week 11, Buffalo returned to Detroit to take on the Lions in a Week 12 Thanksgiving clash. The Lions were coming off of a three game win streak, which included wins over Aaron Rodgers and Justin Fields. Josh Allen was undefeated (2-0) heading into his third Thanksgiving contest. In a battle for the coveted CBS turkey leg, who would prevail?

Trading Touchdowns

After both teams traded three-and-outs, Detroit and Buffalo traded touchdowns on their ensuing drives. Jared Goff led a 12 play, 61 yard drive that saw the former Rams QB pick apart Buffalo's man coverage. He hit DJ Chark for 15 yards, Amon-Ra St. Brown for 12, while Jamaal Williams ran for 18 yards and a touchdown to cap off the drive.

The Bills leaned on the run game to march down the field. After hitting Gabriel Davis for a 16 yard gain, Devin Singletary ran three straight times for a total of 11 yards to move the chains. Allen took off up the middle for 21 yards, then threw a perfect pass to Isaiah McKenzie in the endzone for a 19 yard touchdown.

Turnover Leads to Touchdown

Goff continued to attack Buffalo's secondary, hitting St. Brown for eight and 13 yard gains. On second down at Buffalo's 41, Jamaal Williams was stuffed at the line of scrimmage for no gain. As he tried to spin out of a tackle, he was met by Ed Oliver, who's helmet punched the ball out of the running back's hands. Oliver was able to scoop up his own forced fumble and recovered it at the line of scrimmage.

Allen completed passes to James Cook, Stefon Diggs, and Davis, before Singletary broke free for a 19 yard run to get Buffalo into the red zone. After getting inside the 5 yard line, Allen fumbled the snap on third down, but was able to pick it up and run through the middle for a touchdown.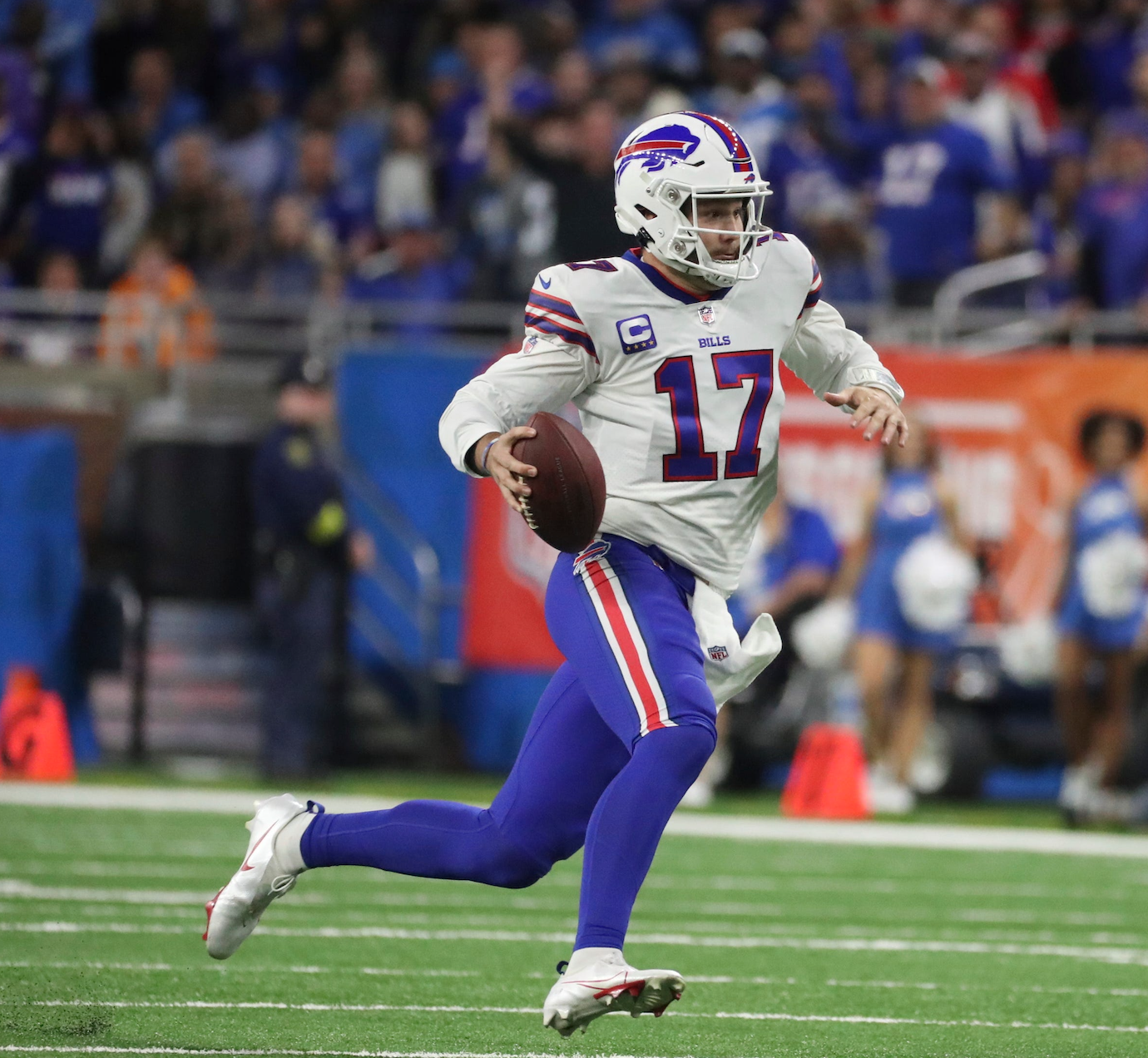 A Long Lions Drive

Detroit drove down the field on a 16 play, 75 yard drive that saw multiple third and fourth down conversions. The series took nearly six minutes off the clock, as the Lions piled up short gains after short gains to slowly churn down the field. The biggest play of the drive was a 22 yard pick up from rookie tight end James Mitchell, who was left open over the middle on a play that saw Jared Goff bootleg to the right. On fourth and Goal from the 1 yard line, a motion at the line of scrimmage shifted the man coverage assignments of Buffalo's corners, and Taron Johnson was unable to get in position quick enough, leaving St. Brown open in the corner of the end zone for a touchdown reception.

Buffalo Double Dips…Kind Of

The Bills got the ball back with just under two minutes left in the first half. Since they won the opening coin toss and deferred, they'd be getting the ball to start the second half as well. This drive was the beginning of a prime opportunity to 'double dip', by scoring at the end of the first half and the beginning of the second half, without giving Detroit a chance to respond offensively.

Allen wasted no time moving down the field, as he hit Isaiah McKenzie for a 27 yard gain. He found the speedy slot receiver again for a gain of 16 to reach the outskirts of the red zone. After being sacked on third down, Tyler Bass drilled a 47 yard field goal as time in the first half expired. Buffalo would go into halftime up 17-14.

To start the second half, James Cook rushed for five and caught a pass for six to move the chains early. Allen hit McKenzie along the sideline for a 30 yard gain on second and 21, after a holding penalty initially set the offense back. A 19 yard pass interference penalty was the break the Bills needed to enter the red zone. Their first play was an RPO that schemed Diggs open, but it was too obvious to rookie linebacker Malcolm Rodriguez. He tipped the pass over the middle and fellow linebacker Alex Anzalone intercepted the pass, resulting in another red zone turnover for this offense.

Ed Oliver recorded a five yard tackle for loss on first down, then bull rushed Detroit's left guard to sack Goff in the end zone for a safety on third down. It was a phenomenal set of plays from the former first round pick, and gave Buffalo a five point lead and the ball. Unfortunately, Buffalo gained just one first down before punting back to Detroit.

Lions Claw Back

Commentator Jim Nantz performed one of the greatest 'announcer jinxes' of all time, explaining that Lions kicker Michael Badgley hadn't missed a field goal so far this season, only for Badgley to miss a chip-shot 29 yard field goal.

Buffalo could not take advantage of the blunder, and failed to gain a single yard before punting back to the Lions. Returner Kalif Raymond broke off a 41 yard punt return to get Detroit right back in scoring range. The Lions ran the ball for 20 yards on three carries to set up third and Goal from the one, where Goff threw a nice pass over the middle to Chark for a touchdown. In what seems to be a recurring theme over the past few weeks, Dane Jackson was in great position, but failed to make a play on the ball to break up the pass.

Buffalo responded by gaining 22 yards before punting back to Detroit, who was already winning by three thanks to their successful two-point conversion after their touchdown. Once again, the defense seemed to have no answer for St. Brown, who caught two passes for 35 yards, before several of Goff's passes missed the mark to force a punt.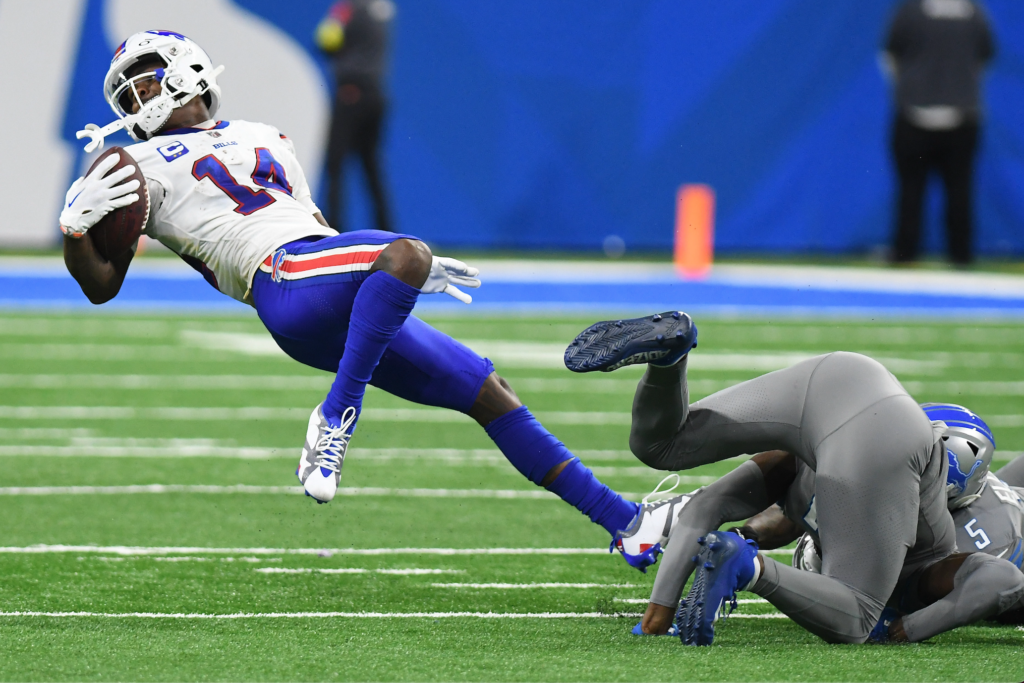 Allen + Diggs Magic (Part 1)

Thanks to a great punt from Jack Fox, Buffalo was backed up to their 10 yard line, in need of points. Allen began picking apart Detroit's defense with both his arm and legs, hitting Diggs for eight, four, and 12 yard gains, and throwing a beautiful sideline pass to Dawson Knox for 15 yards. Singletary ran his way into the red zone, setting up a touchdown pass to Diggs over the middle. Tyler Bass missed the extra point, so it remained a three point contest.

Detroit converted a crucial fourth and one at midfield with a seven yard jet-sweep to St. Brown. The talented receiver got them into field goal range with a 14 yard catch, and Badgley drilled the 51 yarder. Buffalo would get the ball back with 23 seconds left, needing only a field goal to win.

Allen + Diggs Magic (Part 2)

Allen's first pass attempt of the potential game winning drive split Detroit's defense down the middle. After utilizing his eyes to manipulate a safety, he threw a 36 yard dart to Diggs, who held onto the ball despite being hit as soon as he began to make the catch. Diggs went down at Detroit's 38 yard line, then quickly popped up to call Buffalo's second timeout. After Allen gained 12 more yards with his legs, Bass hit a 45 yard field goal to win the game. Detroit's attempt at a kickoff miracle fizzled out rather quickly, completing just one lateral before a plethora of Bills fell on top of a loose football.

Injuries

Buffalo entered the game without starters Mitch Morse, Greg Rousseau, and Tremaine Edmunds, three vital pieces of the team. Depth pass rusher AJ Epenesa was also out with an ankle injury. On the bright side, Tre'Davious White and Kaiir Elam were healthy enough to dress, and both saw limited action (16 snaps for White, 21 for Elam). During the game, Buffalo lost underrated left tackle Dion Dawkins to an ankle injury, and future Hall of Fame pass rusher Von Miller to a knee injury. Rookie standout Christian Benford was placed on IR the following day due to a nagging oblique injury. Every time this Bills team seems to be trending somewhat upward in the health category (with the return of White and Elam), three more stars go down. Hopefully, by the time playoffs arrive in January, Buffalo will be healthy enough to have the majority of their starters ready to play.

Afterthoughts

It wasn't pretty, but a win is a win in the NFL. There are definitely long-term concerns regarding the team's red zone struggles, man coverage deficiencies, and overall health. Offensive coordinator Ken Dorsey needs to be more creative in the red zone, and Allen needs to continue limiting the turnovers when in scoring range. I believe that the deficiencies in coverage will lessen once Tre'Davious White is fully back. He was obviously on a pitch count versus Detroit, leaving Dane Jackson on St. Brown for the majority of the game. When White returns to playing 100% of the snaps, Jackson will be more evenly matched against a team's WR2.
Furthermore, Tremaine Edmunds cannot return soon enough. His long wingspan and coverage abilities over the middle of the field are critical to limiting the short passing game over the middle. The offensive line did not have their best performance against an underwhelming Lions pass rush. To be fair, the unit was missing their top two players in Morse and Dawkins. However, Spencer Brown's future as the starting right tackle should be very much in question, and Ryan Bates may be better off as a rotating depth piece along the offensive line, rather than a starter.
Regardless, Buffalo will need to work with what they have for the remainder of the season, which means better play from Bates and Brown. While I understand the panic and distrust in this Buffalo team right now, keep in mind that the injuries the Bills have needed to overcome have been far more severe than most other teams in the league. As long as Buffalo can keep leaving games with a win, regardless of how pretty it is, we need to be content with that outcome. If these struggles were taking place with starting linemen, pass rushers, linebackers, and corners, I'd understand the long term concerns. My advice: accept the ugly wins and prepare for the playoffs. With many players on track to return close to or during the playoffs, a fully healthy Bills team is arguably the most dangerous in the NFL.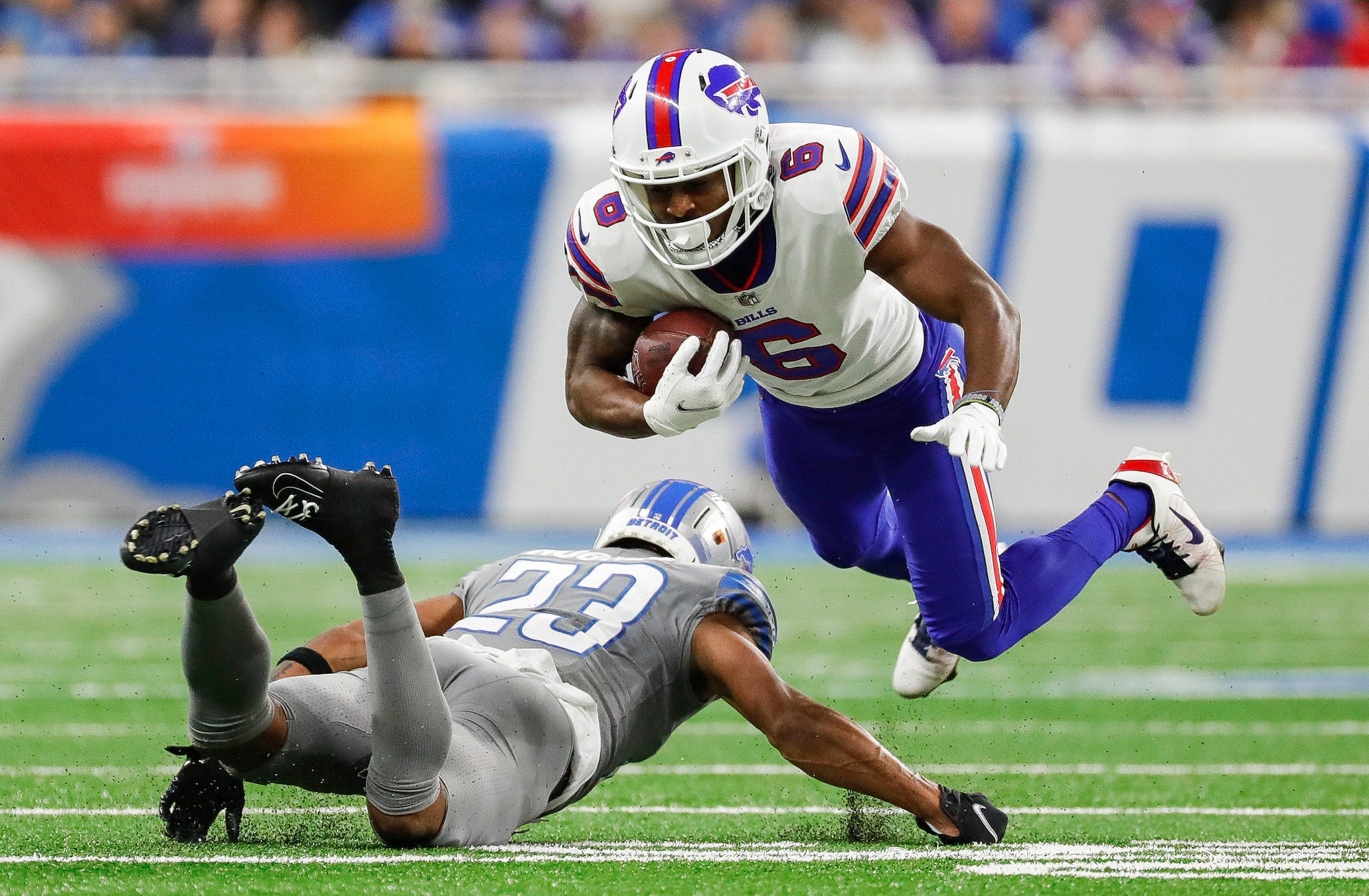 Game Awards

Offensive Player of the Game: Isaiah McKenzie

McKenzie had his best game of the season, exploding for six catches, 96 yards, and a touchdown. He single handedly kept some of Buffalo's offensive drives alive, and feasted against subpar man coverage corners. Look for him to build off of this performance with their next matchup against New England, who McKenzie torched last season for a career game.

Defensive Player of the Game: Matt Milano

Milano is basically a shoo-in for some type of award from me. Week after week, he makes big impact plays during the game. On Thanksgiving, he finished with seven tackles, including a tackle for loss, a QB hit, and a pass defended. He continues to impress against the run, while blitzing, and in pass coverage. He truly is a do-it-all linebacker, enjoying an All-Pro season.

MVP: Ed Oliver

Oliver came alive in the biggest moments for Buffalo. His official stat line included one sack, one safety, 6 tackles (two of which were for a loss) two QB hits, a forced fumble, and a fumble recovery. He dominated against Detroit's backup offensive guards, and was the force along the defensive line that Buffalo needed without several key starters. It looks like Von Miller will be out indefinitely, and the status of Rousseau and Epenesa is unknown for next week, Oliver will need to have another great performance to keep New England's offensive line on their toes.

What's Next: Bills @ Patriots 12/1

Buffalo travels to Foxborough to take on the division rival Patriots. The Bills didn't punt in either of their last two meetings against Bill Belichick, but recent struggles on the offensive side of the ball could change that trend. In a practically must-win AFC East matchup, Josh Allen will need to show the national audience why he's one of the best quarterbacks in the league.
Editor's babble: We are grateful for Colin Richey's contributions to our blog. You can also find Colin on Twitter @whatthef00tball.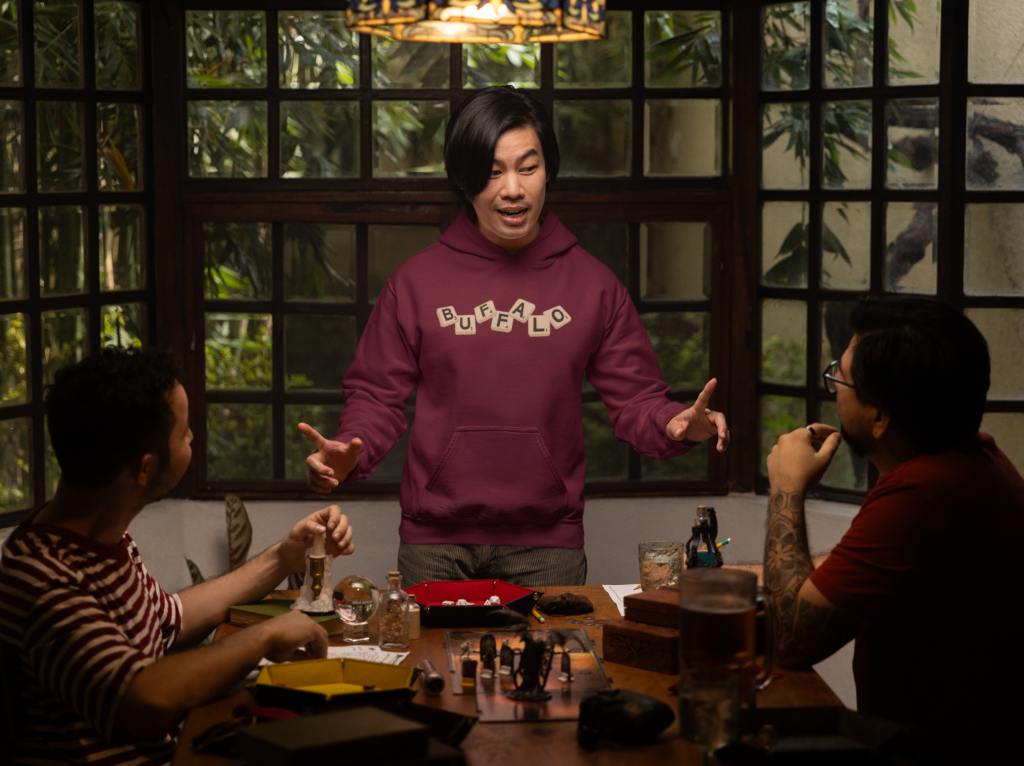 BuffaloFAMbase.com is sponsored by 26 Shirts
Every Monday, we launch a new two-week campaign of a limited edition t-shirt design. Every shirt purchase results in a donation to a local family in need. After the campaign ends, the shirt is retired. A new design is released, and a new family benefits from your fandom!