The Bills were forced to shift their home game to Ford Field in Detroit, because of severe snow storms in Buffalo. Coincidentally, the Bills play at Ford Field next week on Thanksgiving, but for now, they had to focus on the Cleveland Browns. Nick Chubb has been one of the best running backs in the league this season, and Buffalo had struggled to defend the run since the bye week. The return of Jordan Poyer was a massive upgrade to a young Bills secondary in need of veteran leadership on the field.

Early Struggles

It took Buffalo a quarter and a half to finally gain a first down, after going three-and-out on their first three possessions. Thanks to a 28 yard punt return from Nyheim Hines, Buffalo was in field goal range on their second possession, leading to a 42 yard Tyler Bass field goal.

To make matters worse, Cleveland marched down the field on their first possession, converting on two third and 11s which led to an Amari Cooper 25 yard touchdown. On the first third and long, Brissett ran up the middle for a gain of 22. On the second, Brissett hit Cooper over the middle for 16 yards. With Buffalo sending a blitz on second and 13, Brissett heaved a pass to the corner of the end zone to Cooper, who was covered well by Taron Johnson. However, the four time Pro Bowler was able to highpoint the ball and secure the catch for a touchdown.

The defense forced a three-and-out on the following possession, and then Matt Milano recovered a fumbled snap by Brissett on the ensuing drive. After Cleveland's turnover, the Bills barely gained a first down (their first of the game), with an 11 yard reception by Dawson Knox. A holding penalty stalled the drive and Bass connected on a 36 yard field goal to make it a 10-6 game.

After the defense came up with another stop, Allen finally led the Bills on a touchdown drive. He hit Knox for gains of nine and seven, and Gabriel Davis for 23 and eight. Eventually, Allen found Stefon Diggs all alone in the back of the end zone for a five yard score with 18 seconds left in the half. Not only was it Diggs' first catch, but it was his first (and only) target of the entire half. Despite the offensive struggles, Buffalo led 13-10 at the half.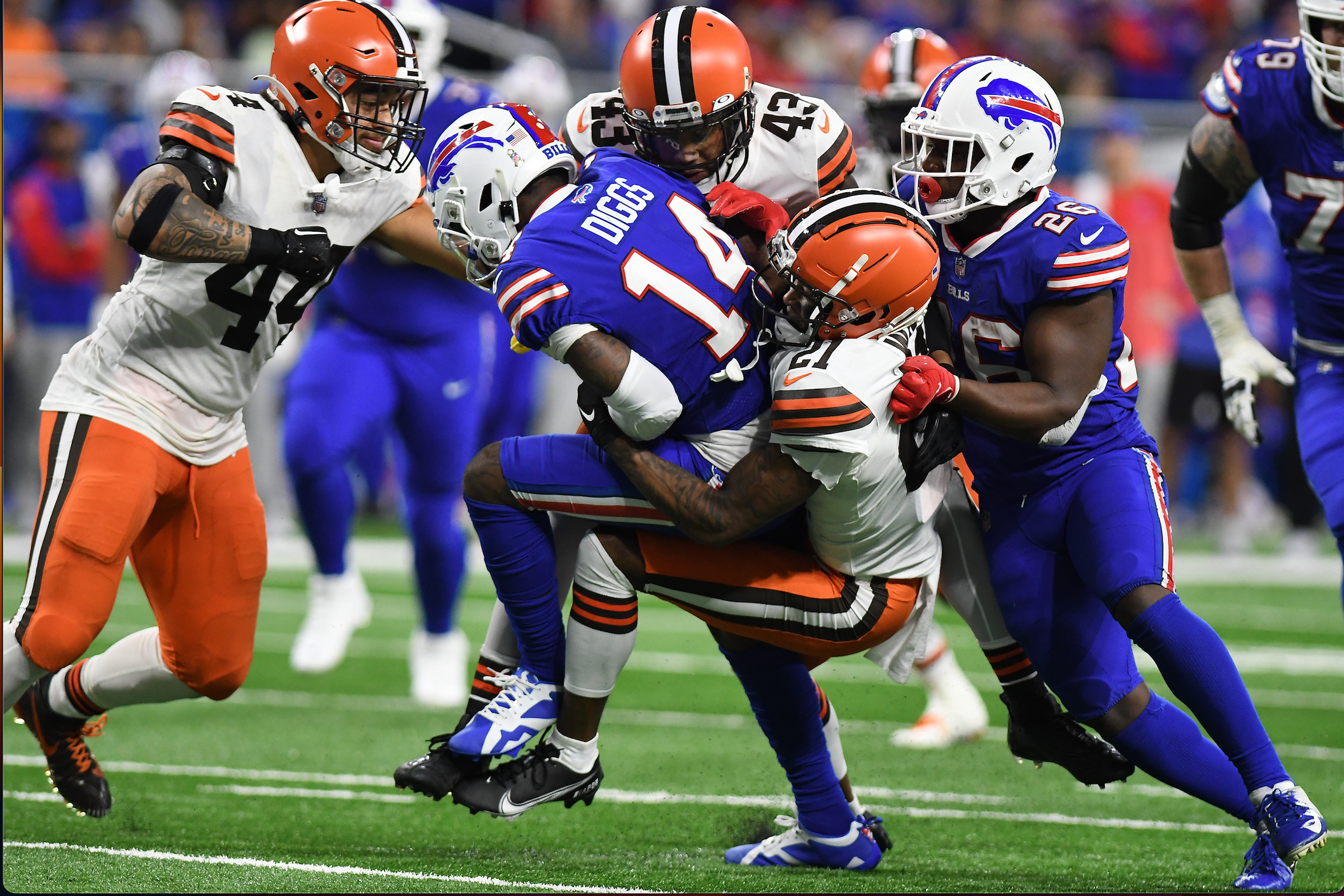 Buffalo Runs Away

The opening drive of the second half had one goal: Get Stefon Diggs the ball more. Allen's first pass was a 16 yard completion to Diggs. Following a Singletary run, Allen hit Diggs for another six yards. After a holding penalty (again) stalled the drive, Bass connected on a 56 yard field goal attempt (two yards short of his career long).

Cleveland began to march down the field, using several Bills penalties to help them move the chains. Facing third and one from Buffalo's 26, Brissett attempted a QB sneak up the middle. Tim Settle did not give up any ground in the middle, and Jordan Phillips penetrated through the interior of the offensive line to make contact with the QB. Tyrel Dodson shot through a gap to meet Brissett at the line of scrimmage. The combination of Phillips dragging Brissett backwards from behind, and Dodson pushing him backwards from the front, awarded Buffalo with a stop on 3rd down. Now facing fourth and one, Settle and Phillips remained the defensive tackles, but this time switched sides along the interior of the defensive line. The combo didn't budge, not allowing any push from Cleveland's talented offensive line. Damar Hamlin helped plug the gap that Brissett was supposed to run through, and Shaq Lawson (with the help of Dane Jackson and Boogie Basham) was able to wrap up the QB and bring him down short of the first down. It was a fantastic stand for the Bills defense, and helped Buffalo preserve their one possession lead.

The Bills wasted no time, as Allen completed a 17 yard strike down the middle to Davis. A roughing the passer penalty gave the Bills additional yardage, and Buffalo was officially in Cleveland territory. Allen found Knox in a seam for 23 yards, then Singletary ran for 13 to set up first and goal. Singletary punched in a five yard score to give Buffalo a 22-10 lead. McKenzie's jet sweep was denied on the two-point conversion, a play that looked like it had potential to reach the end zone. Regardless, the Bills had a two possession lead, and wouldn't look back.

After a questionable pass interference call on Hamlin, and a great hurdle by athletic tight end David Njoku, Cleveland was in the red zone. After an incomplete pass and a five yard run, the Browns faced third down, where Tyrel Dodson screamed through the middle on a blitz. Brissett was forced to throw it away, and the Browns would settle for a field goal. The attempt by Cade York was blocked by DaQuan Jones, the team's first blocked field goal of the season.

The next drive was all about James Cook. He had five straight carries for a total gain of 45 yards. Eventually, Buffalo settled for a 49 yard field goal from Bass. A quick three-and-out from Cleveland gave the ball right back to the Bills. Allen hit Diggs for 21 yards, but again needed to settle for a field goal.
Cleveland's Late Comeback

Brissett led a quick touchdown drive, throwing a 27 yard pass down the sideline to Donovan Peoples-Jones, which set up an Amari Cooper seven yard touchdown. On both plays, Buffalo had a cornerback in close coverage with the receiver (Jackson on Peoples-Jones and Christian Benford on Cooper), but neither could make contact with the ball to break up the pass.

Buffalo chewed over two minutes of clock before settling for, you guessed it, a 39 yard field goal from Bass. Brissett continued his comeback efforts by completing five passes for 61 yards, and ran for six yards, which led to a two yard touchdown pass to Peoples-Jones. Again, Jackson and Benford were in great position on several plays, but neither could make contact with the ball in the air to create a pass breakup. Cleveland's onside kick attempt went through the hands of Davis, but special teams ace Taiwan Jones was able to bat the ball out of bounds and secure possession, and the win, for Buffalo.

Afterthoughts

Despite offensive struggles early in the game, including the inability to gain a first down on several drives, this was one of the most complete efforts by the offense this season. Singletary and Cook both ran for 86 yards, with Singletary adding a touchdown. Diggs finished third on the team in targets and receptions (he had the team's only receiving touchdown), with Davis and Knox stepping up in the passing game. I would've liked to see more from Hines in the run and short passing game, given he only touched the ball once. Isaiah McKenzie was held without a catch, as the slot receiver position continues to be an issue with the departure of Cole Beasley.

Buffalo only finished with one sack (courtesy of Matt Milano), but the defensive line applied constant pressure on Brissett. Several times the QB did a great job of avoiding the rush and moving in the pocket, but it would've been great to see some of the good pass rush wins result in sacks. Still, the run defense was excellent, holding Nick Chubb to 19 yards on 14 carries. Plus, the back-to-back QB sneak stops were a momentum shifter, and helped Buffalo secure the win. As I mentioned several times, Dane Jackson and Christian Benford had a lot of opportunities to break up passes, but failed to turn around for the ball or locate it in the air quick enough. The same struggles occurred last week versus Justin Jefferson. This aspect of the game is where the team greatly misses Tre'Davious White. The former All-Pro probably comes up with interceptions, or at the very least, pass break ups on most of these plays. His return cannot come soon enough.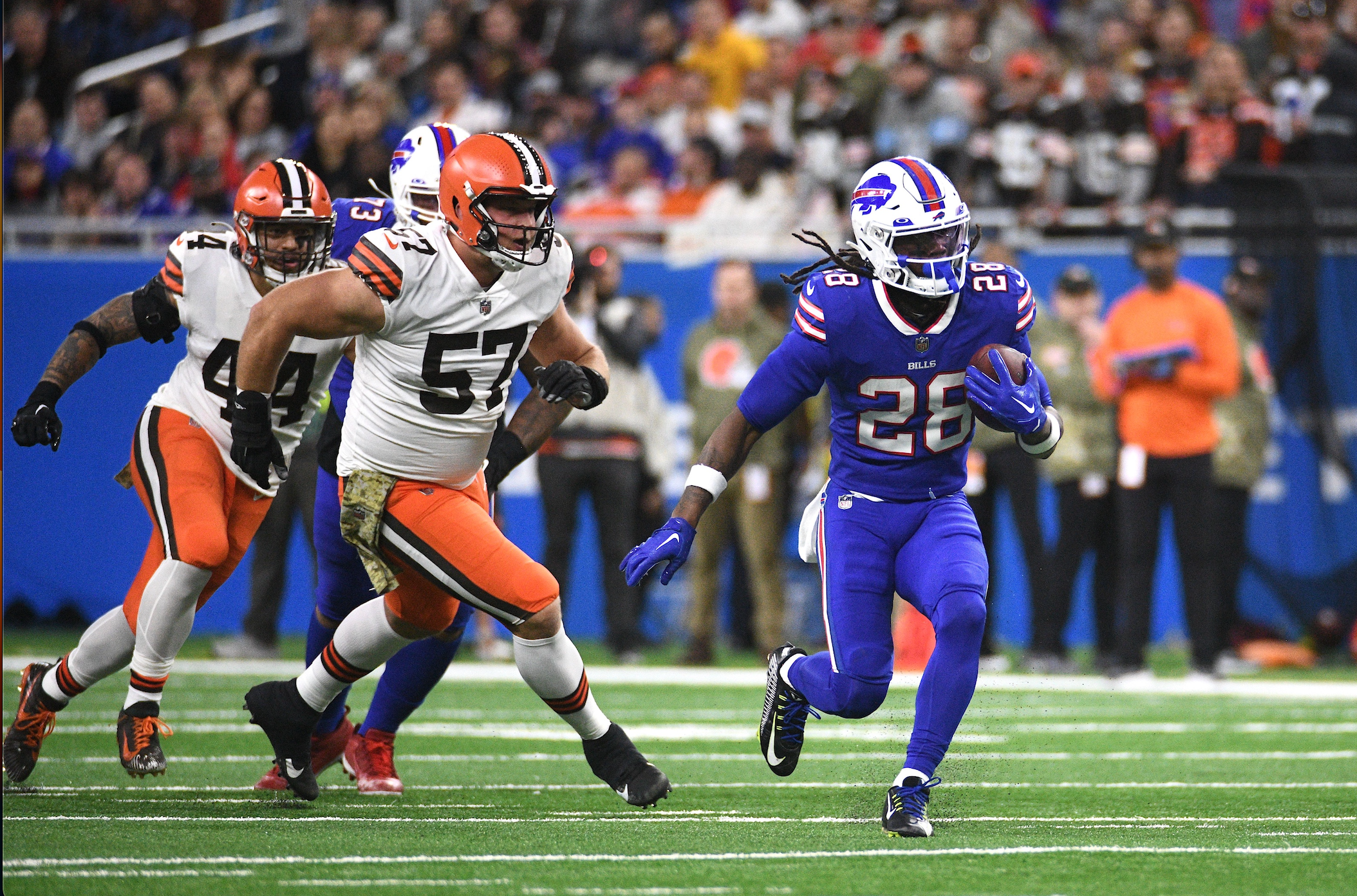 Game Awards

Offensive Player of the Game: RB Duo of Devin Singletary and James Cook

The duo finished with 172 yards on 29 carries (about six yards per carry) and a touchdown. Singletary also added two catches for 11 yards. Buffalo's strong run game helped take some of the pressure off of Allen, who coincidentally, didn't have a turnover against Cleveland. Ryan Bates and Spencer Brown might've had their best games of the season, and Knox did a great job setting the edge on several outside runs. If Buffalo can continue to run effectively, like they were able to do down the stretch last season, it could be the key to making a deep playoff run in January.

Defensive Player of the Game: Matt Milano

He won't win, but Matt Milano should absolutely be in the Defensive Player of the Year conversation. The only problem is that his impact on the game doesn't always show up on the stat sheet. While outside linebackers and defensive linemen are recording double digit sacks, and ball-hawking defensive backs get an interception every other game, Milano doesn't accomplish either of these…because that isn't really his job. He finished the game with 12 tackles, 3 of which were for a loss, a sack, and a fumble recovery. Simply put, he was all over the field, disrupting run plays and meeting ball carriers at or behind the line of scrimmage. In terms of importance to the team, you could argue that Milano is the most valuable defensive player the Bills have, and he has been the best off-ball linebacker (linebacker that plays in coverage rather than rushing the passer) in the NFL this season.

MVP: Tyler Bass

Bass was 6-for-6 on field goals, tying a franchise record set by himself and Steve Christie for most field goals in a game. He also converted his only extra point attempt, for a total of 19 points, which is his new career-high. Bass has now completed 101 consecutive extra points in the regular season, by far the longest active streak. The Rams' Matt Gay has the second longest streak at 53. Bass now leads the league in points, with 93 (Justin Tucker is in 2nd with 86).

What's Next: Bills @ Lions on Thanksgiving

Buffalo travels back to Detroit to take on the Lions, who have won three games in a row. This will be the third time in the McDermott-Beane-Allen era that Buffalo has played on Turkey Day, following a 26-15 win in Dallas and a 31-6 blowout in New Orleans.
Editor's babble: Happy Thanksgiving! Hopefully we'll see another win at Ford Field. We are thankful for Colin Richey's contributions to our blog. You can also find Colin on Twitter @whatthef00tball.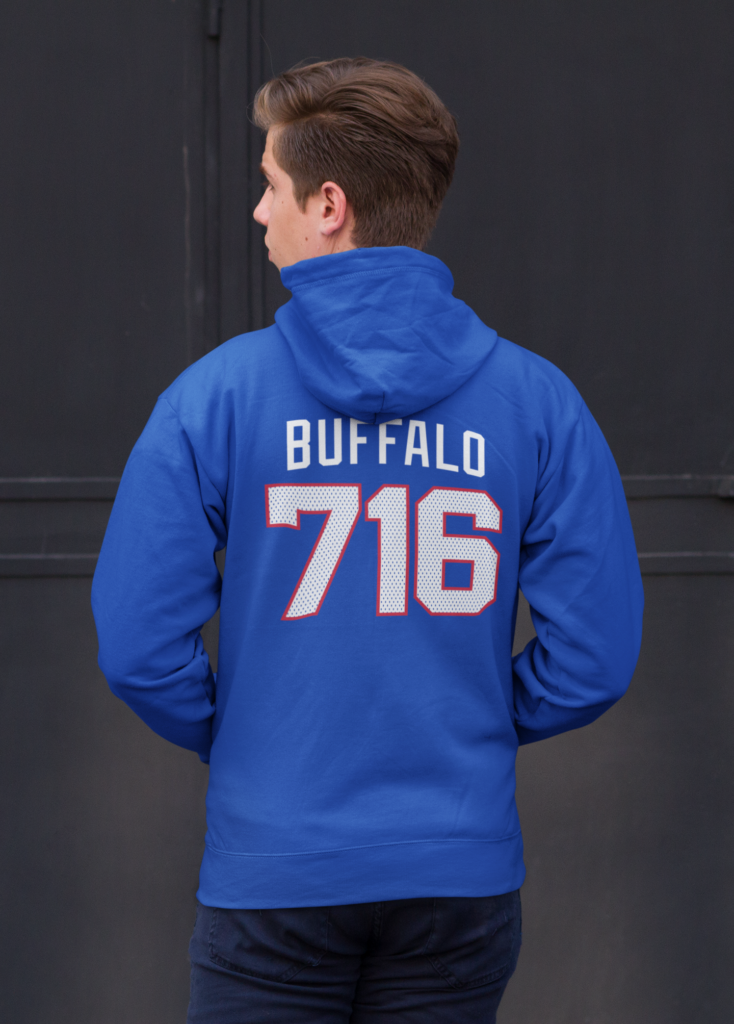 BuffaloFAMbase.com is sponsored by 26 Shirts
Every Monday, we launch a new two-week campaign of a limited edition t-shirt design. Every shirt purchase results in a donation to a local family in need. After the campaign ends, the shirt is retired. A new design is released, and a new family benefits from your fandom!