Last Sunday's game in Orchard Park was one for the ages. Countless incredible catches by two of the best WRs in the league, a comeback win from a 17-point deficit, wild turnovers, and an overtime stand-off where both teams were able to have possession of the ball. Many football fans analysts/commentators are already considering it the game of the year. The only issue: the Buffalo Bills are once again at the receiving end of another unbelievable defeat. Losing is tough in any scenario, but when it feels like the grip of victory was pressed against your fingertips and then it suddenly vanishes into thin air like a child losing a balloon, it stings in an astonishing and bewildering way.
A part of me is still laying on the floor in disbelief after a fourth and goal Buffalo defensive stop which seemed to ensure victory, was followed by a fumbled snap that allowed the Minnesota Vikings to take the lead against the Bills with 41 seconds remaining. We all know what happened from there, but the harsh reality is that the Bills fell off from the #1 seed in the AFC, but also the AFCE as the Miami Dolphins and the New York Jets are currently ranked ahead of them. The Bills aren't hitting the panic button, but a two game losing streak is foreign territory for a team that entered the season as unquestionable Super Bowl favorites. It merits the question: what is going on with the Buffalo Bills and why are they losing? Today, I'll cover the top three reasons why I believe the Bills are in a funk and also why they can get out of it. I'll also look into the upcoming must-win matchup against the Cleveland Browns this coming Sunday at 1 p.m. in Orchard Park (edit note: maybe).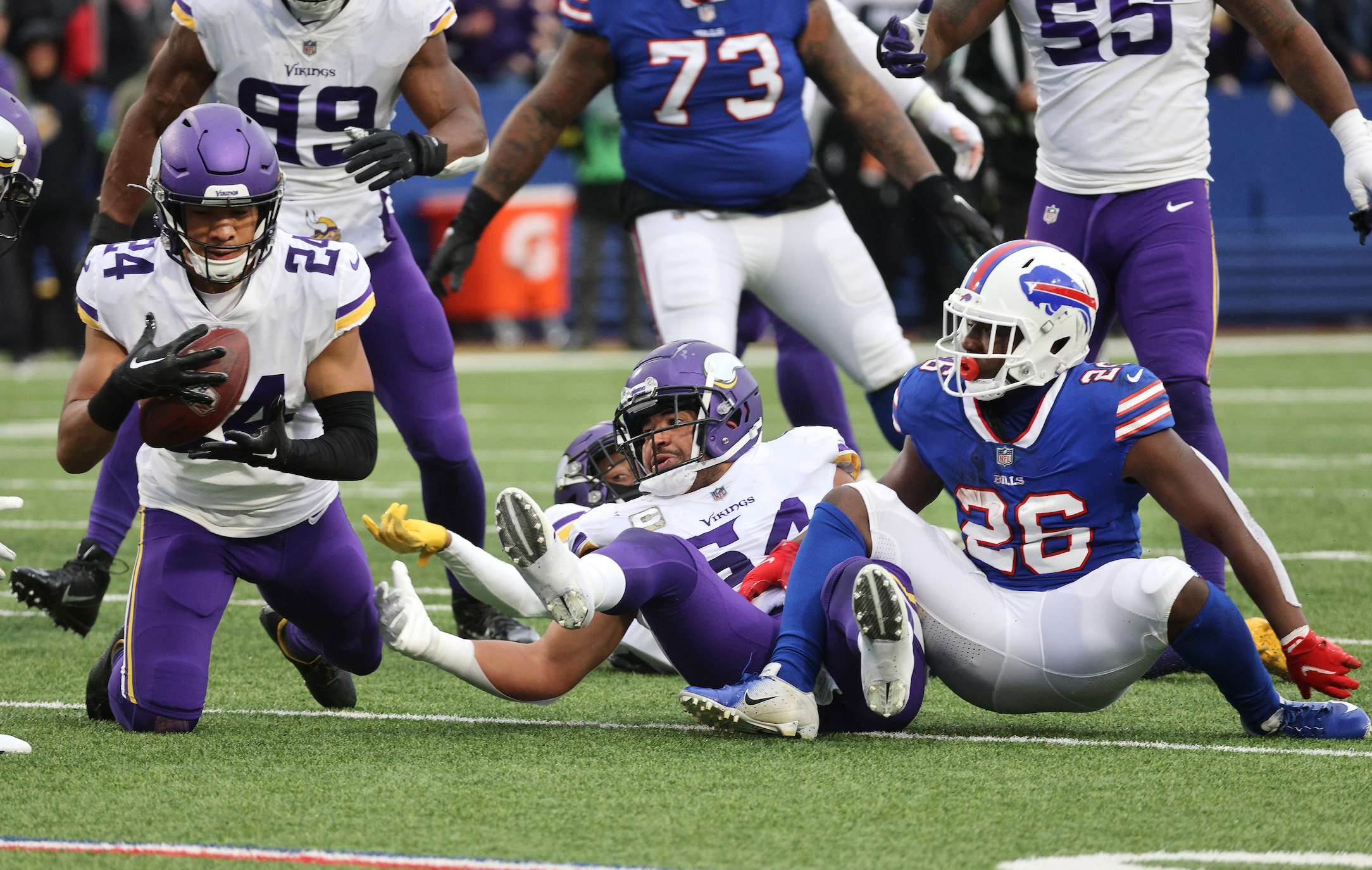 Turnovers
The main reason the Bills are currently on a losing streak isn't a great mystery or something nefarious happening behind the scenes the public is unaware of. It's the issue the team has with turning the ball over. The Buffalo Bills are currently tied for second for the most turnovers in the league at 18 and Josh Allen leads the NFL in turnovers by an individual player with 13. This is not the company you want to be in as most of the players/teams near these numbers are essentially already out of playoff contention. If you give the team stats from last Sunday's game a glance, most of the key categories such as total plays, total yards, passing yards, total drives, penalties, and time of possession are nearly identical.
The major difference is the Bills had four turnovers, whereas the Vikings had two. Allen turned the ball over six times in the first six games of the 2022 season, but has now turned the ball over seven times in the last three games. It's worth considering these numbers could be even higher if some would-be interceptions weren't dropped the last two weeks and two fumbles from the Jets game weren't recovered by the Bills. There's no question about it: Josh Allen is in a funk and the Bills can expect to continue to lose until he gets himself out of it. On his appearance Monday with sportswriter Tyler Dunne, Bills WR Isaiah McKenzie, explained how he himself has gotten into these similar funks before and Allen can find his way out of it by "going through your reads, going through your progressions, and making the right decisions". Although this sounds elementary, McKenzie isn't wrong. On the last play of the game, after Allen marched his team down the field with a vengeance in OT, he got impatient and tried to force a ball to WR Gabe Davis when he didn't need to. It was second and 10 from the MIN 20 with 1:12 remaining and both timeouts still left. Allen didn't look at all for a wide-open Devin Singletary who could have easily picked up at least 5-10 yards. If it's fourth down and the game is on the line, it's one thing to force a throw to win, but Allen needs to rely on the playmakers around him to get the job done from time to time. It can't be all him and sometimes you need to be patient on drives. Teams are beginning to realize Allen's playmaking ability can also become a weakness if he relies too much on it.
Red Zone Issues
One of the most alarming components of the Bills recent struggles with turnovers is that a lot of them are coming in the red zone. Over the last three games, Allen has the same number of completions (4) as he does interceptions in the red zone. Three of those interceptions are coming in the fourth quarter and OT. Simply put, that isn't winning football and it's more indicative of a team that blows leads. It appears Allen and Ken Dorsey are having some growing pains since Brian Daboll's departure as HC of the New York Giants. In an alarming video that came out this week, Vikings CB Patrick Peterson, explains how he knew exactly where Gabe Davis was going to be as his route tree is not extensive at all. It may even give insight into why we didn't see much of Davis on the field last year. Sure enough, when Allen targeted Davis, Peterson beat Davis to his spot and was able to intercept the pass. He states he even told Bills CB Tre'Davious White on the sideline before the play that he hopes the Bills try his side of the field because he would be coming down with it.
I think the Bills red zone woes are a troublesome category to consider, but I also believe they're fixable. They have a lot of dynamic playmakers as well as receivers who can come down with contested catches. The Bills need to look to get different players the ball in the red zone and spread defenses out more. It would also be wise to take advantage of potential mismatches as numerous teams are dealing with injuries defensively by this time of the year. Dorsey needs to refine the playbook and utilize the weapons available to him, as defenses appear to have figured this offense out, especially in the most important area of the field.
Bad Second Halves
Lastly, and most importantly, the Bills have struggled in the second half of games. The Bills have been outscored 43-12 in their last three games after halftime. As explosive as the Bills offense has been at times this season, they have yet to score a second half TD in the month of November. The most frustrating part of this statistic is that the Bills offense is moving the ball down the field, but failing to capitalize good drives with TDs. The defense has had their struggles in the second half, but a lot of that is stemming from the offensive turnovers. For example, the Bills defense fought tooth and nail on the goal line to win the game, making five separate stops, only to have it negated by an offensive fumble.
Considering how many of the defensive starters are missing time, it's not necessarily fair to cast blame on a unit who is still putting the team in position to win games with primarily backups in the secondary. When you're putting young sixth/seventh round picks and undrafted players against Justin Jefferson he's going to put up a crazy stat line (10 catches for 193 yards, 1 TD). The offense is the side of the ball that really needs to step it up over the next few weeks or Western New York is going to have a long offseason. The margin of error allowed is only growing thinner and each team in the AFCE is currently in the projection to make the playoffs. Fortunately, the Bills have beat the Ravens, Chiefs, and Titans who all lead their respective divisions in the AFC, but they are entering "must-win" territory going forward, especially in their interdivisional matchups.
Looking Forward
The Injury Bug
The injury bug has sworn an all-out crusade against the Buffalo Bills this season. So many players were injured Wednesday they could not conduct a proper practice, instead focusing on individual drills. In what Coach McDermott described as a "non-Covid related illness" FB Reggie Gilliam, LB Matt Milano, DT Jordan Phillips, DT Tim Settle, and CB Cam Lewis were all forced to miss practice. LB Tremaine Edmunds is also not practicing yet after he left last Sunday's contest with a groin injury. DE Greg Rousseau is also still dealing with an ankle injury suffered against the Jets. S Jordan Poyer and CB Kaiir Elam both have returned to practice in a limited fashion and will hopefully be returning to the field Sunday. Lastly, CB Tre'Davious White continues to be a full participant at practice, but there is no known information on when he will be coming back. If Sunday's contest is going to be as snowy as weather reports are indicating, it's safe to assume the Bills won't be rolling him out for the first time this season.
Snow Bowl Part 2
The 3-6 Cleveland Browns will travel to a frigid and snow-filled Orchard Park that is expecting somewhere between 1 and 3 feet of snow between Wednesday evening and Saturday morning. There is a chance that heavy snow will still be hitting Orchard Park come Sunday afternoon. With winds gusting up to 25 mph it could be nearly impossible to throw a football with any accuracy. This would be advantageous to the Cleveland Browns as their RBs Nick Chubb and Kareem Hunt are two bruising backs who are the focal points of the offense. Chubb is averaging over 100 yards a game and 5.7 yards a carry. Ironically enough, QB Jacoby Brissett, who will be starting his last game before suspended QB Deshaun Watson returns, played in the infamous Snow Bowl in Buffalo in 2017 and nearly brought the Colts to victory. The Bills may be forced to let RB Devin Singletary become a workhorse Sunday and it could be Allen's first contest as a Bill in a genuine whiteout. If the Bills manage to get outplayed in a running based game, don't be surprised to hear the open-roof stadium debate to resurface. Regardless, this should be a fun game and although the Bills are in must-win territory I implore you to enjoy the ride. This team isn't lacking any confidence and a brutal snowstorm isn't gonna change that.
Editor's babble: We are grateful for Joe Larkin's contributions to our blog. You can also find Joe on Twitter @jooelarkin.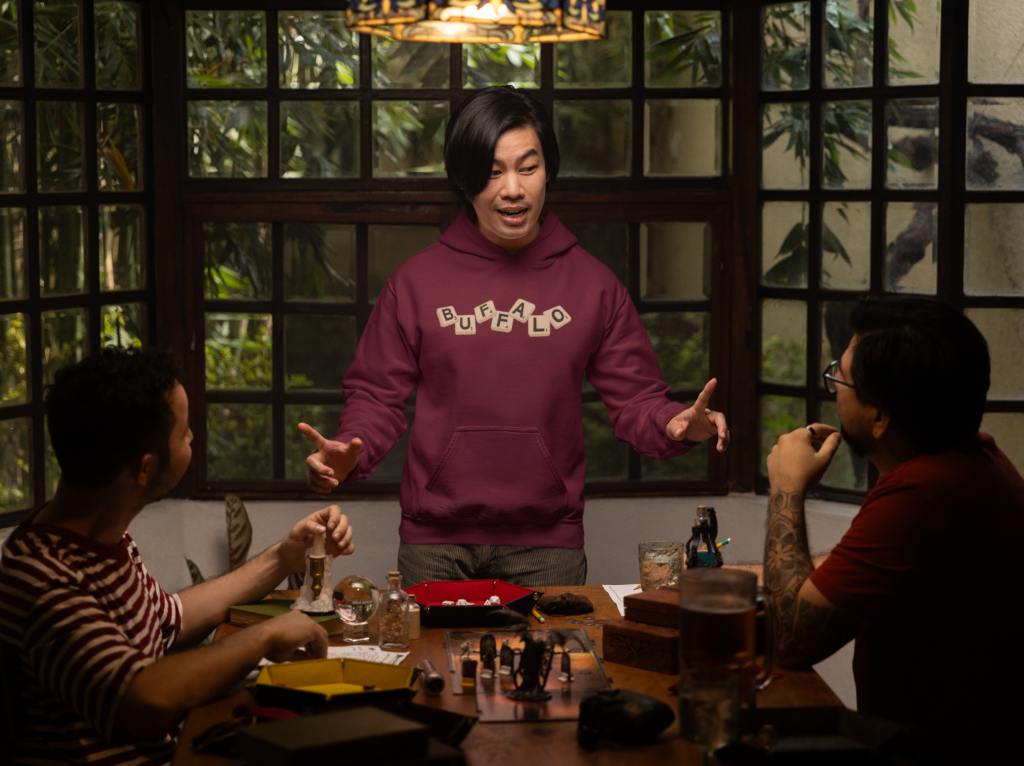 BuffaloFAMbase.com is sponsored by 26 Shirts
Every Monday, we launch a new two-week campaign of a limited edition t-shirt design. Every shirt purchase results in a donation to a local family in need. After the campaign ends, the shirt is retired. A new design is released, and a new family benefits from your fandom!