Robert Saleh and the Jets faced off against the Buffalo Bills last Sunday with a single improbable agenda: make a superhuman look human. Saleh was coming off an 0-3 stretch against Josh Allen (two as NYJ HC in 2021, and one as SF D. Coordinator in 2020). Saleh clearly wanted to live up to the hype of his tenure with San Francisco, where he helped create a defense that propelled the 49ers to the Super Bowl in the 2019 season. The Jets weren't stepping down to the #1 AFC team and shocked the world in doing so. Zach Wilson had the best game of his career, even though he only threw for 154 yards and a single TD. He was efficient when it mattered. Running backs Michael Carter and James Robinson complimented a dominant defensive performance with 25 carries for 124 yards between the two that helped keep Buffalo's offense off the field for what felt like centuries. The Jets defense finished with two interceptions, five sacks, two of which resulted in fumbles, and laid some massive hits on Allen in the process. The game could have been even worse for Allen if they didn't drop a would-be interception and were able to recover some of the aforementioned fumbles. Allen only passed for 205 yards, no TDs, a 53% completion percentage, and arguably had his worst game as a passer since his rise to stardom in 2020. In this article, I'm gonna dive into Allen's rough performance, how the defense struggled but still gave them a chance to win, and the Bills final offensive drive of the game.
Trouble in East Rutherford
The Bills couldn't have started the game any better. After Jets punter Braden Mann took a tumble during the opening kickoff the Bills recovered the ball at midfield. Allen went directly to Diggs as he ran past a frozen Sauce Gardner catching a 43-yard reception that brought them to the 13-yard line. I, like many Bills fans, already had a smile on my face as I could sense blood in the water early, except something crazy happened that encapsulates the entire game for the Bills. On 2nd and 10, Allen rolled right on a play fake and threw it to Dawson Knox in the flat, but somehow completely missed S Jordan Whitehead standing in front of Knox who easily came down with the ball. It genuinely looked like Allen just lightly tossed it up for Whitehead to snag. In typical fashion, Allen responded with a 67-yard TD drive where he spread the ball out and ultimately ran it in himself. At halftime, the game was 14-10 and although the Jets were hanging around it felt like the baffling opening drive INT was a fluke the Bills had recovered from. Once again, I found myself to be wrong.
After an eight and a half minute Jets drive to open the second half, added on by a skycam malfunction, that left wires all over the field, adding on an extra 12-minute delay, the Bills finally got the ball back only to have another egregious turnover. On first and 10, Allen got instantaneously walloped by DT Quinnen Williams within three seconds of the ball being snapped as Williams beat C Mitch Morse with ease. Following the sack, Allen threw a pick to Sauce Gardner that once again looked like he deliberately tossed it to a Jets DB.
Obviously, Allen did not purposely turn the ball over or anything of that nature, but it warrants concern exactly what he was looking at or where he expected WR Gabe Davis to be. The two have had a bad stretch over the last six quarters of football and need a rebound game ASAP. Allen has four picks over the aforementioned quarters and Davis only has four catches. The Jets scored quickly after the interception and put up a three point lead. If it's any solace, Allen rebounded with a solid drive with some downhill aggressive runs and flashes from rookie RB James Cook. When the Bills got a matchup with newly acquired RB Nyheim Hines on a LB, Allen knew exactly where to go as Hines easily gained a step on him deep, yet Allen overthrew Hines out of his reach for what could have been a catch in goal line territory. With another chance on offense, Allen got sacked by rookie DE Jermaine Johnson on a bootleg run which usually is a successful play for Allen. It was clear Saleh and the Jets watched their tape vigilantly and knew Allen's tendencies and where he turns to when he needs a big play to extend a drive. Lastly, (I have a section below dedicated to the last offensive drive) Allen threw a deep ball that was deflected by CB DJ Reed who ran step-for-step with Diggs. It's worth mentioning that the Bills are now considered top dogs of the AFCE and every team/coach is going to not only be coming for them every season, but drafting and building teams that can compete with the Bills high-powered offense. If you don't have a plan for playing against Josh Allen in the AFCE, don't expect a GM or owner to hire you. Teams will be planning how to beat the Bills 365 days a year and the Jets are one of the first in the AFCE to truly make the Bills Superman look like a mere mortal in quite some time.
Defense struggles, but still gives a fighting chance
After the groundcrew finally cleaned up the defective skycam, Von Miller did Von Miller things.
Miller put a move on RT Cedric Ogbuehi on third and six from the BUF 19-yard line after a painstakingly long Jets drive that resulted in a strip sack recovered by DE AJ Epenesa. Miller showed exactly why the Bills shelled out a big contract for the future Hall of Famer. Miller is never looking to merely lay a big hit on a QB, but is always thinking about getting the ball out of their hands so the offense can come back on the field. The big play usually serves as a death knell for the opposing team, but with the Bills offensive struggles it just didn't cut it.
With the game tied 17-17 late in the fourth quarter, the Jets ground and pound formula seemed to come to fruition as they easily drove the ball down the field with countless missed tackles resulting in a 86-yard drive that lasted over six minutes. Jordan Poyer and Matt Milano's absence became glaring on this last Jets offensive drive. Yet, the Bills defense once again showed why they're one of the best in the game. On first and goal Von Miller recorded a TFL on James Robinson. On second and goal, Zach Wilson tried to scramble toward the end zone, but got wrapped up by S Jaquan Johnson and absolutely smacked by DE Boogie Basham. Finally, on third and goal S Damar Hamlin executed a perfect blitz and sack that forced the Jets to kick a FG and give Buffalo the ball back. Although it wasn't a perfect contest from the defense, they still gave the offense multiple chances to secure a victory in a dog fight.
The Final Stand
On first and 10 at the BUF 25-yard line with 1:43 remaining in the game, Allen threw a beautiful sideline pass to Diggs who showed his forever mind-blowing toe-drag-swag that was caught at the 50-yard line, but was instantly negated by a questionable call for holding on LT Dion Dawkins. This was another infuriating moment that showed the offense just couldn't get it right last Sunday. Following a 12-yard gain by Gabe Davis, Jets DE Bryce Huff manhandled backup RT David Queensbury, and hit Allen mid-throw and bent back his arm which made him fumble and was recovered by RG Ryan Bates 19 yards away from the line of scrimmage. Allen instantly grabbed his arm in pain and severe panic was felt by Bills fans. It's one thing to have a bad performance, but losing Allen for the season would immediately put a halt to all Super Bowl aspirations. An absolute nightmare for all of Western, NY. Allen's next throw on third and 21 hobbled to the dirt way ahead of Diggs which suggested his injury was inflicting more than pain, but also influencing his throws. With the Bills needing 21 yards with only 33 seconds left backed up at their own 14-yard line, Allen threw the longest pass attempt of the last six seasons, traveling 69.3 yards in the air from the BUF 10 to the NYJ 20 for Davis. Unfortunately, the pass was broken up by Gardner and the game was over.
It's incredible to think Allen threw a historic pass after hurting his throwing elbow and the Bills made the right play call going deep. Of course, the Bills were hoping to get a pass interference call to stop the clock and get them good field position for some endzone shots, as Gardner failed to turn around and hand-fought with Davis throughout the throw, but the Bills were not the only team last weekend to realize PI calls have no semblance of consistency. It warrants consideration if some of the Jets comments last week influenced their calls (or lack thereof) in the game, but this team rides for Josh Allen. I believe the way they fought till the end showcases they aren't giving up anytime soon.
Looking Forward
Injuries Continue to plague Buffalo
The Bills injury report is once again, magnifying glass worthy. To start off the week, Tremaine Edmunds, Jordan Poyer, Greg Rousseau, and Josh Allen did not practice. Spencer Brown, Kaiir Elam, Dane Jackson, and Matt Milano are also starting out the week on a limited basis. Tre'Davious White is fully participating in practice now and did travel with the team last week, but there is no definitive answer for when he will play. It's become apparent the Bills are trying to ramp up his production in the safest way possible. The injuries have started to become a major concern as each week it seems a large chunk of the starters who were having Pro Bowl worthy seasons are now on the sidelines.
Obviously, the biggest concern and question is Josh Allen's elbow/UCL. Allen had a similar injury his rookie season where he ended up missing four games. Since his rise to stardom among the NFL elite, Bills fans have not watched a game where Josh Allen isn't the starter. There are murmurs that Allen will be playing Sunday despite the pain, but McDermott is going to remain silent about this until the Bills put the inactive list out at 11:30 a.m. on Sunday. I know it's annoying and nerve-wracking for fans, but remember, it is part of their strategy to confuse the Vikings about who to game plan for defensively. Planning for Allen and Case Keenum involves two totally different concepts. Regardless of who plays, I wouldn't be surprised to see Aaron Kromer, Joe Brady, and Ken Dorsey create a game plan that is focused on quick passes and running the ball more. Case Keenum is a 10-year veteran who has familiarity with Stefon Diggs and posted two starts last season with the Browns, winning both games. The 34-year-old even lowered his shoulder near the goal line to secure a first-down on fourth and three. A Keenum start might not get Bills fans a Josh Allen level dose of adrenaline, but he is a competent professional who you can trust to stick to the playmakers and allow the game to run its course.
Vikings Coming to Town
The Buffalo Bills will be playing the NFC North leading Minnesota Vikings (7-1) at 1 p.m. ET in Orchard Park on Sunday. The Vikings are coming off a six-game win streak where every game was determined by one-score. Last weekend they overcame a dull start with 13 unanswered points in a fourth quarter comeback against the Washington Commanders on the road. Safety Harrison Smith had a big interception in the comeback and has a total of four on the year. Kirk Cousins is having a resurgent/efficient year with 1,999 passing yards, 13 TDs, and a 65% completion rate. The offense is filled with skilled players such as superstar WR Justin Jefferson, RB Dalvin Cook, and recently acquired TE T.J. Hockenson, who had a big first game with the team. Their confidence is high and it's not the most favorable matchup for the Bills coming off a tough loss with question marks surrounding the starting lineup.
One of the biggest stories of the weekend that has been brushed aside due to Allen's injury is Diggs having his first matchup against his former team. Diggs was traded to the Bills in the 2020 offseason for an exchange of picks that eventually secured WR Justin Jefferson in the first round of the draft a month later. Jefferson has been an absolute stud, amassing 255 catches for 3,833 yards, and 20 receiving touchdowns since being drafted. Stefon Diggs has accumulated 290 catches for 3,617 yards, and 25 receiving touchdowns over that span with the Bills. The Jefferson and Diggs trade is one of the rare times both teams seem to equally benefit from a trade. Aside from the Jefferson and Diggs comparison, we all know Diggs wants to make his former team, a team that once fined him $200,000, look stupid at least once. With Keenum also being let go by the Vikings after his best season as a pro, I imagine he also wants to get a little revenge. If Allen is playing, UCL be damned, Diggs is going to get a good number of targets. Lastly, RB James Cook and RB Dalvin Cook will also be having their first professional matchup as brothers. This matchup has all the dramatic dysfunction a family reunion could ask for. Expect two great teams, motivated for various reasons, to come out swinging this Sunday.
Editor's babble: Many thanks to Joe Larkin for his contributions to our blog. You can also find Joe on Twitter @jooelarkin.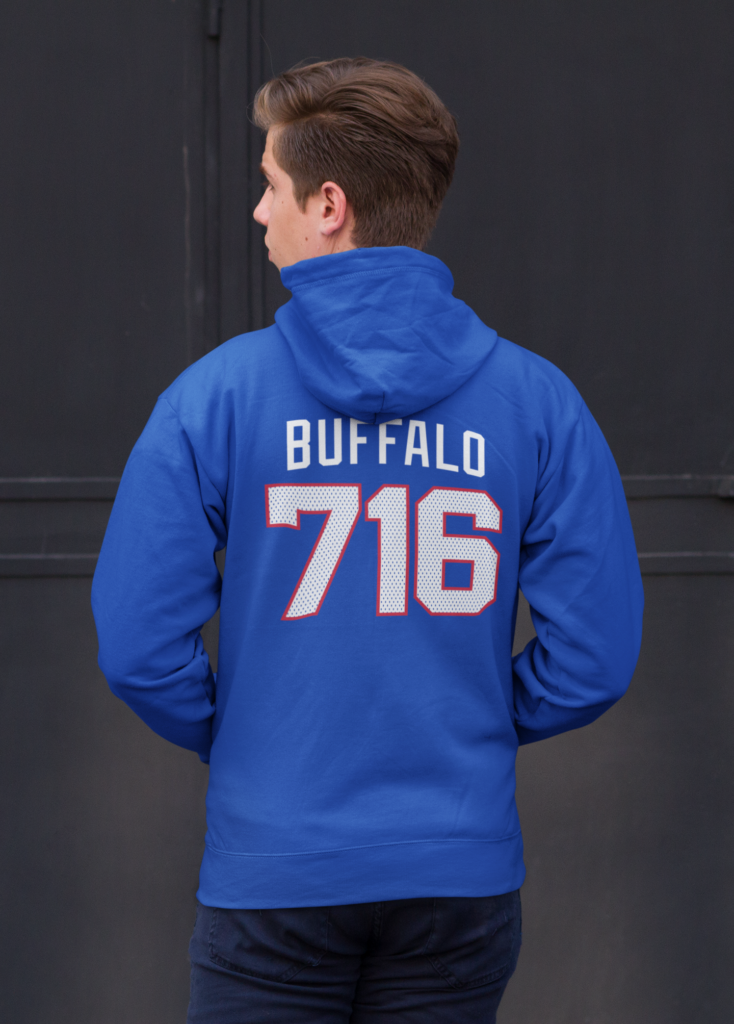 BuffaloFAMbase.com is sponsored by 26 Shirts
Every Monday, we launch a new two-week campaign of a limited edition t-shirt design. Every shirt purchase results in a donation to a local family in need. After the campaign ends, the shirt is retired. A new design is released, and a new family benefits from your fandom!