Buffalo hosted Green Bay on Sunday Night Football. Sean McDermott is 5-0 coming off the bye week, and the Packers have never won in Buffalo. However, Green Bay is the only team to ever shut out Josh Allen (granted, this was his rookie year and third career start). Regardless, the battle between two time reigning MVP Aaron Rodgers and the MVP favorite for this year was sure to be a fun matchup.

Defense Cleans Up Sloppy Start

The Bills did not start the game the way they intended, going three and out on their opening drive. After a six yard run by Devin Singletary, Allen's back to back incomplete passes to Gabriel Davis forced Buffalo to punt from their own 31 yard line.

Rodgers led the Packers into Buffalo territory, but Tim Settle was able to sack the QB to force third and long. Needing 15, Rodgers connected with rookie receiver Christian Watson for 12, but threw an incomplete pass on 4th and three resulting in a turnover on downs. The play was blown up thanks to a powerful bull rush by Ed Oliver up the middle, causing the pocket to collapse around Rodgers as he threw an inaccurate pass downfield.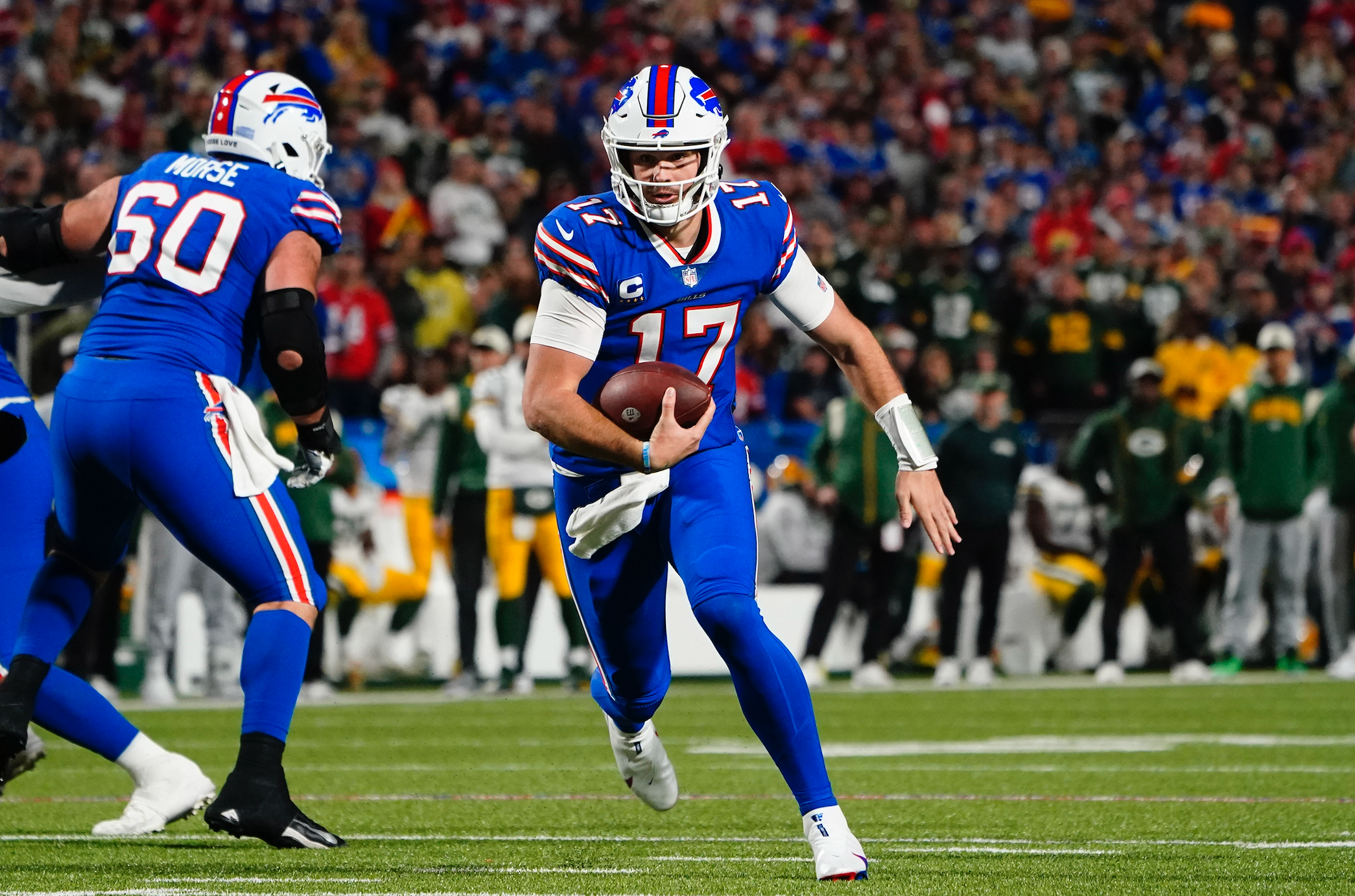 Buffalo Bounces Back

Allen and company were not going to be denied again, this time conducting an eight play, 62 yard drive thanks to the success of the run game. Singletary recorded carries for nine, five, and 30 yard gains, and Allen converted a third and 14 with a remarkable 20 yard run. From the one yard line, Allen rolled to his left as if he were going to run it in, only to loft it into the corner of the end zone to a wide open Dawson Knox.

This time, it was Green Bay's turn to go three and out, as Rodgers accumulated just five yards on three pass attempts during the short drive.

A 17 yard punt return by rookie receiver Khalil Shakir set Buffalo up at midfield. Allen began dissecting Green Bay's defense, completing a 16 yard pass to Singletary, a nine yard pass to Diggs, and then a 26 yard pass to Diggs along the sideline for a touchdown.

Packers Answer

The Packers began running the ball extremely efficiently versus Buffalo's nickel defense (which means Taron Johnson was on the field instead of a third linebacker). Aaron Jones and AJ Dillon combined for 10 carries and 54 yards, before Rodgers threw a deep pass to receiver Romeo Doubs. The rookie made an amazing catch in the end zone despite being covered well by Taron Johnson, and got two feet in bounds before falling out of the end zone.

Bills Pull Away

Already up 14-7, the Bills showed that they can run the ball just as well as Green Bay. This time, it was rookie James Cook, who was showcased for the entirety of Buffalo's third scoring drive. He recorded runs of 17, four, and seven yards to get into Green Bay territory. Allen connected with Diggs, McKenzie, and Knox on the drive, before handing it off to Isaiah McKenzie on a jet sweep, who used his speed and agility to turn the corner and reach the end zone on the seven yard scamper. Up 21-7, Buffalo certainly established the tone that the Packers simply would not be able to outscore Josh Allen and win this game.

A Greg Rousseau sack forced the Packers to punt the ball away with a minute left in the first half. Buffalo, with no timeouts, started from their own 20. On the opening play of the drive, Allen threw a laser down the middle to Diggs for a 53 yard hookup. With no way to stop the clock, half of the remaining time ticked away simply due to Buffalo's players needing to run all the way down the field and set up the next play. In the end, Buffalo was able to capitalize on a 42 yard Tyler Bass field goal, entering halftime with a 24-7 lead.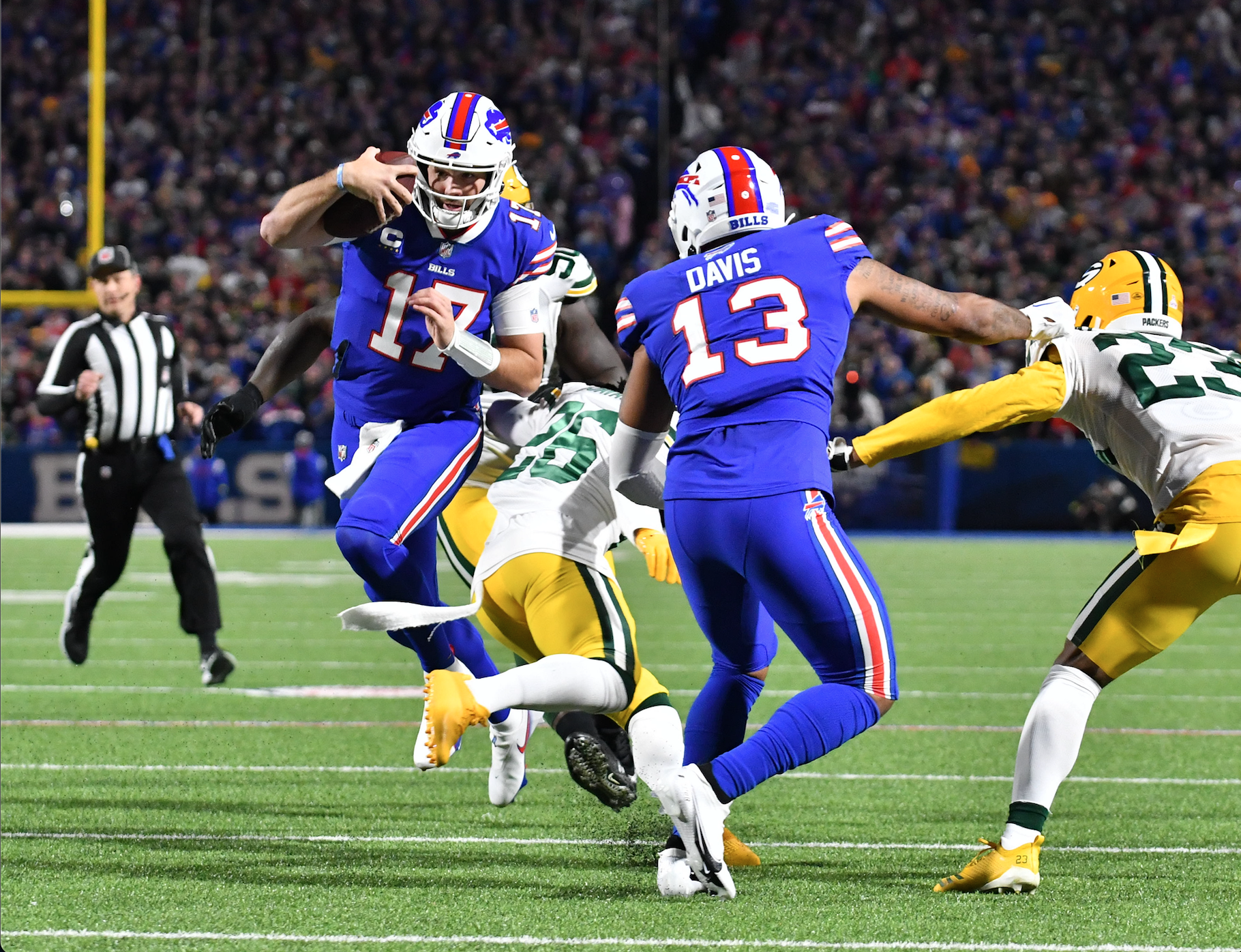 "Gross" Second Half (for the offense at least)

Josh Allen used the perfect word to describe the Bills and their second half execution – "gross". After dropping 24 and allowing just 7 in the first half, Buffalo was outscored 10-3 in a mistake-filled second half.

Green Bay opened up the third quarter running the ball right up the middle, with a 32 yard run from Jones and a 27 yard carry by Dillon. Thanks to a pass interference penalty, the Packers settled for a field goal to make it a 14 point game. Buffalo matched Green Bay with a field goal, so it was once again a 17 point game.

Down two touchdowns with 20 minutes of football left, and the Packers chose to continue running the ball. However, at this point, it felt as if Leslie Frazier's unit was daring the Packers to run, staying in their nickel defense for the entirety of the game. Green Bay took what was given to them, efficiently running the ball but at the cost of the clock winding down. Facing a fourth and one from Buffalo's 26, a field goal would do no good down 14. Von Miller finally put his mark on the game, bulldozing Green Bay's right tackle through the backfield and stopping Aaron Jones in his tracks. Taron Johnson was right behind Miller to wrap up Jones behind the line of scrimmage for a fourth down stop.

While the defense was keeping the Packers at bay, Allen and the offense were unable to score any points in the fourth quarter, with Allen throwing two unnecessary interceptions. The first one came on third and 10, where Allen tried to force a pass back across the field to Davis, when he could've easily ran for the first down. Instead, it was picked off by Rasul Douglas and the Packers would take over at midfield.

Thankfully, Buffalo's defense once again stepped up, forcing a turnover of their own on the very next play. Tim Settle tipped a pass at the line of scrimmage, and Matt Milano flew in to catch the ball before it hit the ground, recording his second interception of the season.

However, the turnovers didn't end there. Allen escaped a sack and lofted a pass to James Cook, which resulted in a 41 yard catch and run for the rookie, and set up first and Goal at the seven yard line. On third and goal, Allen looked like he tried to throw it into the dirt, but he threw it far enough down the field that Jaire Alexander was able to get his hands under the ball and come away with the interception. It was a play that Allen didn't have to make, as he could've ran for a couple yards and stepped out of bounds or just thrown it away out of bounds. Thankfully, Buffalo's three possession lead was enough of a cushion to overcome the turnovers, and hopefully Allen has gotten all of the careless interceptions out of his system.

Aaron Rodgers finally started throwing the ball, hitting his tight end Robert Tonyan for gains of five and 15, and hitting Doubs for a 26 yard gain along the sideline. Then, Rodgers uncorked a deep pass to Samori Toure for a 37 yard touchdown. The seventh round pick ran back across the field after Rodgers needed to extend the play in the pocket, and created enough separation from Damar Hamlin to have an uncontested touchdown pass fall straight into his hands.

Buffalo chewed four minutes of clock before punting back to the Packers, suddenly down just 10 points with the ball. However, veteran kicker Mason Crosby missed his 55 yard attempt to make it a one possession game, and Buffalo had won the game.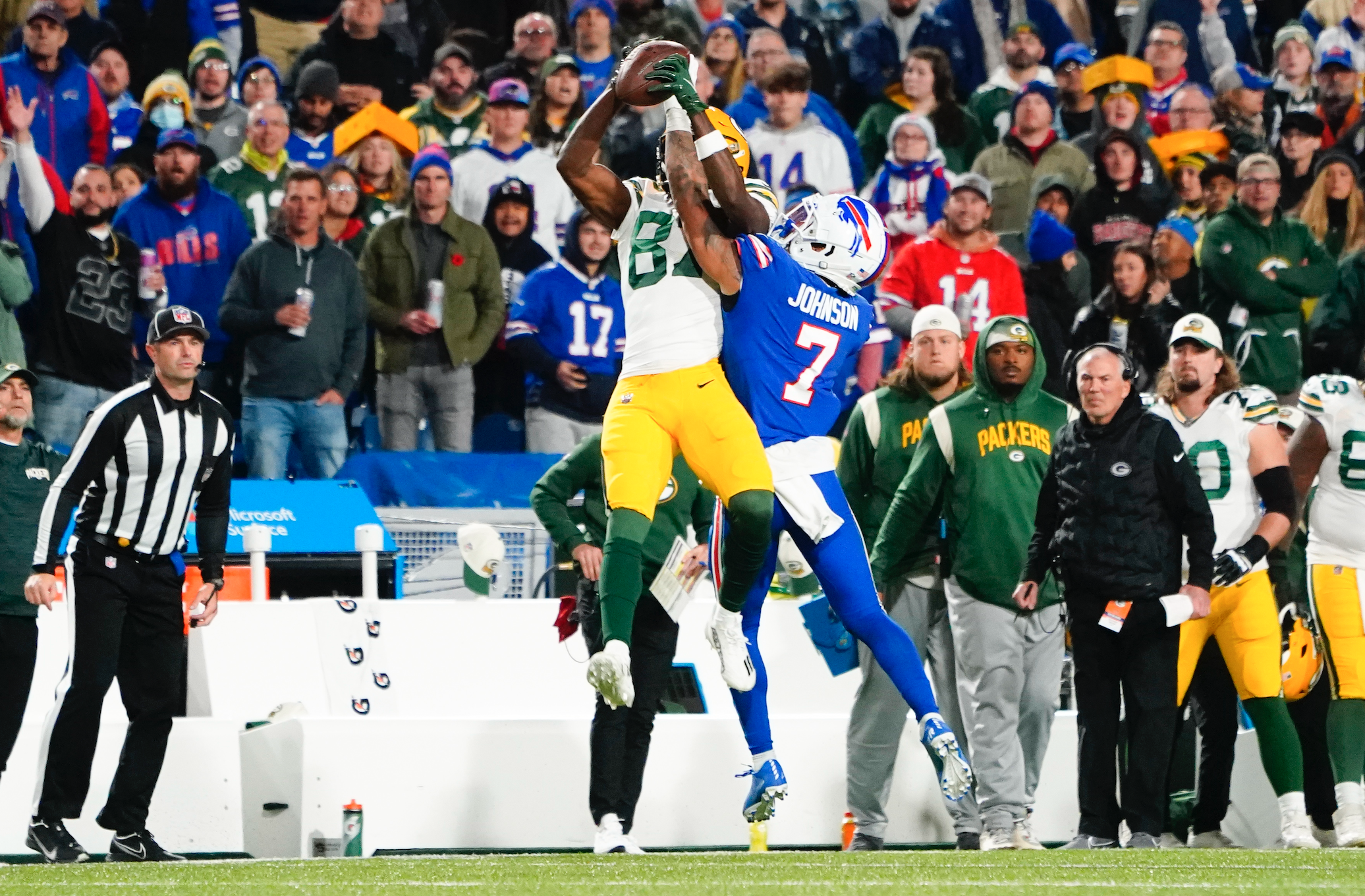 Afterthoughts

Despite the sloppy second half, a win is a win in the NFL, and a double digit win versus Aaron Rodgers should not be taken lightly. The defense showed up in big moments, stopping Green Bay on both of their fourth down attempts. I wouldn't read into the lack of run defense too much. Taron Johnson played 100% of the snaps, meaning Buffalo was playing with just two linebackers for the entirety of the game. If Frazier was really concerned about the run, he would've put a third linebacker in the box, most likely Tyrell Dodson. Instead, being up by two or three possessions was enough for Frazier to emphasize not giving up a big play and keeping five DBs on the field at all times.

Buffalo ran the ball very efficiently, with Singletary finishing with 4.8 yards per carry and Cook finishing with an impressive seven yards per carry. We finally got to see more of the second round pick out of Georgia, and his 41 yard catch and run is a potential sign of things to come in Ken Dorsey's offense. With that one play, Cook finished second on the team in receiving yards, behind only Stefon Diggs. While Gabriel Davis had seven targets, he only recorded two receptions, as Jaire Alexander did a great job of eliminating the deep threat receiver from making any highlight plays.

Allen's up and down night still kept him as the league favorite for MVP, although the gap has narrowed as Patrick Mahomes and Jalen Hurts continue to play at a high level. After taking down three former MVPs in a span of four weeks (Lamar Jackson, Mahomes, and Rodgers), it feels like this is a poetic passing of the torch to Allen, who looks to claim his first NFL MVP award by the time this season comes to an end.

It appears that Knox has finally found his groove in the red zone, recording a touchdown in back to back weeks. After finishing the previous season with nine touchdowns, it was concerning to see him get shut out for the first five games of the season. While he hasn't topped four catches or 41 yards this season, upcoming matchups against the Jets and Lions could lead to a productive day for the tight end.

Injuries

Buffalo was missing right tackle Spencer Brown, who is dealing with an ankle injury from the win in Kansas City. Still, David Quessenberry is a reliable option at tackle until Brown returns. During the game, Matt Milano suffered an oblique injury that the team is still evaluating. The most concerning injury is to All-Pro Jordan Poyer, who re-injured the same elbow that kept him sidelined for several weeks during training camp. While the extent of the injury is still unknown, the results could force the Bills to acquire another safety to help Damar Hamlin and Jaquan Johnson, who could potentially be without two All-Pros in front of them on the depth chart.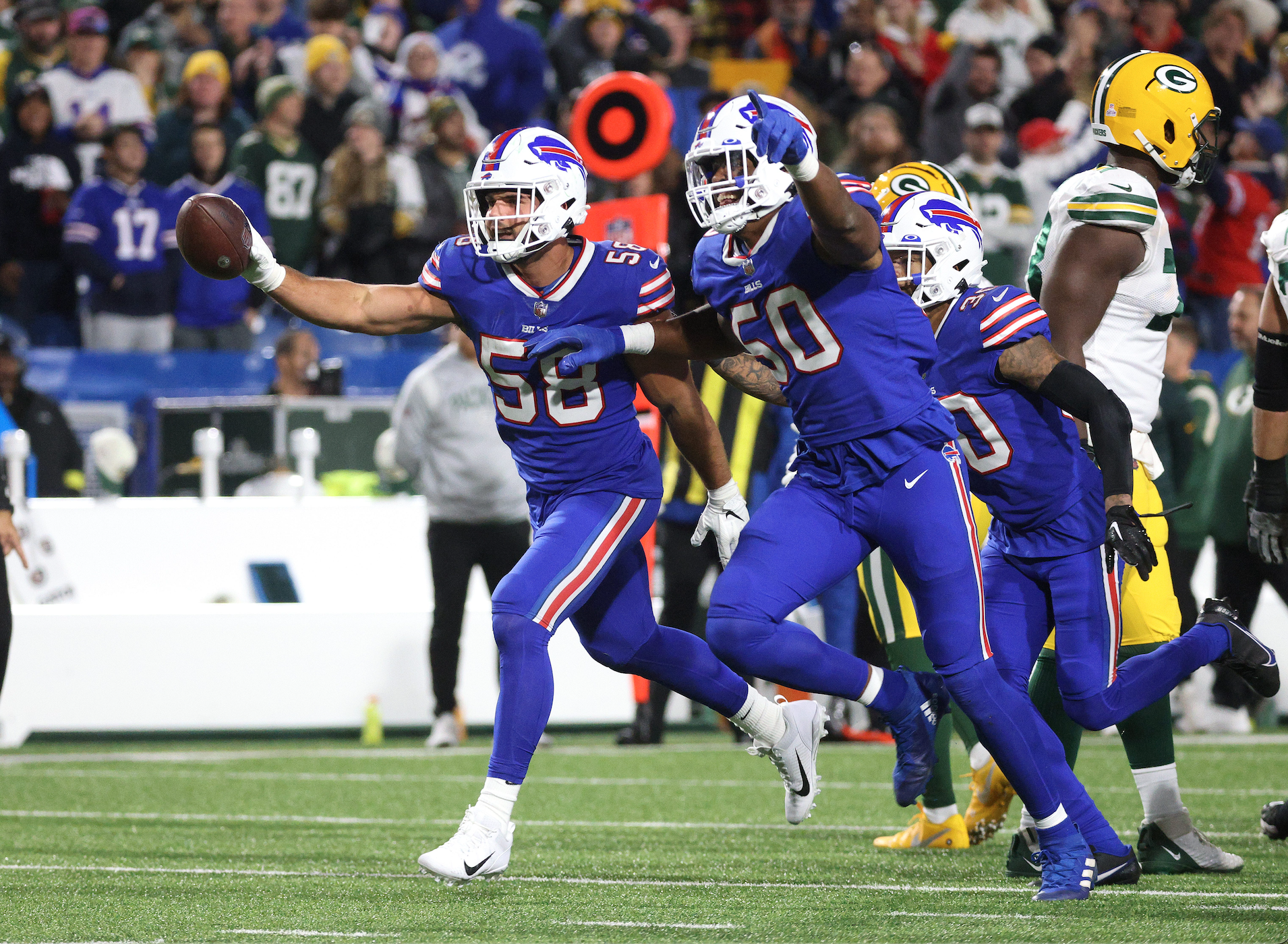 Game Awards

Offensive Player of the Game: Josh Allen

Despite playing what was by far his worst game of the season thus far, Allen continues to show why he's one of the best QBs in the game (if not the best). He still finished with 218 yards and two touchdowns on just 13 completions. Given the current state of quarterbacks around the league, Allen would probably still be a top 10 QB if this was his average production. The fact that this was a "gross" night (mostly due to the two ugly interceptions), and Allen still recorded these numbers, shows that Allen is nearly impossible to defend. Defenses simply cannot stop Allen, they can only hope to limit his success. Against a pass defense that has been above average so far this season, Allen made several plays that were jaw-dropping. The one that comes to mind is his 53 yard connection to Diggs right before the first half ended. Their chemistry is unparalleled around the league, and it week in and week out looks like the two of them can single handedly destroy an opposing defense.

Defensive Player of the Game: Tim Settle

While Settle has made a few nice plays so far, and has been good against the run, none of his contributions really jumped out as splash plays. That changed against Green Bay, where Settle recorded his first sack of the season and tipped the pass that led to Milano's interception.

MVP: Matt Milano

Every week it feels like an interception or two are going right through the linebacker's hands. That happened twice on Sunday night, but Milano finally caught the ball on his third interception 'attempt' of the game. He finished the game with 5 tackles, a tackle for loss, and an interception as he continues to put the entire league on notice. It may be impossible to find a linebacker currently playing at a higher level than Milano, who's finally starting to get the league wide recognition that he's deserved for several seasons now.

What's Next: Bills @ Jets on 11/6

Buffalo travels to MetLife Stadium to take on the 5-3 Jets. Since returning from injury, Zach Wilson has thrown five interceptions and just three touchdowns in five games this season. Buffalo has a chance to dominate on both sides of the ball in this AFC East matchup in week nine.
Editor's babble: We are grateful for Colin Richey's contributions to our blog. You can also find Colin on Twitter @whatthef00tball.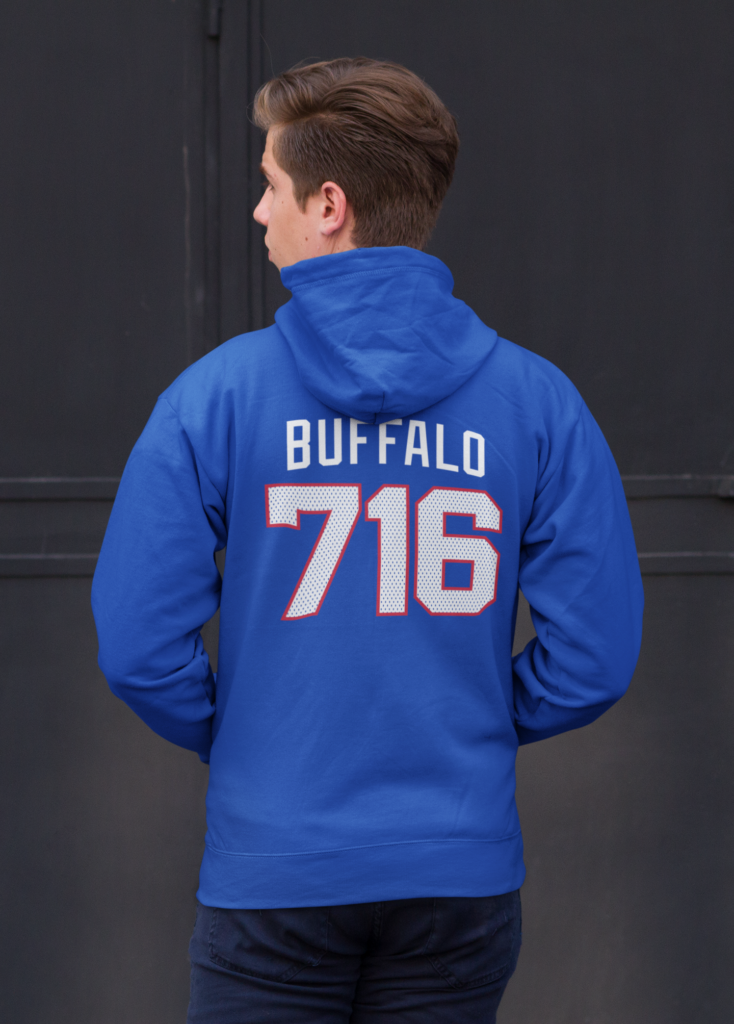 BuffaloFAMbase.com is sponsored by 26 Shirts
Every Monday, we launch a new two-week campaign of a limited edition t-shirt design. Every shirt purchase results in a donation to a local family in need. After the campaign ends, the shirt is retired. A new design is released, and a new family benefits from your fandom!