Defense Stands Tall
Throughout the 21st century, the NFL has shifted into an offensive driven league. The QBs are borderline untouchable, and the skill position players are superstars with TV deals, commercials, clothing brands, and high fashion wardrobes that cost more than your mortgage. There are multiple QBs in the NFL who have more power on a team than any HC or GM "above" them. Penalties are focalized on moving the offense down the field. Let's face it – touchdowns are good for business and keep the fans happy. I think I speak for everyone when I say I don't want to see the Denver Broncos play again in primetime this season. The Bills defense is challenging the status quo with a disruptive, superstar studded TEAM defense that is leading the NFL in a variety of game-changing categories. They lead the NFL with the least number of points allowed at 81, interceptions with 10, and tied at 4th in the league with 19 sacks. Sunday evening reminded NFL fans when push comes to shove in close games your defense needs to step up or your monster offensive performances are futile.
The Bills offense got off to a hot start on their opening drive. After driving the ball 60 yards down the field, Josh Allen and Isaiah McKenzie had a miscommunication on a forward lateral that resulted in a fumble in the KC redzone. Patrick Mahomes drove the ball 80 yards down the field, only to be picked off by Kaiir Elam in the endzone on a ball he tried to force to Marquez Valdes-Scantling. Boogie Basham shed his block and made sure to chase Mahomes throughout his scramble to ensure he didn't have any time to run for a TD or allow a receiver to get open. We saw a similar play occur at the end of the Ravens game in week 4. The Bills defense has shown they don't care about giving up yards. They care about giving up points. The second you get sloppy and try to force something, the versatile Bills DB group will be there waiting and will most likely be coming down with the ball.
The next time the Bills traveled down the field it was 3-7 KC and the Bills turned over the ball on the three yard line after McKenzie tripped trying to adjust for a pass he was open for. Leaving a solid 10-14 points off the board against KC is no way to win, but the Bills defense kept grinding. They routinely got in Mahomes face forcing him to throw the ball into the dirt or out of bounds. In previous matchups, it felt like the Bills defense had no answers for getting pressure on Mahomes and this time, they unquestionably made their presence felt. Matt Milano played the spy (not letting Mahomes leave the line of scrimmage), special teams gunner, Siran Neal used his size and strength to harass Travis Kelce, and Von Miller did exactly what we paid him for. In the 4th quarter, Miller made two massive plays. On 3rd and 13 with 10:41 remaining, Mahomes scrambled forward and had a green field ahead of him securing a first down, but Miller came out of nowhere and secured a leg tackle and forced KC to settle for a field goal leaving the score 17-20 KC. When the Chiefs had the ball with 5 minutes left Miller got another sack on 3rd and 6 forcing the Chiefs to punt which allowed the Bills time to drive down on a heroic Allen drive. I, like many Bills fans, immediately panicked when the Bills left Mahomes over a minute on the clock, with two timeouts, down by four. This is where Mahomes often goes full on God-mode. This time though, the Bills had an answer. On 1st and 10 on the KC 30 with pressure inside from Miller, Mahomes was forced to re-locate and found himself staring down a jumping freight train that is Milano and made a throw Taron Johnson saw in his zone and picked off to end the game. The Bills defense showed they can and will lead this time to victory. If Josh Allen is the face of the franchise, the Bills defense is the backbone.
Josh Allen is the MVP of the NFL
I know all my Bills fans out there agree with that statement. Allen once again showed the world on a national level, that he is arguably the best QB playing the game right now. From the beautiful deep throws, the rockets into tight windows, the insane scrambles, the hurdles, and overall intensity it's hard to compare Allen to anyone right now. Allen has once again won the AFC Offensive player of the week award and it's well deserved. Between the last two games he has thrown for seven TDs, 753 yards, and ran for 74 yards. Allen does a lot of unthinkable things for a QB, but also makes a ton of smart decisions. On both his TD to Gabe Davis and Stefon Diggs,  he saw they were covered one-on-one by rookie Joshua Williams and knew immediately where he was going. Both plays ended in 6 points. In Davis's own words, "this sh*t too easy for me man!". If you make it easy for Allen, Diggs, and Davis they're going to make you pay. The last Bills offensive drive of the game will go down in the history books as another uncanny Allen moment. After firing a missile to Diggs for 18 yards before the two-minute warning, Allen hurdled Safety Justin Reid during a 16-yard run that even left Chiefs fans in awe. Two plays later, Allen fired a bullet of a 14-yard TD pass to Dawson Knox that was perfectly out of reach for Chiefs defenders and ended up being a game-winning TD drive. Five years into his career and the farmer from Firebaugh, California is already a man of folklore legend in Western New York.
Atop the AFC
After Sunday's victory in Arrowhead the Bills are now the number one team in the AFC with a record of 5-1. If the season were to end right now, they would get a first week bye and then (potentially) host two home playoff games in Orchard Park. There is still a lot of football to be played, but the Bills couldn't be in a much better position than they are right now. They've taken out some big names in the AFC in close games like Baltimore and KC, but they have yet to win a game against an AFC East opponent. Down the stretch, games against their divisional rivals and the Cincinnati Bengals will probably be key in determining how the playoffs will shape out for them. I know, the NFL is unpredictable and there is a level of Murphy's Law that is inextricably tied to football, but it's difficult to imagine this team falling off or unraveling mid-year.
Looking Forward
Bye Week and Trade Rumors
The top teams of the AFC and NFC (Eagles) are currently on a bye week. My fantasy football teams are a make-shift disaster at the moment, but the Bills have some extra time to get healthy and rejuvenate. With the trade deadline approaching in under two weeks (November 1st 4PM) the Bills have been circulating around two big name players: Christian McCaffrey and Odell Beckham Jr. Allegedly, the Bills have already made offers for McCaffrey that were rejected, but I have a hard time believing any trade rumor until it is set in stone. Sometimes teams put out false reports to drive up asking prices and sometimes players put out false reports to try and get their way off a bad team. Although Beckham is a free agent and not a trade candidate, he should be deciding where he wants to go soon. He allegedly wants a multi-year deal, which I imagine Beane is hesitant to offer. Beckham has struggled with injuries throughout his career and genuinely raises hell when he doesn't get what he wants. I know a lot of Bills fans, and Von Miller especially, want Beckham to help the Bills get to the promise land, but if his stipulation is a multi-year deal, make that offer to homegrown younger talent like Gabe Davis instead.
WR and CB Depth Chart
Moving on from the bye week the Bills have some questions looking forward. Did McKenzie lose the starting slot WR position Sunday? When is Tre'Davious White coming back? Who is going to start opposite White when he comes back? How do they implement his return? All of these are valuable questions and I think having multiple talented corners shouldn't be much of a concern for the Bills. I still think Dane Jackson holds the starting role, but who knows. It was a big surprise for everyone when Christian Benford started over Kaiir Elam week 1 in LA. My biggest question is around the WR group. I think the Bills will continue to ride with McKenzie, but if he has another game like last week, he could end up on the infamous McDermott inactive list. Zack Moss has ended up there and McKenzie is no stranger to it. Moving deeper into the season teams are going to start double-teaming Davis and Diggs every game. It's going to be up to Dawson Knox, Devin Singletary, James Cook, and whoever else gets the hot hand to dominate those one-on-one matchups. The WR3 position is going to be vital for the rest of the season. Time will tell if Shakir, McKenzie, Hodgins, or someone else will be filling that role.
Next week I'm going to take a look at the AFC East, our season as a whole so far, and the upcoming SNF matchup with the Green Bay Packers. See you then and thanks for looking! Go Bills and enjoy the bye week!
Editor's babble: We are thankful for Joe Larkin's terrific contributions to our blog. You can also find Joe on Twitter @jooelarkin.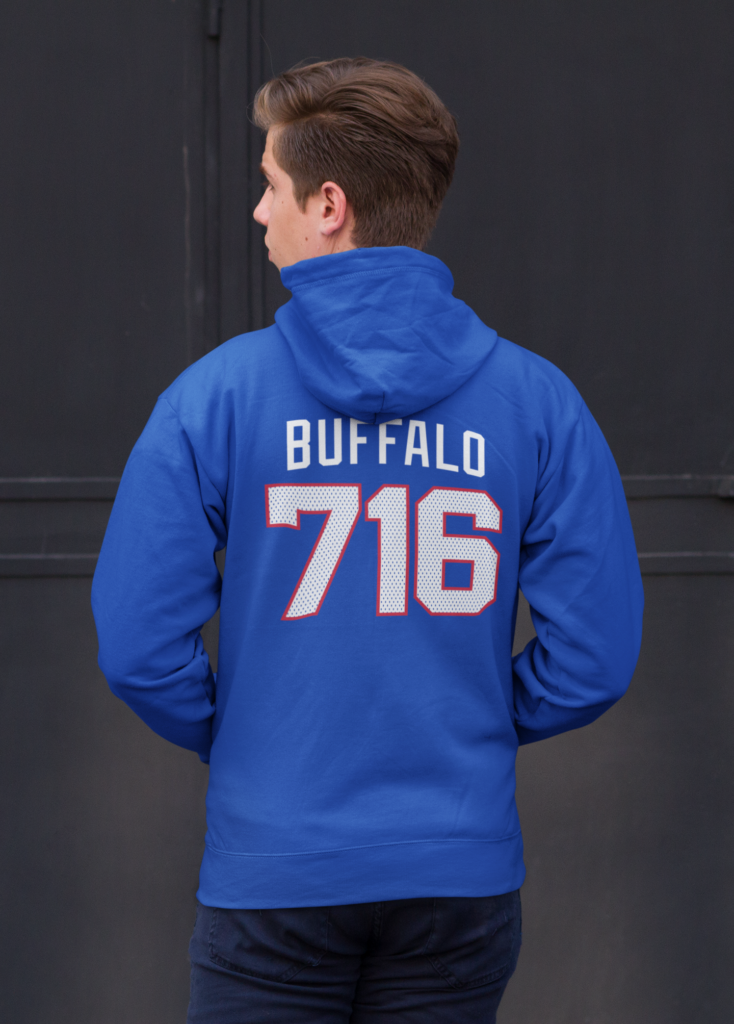 BuffaloFAMbase.com is sponsored by 26 Shirts
Every Monday, we launch a new two-week campaign of a limited edition t-shirt design. Every shirt purchase results in a donation to a local family in need. After the campaign ends, the shirt is retired. A new design is released, and a new family benefits from your fandom!