Buffalo traveled to Kansas City for what almost every football fan believed would be the game of the week, and potentially the game of the year. After dueling in arguably the greatest playoff game ever, the rematch between Josh Allen vs Patrick Mahomes was must-see-TV on Sunday afternoon.

Swapping Turnovers

Buffalo started with the ball and cruised down the field, covering 62 yards in eight plays. Allen connected with Gabriel Davis for 22 yards, and Devin Singletary had rushes of nine, 10, and eight yards. However, on KC's 13 yard line, Allen and Isaiah McKenzie were not on the same page during a read-option play to McKenzie that doubled as a pitch-option if Allen wanted to lateral it to the speedy receiver. McKenzie, after initially not being given the ball during the read-option, turned away from Allen. As Allen began to run, Frank Clark maintained the outside gap, giving Allen nowhere to run. Allen quickly pitched it to McKenzie, who wasn't expecting the ball, and the lateral bounced through his hands and into the hands of linebacker Darius Harris. A turnover in the red zone was not an ideal way to start the game for Buffalo.

It was Patrick Mahomes's turn to lead his offense down the field, gaining 80 yards on a 13 play drive. This time, it was Buffalo's turn to force a red zone turnover, as rookie cornerback Kaiir Elam intercepted Mahomes in the end zone for the second pick of his career (and second pick in two weeks).

Red Zone Struggles Continue for Buffalo

Buffalo got into KC territory thanks to a 31 yard play from Allen to Diggs. Allen and Singletary each registered nine yard runs to keep the drive alive. After a holding call set them back, Buffalo settled for a 39 yard field goal.

Kansas City answered quickly, driving 79 yards downfield in under two minutes. As he was escaping from the collapsing pocket, Mahomes connected with JuJu Smith-Schuster for a 42 yard touchdown, thanks to several poor tackle attempts by Buffalo defenders.

Down 7-3, Buffalo drove all the way down to KC's 3 yard line. On the drive, Buffalo ran six times for 39 yards from a combination of Singletary and Allen. A 23 yard pass interference penalty also helped get into the red zone. On first and Goal from the 10, Singletary ran for a solid seven yards. However, despite the success of the run game (particularly on this drive), Buffalo proceeded to run three straight pass plays, all of which fell incomplete. Only needing three yards for a touchdown, it appeared as if Buffalo could've easily found the end zone on the ground with Singletary or Allen. Instead, Buffalo failed to score a touchdown on their third straight red zone trip of the game.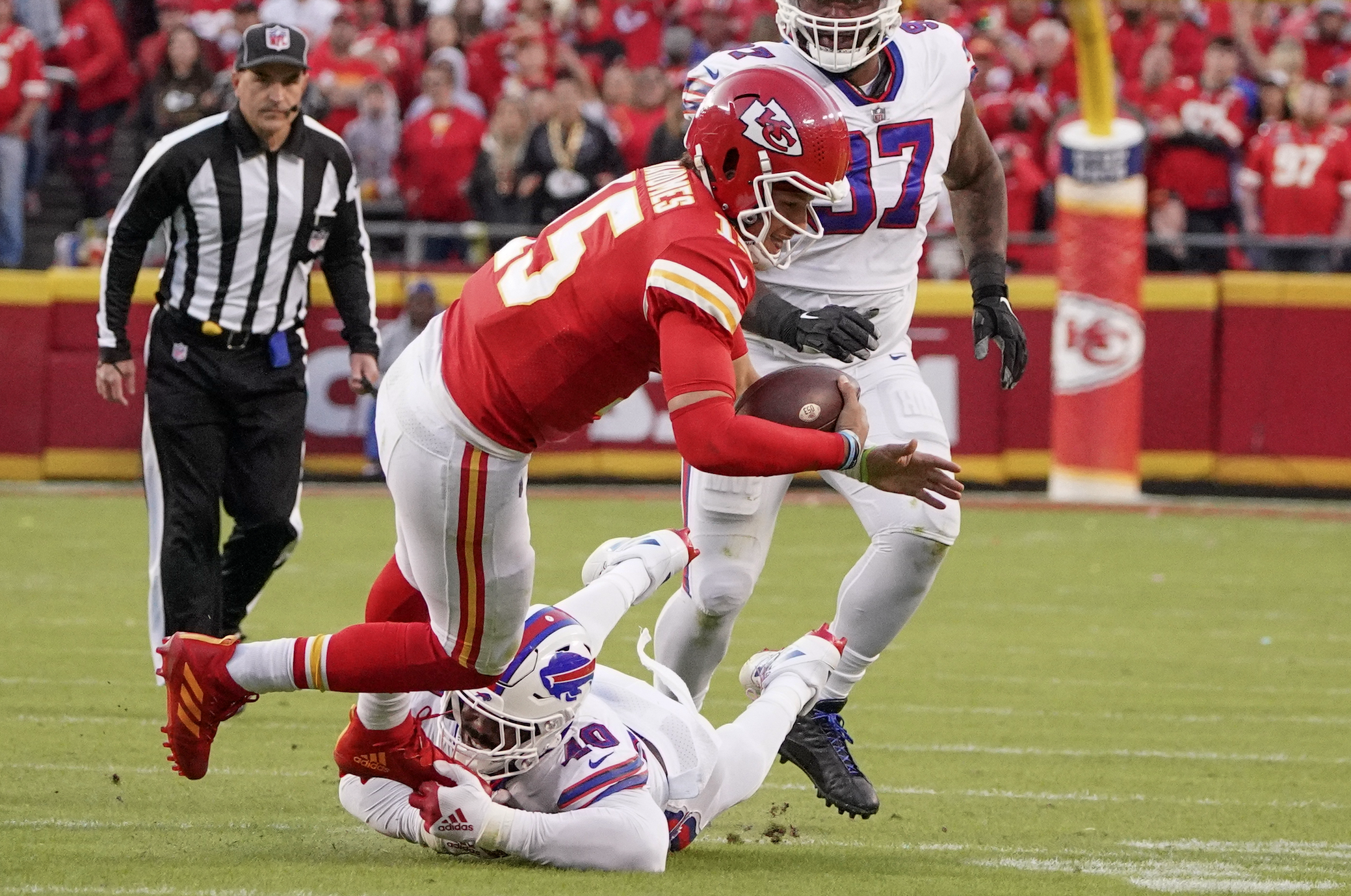 Playoff PTSD

The next three drives all ended in punts. Shaq Lawson registered his first sack of the season, which KC was unable to rebound from. Allen threw two incomplete passes, including one on third down, so the rare Sam Martin punt was necessary. After a few first downs and several penalties, Mahomes was sacked by Von Miller for a nine yard loss, one that ultimately forced a KC punt two plays later.

Tommy Townsend's last punt pinned Buffalo back at the four yard line. After a false start, Buffalo was at their own two yard line, down by three, with 1:29 to go in the half. Allen orchestrated a seven play, 98 yard drive that resulted in Buffalo's first touchdown of the day. Several highlight worthy throws from Allen made it all possible, including a laser throw to Davis for 18 yards on third and 13, a strike to Diggs down the sideline for 30, and a 34 yard bomb to Davis for a Bills touchdown. Allen recognized the one-on-one coverage between Davis and rookie corner Joshua Williams, and gave his receiver a chance to make a play (and he did!).

Of course Davis would score a TD against the Chiefs, but Mahomes was ready for his 'deja vu' moment too. Following a Buffalo squib kick (at least they changed some part of the execution), Mahomes got the ball at his own 28 yard line with just 12 seconds left – nearly identical to the infamous '13 seconds' fiasco in the playoffs last year. Sure enough, Mahomes completed two passes and set up Harrison Butker for a 62 yard field goal as time expired in the half. Davis had his repeat moment, and Mahomes had his.

Swapping Touchdowns

Despite many assuming that this contest would be an offensive battle, the score was merely 10-10 at halftime. Kansas City looked to add to their lead, but Butker (a drive after crushing a 62 yarder), missed from 51 and kept the game tied.

Starting from his own 41, Allen led a quick six play drive that concluded with a 17 yard rainbow pass to Diggs for a touchdown. Once again, Allen took advantage of the one-on-one matchup between his star receiver and Joshua Williams. In a nearly identical play, Allen simply gave Diggs a chance to make a play, and he did.

Kansas City answered with a touchdown of their own. Mahomes connected with Travis Kelce for 23 yards and Smith-Schuster for 41 yards to quickly move down the field. With the pocket collapsing on third and Goal, Mahomes found Mecole Hardman over the middle for a touchdown. Tie game once again.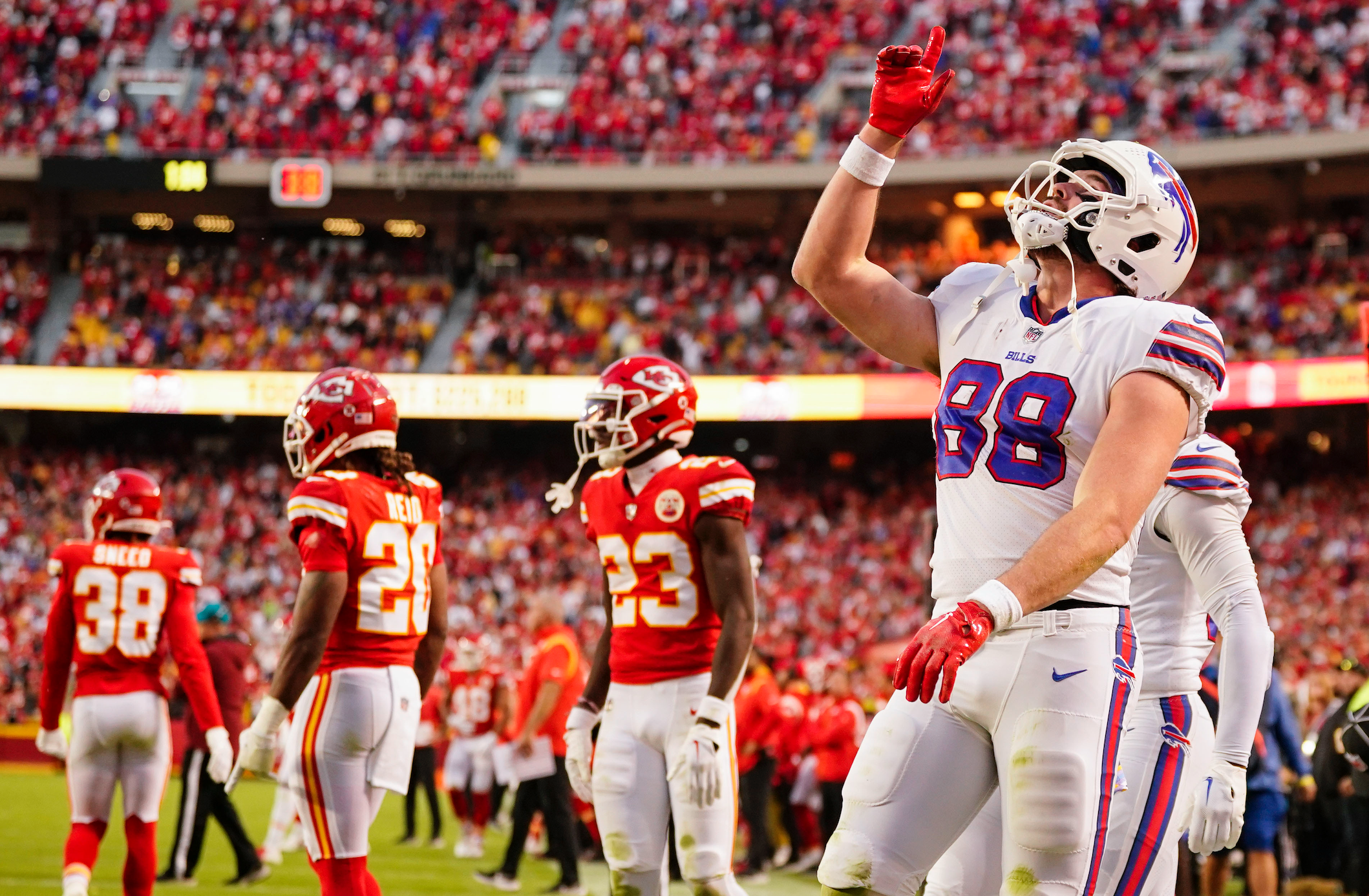 A Thrilling Finish

Buffalo failed a fourth and 3 conversion from KC's 46, providing Mahomes with a window to take the lead. Other than two big plays to Kelce, Buffalo's defense held up relatively well, holding the Chiefs to a 44 yard field goal.

Both teams swapped punts again, thanks to sacks from Chris Jones (if we're counting tripping the QB as a sack) and Von Miller (his second of the game). Down 20-17, it was time for some Josh Allen magic.

In what may be the play of the year, Josh Allen put all of his running abilities on display. After the two minute warning, Buffalo was facing second and 12 from KC's 28. A designed QB run sent Allen to the right, with David Quessenberry, Mitch Morse, and Dion Dawkins in front to set up blocks. Even with the entourage of linemen, Allen felt the need to embarrass cornerback L'Jarius Sneed again (after hurdling him last year). Right as Quessenberry was about to engage in a block on the corner, Allen quickly cut inside then sharply outside, causing Sneed to completely lose his footing and fall down. Safety Justin Reid was preparing to make a tackle short of the first down, but then Josh did his thing. Allen jumped in the air, completely clearing Reid's tackle attempt, then was able to keep his footing as he landed and pick up an additional nine yards after the hurdle. Two plays later, Allen threw a rocket to Dawson Knox in the corner of the end zone for the go ahead score.

Buffalo knew all too well what Mahomes could do with such little time, and he had a full 56 seconds to work with. However, history would not repeat itself in Arrowhead Stadium. After a Buffalo holding penalty negated KC's initial first play, Mahomes faced first and 10 at his 30 yard line. Von Miller, who had been rushing around the edge for the entire game, made a quick inside move that caught tackle Andrew Wylie off guard. Miller reached out and got a hand on Mahomes, who felt the pressure and rolled to his right. Matt Milano, who was QB spying Mahomes, immediately charged at the flustered QB, getting in his face with more pressure. A desperate Mahomes threw the ball to Skyy Moore running across the field, but the QB fell right into Buffalo's defensive trap. Corner Taron Johnson dove in front of Moore and caught the football, giving Buffalo their second interception of the day and sealing the win.

Afterthoughts

What a win for Buffalo! It felt like every investment made this offseason paid off. Von Miller, who was brought in because of Buffalo's lack of pass rush in the playoffs, recorded two sacks and the QB pressure that forced Mahomes to throw the game-ending interception. First round pick Kaiir Elam came in clutch with a red zone interception that completely changed the tone of the game.

Defensive coordinator Leslie Frazier may have found the perfect defense to play against Mahomes and company, and it came at the perfect time. With how well Mahomes is able to evade pressure and extend plays with his legs, Matt Milano serving as a QB spy was an excellent adjustment in the 4th quarter that may have won the game for Buffalo. The Bills have the talent along the defensive line to get pressure while only rushing three. Even if that pressure doesn't result in a sack (which is unlikely given that it's three defensive linemen vs five offensive linemen), Von Miller, Ed Oliver, and Greg Rousseau have the skillset and power to at the very least disrupt the pocket, and that's exactly what they did on the final play. Milano has the athletic ability to chase down Mahomes and make a play on the football should it get thrown his way. This may be Frazier's new antidote to stopping Mahomes in future meetings.

Devin Singletary ran the ball extremely efficiently, turning his 17 carries into 85 yards (averaging 5 yards per carry). This was arguably the best game played by Buffalo's offensive line, and that was with right tackle Spencer Brown leaving the game due to a foot injury. Backup tackle David Quessenberry is a more than capable backup in the event that Brown misses extended time.

Travis Kelce once again dominated, finishing the game with eight catches for 108 yards. While it seemed as if Buffalo had no answer to stopping the future Hall of Famer, it is important to note that the Bills are not alone. He's recorded seven or more catches in every game this year, and has posted either over 100 yards or at least one touchdown in five of six games so far.

After slaying the Chiefs, in Arrowhead, in back to back seasons, KC is officially 'beatable' for Buffalo. Not to say that they weren't before, but last season's win was no fluke. With Buffalo possessing 1.5 game lead over Kansas City, plus a mild to (dare I say) easy schedule remaining, it's tough to see how Buffalo doesn't end up with 13 or more wins and the #1 seed in the AFC by the end of the year.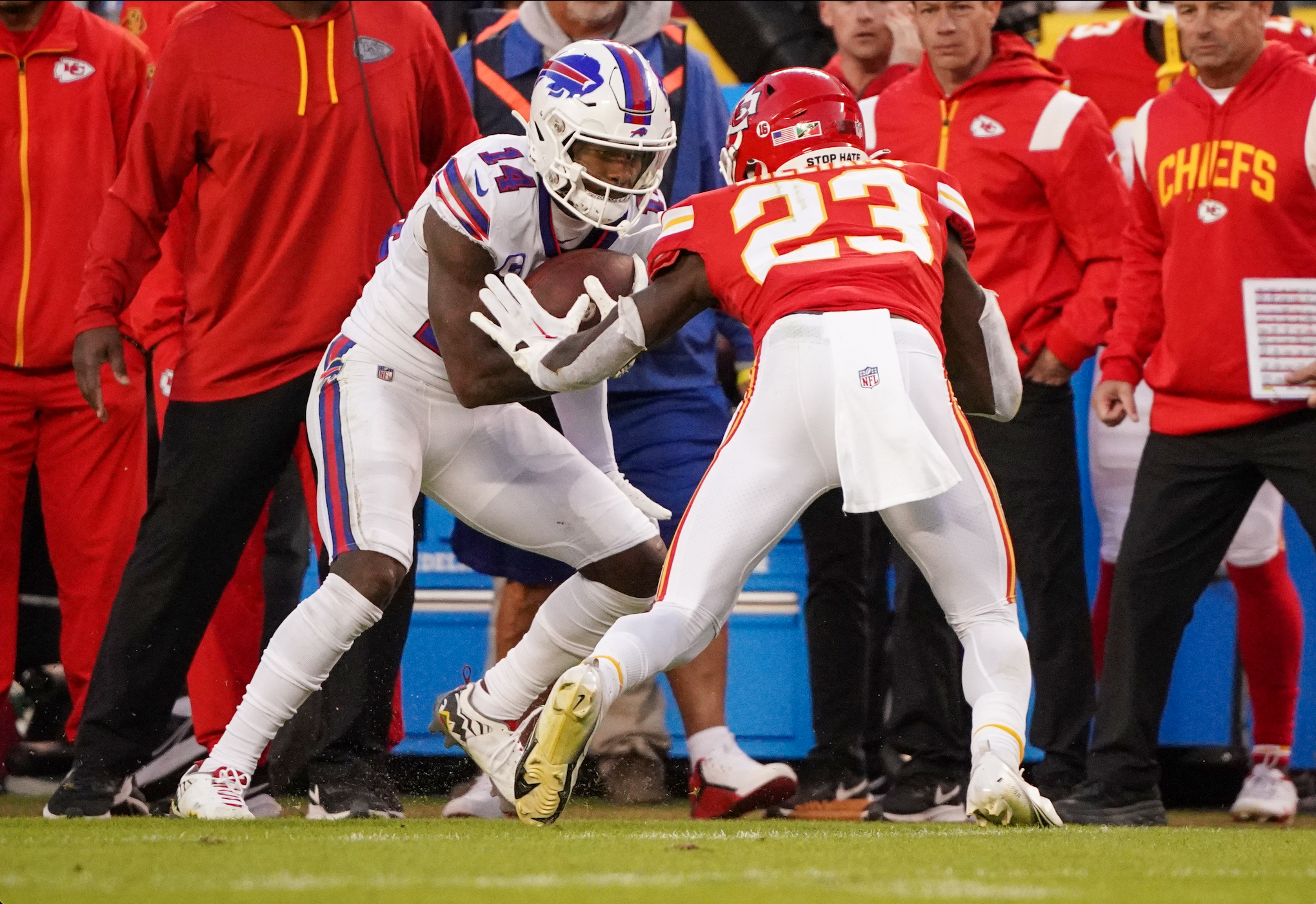 Game Awards

Offensive Player of the Game: Stefon Diggs

Diggs finished the contest with 10 catches for 148 yards and one touchdown. After being nearly shut out in the playoffs last year, the attention was no longer just on him with the emergence of Gabriel Davis as KC's kryptonite. This allowed Diggs to once again dominate, earning his fourth straight 100+ yard performance, and sixth touchdown in as many games. Simply put, he is the best receiver in football right now. He trails only Tyreek Hill in yards (by 45), Cooper Kupp and Hill in catches (seven behind Kupp who is #1), and Travis Kelce in touchdowns (one behind), all while missing two quarters because of how many points Buffalo was up by. At this pace, expect Diggs to finish the season top three in receptions, yards, and touchdowns this season.

Defensive Player of the Game: Von Miller

While Taron Johnson made the play of the game, Von Miller's impact on this win cannot be understated. four tackles, two sacks, and NINE (!!!) QB pressures was exactly what Buffalo wanted when Brandon Beane signed the future Hall of Famer to a mega deal this offseason. Any thoughts of Miller's game taking a step back due to age have been extinguished, as he is currently tied for second in the league for sacks, with 6.0 in six games. To put that in perspective, Mario Addison led the team last year with seven sacks, while Miller is on pace for 17! Alex Highsmith of Pittsburgh currently leads the league with 6.5 sacks, so only half a sack more than Von. Simply put, Miller is still among the best of the best among the league's edge rushers.

MVP: Joshua Patrick Allen

Is there even a need to play these remaining 12 weeks of football? Just give us KC @ BUF as the AFC Championship right now. Allen and Mahomes are in a tier of their own among quarterbacks, and no one else even comes close. Allen finished 27/40 for 329 yards and three touchdowns, plus 12 carries for 32 yards and two souls taken on the ground. After Allen outplayed Mahomes head-to-head, the league MVP award is officially his to lose. He currently has 215 more passing yards than anyone else in the NFL. His 17 touchdown passes is tied for the league lead with Mahomes, but his additional two rushing touchdowns gives him the edge in total touchdowns. And once again, all of this is while missing two whole quarters of football because Case Keenum replaced him in garbage time. Bills fans, rejoice! We have the best QB in the league – what a time to be alive!

What's Next: Bye Week, then Packers @ Bills on 10/30

Buffalo has 2 weeks to bask in the glory of the victory over KC, before Aaron Rodgers and Green Bay come to town. The 3-3 Packers haven't looked the same this year without Davante Adams, and a healthy Tre'Davious White might make things worse for the back-to-back MVP quarterback.
Editor's babble: We are grateful for Colin Richey's terrific contributions to our blog. You can also find Colin on Twitter @whatthef00tball.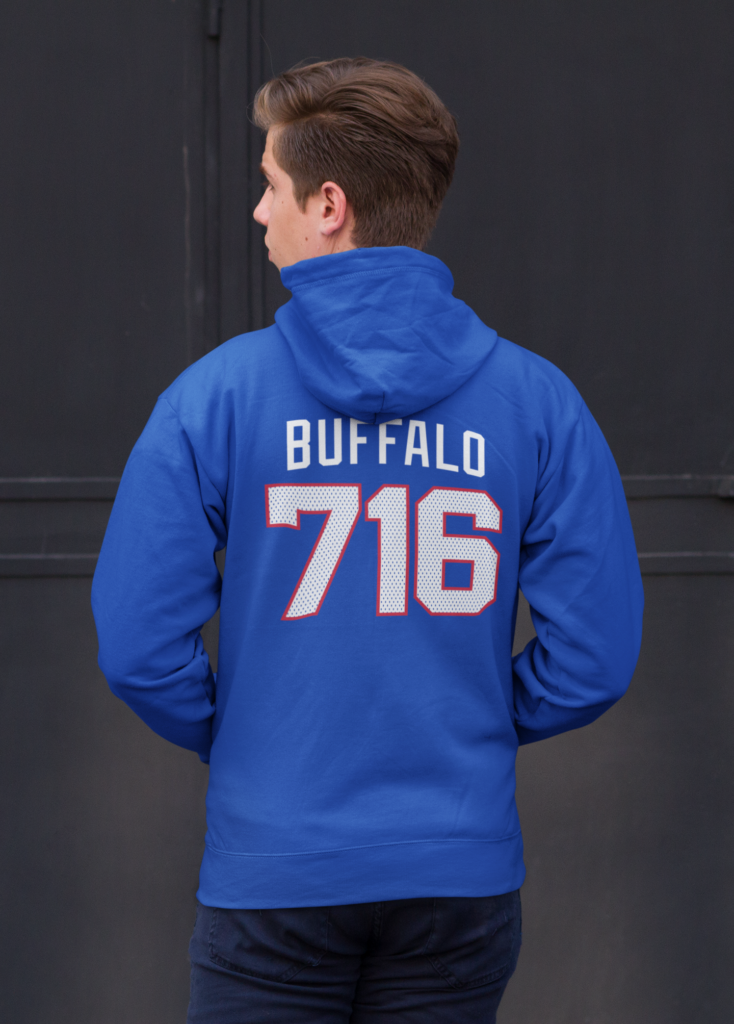 BuffaloFAMbase.com is sponsored by 26 Shirts
Every Monday, we launch a new two-week campaign of a limited edition t-shirt design. Every shirt purchase results in a donation to a local family in need. After the campaign ends, the shirt is retired. A new design is released, and a new family benefits from your fandom!