After the Pittsburgh Steelers upset the Buffalo Bills in Week One of last season, the 3-1 Bills looked to take care of business against Mike Tomlin and company. The key difference in this game would be the absence of reigning Defensive Player of the Year TJ Watt, who terrorized Buffalo's offensive line. The Bills would be missing several key starters as well, with Isaiah McKenzie, Jamison Crowder (placed on IR), Dawson Knox, Tremaine Edmunds, Christian Benford, and Jordan Poyer all inactive for the game.

A Historic Start

With McKenzie and Crowder out, special teams ace Taiwan Jones opened the game as Buffalo's kick returner. Due to the severe wind, Jones muffed the kickoff and was barely able to recover it at his own 2 yard line. This didn't phase star QB Josh Allen, as he delivered a deep strike to Gabriel Davis for a 98 yard touchdown, tying a franchise record for the longest play in Bills history.

There were special teams errors for both teams, as James Pierre fumbled the ensuing kickoff which was recovered by Buffalo's Taron Johnson. After being backed up due to penalties, Tyler Bass saw his 49 yard attempt blocked by Cameron Heyward, so Buffalo was unable to capitalize on the special teams turnover.

A Blemish in Allen's Career Day

The Steelers and Bills exchanged field goals on the ensuing drives, making it 10-3. After a Pittsburgh punt, Allen was intercepted by former Bill Levi Wallace as he was attempting to hit Davis in the back of the end zone. Wallace's acrobatic play gave new life to the Steelers, which was quickly extinguished by a three and out.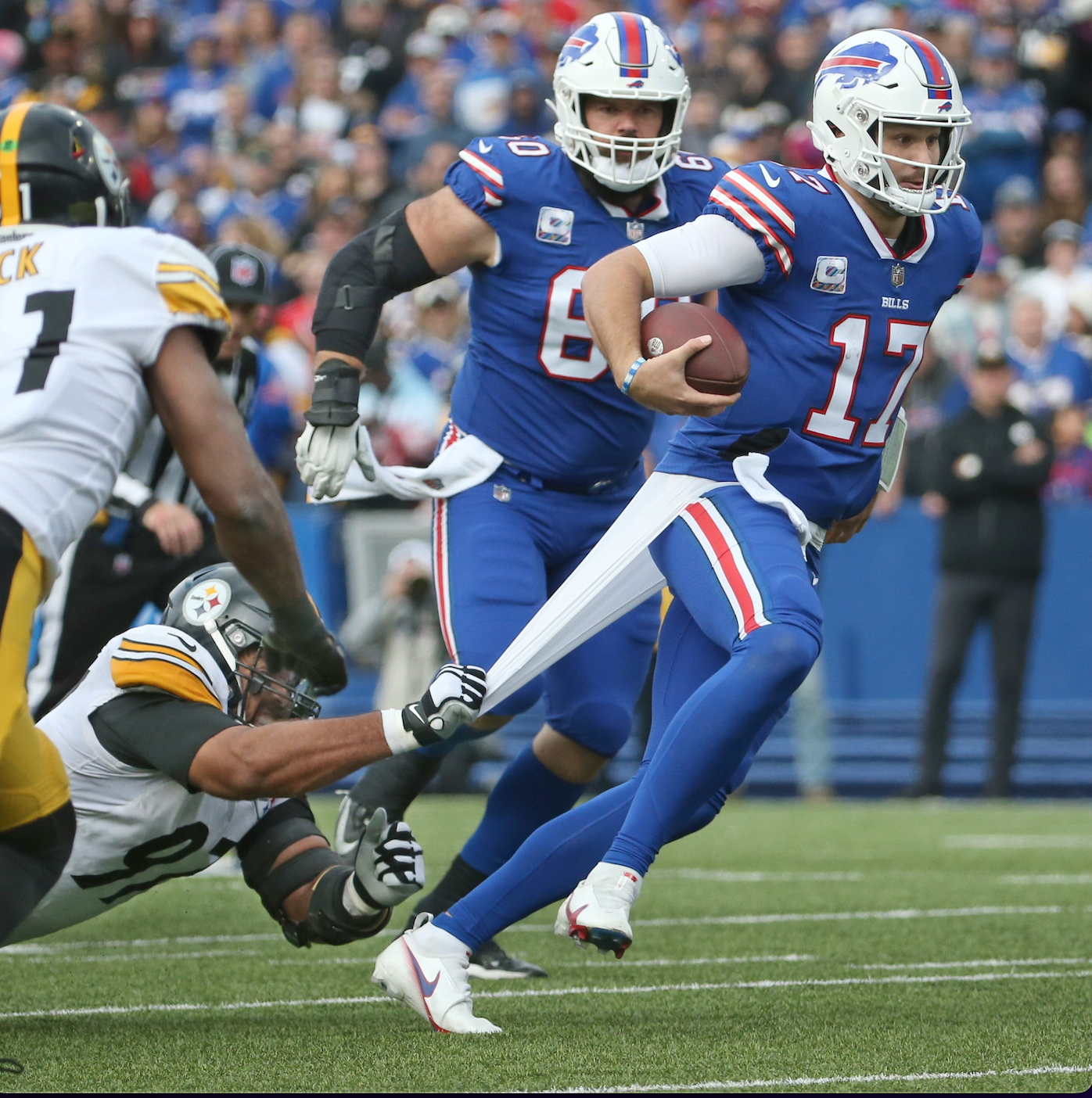 The Josh Allen Show

After the interception, Josh Allen could not be stopped. His next throw was a 62 yard bomb to Gabriel Davis for a touchdown that was nearly intercepted. After Davis corralled the ball with one hand, all-pro safety Minkah Fitzpatrick appeared to gain possession of the pass as the momentum of both players carried them across the goal line. Before Fitzpatrick could break away with the football, Davis wrestled it back into his arms and wound up emerging from the "ball-fight" victorious.

It was all Buffalo from then on. Pittsburgh didn't score another point, while Buffalo's offense continued to pour it on. Following a Devin Singletary 23 yard rush and an unnecessary roughness penalty, Allen fired a pass over the middle to Stefon Diggs for a 15 yard touchdown.

The Rookies Shine

On the next drive, Allen found rookie Khalil Shakir for a 24 yard touchdown, the first of his career. Shakir was thrown into a starting role with the injuries at receiver, but the fifth round pick out of Boise State made the most of his opportunities. As if things couldn't get any better going into halftime, rookie Kaiir Elam notched his first career interception in the closing seconds of the second quarter.

On their first drive of the second half, Buffalo drove 80 yards only for Quintin Morris to fumble at the one yard line as he tried to break the plane of the goal line, but it was still an excellent drive for the Bills.

In the second half, Buffalo only scored seven points, but they came courtesy of rookie running back James Cook, who used his speed and athleticism to reach the second level and outrun the secondary for a 24 yard touchdown. The play was set up by a 41 yard catch and run by Diggs that included not one, but two of his signature high-steps, which only appear when Buffalo's offense is rolling.

From there, most of Buffalo's starters were pulled, including Allen, Diggs, and offensive linemen Mitch Morse, Rodger Saffold, and Dion Dawkins. On the bright side, Sam Martin got some punting practice in! Even with backups in on defense, Buffalo still forced a three and out and notched a sack (courtesy of AJ Epenesa) and several pass breakups (courtesy of Siran Neal who recorded a whopping four pass deflections).

Injuries

Compared to other weeks, the Bills escaped the game relatively unscathed. Part of this is due to the long list of players that were inactive because of their lingering injuries, but at this point we'll take what we can get. The only notable injury was Jordan Phillips re-injuring his hamstring after missing the last two weeks with the same injury.

Afterthoughts

Kenny Pickett, although he showed promise, was no match for the best defense in the league. With a plethora of offensive weapons, including Najee Harris, Diontae Johnson, and rising star George Pickens, Leslie Frazier must be happy with the execution from his defense. Through four weeks, Buffalo has allowed just 7 points in the second half this season, and only 61 points overall. Their point differential of +91 is by far the best in the league, with Philadelphia's +47 the next closest.

Plenty of Buffalo's backups were able to step up with the slew of inactive players. Linebacker Tyrel Dodson filled in nicely for Edmunds, while safeties Jaquan Johnson and Damar Hamlin limited deep plays over the middle. Tight end Quintin Morris and receiver Isaiah Hodgins (who recorded his first career NFL reception) made several nice plays on offense, including one jaw-dropping catch over the middle from Morris. Although the storyline was the 1st round QB making his first career start, it was Buffalo's rookies that shined, as Elam, Cook, and Shakir all provided important contributions to ensure the win.
Game Awards

Offensive Player of the Game: Buffalo's WR Trio of Diggs, Davis, and Shakir

It's difficult to pick just one receiver to highlight, when all three posted impressive numbers. Obviously, Davis was the headliner of the group, finishing with 3 catches for 171 yards and two touchdowns. Diggs quietly recorded an eight catch, 102 yard, 1 TD performance, which simply seems to be expected from him on a weekly basis. Shakir's three catches for 75 yards and a touchdown foreshadowed that he could soon be added to the list of 'Brandon Beane draft steals' after he fell to the 5th round. Shakir's first catch was nearly in triple coverage, but Allen showed his trust in the receiver who was able to come down with the catch. Even without McKenzie and Crowder, Buffalo's receiving core didn't seem to miss a beat.

Defensive Player of the Game: Tyrel Dodson

Dodson filled in very nicely for the inactive Tremaine Edmunds, finishing the day with 11 total tackles including one tackle for loss, as well as a sack. The third year linebacker was all over the field, constantly limiting the advances of Najee Harris and helped lock up the middle of the field. His performance against Pittsburgh could be a big factor when it comes to the status of Tremaine Edmund's expiring contract at the end of this season.

MVP: Josh Allen

How could it be anyone else? Allen was fully committed to stretching the field, averaging 13.7 yards per attempt, with five receivers having receptions of 25+ yards. He finished the day 20 for 31 for 424 yards and 4 touchdowns, plus five carries for 42 yards on the ground. Allen's 424 yards is the most passing yards by a Bills QB in regulation, which is more impressive when you remember that Allen sat out for basically the entire fourth quarter. Despite sitting out the fourth quarter of the Titans game as well, Allen still leads the league in passing yards and passing TDs, as his MVP campaign continues as strong as ever.

What's Next: Bills @ Chiefs 10/16

Although it's only Week 6, this matchup could have major implications in terms of the one-seed by the time the playoffs come around. Buffalo will be coming off a dominant win over Pittsburgh, and will need to carry that momentum into Arrowhead against Patrick Mahomes and company.
Editor's babble: What a way to set up for a show down in KC. We are so grateful for Colin Richey's contributions to our blog. You can also find Colin on Twitter @whatthef00tball.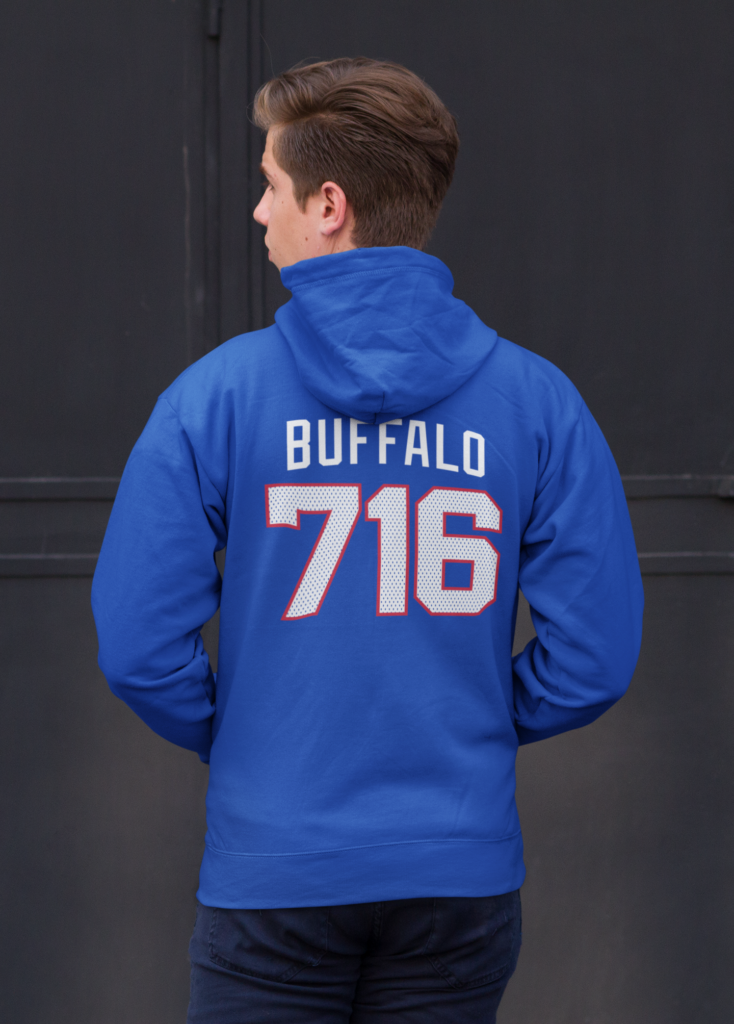 BuffaloFAMbase.com is sponsored by 26 Shirts
Every Monday, we launch a new two-week campaign of a limited edition t-shirt design. Every shirt purchase results in a donation to a local family in need. After the campaign ends, the shirt is retired. A new design is released, and a new family benefits from your fandom!