Larkin's Lessons
The Bills are a team that can make comebacks after setbacks
Despite what critics have recently suggested, the Buffalo Bills are a team built to make comebacks and win close games. Since the middle of the 2020 season (beginning with the infamous Hail Murray play), the Bills had fallen short of victory in their last seven one-score games. The inability to win close games left a lot to be desired, with fans wondering how Buffalo can seemingly dominant inferior opponents on a weekly basis, but when they face a team that steps up to the plate and responds, they often find cruel and odd ways to recoil in defeat. Sunday afternoon in Baltimore made this bizarre statistic/pattern lose relevancy as the Bills came from behind 17 points to win a one-score game, 23-20.
The Bills couldn't have started out Sunday's affair worse. After having a tipped pass intercepted by Marlon Humphrey on their first drive, the Ravens easily punched the ball in with J.K. Dobbins from one yard line. After responding with a field goal of their own, the Ravens drove the ball down on the field on a 15-play nine-minute touchdown drive. With the Bills down 14-3 in the first quarter, Devin Singletary dropped an easy screen with plenty of open space ahead of him and then lost a fumble two plays later, which was recovered on the Buffalo 36-yard line. The Bills defense proved stout after this moment and held the Ravens to six points for the rest of the game. The Ravens struggled offensively, often moving themselves back after good plays with ineligible men downfield, false starts, and even the rare Offensive PI call. The Bills defense held one of the best tight ends in football, Mark Andrews, to a mere two catches for 15 yards. Their game plan of neutralizing their opponents best threat proved useful as the Ravens went completely scoreless in the second half.
One cannot have a comeback without a great offensive performance and Josh Allen once again made sure of that. With 1:24 remaining in the second quarter, down 3-20, Allen moved the ball down the field with ease. He threw a pick play for Isaiah McKenzie that led to six points right before halftime. The Bills scored on every offensive possession in the second half besides one drive at mid-filed which was made up for by Jordan Poyer's second interception of the game, which just happened to be in the end zone. As 'Bruce Nolan' suggested on Buffalo Rumblings last week, "There is an element of randomness to close game that we as fans frequently aren't comfortable with discussing because it would mean there wasn't always a solution to the problem". The Bills, and Allen especially, have proven stats don't always tell a complete story and are not an end-all be-all in a game without a fixed ending . Simply put, the Bills losses in one-score games could be a matter of circumstance or even random, as opposed to something fundamentally wrong with the team. The" 0-7″ statistic also fails to mention the five one-score games the Bills won in 2020 before the Hail Murray moment. When you have an elite QB and defense on your side, comebacks are completely feasible. Don't get worried if the Bills are down or duking it out to the wire, they know how to turn it up and have the team built to do so.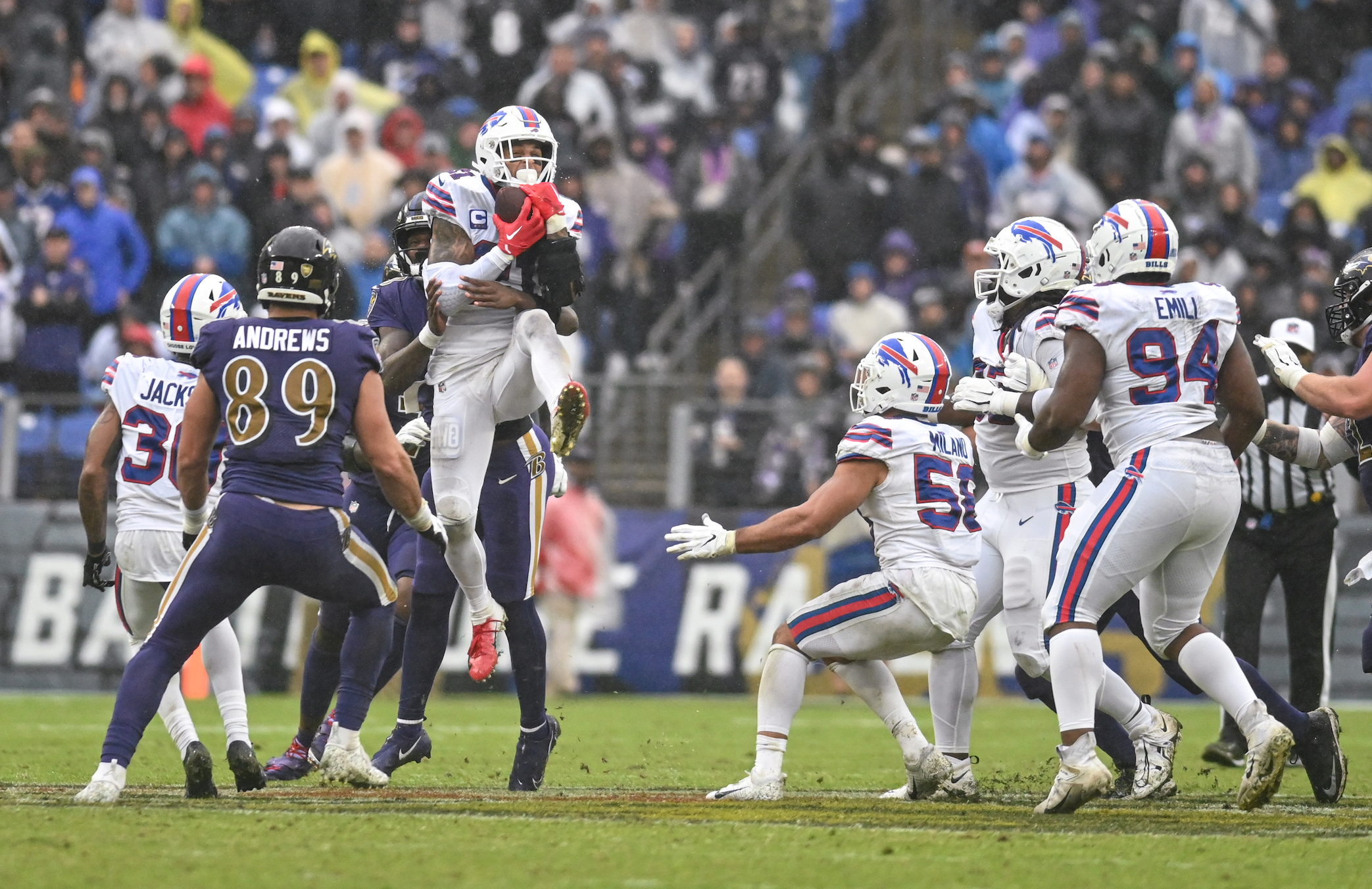 Jordan Poyer is balling
Plain and simple. Jordan Poyer is absolutely dominant this season. After having another offseason without an equitable contract offered to his liking, Poyer is once again electing to prove his worth in the best place possible for all to see: the field. After intercepting a ball at mid-field off a Prince Emili tip (intended for Mark Andrews), Poyer may have made the biggest play of the Bills season so far as he intercepted Jackson (again) in the end zone on fourth and goal. Poyer sprinted across the middle of the field, reading Jackson's eyes perfectly and picked off a pass intended for versatile red zone threat, Devin Duvernay. Jackson led his team down the field 93 yards and came away with absolutely nothing with only four minutes left in a tied game. Ouch. The Ravens were clearly frustrated as they blew their second double digit lead of the season and CB Marcus Peters let esteemed HC John Harbaugh hear his feelings about it. Jordan Poyer is going to get paid this off-season, by who is TBD.
Matt Milano might be one of the best players on the Buffalo Bills
Matt Milano is an absolute stud. He told the Bills Network he wants to "dominant this year" and he is living up to those expectations he put on himself. Milano finished with 13 tackles on the game, with two of them being tackles for a loss. Milano has proven if he knows where you are going, he will be there ready to make the tackle. He was moving sideline to sideline all day, catching Jackson by his quick feet multiple times. It might seem like a standard tackle a lot of the time, but Milano is making the plays that set up for difficult third and longs and drive-killers. All I know is that rookie LB's Terrel Bernard and Baylon Spector might not see the field much this year.
Injuries are a cruel reality of the sport
Injuries once again prove to be a tough reality for the Bills. Beloved WR Isaiah McKenzie was walloped in the middle of the field by Ravens CB Brandon Stephens. McKenzie told Tyler Dunne on their weekly talk show that he "couldn't move" for multiple minutes and eventually regained feeling, heading to the locker room and being placed in concussion protocol. McKenzie described it as the biggest hit he's taken of his career and luckily it didn't end up being too serious. Recent free agent signing, WR/PR Jamison Crowder, broke his ankle in the game and is out indefinitely/on IR. After singing a one year deal, this could be the last time we see him on the field as a Buffalo Bill. This game (and the NFL week at large) served as another reminder that every team is always one play away from not seeing a key contributor play another down for them again. The issue of concussions and CTE have also re-entered mainstream dialogue.
Looking Forward
Injuries to Wide Receiver Core
One of the biggest questions entering the week five matchup against the Pittsburgh Steelers is the WR depth chart. There is a real possibility Isaiah McKenzie will not be playing. Gabe Davis is still recovering from an ankle injury, and even if he is playing, he may not see a lot of targets. Jake Kumerow is also recovering from a high ankle sprain and has not been practicing. This leaves a massive hole for the Bills and allows the Steelers to move their focus totally onto stopping Stefon Diggs. With just Khalil Shakir (who will be assuming PR duties) leftover behind Diggs and Davis it may be time to call up some players from the practice squad. Don't be surprised if you see Isaiah Hodgins get his first big opportunity as a pro this Sunday.
Back to da Ralph
You read that correctly! The Bills are finally hosting a home game at the magical 1PM EST kickoff time. I can already imagine Bills fans will be hooting, hollering, and swinging back all sorts of adult beverages by 8 a.m. at the tailgates. The ticket prices are an absolute nightmare, but on the bright side this shows how excited all of Western, NY is to see the Bills on a similar level of hype and innovation as those early 90's teams. The Ralph is gonna be a deafening party Sunday. The Mitchell Trubisky experiment was put to a halt last weekend at halftime when HC Mike Tomlin decided to give rookie first-round pick, Kenny Pickett, his first chance. Pickett was unable to defeat the NY Jets at home and although all of them were not his fault, he did manage to throw three interceptions in the second half. It's fairly easy to imagine the Bills defense is salivating at the mouth at the thought of a rookie QB trying to come to town and put-up numbers. The Steelers are still without star LB T.J. Watt and have a concerning litany of injuries in their starting secondary. Sunday has a serious chance of being a long afternoon for the black and yellow.
Editor's babble: The BuffaloFAMbase blog is proud to welcome Joe Larkin. He will be posting articles for us on a regular basis and we are blessed to have him on board. You can also find Joe on Twitter @jooelarkin.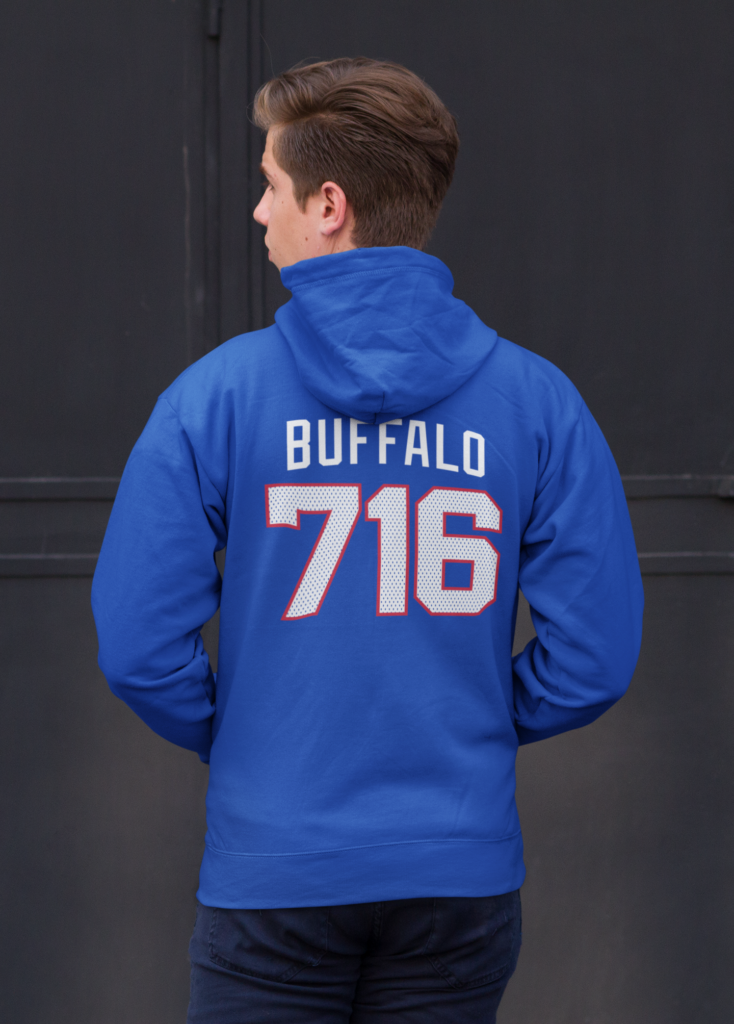 BuffaloFAMbase.com is sponsored by 26 Shirts
Every Monday, we launch a new two-week campaign of a limited edition t-shirt design. Every shirt purchase results in a donation to a local family in need. After the campaign ends, the shirt is retired. A new design is released, and a new family benefits from your fandom!