We are starting to have college games to look at in addition to our Bills. Big Baller Beane has watched more Big 10 players than ever before, in addition to the ACC and SEC conference players who comprise over half our roster. What Bills-y player from each Big 10 school should you focus on? I've picked one player at each school, although some schools have more than one.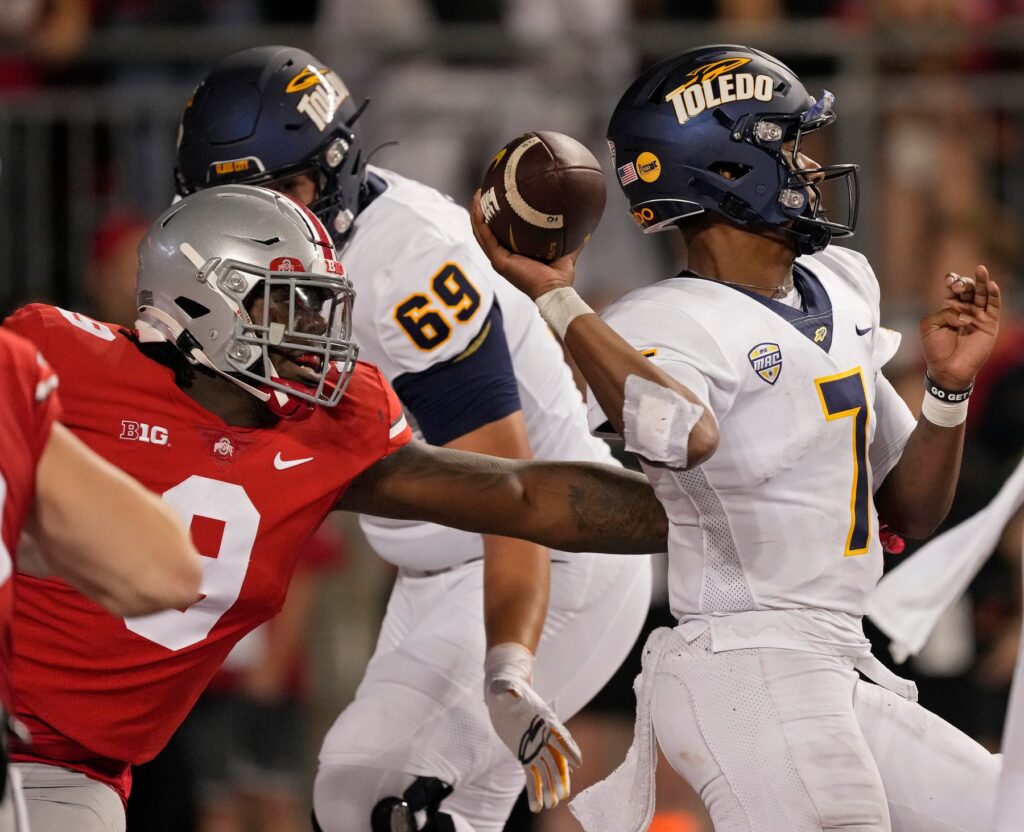 Ohio State: Zach Harrison, EDGE (Multiple Visits by Scouts, including 2 Beane visits last year and one Beane visit already this year)
Watch #33! Interview
Zach Harrison won't be the first Buckeye drafted; C.J. Stroud will be. Also, WR Jaxon Smith-Njigba and maybe OT Paris Johnson will be gone by pick #10. However, right around where the Bills should be picking (#31, as a certain team we know has forfeited their RD1 pick) is a high-ceiling EDGE rusher about whom BuckeyesWire is already saying: "All that promise and skill will come together in his junior year much like what happened for Chase Young. We're not saying he's going to be as good as Young, but he'll put together one whale of a year that will result in an early-round selection. He'll leave one year ahead of schedule." The Bills aren't done at EDGE. In fact, I'm writing this at the end of September, Week 4, and the Bills have already looked at 4 RD1 EDGEs who could be that #31 pick: Isaiah Foskey, Andre Carter II, Zach Harrison, and B.J. Ojulari.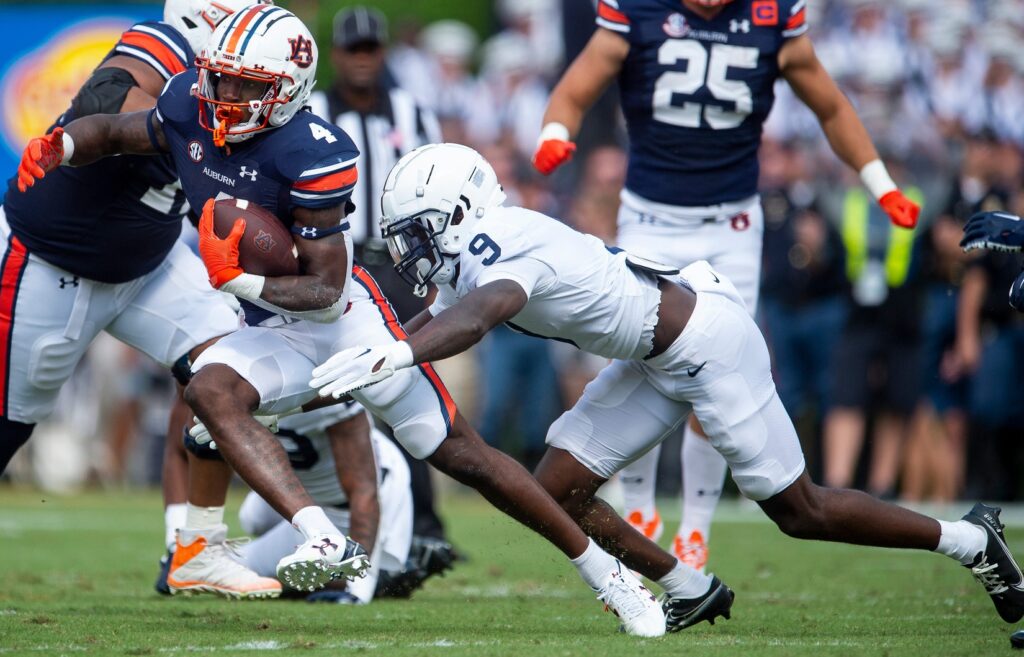 Penn State: Joey Porter Jr, CB (1 Scout Visit So Far, the Purdue game)
Watch #9 ! Interview
One of my early pet cats in the class, Porter, a redshirt sophomore, has all the physical attributes: height, length, quickness, and agility. He put up 6 PBU's through Week 2, so he has the requisite production to vault himself up beyond Beane's reach. He also has DNA up the wazoo. His father, Joey Sr., played 13 seasons for the Steelers, then became a Steelers assistant coach. His cousin, Jason Gildon, played football at Oklahoma State (1990-94) and played 10 years for –you guessed it– the Steelers. Joey Junior has volunteered feeding the homeless, has a major in Special Education, and wants to take over his Mom's business some day, the Jasmine Nyree Day Center.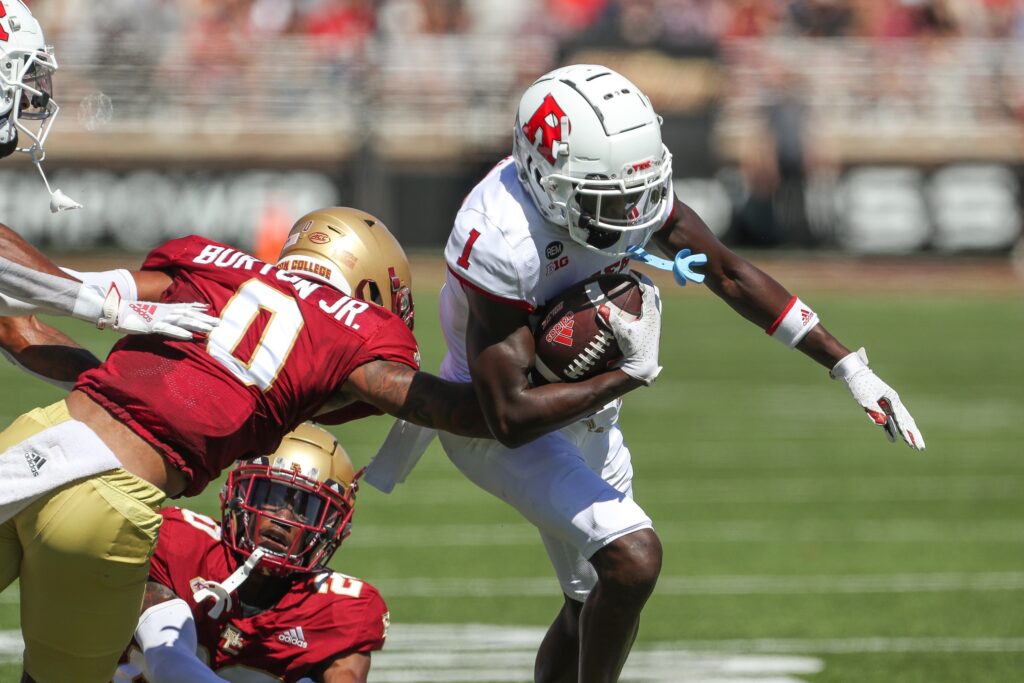 Rutgers: Avery Young, CB or Aron Cruickshank, WR/KR (1 Scout Visit So Far, the Boston College game)
Watch #2 ! Interview Watch #2! Interview
The Bills like versatility, experience, and solo tackling ability on their defense, and that's Avery Young. Young has 3-position versatility: FS CB or KR. He's a tackling machine with 125 tackles in 44 games as of this writing. The Bills saw Young against Boston College. He's comfortable covering the deep third in Cover 1, allowing the guys up front to make the splash play. On offense, it'd be nice to have a WR with KR ability, and that's Aron Cruickshank. He's a dynamic returner with speed who can actually catch the ball.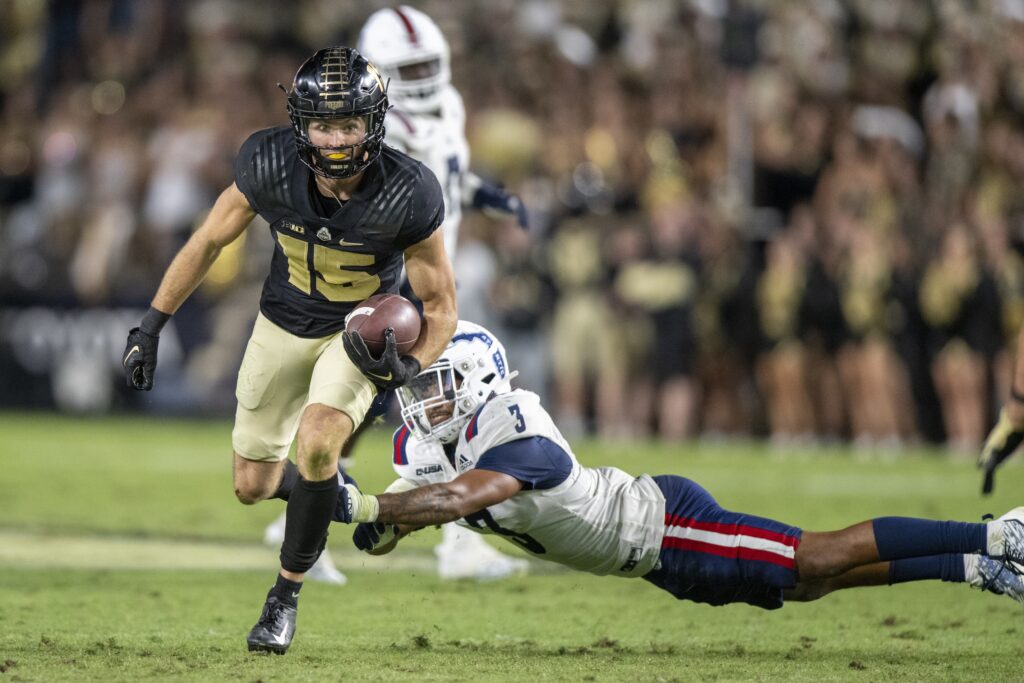 Purdue: Charlie Jones, WR (1 Scout Visit So Far, the Penn State game)
Watch #15! Interview
Name sound familiar? Jones was a Buffalo Bull in 2018 (where he averaged 21.9 YPC) before transferring to Iowa. After two years being criminally misused as a Hawkeye, he's moved again to Purdue. Charlie Jones reminds me a bit of Khalil Shakir: can play both outside or slot, is slippery, has ferocious concentration when the ball arrives, and positions himself well for the quarterback. He is effective as a decoy because he goes hard on every play, whether he's getting the ball or not. Here, Jones knows exactly where the sticks are for the first down.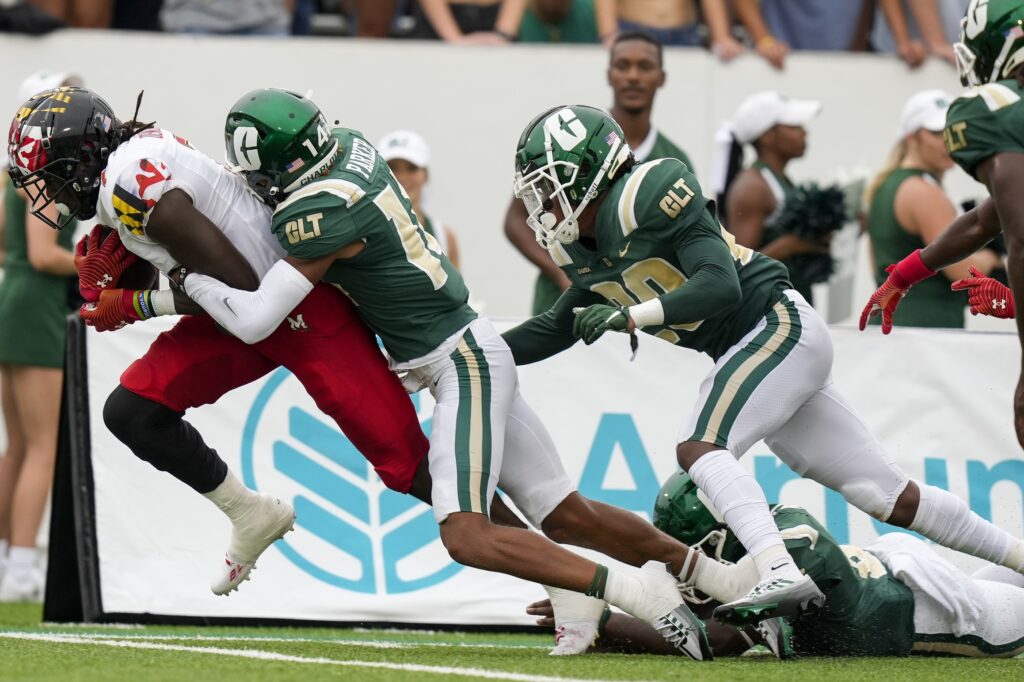 Maryland: Dontay Demus Jr. WR or Rakim Jarrett, WR (1 Scout Visit So Far, vs Michigan)
Watch #7! Interview Watch #5! Interview
The box score of the Maryland-Michigan game is instructive enough, but I really urge you to watch the game, or at least the extended highlights. The Bills were likely here to watch a battle of receivers. The video pits Terrapin WRs Dontay Demus Jr. (#7, with a 114 for 1844, 16.2 YPG 13 TD career) and Rakhim Jarrett (#1, with a 94 for 1289, 13.7 YPG 8 TD) against the Wolverine trio of TE Luke Schoonmaker (#86), WR Ronnie Bell (#8 shown on a stalk block), and WR Cornelius Johnson (#6). It's also a look at Maryland LT Jaelyn Duncan (#71 over-relies on strength and size here, not on bend and hand technique) –he's getting late-RD1 love right now. He springs Littleton for a nice run here, and shows better hand use here. Duncan, Demus, and Schoonmaker impressed me the most… Let me know what you think on Twitter.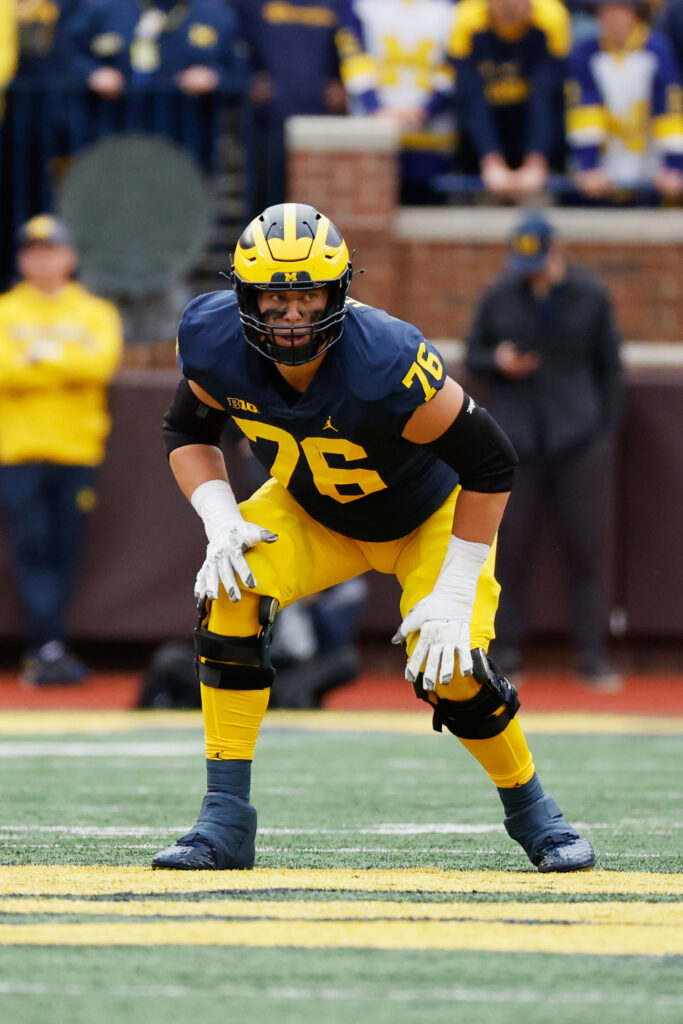 Michigan: Ryan Hayes, OT (2 Scout Visits Including Beane and Area Scout Brian Fisher; 5 games scouted last year)
Watch #76! Interview
If you watched the Michigan-Maryland game linked above, you likely saw Michigan's diminutive, speedy RB Blake Corum run a career-high 243 yards behind an impressive offensive line. Draft the big lineman, not the tiny runner. You should also watch TE Luke Schoonmaker (#86), NT Mazi Smith (#58), WR Cornelius Johnson (#6 should've had this one), and OC Olusegun Oluwatimi (#55).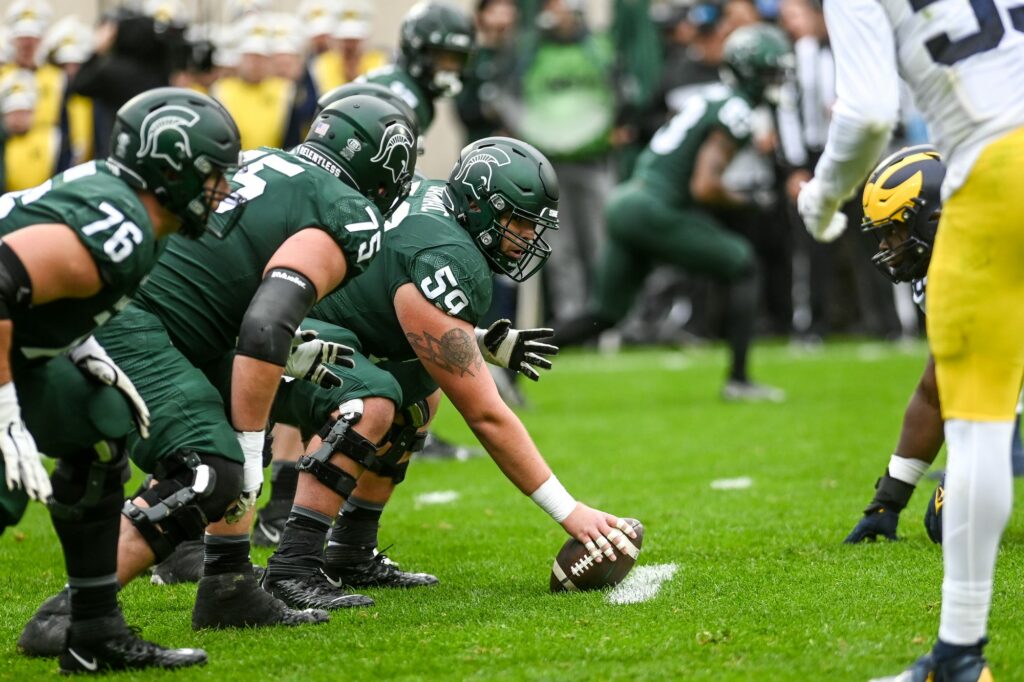 Michigan State: Nick Samac, OC (No Visits Yet)
Watch #59! Interview
Samac, a senior, is the linchpin of one of Football Outsiders' Top 10 pass-blocking O-Lines. He's especially mobile. Watch Samac on the move to the second –and third– level. I don't think Beane should wait until Day 3 to take a Center, but he hasn't asked me for his opinion. Watch for Spartan scouts at this weekend's Maryland game, or vs Michigan on 10/29, or Penn State 11/26.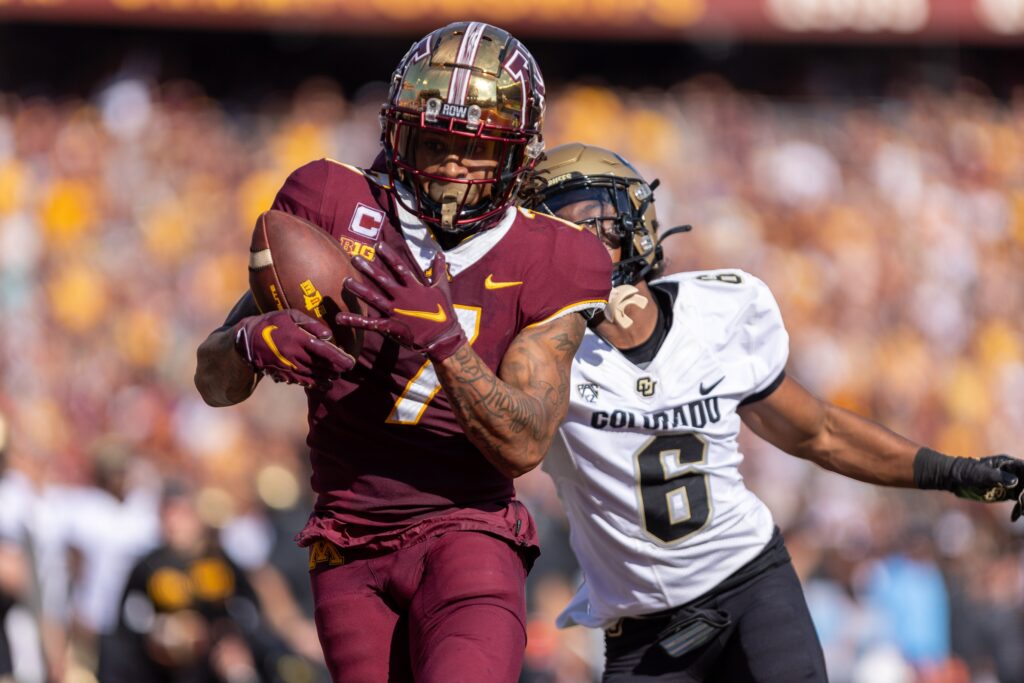 Minnesota: Chris Autman-Bell, WR (No Visits Yet)
Watch #7! Interview
Many players on the Gophers had very compelling interviews, including RB Mohamed Ibrahim (say "EYE-bruh-ham"), TE Brevyn Spann-Ford, and OC John Michael Schmitz, but I'm going with WR Chris Autman-Bell. A redshirt senior already, CA-B is going to miss the rest of the 2022 season due to injury, so who knows if he declares or returns for a seventh season. Very few receivers in this class have the experience and the production he has. Watch 3 plays here. He's a Day 3 pick who has major upside who'd drop due to injury.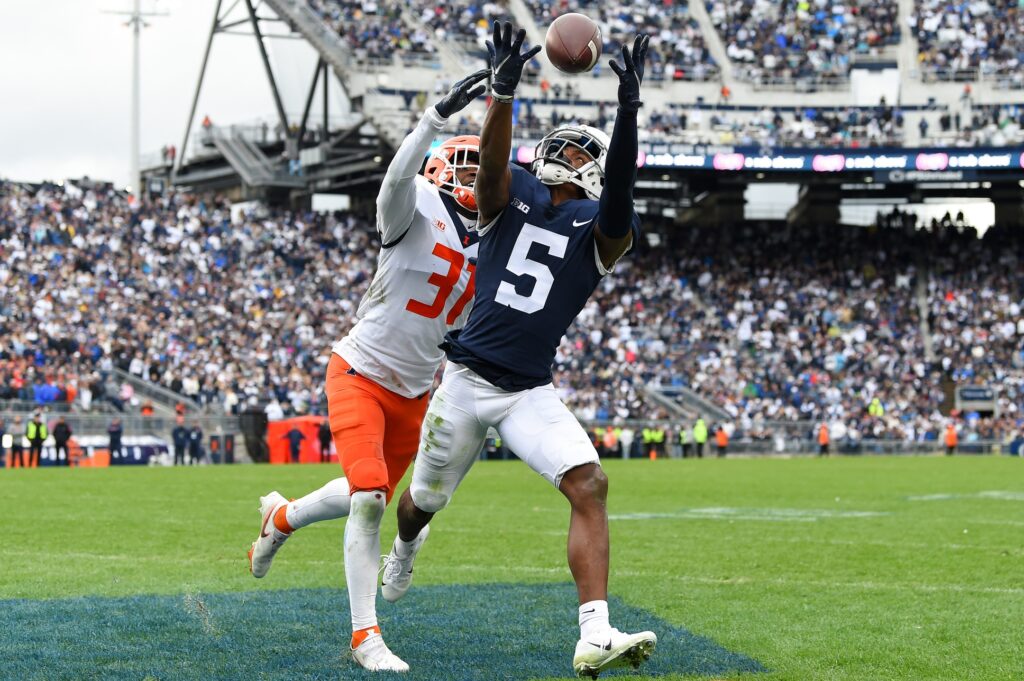 Illinois: Devon Witherspoon, CB (No Visits Yet)
Watch #31! Interview
While Beane hasn't been to an Illinois game since his arrival to the Bills, Devon Witherspoon would be the reason for him to break tradition. With football speed and quicks that match his 4.42 forty, 'Spoon is quick to close=>https://youtu.be/XEi9c_upBwU?t=19 when he gets the scent. Here, he forces the QB to throw it away=>https://youtu.be/XEi9c_upBwU?t=32. Witherspoon gets the INT vs WYO here =>https://youtu.be/XEi9c_upBwU?t=98.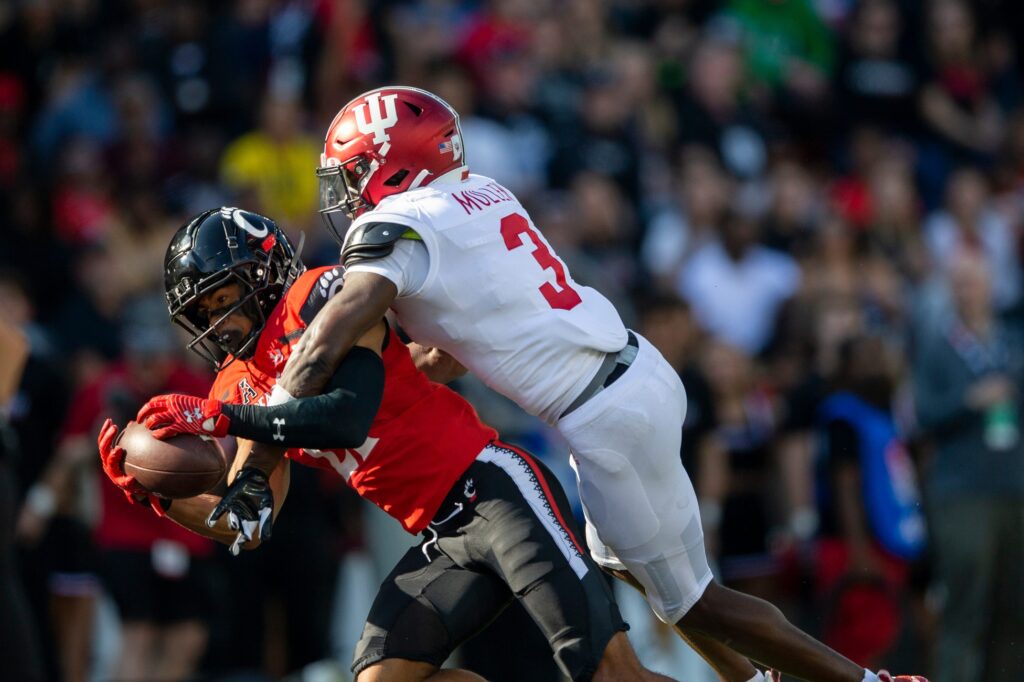 Indiana: Tiawan Mullen, CB (No Visits Yet)
Watch #3! Interview
The other CB worth a look, and the other school Beane has traditionally avoided, is Indiana's Tiawan Mullen. While shorter and a step slower than Witherspoon, Tiawan has been a staunch pass defender. In 2019, his first year, Mullen was #1 in the Big Ten in passes defended with 13. Teams gave up throwing his way over the next 3 years.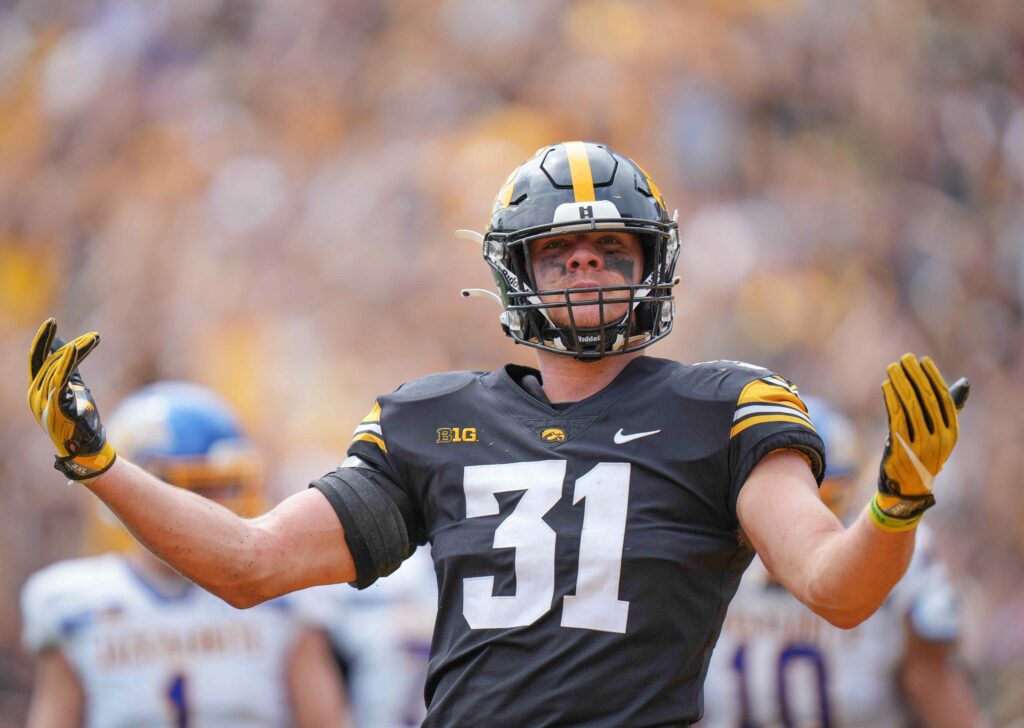 Iowa: Jack Campbell, ILB (No Visits Yet)
Watch #31! Interview
Pet cat. The Tremaine-sized linebacker I'd be looking at is the Hawkeyes' Jack Campbell. Tremaine was 6-5, 250lb, 4.54; Campbell is 6-5, 243, 4.63. Length for days, physicality, and motor. He's gonna be great. I'd listen to the A+++ interview, but I'd urge you to also watch video of him this season. Now…That's a football player.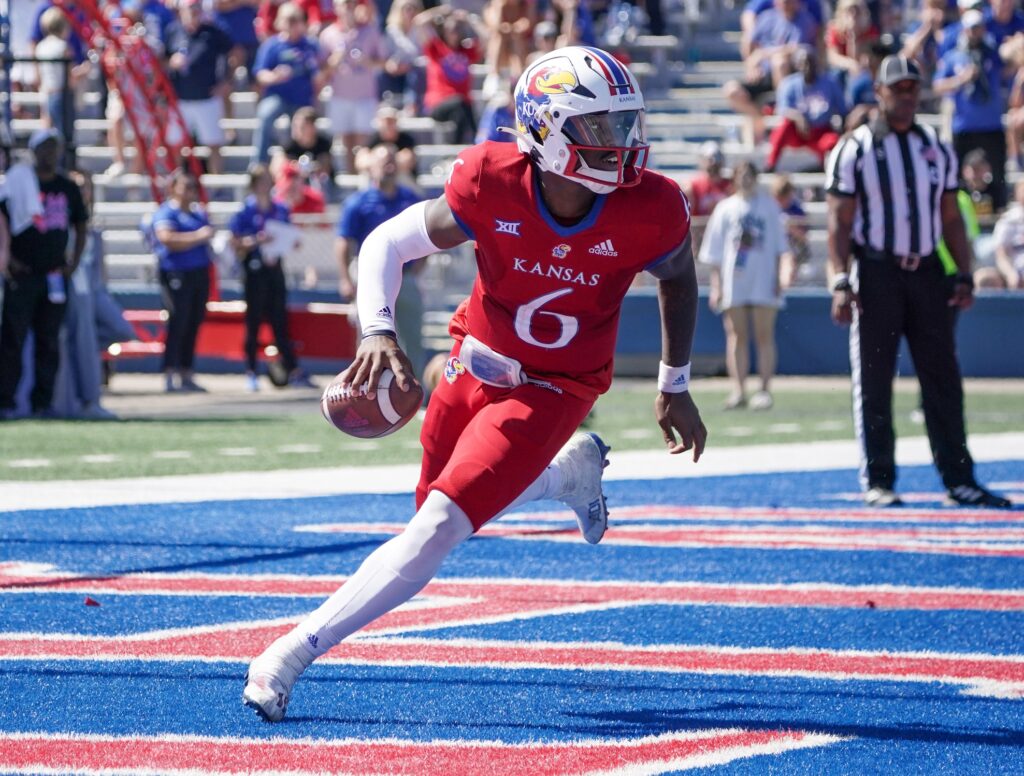 Kansas: Jalon Daniels, QB (No Visits Yet)
Watch #6! Interview
Nobody has been climbing big boards faster than Jalon Daniels. I expect you'll hear of him come Heisman time. He's drawing comparisons to Lamar Jackson — just smarter. This year alone, Daniels has rushed for a sweet 38 for 326 (8.6 ypc) stat line with 4 TDs, and add to that his 66 for 93 (71%) passing for 890 yards as of this writing. That's in four games. If the Bills wanted to see him against Baylor, that's coming up on 10/22, that or Oklahoma the week before.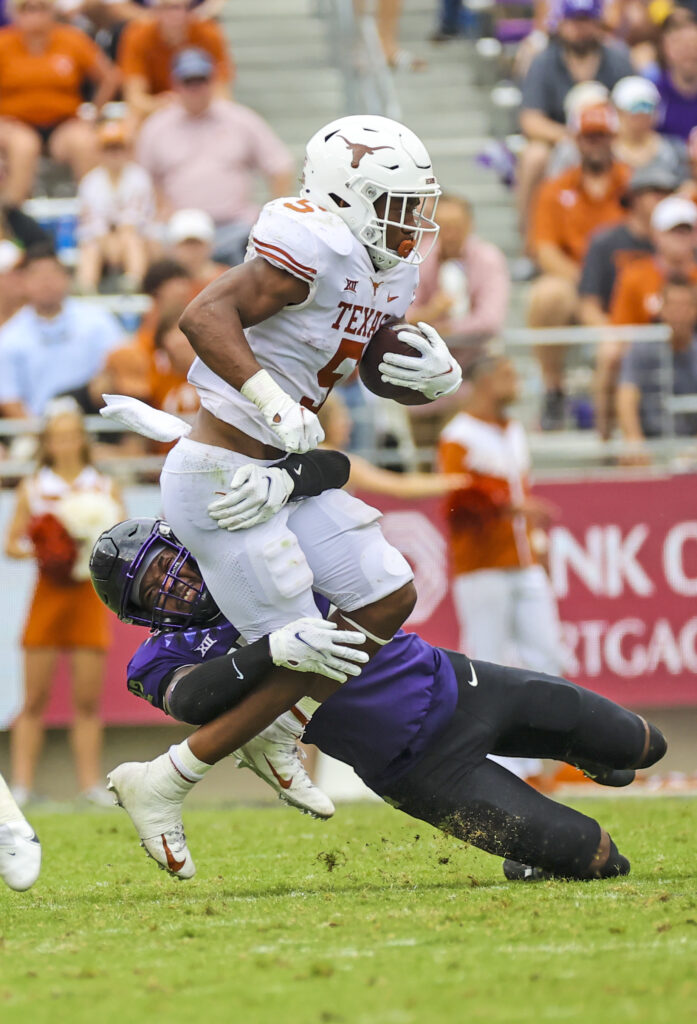 Nebraska: Ochaun Mathis, EDGE (No Visits Yet)
Watch #32 ! Interview
The Bills seem to have a formula in selecting their EDGE rushers: Experience, Pressures Per Game, and Wingspan all factor in. In this draft, that's Mathis for sure. He's top 5 in all three metrics, and brings toughness, smarts, and power. The Cornhuskers run through a buzz saw in November, and I expect that's when Bills scouts will take their look at Mathis "live". His film is already well-known to Beane. Speed to Power? This should be the dictionary definition.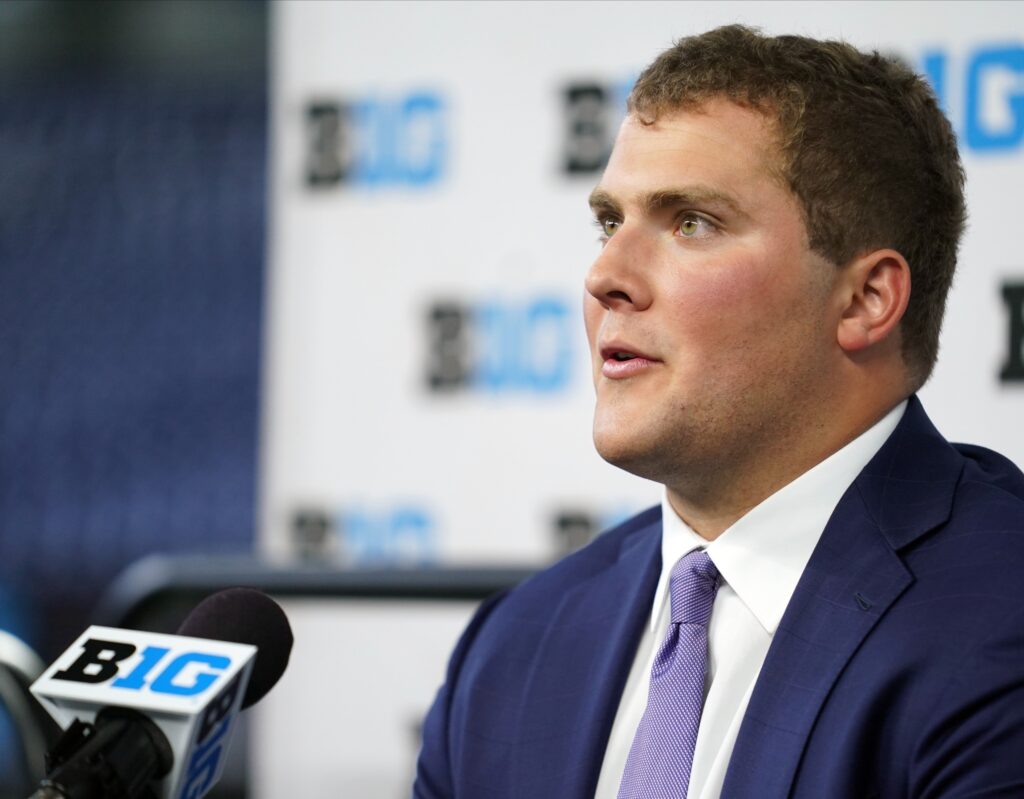 Northwestern: Peter Skoronski, OT (No Visits Yet)
Watch #77 ! Interview
Affable, ardent film rat Peter Skoronski has NFL DNA, just like my Penn State pick coming up next. Peter's grandfather, Bob Skoronski, played for all 5 of Lombardi's Packers championship teams on their OL. Peter's dad, Bob Jr., played DL at Yale. Peter will be the third generation of the Skoronski lights-out work ethic, and Peter's pick of Northwestern reflects that. He was seeking a coach who would be straightforward with him and do a great job of making him a better lineman. I think Kromer could, too. Replaced Rashawn Slater's position at Northwestern (Chargers RD1, 13th overall) and they didn't miss a beat. In my opinion, Skoronski could end up top five in the upcoming draft.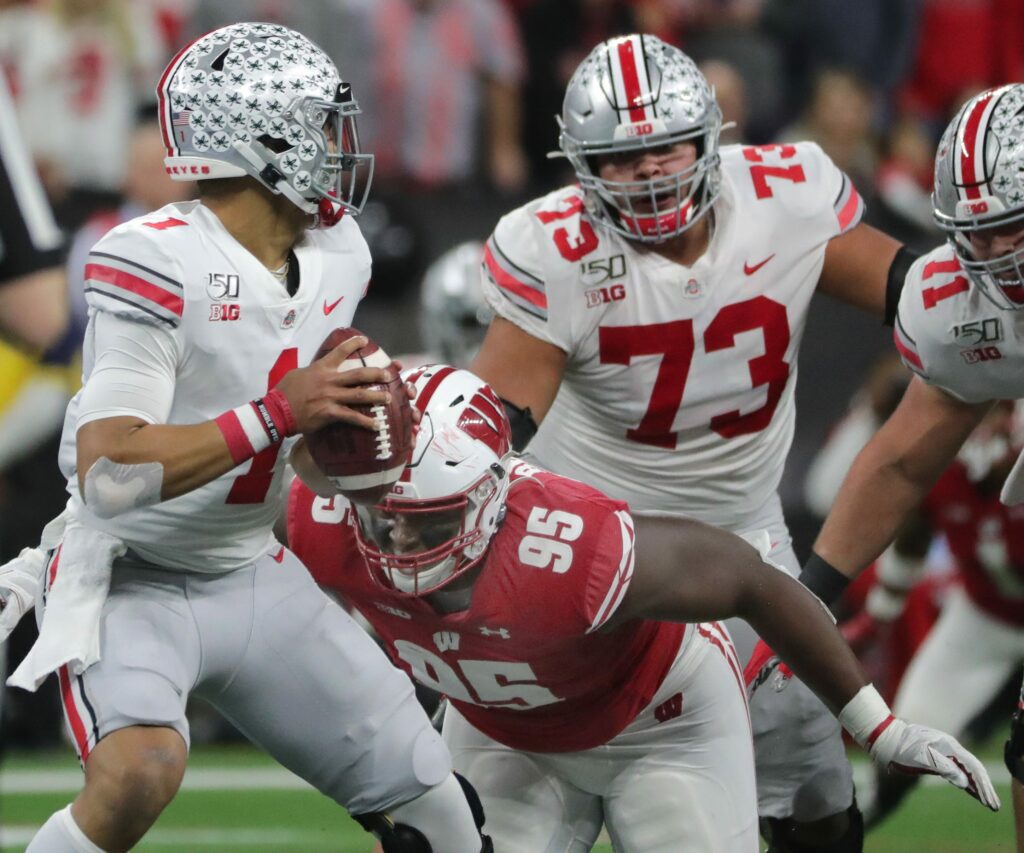 Wisconsin: Joe Tippmann, OC or Keeanu Benton IDL (No Visits Yet)
Watch #75! Interview Watch #95 Interview
I wouldn't dismiss the idea of a defensive player on Day 3, namely IDL Keeanu Benton or EDGE OLB Nick Herbig, since Derek Mason, the Badgers' DC, coached under Leslie Frazier in Minnesota. However, another Day 3 Badger to watch is their Center, Joe Tippman. The redshirt junior has the temperament and the IQ to play Center, and I could see him being a versatile IOL like Ike Boettger. Tippman spearheaded the No. 2 rushing offense in the Big Ten (210.9 ypg) last season. I like Benton's honesty in the interview; he'd be a nice fit with the DL room. Benton and Siaki Ika are getting love.
Editor's babble: Nothing better to get ready for a great college football day than catching up with Dean Kindig's fantastic contributions to our blog. You can also find Dean on Twitter @TCBILLS_Astro.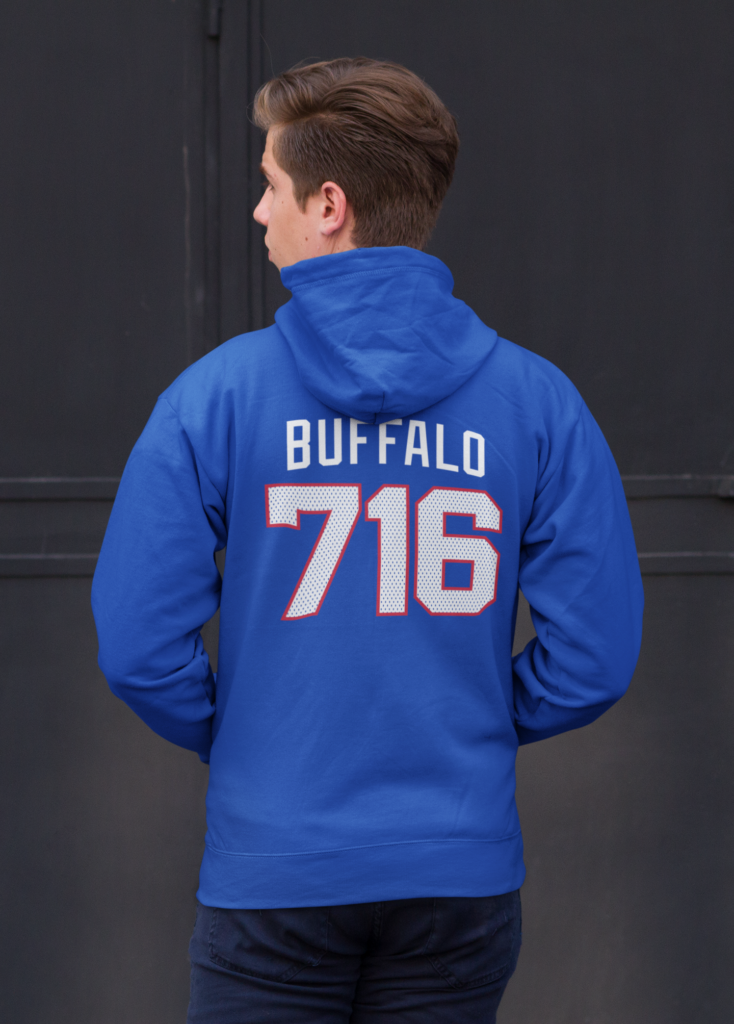 BuffaloFAMbase.com is sponsored by 26 Shirts
Every Monday, we launch a new two-week campaign of a limited edition t-shirt design. Every shirt purchase results in a donation to a local family in need. After the campaign ends, the shirt is retired. A new design is released, and a new family benefits from your fandom!