One year ago, the Bills lost to the Titans in heartbreaking fashion. Josh Allen was stopped on a 4th down QB sneak which would've set up first and Goal with about 20 seconds remaining. Instead, the Bills were dealt their second loss of the year. Every season is different, with roster and coaching turnover inevitable in the off-season. This year, several former Titans suited up for Buffalo on Monday night, including starting guard Rodger Saffold and defensive tackle DaQuan Jones. In the end, the Titans were no match for Week 2 of the Bills' revenge tour in 2022, because Josh Allen definitely remembered the Titans.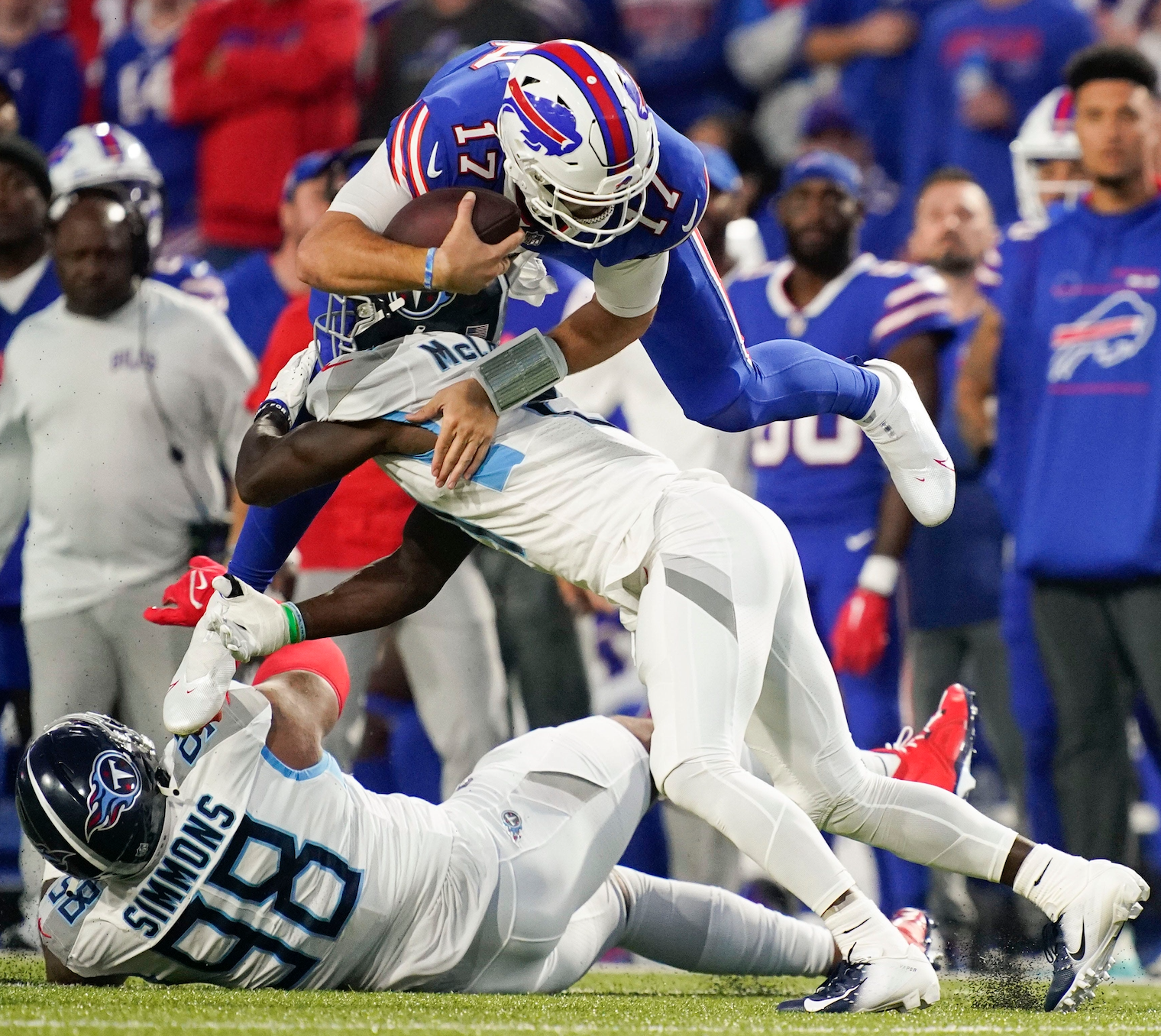 Starting off HOT

The Bills, starting the game on offense, marched down the field to get on the scoreboard early. The first highlight of the night came on 3rd and 9, when the pocket began to collapse around Allen. He rolled left, narrowly avoiding Denico Autry. Just as he passed the line of scrimmage, Allen evaded a diving tackle attempt by Jeffery Simmons. If that wasn't enough, a third Titan stood in his way of the first down. Rookie cornerback Roger McCreary squared up to the quarterback, only for Allen to launch his entire body over the 5'11" defender. As he was about to hit the ground, Allen turned his body in order to land on his back, then used his momentum to roll forward for the first down before his knee hit the turf.
It was one of those plays where Bills fans think "Oh yeah, there goes our franchise QB hurdling yet another defender," but to those who don't watch Allen on the regular, it was a masterful play of strength and athleticism to keep the drive alive. Two more first downs and Buffalo was knocking on the door of scoring. Offensive Coordinator Ken Dorsey, despite saying he likes to think he isn't "too much of a psychopath," called a fullback slip screen, of all plays from the 11 yard line. Nonetheless, Reggie Gilliam showed off his athleticism by breaking two vicious tackle attempts and following his blockers downfield for a Buffalo touchdown. It was a wonderful start to what would end up being a wonderful night.
The Titans Answer

Tannehill and the Titans matched the Bills with an opening drive touchdown of their own. After a 14 yard completion to rookie Treylon Burks, and a 19 yard pass to Austin Hooper, the Titans easily found themselves in Buffalo territory. Rookie cornerback Christian Benford made a beautiful open field tackle on Derrick Henry, which resulted in a 4 yard loss for the running back. Despite the great play by Benford, Tannehill answered with a 13 yard strike to Nick Westbrook-Ikhine on 3rd and 14. Facing a 4th and 1 from Buffalo's 2 yard line, Mike Vrabel's obvious choice was to go for it. Derrick Henry plowed his way in for a touchdown, and just like that, the game was tied. Tennessee also started off hot, but unfortunately for them, their flame burned out rather quickly. Those 7 points on the opening drive would be the only points the Titans would score for the entirety of the game! That's it, not another point…..all….game.
Diggs' Domination

After Buffalo failed a 4th down conversion, and then on the next drive settled for a Tyler Bass 49 yard field goal, the offense needed another touchdown to get things rolling again. The spark that the Bills needed may have come from an unlikely source. Special teamer, Jake Kumerow, was technically a starting wide receiver on Monday, due to the injury of star Gabriel Davis. In his first two seasons as a Bill, Kumerow combined for just 3 catches. He recorded two more against Tennessee, including a 39 yard throw from Allen to set the Bills up in Titans territory – very Gabe Davis-like. After two more catches by Stefon Diggs, the Bills were in the red zone. On 4th and 1, Allen rolled to his left, only to fire the ball back across the field to a wide open Stefon Diggs for a touchdown. Once the Bills got that second touchdown, they never looked back.

In the third quarter, Allen and company faced a 3rd and 14 from their own 16 yard line. However, an offside penalty made it 3rd and 9, which was still a long conversion to make. Allen hit Jamison Crowder over the middle of the field for a 16 yard gain and a first down. Several plays later, Allen dropped back and unloaded a 46 yard bomb down the field to Stefon Diggs who beat rookie cornerback Tre Avery on a double move as he ran towards the end zone.

Stefon Diggs wasn't done yet. After a Jordan Poyer interception, the Bills had a short field to work with. Allen capitalized on the turnover, threading the needle to Diggs for a 14 yard score, his third receiving touchdown of the game.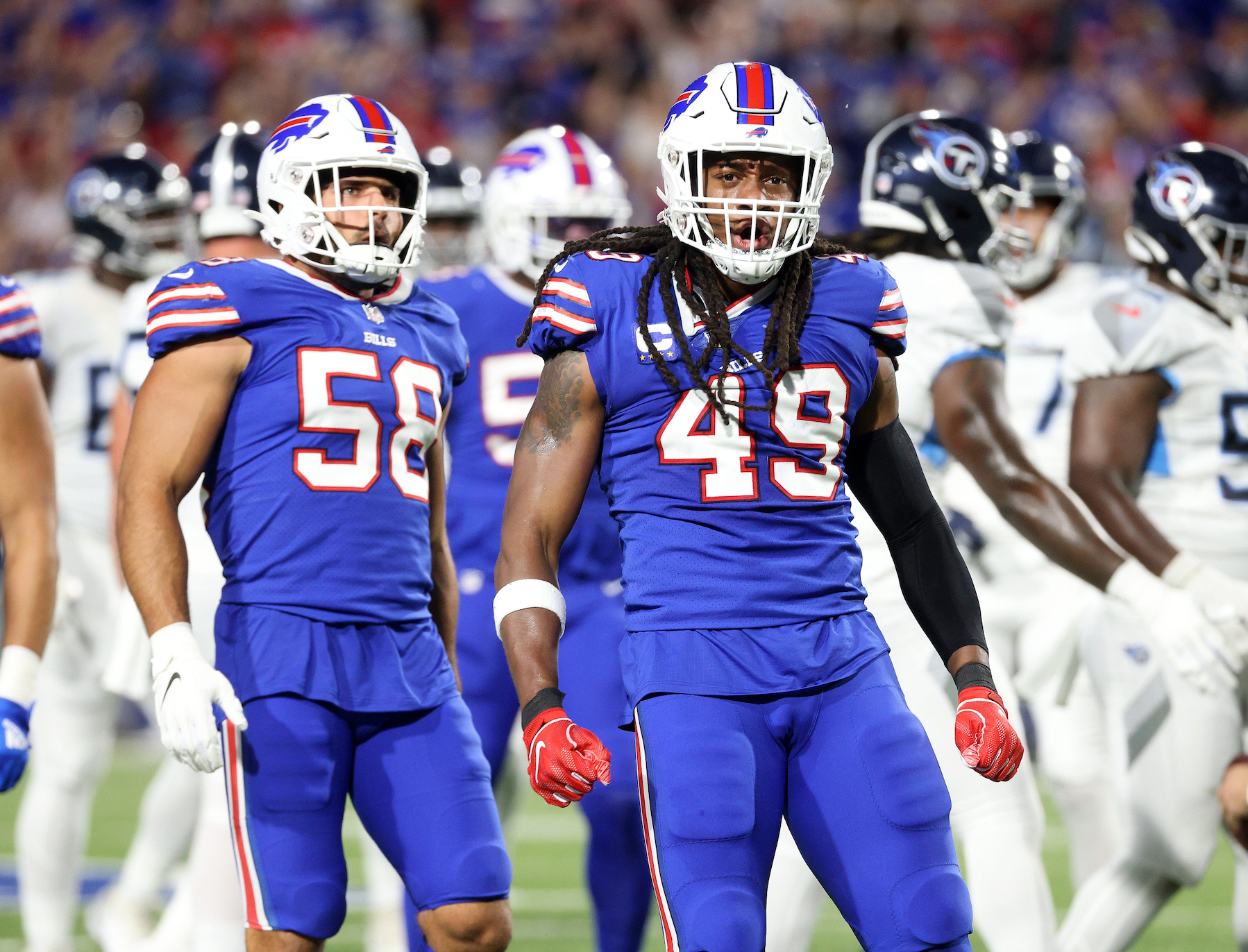 Dominating Defense

Buffalo's defense lived up to expectations against the Titans, and that was without several key players. Starting defensive tackles Ed Oliver and Tim Settle were both ruled out, and a few other starters left the game early with an injury. Regardless, Buffalo forced four turnovers and generated two sacks (credited to Tremaine Edmunds and Greg Rousseau), overwhelming the Titans offense. After Edmunds and Micah Hyde both tipped a pass by Tannehill, Jordan Poyer slid and caught the ball before it hit the ground, giving him his second interception of the season. Linebacker Matt Milano perfectly read Ryan Tannehill's eyes and jumped a pass that landed right in his hands. With no one in his way, Milano ran the interception back 43 yards for a pick-six, his second career touchdown. Even the special teams units were getting in on the action! Sam Martin finally provided his punting services, after not being used at all against the Rams. On his first punt as a Buffalo Bill, Titans rookie Kyle Philips muffed the punt and Bills linebacker Tyrel Dodson recovered the football. This would set up a 37 yard Tyler Bass field goal to add on to the onslaught of touchdowns the Bills scored.

Injuries

The one downfall of the Bills domination on Monday was the slew of injuries that came with it. Right before the first half concluded, cornerback Dane Jackson needed an ambulance to escort him off of the field, where he was taken to ECMC for evaluation of a neck injury. Early reports claimed Jackson had full movement of his extremities. Mike Garafolo later reported that Jackson walked out of the hospital under his own power and is now home. Several other defensive starters left the game in the second half, including Micah Hyde, Matt Milano, and Jordan Phillips. The severity of their injuries is currently unclear, but with a short turnaround until next Sunday, the status of all of them is definitely worth monitoring throughout the week.

Afterthoughts

This was another impressive win for the Bills, taking down the former #1 seed in the AFC, and beating a team that had gotten the best of Buffalo in their last two contests. There should no longer be any concerns or questions about the transition from Brian Daboll to Ken Dorsey as the new offensive coordinator. The transition appears to be seamless, as Allen and the rest of the offense have picked up right where they left off last season, especially in the passing game. After giving up four turnovers last week, the Bills didn't turn the ball over once on Monday. Rookie James Cook, although in garbage time, showed flashes of being an explosive, powerful runner.

Trying to stop Derrick Henry was one of the major storylines headed into the game, but the Bills defense was up for the challenge. Even though he scored a touchdown, Henry was limited to just 25 yards on 13 carries, for a measly 1.9 yards per attempt. This was Henry's lowest yards per attempt since 2019! Overall, it was another dominating performance by the Bills.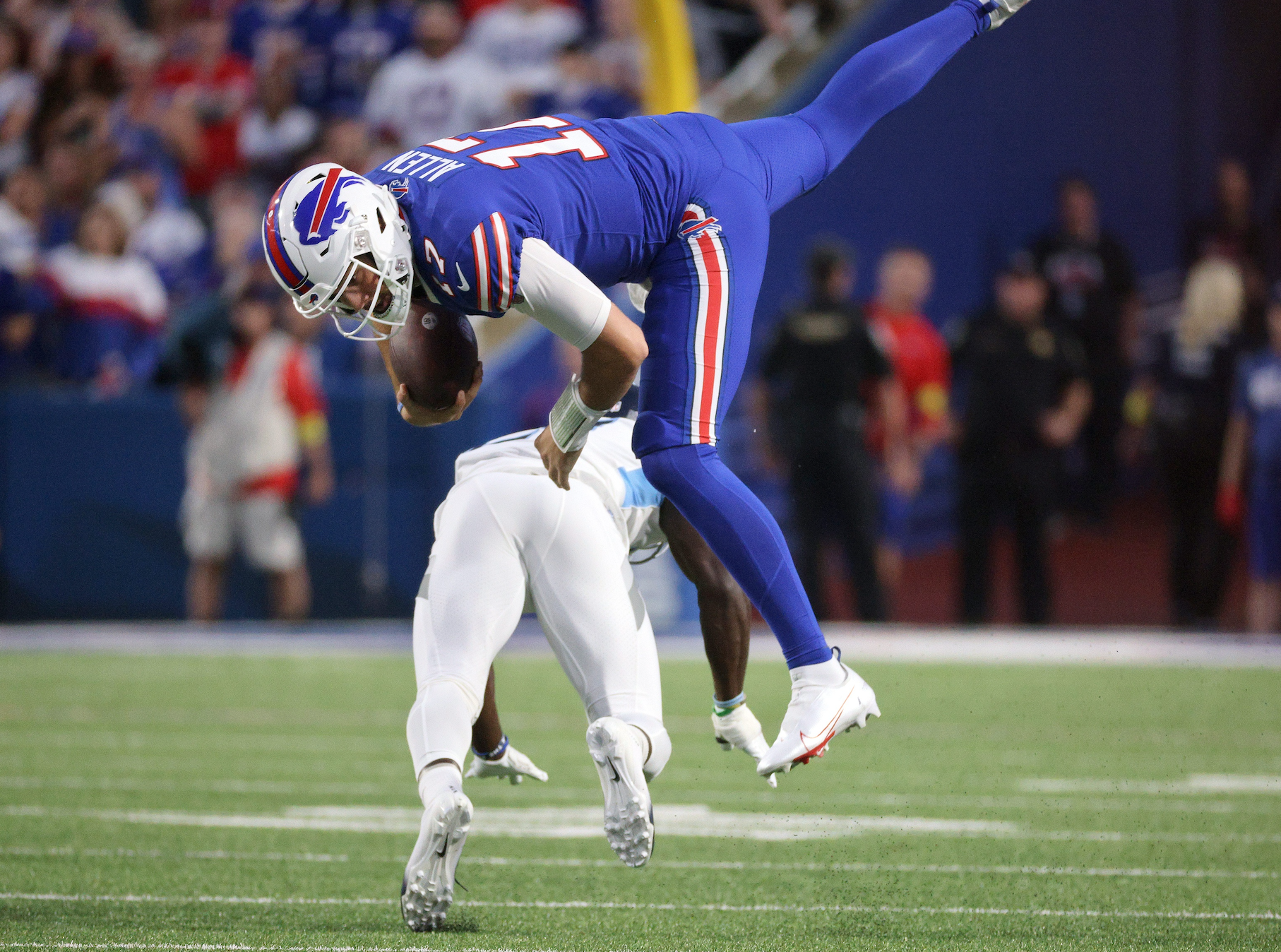 Game Awards

Offensive Player of the Game: Josh Allen

Allen finished 26 of 38, for 317 passing yards and four touchdowns, with zero interceptions. He only ran the ball once, but it was the insane 3rd and 10 pickup that I raved about earlier. Allen has looked sharp his first two games, standing confident in the pocket, and delivering passes on the money to his receivers. He's taken the check downs if that's what the defense gives him, but isn't afraid to trust his receivers and take a shot, like he did with Diggs on their second touchdown connection. Despite playing only three quarters because of the score difference, Allen added another strong outing to his 2022 MVP campaign.

Defensive Player(s) of the Game: Tremaine Edmunds and Matt Milano

Edmunds and Milano were all over the field, both defending the pass and the run. Edmunds registered a sack on the team's first blitz attempt of the season. He was also credited with two tackles for loss and a pass defended, showing his versatility in both run defense and pass coverage. He also broke up the pass that was then tipped by Micah Hyde and intercepted by Jordan Poyer. Milano had the flashy play of the night, with his 43 yard pick-6, but he also registered a tackle for loss and two passes defended. The linebacker duo was a big part of shutting down Derrick Henry, and limiting the big passing plays over the middle.

MVP: Stefon Diggs

Diggs was unstoppable for the second week in a row, this time finding the end zone three times while matched up against inexperienced Titans corners. He finished the game with 12 receptions on 14 targets for 148 yards and 3 touchdowns. What's even crazier is that he, and Allen for that matter, put up those insane numbers in only three quarters! Imagine what the stats would've looked like if the starters were playing in the final 15 minutes of the game. Compared to the rest of the NFL, Diggs currently has the second most receptions (trailing Cooper Kupp by 4), second most receiving yards (trailing Tyreek Hill by 14), and the most receiving touchdowns in the league. Although it's only been two weeks, Stefon Diggs is on pace for another dominant season.

What's Next: Bills @ Dolphins 9/25

The Bills travel to Miami in an AFC East matchup of two 2-0 teams. Although Josh Allen normally dominates the Fins, Tua Tagovailoa now has an arsenal of weapons, including former Kansas City Chief Tyreek Hill. This is definitely the best Miami team Allen has faced, and the outcome will surely have an impact late in the season on the race to win the AFC East.
Editor's babble: Rock on, Colin. We are very grateful to Colin Richey for his contributions to our blog. You can also find Colin on Twitter @whatthef00tball.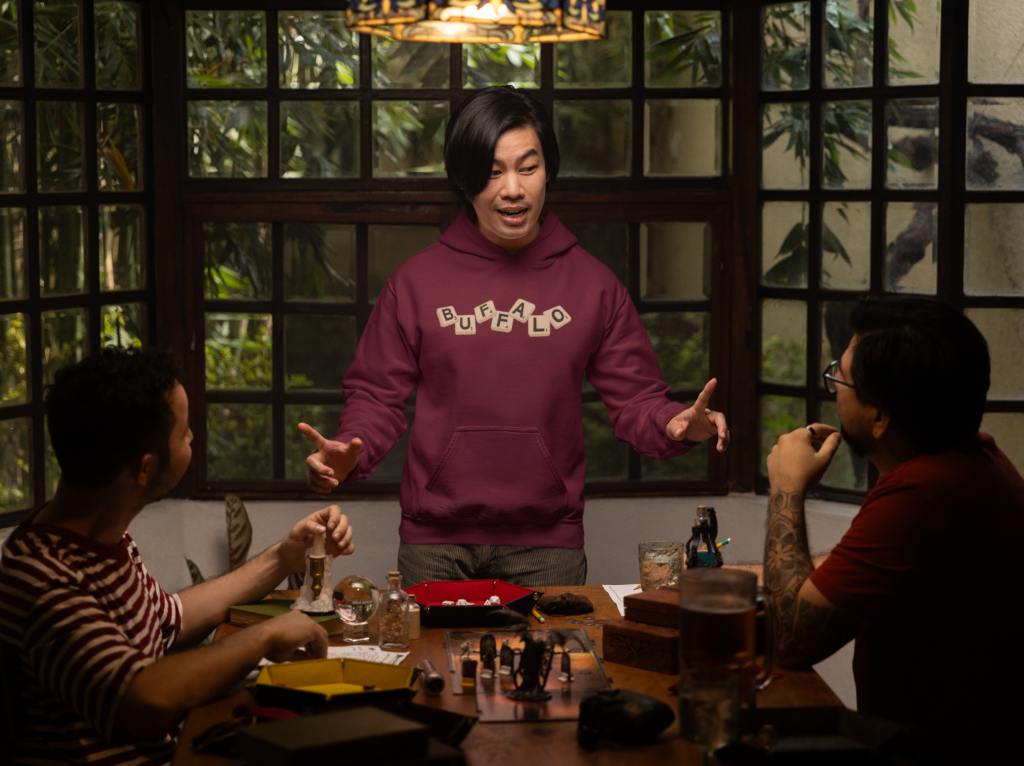 BuffaloFAMbase.com is sponsored by 26 Shirts
Every Monday, we launch a new two-week campaign of a limited edition t-shirt design. Every shirt purchase results in a donation to a local family in need. After the campaign ends, the shirt is retired. A new design is released, and a new family benefits from your fandom!